---
CONTENTS
Section I - INTELLIGENCE HIGHLIGHTS
Section II - CONTEXT & PRECEDENCE
Section IV - Research Requests, Jobs, Obituaries
Other Upcoming Events from Advertisers, Corporate Sponsors, and Others
WIN CREDITS FOR THIS ISSUE: The WIN editors thank the following special contributors: rsy, ec, po, pj, mh, km, gh, mk, rd, fm, kc, jm, mr, jg, th, ed, and fwr. They have contributed one or more stories used in this issue.

The WIN editors attempt to include a wide range of articles and commentary in the Weekly Notes to inform and educate our readers. However, the views expressed in the articles are purely those of the authors, and in no way reflect support or endorsement from the WIN editors or the AFIO officers and staff. We welcome comments from the WIN readers on any and all articles and commentary.

CAVEATS: IMPORTANT: AFIO does not "vet" or endorse research inquiries, career announcements, or job offers. Reasonable-sounding inquiries and career offerings are published as a service to our members, and for researchers, educators, and subscribers. You are urged to exercise your usual caution and good judgment when responding, and should verify the source independently before supplying any resume, career data, or personal information.]
If you are having difficulties with the links or viewing this newsletter when it arrives by email, members may view the latest edition each week at this link.

---

Recently Seen Online:

Inside the SCIF by JJ Green, WTOP - Issue #97, 21 January has details on breaking news on "Foreign spies snooping on mobile phones in Washington." Also includes "QAnon in Disarray," Flynn's Brother Involved in Capitol Riot, Why Russia's Spies Are Being Caught, Pressure on Germany's Intel Service, and more.
The latest Target USA Podcast 260 features: The Riot as Intelligence Bonanza for America's Adversaries.
Marc Polymeropoulos and Douglas London, two retired CIA clandestine officers discuss how the US's adversaries will try to use the imagery from the riot to disparage the US. They also talk about how to track down those responsible.

---

The Latest... from the Jeff Stein's "SpyTalk" Series

Jan 26: "How the KGB Hooked Trump" by Jeff Stein
'American Kompromat,' a new book by Craig Unger, gets the lowdown from former Russian and U.S. spies.
Article here.

Jan 25: "CIA for Dummies: An Ordinary Guys Take on a Spy Agency History" by Robert Gaudet
Chris Whipple's highly regarded "The SpyMasters" cracks the code for 'Bob in the Basement,' a Boston wit with a growing following. He found it both fas...
Article here.

Jan 21: "Thobes and Daggers: CIA Veterans Assess U.S. Options in Saudi Arabia" by Jonathan Broder
How Joe Biden can—and can't—get rid of the notorious MBS, a man he called a 'thug.'
Article here.

Jan 21: "A Clean Slate" by Jeff Stein
We like the look of Biden's national security team, but...stuff happens.
Article here.

Jan 19: "Can U.S. Spy Agencies Stop White Power Violence?" by Jeff Stein
The threat of widespread pro-Trump violence is raising questions of whether the U.S. needs an American-style MI5. But creating a domestic counter-terro...
Article here.

Readers can subscribe for free at the moment here.

---

From our colleagues at the National Cryptologic Museum...

They invite you to join them on January 29th at 10am EST for their first virtual program of 2021, "American Codebreakers at Bletchley Park, 1941-1945," to be held via Zoom webinar with guest speaker, Dr. David Sherman. Dr. Sherman will discuss a secret February 1941 U.S. visit to Britain's wartime codebreaking center and how it set the stage for the enduring partnership that emerged after World War II, a partnership often called the closest and most important relationship in the history of intelligence. His monograph on the 1941 mission, The First Americans, is available online from the Center for Cryptologic History. Learn more about Dr. David Sherman here on their Quarterly Programs page.

Other Forthcoming documentaries: "The Codebreaker: Wife. Mother. Secret American Hero."
PBS "American Experience" Documentary about Elizebeth Friedman - debuted 11 January 2021

Based on the book The Woman Who Smashed Codes: A True Story of Love, Spies, and the Unlikely Heroine Who Outwitted America's Enemies, The Codebreaker reveals the fascinating story of Elizebeth Smith Friedman, the groundbreaking cryptanalyst whose painstaking work to decode thousands of messages for the U.S. government would send infamous gangsters to prison in the 1920s and bring down a massive, near-invisible Nazi spy ring in WWII. Her remarkable contributions would come to light decades after her death, when secret government files were unsealed. But together with her husband, the legendary cryptologist William Friedman, Elizebeth helped develop the methods that led to the creation of the powerful new science of cryptology and laid the foundation for modern codebreaking today. More info at the National Cryptologic Museum Foundation website here.


---

"A Spy in the FBI"

New Dominion Pictures LLC. Click to view trailer.

Robert Hanssen is a contradiction. On the surface he is a family man, devout Catholic, and career FBI agent. Secretly, he is a spy, betraying the trust of everyone he knows. In the final years of the Cold War, Hanssen positions himself within the FBI to spy for the Soviets, compromising sources and programs through the entire US counterintelligence community. While the FBI and CIA search for the mole in their midst, his fellow agents, friends, and family have no clue of his second life. His betrayal runs deeper that selling out his country as he is carrying on secret relationships and keeping secrets from his wife. But Hanssen can't hide forever from the best detectives in the world. Former FBI agents and journalists recount Hanssen's life, what drew him to espionage, how he stayed hidden in plain sight for over 20 years, and the events that brought down the most damaging spy in American history.

Documentary will premiere on the REELZ channel on Sunday, February 14th at 8:00 pm ET / 9:00 pm CT. REELZ is channel 692 HD on Verizon FIOS, channel 238 on DIRECTV, channel 299 on Dish Network, and channel 799 on AT&T U-verse. It's also available in HD on other cable systems nationwide. More info here.

---

---

One of the special benefits of membership in AFIO: access to CIA's inhouse gift shop — the EAA Store.

It requires a quick preapproval process described here to all newly joined and current AFIO members. And then allows you to purchase online their unusual logo'd gift items for self or colleagues. Here is the latest photo EAA released on January 22 featuring some of their newest items:

---
---
Just released to members-only...
The Race to Keep Nuclear Technology Out of the Hands of Germany and Russia

Released 26 January 2021
Vince Houghton PhD
Director, National Cryptologic Museum

on "The Nuclear Spies: America's Atomic Intelligence Operation Against Hitler and Stalin
Interview of Wednesday, 30 December 2020 of Vince Houghton PhD, Director, National Cryptologic Museum, former Historian/Curator International Spy Museum. Interviewer - Host: James Hughes, AFIO President, a former CIA Operations Officer.
TOPIC: Vince Houghton and Jim Hughes discuss Vince's 2019 book, The Nuclear Spies: America's Atomic Intelligence Operation Against Hitler and Stalin. Discusses the Alsos Mission, Gen Leslie Groves, Werner Heisenberg, Enrico Fermi, and other scientists working on Atomic weapons or the escape of that technology into Soviet or German hands. Touches on the misjudging of the technical and scientific capabilities of other nations, a misplaced national sense of superiority and invincibility which has come to haunt and surprise the U.S. repeatedly. Also mentions Moe Berg, and the differences between the brief wartime intelligence agency — OSS — versus the large bureaucratic CIA it became. The interview runs 32 minutes and includes numerous Q&As.
Access Houghton video on our YouTube page here or log into the Member-Only area of our website here.
---
Prior Videos in the "AFIO Now" Series
To view them, visit our YouTube page here
or log into the Member-Only area of our website here.
---
Joe Augustyn, former CIA Clandestine Services Officer on "CIA's Defector Resettlement Program"
Joseph W. Augustyn, former CIA Clandestine Services Officer on "CIA's Role in the Creation of the Department of Homeland Security"
Seth Jones PhD, Director, Transnational Threats Project, CSIS on "A Covert Action"
David Priess PhD, Author, former Senior CIA Analyst and PDB Briefer on "The President's Book of Secrets"
Everette Jordan, Dep Asst Sec for IC Integration, Office of Intel and Analysis, Treasury on "Enjoying a Rich, Challenging Intelligence Career Spanning Multiple Agencies."
Bruce Riedel, former CIA Senior Analyst, Served on National Security Council during Iraq War on "Early Gulf War Policy Decisions"
Shelby Pierson, Election Threats Executive, Office of the Director of National Intelligence on "Nationwide Election Security"
Bruce Klingner, Former CIA Deputy Division Chief for Korea; Heritage Foundation Fellow on "U.S. Strategy Towards North Korea"
Series Introduction: Stewart Baker, Chairman, and James Hughes, President
Nicholas Dujmović, Professor, Author, former CIA Historian, PDB Editor on "Guidelines and Experiences Teaching Intelligence at the University Level"
David Robarge, CIA Chief Historian, PDB Editor on "The Complexities of Counterintelligence"
Vince Houghton PhD, Director, National Cryptologic Museum on "Nuking the Moon...and Other Intelligence Themes and Military Plots Left on the Drawing Board"
Martin C. Faga, former Director, National Reconnaissance Office on "NRO Support to the Gulf War"
Many more interviews have been conducted, and will be released throughout 2021. Stay tuned.
---
Other items brought to our attention:
ThinkTank Issues "Reimagine Intelligence Community" Report
CSIS, The Center for Strategic & International Studies, has issued a new report: MAINTAINING THE INTELLIGENCE EDGE: Reimagining and Reinventing Intelligence through Innovation.
Issued on 13 January 2021: The U.S. Intelligence Community (IC) stands at the dawn of a new era of technological innovation and transformation unprecedented in its history. In this final report, the CSIS Technology and Intelligence Task Force set out to understand the emerging technology landscape, identify the opportunities and challenges to applying technology to intelligence missions, and generate recommendations that will enable the IC to adapt, integrate technology, and maintain an advantage over sophisticated rivals.
"A dramatic reimagining and reinvention of the IC will not happen without strong and consistent leadership from the top." And one of those leaders of the report is now the DNI: Haines. The full report is available here.
---
Worthwhile, Crisply produced, and Running Now — Spy Series...
Netflx Series: SPYCRAFT premiered 20 January 2021. It is a new eight episode Netflix program by retired CIA DS&T officer Robert Wallace and intelligence historian Keith Melton (co-authors of Spycraft: The Secret History of the CIA's Spytechs, from Communism to Al-Qaeda). Robert Wallace and Keith Melton are co-executive producers of the series. The episodes include portions of interviews by several CIA and IC officers.
Spycraft — The spy game is a serious business, and throughout history, the tools and technologies developed for it have mattered as much as the spies themselves. Series looks at the techniques methods and technologies used in espionage. Examines the amazing gadgetry behind some of history's greatest stories of espionage, the ingenious minds that invented them, and the officers or agents that put them to use with accounts from ancient history to modern day intrigue.

Season 1 Trailer, featuring tradecraft experts Robert Wallace and Keith Melton, here. Also see producer's website and longer introductory video for series on YouTube here
---
Visit, Follow, Subscribe to AFIO's LinkedIn, Twitter, and YouTube pages to receive updates.
Members who use social media or wish to explore, will find new announcements and other material on AFIO's Twitter and LinkedIn pages. New videos on our YouTube page appears below as well.
Access them here: LinkedIn, Twitter, and YouTube. By following or subscribing on those sites, one can be notified as new material appears.




---
Recommended Reads:
The Arkin Group's January 22 "In Other News" letter to private clients by former Operations Officer Jack Devine features...
• Twin suicide bombings in Tayaran Square in central Baghdad yesterday killed more than 30 and wounded more than 100, the first suicide bombing in Iraq's capital city in two years.
• Mexican President Andrés Manuel López Obrador called on President Biden to make good on campaign promises for immigration reform.
• President Biden's quick moves on environmental policy – rejoining the Paris Climate Agreement, cancelling the Keystone XL pipeline, and revisiting a Trump-era rollback of limits on methane emissions in the oil and gas value chain – will spark a short-term backlash but will ultimately make the US oil and gas industry more competitive globally.
---
Newly Released, Overlooked, or Forthcoming Books
Fall: The Mysterious Life and Death of Robert Maxwell, Britain's Most Notorious Media Baron
by John Preston
(Harper, Feb 2021)
In February 1991, Robert Maxwell sailed into Manhattan harbor on his yacht, the Lady Ghislaine, to buy the ailing New York Daily News. Ten months later, Maxwell disappeared off that same yacht in the middle of the night and was later found dead in the water. Suicide? Mossad? KGB? Angry creditors? Maxwell's death was as mysterious as his remarkable life.
A saga of ambition, hubris, narcissism, greed, power, and intrigue. Examines the forces that shaped Maxwell, including his childhood as a Jew in occupied Eastern Europe through his failed political ambitions in the 1960s which ended in accusations of financial double-dealing, and his resurrection as a media mogul—and on to the family legacy he left behind, including his daughter Ghislaine Maxwell, a longtime associate of (the late) Jeffrey Epstein, currently sits in the New York Metropolitan Detention Center. 
Preston chronicles Maxwell's rivalry with Rupert Murdoch—a battle that ruined Maxwell financially, threatened his sanity and lead, indirectly, to his death. Did Maxwell have a heart attack and fall overboard? Was his death suicide? Or was he murdered—possibly by Mossad or the KGB?
Book may be ordered here.
---
Servants of the Devil: The Facilitators of the Criminal and Terrorist Economies
by Norman Bailey, Bernard Touboul
(World Scientific Publishing, Feb 2021)
Since the end of the Cold War, liberal capitalism has spread worldwide without any significant ideological rivalry, characterized by the frenetic search for an ever-increasing return on capital and constantly-increasing profits, a generalized un-concern for the moral values of liberalism, and for social inequalities and human misery.
This evolution has been possible, thanks to legitimate actors equipped with the legal, financial, technical, and influential means to facilitate the legitimization of criminals and the justification of such a criminal economy — the "Servants of the Devil" acting as the facilitators of the criminal and terrorist economies.
The authors aim to alert security authorities, government officials, business, professional and financial leaders, and the media that criminal and terrorist networks have thoroughly penetrated the political, economic, and social structures of our contemporary world, and could not operate without the extensive and willing cooperation of these facilitators.
Recommendations are to alter the targets of law-enforcement and the justice system, by putting more emphasis on the facilitators by naming, shaming, and prosecuting them to disable these criminals and terrorists. Altering the legal structure and new intelligence and analytic techniques are needed to stay ahead of the criminals' own constantly altered techniques.
Norman Bailey PhD is currently Professor of Economic Statecraft at the Galilee International Management Institute of Israel. He was Chief Economist of the National Security Council during the Reagan administration, and a senior official of the Office of the Director of National Intelligence in the George W Bush administration.
Bernard Touboul has been for the last 28 years an international senior consultant, advisor, and expert in Customs, Border Management, and International Trade Facilitation, working extensively on policy-making and implementing strategies for combatting illicit trafficking and commercial frauds along with promoting legitimate trade.
Book may be ordered here.
---
Writers, Officers: Please Provide A Brief Article for This Ongoing AFIO History Project
AFIO's educational project "When Intelligence Made a Difference" seeks writers to identify events throughout history involving any nation or organization when the outcome was affected significantly by intelligence.
AFIO has been publishing edited submissions serially in Intelligencer released two to three times a year.
To see what has been published, it is available here. Also look at the Fall edition of the journal arriving in the mail of all members and subscribers over the next three weeks.
Those readers interested in contributing an article, should email peter.oleson@afio.com.
For instructors, this project makes a great class assignment. Accepted articles give students a publication credit in a recognized journal.
---
Guide to the Study of Intelligence and When Intelligence Made a Difference
"AFIO's Guide to the Study of Intelligence" has sold out in hard-copy.
However, it is available in digital form in its entirety on the AFIO website here.

Also available on the website here are the individual articles of AFIO's history project "When Intelligence Made a Difference" that have been published to date in The Intelligencer journal. More articles will be forthcoming in future editions.
---
---
Section I - INTELLIGENCE HIGHLIGHTS

CIA Warns Former Officers About Working for Foreign Governments. The CIA's counterintelligence chief sent a note to retired officers this week warning against working for foreign governments either directly or indirectly.

The note, which was initially drafted some months ago but only sent out on Monday, also urges retired officers to take care in speaking publicly on television, podcasts, panels or social media.

The letter said the agency was seeing a "detrimental trend" of "foreign governments, either directly or indirectly, hiring former intelligence officials to build up their spying capabilities."

"I can't mince words - former CIA officers who pursue this type of employment are engaging in activity that may undermine the agency's mission to the benefit of U.S. competitors and foreign adversaries," wrote Sheetal T. Patel, the CIA's assistant director for counterintelligence. [Read more: Barnes&Haberman/NYTimes/26January2021]

Ukraine Marks Foreign Intelligence Day, President Greets Intelligence Service. Ukrainian President Volodymyr Zelensky has congratulated incumbent personnel and veterans of the Ukrainian foreign intelligence service on their professional day.

"I sincerely congratulate you, intelligence professionals, on the Day of the Foreign Intelligence of Ukraine," the president said in an official statement posted on the agency's website.

"This holiday is not just having our Intelligence's history and traditions back, but also a recognition by the state of your great contribution to strengthening its national security," he said.

According to him, Ukraine's Intelligence today defends both the independence and the unity of Ukraine. [Read more: UNIAN/24January2021]

Lawmakers Say North Korean Diplomat Defected to South Korea. A North Korean diplomat who served as the country's acting ambassador to Kuwait has defected to South Korea, according to South Korean lawmakers who were briefed by Seoul's spy agency.

Ha Tae-keung, a conservative opposition lawmaker and an executive secretary of the National Assembly's intelligence committee, said Tuesday he was told by officials from the National Intelligence Service that the diplomat arrived in South Korea in September 2019 with his wife and at least one child.

That would make him one of the most senior North Koreans to defect in recent years. North Korea, which touts itself as a socialist paradise, is extremely sensitive about defections, especially among its elite, and has sometimes insisted that they are South Korean or American plots to undermine its government.

Ha said he was told that the diplomat, who changed his name to Ryu Hyun-woo after arriving in the South, had escaped through a South Korean diplomatic mission but that spy officials didn't specify where. Ha said spy officials didn't provide specific details as to why Ryu decided to defect. [Read more: Kim/AP/26January2020]

UK: Cyber Fraud a National Security Issue, Says Rusi Report. Fraud conducted online against UK citizens, businesses and organisations has reached such heights that it now constitutes a threat to the country's national security, requiring a calculated response from the intelligence services, according to a report published by the Royal United Services Institute (Rusi).

The report, titled The silent threat: The impact of fraud on UK national security, argues that despite increased attention to fraud - particularly since the advent of the pandemic - the prevailing political narrative doesn't properly convey the full £190bn impact of fraud on the UK, and the country's response to it is badly under-resourced, meaning both individuals and organisations are being let down.

"Given the wider social and economic damage caused, the case for placing fraud in the national security context should no longer be overlooked. On this basis, this paper makes the case for a new national security approach to tackling fraud, based on a whole-of-system response, including a greater role for the government intelligence architecture, a better resourced and coordinated policing response and increased coordination with the private sector," wrote the report's authors.

The paper argues that if the UK's response to fraud is to be successfully reframed, its interplay with established national security concerns such as organised crime and terrorism needs to be better understood. [Read more: Scroxton/ComputerWeekly/26January2020]

Colombia's Corporate Media Taking Part in Possibly Illegal Intelligence Operations. Media close to Colombia's President Ivan Duque have been reporting on possibly fabricated intelligence reports that could be part of illegal attempts to criminalize government critics.

Multiple government-loyal news outlets have recently published and broadcast reports about multiple "intelligence reports" they received from the government that are not corroborated by any evidence.

The subsequent media reports echo President Ivan Duque's unsubstantiated terrorism support claims against the governments of Cuba and Venezuela, repeat claims government critics would receive foreign support and would bolster chances of Duque's far-right Democratic Center party in the 2022 elections. [Read more: Alsema/ColombiaReports/22January2021]

Trump Pardons Israeli Officer Who Enlisted Spy Pollard. President Donald Trump on Wednesday granted a full pardon to Aviem Sella, the handler of convicted Israeli spy Jonathan Pollard, as part of the outgoing president's spree of clemency actions in his last hours in office.

Pollard, a former Navy intelligence analyst, sold military secrets to Israel while working at the Pentagon in the 1980s. Sella, a retired Israeli air force officer, enlisted Pollard to spy for Israel and fled the United States after Pollard was arrested in 1985. Sella was charged in absentia on three espionage counts, but was not extradited to the U.S. from Israel.

The Pollard case severely strained relations between Israel and the U.S. [Read more: AP/20January2021]


---
Section II - CONTEXT & PRECEDENCE

ODNI Releases ODNI Attorney General Procedures for Conducting Intelligence Activities. The Office of the Director of National Intelligence (ODNI) released new procedures approved by the DNI and the Attorney General governing the conduct of ODNI intelligence activities.

As required by Executive Order 12333, these procedures, commonly referred to as the "Attorney General (AG) Guidelines," provide the core protections for ODNI's collection and handling of information concerning U.S. persons in the conduct of lawful intelligence activities. The Guidelines also prescribe the limited circumstances in which ODNI personnel may participate in a U.S. organization without disclosing their ODNI affiliation.

Until the effective date of the new ODNI AG Guidelines on March 23, ODNI will continue to conduct intelligence activities within established National Counterterrorism Center or CIA AG Guidelines. [Read more: HomelandSecurityToday/20January2020]

This New Docuseries About Espionage Is Currently the #8 Show on Netflix (& It's Totally Terrifying). There's no denying spy thrillers are one of the most popular movie and TV genres these days. But we often forget that international spies and espionage are very real. How much do we actually know about the art and history of espionage? Is what we see in the movies actually accurate?

Lucky for us, a new documentary on Netflix is tackling exactly that. Called Spycraft, the 8-part series does a deep dive into the ways different countries have been attempting to (in many cases successfully) gather information and intelligence from other countries. And did we mention it's already landed the number eight spot on Netflix's top ten movies list after just six days on the streaming platform?

We're not going to lie, while the series is interesting, it's also pretty terrifying. [Read more: Hough/PureWow/26January2021]

The Santa Cruz Spymaster and Madam 'H". Santa Cruz County became an unlikely center for World War I espionage activities. But county district attorney George W. Smith resorted to innovative measures, leading to the capture of one of the most notorious German spymasters in America.

In early 1917, Chief of Police Frank Hannah told Smith of a network of German "listening posts" in Santa Cruz sending daily reports to Germany on the evening train. Yet there were no laws against espionage until June 15, 1917 (two months after the nation's entry into the war April 6, 2017) so tracking such activities was the only recourse in the meantime. In cooperation with the U.S. Bureau of Investigation (now FBI), Smith organized a county Secret Service chapter in March 1917 called "The American Protective League." None of the 300 agents knew who else was a member, and were assigned six to each sector.

One suspicious group was the Marxist "Industrial Workers of the World" union, called "Wobblies" for their notorious use of dynamite and firebombs. They'd been trouble in the past, and now often congregated at a Pacific Avenue and Lincoln Street peanut stand, which secretly distributed their literature for the overthrow of Capitalism, and all unions but theirs. [Read more: Gibson/SantaCruzSentinal/24January2021]

Spies Can Now Use Modified DNA to Send Secret Messages. The world of espionage requires two equally important things: access to information and a means of getting that information back to the other side. Modified DNA might make that a little easier.

Throughout history, spies have concocted many different means of secret communication. In the earliest days of modern spycraft, ink and paper had to be concealed from prying eyes. Spies wrote with anything that could be used as a kind of invisible ink, everything from lemon juice to semen. Hey, sometimes spycraft is just stressful.

As technology advances, using biology to enhance the ability to send covert messages is only increasing, but in a very different way. [Read more: WeAreTheMighty/26January2021]

Kiss of Death from the KGB: Lipstick Gun, Umbrella with a Poison Syringe and a Fake Tooth for Storing Cyanide Among the Soviet Spy Relics set to sell for up to $365,000 at Auction after a KGB Espionage Museum in New York was Forced to Close due to Covid. An incredible collection of Cold War relics, including a number of Soviet disguised weapons, is set to be sold at auction - and is expected to sell for £365,000.

Historian and collector Julius Urbaitis, 57, who worked as the consultant on the HBO series Chernobyl, amassed the remarkable group of gadgets over a 30-year period, procuring almost 400 items in that time.

The items were put on display at a KGB Espionage Museum in New York back in 2019, where Urbaitis was the curator, but the coronavirus pandemic has meant the gallery has had to close down and sell off the collection. [Read more: Baker/MailOnline/26January2021]


---
A Lower Bar for the Cyber Czar. For years, critics of U.S. cyber security policy have called for more centralization. Government efforts are spread across many organizations, we are told, making effective coordination inefficient and ineffective. The sprawling constellation of interested parties makes it hard for policymakers to receive consistent advice, and it also inhibits oversight by spreading accountability thin. No real progress can occur without a clear whole-of-government effort, spearheaded by an official who can bear the brunt of presidential and congressional scrutiny. As Sen. Angus King put it, the government needs "one throat to choke."

These arguments animated last year's Cyberspace Solarium Commission, a congressionally mandated effort to outline a new approach to the domain. The commission settled on what it called "layered deterrence," an amalgam of improved defenses and resilient networks, offensive operations to impose costs on adversaries, private sector outreach, and a renewed commitment to international norms. The complexity of this approach lent urgency to calls for more organizational centralization, and the commissioners called for the creation of a Senate-confirmed national cyber director. Last year they got their wish. At long last, the 2021 National Defense Authorization Act established the position of national cyber director to guide and coordinate cyber security policy.

Congress expects a lot of whoever gets the job. [Read more: Rovner/WarOnTheRocks/26January2021]

Intelligence: Big Brother Spies On Spies. The CIA has concluded that their overseas espionage efforts have suffered long-term damage as a result of several hacking operations that obtained personnel records for most of the U.S. population. Large scale data thefts apparently began at least a decade ago and reached a pinnacle when the U.S. government personnel office, or OPM (Office of Personnel Management), had its entire database of detailed records on 22 million current and former government employees, including data on people who had applied for jobs and did not get one, copied by hackers in 2014. Intelligence agencies, especially the CIA, realized that could have a catastrophic effect on American espionage efforts overseas as well as counterintelligence (catching spies) in the United States. The damage has come to pass and has been worse than anyone imagined. The OPM hack was traced back to China although earlier large-scale data hacks may have been the work of Russians or freelancers who knew China would pay a good price for such data.

The OPM hack got everyone's attention but when it was considered in light of the many other hacking events before and after 2014 that made off with large quantities of personnel data that, taken together, gave Chinese intel analysts a comprehensive picture of the American population. Not just currently but in the future. [Read more: StrategyPage/20January2020]

Security in History: Secret Espionage Notes. A western world feeling under siege, from regional powers that don't share its values, while the United States shows no leadership. That might have sounded like 2020; but it was also true of the 1930s, and the same nation-state espionage threats were around then, writes Mark Rowe, in the latest of a series that looks at security management in history.

Notes on munitions security, by the War Office - the blunter title of today's UK Ministry of Defence - 1937, revised edition of a 1933 booklet. As it pointed out, even holding the notes without permission was an offence under the Official Secrets Act.

Handily the Official Secrets Acts of 1911 and 1920 were printed at the back, for example making illegal the passing on of any details of war work. By 1937, after Germany had re-entered the Rhineland militarily and ignored the Treaty of Versailles that ended what was not yet known as the First World War, Britain had to face the prospect of another war with Germany. Hence the notes began with 'industrial mobilisation', or as it put it, beating 'ploughshares into swords'. [Read more: ProfessionalSecurity/25January2021]


---
Section IV - Research Requests, Jobs, Obituaries
Author Seeks Your Assistance Answering a Few Questions Regarding al Qaeda and US Operations
AFIO Colleagues,
I have benefited in the past with AFIO's assistance and need a few additional answers as I write a four-volume history of anti-American terrorism in the US and overseas from the Eisenhower through Trump administrations. Volumes I and II are published and were featured in prior Weekly Notes. I am now working on Volume III which addresses the Clinton and Bush II administrations. This volume has many pages on the evolution of al Qaeda, the 9/11 attacks and subsequent investigations, and the responses by both administrations to the prevailing threat. First, much of the relevant material has not been declassified. In addition, the memoirs by relevant actors are written from the perspective of highlighting the successes and minimizing or ignoring the failures. Given the developments that took place during these two administrations, many of the key actors have not written their memoirs. There have been many books written on al Qaeda, the 9/11 attacks, and the intelligence "malfunction" which contain many examples of "dueling facts" on events and developments. I am seeking to present the facts in my study, but when I cannot determine a "fact," what can I do? I can present both presentations of the fact, which will take up a lot of space in the volume, or simply pick the fact presentation that I think makes most sense. In that case, it is not a fact but an interpretation. I want facts.
Towards that goal, I ask of you AFIO members and colleagues, to help me with a few of these facts. Below is a brief list of questions. If you can answer any of them, please email me at dpluchinsky@rocketmail.com. These questions deal with the 1990s, the pre-9/11 decade...developments over two decades ago.
1. In what year did the NSA or CIA detect bin Laden's first satellite phone? I do not want sources and methods, just the year.
2. In what year did the NSA or CIA first detect al Qaeda's London communication hub at which Khaled al Fawwaz acted as the caretaker?
3. In mid-1996, bin Laden asked for an updated Inmarsat Compact M satellite phone. This was tasked to Dr. Saad al Fagih, who tasked it to Ziyad Khaleel, a student in Virginia. He reportedly bought the phone from a store in Dix Hills, Long Island in November 1996. This would mean that the FBI was involved in monitoring this purchase. This would also mean that the FBI might have known that the NSA and or CIA were monitoring bin Laden's cell phone. Is it true that the FBI knew about bin Laden's cell phone in 1996?
4. In what year did the NSA and CIA first detect al Qaeda's communications hub in Sana'a, Yemen – BEFORE the August 1998 attacks on the U.S. Embassies or AFTER, when the FBI obtained the phone number from of the Embassy bombers – Mohamed Rashed Daoud al-'Owhali?
5. In what year did the CIA establish its ground based dish to intercept one side of the calls coming into the Sana's hub?
6. If the NSA knew that some phone calls from the U.S. were coming into the Sana'a hub in 2000 / 2001, why were they not able to determine locations in the U.S.? The prevailing open source explanation is that it did not have the technological capability.
7. Lastly, could someone explain to me in layman's terms how the USG would have intercepted in the 1990s a phone call from a landline and a satellite phone?
These questions are historical. It is unlikely sources and methods used in some of these events are still active. I have read James Bamford and Matthew Aid's books on NSA. While the CIA and DOJ declassified their Inspector General reports on pre-9/11 activities of the CIA and FBI, the NSA has not.
Whatever help you can provide me would be greatly appreciated. I do not have to source you. If you wish, I can camo source you – "A former U.S. government employee who wishes to remain anonymous."
I leave you with a thought you should ponder – the sharpest and largest thorn in history is silence.
Thank you. REPLIES TO: Author/Research Dennis Pluchinsky at dpluchinsky@rocketmail.com
Author Wishes to Add You To His Mailing List: Matt Brazil, an author researching forthcoming book with working title China's Secret Wars: From Mao to Now, is seeking contact from anyone who would like to hear more about the book as the author progresses. Those who reply will be added by Dr Brazil to his email and marketing list. "If you wish your address to be added to that list, please reply to this email. I'm building an email list of people interested in this topic." If you would like to go on that list, write him at matthew.brazil@gmail.com.
Author Researching Italians Involved in Vietnam War
"I intend to publish my historical research on the Italian fighters and civilians in the Vietnam War and would be very grateful if you could give any information, documents and images of Italians (not Italian-Americans, but nationals, recent immigrants born in Italy, soldiers, volunteers, mercenaries, contractors, pilots, drivers, former Foreign Legionnaires of the French Legion, civilians, etc.) who collaborated "unofficially " (CIA covert actions MACV) with the U.S. Armed Forces in the Vietnam War between 1963 and 1975. Please advise if you know of other Italians who had some type of involvement in the Vietnam War. Of interest would be hearing of missionaries, doctors, diplomats, journalists or others. If AFIO member can help me, please reply to Diego Verdegiglio at dv52@libero.it. Thank you very much for your precious help. Best regards and Happy New Year, Diego Verdegiglio Via Romei 27 - 00136 Roma, Italia"
Replies to dv52@libero.it
THREE Faculty Openings for 2021 at Hilbert College, Hamburg, NY
Assistant Professor, Criminal Justice; Assistant Professor, Forensic Science/Crime Scene Investigation; and Assistant Professor, Intelligence & Data Analysis.
Interested candidates can view our job postings here.
---
Denis Brown, Director of DISA
Denis Marlin Brown BGen USAF(Ret), 83, Director of Defense Information Systems Agency, died 14 January 2021 in Wilmington, NC.
Brown was born in Kentucky. At a young age, he participated in ROTC, a path that led him to the US Air Force. Denis started his career in July 1960, as a Weapons Controller, stationed in Sado Shima, Japan. He rose through the ranks and was stationed as an Automated System Analyst in New York, a Technical Officer in Italy, a Technical Staff Officer in Belgium, and finally a Deputy Assistant Chief of Staff in the Pentagon. His diligence and grit allowed him to eventually become a brigadier general on October 1984. His Military career ended when he retired April 1988.
He went on to excel in being a Director in many programs working for the Martin Marietta Corporation, to a Director of Information Management at the Defense Information Systems Agency (DISA), and finally ending his career in 2003, working as a Senior Vice President and General Manager at Northrop Grumman.
In retirement, Denis continued as a hard-working individual with all tasks with which he was involved.
Survivors include his second wife, Myrna Brown, a son, a daughter, and other family.
Steve Carrig, FSO and CT Officer
Stephen John Carrig, 72, an FSO and CT Officer, died 14 May 2020 after a year-long battle with cancer.
Born in Monterey, CA, Steve grew up in a military family and lived in New Canaan, CT, Columbus, GA, and Fayetteville, NC prior to enrolling at the University of North Carolina, Chapel Hill. He went on to study at the Sorbonne, University of Paris, ultimately graduating from Georgetown University. He also earned a masters in Strategic Studies from the Army War College in Carlisle, PA.
Over the course of a lifetime of service to our nation Steve spent 10 years in the Army as a counter-terrorism officer, before beginning a 23-year career in the Foreign Service as an Economics Officer. Steve served with distinction in Cuba, Malaysia, Pakistan, Nigeria, Kuwait, and short-term assignments in Iraq and Afghanistan. Domestic assignments included Desk Officer for the Republic of Georgia, and Economic Program Officer for the implementation of the Dayton Accords in Bosnia and Herzegovina, as well as Director of Planning in the Bureau of Conflict and Stability Operations. If there was a hot spot anywhere in the world Steve found himself engaged in it and our nation is forever better as a result.
Steve was a family man and is survived by his loving wife Marjorie Phillips and daughter, Patricia, of Arlington, VA whom he loved beyond measure. He is also is survived by two sisters, a brother, and other family. He had a keen intellect, quick wit and remarkable sense of humor. He was a great storyteller shaped by a life well lived.
Red Winstead, Instructor/Trainer
Glenn Wesley Winstead Sr, 92, Instructor/Trainer, died 20 January 2021 in Williamsburg, VA.
Glenn was born in Nash County, NC. He was a high school graduate who served honorably in the US Army during the Korean War. Glenn celebrated 50 years of service, under the authorization of the Department of Defense, on October 5, 2003. He later continued contract work with the government. Glenn very much enjoyed his position as an instructor and devoted to the individuals he trained. He rarely if ever, missed a day of work.
Any of you who have gone through firearms training, driving, requal, PM training, jump school, crash & band, etc., probably had "Red" as one of your instructors. He came onboard in 1954 and was recognized for his 50 years of service in 2004.
He wife predeceased him. He is survived by twin daughters, and other family.
Visitation will be held on 1 February 2021 at 6 pm at Nelsen Funeral Home, 3785 Strawberry Plains Rd, Williamsburg, VA. A Graveside Service will be held on 2 February 2021 at 2 pm at Cedar Grove Cemetery, 809 S Henry St, Williamsburg, VA. Online condolences may be shared at www.nelsenwilliamsburg.com.
---
AFIO EDUCATIONAL EVENTS IN COMING TWO MONTHS....
Thursday, 28 January 2021, 6 PM EST - Virtual & In-Person - AFIO Atlanta hosts its monthly Thursday Cigar & Strategy Group social.
For details, contact Atlanta Chapter President Brian Hooper at brian@afioatlanta.com or 404.403.8004.
Thursday, 4 February 2021, 6:30pm CST - Virtual - San Antonio AFIO hear "The Dragon Lady and the Dreamland Resort."
We will begin the meeting with a 30 minute social "half-hour" to talk with other members and then begin the presentation "The Dragon Lady and the Dreamland Resort." It is a story your mother never knew to tell you! Prior to the meeting members will be sent a unique pass code for admission to the virtual meeting. Guests from other chapters may attend by requesting to be added to the email prior to Groundhog Day (2 Feb). The chapter will be joined by students from the University of Texas at San Antonio's Global Intelligence Association.
In preparation for the meeting, here is a link to an online article from the Wall Street Journal. This excellent article includes a link to an approximately 20 minute video that will prepare you to meet the Dragon Lady. The video is excellent quality.
Questions to John Franklin, President, AFIO San Antonio Chapter at 210 863-0430 or email him at satxafio@gmail.com.
Thursday, 18 February 2021, 12:30 - 1:30 pm (PST) - Virtual GoToMeeting - Annual 2021 AFIO-LA Chapter Business Meeting
The AFIO Los Angeles Chapter will hold its annual General Business Meeting which includes annual elections, yearly objectives and other chapter business. All members are encouraged to attend and bring forth any chapter points of interest for the 2021 agenda. This meeting will be held virtually through GoToMeeting. Please RSVP via email reply to attend, we look forward to your participation.
RSVP or Questions to: afio_la@yahoo.com, Vincent Autiero, President, AFIO-Los Angeles Chapter, 5651 W Manchester Ave
Los Angeles, CA 90045. www.afio.org
---
Other Upcoming Events from Advertisers, Corporate Sponsors, and Others
Wednesday, 27 January 2021, noon EST - Virtual - Adolf Tolkachev, the Billion Dollar Spy - hosted virtually by the International Spy Museum co-sponored with the Council on Intelligence Issues
What is a good spy worth? In the case of this one, an estimate by the US Air Force specialist who used the intelligence gained from this one source to terminate or direct research, "somewhere in the neighborhood of $2 billion…" That was before the source, Adolf Tolkachev, delivered another 179 rolls of film with thousands of pages of Soviet documents. Burton Gerber, a legendary CIA officer and senior leader and Moscow Chief during much of the operation, will join Washington Post journalist and Pulitzer Prize winning author David E. Hoffman for a discussion of the Tolkachev case. William D. "Bill" Murray, a retired senior operations officer of the CIA and co-founder of the Council on Intelligence Issues, will be moderating this program. Please join us for this unique presentation which will bring you deeply into one of the most successful and important US espionage operations of the late 20th century, and then you'll be able to ask questions via our online platform. Co-sponsored by the Council on Intelligence Issues.
Event is free – Registration required. Visit www.spymuseum.org
28 January 2021, 6 pm EST - Virtual - OSS Society "Oh So Social" Conversation with Sec James Mattis and Hon. Mike Vickers

OSS Society kicks off their "Oh So Social" Monthly Conversation Series for 2021 with a presentation by Secretary James Mattis and the Honorable Michael Vickers. Event includes a special cocktail presentation by noted author/cocktail historian Philip Greene.
There is no charge to attend. To register, use this link.
---
In addition to the new Royal Blue long sleeve shirts, and the gray long sleeve hooded sweatshirts, the AFIO Store also has the following items ready for quick shipment:
NEW: LONG and Short-Sleeved Shirts with embroidered AFIO Logo and New Mugs with color-glazed permanent logo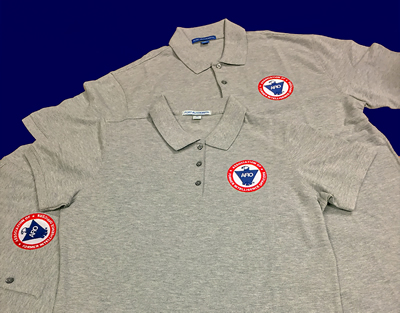 Show your support for AFIO with our new Polo Shirts. Be the first to buy these new, high quality, subtle heathered grey short sleeve shirts, and dark blue long sleeved shirts, of shrink and wrinkle resistant fine cotton with a soft yet substantial feel. They feature a detailed embroidered AFIO seal. Get a shirt for yourself and consider as gifts for colleagues, family, and friends. Only $45 each including shipping.
Sizes of (M) men or (W) women shirts; Small, Medium, Large, XL, XXL, and XXXL. At this time all orders will arrive as Short Sleeve shirts.
You may pay by check or credit card. Complete your order online here or mail an order along with payment to: AFIO, 7600 Leesburg Pike, Ste 470 East, Falls Church, VA 22043-2004. Phone orders at 703-790-0320. If interested in other shirt colors or sleeve lengths, contact Annette at: annettej@afio.com.
Available as a thank you for donations are the new AFIO logo face masks:
These soft, form-fitting, washable, non-medical grade fabric face masks have wide behind-the-ear elastics to make long periods of wear comfortable. Also easier to quickly put on or take off. Blue on outside, white inside. The masks do not have a nose wire but are sculpted, shaped, and sewn to fit most users. The all-cloth composition allows the masks to be washed or steam-disinfected without concerns over metal wires. The color logo is washable and a permanent part of the mask.
The masks, however, are not for sale. They are being offered strictly as a thank you gift to our donors.
For tax-deductible donations of $50 you will receive a receipt and our thank you gift of two of these newly-arrived face masks.
Donations of $100 receive four masks to be sent to the same address. Other amounts and split-shipments are available.
To donate now to support AFIO's programs and publications, please do so here.
We wish all members and donors continued good health, safe social distancing, and warmly appreciate any support you are able to provide the association.
---
AFIO Mug with color glazed logo. Made in America. Sturdy enough to sit on desk to hold pens, cards, paperclips, and candy.
This handsome large, heavy USA-made ceramic mug is dishwasher-safe with a glazed seal. $35 per mug includes shipping. Order this and other store items online here.
---
Guide to the Study of Intelligence and When Intelligence Made a Difference
"AFIO's Guide to the Study of Intelligence" has sold out in hard-copy.
However, it is available in digital form in its entirety on the AFIO website here.

Also available on the website here are the individual articles of AFIO's history project "When Intelligence Made a Difference" that have been published to date in The Intelligencer journal. More articles will be forthcoming in future editions.
---
Disclaimers and Removal Instructions
Weekly Intelligence Notes (WINs) are commentaries on Intelligence and related national security matters, based on open media sources, selected, interpreted, edited and produced for non-profit educational uses by members and WIN subscribers.
REMOVAL INSTRUCTIONS: We do not wish to add clutter to inboxes. To discontinue receiving the WINs:
a) IF YOU ARE A MEMBER - click here: UNSUBSCRIBE and supply your full name and email address where you receive the WINs. Click SEND, you will be removed from list. If this link doesn't open a blank email, create one on your own and send to afio@afio.com with the words: REMOVE FROM WINs as the subject, and provide your full name and email address where you are currently receiving them.
b) IF YOU ARE NOT A MEMBER, and you received this message, someone forwarded this newsletter to you [contrary to AFIO policies]. Forward to afio@afio.com the entire WIN or message you received and we will remove the sender from our membership and distribution lists. The problem will be solved for both of us.
CONTENTS of this WIN [HTML version recipients - Click title to jump to story or section, Click Article Title to return to Contents. This feature does not work for Plaintext Edition or for some AOL recipients]. If you wish to change to HTML format, let us know at afio@afio.com. The HTML feature also does not work for those who access their e-mail using web mail...however NON-HTML recipients may view the latest edition each week in HTML at this link: https://www.afio.com/pages/currentwin.htm
---
WINs are protected by copyright laws and intellectual property laws, and may not be reproduced or re-sent without specific permission from the Producer. Opinions expressed in the WINs are solely those of the editor's or author's listed with each article. AFIO Members Support the AFIO Mission - sponsor new members! CHECK THE AFIO WEBSITE at www.afio.com for back issues of the WINs, information about AFIO, conference agenda and registrations materials, and membership applications and much more!
(c) 1998 thru 2021. AFIO, 7600 Leesburg Pike, Suite 470 East, Falls Church, VA 22043-2004. Voice: (703) 790-0320; Fax: (703) 991-1278; Email: afio@afio.com
---
About AFIO | Membership Renewal | Change of Address | Upcoming Events | Chapter Locations | Corporate/Institutional Memberships | Careers in Intelligence Booklet | Guide to the Study of Intelligence | Intelligencer Journal | Weekly Intelligence Notes | To Make A Donation | AFIO Store | Member-Only Section | Code of Ethics | Home Page
---