---
CONTENTS
Section I - INTELLIGENCE HIGHLIGHTS
Section II - CONTEXT & PRECEDENCE
Section IV - Research Requests, Jobs, Obituaries
Other Upcoming Events from Advertisers, Corporate Sponsors, and Others
For Additional AFIO and other Events two+ months or more... Calendar of Events
WIN CREDITS FOR THIS ISSUE: The WIN editors thank the following special contributors: rsy, ec, po, pj, mh, km, gh, mk, rd, fm, kc, jm, mr, jg, th, ed, and fwr. They have contributed one or more stories used in this issue.

The WIN editors attempt to include a wide range of articles and commentary in the Weekly Notes to inform and educate our readers. However, the views expressed in the articles are purely those of the authors, and in no way reflect support or endorsement from the WIN editors or the AFIO officers and staff. We welcome comments from the WIN readers on any and all articles and commentary.

CAVEATS: IMPORTANT: AFIO does not "vet" or endorse research inquiries, career announcements, or job offers. Reasonable-sounding inquiries and career offerings are published as a service to our members, and for researchers, educators, and subscribers. You are urged to exercise your usual caution and good judgment when responding, and should verify the source independently before supplying any resume, career data, or personal information.]
If you are having difficulties with the links or viewing this newsletter when it arrives by email, members may view the latest edition each week at this link.

---

Other items brought to our attention:

The Courier - Spy Movie about Greville Wynne, Col. Oleg Penkovsky, CIA-MI6-GRU...in Moscow

The Courier is a true-life spy thriller, the story of an unassuming British businessman Greville Wynne (Benedict Cumberbatch) recruited into one of the greatest international conflicts in history. At the behest of the UK's MI-6 and a CIA operative (Rachel Brosnahan), he forms a covert, dangerous partnership with Soviet GRU officer Colonel Oleg Penkovsky (Merab Ninidze) who was seeking to provide crucial intelligence to the west needed to prevent a nuclear confrontation and defuse the Cuban Missile Crisis. A really good period movie with moments of brilliance and intrigue!! 84% on RT. View official trailer here.

---

A Valentine's Day Program featuring Mark Zaid Esq and Guests, conducted by the International Spy Museum.
National security lawyer and long-time comic book dealer/collector Mark S. Zaid led an exploration of lie detection techniques from their roots, including discussion of polygraph provocateur and Wonder Woman creator William Marston, to the latest research into voice stress analyzers, micro-facial expressions, brain scans, and how the spy community has used such techniques over the years and currently. His guests include: Thomas P. Mauriello retired US Department of Defense, Chief of Polygraph; and Senior Lecturer, University of Maryland, Department of Criminology and Criminal Justice. M. Ehsan Hoque, Associate Professor, University of Rochester, AI pioneer on improving human social and interrogation skills. Jennifer Vendemia, Associate Professor, Department of Psychology, and former head of the Center for Advanced Technologies for the Detection of Deception, University of South Carolina.
The full program available here. Runs 90 minutes...of fun and revelations.
Also - please see if you can assist Mr. Zaid with his research request listed under "Research Requests," in this issue of the WINs.

---

"The CIA Agent Myth" - on the Special Agents Blog: I run the "Special Agents Blog," which is dedicated to providing education and resources for the 1811 Criminal Investigator Profession. I recently did a post titled "The CIA Agent Myth" to help our young applicants learn the proper terminology. https://www.specialagents.org/the-cia-agent-myth

---

The Reality of War Should Define Information Warfare by Commander Mike Dahm, U.S. Navy (Retired) March 2021 Proceedings Vol. 147/3/1,417 in Proceedings at the U.S. Naval Institute.
"The mission of the United States Navy is to kill people and destroy things," the senior chief declared with a wry smile. Fresh out of training, we had sheepishly answered that the Navy's mission was "sea control" or "defending America's interests overseas." Later, I realized our answers were better than his. Violent action is one way to accomplish a mission; it is not the objective. Still, it was our first day on board and the senior chief wanted to give us a wake-up call about the realities and dangers of our chosen profession. That simple wisdom from an old salt reveals a fundamental truth. Military application of the instruments of war is a distinction that must be embraced when determining what "information warfare" is and what it is not. Article continues here.

---

The Arkin Group's March 19 "In Other News" letter to private clients by former Operations Officer Jack Devine features...

A declassified report from the Office of the Director of National Intelligence identifies Russian President Vladimir Putin as having authorized a state-sponsored campaign to influence the outcome of U.S. presidential elections in November 2020.
Mexico will receive Covid-19 vaccines from the United States, as the two countries also negotiate the handling of migrants on the U.S. southern border.
The Biden administration is reportedly mulling new sanctions on the Nord Stream 2 gas pipeline to link Russian gas directly to the German market.
Recently released was Jack Devine's Spymaster's Prism. AFIO's interview with him about this book appears in this issue at top of right column of this issue of the WINs. You can view the video at this link. Or hear the podcast here.

---

The Latest... from Jeff Stein's highly popular "SpyTalk" series

Mar 23: "Israeli Spy Pollard Betrays America Yet Again" by Jeff Stein
The traitor's latest self-serving lie adds another burden to minorities in US national security agencies
Article here

Mar 18: "Bill Burns' CIA and the Roads Not Taken" by Jeff Stein
The spy agency's new chief gets a second chance to tell truth to power
Article here

Readers can subscribe for free at the moment here.

---

Inside the SCIF:

Inside the SCIF by JJ Green, WTOP - Issue #105, 18 March has more details on the "insurrection": FBI releases new videos; Asks for public's help; Russia reaction to Biden calling Putin "a killer"; Key Judgments from ODNI's report: Foreign Threats to the 2020 US Federal Elections; Cyber issues addressed by Jen Psaki & Deputy National Security Advisor for Cyber Anne Neuberger on Microsoft Exchange Vulnerabilities UCG; More on Korea, SolarWinds, MS Exchange.

The latest Target USA Podcast 268 is on: "Bill Evanina Speaks: The recently retired Director of the National Counterintelligence and Security Center goes into detail about the threats, challenges and capabilities of the hostile nation states facing the U.S. We've waited several years for this, unrestrained interview." He doesn't disappoint.

And "The Hunt" explores: New US intelligence report: 'Domestic violent extremism poses heightened threat in 2021.' On this week's episode of "The Hunt with WTOP National Security Correspondent J.J. Green," Scott Stewart, Vice President of Intelligence at Torchstone Global, said "political polarization and demonization" are driving the threat.

---

---

From the National Cryptologic Museum Foundation:

THE NCMF's #CyberChats, held virtually via their Nepris online classroom, have resumed.

Other NCMF upcoming events will be:
NCMF Fireside #CyberChat on 31 March, 3-4pm EST with Dr. Sally Botsai
Tuesday May 10, 2022 - NCMF spring membership meeting at the Kossiakoff Center
Wednesday May 11 - Thursday May 12, 2022 - CCH Cryptologic History Symposium at the Kossiakoff Center
Friday May 13, 2022 - Half day offering at the National Cryptologic Museum
To explore all these upcoming events, visit NCMF website here, and CCH website here.

---

One of the special benefits of membership in AFIO: access to CIA's inhouse gift shop — the EAA Store.

It requires a quick preapproval process described here to all newly joined and current AFIO members. And then allows you to purchase online their unusual logo'd gift items for self or colleagues. Here is the latest photo EAA released on March 12 featuring some of their newest items, this time for children of officers:

---
---
There will be no WIN next week - 30 March
WINs will recommence 6 April
---
Just released to members-only...
The State of Iran Today

Released 23 March 2021
Interview of Thursday, 11 March 2021 of Norman Roule, former National Intelligence Manager, Iran, ODNI; former Division Chief, CIA Operations Officer, Chief of Station. Interviewer - Host: James Hughes, AFIO President, a former CIA Operations Officer.
TOPIC: Norm Roule and Jim Hughes discuss the state of Iran today and how current and future administrations need to approach that regime. The interview runs 42 minutes and includes several Q&As.
Access Roule video here or click above image.
---
Prior Videos in the "AFIO Now" Series
To view the publicly-released ones, visit our YouTube page
or log into the Member-only area to view private and public interviews.
---
NOTE: ABOUT THE SPEAKERS — Full bios appear below each video. Use the "SHOW MORE" or the caron (down caret symbol) under video or at right on mobile devices. Closed Captioning is available. Click CC button at bottom right of video window. If viewing on a mobile browser or device, click video while running and three dots will appear at top right edge to turn CC on or off.

NEW — PODCASTS: Our new social media expert has been busy! Are you too busy to sit and watch an entire "AFIO Now" episode above on YouTube? Would you rather listen in your car or while accomplishing other tasks? Now you can quickly download or stream episodes on your favorite podcasting platform. AFIO is now available on 8 podcasting platforms. Search for 'AFIO Podcast' for a selection of the interviews above (public released ones) on Podbean; iTunes; Google; Spotify; Amazon Music; Amazon TuneIn + Alexa; iHeartRadio; and Pandora.
---
Newly Released, Overlooked, or Forthcoming Books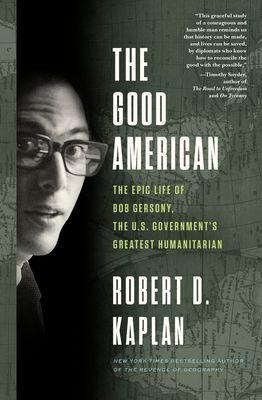 The Good American: The Epic Life of Bob Gersony, the U.S. Government's Greatest Humanitarian
by Robert D Kaplan
(Random House, Jan 2021)
In his long career as an acclaimed journalist covering the "hot" moments of the Cold War and its aftermath, author Kaplan often found himself crossing paths with Bob Gersony, a consultant for the U.S. State Department whose quiet dedication and consequential work made a deep impression on Kaplan.
Provides a review of geo-politics over the 45 or so years, most especially during the Cold War era. The reader is transported to many conflict areas - Guatemala, Nicaragua, Columbia, the Horn of Africa, Iraq, Rwanda, Sudan, Israel, North Korea, and more — through the eyes of a contractor for the US Department of State/US AID, Bob Gersony. Along the away, Gersony interacts with the CIA, through local Chiefs of Station as well as at CIA Headquarters, where he regularly briefed his in-depth findings to analysts. Indeed, his methodology for gathering grass roots data on the lives of refugees and displaced persons is a lesson for CIA case officers today. Gersony's field reports often influenced US foreign policy and caught the attention of US Presidents
Gersony, a high school dropout later awarded a Bronze Star for his service in Vietnam, conducted on-the-ground research for the USG in virtually every war and natural-disaster zone in the world. In Thailand, Central and South America, Sudan, Chad, Mozambique, Rwanda, Gaza, Bosnia, North Korea, Iraq, and beyond, Gersony never flinched from entering dangerous areas that diplomats could not reach, sometimes risking his own life. Gersony's behind-the scenes fact-finding, which included interviews with hundreds of refugees and displaced persons from each war zone and natural-disaster area, often challenged the assumptions and received wisdom of the powers that be, on both the left and the right. In nearly every case, his advice and recommendations made American policy at once smarter and more humane—often dramatically so.

Book may be ordered here.
---
Fears of a Setting Sun: The Disillusionment of America's Founders
by Dennis C. Rasmussen
(Princeton Univ Press, Mar 2021)
Americans seldom deify their Founding Fathers any longer, but they do still venerate the Constitution and the republican government that the founders created. Strikingly, the founders themselves were far less confident in what they had wrought, particularly by the end of their lives. In fact, most of them—including George Washington, Alexander Hamilton, John Adams, and Thomas Jefferson—came to deem America's constitutional experiment an utter failure that was unlikely to last beyond their own generation.
As Rasmussen shows, the founders' pessimism had a variety of sources: Washington lost his faith in America's political system above all because of the rise of partisanship, Hamilton because he felt that the federal government was too weak, Adams because he believed that the people lacked civic virtue, and Jefferson because of sectional divisions laid bare by the spread of slavery. The one major founder who retained his faith in America's constitutional order to the end was James Madison, and the book also explores why he remained relatively optimistic when so many of his compatriots did not. As much as Americans today may worry about their country's future, Rasmussen reveals, the founders faced even graver problems and harbored even deeper misgivings.
Book may be ordered here.
---
Codebreaker Girls: A Secret Life at Bletchley Park
by Jan Slimming
(Pen & Sword Military, Mar 2021)
The true story of Daisy Lawrence, using snippets of information, unpublished photographs and her own recollections to describe scenes from her mother's poor, but happy, upbringing in London, and the disruptions caused by the outbreak of the Second World War to a young woman in the prime of her life.
The author asks why, and how, Daisy was chosen to work at the Government war station, as well as the clandestine operation she experienced with others, deep in the British countryside, during a time when the effects of the war were felt by everyone. In addition, the author examines her mother's personal emotions and relationships as she searches for her young fiancée, who was missing in action overseas. The three years at Bletchley Park were Daisy's university, but having closed the door in 1945 on her hidden role of national importance — dealing with Germany, Italy and Japan — this significant period in her life was camouflaged for decades in the filing cabinet of her mind. Now her story comes alive with descriptions, original letters, documents, newspaper cuttings and unique photographs, together with a rare and powerful account of what happened to her after the war.
Book may be ordered here.
---
We Are Bellingcat: Global Crime, Online Sleuths, and the Bold Future of News
by Eliot Higgins
(Bloomsbury Publishing, Mar 2020)
Account of the organization solving international mysteries and wielding the power of the internet to fight for facts.
In 2018, Russian exile Sergei Skripal and his daughter were nearly killed in an audacious poisoning attempt in Salisbury, England. Soon, the identity of one of the suspects was revealed: he was a Russian spy. This huge investigative coup wasn't pulled off by an intelligence agency or a traditional news outlet. Instead, the scoop came from Bellingcat, the open-source investigative team that is redefining the way we think about news, politics, and the digital future.
Higgins tells the inspiring story of how a college dropout pioneered a new category of reporting and galvanized citizen journalists-working together from their computer screens around the globe-to crack major cases, at a time when fact-based journalism is under assault from authoritarian forces. Higgins introduces readers to the tools Bellingcat investigators use, tools available to anyone, from software that helps you pinpoint the location of an image, to an app that can nail down the time that photo was taken. This book digs deep into some of Bellingcat's most important investigations-the downing of flight MH17 over Ukraine, Assad's use of chemical weapons in Syria, the identities of alt-right protestors in Charlottesville-with the drama and gripping detail of a spy novel.
Book may be ordered here.
---
Writers, Officers: Please Provide A Brief Article for This Ongoing AFIO History Project
AFIO's educational project "When Intelligence Made a Difference" seeks writers to identify events throughout history involving any nation or organization when the outcome was affected significantly by intelligence.
AFIO has been publishing edited submissions serially in Intelligencer released two to three times a year.
To see what has been published, it is available here. Also look at the Winter-Spring edition of the journal arriving in the mail of all members and subscribers over the next three weeks.
Those readers interested in contributing an article, should email peter.oleson@afio.com.
For instructors, this project makes a great class assignment. Accepted articles give students a publication credit in a recognized journal.
---
Guide to the Study of Intelligence and When Intelligence Made a Difference
"AFIO's Guide to the Study of Intelligence" has sold out in hard-copy.
However, it is available in digital form in its entirety on the AFIO website here.

Also available on the website here are the individual articles of AFIO's history project "When Intelligence Made a Difference" that have been published to date in The Intelligencer journal. More articles will be forthcoming in future editions.
---
Visit, Follow, Subscribe to AFIO's LinkedIn, Twitter, and YouTube pages to receive updates.
Members who use social media or wish to explore, will find new announcements and other material on AFIO's Twitter and LinkedIn pages. New videos on our YouTube page appears below as well.
Access them here: LinkedIn, Twitter, and YouTube. By following or subscribing on those sites, one can be notified as new material appears.




NEW — PODCASTS: Our new social media expert has been busy! Are you too busy to sit and watch an entire "AFIO Now" episode above on YouTube? Would you rather listen in your car or while accomplishing other tasks? Now you can quickly download or stream episodes on your favorite podcasting platform. AFIO is now available on 8 podcasting platforms. Search for 'AFIO Podcast' for a selection of the interviews above (public released ones) on Podbean; iTunes; Google; Spotify; Amazon Music; Amazon TuneIn + Alexa; iHeartRadio; and Pandora.
---
---
Section I - INTELLIGENCE HIGHLIGHTS

Finnish Intelligence: Extreme-Right Terrorism Threat Rising. Finland's domestic security agency on Tuesday maintained its terror threat assessment at an "elevated" level two on a four-point scale, while noting that the danger of extreme right-wing terrorism has grown in the Nordic country.

The Finnish Security and Intelligence Service, known by the abbreviation Supo, said in its 2020 review that it had identified far-right operators "with the capacity and motivation to mount a terrorist attack" in the country of 5.5 million.

"The far-right counter-terrorism targets identified by Supo are typically linked to the extreme right-wing international online environment," Supo Director Antti Pelttari said in a statement. [Read more: AP/23March2021]

Bulgarian Officials Arrest Six in Russian Spy Ring Before Elections. Bulgarian prosecutors announced that they had arrested six people, including high-ranking members of the military and intelligence communities, for spying for Russia.

The investigation into the spy ring was considered of "special significance" for the national security of not only Bulgaria, but the EU, NATO, and the United States, general prosecutor Ivan Geshev said in a press briefing.

"We do not hate any foreign country, but we need to and must defend Bulgaria...Bulgarian citizens can and should be proud of their security services," Geshev added. [Read more: Balestrieri/SOFREP/21March2021]

Top NATO Scientist With Security Clearance Busted Spying for China. Chinese military intelligence recruited an Estonian national working at a NATO research institution focused on maritime and submarine research, The Daily Beast has learned.

The spy, Tarmo Kõuts, renowned in the Estonian scientific community for his research, was convicted last week and sentenced to three years in prison. The Baltic country's intelligence services had warned for years of the growing Chinese threat, but the conviction was the first of its kind. So far, Estonia's counterintelligence service, known domestically by its acronym KAPO, has been praised for its success in catching spies recruited and run by Russia.

According to Aleksander Toots, the deputy director of KAPO and Tallinn's top counterintelligence official, Kõuts was recruited in 2018 by China's Intelligence Bureau of the Joint Staff Department of the Central Military Commission - as Beijing's military intelligence agency is known - along with an alleged accomplice who is yet to be tried in court. Both were arrested on September 9, 2020, with no publicity or discussion of the case in the Estonian media. [Read more: Roonemaa&Weiss/DailyBeast/19March2021]

New Zealand: Security Intelligence Service Releases Internal Review into Decision-Making Prior to Christchurch Mosques Attack. The Security Intelligence Service has made public the full internal review into its decision-making in the lead up to the Christchurch mosque terror attack.

The report, previously only publicly available in executive summary form, confirms the agency's spies had not identified the mosque terrorist prior to the attacks and that, while its processes were "broadly effective", its intelligence prioritisation needed to be refined.

But the full report reveals some greater details of the inner-workings of the Security Intelligence Service (SIS), including that the agency redesigned how it handled intelligence leads, and that foreign interference was its top priority in its 10-year strategy called "STERLING".

"I am pleased this review is now public. It is important for New Zealanders to know that NZSIS sought to learn everything it could from this terrorist attack," SIS Director-Feneral Rebecca Kitteridge said, in a statement. [Read more: Manch&Lourens/Stuff/22March2021]

Iran Threatened to Attack US Army Base, Kill Top General, Intelligence Officials Say. Iran has made threats against Fort McNair, an Army post in the U.S. capital, and against the Army's vice chief of staff, two senior U.S. intelligence officials said.

They said communications intercepted by the National Security Agency in January showed that Iran's Revolutionary Guard discussed mounting "USS Cole-style attacks" against the Army post, referring to the October 2000 suicide attack in which a small boat pulled up alongside the Navy destroyer in the Yemeni port of Aden and exploded, killing 17 sailors.

The intelligence also revealed threats to kill Gen. Joseph M. Martin and plans to infiltrate and surveil the installation, according to the officials, who were not authorized to publicly discuss national security matters and spoke on condition of anonymity. The Army post, one of the oldest in the country, is Martin's official residence. [Read more: LaPorta/AP/21March2021]


---
Section II - CONTEXT & PRECEDENCE

Gale Debuts New Digital Archive Series on British Intelligence. Gale, a Cengage company, is introducing the first module of its new Declassified Documents Online: Twentieth-Century British Intelligence series. Declassified Documents Online: Twentieth-Century British Intelligence, An Intelligence Empire brings together previously classified documents from The U.K. National Archives that offer new viewpoints on the machinery of British intelligence, decolonization and global policy and strategy, including important insight into international politics and diplomacy in the 20th century. Available on the Gale Primary Sources platform, this never-before-digitized collection gives scholars and researchers access to thousands of top secret files that provide historical context on the history of British intelligence. Now researchers can make comparisons and connections, enabling greater understanding of the historical impact Britain's intelligence agencies have had on the world today. [Read more: Gale/23March2021]

The True Story Behind 'The Courier'. In November 1960, Greville Wynne, a 41-year-old British businessman, sat down for a lunch that would change his life. His dining companion, Dickie Franks, revealed himself to be an officer of the British Secret Intelligence Service, also known as MI6, and asked Wynne for his help. An industrial sales consultant who regularly traveled through Eastern Europe and the Soviet Union representing British electrical and steel companies, Wynne was told it would be helpful if on his next trip, he could arrange for a meeting with a state committee in Moscow dedicated to developing opportunities with foreigners in science and technology, and report back on his conversations. Despite having no previous experience in intelligence work, Wynne was being recruited to serve as an MI6 agent.

Wynne agreed, and during his visit to Moscow the following month he wound up connecting with Oleg Penkovsky, a lieutenant colonel in the GRU (the Soviet Union's foreign-intelligence agency) who was eager to leak high-level military information to Western powers. Penkovsky felt stunted in his career with GRU and expected that by helping the West for a year or two, he and his family could be relocated and build a better life, and that he would personally be showered with recognition and honor. Wynne went along, slightly concerned about whether Penkovsky was on the level and concerned about putting himself into a dangerous situation, kicking off what would be one of the most productive clandestine operations in Cold War history. Penkovsky's information, and Wynne's help in delivering it to British and American intelligence officers, would produce mountains of material, play a role in the Cuban Missile Crisis, and land both men in prison. [Read more: Palmer/SmithsonianMagazine/18March2021] [See the movie trailer here.]

Security in History: the Japanese Intelligence Service in WW2. The latest in an occasion series on security topics in history, based on files downloadable free from the National Archives,at Kew in west London, not open to the public during the covid-19 pandemic lockdowns.

File KV2-412 from the National Archives is of the German intelligence agent and Viennese man Dr Wilhelm Hoettl and shows how the victorious Allies wanted to fill in any gaps in their knowledge. Interrogated Germans of various intelligence services (the German military had rival espionage services to the SS) confessed to trying to kill the Free French leader General Charles de Gaulle; planning to assassinate Soviet dictator Josef Stalin, and to 'capture' (a polite way of saying assassinate) the Yugoslav Partisan leader Tito in 1944.

The file - Hoettl surrendered to and was interrogated by the Americans - includes 'miscellaneous notes on the activities of the Japanese intelligence services in Europe'. As background, and as those notes say, the Japanese ambassador to the Third Reich, Oshima, was kept 'au courant of Germany's plans by Hitler personally'. While the Japanese and the Nazis fought separately, separated by geography, in the Second World War, they were allies in the so-called Axis, besides Fascist Italy.

The typed notes by the British security services, dated July 7, 1945, say: "Two outstanding characteristics of the working methods of the Japanese Intelligence Services were its lack of scruples in the choice of means and remarkable technical accomplishment in the execution of its missions. [Read more: ProfessionalSecurity/18March2021]

Sharing Intelligence: The "Wall" Between Criminal Law and Espionage. In October 1978, President Jimmy Carter signed into law the FISA legislation that established a new framework for American policy, mandating a strict separation of the CIA and the FBI; or, more broadly, between criminal law and espionage. It was to make sure that criminal investigations weren't aided by foreign intelligence surveillance data. Was it a correct move? [Read more: Rosenzweig/GWU/18March2021]

Get a CIA Job as a Science, Technology, and Weapons Analyst. While Hollywood draws interest in the CIA's work, it's important to know that spending your professional life at the CIA is still a government job. But maybe a desk job is a good thing, since most people can't live life on a constant adrenaline rush. The reality is that as the information world continues to multiply, the need for analysis on focused areas has also increased. While you need to have a big picture view of the events around the world, it's also helpful to hone in on specific issues like foreign weapons development or emerging threats. If you've always enjoyed understanding how different capabilities can turn on a dime for our country, then the Science, Technology, and Weapons (STW) analyst role at the CIA could be the right position for you. [Read more: Hamilton/ClearanceJobs/19March2021]


---
Covert Action, Espionage, and the Intelligence Contest in Cyberspace. In recent months, the world learned that China carried out an indiscriminate hack against Microsoft Exchange, while Russia hacked U.S. information technology firm SolarWinds and used cyber capabilities in an attempt to influence the 2020 U.S. presidential election. The attacks raise important questions about how best to characterize these and other kinds of disruptive cyber events. One perspective that has gained considerable traction is that cyberspace is not primarily a warfighting domain where strategic theories involving deterrence and coercion reign supreme, but rather an intelligence contest centered on spies and spycraft.

Embracing this paradigm shift has significant implications. It affects how we think about a broad range of fundamental questions. How can the United States actually succeed in cyberspace? How might it fail? When should the United States compete hard and threaten retaliation? When should it show restraint? [Read more: Pozansky/WarOnTheRocks/23March2021]

A New Policy on Setting Intelligence Priorities. Shortly before the end of the Trump Administration in January 2021, then-Director of National Intelligence John Ratcliffe issued a directive that altered the process for preparing the National Intelligence Priorities Framework, or NIPF, stripping out limitations on signals intelligence collection from the previous policy.

The NIPF is perhaps the single most important administrative tool for managing the U.S. intelligence enterprise. It is used to determine priorities for intelligence collection and to allocate resources based on them.

The newly revised Intelligence Community Directive 204 on the National Intelligence Priorities Framework that was signed by DNI Ratcliffe on January 7, 2021 defines policy "for setting national intelligence priorities, translating them into action, and evaluating Intelligence Community (IC) responsiveness to them."

It replaces the 2015 version of Intelligence Community Directive 204 that was issued in the Obama Administration by then-DNI James R. Clapper. [Read more: Aftergood/SecrecyNews/22March2021]

The Spyhunter's Burden. A recent email from the current Central Intelligence Agency (CIA) Chief of Counterintelligence (C/CI), wherein Agency retirees were reminded of their life-long obligation to protect the sensitive information with which they were entrusted while serving and to comport themselves accordingly after leaving the CIA, has reportedly touched a nerve among some former Agency officers.

The message, according to fellow 'former' (and fellow Cipher Brief Expert) Marc Polymeropoulos, "seemed (to some) to have an accusatory tone, impugn first amendment rights, and hamper employment prospects in a global market." I find such reactions to the message puzzling.

Having had to deal with the same issues when I was the Agency's C/CI, I can attest to the challenges formers who do not abide by their obligations - explicit and implicit - can engender. "There are", James J. Angleton once said, "certain matters that you take to the tomb." While that determination by the most famous Agency C/CI - Angleton - was typically melodramatic, it surely speaks to the most important and enduring responsibility inherent in service with CIA: keeping secrets secret even after leaving the Agency. [Read more: Kelton/TheCipherBrief/17March2021]


---
Section IV - Research Requests, Jobs, Obituaries
Seeking Officials Who Served USSR/Russia 1965-2015 and Other Posts - with knowledge of, or exposure to, MW/Directed Energy Weapons
Prominent D.C. Attorney seeking former intel officers or others who served in USSR/Russia during 1965-2015, as well as anyone who has information concerning possible microwave/energy directed weapon exposure of U.S. officials by foreign adversary.
Replies to Mark S. Zaid Esq, mark@markzaid.com. Or call him at (202) 454-2809.
More information about Mr. Zaid at MarkZaid.com.
Request for Assistance Researching Clandestine Maritime Operation in Da Nang 1950s-1970s
"My old Master Chief, James "Jim" Gray and I wrote the first history of Naval Special Warfare Combatant Craft (WARBOATS, 55 Years of Naval Special Warfare Combatant Craft History) for our veterans organization the Combatant Craft Crewman Association (CCCA), now in its second printing. One of the areas that we wanted to explore in greater depth were the clandestine maritime operations based in Da Nang from the South Vietnamese and CIA period through Switchback and Military Assistance Command Vietnam-Studies and Observation Group (MACV-SOG) control and the final the American withdrawal.
We are looking for assistance with this research in particular on the CIA side, as much of the MACV-SOG documentation has been declassified and we have spoken with the SEALs and Boat Support Unit One men of Mobile Support Team 1 and the Mobile Repair Team. Our Norwegian colleague, Jan Tore Nilsen is a Senior Reserve Commander in the Norwegian Navy is researching Norwegian involvement in Vietnam and has interviewed the surviving Norwegian contractors and obtained documents and photos from them as well as obtained documents regarding acquisition and construction of the Norwegian PTF (Patrol Torpedo Fast) boats for operations in Vietnam. An old friend of mine who was an historian for the CIA suggested we contact AFIO and ask for assistance. We would greatly appreciate any assistance from AFIO members."
Replies to Phil Garn at pggarn@yahoo.com
Seeking Spy-Themed Tourism Experts and New Recruits (with IC backgrounds) for Metro D.C. area opportunity
ISO former Intelligence Officers who might be interested in getting involved in spy-themed tourism in the Washington D.C. metropolitan area.
Also interested in speaking with those who may already be involved in the tourism and travel industry elsewhere.
Please contact Rosanna Minchew at r_minchew@me.com or 571-236-9052.
Intelligence Analysis Faculty Program Director/Sr. Lecturer, Johns Hopkins University: Zanvyl Krieger School of Arts and Sciences: Advanced Academic Programs, Washington, DC
The Advanced Academic Programs (AAP) division seeks a Faculty Program Director to teach in and provide administrative leadership to the M.S. in Intelligence Analysis and the Post-Baccalaureate Certificate in Intelligence programs. These programs are part of the Center for Advanced Governmental Studies (CAGS) which is comprised of seven master's degree and three graduate certificate programs. The Center also includes the following programs: M.A. in Government, M.S. in Data Analytics and Policy, M.A. in Public Management, M.A. in Global Security Studies, M.S. in Geospatial Intelligence, M.A. in NGO Management; Certificate in Government Analytics, and the Certificate in Nonprofit Management. These programs educate students who wish to apply rigorous academic concepts to policy-related careers.
Of particular interest are candidates who have experience teaching and engaging students from diverse backgrounds. The Program Director is a full-time, non-tenure-track, 12-month renewable faculty position with the academic title of Senior Lecturer. The Faculty Program Director will have significant interaction/collaboration with the Director of the Center and the Associate Director of CAGS, as well as with the Associate Dean for AAP, other Program Directors, Program Coordinators, AAP staff, and administrators. The Program Director reports to the Associate Dean for AAP, the Center Director, and the Program Chair for Governmental Studies. This position is expected to begin July 1, 2021. The Program Director will have the following faculty and administrative responsibilities:
Faculty Responsibilities
Teaching 4 graduate courses per year, including the preparation for and time spent in the classroom (online or onsite), using best practices for online teaching, engaging and mentoring students from diverse backgrounds in the learning process, responding to student questions;
Advising students, including capstone advising for the master's program;
Providing innovative leadership for curriculum design and new course development to ensure the growth and delivery of quality programs; and
Other academic duties normally performed by full-time faculty, such as participating on committees, attending academic events, or contributing to other academic service.
Administrative Responsibilities
Providing overall supervision for the M.S. in Intelligence Analysis and Certificate in Intelligence, including shared management with the Center Director for the programs;
Leading some full-time faculty, adjunct faculty development, hiring, and evaluation;
Overseeing program admissions processes, including reviewing and approving prospect admission materials;
Coordinating program promotion and outreach, including interacting with outside groups and developing external / internal partnerships;
Coordinating with staff in student and faculty services, online education, marketing, finance, and enrollment services departments on operational issues related to program administration;
Other administrative duties as assigned.
Minimum Qualifications:
Ph.D. or other terminal degree (e.g., J.D.) in a relevant field to Intelligence Studies;
3 or more years of higher education teaching experience, preferably including online teaching and at the graduate level;
3 or more years of related professional work with the Intelligence Community (IC), preferably at the national/strategic level, including combatant commands;
3 or more years of management or leadership experience in an Associate Director or similar related position;
The ability to teach a variety of courses in intelligence studies, such as intelligence analysis, legal and ethical issues in intelligence, intelligence leadership, strategic culture analysis, and critical thinking and analysis;
Demonstrated track record of excellence in teaching.
For more information and instructions on how to apply, please follow this link: https://apply.interfolio.com/85064
Program Director, National Security and Technology – Georgetown University Law Center
A new 360 Innovation Incubator at GULC will be tackling problems in four focus areas, the first of which is the NatSec Tech Program, which looks at the intersections between national security and new and emerging technologies. The National Security & Technology Program Director will lead this new program, serving as a thought leader for this increasingly important sub-field. Utilizing the Center's innovation methodology, the Program Director will help develop strategic new project ideas for the Incubator, oversee and manage those projects including all aspects of foundation grants and budgets, write grant proposals, and build new relationships and networks for the Center. In the immediate term, the Program Director will be the day to day lead manager for the Center on National Security's new Public Interest Technology grant-funded project: 360 Tech: Innovation, Security, and Governance. The project aims to identify the most critical risks posed by social media to individuals, communities, and society, and then develop and test holistic governance models to address those risks. The Program Director will be a lead member of the core team (overseen by the Executive Director) and will be responsible for managing all day to day aspects of the project, including research and writing, coordination and outreach, project management, event and workshop planning, and operations oversight.
For full description of duties, responsibilites, and qualifications, or to apply for the position, view job posting here.
Assistant Professor (tenure-stream) of International Affairs/Intelligence sought by University of Pittsburgh
The Graduate School of Public and International Affairs at the University of Pittsburgh is seeking to hire an Assistant Professor of International Affairs with a focus in intelligence matters (broadly understood). We are looking for someone who can teach on intelligence subjects in our Security and Intelligence major and contribute to our International Affairs program more generally. We welcome those trained in political science, history, and other disciplines, and are particularly interested in those with cyber or regional expertise. The deadline is March 31.

The full announcement can be read -- and application submitted -- through Pitt's Talent Center here.
THREE Faculty Openings for 2021 at Hilbert College, Hamburg, NY
Assistant Professor, Criminal Justice; Assistant Professor, Forensic Science/Crime Scene Investigation; and Assistant Professor, Intelligence & Data Analysis.
Interested candidates can view our job postings here.
---
Richard Allen Bentley, 96, NSA Analyst, died 3 March 2021 in Bentonville, VA.
Born in Washington, DC, the family moved to Richmond, VA and then to Roanoke in 1935.
He was a US Navy submarine vet of WWII and Korea. He graduated from Roanoke College in 1950. He met his wife-to-be, Carol, while they were awaiting security clearance for the National Security Agency. Richard worked as an NSA analyst 1951 - 1993, and lived in Ashton, MD from 1961-2018.
He was a Montgomery County Boys Baseball Association (MCBBA) and Olney Boys Club coach in Sandy Spring, MD; an avid bowler, and model train builder.
He is survived by his wife of 69 years, Carol Jean Kelley Bentley, a son, a daughter, and other family.
James Bronson, FBIS - Foreign Broadcast Information Service, CIA
James Austin Bronson, 89, FBIS, died 18 March 2021 in Bennington, VT.
He was a 6th generation northern Vermonter. He graduated from Holy Cross College in 1953. He served two years active duty in the Marines in Cherry Point, NC (followed by many years in the reserves). He was hired by John Wilpers into FBIS in 1955. He served in Cyprus (Karavas) from 1968-1971, Panama 1974-1976, Cyprus (Nicosia) 1978-79, and Okinawa 1980-1984. He retired in 1992 and moved back to Vermont in 1994.
Coached many girls and boys basketball teams in Maryland in the 60s and 70s. He played tennis well into his 70s. He taught his children how to snow ski on the Sun Valley hill in Troodos, Cyprus, to paint the house every two years, to love books, and to study and work hard.
He is survived by his wife Esther, three sons, two daughters, and other family.
Irish Flynn, Asst Dir Naval Intelligence for Counter-Intelligence and Anti-Terrorism
Cathal "Irish" Liam Flynn, Rear Admiral (RDML)(lower half) USN, 82, Asst Dir Naval Intelligence for Counter-Intelligence and Anti-Terrorism, died 25 February 2021 in Coronado, CA.
He was born in Dublin, Ireland. He attended schools in Ireland, France, and Spain, and graduated from the University of Dublin, Trinity College, in 1959. He received M.A. and B.A.I. (Civil Engineering) degrees from the University of Dublin and an M.A. (International Affairs, East Asian Studies) from the American University.
In 1960, he was commissioned in the US Navy and given the nickname "Irish." He completed Underwater Demolition Team (UDT) replacement training, thus beginning 30 years active service, predominantly in the fields of naval special warfare, joint special operations, measures to combat terrorism, and international security affairs.
He served in UDT-11 and SEAL Team One, led SEAL detachments in Vietnam in 1964 and 1967-68, and commanded UDT-12. Later, he commanded Naval Special Warfare Group ONE and served in the Joint Special Operations Command. In intervals between operational tours, he served on the staffs of the Chief of Naval Operations, Naval Sea Systems Command, Commander in Chief Pacific Fleet, and Secretary of Defense. He graduated with distinction from the Naval War College (Command and Staff Course) and the National War College.
Promoted to Rear Admiral in 1985, Cathal Flynn served successively as Commander, Naval Security and Investigative Command (and concurrently as Assistant Director of Naval Intelligence for Counter-Intelligence and Anti-Terrorism), Director of Plans and Policy at U.S. Special Operations Command, and Deputy Assistant Secretary of Defense for Special Operations. Following his retirement from the Navy in 1990, he joined SAIC and concurrently served on committees of the National Research Council and the Defense Science Board.
From 1993 to 2000, Admiral Flynn was the Associate Administrator for Civil Aviation Security in the FAA. During that time, the FAA introduced far-reaching changes of regulations to improve air carrier and airport security programs within the United States and abroad. Subsequently, he was an independent consultant for a number of years on aviation security.
Flynn received many awards.
In retirement, he volunteered with the Optimist Club, the Coronado Hospital Auxiliary, and in a school reading program.
He is survived by his wife, Edith Kurtz Flynn, by two daughters, and other family.
Carroll Hauver, CIA Officer, Inspector General
Carroll Lee Hauver, 90, CIA Inspector General, died 18 March 2021. Word just reached us. Details forthcoming.
Carroll Hauver served as Deputy Inspector General, and produced an internal report on Edward Lee Howard when Howard fell under suspicion of spying for the Soviets.
More details on the death of Hauver forthcoming.
Michael Herman, UK Intelligence officer, UK Intelligence Academic
Michael Herman, 91, a former British intelligence officer for GCHQ and academic, died 12 February 2021. He was a former Fellow at Nuffield College and St Antony's College at the University of Oxford, and the founder of the Oxford Intelligence Group. He was the author and/or editor of three books on intelligence, including Intelligence Power in Peace and War, described as "a key reference point for all those seeking to study the nature, roles and impact of intelligence as a state function, influencing a whole generation of academics drawn to its study."
He was educated at the Scarborough High School and graduated from The Queen's College, Oxford, where he read Modern History. He served in the Intelligence Corps of the British Army in Egypt from 1947 to 1949.
Herman worked for the Government Communications Headquarters from 1952 to 1987. During that period, he also worked as Secretary of the Joint Intelligence Committee in the Cabinet Office and as a staff member of Defence Intelligence. On retiring from GCHQ in 1987, Herman became a Gwilym Gibbon Research Fellow at Nuffield College, Oxford. He was subsequently an Honorary Departmental Fellow in the Department of International Politics at Aberystwyth University in Wales and a Senior Associate Fellow of St. Antony's College, Oxford. He was also the founding director of the Oxford Intelligence Group. Herman was the recipient of the St Antony's plaque from St Antony's College in 2004, an Honorary Doctorate of Letters from the University of Nottingham in 2005 and the Lifetime Achievement Award from the International Association for Intelligence Education in 2016.
Herman was the author of two books and the editor of a third, all about intelligence.
"The Sad Loss of Michael Herman" - a remembrance can be found at Taylor and Francis Publishing here.
Peter Keenan, US Treasury CID Officer, Representative to Interpol
Peter Joseph Keenan, 98, US Treasury CID Officer, Representative to Interpol, died 14 March 2021 in Laurel, MD.
He was born in New York City. Peter was called "Brother" by the family. The Keenans lived in West Chelsea near the docks where Peter's father and grandfather worked. Peter enjoyed his childhood playing sandlot baseball, going to the Chelsea Grand Opera House to see vaudeville and movies, to the old Madison Square Garden for the six-day bicycle races and boxing matches, picnics and outings sponsored by the longshoremen's union and time at Rockaway Beach with the Sweeney cousins. After graduating from P.S. 11, Peter attended Straubenmiller Textile High School.
In the summer of 1942, he enlisted in the US Navy. Shortly after the only World Series game he ever attended (Yankees vs. Cardinals), he was called up. Peter was selected for radio communications training, and signed up for the submarine service. He went on six war patrols with the USS Mingo in the South Pacific. He was one of the lucky ones who not only survived but thoroughly enjoyed his time on the sub and at bases in Australia and Hawai'i. At war's end, he was rated Radioman Second Class.
Peter became an NYPD policeman in 1946 and walked the beat off Columbus Ave and Broadway before spending most of his NYPD career indoors working for the division offices. After 20 years he retired from the NYPD, and went to work for the IRS in Brooklyn, NY. After a rotation in tax collection, he shifted into the Intelligence Narcotics Traffickers Program. After tense years of tailing mobsters, his wife encouraged him to apply for a job in Washington, DC. The family moved to Fairfax County, VA in late 1972 where Peter worked as a Special Agent in the Office of International Operations and the Criminal Investigation Division, promoted several times. His assignments included review and analysis of Currency Transaction Reports and referral to the Intelligence Division for potential criminal investigations. Peter greatly enjoyed the capstone to his career as the U.S. Treasury Department's representative to Interpol for Fraud and Economic Crime. The Sun Myung Moon tax fraud and conspiracy was one of his cases.
After retirement from the IRS, Peter wrote a novel, and enjoyed watching Orioles baseball games. He was also a fan of horse racing. While he had the privilege of living nearly 100 years, it was hard for him to lose so many friends and relatives. Those remaining will miss his kindness, generosity, easygoing demeanor, sense of humor, magic tricks and even his bad jokes.
He is survived by a daughter and other family.
David Andrew McDonough, 91, Purple Heart recipient, CIA staffer, sheep farmer and sugarmaker, died 16 March 2021 in Randolph Center, VT.
David attended Plainfield High School, Plainfield, NJ; Dartmouth College (BA- Government 1951), George Washington University (MS- International Affairs 1973) National War College (Political/Military Studies 1972-73) and the University of Maryland (Agricultural Studies,1982-83).
David served in the US Marine Corps, with rank of Captain,1951-53. Wounded while deployed in Korea; he was the recipient of the Purple Heart. After his Marine Corps service, he worked for Proctor & Gamble as a Sales Consultant. He then joined the Central Intelligence Agency, 1956-82, where he served in Athens, Greece; Paris, France; and in Africa-Brazzaville, Lome, Algiers, and Rabat.
Upon retirement from the Agency, he chose a new career: agriculture...in Vermont. He became a sheep farmer, grazier, maple sugar maker in Brookfield, VT (1983-2000), and converted a fallow dairy farm to a sheep operation using intensive pasture management and organic methodology. A natural partner to raising sheep and dairy cows and keeping them safe, are guard dogs– border collies and the Italian Maremma sheepdogs which he bred and trained.
He was an avid supporter of sustainable agriculture and careers in that field. He encouraged the Vermont Farm Youth Corps and participated in the Orange County Court Diversion Program,1986-95, a special program for community wayward youth.
In the local community he supported the Gifford Medical Center. His interest in orderly and responsible development in his town prompted him to work with the Brookfield Planning Commission.
The grand finale for this Irishman was to live his Italian dream. David and his wife, Linda, bought property in Tuscany, Italy. Being a part of Italian life and culture was beyond any dream for him -- new friends, new cuisine, new sights and sounds. It was there that he hosted many of his Vermont "family" in their Italian mountain home. He will always be smiling down on all of us as we recall that delicious dish he prepared, especially his famous "New Year's Day Cassoulet", or that special glass of wine he offered.
He is survived by his wife of 46 years, Linda; several children from a previous marriage, and other family.
Paul Menoher, Commander, Army Intelligence Agency and INSCOM
Paul Edwin Menoher Jr, LTG US Army (Ret), 81, Commander, Army Intelligence Agency and INSCOM, died 7 September 2020.
Menoher was born in West Palm Beach, FL. After many moves across the country, he graduated from high school in Anderson, CA.
He was commissioned a second lieutenant in the US Army in 1961 through the Reserve Officer Training Corps (ROTC) program at the University of California, Berkeley where he received a BA degree in International Relations. He also received a MA in International Relations from George Washington University.
During 35 years of service, General Menoher served in intelligence positions in Vietnam, Cambodia, Alaska, Hawaii, Korea, and Germany. As a senior officer, he held a variety of key command and staff positions including G-2 (Intelligence) of the U.S. Army VII Corps in Germany and commander, 501st Military Intelligence Brigade in Korea. Promoted to Brigadier General in 1987, he successively commanded the Army Intelligence Agency (AIA) until September 1989, the U.S. Army Intelligence Center and Ft. Huachuca (Arizona) until July 1993, and the Intelligence and Security Command (INSCOM) until September 1994. He was then appointed the Army's deputy chief of staff for intelligence (DCSINT) and promoted to Lieutenant General. He filled this position until his retirement in February 1997.
Menoher made important contributions to the Army and its intelligence community throughout his distinguished career, perhaps most significantly during the last decade before his retirement. After the First Gulf War, he refocused all MI training to better serve field commanders and led the way for the development and fielding of fourteen flagship systems that included tactical unmanned aerial vehicles, other air and ground-based technical capabilities, and in developing computer based tactical and operational analysis systems. He was widely admired for leadership that encouraged cooperation and excellence. He mentored many of today's Army intelligence leaders and inspired others to give their best and meet a standard that may never have been part of their prior experience. This was the basis for his landmark improvements in Army intelligence.
He received many awards and decorations. In 1998 he was inducted into the Military Intelligence Hall of Fame.
Lieutenant General Menoher was a superb leader and wonderful husband, father and friend. Loved and respected by all and will be sadly missed.
After retirement in 1997, he developed a series of business relationships that were focused on opportunities for serving the Army and its people. He was a dedicated Washington Nationals fan and never missed a chance to talk baseball. He and wife Bebe enjoyed travel and time at their home overlooking a wide stretch of the Potomac River in Westmoreland County, VA.
Survivors include his wife Bebe, a son, a brother, and other family.
A service at the Ft. Myer Old Post Chapel and subsequent internment at Arlington National Cemetery with full military honors will be held at 1 p.m. on March 26, 2021.
Art Reinhardt, OSS/CIA - COMINT Expert
Arthur Frederick Reinhardt, 95, OSS/CIA-COMINT Expert, died 4 March 2021 in Ashburn, VA.
Born in Sardinia, NY, one of 18 children, 15 of whom survived early childhood, he left home at age 15, supporting himself by working on a neighboring dairy farm while also playing high school sports and completing his studies. He graduated Valedictorian from Sardinia High School in 1943.
In 1943, he joined the Army Air Corps, training in communications in Scott Field, IL. In 1944 he was recruited by the Office of Strategic Services, and underwent advanced communication training at Area C, which is now part of Prince William Forest Park. Although his time at Area C was brief, he looked back on it fondly as an important point in his life.
Upon completing OSS training, Art was deployed to China, where he was assigned to the newly formed 5329th Air Ground Forces Resources Technical Staff (AGFRTS), a joint operation of the OSS and 14th Air Force to gather and transmit intelligence on the Japanese. Serving as a radio operator in forward substations, he received, transmitted and decoded radio messages to and from OSS Secret Intelligence teams and Special Operations teams behind Japanese lines back to the OSS main station in Kunming. His substation in Suich-uan survived regular bombing attacks and was eventually overrun by the Japanese Army in late 1944.
Art's next assignment was as the radio operator and cryptographer on a two-man SI team near the front lines. The team had to live off the land, with no rations, mail, or pay. After becoming ill with recurrent fevers, he was relieved of field duty and joined the Salem operation at a sub-base near Shang-joa south of Shanghai. From there he encrypted and transmitted reports on Japanese ship movements. This operation resulted in the sinking of many enemy ships, including a 26-ship convoy which earned a commendation from Admiral Nimitz.
Art returned from China in 1945 and was discharged February 1946. He earned the Good Conduct Medical, American Theater Ribbon, Asiatic Pacific Theater Ribbon, and World War II Victory Ribbon; and in 2011 was awarded the Special Forces Tab. However, his illness continued after his service ended, and it wasn't until several years later that he was finally diagnosed and treated for amoebic dysentery.
Following the war, Art took a temporary assignment with the Strategic Services Unit, the post-World War II intelligence agency that combined two OSS branches: SI and Counterespionage. In 1946 he went to Tehran to provide emergency communications for the beleaguered U.S. Embassy during the Azerbaijan Crisis. In 1947 he was temporarily assigned to Lima, Peru to take over the FBI network, and also provided emergency communications during the revolution in Ecuador.
In late 1947 Art became a charter member of the CIA where one of his first actions was to start a technical and operations communication school, which included maintenance, power generation, teletype, and cryptography.
In 1952 he was assigned to the Philippines to expand overseas communications network in Southeast Asia. Art left Hanoi at 8pm on April 30, 1954, shortly before the separation of Vietnam at the 7th parallel.
His next major assignment was building and running a very successful Signal Intelligence project in Iran targeted against Soviet IRMB and ICBM test ranges at Kapustin Yar and Tyrura Tam. He had to build the site from the ground up, including 30 houses, utilities, infrastructure, and an airfield. The intercepted signals permitted the decoding of Soviet telemetry and provided the intelligence community with most of the data available on the Soviets.
Art subsequently served several other overseas assignments including the Middle East and Cyprus, culminating with an assignment to London. While in London he was responsible for all communication facilities in the European bureau, including the Soviet Union, Soviet Bloc countries, and four north African countries, and served on a special NATO committee. Art was also a founder of the Diplomatic Telecommunications Service for the Department of State. His final assignment with the CIA was as Chief of Operations, Office of Communications. He retired March 1, 1976 and was awarded the Intelligence Medal of Merit.
In retirement, Art worked in various roles at an international telecommunications system engineering company, which operated earth satellite stations and provided air-traffic control support. He also spent 25 years working in commercial real estate and industrial development.
A lifelong athlete, he was an avid tennis player and played golf well into his 90s. He was a HAM radio operator under call sign W4YT, as well as a Freemason and longtime member of the Arcade Lodge, Arcade, NY. Art was also fond of bluebirds, setting up houses on several local golf courses. He spent his later years helping to preserve OSS history and its innovative role in WWII. As one of the few remaining OSS veterans, he provided valuable input to a book commissioned by the National Park Services called OSS Training in the National Parks and Service Abroad in World War II, which was written by Rutgers Professor John Whiteclay Chambers II. But Art especially cherished his work with Prince William Forest Park on its OSS programs and exhibits. He gave several public talks at the old Area C camp over the years, his last one occurring in June 2019. In 2011, he was presented with the Distinguished Service Award by the OSS Society.
Art studied at George Washington University, and graduated from the Harvard Business School Advanced Management Program in 1974.
He is survived by his wife of 64 years Mildred Levin Reinhardt, a son, a daughter, a sister, and other family.
---
AFIO EDUCATIONAL EVENTS IN COMING TWO MONTHS....
Thursday, 25 March 2021, noon EDT - Tampa, FL - The Florida Suncoast AFIO Chapter hears FBI Cyber Agent discuss Cybercrime
The Florida Suncoast AFIO Chapter is holding its first post-pandemic inperson gathering featuring John Cauthen, a cybercrime investigator and retired FBI Cyber Agent who worked on many infamous cases during his FBI career. He will share some stories from his tenure and speak to the critical elements of cybercrime.
Event location: the offices of Bleakley, Bavol, Denman & Grace, 15316 N Florida Avenue, Tampa, FL 33613. The offices are off I-275 just north of the Bearss Avenue exit. The program is scheduled to start at noon.

SAFETY: After careful evaluation of the current situation, we concluded it is reasonable to hold an inperson Chapter meeting employing suitable safeguards such as social distancing, mask use, and hand sanitizer.
We have striven to make our meetings informative but also provide the opportunity to meet with colleagues and maintain the ties that are a foundation of involvement in the intelligence community. Almost certainly, we have all experienced Zoom overload, so this is a great chance to gather in person following all COVID-19 guidelines. We thank our member Brian Battaglia for allowing us to utilize space at his office that will satisfy these safety requirements and allow us to meet again.
REGISTRATION GUIDELINES: The chapter will provide box lunches and adhere to CDC guidelines for social distancing, mask use, temperature checks and availability of hand sanitizer. Obtain details from the Chapter secretary at michaels@suncoastafio.org.
Registrants/Attendees will be required to complete a COVID-19 Health Acknowledgements and Food Order form which must be returned with reservations no later than noon on Wednesday, 17 March. Complete, scan, and return forms with your email RSVP or fax them to (813) 832-1154.
The cost is $10, cash or check made out to "Suncoast Chapter, AFIO."
TO ATTEND: If you will be attending, please send an email to Michael Shapiro at michaels@suncoastafio.org, no later than noon on Wednesday, 17 March, with your name and the names of any guests. Each guest must also complete a box lunch and health acknowledgement form (Michael will send you those forms if you lack them). The logistics of this meeting require us to enforce a strict reply deadline, so please do not respond late nor forget to include your box lunch order form(s) and your health acknowledgement form(s) since we will be unable to accept late or incomplete RSVPs.
If you make a reservation, find that you cannot attend, but do not formally cancel and receive a cancellation confirmation by 17 March, and then fail to show up, you will be responsible for the cost of your registration because the chapter will have to pay for your scheduled, uneaten meal.
1 April 2021 - Virtual - San Antonio AFIO hosts Martin Gurri on "The Revolt of the Public and the Crisis of Authority in the New Millennium."
On 1 April the San Antonio Chapter meeting will feature a live presentation by Martin Gurri a geopolitical analyst and expert in new media and information effects. He served the DNI Open Source Center in various senior positions, including Director of Research and chief of a Latin American bureau. Wikipedia. He will be talking about topics related to his book: The Revolt of the Public and the Crisis of Authority in the New Millennium.
A message with the link to the meeting will be sent prior to the meetings.
For more detail, contact John Franklin, President, AFIO San Antonio at satxafio@gmail.com or 210-863-0430
---
Other Upcoming Events from Advertisers, Corporate Sponsors, and Others
Thursday, 25 March 2021, noon EST - Virtual - Virtual Spy Chat with Chris Costa and Special Guest Lieutenant General Robert P. Ashley, Jr. - Virtual International Spy Museum Program
Join us for an online discussion of the latest intelligence, national security, and terrorism issues in the news. Spy Museum Executive Director Chris Costa, a former intelligence officer of 34 years, will lead the briefing. He will be joined by Lieutenant General Robert Ashley, Jr., who retired as Director of the Defense Intelligence Agency in October of 2020. Following their discussion of key issues, you'll be able to ask questions via our online platform. Sponsored by Accenture.
Event is free – registration required. Visit www.spymuseum.org.
Thursday, 25 March 2021, 7 pm EDT - Virtual on Zoom - "Enemy Within: The Challenge of Domestic Terrorism" webinar featuring Former FBI official Andrew McCabe, former DHS official Elizabeth Neumann, and former CIA analyst David Priess (now with the Hayden Ctr at GMU)
Don't miss out!! REGISTER NOW Thursday, March 25th, 7pm EDT
The Michael V. Hayden Center for Intelligence, Policy, and International Security at GMU is presenting a virtual conversation on "Enemy Within: The Challenge of Domestic Terrorism." Joining them as panelists will be Andrew McCabe, former Deputy and Acting Director of the FBI; Elizabeth Neumann, former Assistant Secretary for Threat Prevention and Security Policy at the Department of Homeland Security; and moderator David Priess, former CIA analyst, who currently serves as Hayden Center senior fellow and CEO of the Lawfare Institute.
Full details of the conference topic and online registration are here.
Come prepared to ask questions of these newsworthy panelists.

N.B. This Hayden Center presentation will be recorded for use on their website and social media.
25 March 2021 - Virtual - The next OSS "Oh So Social" Conversation features former Asst Sec of State for INR Ellen McCarthy
The next "Oh So Social" conversation by The OSS Society will feature the Honorable Ellen McCarthy, former Assistant Secretary of State for the Bureau of Intelligence and Research - the successor to the OSS' Research and Analysis Branch - will interview best-selling author Erika Robuck about her new book "The Invisible Woman" - the OSS' Virginia Hall, the only civilian woman to receive the Distinguished Service Cross in World War II.
More information: The PDF flyer for event is here and includes registration link. To register for this virtual event, do so here
Monday, 5 April - 31 May 2021 - Washington, DC - NEW LIMITED-RUN MINI EXHIBIT: Codes, Ciphers, & Mysteries: NSA Treasures Tell Their Secrets - International Spy Museum Mini Exhibit
The Spy Museum (aka "SPY") launches a limited-run mini pop-up exhibit, Codes, Ciphers, & Mysteries: NSA Treasures Tell Their Secrets in partnership with the NSA's National Cryptologic Museum, from April 5 through May 31 to showcase a select trove of key codebreaking and secure communications artifacts. Some of these historic objects are first-of-its-kind, one-of-a-kind, and breakthrough pieces from major moments in world history, including highlights such as a late 18th/early 19th century cylinder cipher, believed to be the oldest existing true cipher device in the world; a piece of Colossus, the world's first-ever electronic computer; and the US Space Shuttle Challenger Encryption System; among others. Tickets to the Museum available on the website.
Visit www.spymuseum.org.
Saturday, 10 April 2021, 11:30am-1:00pm EDT - Washington, DC - Access to SPY: Spy Skills Virtual Workshop - Virtual International Spy Museum Program
The Spy Museum offers their most popular virtual workshop, Spy Skills, to the autistic community! Do you have what it takes to go undercover, decrypt secret messages and think like a gadget-maker to solve problems? In this skill-based program, interactive challenges with real-world stories will be woven together as participants explore the shadow-world of espionage and answer the question…Do you have what it takes to be a spy? Afterwards, participants will meet former spy, Chris Costa (current executive director of the Spy Museum) and hear about how his spy skills were put to the test on various overseas missions! This virtual program is designed to appeal to all ages and abilities and is focused on family fun. Sponsored by The Embassy of the State of Qatar in the United States. Event is free of charge. Visit www.spymuseum.org.
Sunday, 11 April 2021, 2- 3:30 pm EDT - Virtual - Atomic Spy's Son: Discovering the Reality of Your Father's Secret Life by The Cold War Museum
Your dad is an atomic spy for the Soviets. You feel the strange tension in your family. You learn the truth with your research skills.
The Cold War Museum invites you to attend a presentation by Dr. Boria Sax on "Atomic Spy's Son: Discovering the Reality of Your Father's Secret Life."
It is many decades since the end of the Cold War, but many of the traumas and mysteries that it engendered are with us still. In this talk, drawing from his book Stealing Fire: Memoir of a Boyhood in the Shadow of Atomic Espionage,
Dr. Boria Sax will describe his discovery as an adult that many of the strange tensions in his family's life as he was growing up were due to his father's espionage for the Soviet Union.
He will talk about how to investigate anomalies in the past, as well as the often-difficult task of distinguishing between reasonable speculation and paranoid imaginings. This talk is presented in the hope of inspiring others to investigate and tell the Cold War stories in their families, for there are surely thousands of strange, interesting narratives that have yet to be told. We have enough distance from the Cold War that people need no longer feel afraid to ask questions. Memories of the Cold War are fading yet still fairly vivid. We have a unique chance to record stories of that era before they are lost forever.

Fee: $20. To attend, use this link.
Questions? Call or email Jason Hall, 703-283-4124 (cell), jason@coldwar.org
Thursday, 15 April 20121, noon EDT - Washington, DC - Virtual Spy Chat with Chris Costa and Special Guest Ellen McCarthy - Virtual International Spy Museum Program
Join the experts at the Spy Museum for an online discussion of the latest intelligence, national security, and terrorism issues in the news. Spy Museum Executive Director Chris Costa, a former intelligence officer of 34 years, will lead the briefing. He will be joined by Ellen McCarthy, former Assistant Secretary of State for the Bureau of Intelligence and Research. Following their discussion of key issues, you'll be able to ask questions via our online platform. Sponsored by the Honorable Mary Beth Long, governing board member of International Spy Museum. Event is free - registration required. Visit www.spymuseum.org.
28 April 2021, 6 pm EDT - virtual - "Special Duties Pilot" - with Capt. John Billings & Gen. Norton Schwartz in this Conversation Series by The OSS Society
This "Oh So Social" conversation features former Air Force Chief of Staff Gen. Norton Schwartz interviewing another one of WWII's greatest heroes, Captain John Billings, a B-24 Liberator pilot who flew the real "inglourious basterd" - the OSS' Fred Mayer - into Nazi-occupied Austria in one of the war's most daring missions. You can register for this event by clicking here.
This conversation is being held on the same date that Billings's autobiography, "Special Duties Pilot: The Man Who Flew the Real "Inglourious Basterds" Behind Enemy Lines," is being published. You can purchase an advance copy of his book by clicking here.
If you wish to see the prior OSS Society video between The Honorable Ellen McCarthy, former Assistant Secretary of State for the Bureau of Intelligence and Research (INR), and Erika Robuck, author of "The Invisible Woman" about the OSS' Virginia Hall, one of the greatest heroes of WWII, it is available here.
Wednesday, 1 December 2021, TBD Time - Washington, DC - 2021 Webster Distinguished Service Award Event - International Spy Museum
The Spy Museum offers an evening of intrigue for the 2021 Webster Distinguished Service Award event. The award is an opportunity to recognize the extraordinary contributions of individuals in the Intelligence Community. This year's awardee is The Honorable Susan M. Gordon, former principal deputy director of national intelligence. Previous recipients of the Webster Distinguished Service Award include President George H. W. Bush (2017), Admiral William H. McRaven, USN (Ret.) (2018), and Gen. Michael V. Hayden (Ret.) (2019). Webster attendee and sponsor support fuels the nonprofit mission of educating the public about the history and craft of espionage and intelligence through youth and adult programs, community service, and the care of the Museum's unique collection of artifacts for generations to come. For tickets, sponsorship opportunities, or information about ways to support the International Spy Museum, please contact the development office at 202.654.2853. Additional details and online ticket link to follow. Visit www.spymuseum.org.
---
In addition to the new Royal Blue long sleeve shirts, and the gray long sleeve hooded sweatshirts, the AFIO Store also has the following items ready for quick shipment:
NEW: LONG and Short-Sleeved Shirts with embroidered AFIO Logo and New Mugs with color-glazed permanent logo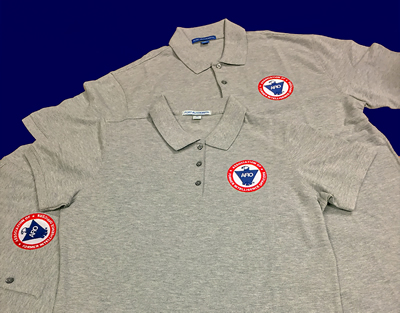 Show your support for AFIO with our new Polo Shirts. Be the first to buy these new, high quality, subtle heathered grey short sleeve shirts, and dark blue long sleeved shirts, of shrink and wrinkle resistant fine cotton with a soft yet substantial feel. They feature a detailed embroidered AFIO seal. Get a shirt for yourself and consider as gifts for colleagues, family, and friends. Only $45 each including shipping.
Sizes of (M) men or (W) women shirts; Small, Medium, Large, XL, XXL, and XXXL. At this time all orders will arrive as Short Sleeve shirts.
You may pay by check or credit card. Complete your order online here or mail an order along with payment to: AFIO, 7700 Leesburg Pike, Ste 324, Falls Church, VA 22043-2618. Phone orders at 703-790-0320. If interested in other shirt colors or sleeve lengths, contact Annette at: annettej@afio.com.



Available as a thank you for donations are the new AFIO logo face masks:
These soft, form-fitting, washable, non-medical grade fabric face masks have wide behind-the-ear elastics to make long periods of wear comfortable. Also easier to quickly put on or take off. Blue on outside, white inside. The masks do not have a nose wire but are sculpted, shaped, and sewn to fit most users. The all-cloth composition allows the masks to be washed or steam-disinfected without concerns over metal wires. The color logo is washable and a permanent part of the mask.
The masks, however, are not for sale. They are being offered strictly as a thank you gift to our donors.
For tax-deductible donations of $50 you will receive a receipt and our thank you gift of two of these newly-arrived face masks.
Donations of $100 receive four masks to be sent to the same address. Other amounts and split-shipments are available.
To donate now to support AFIO's programs and publications, please do so here.
We wish all members and donors continued good health, safe social distancing, and warmly appreciate any support you are able to provide the association.
---
AFIO Mug with color glazed logo. Made in America. Sturdy enough to sit on desk to hold pens, cards, paperclips, and candy.
This handsome large, heavy USA-made ceramic mug is dishwasher-safe with a glazed seal. $35 per mug includes shipping. Order this and other store items online here.
---
Guide to the Study of Intelligence and When Intelligence Made a Difference
"AFIO's Guide to the Study of Intelligence" has sold out in hard-copy.
However, it is available in digital form in its entirety on the AFIO website here.

Also available on the website here are the individual articles of AFIO's history project "When Intelligence Made a Difference" that have been published to date in The Intelligencer journal. More articles will be forthcoming in future editions.
---
Disclaimers and Removal Instructions
Weekly Intelligence Notes (WINs) are commentaries on Intelligence and related national security matters, based on open media sources, selected, interpreted, edited and produced for non-profit educational uses by members and WIN subscribers.
REMOVAL INSTRUCTIONS: We do not wish to add clutter to inboxes. To discontinue receiving the WINs:
a) IF YOU ARE A MEMBER - click here: UNSUBSCRIBE and supply your full name and email address where you receive the WINs. Click SEND, you will be removed from list. If this link doesn't open a blank email, create one on your own and send to afio@afio.com with the words: REMOVE FROM WINs as the subject, and provide your full name and email address where you are currently receiving them.
b) IF YOU ARE NOT A MEMBER, and you received this message, someone forwarded this newsletter to you [contrary to AFIO policies]. Forward to afio@afio.com the entire WIN or message you received and we will remove the sender from our membership and distribution lists. The problem will be solved for both of us.
CONTENTS of this WIN [HTML version recipients - Click title to jump to story or section, Click Article Title to return to Contents. This feature does not work for Plaintext Edition or for some AOL recipients]. If you wish to change to HTML format, let us know at afio@afio.com. The HTML feature also does not work for those who access their e-mail using web mail...however NON-HTML recipients may view the latest edition each week in HTML at this link: https://www.afio.com/pages/currentwin.htm
---
WINs are protected by copyright laws and intellectual property laws, and may not be reproduced or re-sent without specific permission from the Producer. Opinions expressed in the WINs are solely those of the editor's or author's listed with each article. AFIO Members Support the AFIO Mission - sponsor new members! CHECK THE AFIO WEBSITE at www.afio.com for back issues of the WINs, information about AFIO, conference agenda and registrations materials, and membership applications and much more!
(c) 1998 thru 2021. AFIO, 7700 Leesburg Pike Suite 324, Falls Church, Virginia 22043. Voice: (703) 790-0320; Fax: (703) 991-1278; Email: afio@afio.com
---
About AFIO | Membership Renewal | Change of Address | Upcoming Events | Chapter Locations | Corporate/Institutional Memberships | Academic Listings | Careers in Intelligence Booklet | Guide to the Study of Intelligence | Intelligencer Journal | Weekly Intelligence Notes | To Make A Donation | AFIO Store | Member-Only Section | Code of Ethics | Home Page
---