---
CONTENTS
Section I - INTELLIGENCE HIGHLIGHTS
Section II - CONTEXT & PRECEDENCE
Section IV - Research Requests, Jobs, Obituaries
None to report at this time.

Other Upcoming Events from Advertisers, Corporate Sponsors, and Others
For Additional AFIO and other Events two+ months or more... Calendar of Events
WIN CREDITS FOR THIS ISSUE: The WIN editors thank the following special contributors: rsy, ec, po, pj, mh, km, gh, mk, rd, fm, kc, jm, mr, jg, th, ed, and fwr. They have contributed one or more stories used in this issue.

The WIN editors attempt to include a wide range of articles and commentary in the Weekly Notes to inform and educate our readers. However, the views expressed in the articles are purely those of the authors, and in no way reflect support or endorsement from the WIN editors or the AFIO officers and staff. We welcome comments from the WIN readers on any and all articles and commentary.

CAVEATS: IMPORTANT: AFIO does not "vet" or endorse research inquiries, career announcements, or job offers. Reasonable-sounding inquiries and career offerings are published as a service to our members, and for researchers, educators, and subscribers. You are urged to exercise your usual caution and good judgment when responding, and should verify the source independently before supplying any resume, career data, or personal information.]
If you are having difficulties with the links or viewing this newsletter when it arrives by email, members may view the latest edition each week at this link.

---

Other items brought to our attention:

Seventy Years of Chinese Strategic Intelligence Threats
Presentation by Professor Emeritus Kenneth E. deGraffenreid (of the Institute of World Politics). deGraffenreid is former White House Senior Director of Intelligence and Security Programs on the National Security Council.
In 1949, to the surprise of Americans who had hoped that WWII had marked the end of world conflicts, the Soviet Union exploded a nuclear weapon Identical to the bomb the US had dropped on Nagasaki. It was identical because the bomb's nuclear technology had been stolen through massive espionage by America's Russian communist wartime ally. Thus the calculus of power that overshadowed the new conflict—nuclear weapons and strategic intelligence operations—set the strategic framework of the fifty-year Cold War conflict.

Also in 1949, the People's Republic of China began pursuing a similar hegemonic course, also relying on stolen nuclear weapons designs and strategic intelligence activities. Just as an aggressive Soviet Union was unwilling to accept either the American position as the world power or even peaceful standards of international behavior, so too does the PRC appear intent on replacing America as the sole remaining superpower in the twenty-first century.

deGraffenreid's presentation reviews key developments in these Chinese efforts and where US policy stands today at the current crossroads in US policy towards the PRC. Click on image above or here to view 90 minute presentation.

---

The Courier - Spy Movie about Greville Wynne, Col. Oleg Penkovsky, CIA-MI6-GRU...in Moscow

The Courier is a true-life spy thriller, the story of an unassuming British businessman Greville Wynne (Benedict Cumberbatch) recruited into one of the greatest international conflicts in history. At the behest of the UK's MI-6 and a CIA operative (Rachel Brosnahan), he forms a covert, dangerous partnership with Soviet GRU officer Colonel Oleg Penkovsky (Merab Ninidze) who was seeking to provide crucial intelligence to the west needed to prevent a nuclear confrontation and defuse the Cuban Missile Crisis. A really good period movie with moments of brilliance and intrigue!! 84% on RT. View official trailer here.

---

The Arkin Group's April 2 "In Other News" letter to private clients by former Operations Officer Jack Devine features...

China's refusal to provide earlier, more transparent access to data to World Health Organization investigators appears to be strengthening suspicions that Covid-19 was the result of a leak from a Chinese lab, rather than transmission from animal to human in a market, as both China and the WHO have asserted.
Brazilian President Jair Bolsonaro is facing increased criticism for his handling of the pandemic from the public and Brazil's former president Luiz Inácio Lula da Silva – who now seems likely to run against Bolsonaro in 2022.
Italy has expelled two Russian diplomats over espionage charges, alleging that they paid an Italian defense official, Walter Biot, ~$5,800 for classified documents. Police separately recovered NATO documents that they believe Biot gave them on a previous occasion.
Recently released was Jack Devine's Spymaster's Prism. AFIO's interview with him about this book appears in this issue at top of right column of this issue of the WINs. You can view the video at this link. Or hear the podcast here.

---

The Latest... from Jeff Stein's highly popular "SpyTalk" series

Apr 5: "Spooks on the Rio: U.S. Spy Agencies' Little Known Homeland Security Role" by Todd Bensman
CIA, DIA, FBI, satellites, military play major parts in U.S.-based globe-spanning network
Article here

Mar 31: "Gaetz 'Extortion' Figure's Levinson Obsession" by Jeff Stein
Former USAF Intel officer Bob Kent raised $250,000 from 'ex-CIA' circles in aborted rescue plan years before approaching Trump Republican's father
Article here

Mar 31: "A Wild Ride into a Future War With China" by Matthew Brazil
The fast paced techno-thriller, '2034: A Novel of the Next World War,' offers an all too believable scenario for a US-China clash, but misses the mark ...
Article here

Mar 28: "CIA Super Spy, or Super Con?" by Jeff stein
Big time financier and politico Imaad Zuberi, facing serious prison time over illegal campaign contributions, aims to prove he was a major CIA asset.
Article here

Mar 23: "Israeli Spy Pollard Betrays America Yet Again" by Jeff Stein
The traitor's latest self-serving lie adds another burden to minorities in US national security agencies
Article here

Mar 18: "Bill Burns' CIA and the Roads Not Taken" by Jeff Stein
The spy agency's new chief gets a second chance to tell truth to power
Article here

Readers can subscribe for free at the moment here.

---

Inside the SCIF:

Inside the SCIF by JJ Green, WTOP - Issue #107, 1 April has more details on increasing anti-white racism in the U.S. as pointed out by Russian Foreign Minister Sergei Lavrov; more fallout from the SolarWinds hack; how Russians accessed DHS secretary's email; Joby Warrick on ISIS; U.S. hosts trilateral meeting on North Korea; Italy expels Russian officials.

The latest Target USA Podcast 270 is on: "North Korea launching missiles and new threats."
Ambassador Joe Detrani, former Director of the National Counterproliferation Center, says there is a serious concern that North Korea could make a mistake when it launches missiles. That, he says, could lead to a disaster.

And "The Hunt" explores: "ISIS is making a comeback." J.J. Green interviews Joby Warrick, author of the new book "Red Line." Warrick says the U.S needs to become better connected in the places where ISIS is reconstituting. Those connections are critical as serious trouble could lay ahead..

---

---

From the National Cryptologic Museum Foundation:

THE NCMF's #CyberChats, held virtually via their Nepris online classroom, have resumed.

Other NCMF upcoming events will be:
Tuesday May 10, 2022 - NCMF spring membership meeting at the Kossiakoff Center
Wednesday May 11 - Thursday May 12, 2022 - CCH Cryptologic History Symposium at the Kossiakoff Center
Friday May 13, 2022 - Half day offering at the National Cryptologic Museum
To explore all these upcoming events, visit NCMF website here, and CCH website here.

---

One of the special benefits of membership in AFIO: access to CIA's inhouse gift shop — the EAA Store.

It requires a quick preapproval process described here to all newly joined and current AFIO members. And then allows you to purchase online their unusual logo'd gift items for self or colleagues. Here is the latest photo EAA released on March 26 featuring some of their newest items, this time for children of officers:

---
---
---
Just released to members-only...
Elizebeth Friedman: The Woman Who Smashed Codes

Released 06 April 2021
author of the 2017 book "The Woman Who Smashed Codes:
A True Story of Love, Spies, and the Unlikely Heroine Who Outwitted America's Enemies"

Interview of Tuesday, 16 March 2021 of Jason Fagone, author-journalist, on Elizebeth Friedman, "The Woman Who Smashed Codes."
Interviewer: Deborah Bonanni, former Chief of Staff, NSA; AFIO Board. Host: James Hughes, AFIO President, a former CIA Operations Officer.
TOPIC: Jason Fagone and Deborah Bonanni discuss the relatively unknown cryptographer Elizebeth Friedman, her beginnings and remarkable achievements in codebreaking -- including in foreign languages she did not know -- her alliance and marriage to NSA "founder" William Friedman; her work at Riverbank Labs; Rum running; and many other hidden aspects of an outstanding (at times astonishing) "in the shadows" life assisting the nation.
The interview runs 37 minutes and includes several Q&As.
For more information about Elizebeth Friedman, the book, and Jason Fagone's other writing projects, or to read his newsletter, visit https://jfagone.substack.com.
Access Fagone video here or click above image.
---
Prior Videos in the "AFIO Now" Series
To view the publicly-released ones, visit our YouTube page
or log into the Member-only area to view private and public interviews.
---
NOTE: ABOUT THE SPEAKERS — Full bios appear below each video. Use the "SHOW MORE" or the caron (down caret symbol) under video or at right on mobile devices. Closed Captioning is available. Click CC button at bottom right of video window. If viewing on a mobile browser or device, click video while running and three dots will appear at top right edge to turn CC on or off.

PODCASTS: Our new social media expert has been busy! Are you too busy to sit and watch an entire "AFIO Now" episode above on YouTube? Would you rather listen in your car or while accomplishing other tasks? Now you can quickly download or stream episodes on your favorite podcasting platform. AFIO is now available on 8 podcasting platforms. Search for 'AFIO Podcast' for a selection of the interviews above (public released ones) on Podbean; iTunes; Google; Spotify; Amazon Music; Amazon TuneIn + Alexa; iHeartRadio; and Pandora.
---
Newly Released, Overlooked, or Forthcoming Books
America's Covert Border War: The Untold Story of the Nation's Battle to Prevent Jihadist Infiltration
by Todd Bensman
(Bombardier Books, Feb 2021)
This book finally settles one of the nation's most controversial and politically powerful ideas about the American southern border: that Islamic jihadists might infiltrate it and commit terrorist acts. Perhaps no other idea about the border has sown more conflict, claims, counterclaims, rebuttals, and false narratives on all sides.
Bensman provides a comprehensive neutral baseline of truth about the threat, goring oxen on both sides of the partisan divide. It documents an ambitious and intrigue-laden covert American war on terror that stretches from the Mexican border to the tip of South America. Its existence to protect the homeland from terrorist infiltration was often regarded as entirely imagined—until migrating jihadists recently started killing and wounding hundreds in Europe.
Americans concerned by unchecked global migration, porous borders, and national security also may feel surprised to learn that thousands of long-haul migrants from the Islamic world similarly breach the US-Mexican border each year—among them hardened jihadists—despite media insistence that none of this traffic exists.
The secret American campaign has prevented land border infiltration attacks on US soil, safeguarding a nation which is currently being lied to by the media that all claims and fears of "terrorists coming over the southern border" is untrue. But this crucial, long hidden, geographically sprawling effort is suffering from social and political denialism and neglect at America's own peril…just as Europe was before its calamity. How much longer can these programs keep America safe without the public recognition that they exist and the needed care and attention that acknowledgment would bring? This book is much more than revelation and complaint; it provides solutions to better protect the homeland from this chronically misunderstood border threat.
"Amidst multiple international crises, most of the media has lost sight of the jihadi threat to America. Todd Bensman is a welcome exception. His investigative reporting on continuing terrorist attempts to infiltrate the United States deserves wide attention from specialists and the general public alike." —Clifford D. May, Founder and President, The Foundation for Defense of Democracies

Book may be ordered here.
See the article by Bensman — "Spooks on the Rio: U.S. Spy Agencies' Little Known Homeland Security Role" — in "SpyTalk" in the left column of this issue of the WINs.
Also see: "Two Yemeni men on the FBI's terror watchlist arrested at southern border" by Kenneth Garger, 5 April 2021, NYPost
---
National Security, Leaks and Freedom of the Press: The Pentagon Papers Fifty Years On
by Geoffrey R. Stone, Lee C. Bollinger, editors
(Oxford Univ Press, Apr 2021)
One of the most vexing and perennial questions facing any democracy is how to balance the government's legitimate need to conduct its operations-especially those related to protecting the national security-in secret, with the public's right and responsibility to know what its government is doing. There is no easy answer to this issue, and different nations embrace different solutions. In the US, at the constitutional level, the answer begins exactly half a century ago with the Supreme Court's landmark 1971 decision in the Pentagon Papers case. The final decision, though, left many important questions unresolved. Moreover, the issue of leaks and secrecy has cropped up repeatedly since, most recently in the Edward Snowden and Chelsea Manning cases. In National Security, Leaks and Freedom of the Press, two of America's leading First Amendment scholars, Lee C. Bollinger and Geoffrey R. Stone, have gathered a group of the nation's leading constitutional scholars—including John Brennan, Eric Holder, Cass R. Sunstein, and Michael Morell, among many others—to delve into important dimensions of the current system, to explain how we should think about them, and to offer as many solutions as possible.
Book may be ordered here.
---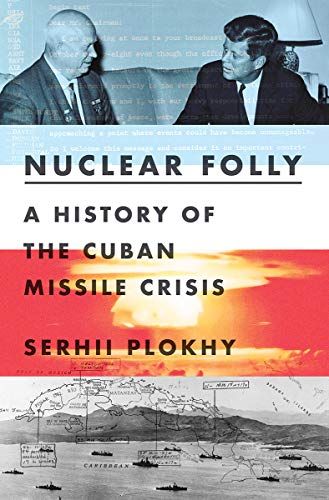 Nuclear Folly: A History of the Cuban Missile Crisis
by Serhii Plokhy
(W. W. Norton & Company, Apr 2021)
Nearly thirty years after the end of the Cold War, today's world leaders are abandoning disarmament treaties, building up nuclear arsenals, and exchanging threats of nuclear strikes. To survive this new atomic age, we must relearn the lessons of the most dangerous moment of the Cold War: the Cuban missile crisis.
Harvard history professor Serhii Plokhy offers an international perspective on the crisis, tracing the tortuous decision-making that produced and then resolved it, which involved John Kennedy and his advisers, Nikita Khrushchev and Fidel Castro, and their commanders on the ground. Plokhy vividly recounts the young JFK being played by the canny Khrushchev; the hotheaded Castro willing to defy the USSR and threatening to align himself with China; the Soviet troops on the ground clearing jungle foliage in the tropical heat, and desperately trying to conceal nuclear installations on Cuba, which were eventually spotted by U-2 spy planes; and the hair-raising near misses at sea that nearly caused a Soviet nuclear-armed submarine to fire its weapons.
More often than not, the Americans and Soviets misread each other, operated under false information, and came perilously close to nuclear catastrophe. Despite these errors, nuclear war was ultimately avoided for one central reason: fear, and the realization that any escalation on either the Soviets' or the Americans' part would lead to mutual destruction.
Drawing on a range of Soviet archival sources, including previously classified KGB documents, as well as White House tapes, Plokhy masterfully illustrates the drama and anxiety of those tense days, and provides a way for us to grapple with the problems posed in our present day.
Book may be ordered here.
---
Cold War Frequencies: CIA Clandestine Radio Broadcasting to the Soviet Union and Eastern Europe
by Richard H. Cummings
(McFarland, Mar 2020)
The history of the CIA's clandestine short-wave radio broadcasts to Eastern Europe and the USSR during the early Cold War. Chapters describe the "gray" broadcasting of Radio Free Europe and Radio Liberty in Munich; clandestine or "black" radio broadcasts from Radio Nacional de Espana in Madrid to Estonia, Latvia, Lithuania and Ukraine; transmissions to Bulgaria, Romania, Albania, Ukraine and the USSR from a secret site near Athens; and broadcasts to Byelorussia and Slovakia. Infiltrated behind the Iron Curtain through dangerous air drops and boat landings, CIA and other intelligence service agents faced counterespionage, kidnapping, assassination, arrest and imprisonment. Excerpts from broadcasts taken from monitoring reports of Eastern Europe intelligence agencies are included.
Kindle edition may be ordered here.
---
Writers, Officers: Please Provide A Brief Article for This Ongoing AFIO History Project
AFIO's educational project "When Intelligence Made a Difference" seeks writers to identify events throughout history involving any nation or organization when the outcome was affected significantly by intelligence.
AFIO has been publishing edited submissions serially in Intelligencer released two to three times a year.
To see what has been published, it is available here. Also look at the Winter-Spring edition of the journal arriving in the mail of all members and subscribers over the next three weeks.
Those readers interested in contributing an article, should email peter.oleson@afio.com.
For instructors, this project makes a great class assignment. Accepted articles give students a publication credit in a recognized journal.
---
Guide to the Study of Intelligence and When Intelligence Made a Difference
"AFIO's Guide to the Study of Intelligence" has sold out in hard-copy.
However, it is available in digital form in its entirety on the AFIO website here.

Also available on the website here are the individual articles of AFIO's history project "When Intelligence Made a Difference" that have been published to date in The Intelligencer journal. More articles will be forthcoming in future editions.
---
Visit, Follow, Subscribe to AFIO's LinkedIn, Twitter, and YouTube pages to receive updates.
Members who use social media or wish to explore, will find new announcements and other material on AFIO's Twitter and LinkedIn pages. New videos on our YouTube page appears below as well.
Access them here: LinkedIn, Twitter, and YouTube. By following or subscribing on those sites, one can be notified as new material appears.




NEW — PODCASTS: Our new social media expert has been busy! Are you too busy to sit and watch an entire "AFIO Now" episode above on YouTube? Would you rather listen in your car or while accomplishing other tasks? Now you can quickly download or stream episodes on your favorite podcasting platform. AFIO is now available on 8 podcasting platforms. Search for 'AFIO Podcast' for a selection of the interviews above (public released ones) on Podbean; iTunes; Google; Spotify; Amazon Music; Amazon TuneIn + Alexa; iHeartRadio; and Pandora.
---
---
Section I - INTELLIGENCE HIGHLIGHTS

Iran Arrests 'Israeli Spy', Others in Touch with Foreign Intelligence: Iranian Media. Iran has arrested an "Israeli spy" and a number of other people who were in contact with foreign intelligence services, Iranian state media reported on Monday, without giving the nationality of those arrested.

"An Israeli spy has been arrested in Iran's East Azerbaijan province...also other spies who were in contact with several countries' intelligence services have been arrested as well," it quoted an Intelligence Ministry official as saying.

Israeli officials did not immediately comment on the report. [Reuters/5April2021]

Former Intelligence Analyst Pleads Guilty to Disclosing Classified Information. A former intelligence analyst and former military servicemember pleaded guilty today to illegally obtaining classified national defense information and disclosing it to a reporter.

According to court records, Daniel Everette Hale, 31, of Nashville, Tennessee, served as an enlisted airman in the U.S. Air Force from July 2009 to July 2013. After receiving language and intelligence training, Hale was assigned to work at the National Security Agency (NSA) and deployed to Afghanistan as an intelligence analyst. After leaving the Air Force in July 2013, Hale was employed by a defense contractor and assigned to the NGA, where he worked as a political geography analyst between December 2013 and August 2014. In connection with his active duty service and work for the NSA, and during his time at NGA, Hale held a Top Secret // Sensitive Compartmented Information (TS//SCI) security clearance and was entrusted with access to classified national defense information.

"Hale has now admitted what the evidence at trial would have conclusively shown: that he took classified documents from his work at the National Geospatial Intelligence Agency (NGA), documents he had no right to retain, and that he sent them to a reporter, knowing all along that what he was doing was against the law," said Assistant Attorney General John C. Demers for the Justice Department's National Security Division. "This conduct undermined the efforts of our Intelligence Community to keep us safe. Hale's plea is another step in the Department's ongoing efforts to prosecute and deter leaks of classified information." [Read more: DOJ/31March2021]

Chinese, Russian Naval Build-ups Keep U.S Navy 'Elbowing' for Advantage, Navy's Intel Director Says. The naval build-ups and more frequent activity of the Chinese and Russian navies in recent years is keeping the U.S. Navy's intelligence activities busily engaged in collection and analysis.

"Business is good; there's lots of opportunity out there," said Vice Adm. Jeffrey Trussler, deputy chief of naval operations for Information Warfare and director of Naval Intelligence, speaking April 6 at a Navy League Special Topic Breakfast sponsored by General Dynamics, commenting on the need for increased attention to the near-peer competitors.

"Day to day, talk about information overload!" Trussler said. "The daily questions that might come out of 'What if?' [are] non-stop. In this 21st century, information is available. We want to develop capabilities that best position us, best give us advantage in the competitive space. We want to develop capabilities that might cause adversaries pause and say, 'Not today.'"

Trussler said the Navy's job is to be ready. [Read more: Burgess/SeaPowerMagazine/6April2021]

Space Force Aims for National Space Intel Center IOC in Early 2022. The Space Force is in the "throes" of standing up a new National Space Intelligence Center and plans to reach initial operational capability in January 2022.

Maj. Gen. Leah Lauderback, the service's director of intelligence, surveillance and reconnaissance, said during an April 2 Mitchell Institute event the Space Force recently stood up a working group to define what the NSIC will look like in the future.

The current plan is for two squadrons to shift from the National Air and Space Intelligence Center to NSIC to form the initial core of the new organization. Lauderback said the center will also need to increase its workforce in order to perform analysis of a growing number of adversary space systems. [Read more: Albon/InsideDefense/5April2021]

First Global Threats Hearing in Over 2 Years Set for Next Week. The House and Senate will hold public hearings next week on the globe's greatest threats to U.S. national security - after a more than two-year hiatus caused by tensions between the spy community and former President Donald Trump.

The Senate Intelligence Committee's Worldwide Threats hearing on April 14 will mark the first time since January 2019 that the country's intelligence agency chiefs appear for the session - one of a handful of opportunities for Americans to hear directly from them on issues such as the dangers posed by countries like Russia, China and North Korea.

The House Intelligence Committee announced it would hold its session, the first since 2016, on April 15. [Read more: Matishak/Politico/6April2021]


---
Section II - CONTEXT & PRECEDENCE

He Led Hitler's Secret Police in Austria. Then He Spied for the West. A top commander in Hitler's secret police, responsible for deporting tens of thousands of Jews, was shielded by the U.S. and German authorities after World War II and later joined West Germany's foreign intelligence service, which knew about his wartime role, newly disclosed records reveal.

By the war's end the official, Franz Josef Huber - who also held a general-level rank in the SS, the Nazi paramilitary organization - led one of the Gestapo's largest sections, stretching across Austria and with roles out to the east. In Vienna after the Nazi takeover, his forces worked closely with Adolf Eichmann on deportations to concentration and extermination camps.

Eichmann would eventually be executed for his role in coordinating the murder of millions of Jews. Next Sunday is the 60th anniversary of the opening of his trial in Jerusalem. But Huber never had to hide or to escape abroad, as many other top Third Reich commanders did. [Read more: Bergman/NYTimes/5April2021]

After A Major Hack, U.S. Looks To Fix A Cyber 'Blind Spot'. The National Security Agency considers itself the world's most formidable cyber power, with an army of computer warriors who constantly scan the wired world. Yet by law, the NSA only collects intelligence abroad, and not inside the U.S.

U.S. rivals like Russia are aware of this blind spot and know how to exploit it, as the NSA director, Army Gen. Paul Nakasone, explained recently to the Senate Armed Services Committee.

"We may see what's occurring outside of the United States, but when it comes into the United States, our adversaries are moving very quickly," Nakasone testified on March 25. "They understand the laws and the policies that we have within our nation, and so they're utilizing our own infrastructure, our own Internet service providers, to create these intrusions." [Read more: Myre/NPR/6April2021]

CIA is Back With Yet Another 'Spot the Difference' Game on Twitter. How Many Do You Count? The Central Intelligence Agency (CIA) is quite well-known across the world and the US intelligence service also runs an interesting Twitter handle and often posts trivia for its over 3 million followers. And if you are one of their followers, you should be aware of the puzzle posts they often share. The foreign intelligence agency shares several posts that many love, such as 'spot the difference'.

In one such recent tweet, the CIA posted two pictures of the same scene and asked followers to spot the difference between the two. The scene is of an animated illustration of the White House, the US Capitol Building and other prominent structures. Captioning the image, the CIA wrote, "Can you spot the differences?" and also asked people to reply saying how many they could find.

See it here: [Read more: News18/6April2021]

Spy Museum Exhibit Displays Mysterious Machines that Changed History. Never-before-seen artifacts that are groundbreaking in code-breaking are part of a pop-up exhibit at the International Spy Museum in Washington.

Thanks to a new Maryland partnership, the museum has one more thing to offer: Once top secret is now under the spotlight.

Historian and exhibit curator Andrew Hammond said it's a first for the artifacts to be in the public eye.

"We've got this window of opportunity, where, for a couple of months, we can bring this treasure trove, this Aladdin's cave of secret communications here into downtown Washington," Hammond said. [Read more: Lu/WBALTV/5April2021]

How a CIA Operation in Indonesia Turned the Vietnam War. A former World War II Dutch resistance fighter played a key role in the US Central Intelligence Agency's (CIA) theft of Indonesian military secret manuals on the SA-2 surface-to-air missile, allowing the Americans to develop countermeasures against the deadly weapon in the early stages of the Vietnam War.

The inside story of the long-faded episode appears in "In Red Weather", a new book by Daniel Cameron, a Surabaya-based CIA undercover agent during the lead up to the army's bloody purge of the Indonesian Communist Party (PKI) in 1965-66 that claimed more than 500,000 lives.

Wim Vermeulen, the husband of a willowy Dutch art dealer, received a commendation from the CIA in 1970 for his covert work in obtaining four manuals and an actual guidance pod of the Soviet SA-2, the first surface-to-air-guided missile system used in combat and which the North Vietnamese used to shoot down American warplanes. [Read more: McBeth/AsiaTimes/27March2021]


---
US Response to SolarWinds Cyber Penetrations: A Good Defense Is the Best Offense. According to U.S. officials, Russia is the likely perpetrator of the SolarWinds cyber compromise of federal agencies, private sector firms, NGOs and academic institutions. The scale and impact brought accusations of a reckless and indiscriminate operation. Some politicians labeled this an act of war, while other commentators dismissed the SolarWinds compromise as espionage. Calls for retribution were widespread.

We know few details about the breadth, depth and impact of the SolarWinds cyber operation, though the scale was clearly massive with over 18,000 SolarWinds customers uploading malware-laden tools. But we do not know which companies and agencies have been affected, what information was compromised or whether damage occurred to any information systems. This lack of public disclosure likely represents caution in revealing what is known and not known, but also signals the difficulty of assessing just how bad we've been had.

So how should the U.S. respond? [Read more: Kolbe/RussiaMatters/25March2021]

Australia's Director-General of National Intelligence Needs Budget Power. In November 2016, Prime Minister Malcolm Turnbull announced an independent review of Australia's national intelligence community (NIC) to evaluate its operations and determine if it was effectively serving our national interests. A central aim of the review was to 'provide a pathway to take those areas of individual agency excellence to an even higher level of collective performance through strengthening integration across Australia's national intelligence enterprise'.

Two and a half years later, in May 2018, the government commissioned former defence secretary Dennis Richardson to undertake a comprehensive review of the legal framework of the NIC. An unclassified version of the review and the government's response were released in December 2020. Richardson's assessment has been characterised as the most substantial review into the legislation governing the NIC since the royal commissions led by Justice Robert Hope in the 1970s and 1980s.

In both reviews, the findings substantiated the heart of the NIC's mission - to provide intelligence that informs strategic decision-making by eliminating or reducing uncertainty in support of the national strategy. [Read more: Powers/ASPI/7April2021]

Bill Burns's CIA and the Roads Not Taken. William Joseph Burns is probably the most anticipated new CIA boss to arrive in Langley since, well, George Tenet in 1997.

The agency's hardest core former operators have been gushing about Burns since President-elect Joe Biden tapped him in January to run the battered spy agency - an unusual toss of bouquets from the dark side to a career diplomat, to say the least.

That's good. The question is how Burns will use it when the next great crisis presents itself, over China, Russia and/or Iran, as surely, they will. Will Burns buckle under White House political pressure, like, well, George Tenet did when the decision to invade Iraq was in the balance in 2002? Or like DCI Richard Helms, who played his cards so close to his vest on Vietnam that he might as well have had no cards at all, giving the game to the hawks? [Read more: Stein/SpyTalk/1April2021]


---
Section IV - Research Requests, Jobs, Obituaries
Call for Papers - The Center for Cryptologic History (CCH) and the National Cryptologic Foundation (NCF) invite proposals for papers for 18th Cryptologic History Symposium, 11-13 May 2022.
The Center for Cryptologic History (CCH) and the National Cryptologic Foundation (NCF) invite proposals for papers to be presented at the 18th Cryptologic History Symposium, 11-13 May 2022. The Symposium will be held at the Johns Hopkins University Applied Physics Lab Kossiakoff Center in Laurel, Maryland. The theme for the symposium is "Icons and Innovation." Proposals are due 7 September 2021.
For more information visit the NCF or contact cchevents@nsa.gov.
Seeking Officials Who Served USSR/Russia 1965-2015 and Other Posts - with knowledge of, or exposure to, Microwave/Directed Energy Weapons
Prominent D.C. Attorney seeking former intel officers or others who served in USSR/Russia during 1965-2015, as well as anyone who has information concerning possible microwave/energy directed weapon exposure of U.S. officials by foreign adversary.
Replies to Mark S. Zaid Esq, mark@markzaid.com. Or call him at (202) 454-2809.
More information about Mr. Zaid at MarkZaid.com.
Request for Assistance Researching Clandestine Maritime Operation in Da Nang 1950s-1970s
"My old Master Chief, James "Jim" Gray and I wrote the first history of Naval Special Warfare Combatant Craft (WARBOATS, 55 Years of Naval Special Warfare Combatant Craft History) for our veterans organization the Combatant Craft Crewman Association (CCCA), now in its second printing. One of the areas that we wanted to explore in greater depth were the clandestine maritime operations based in Da Nang from the South Vietnamese and CIA period through Switchback and Military Assistance Command Vietnam-Studies and Observation Group (MACV-SOG) control and the final the American withdrawal.
We are looking for assistance with this research in particular on the CIA side, as much of the MACV-SOG documentation has been declassified and we have spoken with the SEALs and Boat Support Unit One men of Mobile Support Team 1 and the Mobile Repair Team. Our Norwegian colleague, Jan Tore Nilsen is a Senior Reserve Commander in the Norwegian Navy is researching Norwegian involvement in Vietnam and has interviewed the surviving Norwegian contractors and obtained documents and photos from them as well as obtained documents regarding acquisition and construction of the Norwegian PTF (Patrol Torpedo Fast) boats for operations in Vietnam. An old friend of mine who was an historian for the CIA suggested we contact AFIO and ask for assistance. We would greatly appreciate any assistance from AFIO members."
Replies to Phil Garn at pggarn@yahoo.com
Seeking Spy-Themed Tourism Experts and New Recruits (with IC backgrounds) for Metro D.C. area opportunity
ISO former Intelligence Officers who might be interested in getting involved in spy-themed tourism in the Washington D.C. metropolitan area.
Also interested in speaking with those who may already be involved in the tourism and travel industry elsewhere.
Please contact Rosanna Minchew at r_minchew@me.com or 571-236-9052.
Intelligence Analysis Visiting Faculty Position at James Madison University, Harrisonburg, VA
James Madison University (JMU) seeks applicants for a visiting faculty position in its Bachelor's Degree Program in Intelligence Analysis (IA). The appointment is for one academic year (with the possibility of renewal for a second year depending upon the Program's needs) at the Assistant or Associate Professor level. This position will reside within the larger School of Integrated Sciences. The IA program offers a multidisciplinary undergraduate degree with an emphasis on methodology and technology to prepare students to become analysts, with a specialization in intelligence analysis. Its graduates have been successful in securing positions as analysts in both the public and private sectors, to include the Intelligence Community, military and law enforcement organizations, defense contractors, and major consulting firms. The program emphasizes methodology and synthesizes critical and creative thinking methods with technological tools for data collection, visualization, and analysis with situational knowledge of a problem's political, economic, social, and technological context with strong communicative and professional skills to support decision-making.
Review of applications will begin on May 1, 2021; the search will remain open until the position is filled. Application materials should include 1) a detailed cover letter that explains how the candidate's experiences fit the position's requirements and values, and should specifically explain the applicant's views on the importance of diversity and inclusion in higher education, 2) curriculum vitae, 3) concise but specific description (no more than 2 pages) of how the candidate would approach teaching the courses from the above list (if offered the position), and 4) contact information for at least three references. Application materials must be submitted online through JMU's application system: https://joblink.jmu.edu/. To apply refer to job #F1590. Salary shall be commensurate with experience. Employment is contingent upon the successful completion of a criminal background check. Questions can be directed to the Chair of the search committee, Dr. Noel Hendrickson, at hendrinx@jmu.edu.
For a full description of Duties and Responsibilities and Qualifications sought, follow this link: https://joblink.jmu.edu/postings/8812
Intelligence Analysis Faculty Program Director/Sr. Lecturer, Johns Hopkins University: Zanvyl Krieger School of Arts and Sciences: Advanced Academic Programs, Washington, DC
The Advanced Academic Programs (AAP) division seeks a Faculty Program Director to teach in and provide administrative leadership to the M.S. in Intelligence Analysis and the Post-Baccalaureate Certificate in Intelligence programs. These programs are part of the Center for Advanced Governmental Studies (CAGS) which is comprised of seven master's degree and three graduate certificate programs. The Center also includes the following programs: M.A. in Government, M.S. in Data Analytics and Policy, M.A. in Public Management, M.A. in Global Security Studies, M.S. in Geospatial Intelligence, M.A. in NGO Management; Certificate in Government Analytics, and the Certificate in Nonprofit Management. These programs educate students who wish to apply rigorous academic concepts to policy-related careers.
Of particular interest are candidates who have experience teaching and engaging students from diverse backgrounds. The Program Director is a full-time, non-tenure-track, 12-month renewable faculty position with the academic title of Senior Lecturer. The Faculty Program Director will have significant interaction/collaboration with the Director of the Center and the Associate Director of CAGS, as well as with the Associate Dean for AAP, other Program Directors, Program Coordinators, AAP staff, and administrators. The Program Director reports to the Associate Dean for AAP, the Center Director, and the Program Chair for Governmental Studies. This position is expected to begin July 1, 2021. The Program Director will have the following faculty and administrative responsibilities:
Faculty Responsibilities
Teaching 4 graduate courses per year, including the preparation for and time spent in the classroom (online or onsite), using best practices for online teaching, engaging and mentoring students from diverse backgrounds in the learning process, responding to student questions;
Advising students, including capstone advising for the master's program;
Providing innovative leadership for curriculum design and new course development to ensure the growth and delivery of quality programs; and
Other academic duties normally performed by full-time faculty, such as participating on committees, attending academic events, or contributing to other academic service.
Administrative Responsibilities
Providing overall supervision for the M.S. in Intelligence Analysis and Certificate in Intelligence, including shared management with the Center Director for the programs;
Leading some full-time faculty, adjunct faculty development, hiring, and evaluation;
Overseeing program admissions processes, including reviewing and approving prospect admission materials;
Coordinating program promotion and outreach, including interacting with outside groups and developing external / internal partnerships;
Coordinating with staff in student and faculty services, online education, marketing, finance, and enrollment services departments on operational issues related to program administration;
Other administrative duties as assigned.
Minimum Qualifications:
Ph.D. or other terminal degree (e.g., J.D.) in a relevant field to Intelligence Studies;
3 or more years of higher education teaching experience, preferably including online teaching and at the graduate level;
3 or more years of related professional work with the Intelligence Community (IC), preferably at the national/strategic level, including combatant commands;
3 or more years of management or leadership experience in an Associate Director or similar related position;
The ability to teach a variety of courses in intelligence studies, such as intelligence analysis, legal and ethical issues in intelligence, intelligence leadership, strategic culture analysis, and critical thinking and analysis;
Demonstrated track record of excellence in teaching.
For more information and instructions on how to apply, please follow this link: https://apply.interfolio.com/85064
Program Director, National Security and Technology – Georgetown University Law Center
A new 360 Innovation Incubator at GULC will be tackling problems in four focus areas, the first of which is the NatSec Tech Program, which looks at the intersections between national security and new and emerging technologies. The National Security & Technology Program Director will lead this new program, serving as a thought leader for this increasingly important sub-field. Utilizing the Center's innovation methodology, the Program Director will help develop strategic new project ideas for the Incubator, oversee and manage those projects including all aspects of foundation grants and budgets, write grant proposals, and build new relationships and networks for the Center. In the immediate term, the Program Director will be the day to day lead manager for the Center on National Security's new Public Interest Technology grant-funded project: 360 Tech: Innovation, Security, and Governance. The project aims to identify the most critical risks posed by social media to individuals, communities, and society, and then develop and test holistic governance models to address those risks. The Program Director will be a lead member of the core team (overseen by the Executive Director) and will be responsible for managing all day to day aspects of the project, including research and writing, coordination and outreach, project management, event and workshop planning, and operations oversight.
For full description of duties, responsibilites, and qualifications, or to apply for the position, view job posting here.
Assistant Professor (tenure-stream) of International Affairs/Intelligence sought by University of Pittsburgh
The Graduate School of Public and International Affairs at the University of Pittsburgh is seeking to hire an Assistant Professor of International Affairs with a focus in intelligence matters (broadly understood). We are looking for someone who can teach on intelligence subjects in our Security and Intelligence major and contribute to our International Affairs program more generally. We welcome those trained in political science, history, and other disciplines, and are particularly interested in those with cyber or regional expertise. The deadline is March 31.

The full announcement can be read -- and application submitted -- through Pitt's Talent Center here.
THREE Faculty Openings for 2021 at Hilbert College, Hamburg, NY
Assistant Professor, Criminal Justice; Assistant Professor, Forensic Science/Crime Scene Investigation; and Assistant Professor, Intelligence & Data Analysis.
Interested candidates can view our job postings here.
---
Kathleen Chadbourne, Naval and CIA Security Officer
Kathleen Ann Chadbourne J.D., Commander, USN(Ret), a Naval and CIA Security Officer, 67 died of ALS on 20 February 2021 in Viera, FL.
Born in Munich, Germany, she lived in Munich; Baguio, Philippines; and Scituate and Wayland, MA. She graduated from Wayland High School in 1971 and attended Suffolk University in Boston, MA where she graduated with a BA and a Juris Doctorate in Suffolk's six-year program. She was commissioned as a Lieutenant JG in the Navy JAG (Judge Advocate General) Corp in 1978. Her first port of call was Subic Bay, Philippines serving in the NAVAL Legal Service Offices. From 1979-1980, she was posted in San Diego, CA first as staff JAG and second at ComAswing PAC (Command Anti-Submarine Warfare Wing Pacific). From 1981 to 1983, she was assigned to Naples, Italy as NLSO (Naval Legal Service Officer).
She retired from the Navy as a Commander in 1983 to join the CIA as a Security Officer and moved to Washington, DC. She completed three TDY tours in Iraq. She retired from the CIA in 2010 and became a Special Security Officer contractor at the US Department of State and focused on developing regulations for handling classified information until she retired in 2014. After 30 years, she left the DC area and moved first to San Diego, CA and then later to Indian River Colony Club in Viera, FL.
Kathleen was a world traveler with her favorite places being Uzbekistan; Botswana; Naples, Italy; Frankfort, Germany; China; The Philippines, Europe in general, and San Diego. She loved cats and was a prolific reader and bird watcher. When asked for what she wanted to be remembered, she said: "working with the government, traveling the world, and being a constant and dear friend."
In November 2014, she was diagnosed with ALS (amyotrophic lateral sclerosis), a progressive neurodegenerative disease that affects nerve cells in the brain and spinal cord. ALS was first found in 1869 by French neurologist Jean-Martin Charcot, but it wasn't until 1939 that Lou Gehrig brought international attention to the disease. Military veterans are twice as likely to develop ALS as those who haven't served.
She is survived by a brother and other family.

Kimberly Hoffman, CIA OTS Disguise Technician/Officer
Kimberly C. Labrum Hoffman, 41, CIA OTS Officer, died of neuroendocrine cancer on 15 March 2021 in McLean, VA.
Wife of Senior DO Officer Dan Hoffman
Born in Salt Lake City, UT, she enjoyed sports, friends and siblings. She graduated from Taylorsville High School and earned a degree in cosmetology from the International Institute of Hair Design in 1997. At 19 she founded her own beauty salon named Salon Diva.
She was an exceptionally talented hair designer, entrepreneur, and make-up artist whose life's passion was making others look amazing.
She moved to Washington, DC in 2006 to be near her sister Karen and become a business consultant for salons across the country. After gaining certification as a cosmetic Make-up Artist, she worked on a few movie sets doing hair and make-up in New York. She then pursued an opportunity to work as a disguise technician at the CIA. It was there that in the most unexpected but destined chance encounter, she met her husband-to-be, a DO Officer Daniel Hoffman. They married and had two sons. She had a boundless curiosity for new adventures, including traveling the world and going to fancy dinners especially The OSS Society and White House Correspondents dinners, where she could "dress to the nines."
She is survived by her husband, two sons, and other family.
Gordon Liddy, FBI Special Agent, Lawyer, White House Aide, Political Operative
George Gordon Liddy, 90, FBI Special Agent, Lawyer, White House Aide, Political Operative, died 30 March 2021.
Gordon was born in Brooklyn, NY and raised in Hoboken and West Caldwell, NJ. He attended St. Benedict's Preparatory School in nearby Newark and earned a BA at Fordham University, graduating in 1952. After serving two years as an artillery officer in the US Army, he returned to Fordham to study Law. He graduated as a member of the Fordham Law Review in 1957. In September of 1957, he was sworn in as a Special Agent of the FBI and served under J. Edgar Hoover. At age 29, he became the youngest Special Agent in Charge in the history of the Bureau. He left the Bureau to practice law in Manhattan. It was not long before the urge for government service took him to Dutchess County, NY as a prosecutor. In 1966, he arrested Timothy Leary, the famed "counter-culture" guru (the two later became friends). Gordon ran for Congress in 1968, lost a very close primary, but drew the attention of House Minority Leader Gerald R. Ford, who recommended him to the Nixon campaign. Nixon's victory brought him to D.C. where he served as the Special Assistant to the Secretary of the Treasury and later as a White House Aide. In November, 1971, the White House Counsel asked Liddy to design and run an intelligence operation for the 1972 Re-election campaign. To do so, Liddy would have to leave the government. He took a position at the Committee to Re-Elect the President . . . the result was what has come to be known as "Watergate." Liddy refused to cooperate with prosecutors and remained silent throughout the many investigations and trials, infuriating prosecutors and Judge Sirica. Liddy was sentenced to more than 21 years in prison. In 1977, President Jimmy Carter ended the stand-off by ordering clemency, commuting Liddy's sentence. In September, Liddy was reunited with his family.
He had no regrets and took responsibility for his own actions. Unsure of his professional future, he was surprised, and blessed, to learn how many Americans admired his strength and determination to live by his principles, even as many others disagreed with him. For the next 32 years, he was a presence in America's political and cultural conversations. His 1980 autobiography became a bestseller, and as an author and lecturer he relished the opportunity to share his experiences and ideas with America's college students. He had the greatest respect for the men and women who choose to serve in America's armed forces and insisted that his public speaking contract had a clause, when he was asked to speak at West Point, The Naval Academy, the Air Force Academy or the Coast Guard Academy there would be no fee, he paid the agency fee out of his own pocket.
In the 1990s he launched a nationally syndicated radio show, providing him with the privilege of sharing ideas, stories and lessons with Americans for an additional 21 years on over 300 radio stations. As an author, lecturer, actor and radio talk show host, he again served his country, made a handsome living and having a lot of fun, often "agreeing to disagree." For that opportunity, he was deeply grateful to the People of the greatest country on earth, the USA. Family and friends are invited to Gordon's Life Celebration on 8 April 2021, 4 to 7 p.m. at the Darrow Funeral Home, 39 South Hamilton St, Poughkeepsie, NY and funeral Mass on 9 April at 10 a.m. at St. Mary's Church at 231 Church Street in Poughkeepsie. Burial service to follow at St. Peter's Cemetery, 147 Salt Point Road, Poughkeespie, NY. COVID protocols will be followed at all venues.
He is survived by a sister, by two daughters and three sons, and other family.
Earle Ralph Myrick, 92, CIA Officer, died 18 March 2021 in Mt Airy, MD.
He was born in Gettysburg, PA.
He joined the CIA at its very beginnings in 1948 after serving in the US Navy. Earle played an important and historic role in the development of intelligence tradecraft, was a mentor and respected colleague, and served his country selflessly and heroically throughout his long career. His career often took him on duty assignments throughout the world.
In his personal life Earle enjoyed spending his summers at the family seaside cottage in New Brunswick, Canada each year and visiting with his wife's large Acadian family. He also loved homesteading on the family farm he and his wife purchased in Mt. Airy, MD. The family were parishioners at St. Paul's Catholic Church in Damascus, MD.
He is survived by his wife, Joyce Allain Myrick, by a son and a daughter, and other family.
Robert Leonard Tucci, 77, CIA Officer, died 17 March 2021 in Williamsburg, VA.
Bob was born in Washington, DC and grew up in Vienna, VA. He was a member of the Vienna Woods Little League and was a Cub and Boy Scout. He was on the dive team at VWSC in his teenage years and attended Bullis Prep School in Potomac, MD and went on to Marquette University in Milwaukee, WI.
He had a long career working for the CIA for more than 30 years. Upon retirement from the CIA, he worked for SAIC in IT support.
Bob had many hobbies and interests. He was a member of the Vienna Jaycees and was involved with the Special Olympics. He was an avid photographer and when younger, built a dark room in his parent's house. He loved to play and watch sports and he and Mary loved to attend William & Mary college football and basketball games. He organized an annual MS Walk in honor of his wife, Mary. Once fully retired, he worked at Busch Gardens during the summer months and enjoyed directing parkgoers to their destination. He was active in the local train club and had a love for collecting trains and going to shows. Bob was a people lover and he loved to tell jokes and he did up until the end.
He is survived by his wife, Mary, and other family.
Coleen White-Harvey, Army/CIA/DIA Analyst
Coleen Maria White-Harvey, 65, Army/CIA/DIA Analyst, died 26 March 2021 in Northern Virginia following a lengthy illness.
She was born in Clio, MI. She was a graduate of Powers Catholic High School in Flint where her extroverted personality was well-suited to her drill team and thespian activities; she was also an avid photographer. After graduating from Powers, she next attended Northern Michigan University where she graduated Cum Laude in 1978 with a Bachelor of Science degree in Criminal Justice. While attending university, Ms. White-Harvey joined the US Army Reserve Officers Training Corps (by accident she later maintained), and she was duly commissioned as a Second Lieutenant in the US Army upon graduation. While in the military, Coleen served in both the Military Police and Military Intelligence specialties, successfully completing assignments as a Platoon leader at Ft. Meade, MD, and Special Agent in Charge of the 902d Military Intelligence Group Field Office at Ft. Sheridan, IL. She left the Army to pursue a career as a civilian research analyst with the US Army Intelligence and Threat Analysis Center in Washington, DC, eventually transitioning to an analyst position with the Defense Intelligence Agency (DIA) in 1990. In 2005, Ms. White-Harvey completed the Central Intelligence Agency's rigorous hiring process to become a counterintelligence officer. In this capacity, Ms. White-Harvey served at CIA Headquarters in Langley, VA, deployed on temporary duty to Kabul, Afghanistan, and completed separate overseas assignments with her husband in Vienna, Austria, and Vilnius, Lithuania.
Aside from her official responsibilities in Lithuania, Ms. White-Harvey volunteered to lead a partnership of local diplomats, the business community, and Lithuanian government officials to bring 1000 orphans from all over the country to the National Ballet Theatre in Vilnius for a special Christmas celebration, complete with gift packages for all and a visit by Santa Claus. Her efforts helped to bring needed attention to the circumstances of orphans in Lithuania. Ms. White-Harvey received many awards throughout her lengthy Army/DIA/CIA career, and she retired from Federal Service in 2015.
Coleen enjoyed gardening and photography throughout her adult life, and excelled at creating frames for her work. She was also a passionate consumer of national/international political news and science fiction literature. Animal rights were always very important to her and she supported many animal rights charities in addition to rescuing stray animals locally.
She is survived by her husband, and their four-legged companions: Tadas, Rima, Jet, Spot, and Kitten. And by other family. A memorial service for Ms. White-Harvey will be held at 11 a.m. on 8 April 2021 at the Everly Funeral Home and Cremation Service, 6161 Leesburg Pike, Falls Church, VA.
---
AFIO EDUCATIONAL EVENTS IN COMING TWO MONTHS....
None to report at this time.
---
Other Upcoming Events from Advertisers, Corporate Sponsors, and Others
Saturday, 10 April 2021, 11:30am-1:00pm EDT - Washington, DC - Access to SPY: Spy Skills Virtual Workshop - Virtual International Spy Museum Program
The Spy Museum offers their most popular virtual workshop, Spy Skills, to the autistic community! Do you have what it takes to go undercover, decrypt secret messages and think like a gadget-maker to solve problems? In this skill-based program, interactive challenges with real-world stories will be woven together as participants explore the shadow-world of espionage and answer the question…Do you have what it takes to be a spy? Afterwards, participants will meet former spy, Chris Costa (current executive director of the Spy Museum) and hear about how his spy skills were put to the test on various overseas missions! This virtual program is designed to appeal to all ages and abilities and is focused on family fun. Sponsored by The Embassy of the State of Qatar in the United States. Event is free of charge. Visit www.spymuseum.org.
Sunday, 11 April 2021, 2- 3:30 pm EDT - Virtual - Atomic Spy's Son: Discovering the Reality of Your Father's Secret Life by The Cold War Museum
Your dad is an atomic spy for the Soviets. You feel the strange tension in your family. You learn the truth with your research skills.
The Cold War Museum invites you to attend a presentation by Dr. Boria Sax on "Atomic Spy's Son: Discovering the Reality of Your Father's Secret Life."
It is many decades since the end of the Cold War, but many of the traumas and mysteries that it engendered are with us still. In this talk, drawing from his book Stealing Fire: Memoir of a Boyhood in the Shadow of Atomic Espionage,
Dr. Boria Sax will describe his discovery as an adult that many of the strange tensions in his family's life as he was growing up were due to his father's espionage for the Soviet Union.
He will talk about how to investigate anomalies in the past, as well as the often-difficult task of distinguishing between reasonable speculation and paranoid imaginings. This talk is presented in the hope of inspiring others to investigate and tell the Cold War stories in their families, for there are surely thousands of strange, interesting narratives that have yet to be told. We have enough distance from the Cold War that people need no longer feel afraid to ask questions. Memories of the Cold War are fading yet still fairly vivid. We have a unique chance to record stories of that era before they are lost forever.

Fee: $20. To attend, use this link.
Questions? Call or email Jason Hall, 703-283-4124 (cell), jason@coldwar.org
Wednesday, 14 April 2021, 9 - 10:30am EDT - Zoom Webinar - Special 25th Anniversary Kick-Off for the National Cryptologic Foundation
We hope you will join us for a very exciting virtual program featuring a panel discussion with six former NSA directors to discuss challenges we have faced in the past 25 years, as well as challenges we may face in the next 25 years.
Panel Participants: VADM Bobby Inman, USN (Ret); VADM William Studeman, USN (Ret); VADM J. Michael McConnell, USN (Ret); Lt Gen Kenneth Minihan, USAF (Ret); Gen Keith Alexander, USA (Ret); and ADM Michael Rogers, USN (Ret).
Panel Moderator: Greg Myre, National Security Correspondent, NPR.
Cost: Free. Special Anniversary Donations are Appreciated.
Registration is Required.
REGISTRATION: Please register here and choose one of the options. You will receive an email confirmation. Save that confirmation email as it will contain your Zoom login information.
Deadline: Registration will close on 12 April 2021.
Questions: If you have questions about this program, please email ncmfinfo@cryptologicfoundation.org
Wednesday, 14 April 2021, 5pm EDT - Movie and Zoom Webinar - Virtual Spies & Spymasters Happy Hour: The Courier - Film Preview and Discussion by International Spy Museum
Note: To preview film, you must register between now and April 11.
AFIO Members are invited by the International Spy Museum to attend a complimentary advance virtual screening of The Courier and a later discussion and Happy Hour!
The true-life spy thriller is a story of an unassuming British businessman Greville Wynne, played by Benedict Cumberbatch, who is recruited into one of the greatest international conflicts in history. At the behest of the UK's MI-6 and the CIA, he forms a covert, dangerous partnership with Soviet officer Oleg Penkovsky in an effort to provide crucial intelligence that helps prevent a nuclear confrontation and defuse the Cuban Missile Crisis.
View the trailer here.
And then REGISTER to attend. Registered guests will receive a personal link to view the film (beginning Friday, 9 April) in advance of a special "Live Virtual Spies & Spymasters Happy Hour + Q&A" which will take place 14 April at 5 pm EDT.
At the post-previewing of the film, you will join the Museum experts and guests discussing the film. Film director, Dominic Cooke, who became passionate about the little known story of Wynne and his intense and intriguing Cold War connection with Penkovsky, "the spy who saved the world" will be joined by Spy Museum Historian and Curator, Dr. Andrew Hammond who will give a brief overview of the true spy story behind the movie and share artifacts from the Spy Museum related to the case. Former CIA chief of disguise, Jonna Mendez will describe how the fallout from the Penkovsky case shaped the way the CIA operated in Moscow — the subject of her book The Moscow Rules.
Receive your personal link to preview the film but the window to do so is limited. If you register by 9 am EDT on Friday, 9 April, you will receive your link Friday evening.
If you register by 11:59 pm EDT Sunday, 11 April, you will receive a link to watch The Courier for a limited time. Link will sent to you on Monday, 12 April.
Any registrations after Sunday, 11 April will not receive a link to preview the film.
More information on the programs here.
Do NOT delay. Register NOW for the preview and the post-view conversation here.
Thursday, 15 April 2021, noon EDT - Washington, DC - Virtual Spy Chat with Chris Costa and Special Guest Ellen McCarthy - Virtual International Spy Museum Program
Join the experts at the Spy Museum for an online discussion of the latest intelligence, national security, and terrorism issues in the news. Spy Museum Executive Director Chris Costa, a former intelligence officer of 34 years, will lead the briefing. He will be joined by Ellen McCarthy, former Assistant Secretary of State for the Bureau of Intelligence and Research. Following their discussion of key issues, you'll be able to ask questions via our online platform. Sponsored by the Honorable Mary Beth Long, governing board member of International Spy Museum. Event is free - registration required. Visit www.spymuseum.org.
Thursday, 15 April 2021, 7pm EDT - Zoom Webinar - Spy Writing in the Real World by The Hayden Center of George Mason University
The Intelligence Community has found itself making real world headlines in recent years, but spying has been a staple in fiction writing for decades. Both non-spies and former intel officers have crafted spy thrillers that have won critical and popular praise. What are the differences between writing spy novels with or without previous intelligence experience? What are the challenges of writing realistic spy fiction? How much creative license is needed to make it exciting? How much realism is sacrificed in the process? How do real life spies react to spy fiction? How different is their response to that of the broader public?
Join Hayden Center senior fellow David Priess as he talks with authors Alma Katsu, Karen Cleveland, and Brad Thor about spy writing in the real world and about their exciting new novels.
This Hayden Center presentation is being recorded for use on the GMU website and social media.
Register for webinar here.
28 April 2021, 6 pm EDT - virtual - "Special Duties Pilot" - with Capt. John Billings & Gen. Norton Schwartz in this Conversation Series by The OSS Society
This "Oh So Social" conversation features former Air Force Chief of Staff Gen. Norton Schwartz interviewing another one of WWII's greatest heroes, Captain John Billings, a B-24 Liberator pilot who flew the real "inglourious basterd" - the OSS' Fred Mayer - into Nazi-occupied Austria in one of the war's most daring missions. You can register for this event by clicking here.
This conversation is being held on the same date that Billings's autobiography, "Special Duties Pilot: The Man Who Flew the Real "Inglourious Basterds" Behind Enemy Lines," is being published. You can purchase an advance copy of his book by clicking here.
If you wish to see the prior OSS Society video between The Honorable Ellen McCarthy, former Assistant Secretary of State for the Bureau of Intelligence and Research (INR), and Erika Robuck, author of "The Invisible Woman" about the OSS' Virginia Hall, one of the greatest heroes of WWII, it is available here.
Wednesday, 1 December 2021, TBD Time - Washington, DC - 2021 Webster Distinguished Service Award Event - International Spy Museum
The Spy Museum offers an evening of intrigue for the 2021 Webster Distinguished Service Award event. The award is an opportunity to recognize the extraordinary contributions of individuals in the Intelligence Community. This year's awardee is The Honorable Susan M. Gordon, former principal deputy director of national intelligence. Previous recipients of the Webster Distinguished Service Award include President George H. W. Bush (2017), Admiral William H. McRaven, USN (Ret.) (2018), and Gen. Michael V. Hayden (Ret.) (2019). Webster attendee and sponsor support fuels the nonprofit mission of educating the public about the history and craft of espionage and intelligence through youth and adult programs, community service, and the care of the Museum's unique collection of artifacts for generations to come. For tickets, sponsorship opportunities, or information about ways to support the International Spy Museum, please contact the development office at 202.654.2853. Additional details and online ticket link to follow. Visit www.spymuseum.org.
---
In addition to the new Royal Blue long sleeve shirts, and the gray long sleeve hooded sweatshirts, the AFIO Store also has the following items ready for quick shipment:
NEW: LONG and Short-Sleeved Shirts with embroidered AFIO Logo and New Mugs with color-glazed permanent logo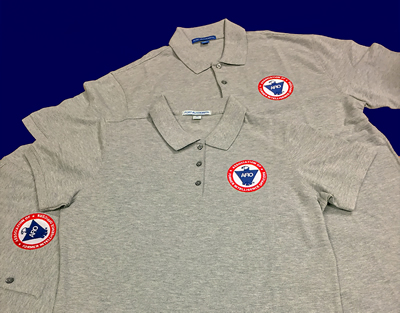 Show your support for AFIO with our new Polo Shirts. Be the first to buy these new, high quality, subtle heathered grey short sleeve shirts, and dark blue long sleeved shirts, of shrink and wrinkle resistant fine cotton with a soft yet substantial feel. They feature a detailed embroidered AFIO seal. Get a shirt for yourself and consider as gifts for colleagues, family, and friends. Only $45 each including shipping.
Sizes of (M) men or (W) women shirts; Small, Medium, Large, XL, XXL, and XXXL. At this time all orders will arrive as Short Sleeve shirts.
You may pay by check or credit card. Complete your order online here or mail an order along with payment to: AFIO, 7600 Leesburg Pike, Ste 470 East, Falls Church, VA 22043-2004. Phone orders at 703-790-0320. If interested in other shirt colors or sleeve lengths, contact Annette at: annettej@afio.com.



Available as a thank you for donations are the new AFIO logo face masks:
These soft, form-fitting, washable, non-medical grade fabric face masks have wide behind-the-ear elastics to make long periods of wear comfortable. Also easier to quickly put on or take off. Blue on outside, white inside. The masks do not have a nose wire but are sculpted, shaped, and sewn to fit most users. The all-cloth composition allows the masks to be washed or steam-disinfected without concerns over metal wires. The color logo is washable and a permanent part of the mask.
The masks, however, are not for sale. They are being offered strictly as a thank you gift to our donors.
For tax-deductible donations of $50 you will receive a receipt and our thank you gift of two of these newly-arrived face masks.
Donations of $100 receive four masks to be sent to the same address. Other amounts and split-shipments are available.
To donate now to support AFIO's programs and publications, please do so here.
We wish all members and donors continued good health, safe social distancing, and warmly appreciate any support you are able to provide the association.
---
AFIO Mug with color glazed logo. Made in America. Sturdy enough to sit on desk to hold pens, cards, paperclips, and candy.
This handsome large, heavy USA-made ceramic mug is dishwasher-safe with a glazed seal. $35 per mug includes shipping. Order this and other store items online here.
---
Guide to the Study of Intelligence and When Intelligence Made a Difference
"AFIO's Guide to the Study of Intelligence" has sold out in hard-copy.
However, it is available in digital form in its entirety on the AFIO website here.

Also available on the website here are the individual articles of AFIO's history project "When Intelligence Made a Difference" that have been published to date in The Intelligencer journal. More articles will be forthcoming in future editions.
---
Disclaimers and Removal Instructions
Weekly Intelligence Notes (WINs) are commentaries on Intelligence and related national security matters, based on open media sources, selected, interpreted, edited and produced for non-profit educational uses by members and WIN subscribers.
REMOVAL INSTRUCTIONS: We do not wish to add clutter to inboxes. To discontinue receiving the WINs:
a) IF YOU ARE A MEMBER - click here: UNSUBSCRIBE and supply your full name and email address where you receive the WINs. Click SEND, you will be removed from list. If this link doesn't open a blank email, create one on your own and send to afio@afio.com with the words: REMOVE FROM WINs as the subject, and provide your full name and email address where you are currently receiving them.
b) IF YOU ARE NOT A MEMBER, and you received this message, someone forwarded this newsletter to you [contrary to AFIO policies]. Forward to afio@afio.com the entire WIN or message you received and we will remove the sender from our membership and distribution lists. The problem will be solved for both of us.
CONTENTS of this WIN [HTML version recipients - Click title to jump to story or section, Click Article Title to return to Contents. This feature does not work for Plaintext Edition or for some AOL recipients]. If you wish to change to HTML format, let us know at afio@afio.com. The HTML feature also does not work for those who access their e-mail using web mail...however NON-HTML recipients may view the latest edition each week in HTML at this link: https://www.afio.com/pages/currentwin.htm
---
WINs are protected by copyright laws and intellectual property laws, and may not be reproduced or re-sent without specific permission from the Producer. Opinions expressed in the WINs are solely those of the editor's or author's listed with each article. AFIO Members Support the AFIO Mission - sponsor new members! CHECK THE AFIO WEBSITE at www.afio.com for back issues of the WINs, information about AFIO, conference agenda and registrations materials, and membership applications and much more!
(c) 1998 thru 2021. AFIO, 7600 Leesburg Pike, Suite 470 East, Falls Church, VA 22043-2004. Voice: (703) 790-0320; Fax: (703) 991-1278; Email: afio@afio.com
---
About AFIO | Membership Renewal | Change of Address | Upcoming Events | Chapter Locations | Corporate/Institutional Memberships | Careers in Intelligence Booklet | Guide to the Study of Intelligence | Intelligencer Journal | Weekly Intelligence Notes | To Make A Donation | AFIO Store | Member-Only Section | Code of Ethics | Home Page
---