---
CONTENTS
Section I - INTELLIGENCE HIGHLIGHTS
Section II - CONTEXT & PRECEDENCE
Section IV - Research Requests, Jobs, Obituaries
Other Upcoming Events from Advertisers, Corporate Sponsors, and Others
For Additional AFIO and other Events two+ months or more... Calendar of Events
WIN CREDITS FOR THIS ISSUE: The WIN editors thank the following special contributors: rsy, ec, po, pj, mh, km, gh, mk, rd, fm, kc, jm, mr, jg, th, ed, and fwr. They have contributed one or more stories used in this issue.

The WIN editors attempt to include a wide range of articles and commentary in the Weekly Notes to inform and educate our readers. However, the views expressed in the articles are purely those of the authors, and in no way reflect support or endorsement from the WIN editors or the AFIO officers and staff. We welcome comments from the WIN readers on any and all articles and commentary.

CAVEATS: IMPORTANT: AFIO does not "vet" or endorse research inquiries, career announcements, or job offers. Reasonable-sounding inquiries and career offerings are published as a service to our members, and for researchers, educators, and subscribers. You are urged to exercise your usual caution and good judgment when responding, and should verify the source independently before supplying any resume, career data, or personal information.]
If you are having difficulties with the links or viewing this newsletter when it arrives by email, members may view the latest edition each week at this link.

---

Other items brought to our attention:

Senior GRU Leader Directly Involved With Czech Arms Depot Explosion - bellingcat

Bellingcat has established that the GRU operation which Czech authorities have linked to the explosion of the munition depot in Vrbetice on 16 October 2014, involved at least six operatives from GRU's Unit 29155. It was supervised personally by its commander, Col. Gen. Andrey Averyanov, a senior deputy to the head of the GRU, who traveled undercover to Central Europe at the exact time of the operation and left back to Moscow mere hours after the explosion. This was one of only two known clandestine operations for which Gen. Averyanov has personally traveled abroad, indicating the significance of this subversive mission for the Russian government. Gen. Andrey Averyanov is a high ranking military official who, based on telephone call records reviewed by Bellingcat, has a direct line of communication to both the chief of the GRU chief and to the Kremlin. [Bellingcat analysis continues here.]

---

CIA: We Can't Rule Out the 'Lab Leak' Theory of Covid-19's Origins Avril Haines

Top U.S. intelligence officials reiterated Thursday that they could not rule out the possibility that covid-19 leaked out of a Chinese government lab, as opposed to originating from animal-to-human transmission. During a House committee hearing on global threats, Director of Intelligence Avril Haines and CIA Director William Burns both stated that the controversial theory of the novel coronavirus's origin was still being investigated by America's spy agencies. Officials made similar comments during a Senate hearing Wednesday. In so doing, they refused to swear off the increasingly discussed claim that the virus could have actually escaped from a lab—perhaps the Wuhan Institute of Virology, where Chinese scientists are accused of having conducted military experiments involving coronaviruses and animals. (Foreign diplomats had also previously expressed concerns about the security of this facility.)

"From our perspective, we just don't know where, when and how the coronavirus was transmitted initially. We have two plausible theories that we're working on," said Haines, when questioned about the issue Thursday.
"One of them is that it was a laboratory accident. And the other is that it emerged naturally from human contact with infected animals." [Story continues here.]

---

CIA Still Believes COVID-19 May Have Been Created In A Lab by Greg Atoms, 710keel

It has been one of the biggest questions during the COVID-19 global pandemic; how did this all start? Where it started was never up for debate, the virus outbreak initially began in China, and that information was suppressed by the country's leadership as it silently spread across the globe. But inside China, where exactly did it start? Often real life seems to be inspired by art, like in the blockbuster film Contagion where a virus outbreak can occur when different animal viruses cross contaminate, and then have a "spillover" event where it becomes a human virus. Or like another movie blockbuster, Outbreak, where government forces weaponize a virus for possible use in combat. That is the crossroads of where we all seem to be when it comes to COVID-19. While the World Health Organizations, or WHO, has held firm that their belief is COVID-19 came from and animal-to-human spillover event in China, US Intelligence organizations have a different option on the table.

Last week, at two different US Government hearings, officials inside US Intelligence again stated that a possible cause for the outbreak was a laboratory in Wuhan, China. United States Director of Intelligence Avril Haines testified that a lab leak is one of the most plausible explanations: "From our perspective, we just don't know where, when and how the coronavirus was transmitted initially. We have two plausible theories that we're working on. One of them is that it was a laboratory accident ,and the other is that it emerged naturally from human contact with infected animals." CIA Director William Burns also testified that the source of the outbreak remains under investigation. Meaning the origins of COVID-19 aren't as "proven" as the WHO wants us to believe it is. [Story continues here.]

---

Intelligence Chiefs Say China, Russia Are Biggest Threats To U.S. by Scott Neuman, NPR, 14 Apr 2021

The top U.S. intelligence officials on Wednesday provided their assessment of worldwide threats affecting U.S. interests, focusing on cybersecurity and military concerns posed by Beijing and Moscow, but also the threat of both domestic and international terrorism. It was the first such assessment formally presented at a hearing to Congress in two years due to tensions between former President Donald Trump and the nation's intelligence community. Director of National Intelligence Avril Haines, in her opening statement before lawmakers on the Senate Intelligence Committee, echoed language in the intelligence community's annual threat assessment, officially released Tuesday. She described China as "a near-peer competitor challenging the United States in multiple arenas, while pushing to revise global norms in ways that favor the authoritarian Chinese system." Her opening statement also touched on concerns about Russia's efforts to undermine U.S. influence, Iran's contributions to instability in the Middle East, global terrorism and the threat of North Korea's nuclear and ballistic missile programs.

In addition to Haines, CIA Director William Burns, FBI Director Christopher Wray, National Security Agency Director Gen. Paul Nakasone and Defense Intelligence Agency Director Lt. Gen. Scott Berrier also appeared before the committee to discuss findings in the assessment. Full article here.


---

The Arkin Group's April 16 "In Other News" letter to private clients by former Operations Officer Jack Devine features...

The Biden Administration imposed a robust round of sanctions against Russia for a litany of transgressions, targeting 32 entities and individuals involved in disinformation, Russian interference in the 2020 presidential election, and Russia's occupation of Crimea. See "Spymaster's Prism" below for more insights on Russian disinfo campaigns in U.S.
Iran and co-signatories to the 2015 nuclear agreement resumed negotiations in Vienna yesterday in a continued attempt to revive the deal, despite an attack on the Natanz nuclear facility earlier this week.
Prime Minister Narendra Modi appears mindful of politics and economics even as India faces a second, more deadly wave of Covid-19.
Recently released was Jack Devine's Spymaster's Prism. AFIO's interview with him about this book appears in this issue at top of right column of this issue of the WINs. You can view the video at this link. Or hear the podcast here.

---

The Latest... from Jeff Stein's highly popular "SpyTalk" series

Apr 16: "SpyTalk at the Movies: The Courier" by Jeff Stein
The Cold War espionage thriller is a love story of sorts with an Armageddon backdrop
Article here

Apr 16: "Spy Spats' Sound and Fury" by Jeff Stein
Biden's eviction of 10 Russian spies is a slap, not much more
Article here

Apr 13: "CIA's Big Afghanistan Problem" by Jeff Stein
Biden's withdrawal agreement likely leaves U.S. spies without an Afghan base
Article here

Apr 13: "Get Smart: 5 Ways to Read an Intelligence Report" by Ron Marks
Retired CIA officer Ron Marks advises a new Hill aide not to be wowed by secrets
Article here

Readers can subscribe for free at the moment here.

---

Inside the SCIF:

Inside the SCIF by JJ Green, WTOP - Issue #109, 15 April has details on Biden admin sanctions against Russian diplomats; Expulsions of Russian diplomats by Poland, EU, Canada, Australia; Iran Nuclear "accident"; Former Russian assistant to president sentenced for treason; U.S. Intelligence annual Threat Assessment; Canada's CSIS 2020 Assessment; DARPA needs help against internal security threats; GRU hacked Sweden sports confed.

The latest Target USA Podcast 272 is on: "Is Donald Trump a Russian intelligence asset?" Yuri Shvets, former KGB agent and subject of Craig Unger's new book, American Kompromat: How the KGB Cultivated Donald Trump, and Related Tales of Sex, Greed, Power, and Treachery, says yes! They discuss never before know details of Russian activity directed at Trump and other American politicians. Evidence?

And "The Hunt" explores: "Think tank research shows domestic extremism on the rise in US." New research from "think tanks" show domestic extremism is on the rise in the United States. Tom O'Connor, former FBI special agent with the Washington Field Office, talks with JJ Green about the specifics of this latest spike.

---

---

From the National Cryptologic Museum Foundation:

THE NCMF's #CyberChats, held virtually via their Nepris online classroom, have resumed.

4 May, 2pm EST: Charting a Path to a Future in Cybersecurity

18 May, 1pm EST: Student Security Clearances: Your Past Impacts Your Future

25 May, 3pm EST: How Breaking the Codes during the Battle at Midway Inspired a Cadet!

Other NCF Events:

Friday, April 16, 2021 3 - 4 pm EDT - Women in Cyber & Cryptology - Free Webinar

Saturday, April 17, 2021 - NCF 25th Anniversary! See announcement below under EVENTS in this issue of the WINs.

Tuesday May 10, 2022 - NCMF spring membership meeting at the Kossiakoff Center
Wednesday May 11 - Thursday May 12, 2022 - CCH Cryptologic History Symposium at the Kossiakoff Center
Friday May 13, 2022 - Half day offering at the National Cryptologic Museum
To explore all these upcoming events, visit NCF website here, and CCH website here.

---

---
---
---
Just released to AFIO members-only...
Two Experts on Spy Sites of Philadelphia

Released 20 April 2021
on their new book, "Spy Sites of Philadelphia"
Interview of Thursday, 18 March 2021 of Robert W. Wallace and H. Keith Melton, author-historians, on their new book, "Spy Sites of Philadelphia: A Guide to the Region's Secret History"
Host: James Hughes, AFIO President, a former CIA Operations Officer.
TOPIC: Bob Wallace and Keith Melton discuss a few of the many unusual and fascinating examples of espionage activities which took place in the city of Philadelphia, Pennsylvania covered in their latest guidebook: "Spy Sites of Philadelphia." In that book they discuss more than 600 entries, augmented by more than 700 photos, with references to more than 1,000 individual sites of interest.
The presentation runs 38 minutes.
Access Wallace-Melton video here or click above image.
---
Prior Videos in the "AFIO Now" Series
To view the publicly-released ones, visit our YouTube page
or log into the Member-only area to view private and public interviews.
---
NEW — PODCASTS: Our new social media expert has been busy! Are you too busy to sit and watch an entire "AFIO Now" episode above on YouTube? Would you rather listen in your car or while accomplishing other tasks? Now you can quickly download or stream episodes on your favorite podcasting platform. AFIO is now available on 8 podcasting platforms. Search for 'AFIO Podcast' for a selection of the interviews above (public released ones) on Podbean; iTunes; Google; Spotify; Amazon Music; Amazon TuneIn + Alexa; iHeartRadio; and Pandora.
---
SIX FORMER NSA DIRECTORS CELEBRATED NCF 25th ANNIVERSARY
In April 2021, the National Cryptologic Foundation hosted a rare virtual panel discussion featuring six former NSA Directors. The discussion included an examination of the challenges our Nation has faced in the past 25 years, as well as an exploration of issues we may encounter in the next 25 years - particularly related to cybersecurity vulnerabilities and how public-private partnerships are integral to our Nation's future. They also discussed past cryptology and cybersecurity challenges as we look to the future. Former Directors who participated on the panel included: ADM Bobby Inman, USN (Ret); ADM William Studeman, USN (Ret); VADM J. Michael McConnell, USN (Ret); Lt Gen Kenneth Minihan, USAF (Ret); GEN Keith Alexander, USA (Ret); and ADM Michael Rogers, USN (Ret). The discussion was moderated by Greg Myre, National Security Correspondent, NPR. This program was the kick-off event for the Foundation's 25th Anniversary. The video is available here or below.
Visit the NCF 25th Anniversary Section here. And their homepage.
---
Nicholas Dujmovic on 60th Anniversary of Bay of Pigs Invasion
Sixty years ago, on April 17, 1961, a force of more than 1,400 CIA-trained Cuban exiles launched an invasion at the Bay of Pigs on the southern coast of Cuba. Called Brigade 2506, their goal was the overthrow of communist leader Fidel Castro, who had taken power only two years earlier in the Cuban Revolution. The invasion disintegrated in a matter of days, with 118 killed and more than 1,100 captured. The fiasco cast a pall over President John F. Kennedy's three-month-old administration and set the stage a year later for the nuclear showdown with the Soviet Union known as the Cuban Missile Crisis. American History TV and Washington Journal were live on April 17 to look back at the failed invasion and its consequences. Former CIA historian Nicholas Dujmovic, who now heads Catholic University's Intelligence Studies Program, joined C-SPAN to discuss the event.
If video above does not run in your email or browser, use this link.
---
FBI's InfraGard Marks 25 Years — Protecting the Country's Critical Infrastructure Through Partnerships
In 1996, a small group of private sector and government officials began working with the FBI's Cleveland Field Office to help identify cyber threats to the country. The FBI passed along what we knew about cyber intrusions and crime trends to our partners to help them secure their facilities and computer networks. And our partners, in turn, shared their information technology expertise and information they had on possible cyber crimes.
The group became known as InfraGard because of its focus on protecting critical infrastructure components—like utility companies, transportation systems, telecommunication networks, water and food suppliers, public health, and financial services.
The original program proved so successful that we replicated it nationally. And just as the cyber threat has evolved over the last 25 years, so has InfraGard.
Today, InfraGard—managed by the FBI's Office of Private Sector—has grown to more than 75,000 members representing the private sector, government, and academia. InfraGard has expanded its initial focus on cyber crime to include terrorism, intelligence, criminal, and security matters.
So while the threat is more complex today, the mission remains the same. InfraGard helps the FBI protect the country's critical infrastructure sectors through partnerships.
InfraGard participants share information, intelligence, training, best practices, and more through a member website and through more than 70 regional chapters, each having a relationship with a local FBI field office.
---
Newly Released, Overlooked, or Forthcoming Books
On Killing Remotely: The Psychology of Killing with Drones
by Kenneth W Phelps, Dave Grossman
(Little, Brown and Company, May 2021)
The costs—to individual soldiers and to society—of the way we wage war today. Throughout history, society has determined specific rules of engagement between adversaries in armed conflict. With advances in technology, from armor in the Middle Ages to nerve gas in World War I to weapons of mass destruction [See "Swarming Drones" - the future weapon of mass destruction] in our own time, the rules have constantly evolved.  Today, when killing the enemy can seem palpably risk-free and tantamount to playing a violent video game, what constitutes warfare?  What is the effect of remote combat on individual soldiers?  And what are the unforeseen repercussions that could affect us all?

The authors address these questions and many others as they tell the story of the men and women of today's "chair force." Exploring the ethics of remote military engagement, the misconceptions about PTSD among RPA operators, and the specter of military weaponry controlled by robots, their book is an urgent and compelling reminder that it should always be difficult to kill another human being lest we risk losing what makes us human.

Book may be ordered here.
---
Restricted Data: The History of Nuclear Secrecy in the United States
by Alex Wellerstein
(University of Chicago Press, Apr 2021)
The first full history of US nuclear secrecy, from its origins in the late 1930s to our post–Cold War present. The conflict between high-minded idealism and ugly, fearful power.
The American atomic bomb was born in secrecy. From the moment scientists first conceived of its possibility to the bombings of Hiroshima and Nagasaki and beyond, there were efforts to control the spread of nuclear information and the newly discovered scientific facts that made such powerful weapons possible. The totalizing scientific secrecy that the atomic bomb appeared to demand was new, unusual, and very nearly unprecedented. It was foreign to American science and American democracy—and potentially incompatible with both. From the beginning, this secrecy was controversial, and it was always contested. The atomic bomb was not merely the application of science to war, but the result of decades of investment in scientific education, infrastructure, and global collaboration. If secrecy became the norm, how would science survive? 
Drawing on troves of declassified files, including newly released USG records, Restricted Data traces the complex evolution of the US nuclear secrecy regime from the first whisper of the atomic bomb through the mounting tensions of the Cold War and into the early twenty-first century.  
Book may be ordered here.
---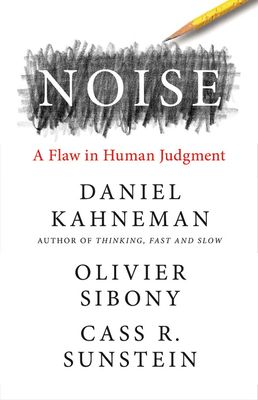 Noise: A Flaw in Human Judgment
Daniel Kahneman, Olivier Sibony, Cass R. Sunstein
(Little Brown Spark, May 2021)
Intelligence Analysis. A groundbreaking exploration of why most people make bad judgments, and how to control for that noise.
Imagine that two doctors in the same city give different diagnoses to identical patients — or that two judges in the same courthouse give different sentences to people who have committed the same crime. Suppose that different food inspectors give different ratings to indistinguishable restaurants — or that when a company is handling customer complaints, the resolution depends on who happens to be handling the particular complaint. Now imagine that the same doctor, the same judge, the same inspector, or the same company official makes different decisions, depending on whether it is morning or afternoon, or Monday rather than Wednesday. These are examples of noise: variability in judgments that should be identical but, especially in woke cultures, isn't.

In Noise, Daniel Kahneman, Cass R. Sunstein, and Olivier Sibony show how noise contributes significantly to errors in all fields, including medicine, law, economic forecasting, police behavior, food safety, bail, security checks at airports, strategy, and personnel selection. And although noise can be found wherever people make judgments and decisions, overlaid by political pressures and social experiments, individuals and organizations alike are commonly oblivious to the role of chance in their judgments and in their actions.

Drawing on the latest findings in psychology and behavioral economics, and the same kind of diligent, insightful research that made Thinking, Fast and Slow and Nudge groundbreaking New York Times bestsellers, Noise explains how and why humans are so susceptible to noise in judgment — and what we can do about it.
Book may be ordered here.
---
---
One of the special benefits of membership in AFIO: access to CIA's inhouse gift shop — the EAA Store.
It requires a quick preapproval process described here to all newly joined and current AFIO members. And then allows you to purchase online their unusual logo'd gift items for self or colleagues. Here is the latest photo EAA released on March 26 featuring some of their newest items, this time for children of officers:
---
Writers, Officers: Please Provide A Brief Article for This Ongoing AFIO History Project
AFIO's educational project "When Intelligence Made a Difference" seeks writers to identify events throughout history involving any nation or organization when the outcome was affected significantly by intelligence.
AFIO has been publishing edited submissions serially in Intelligencer released two to three times a year.
To see what has been published, it is available here. Also look at the Winter-Spring edition of the journal arriving in the mail of all members and subscribers over the next three weeks.
Those readers interested in contributing an article, should email peter.oleson@afio.com.
For instructors, this project makes a great class assignment. Accepted articles give students a publication credit in a recognized journal.
---
Guide to the Study of Intelligence and When Intelligence Made a Difference
"AFIO's Guide to the Study of Intelligence" has sold out in hard-copy.
However, it is available in digital form in its entirety on the AFIO website here.

Also available on the website here are the individual articles of AFIO's history project "When Intelligence Made a Difference" that have been published to date in The Intelligencer journal. More articles will be forthcoming in future editions.
---
Visit, Follow, Subscribe to AFIO's LinkedIn, Twitter, and YouTube pages to receive updates.
Members who use social media or wish to explore, will find new announcements and other material on AFIO's Twitter and LinkedIn pages. New videos on our YouTube page appears below as well.
Access them here: LinkedIn, Twitter, and YouTube. By following or subscribing on those sites, one can be notified as new material appears.




NEW — PODCASTS: Our new social media expert has been busy! Are you too busy to sit and watch an entire "AFIO Now" episode above on YouTube? Would you rather listen in your car or while accomplishing other tasks? Now you can quickly download or stream episodes on your favorite podcasting platform. AFIO is now available on 8 podcasting platforms. Search for 'AFIO Podcast' for a selection of the interviews above (public released ones) on Podbean; iTunes; Google; Spotify; Amazon Music; Amazon TuneIn + Alexa; iHeartRadio; and Pandora.
---
---
Section I - INTELLIGENCE HIGHLIGHTS

Intelligence Agency Busts Terror Gang in Southern Afghanistan. The service members of the Afghan National Directorate for Security (NDS), the country's national intelligence agency, had busted a terror group in southern province of Kandahar, the provincial Directorate of NDS said on Tuesday.

"A total of eight arrests were made during the recent operations against a terrorist network in surrounding areas of Kandahar province," the agency said in a statement without providing details.

Among those arrested terrorists was Attahullah alias Hafiz, who was notorious for conducting ambushes, bomb attacks and targeted killings against security forces and government employees in the region, the statement said. [Read more: Xinhua/20April2021]

Intelligence Community Works to Get Vaccinated as Assessment Warns of COVID-19 Fallout. Leaders of U.S. intelligence services reported uneven but increasing vaccination rates among the IC workforce as the 2021 Annual Threat Assessment warned that "the economic and political aftershocks" from the COVID-19 pandemic "will be felt for years."

"We expect COVID-19 to remain a threat to populations worldwide until vaccines and therapeutics are widely distributed," said the intelligence community assessment, noting that "the pandemic is raising geopolitical tensions, and great powers are jockeying for advantage and influence."

"States are struggling to cooperate - and in some cases are undermining cooperation - to respond to the pandemic and its economic fallout, particularly as some governments turn inward and question the merits of globalization and interdependence. [Read more: HomelandSecurityToday/19April2021]

U.S. Helping Ukraine Foil Russian Cyberattacks as Hacking Spikes. U.S. intelligence agencies have helped Ukraine foil an escalating number of Russian cyberattacks in recent months as Moscow's troops mass along their shared border, U.S. News has learned.

An official at the Ukrainian Embassy in Washington, D.C., describes the sharp increase in hacks and other forms of cyberwarfare as the work of "hackers on the order of Russian intelligence" and says the Ukrainian Security Service prevented 350 of them beginning in January through cooperation with U.S. intelligence agencies. That tally for less than three months represents a dramatic change - Ukraine's Interfax news reported this month that local intelligence services interrupted 600 attacks during all of last year.

Several other current and former Ukrainian and U.S. officials confirm the escalation through at least the end of March. [Read more: Shinkman/USNews/20April2021]

Japan Should Join Five Eyes Intelligence Network, Says Ambassador. Japan is making progress toward joining the Anglophone world's post-war spying network known as Five Eyes, according to Japan's ambassador to Australia.

"I am very much optimistic about the near future," said Shingo Yamagami, who took up his post in December, 2020. He said he "would like to see this idea become reality in the near future".

Australia and New Zealand in 1956 joined the US, Britain and Canada to complete the Five Eyes group and that was the last time any new member was admitted.

"Logically, in terms of interests and capability, Japan is the best candidate," said the head of ANU's National Security College, Rory Medcalf. [Read more: Hartcher/SydneyMorningHerald/21April2021]


---
Section II - CONTEXT & PRECEDENCE

Russian Foreign Intelligence Service Exploiting Five Publicly Known Vulnerabilities to Compromise U.S. and Allied Networks. The National Security Agency (NSA), the Cybersecurity and Infrastructure Security Agency (CISA), and the Federal Bureau of Investigation (FBI) jointly released a Cybersecurity Advisory, "Russian SVR Targets U.S. and Allied Networks," today to expose ongoing Russian Foreign Intelligence Service (SVR) exploitation of five publicly known vulnerabilities. This advisory is being released alongside the U.S. government's formal attribution of the SolarWinds supply chain compromise and related cyber espionage campaign. We are publishing this product to highlight additional tactics, techniques, and procedures being used by SVR so that network defenders can take action to mitigate against them. [Read more: FBI/15April2021]

Remember Those Russian Bounties for Dead U.S. Troops? Biden Admin Says the CIA Intel is Not Conclusive. While he was campaigning for president, Joe Biden treated as fact that U.S. intel agencies had determined Russia had paid the Taliban to kill Americans in Afghanistan.

"I don't understand why this president is unwilling to take on Putin when he's actually paying bounties to kill American soldiers in Afghanistan," Biden said of President Trump, speaking to Kristen Welker of NBC News during the Oct. 22 presidential debate.

Such a definitive statement was questionable even then. On Thursday, it became more clear that the truth of the matter is unresolved.

Last fall, while Biden was a candidate, Pentagon officials told NBC News they could not substantiate that such bounties were paid. [Read more: Dilanian&Memoli/NBCNews/15April2021]

When the CIA Was Everywhere - Except on Screen. The spy film is now one of Hollywood's favorite genres. It's become a cliché that shadowy government entities like the Central Intelligence Agency are portrayed in a nefarious light in such entertainments. But that wasn't the way things went in the early years of the Cold War. According to American studies scholar Simon Willmetts, "during the early Cold War," Hollywood wouldn't even mention the CIA.

The agency was created by the National Security Act of 1947. Until the Bay of Pigs disaster in 1961, it largely kept out of the public eye. Film and television didn't fictionalize it, even in an era when the military and the FBI were regular subjects of entertainment. In fact, writes Willmetts, television "producers were careful to avoid any implication that the US was conducting espionage operations on foreign soil." This was despite the fact that the late 1940s and 1950s were what intelligence historians have called the CIA's "Golden Age" of subversion and coups. [Read more: Wills/JSTORDaily/15April2021]

This Day in History 1943: Operation Mincemeat. A while ago I wrote about a 1917 saddle bag with bogus British battle plans that "fell" off a horse near the Turkish front lines. It was deception, which had a decisive influence.

Despite similarity, we're led to believe that it did not inspire missions that had a huge impact in WWII. Instead, WWII missions are said to have been inspired by real life instead of an earlier deception operation.

On September 25, 1942 a British plane crashed on the coast of Spain. There were no survivors; one fatality in particular that worried Allied commanders was a courier who carried sensitive documents about invasion plans for North Africa, called Operation Torch.

Allegedly those documents didn't leak yet it was this incident that inspired Allied intelligence to attempt an intentional leak. [Read more: Ottenheimer/FlyingPenguin/19April2021]


---
Why Spy Agencies Say the Future Is Bleak. Every four years, at the start of a new administration, American intelligence agencies put out "Global Trends," a weighty assessment of where the world seems headed over the next two decades. In 2008, for example, the report warned about the potential emergence of a pandemic originating in East Asia and spreading rapidly around the world.

The latest report, Global Trends 2040, released last week by the National Intelligence Council, finds that the pandemic has proved to be "the most significant, singular global disruption since World War II," with medical, political and security implications that will reverberate for years. That's not sturm und drang. It's the prologue to a far darker picture of what lies ahead.

The world envisioned in the 144-page report, ominously subtitled "A More Contested World," is rent by a changing climate, aging populations, disease, financial crises and technologies that divide more than they unite, all straining societies and generating "shocks that could be catastrophic." [Read more: NewYorkTimes/15April2021]

Deputy Homeland Security Adviser Russ Travers On Terrorist Threats. In this episode of "Intelligence Matters," President Biden's deputy homeland security adviser at the National Security Council, Russ Travers, speaks with host Michael Morell about the varied and diffuse array of terrorist threats to the United States. A career intelligence officer and former acting and deputy director of the National Counterterrorism Center, Travers offers a history of Islamist terrorism and describes how splintered, geographically dispersed networks tied to ISIS and al Qaeda continue to pose a threat to the U.S.. Travers and Morell also discuss the increase in racially and ethnically motivated attacks by domestic groups, and why preventing them poses a complex set of challenges for U.S. law enforcement and intelligence communities. Travers also shares thoughts on how to responsibly move resources away from counterterrorism toward Great Power competition. Editor's note: This conversation was taped before a decision was made by the Biden Administration on troop levels in Afghanistan. [Read more: CBSNews/14April2021]



---
Section IV - Research Requests, Jobs, Obituaries
Call for Papers - The Center for Cryptologic History (CCH) and the National Cryptologic Foundation (NCF) invite proposals for papers for 18th Cryptologic History Symposium, 11-13 May 2022.
The Center for Cryptologic History (CCH) and the National Cryptologic Foundation (NCF) invite proposals for papers to be presented at the 18th Cryptologic History Symposium, 11-13 May 2022. The Symposium will be held at the Johns Hopkins University Applied Physics Lab Kossiakoff Center in Laurel, Maryland. The theme for the symposium is "Icons and Innovation." Proposals are due 7 September 2021.
For more information visit the NCF or contact cchevents@nsa.gov.
Seeking Officials Who Served USSR/Russia 1965-2015 and Other Posts - with knowledge of, or exposure to, Microwave/Directed Energy Weapons
Prominent D.C. Attorney seeking former intel officers or others who served in USSR/Russia during 1965-2015, as well as anyone who has information concerning possible microwave/energy directed weapon exposure of U.S. officials by foreign adversary.
Replies to Mark S. Zaid Esq, mark@markzaid.com. Or call him at (202) 454-2809.
More information about Mr. Zaid at MarkZaid.com.
Request for Assistance Researching Clandestine Maritime Operation in Da Nang 1950s-1970s
"My old Master Chief, James "Jim" Gray and I wrote the first history of Naval Special Warfare Combatant Craft (WARBOATS, 55 Years of Naval Special Warfare Combatant Craft History) for our veterans organization the Combatant Craft Crewman Association (CCCA), now in its second printing. One of the areas that we wanted to explore in greater depth were the clandestine maritime operations based in Da Nang from the South Vietnamese and CIA period through Switchback and Military Assistance Command Vietnam-Studies and Observation Group (MACV-SOG) control and the final the American withdrawal.
We are looking for assistance with this research in particular on the CIA side, as much of the MACV-SOG documentation has been declassified and we have spoken with the SEALs and Boat Support Unit One men of Mobile Support Team 1 and the Mobile Repair Team. Our Norwegian colleague, Jan Tore Nilsen is a Senior Reserve Commander in the Norwegian Navy is researching Norwegian involvement in Vietnam and has interviewed the surviving Norwegian contractors and obtained documents and photos from them as well as obtained documents regarding acquisition and construction of the Norwegian PTF (Patrol Torpedo Fast) boats for operations in Vietnam. An old friend of mine who was an historian for the CIA suggested we contact AFIO and ask for assistance. We would greatly appreciate any assistance from AFIO members."
Replies to Phil Garn at pggarn@yahoo.com
Seeking Spy-Themed Tourism Experts and New Recruits (with IC backgrounds) for Metro D.C. area opportunity
ISO former Intelligence Officers who might be interested in getting involved in spy-themed tourism in the Washington D.C. metropolitan area.
Also interested in speaking with those who may already be involved in the tourism and travel industry elsewhere.
Please contact Rosanna Minchew at r_minchew@me.com or 571-236-9052.
Assistant Professor, Intelligence and Information Operations, Tenure Eligible - Arizona (Sierra Vista)
The University of Arizona College of Applied Science and Technology (CAST), an Office of the Director of National Intelligence (ODNI) designated Intelligence Community – Center for Academic Excellence (IC-CAE) located on the University of Arizona Sierra Vista campus, is seeking an Assistant Professor to teach undergraduate courses within the Intelligence and Information Operations (IIO) program and to lead research in the fields of Intelligence, Information warfare, and Law Enforcement Intelligence. Consistent with the Dean's vision for Programs to contribute to interdisciplinary research and educational program innovation, the Tenure-Track Assistant Professor will support the Intelligence and Information Operations Program to contribute to the College's strategy of cross-campus, national, and international multidisciplinary research, and educational initiatives. CAST is seeking candidates who can demonstrate outstanding teaching as well as the ability to develop new research programs consistent with the college's purpose, vision, and values. The Assistant Professor, Intelligence and Information Operations will contribute to building a strong team of culturally diverse faculty and staff who are committed to preparing traditional, post-traditional, and transfer students for success in a 21st-century workforce.
Outstanding UA benefits include health, dental, and vision insurance plans; life insurance and disability programs; sick leave and holidays; UA/ASU/NAU tuition reduction for the employee and qualified family members; state and optional retirement plans; access to UA recreation and cultural activities; and more!
At the University of Arizona, we value our inclusive climate because we know that diversity in experiences and perspectives is vital to advancing innovation, critical thinking, solving complex problems, and creating an inclusive academic community. As a Hispanic-serving institution and a Native American/Alaska Native-serving institution, we translate these values into action by seeking individuals who have experience and expertise working with diverse students, colleagues, and constituencies. Because we seek a workforce with a wide range of perspectives and experiences, we provide equal employment opportunities to applicants and employees without regard to race, color, religion, sex, national origin, age, disability, veteran status, sexual orientation, gender identity, or genetic information. As an Employer of National Service, we also welcome alumni of AmeriCorps, Peace Corps, and other national service programs and others who will help us advance our Inclusive Excellence initiative aimed at creating a university that values student, staff and faculty engagement in addressing issues of diversity and inclusiveness.
For more information and to apply visit this webpage.
Intelligence Analysis Visiting Faculty Position at James Madison University, Harrisonburg, VA
James Madison University (JMU) seeks applicants for a visiting faculty position in its Bachelor's Degree Program in Intelligence Analysis (IA). The appointment is for one academic year (with the possibility of renewal for a second year depending upon the Program's needs) at the Assistant or Associate Professor level. This position will reside within the larger School of Integrated Sciences. The IA program offers a multidisciplinary undergraduate degree with an emphasis on methodology and technology to prepare students to become analysts, with a specialization in intelligence analysis. Its graduates have been successful in securing positions as analysts in both the public and private sectors, to include the Intelligence Community, military and law enforcement organizations, defense contractors, and major consulting firms. The program emphasizes methodology and synthesizes critical and creative thinking methods with technological tools for data collection, visualization, and analysis with situational knowledge of a problem's political, economic, social, and technological context with strong communicative and professional skills to support decision-making.
Review of applications will begin on May 1, 2021; the search will remain open until the position is filled. Application materials should include 1) a detailed cover letter that explains how the candidate's experiences fit the position's requirements and values, and should specifically explain the applicant's views on the importance of diversity and inclusion in higher education, 2) curriculum vitae, 3) concise but specific description (no more than 2 pages) of how the candidate would approach teaching the courses from the above list (if offered the position), and 4) contact information for at least three references. Application materials must be submitted online through JMU's application system: https://joblink.jmu.edu/. To apply refer to job #F1590. Salary shall be commensurate with experience. Employment is contingent upon the successful completion of a criminal background check. Questions can be directed to the Chair of the search committee, Dr. Noel Hendrickson, at hendrinx@jmu.edu.
For a full description of Duties and Responsibilities and Qualifications sought, follow this link: https://joblink.jmu.edu/postings/8812
Intelligence Analysis Faculty Program Director/Sr. Lecturer, Johns Hopkins University: Zanvyl Krieger School of Arts and Sciences: Advanced Academic Programs, Washington, DC
The Advanced Academic Programs (AAP) division seeks a Faculty Program Director to teach in and provide administrative leadership to the M.S. in Intelligence Analysis and the Post-Baccalaureate Certificate in Intelligence programs. These programs are part of the Center for Advanced Governmental Studies (CAGS) which is comprised of seven master's degree and three graduate certificate programs. The Center also includes the following programs: M.A. in Government, M.S. in Data Analytics and Policy, M.A. in Public Management, M.A. in Global Security Studies, M.S. in Geospatial Intelligence, M.A. in NGO Management; Certificate in Government Analytics, and the Certificate in Nonprofit Management. These programs educate students who wish to apply rigorous academic concepts to policy-related careers.
Of particular interest are candidates who have experience teaching and engaging students from diverse backgrounds. The Program Director is a full-time, non-tenure-track, 12-month renewable faculty position with the academic title of Senior Lecturer. The Faculty Program Director will have significant interaction/collaboration with the Director of the Center and the Associate Director of CAGS, as well as with the Associate Dean for AAP, other Program Directors, Program Coordinators, AAP staff, and administrators. The Program Director reports to the Associate Dean for AAP, the Center Director, and the Program Chair for Governmental Studies. This position is expected to begin July 1, 2021. The Program Director will have the following faculty and administrative responsibilities:
Faculty Responsibilities
Teaching 4 graduate courses per year, including the preparation for and time spent in the classroom (online or onsite), using best practices for online teaching, engaging and mentoring students from diverse backgrounds in the learning process, responding to student questions;
Advising students, including capstone advising for the master's program;
Providing innovative leadership for curriculum design and new course development to ensure the growth and delivery of quality programs; and
Other academic duties normally performed by full-time faculty, such as participating on committees, attending academic events, or contributing to other academic service.
Administrative Responsibilities
Providing overall supervision for the M.S. in Intelligence Analysis and Certificate in Intelligence, including shared management with the Center Director for the programs;
Leading some full-time faculty, adjunct faculty development, hiring, and evaluation;
Overseeing program admissions processes, including reviewing and approving prospect admission materials;
Coordinating program promotion and outreach, including interacting with outside groups and developing external / internal partnerships;
Coordinating with staff in student and faculty services, online education, marketing, finance, and enrollment services departments on operational issues related to program administration;
Other administrative duties as assigned.
Minimum Qualifications:
Ph.D. or other terminal degree (e.g., J.D.) in a relevant field to Intelligence Studies;
3 or more years of higher education teaching experience, preferably including online teaching and at the graduate level;
3 or more years of related professional work with the Intelligence Community (IC), preferably at the national/strategic level, including combatant commands;
3 or more years of management or leadership experience in an Associate Director or similar related position;
The ability to teach a variety of courses in intelligence studies, such as intelligence analysis, legal and ethical issues in intelligence, intelligence leadership, strategic culture analysis, and critical thinking and analysis;
Demonstrated track record of excellence in teaching.
For more information and instructions on how to apply, please follow this link: https://apply.interfolio.com/85064
Program Director, National Security and Technology – Georgetown University Law Center
A new 360 Innovation Incubator at GULC will be tackling problems in four focus areas, the first of which is the NatSec Tech Program, which looks at the intersections between national security and new and emerging technologies. The National Security & Technology Program Director will lead this new program, serving as a thought leader for this increasingly important sub-field. Utilizing the Center's innovation methodology, the Program Director will help develop strategic new project ideas for the Incubator, oversee and manage those projects including all aspects of foundation grants and budgets, write grant proposals, and build new relationships and networks for the Center. In the immediate term, the Program Director will be the day to day lead manager for the Center on National Security's new Public Interest Technology grant-funded project: 360 Tech: Innovation, Security, and Governance. The project aims to identify the most critical risks posed by social media to individuals, communities, and society, and then develop and test holistic governance models to address those risks. The Program Director will be a lead member of the core team (overseen by the Executive Director) and will be responsible for managing all day to day aspects of the project, including research and writing, coordination and outreach, project management, event and workshop planning, and operations oversight.
For full description of duties, responsibilites, and qualifications, or to apply for the position, view job posting here.
Assistant Professor (tenure-stream) of International Affairs/Intelligence sought by University of Pittsburgh
The Graduate School of Public and International Affairs at the University of Pittsburgh is seeking to hire an Assistant Professor of International Affairs with a focus in intelligence matters (broadly understood). We are looking for someone who can teach on intelligence subjects in our Security and Intelligence major and contribute to our International Affairs program more generally. We welcome those trained in political science, history, and other disciplines, and are particularly interested in those with cyber or regional expertise. The deadline is March 31.

The full announcement can be read -- and application submitted -- through Pitt's Talent Center here.
THREE Faculty Openings for 2021 at Hilbert College, Hamburg, NY
Assistant Professor, Criminal Justice; Assistant Professor, Forensic Science/Crime Scene Investigation; and Assistant Professor, Intelligence & Data Analysis.
Interested candidates can view our job postings here.
---
Susy Benjamin, CIA Economic Analyst and WH Sit Room
Susan Irene Benjamin, 65, CIA Analyst and White House Sit Room, died 15 April 2021 in Alexandria, VA of Parkinson's disease and other conditions.
She was a 33-year cancer survivor and tackled her medical issues with tenacity and determination, beating the odds time and again. She was born in Springfield, VA. She graduated from St. Mary's Academy in Alexandria, VA, and went on to join the second class of women admitted to the University of Notre Dame, where in 1977 she graduated mcl with a degree in economics. She joined the Central Intelligence Agency as an Economic Analyst, but quickly found her calling in the fast-paced 24/7 CIA Operations Center.
In 1980 she was assigned to the White House Situation Room, working rotating 12 hour shifts alerting the President and senior advisers of intelligence developments. She served at the "Sit Room" during part the Carter Administration and the Reagan Administration. After another tour in the CIA Operations Center, Susy was assigned to the Pentagon as a CIA representative supporting the Office of the Secretary of Defense and the Chairman of the Joint Chiefs, again working twelve hour rotating shifts in a 24/7 operation. She later served at CIA Headquarters in a number of managerial roles, both providing intelligence support to America's military commands, and implementing new technology and processes to support the analyst community. A recipient of numerous commendations for exceptional performance, Susy was awarded the Career Intelligence Medal in 2011 at the conclusion of her 34-year career.
Susy and husband, Thomas J. Benjamin, lived for 31 years in Great Falls, VA where they raised a son and daughter, three cats and three dogs. Susy was an active supporter of her children's sports teams, especially ice hockey, and was an avid fan of the Washington Capitals.
She is survived by her husband, Tom; her son, her daughter, five brothers, two sisters, and other family.
Jay Long, Military Intelligence Officer
Joseph Thurman Long Jr. Colonel, USAF (Ret.), 87, a MI Officer, died 4 November 2020 in Ellicott City, MD.
Born and raised in Houston, TX, JT Long was a cadet at Texas A&M University and served in the U.S. Air Force as a Pilot, Assistant Air Attaché at the U.S. Embassy in Cairo, Intelligence Officer, and lastly as Chief of Readiness Branch, Joint Chiefs of Staff at the Pentagon, before retiring in 1980. He was awarded the Distinguished Flying Cross in 1961 for piloting his disabled and burning plane over the Atlantic, safely landing on the island of Bermuda, saving all 16 crew members aboard.
Gravely injured in a C-130 crash in Southeast Asia in 1969, then Major Long was awarded a Bronze Star.
A resident of Metro Virginia and Maryland for 47 years, Jay Long was a proud Red Cross volunteer, a lover of fine Scotch, Chapstick, crossword puzzles, and his puppy Jake, a voracious reader, and a compulsive maker of lists and spreadsheets. He thought the DVR was one of the greatest inventions. He had a prodigious sweet tooth and delighted in sharing chocolate covered donuts and Oreos with his grandkids.
He was preceded in death by his first wife, Patricia C. Long, and survived by his second wife, Tarpley M. Long, by two daughters, and by other family.
David Miller, ASA and CIA Electronics Engineer
David Charles Miller, 78, an ASA and CIA Electronics Engineer, died 10 April 2021 in McLean, VA.
He was born in Washington DC and resided for most of his early life in Falls Church, VA. After high school, David attended Virginia Polytechnic Institute (VPI) graduating in 1965 and immediately joined the U.S. Army in Ft. Benning, GA. In 1967, he completed his service retiring as a Captain. Subsequently, David joined the US Army Security Agency at Arlington Hall where he occupied the position of Electronic Engineer for many years before accepting a position with the Central Intelligence Agency in 1977 where he remained until retirement.
In his spare time, David spent many years along with his wife Carol photographing weddings and portraits, gardening, skiing, and socializing with friends. David is survived by his wife of 43 years, Carol, close friends and acquaintances.
Sharon Rizzo, CIA DO Officer
Sharon Knight Rizzo, CIA DO Officer, 74, died 2 April 2021.
She was born in Anderson, IN as part of a military family. She spent her early life in many places, including postwar Japan. She attended high school in El Paso, TX, received her bachelors degree from the University of Florida, and an MS in marketing at the University of Memphis. In 1977, she moved from Memphis to Washington, DC, which became her one true hometown for 44 years.
She had a rewarding career, contributing her intelligence and talents at Federal Express, where she was one of the very first employees hired by CEO Fred Smith in 1972. After moving to Washington, she held marketing positions at Shugoll Research, Nancy Low & Associates, and Pepco.
In 2000, she joined the Central Intelligence Agency, where she worked in a variety of positions including the Directorate of Operations as well as Congressional Affairs. During her 14 year tenure at CIA, she was recognized for her superior accomplishments, receiving the Exceptional Performance Award numerous times. After her retirement in 2014, she lived a full and wonderful life traveling the globe with her husband John -- former Acting General Counsel of the CIA -- and spending time with her family. Sharon faced and overcame a great amount of adversity in her lifetime, including battling cancer in 2014. She never allowed hardships to stand in the way of her goals; whatever life threw her way, she always picked herself up and soldiered on.
She is survived by her husband, John Rizzo, a daughter, a stepson, a sister, and other family.
Harriet Scott, author, Soviet and Russian Military expert
Harriet Fast Scott, 96, author, Soviet and Russian Military expert, died 3 April 2021 in Brandenburg, KY.
She was born in Erie, PA and attended Wilson College for three years, quitting in 1943 to marry William F. Scott, who became a Colonel in the USAF. She was learning Russian when her husband told her that in 1962 they would be stationed at the American Embassy in Moscow, USSR. She became a translator of Soviet military publications and an expert in the field. She was the first woman to serve on a special board of the Hoover Institution, the first woman to attend JCS Strategic War Games, and the only woman to serve ten years as a Presidential Appointee to the General Advisory Committee on Arms Control and Disarmament. She was a consultant to government research agencies, a lecturer at universities, and in 2001 received an Award for Excellence from The Joint Military Intelligence College.
She and her husband amassed the largest private library of Soviet military books in the US, and donated it to the University of Kentucky. Their writings include several books and over thirty years of reports on the Soviet and Russian military.
She is survived by two daughters, two sons, and other family.
Dan Tompkins, DIA Officer
Daniel Matson Tompkins, 83, former DIA Officer, died 23 March 2021 in his beloved adopted home state of Hawai'i.
After graduating from Washington State University, Dan was commissioned into the Army and traveled the world. Along the way, he learned to speak fluent Mandarin Chinese, picked up two master's degrees, and lived in Korea, Taiwan, Okinawa, Vietnam, Iran, Japan, and Bosnia.
Dan had a love for long distance running. He completed his first marathon there and went on to run many more around the globe. After the Army, he brought his military and marathon worlds together by founding the Windward Marathon and Half-Marathon, with routes crossing Hawai'i's Marine base and Kailua town. Additional careers were a running store owner and with the Defense Intelligence Agency. He finally retired for good in Kailua.
Dan lived by his lists, so here is one for him: (1) he always saw the best in people, and was incapable of holding a grudge; (2) he welcomed his children-in-law as if they were Tompkins-born; (3) he adored his grandchildren; (4) he loved all animals, most especially his last, Saimin, the long-haired dachshund; (5) he wished he could spend more time with his big brother, and (6) he was trusted, respected, and will be missed by all who knew him.
In Korea, he fell in love with Kay and was still in love with her 58 years 2 months later when he died.
---
AFIO EDUCATIONAL EVENTS IN COMING TWO MONTHS....
24 April 2021, 10 - noon EDT - Zoom - AFIO New England Hosts Dr. Jeff Treistman on "Right-wing Terrorism"
After some coordination the AFIO NE Chapter is pleased to announce that it will have a virtual presentation from Dr. Jeff Treistman discussing his research into right-wing terrorism. He just got an article published "Revisiting Reactionary Terrorism: Definitions, Causes, and Consequences." Journal of Policing, Intelligence and Counter Terrorism (2021).
Registrants will get an invitation from Ken Gray or the University of New Haven or from chapter President Art Harvey. If you opted out of the meeting announcement in favor of a private notice, it will be sent after the ZOOM invitation has been sent. As this is an unsecure event, no detailed Chapter information will be presented. The chapter looks forward to this event and connecting with all of the members in these troubled times.
Dr. Treistman is an Assistant Professor of National Security at the University of New Haven's Henry C. Lee College of Criminal Justice and Forensic Sciences. Prior to coming to the University of New Haven, Dr. Treistman was a Research Assistant at the Institute of National Security and Counterterrorism. He also served as a consultant to the Department of Defense's Africa Command (AFRICOM) and was a Policy Advisor for the Department of State in Iraq. Dr. Treistman currently sits on the editorial board for the journal Studies in Conflict & Terrorism. His research interests focus on military policy, international relations, asymmetric war, and terrorism.
Watch for your invitation to appear in your mail
To explore further or seek an invitation, contact Arthur Harvey at aharvey@rdi.qozzy.com or afionechapter@gmail.com
Wednesday, 30 June 2021, 12 noon - Zoom Webinar - The "Andre Le Gallo" San Francisco Chapter hosts Lt. Gen. Patrick M. Hughes, former DIA Director
Lt Gen Patrick Hughes, former Director of Defense Intelligence Agency, will address chapter on "Internal U.S. Security Concerns and Existential Threats to America."
Registration is required here to receive a zoom link.
Please contact Mariko Kawaguchi, Chapter Secretary at afiosf@aol.com for any questions.
---
Other Upcoming Events from Advertisers, Corporate Sponsors, and Others
Friday, 23 April 2021, noon ‐ 5:30pm EDT - Virtual - Climate Change, Intelligence, and Global Security featuring John Kerry, James Clapper, Sue Gordon
Climate Change, Intelligence, and Global Security is a half-day conference co-sponsored by the Intelligence Project and the Environment and Natural Resources Program at Harvard Kennedy School's Belfer Center for Science and International Affairs along with the Center for Climate and Security.
The conference will take place directly following the April 22/23 Earth Day Leaders Climate Summit, and will emphasize the critical need for international cooperation and global leadership to collectively address the security threats posed by the climate crisis. With a keynote address by Special Presidential Envoy for Climate John Kerry, the conference will convene senior climate experts, current and former intelligence officers, and leaders in the private sector and academia to facilitate productive dialogue and innovative solutions for combating the climate crisis. The four panels will examine climate change from a security perspective, discuss the role of the intelligence community in monitoring and mitigating the threats posed by climate change, explore new ways of thinking about international cooperation, and examine the role and contributions of the private sector.
This conference is virtual, open to the public, and free to attend. Advanced registration is required. Please register individually for each session.
REGISTER HERE.
Speakers are:
Welcome & Opening Remarks (12:00-12:15pm) - Paul Kolbe, Director, Intelligence Project; Kristin Wood, Belfer Center Non-Resident Fellow; Erin Sikorsky, Deputy Director, Center for Climate and Security.
Session 1: An Overview of Climate Change as a Threat to International Security (12:15-1:15pm) - Panelists: Dr. John Holdren, Teresa and John Heinz Professor of Environmental Policy at the Harvard Kennedy School of Government, Co- Director of the School's Science, Technology, and Public Policy Program, Professor of Environmental Science and Policy in the Department of Earth and Planetary Sciences, and Faculty Affiliate in the Paulson School of Engineering and Applied Science; Sherri Goodman, Senior Strategist and Advisory Board member at the Center for Climate and Security, Chair of the Board at the Council on Strategic Risks, Secretary General of the International Military Council on Climate and Security, and Senior Fellow at the Woodrow Wilson International Center's Polar Institute and Environmental Change and Security Program; Vice Admiral Dennis V. McGinn, United States Navy (Retired), Former Assistant Secretary of the Navy for Energy, Installations and Environment; Moderated by Kristin Wood, Intelligence Project Non-Resident Fellow and Former Deputy Director of the Innovation & Technology Group at the CIA's Open Source Center
Session 2: The Role of Intelligence in Addressing Climate Change (1:30-2:30pm) - Panelists: The Honorable Sue Gordon, Former Principal Deputy Director of National Intelligence; Dr. Rod Schoonover, Founder and CEO of the Ecological Futures Group and former Director of Environment and Natural Resources at the National Intelligence Council (NIC); Erin Sikorsky, Deputy Director for the Center for Climate and Security, Director of the International Military Council on Climate and Security, and former Deputy Director of the Strategic Futures Group on the National Intelligence Council (NIC); Moderated by Paul Kolbe, Intelligence Project Director
Session 3: Looking Forward: The Future of Intelligence Cooperation and Climate Change (2:45-3:45pm) - Panelists: Lt. Gen. James R. Clapper, Former Director of National Intelligence; Rolf Mowatt-Larssen, Former Director of Intelligence and Counterintelligence,Department of Energy; Lt. Gen. Richard Nugee CB CVO CBE, Climate Change and Sustainability Strategy Lead for the UK Ministry of Defence; Moderated by Caitlin Chase, Intelligence Project Coordinator.
Session 4: The Private Sector View of the Climate Threat (4:00-4:50pm) - Panelists: Antoine Halff, Founder, Kayyros; Richard Jenkins, Founder & CEO, Saildrone; Mekala Krishnan, Partner, McKinsey Global Institute; Moderated by Paul Kolbe, Intelligence Project Director
Keynote Address: Secretary John Kerry, Special Presidential Envoy for Climate.
28 April 2021, 11 am - 5 pm EDT - Virtual - Revolution in Intelligence Affairs - COLLOQUIUM #1: Technological Drivers - Event sponsored by ODNI and NASEM
Revolution in Intelligence Affairs: Colloquium Series by National Academies of Sciences Engineering Medicine (NASEM) Intelligence Community Studies Board
Join us for a colloquium series on how emerging technologies will impact intelligence operations and the future strategic environment.
About this Event
Emerging and disruptive technologies are in the process of facilitating a revolution in intelligence affairs (RIA). These technological drivers will impact intelligence strategy, operational and organizational concepts, and contribute to shaping the future strategic environment. This revolution will create new threats, opportunities, and challenges for the U.S. Intelligence Community.
At the request of the Office of the Director of National Intelligence (ODNI), the National Academies will host a three-part subseries of virtual colloquia seeking to address these issues. The subseries will be split into three days, each with a different focus, throughout 2021.
COLLOQUIUM #1: TECHNOLOGICAL DRIVERS
Join us for the first colloquium on 28 April 2021 from 11am-5pm ET.
Featured Talks:
The Coming Revolution in Intelligence Affairs, Dr. Anthony Vinci, Center for a New American Security
Providing Security and Protecting Privacy on an Instrumented Planet , Mr. Robert Cardillo, The Cardillo Group
Augmenting Intelligence: The Future of AI in the IC, Mr. Dean Souleles, Ginosko Consulting
Autonomous Intelligence: Eyes and Ears Everywhere , Mr. Luke Shabro, U.S. Army Mad Scientist Initiative
Turning the Ship: Adapting to the RIA , Ms. Heather Williams, The RAND Corporation
REGISTER here. No cost to attend.
LOGIN INSTRUCTIONS will be supplied online and sent by email as the event approaches.
You will receive login instructions via email before the event.
The entire 3-part series is: Colloquium 1 on April 28, 2021 from 11am-5pm ET: Technological Drivers; Colloquium 2 on June 30, 2021 from 11am-5pm ET: Strategic, Operational, and Organizational Impact; and Colloquium 3 on August 25, 2021 from 11am-5pm ET: Future Strategic Environment
These events are part of an ongoing series of colloquia organized by the National Academies' Intelligence Community Studies Board and sponsored by the ODNI.
28 April 2021, 6 pm EDT - virtual - "Special Duties Pilot" - with Capt. John Billings & Gen. Norton Schwartz in this Conversation Series by The OSS Society
This "Oh So Social" conversation features former Air Force Chief of Staff Gen. Norton Schwartz interviewing another one of WWII's greatest heroes, Captain John Billings, a B-24 Liberator pilot who flew the real "inglourious basterd" - the OSS' Fred Mayer - into Nazi-occupied Austria in one of the war's most daring missions. You can register for this event by clicking here.
This conversation is being held on the same date that Billings's autobiography, "Special Duties Pilot: The Man Who Flew the Real "Inglourious Basterds" Behind Enemy Lines," is being published. You can purchase an advance copy of his book by clicking here.
If you wish to see the prior OSS Society video between The Honorable Ellen McCarthy, former Assistant Secretary of State for the Bureau of Intelligence and Research (INR), and Erika Robuck, author of "The Invisible Woman" about the OSS' Virginia Hall, one of the greatest heroes of WWII, it is available here.
13 May 2021, 11 - 12 a.m. EDT - Virtual via Zoom Webinar - The NCF Quarterly Program features Dr. Robert Spalding, BGen, USAF (Ret)
The National Cryptologic Foundation 2021 Spring Cryptologic Program will feature Dr. Robert Spalding, BGen, USAF (Ret) on "What's to Follow in 2021? From Coronavirus to Taiwan - the new Chinese Communist Party," and will focus on his recent and timely book, Stealth War: How China Took Over While America's Elite Slept.
According to Dr. Spalding, most Americans don't realize just how much influence the Chinese Communist Party (CCP) has had in the United States and the free world. Our democratic freedoms are being challenged by the CCP everyday, by infiltrating our universities, businesses, politicians, and our daily lives. 2020 has been a very hard year for most. How do we stop the CCP in 2021 and years to come?
Signed Book Discount Offer: Dr. Spalding has generously offered a discount for NCF program registrants who would like to purchase his book and have it signed. Upon registration for the program, you will receive a discount code in your confirmation email for 25% off when ordering his book via his website at www.generalspalding.com. The coupon code will be valid through 15 May 2021.
Registration: The cost to attend is free, but registration is required. Deadline to register is 11 May 2021. See link below to register. Your Zoom webinar details will be included in your registration confirmation email. If you are unable to attend the live presentation, there will be a recording of the program made available via their website.
Questions for Dr. Spalding: If you are unable to attend the live presentation, but would still like to submit a question for the speaker, please send them to ncmf@cryptologicfoundation.org prior to 11 May 2021. Those registering for the live program will have an opportunity to include questions with their registration.
Contact: If you have questions about this program, please contact the NCF office at 301-688-5436 or send an email to ncmf@cryptologicfoundation.org
REGISTER HERE
Friday, 14 May 2021, 1700-1900 EDT - Arlington, VA - Naval Intelligence Professionals Red Tie Reception
Please join your NIP shipmates at a reception and in person presentation of the Red Tie Award to Rear Admiral (Ret.) Sam Cox. A career intelligence professional with a passion for Naval history and an exceptional record of brilliant and relevant performance in peace, crisis, and combat, RADM Cox is known for his analytical insight, courage, integrity, and mastery of the facts. RADM Cox exemplifies the finest qualities of our Naval Intelligence Professionals. Congratulations RADM Cox!
The NIP Spring/Red Tie Presentation for 2021 is being held outdoors on the 3rd deck patio at the Army Navy Country Club in Arlington, VA. In accordance with the current Virginia health policy, masks are required, and attendance is limited to a maximum of 100 people.
Agenda: 1700-1830 - Socially-distanced Reception with food and drinks provided; 1830 -1900 - Red Tie Award Presentation and Remarks
Registration closes 7 May.
Event Location: Army Navy Country Club, 1700 Army Navy Drive, Arlington, VA 22202
NIP Members: O-4/GG-12 and above: $50**; NIP Members: Enlisted, O-3/GS-11 and below: $40**; NIP Non-Members: $70.
** NIP members need to Login with NIP username and password when registering to get member price.
Event registration will be online by credit card only - no registrations via mail.
To register online, do so here. Or go to NIP website here.
Questions? Contact NIP at naval.intelligence.pros@gmail.com
YOU DO NOT HAVE TO BE A NIP MEMBER TO REGISTER AND ATTEND. PLEASE NO WALKUPS.
Wednesday, 1 December 2021, TBD Time - Washington, DC - 2021 Webster Distinguished Service Award Event - International Spy Museum
The Spy Museum offers an evening of intrigue for the 2021 Webster Distinguished Service Award event. The award is an opportunity to recognize the extraordinary contributions of individuals in the Intelligence Community. This year's awardee is The Honorable Susan M. Gordon, former principal deputy director of national intelligence. Previous recipients of the Webster Distinguished Service Award include President George H. W. Bush (2017), Admiral William H. McRaven, USN (Ret.) (2018), and Gen. Michael V. Hayden (Ret.) (2019). Webster attendee and sponsor support fuels the nonprofit mission of educating the public about the history and craft of espionage and intelligence through youth and adult programs, community service, and the care of the Museum's unique collection of artifacts for generations to come. For tickets, sponsorship opportunities, or information about ways to support the International Spy Museum, please contact the development office at 202.654.2853. Additional details and online ticket link to follow. Visit www.spymuseum.org.
---
In addition to the new Royal Blue long sleeve shirts, and the gray long sleeve hooded sweatshirts, the AFIO Store also has the following items ready for quick shipment:
NEW: LONG and Short-Sleeved Shirts with embroidered AFIO Logo and New Mugs with color-glazed permanent logo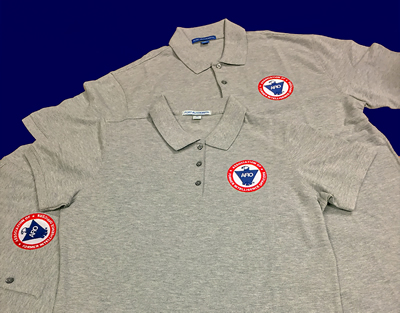 Show your support for AFIO with our new Polo Shirts. Be the first to buy these new, high quality, subtle heathered grey short sleeve shirts, and dark blue long sleeved shirts, of shrink and wrinkle resistant fine cotton with a soft yet substantial feel. They feature a detailed embroidered AFIO seal. Get a shirt for yourself and consider as gifts for colleagues, family, and friends. Only $45 each including shipping.
Sizes of (M) men or (W) women shirts; Small, Medium, Large, XL, XXL, and XXXL. At this time all orders will arrive as Short Sleeve shirts.
You may pay by check or credit card. Complete your order online here or mail an order along with payment to: AFIO, 7600 Leesburg Pike, Ste 470 East, Falls Church, VA 22043-2004. Phone orders at 703-790-0320. If interested in other shirt colors or sleeve lengths, contact Annette at: annettej@afio.com.



Available as a thank you for donations are the new AFIO logo face masks:
These soft, form-fitting, washable, non-medical grade fabric face masks have wide behind-the-ear elastics to make long periods of wear comfortable. Also easier to quickly put on or take off. Blue on outside, white inside. The masks do not have a nose wire but are sculpted, shaped, and sewn to fit most users. The all-cloth composition allows the masks to be washed or steam-disinfected without concerns over metal wires. The color logo is washable and a permanent part of the mask.
The masks, however, are not for sale. They are being offered strictly as a thank you gift to our donors.
For tax-deductible donations of $50 you will receive a receipt and our thank you gift of two of these newly-arrived face masks.
Donations of $100 receive four masks to be sent to the same address. Other amounts and split-shipments are available.
To donate now to support AFIO's programs and publications, please do so here.
We wish all members and donors continued good health, safe social distancing, and warmly appreciate any support you are able to provide the association.
---
AFIO Mug with color glazed logo. Made in America. Sturdy enough to sit on desk to hold pens, cards, paperclips, and candy.
This handsome large, heavy USA-made ceramic mug is dishwasher-safe with a glazed seal. $35 per mug includes shipping. Order this and other store items online here.
---
Guide to the Study of Intelligence and When Intelligence Made a Difference
"AFIO's Guide to the Study of Intelligence" has sold out in hard-copy.
However, it is available in digital form in its entirety on the AFIO website here.

Also available on the website here are the individual articles of AFIO's history project "When Intelligence Made a Difference" that have been published to date in The Intelligencer journal. More articles will be forthcoming in future editions.
---
Disclaimers and Removal Instructions
Weekly Intelligence Notes (WINs) are commentaries on Intelligence and related national security matters, based on open media sources, selected, interpreted, edited and produced for non-profit educational uses by members and WIN subscribers.
REMOVAL INSTRUCTIONS: We do not wish to add clutter to inboxes. To discontinue receiving the WINs:
a) IF YOU ARE A MEMBER - click here: UNSUBSCRIBE and supply your full name and email address where you receive the WINs. Click SEND, you will be removed from list. If this link doesn't open a blank email, create one on your own and send to afio@afio.com with the words: REMOVE FROM WINs as the subject, and provide your full name and email address where you are currently receiving them.
b) IF YOU ARE NOT A MEMBER, and you received this message, someone forwarded this newsletter to you [contrary to AFIO policies]. Forward to afio@afio.com the entire WIN or message you received and we will remove the sender from our membership and distribution lists. The problem will be solved for both of us.
CONTENTS of this WIN [HTML version recipients - Click title to jump to story or section, Click Article Title to return to Contents. This feature does not work for Plaintext Edition or for some AOL recipients]. If you wish to change to HTML format, let us know at afio@afio.com. The HTML feature also does not work for those who access their e-mail using web mail...however NON-HTML recipients may view the latest edition each week in HTML at this link: https://www.afio.com/pages/currentwin.htm
---
WINs are protected by copyright laws and intellectual property laws, and may not be reproduced or re-sent without specific permission from the Producer. Opinions expressed in the WINs are solely those of the editor's or author's listed with each article. AFIO Members Support the AFIO Mission - sponsor new members! CHECK THE AFIO WEBSITE at www.afio.com for back issues of the WINs, information about AFIO, conference agenda and registrations materials, and membership applications and much more!
(c) 1998 thru 2021. AFIO, 7600 Leesburg Pike, Suite 470 East, Falls Church, VA 22043-2004. Voice: (703) 790-0320; Fax: (703) 991-1278; Email: afio@afio.com
---
About AFIO | Membership Renewal | Change of Address | Upcoming Events | Chapter Locations | Corporate/Institutional Memberships | Careers in Intelligence Booklet | Guide to the Study of Intelligence | Intelligencer Journal | Weekly Intelligence Notes | To Make A Donation | AFIO Store | Member-Only Section | Code of Ethics | Home Page
---