---
CONTENTS
Section I - INTELLIGENCE HIGHLIGHTS
Section II - CONTEXT & PRECEDENCE
Section IV - Research Requests, Jobs, Obituaries
Other Upcoming Events from Advertisers, Corporate Sponsors, and Others
For additional AFIO and other Events two+ months or more... Calendar of Events
WIN CREDITS FOR THIS ISSUE: The WIN editors thank the following special contributors: rsy, ec, po, pj, mh, km, gh, mk, rd, fm, kc, jm, mr, jg, th, ed, and fwr. They have contributed one or more stories used in this issue.

The WIN editors attempt to include a wide range of articles and commentary in the Weekly Notes to inform and educate our readers. However, the views expressed in the articles are purely those of the authors, and in no way reflect support or endorsement from the WIN editors or the AFIO officers and staff. We welcome comments from the WIN readers on any and all articles and commentary.

CAVEATS: IMPORTANT: AFIO does not "vet" or endorse research inquiries, career announcements, or job offers. Reasonable-sounding inquiries and career offerings are published as a service to our members, and for researchers, educators, and subscribers. You are urged to exercise your usual caution and good judgment when responding, and should verify the source independently before supplying any resume, career data, or personal information.]
If you are having difficulties with the links or viewing this newsletter when it arrives by email, members may view the latest edition each week at this link.

---

Other items brought to our attention:

ODNI Releases Annual Intelligence Community Transparency Report - 30 Apr 2021
WASHINGTON, D.C. – Today, consistent with the Foreign Intelligence Surveillance Act of 1978 (FISA), as amended (codified in 50 U.S.C. § 1873(b)), and the Intelligence Community's (IC) Principles of Intelligence Transparency, the Office of the Director of National Intelligence released the eighth annual Statistical Transparency Report Regarding Use of National Security Surveillance Authorities. This report provides the public with statistics and contextual information on the scope of the government's use of FISA authorities, National Security Letters, and other national security authorities. In conjunction with other publicly released material, this report adds insight into the rigorous and multi-layered oversight framework governing the IC that safeguards the privacy and civil liberties of United States (U.S.) person and non-U.S. person information acquired pursuant to these national security authorities. Report is here.

---

US investigating possible mysterious directed energy attack near White House - 29 Apr 2021
By Katie Bo Williams and Jeremy Herb, CNN
Federal agencies are investigating at least two possible incidents on US soil, including one near the White House in November of last year, that appear similar to mysterious, invisible attacks that have led to debilitating symptoms for dozens of US personnel abroad. Multiple sources familiar with the matter tell CNN that while the Pentagon and other agencies probing the matter have reached no clear conclusions on what happened, the fact that such an attack might have taken place so close to the White House is particularly alarming. Defense officials briefed lawmakers on the Senate and House Armed Services Committees on the matter earlier this month, including on the incident near the White House. That incident, which occurred near the Ellipse, the large oval lawn on the south side of the White House, sickened one National Security Council official, according to multiple current and former US officials and sources familiar with the matter. In a separate 2019 episode, a White House official reported a similar attack while walking her dog in a Virginia suburb just outside Washington, GQ reported last year. Those sickened reported similar symptoms to CIA and State Department personnel impacted overseas, and officials quickly began to investigate the incident as a possible "Havana syndrome" attack. That name refers to unexplained symptoms that US personnel in Cuba began experiencing in late 2016 -- a varying set of complaints that includes ear popping, vertigo, pounding headaches and nausea, sometimes accompanied by an unidentified "piercing directional noise."
Article continues here

---

Feds' cover-up of UFOs puts US at risk, ex-Pentagon official warns - 30 Apr 2021
By Michael Kaplan and Steven Greenstreet, NYPost.
The federal government has long covered up the existence of UFOs because of religious objections, concerns over tarnishing its own reputation and fears of inciting public panic, according to the former Pentagon official who says he ran the program investigating "unidentified aerial phenomena" or UAP. This prolonged suppression of research data has resulted in a serious threat to US national security, controversial whistleblower Luis "Lue" Elizondo told The Post. With a bombshell government report on UFOs set to be released before the end of June, Elizondo has revealed the shocking things he alleges to have learned — and the chilling reason why some in the Pentagon don't want this information made public. Article continues here

---

Love or Spycraft: What Landed an American Teacher in a Cuban Prison? - 2 May 2021 - by Frances Robles, NYTimes
It was a romance steeped in international intrigue, and it landed Alina López Miyares in a Cuban prison. How much did she know about the web that entangled her? A secret marriage. A cryptic phone call. And then, a flight to Cuba from which Alina López Miyares never returned. It was months later that her family learned that Ms. López, a dual Cuban and American citizen living in Miami, had gotten entangled in a murky love story steeped in international espionage. Now 62, she is serving a 13-year sentence in a Cuban prison. Her closed trial in a military court lasted a single morning. To the Cuban government, which made its case in court documents reviewed by The New York Times, she is a traitor and a spy who slipped the names of Cuban operatives to the F.B.I. To her family and her supporters in the United States, she is a guileless woman who was duped by an old flame — a Cuban diplomat and spy — and misguided by American intelligence agents. She's been detained since 2017, and they want the U.S. government to help bring her back.
Article continues here

---

Space Force Prepares to Launch National Space Intelligence Center - 27 Apr 2021 - SIGNAL (AFCEA) by Kimberly Underwood
The center will provide "foundational" space-related intelligence. The U.S. Space Force is in the process of standing up the National Space Intelligence Center, or NSIC, with a goal of reaching initial operating capability, or IOC, by January 2022. NSIC will perform national and military space foundational missions and will evaluate capabilities, performance, limitations and vulnerabilities of space and counterspace systems and services, said Maj. Gen. Leah Lauderback, USAF, director, Intelligence Surveillance and Reconnaissance (ISR), U.S. Space Force. Also known as the S-2, Gen. Lauderback has spent the last several months leading the effort. With guidance from the Space Force's Chief of Space Operations, Gen. Jay Raymond, she formed a working group that has been meeting both internally within the service and externally in the intelligence community, or IC, to shape the center. Amongst other roles, NSIC will support the Space Force's role across the IC.
Article continues here

---

The Arkin Group's April 30 "In Other News" letter to private clients by former Operations Officer Jack Devine features...

Russian authorities have suspended the activities of jailed opposition leader Alexey Navalny's political organization the Anti-Corruption Foundation and is expected to label it extremist.
Turkish President Recep Tayyip Erdogan has demanded that U.S. President Biden reverse a decision to recognize the Ottoman killing of as many as 1.5 million Armenians in World War I "genocide."
Venezuela's President Nicolás Maduro has agreed to receive humanitarian aid from UN organizations.


Recently released was Jack Devine's Spymaster's Prism. AFIO's interview with him about this book appears in this issue at top of right column of this issue of the WINs. You can view the video at this link. Or hear the podcast here.

---

The Latest... from Jeff Stein's highly popular "SpyTalk" series has now added a few weekend podcasts...

May 4: "My Jason Matthews" by Jeff Stein
Praise keeps rolling in for the fallen former CIA master spy and novelist
Article here.

Apr 30: "Fire and Ice" - This Weekend's SpyTalk Podcast by Jeff Stein
Jeff Stein goes deep on the CIA's looming eviction from Afghanistan with Lisa Curtis, a longtime former CIA, State Department and White House National Security Council expert on the region. And then co-host Jeanne Meserve conducts a lively interview with a former senior CIA and NSA analyst, Alma Katsu, about her new, post-government-service thriller, Red Widow, which features a gutsy female spy heroine.
Podcast here.

Apr 27: "Bombs in the Box: China's Trojan Horse Navy" by Jonathan Broder
Missiles hidden on container ships could soon be in a port near you
Article here

Apr 26: "Putin Just Doesn't Care" by Jeff Stein
Murder, mayhem—so what? He's trying to make a point.
Article here

Apr 25: "The Crazy CIA Plot to Kill the Other Castro" by Peter Kornbluh
The CIA wanted a pilot to sabotage Raul Castro's plane—while he was flying it.
Article here

Apr 22: "A CIA Spy in Syria, and US Responses to Russian, Chinese and Other Adversary Hacking" by Jeff Stein
Stein talks to the Washington Post's Joby Warrick about an extraordinary CIA operation in Syria, as told in his new book, Red Line. Jeff and co-host Jeanne Meserve also discuss the Biden administration's recent expulsion of suspected Russian spies, then Jeanne talks with former NSA Director and Cyber Command chief Admiral Mike Rogers about Chinese, Russian and other hackers' infiltration of U.S. computer networks.
Podcast here

Apr 21: "Chauvin Verdict Averts Further Foreign Damage" by Jeff Stein
History shows civil rights violations hurt U.S. foreign policy and intelligence operations
Article here

Readers, for a brief time, can subscribe for free for articles and weekend podcasts here.

---

Inside the SCIF:

Inside the SCIF by JJ Green, WTOP - Issue #111, 29 April has details on Microwave Attacks: Are they happening in Washington?, Russian government-linked assassins ARE working in the U.S. and Europe, Continuing threat of foreign interference in elections, More Countries Expel Russian Diplomats, and more.

The latest Target USA Podcast 274 is on: "How the KGB approached Donald Trump Former KGB agent, Yuriy Shvets, who defected to the U.S., says a strange deal on television sets in the late 1970s started what's been a decades-long connection between Trump and Russian intelligence " Former KGB agent, Yuriy Shvets, who defected to the U.S., says a strange deal on television sets in the late 1970s started what's been a decades-long connection between Trump and Russian intelligence

And "The Hunt" explores: "The Hunt: Study finds similarities between hate crimes and terrorism" William Braniff, director of the National Consortium for the Study of Terrorism and Responses to Terrorism at the University of Maryland, talks with JJ Green, and says he told lawmakers recently there is an obvious common denominator.

---

---

From the National Cryptologic Museum Foundation:

THE NCMF's #CyberChats, held virtually via their Nepris online classroom, have resumed.

18 May, 1pm EST: Student Security Clearances: Your Past Impacts Your Future

25 May, 3pm EST: How Breaking the Codes during the Battle at Midway Inspired a Cadet!

Other NCF Events can be found here on NCF website here, and CCH website here.

---

---
---
MEMBERS PLEASE NOTE: There will be no Notes for the week of 11 May 2021. WINs might recommence 18 May.
---

---

Work at AFIO National. AFIO is seeking to fill the following position in our McLean-Tysons-Falls Church, VA offices:

DIRECTOR OF MEMBERSHIP

Part-time position; hourly pay rate. Work hours daily Monday through Friday. Maximum number of monthly work hours is 140.

Memberships: Maintain AFIO membership database, to include processing information changes, membership renewals, and new membership applications; produce membership data statistics. Serve as the liaison between corporate members and AFIO chapters and the Board of Directors. Provide annual roster verification and recruitment support for AFIO chapters. Responsible for monthly invoicing cycle and membership renewal cards and welcome package mailings. Perform targeted mass mailings at intervals throughout the year. Process donations and work with the Events Coordinator to prepare notes of appreciation and to pack/ship thank you gifts.
Office/Office Systems: Order, maintain inventory of, and label office supplies; organize storeroom and office reception space. Responsible for all office systems: computers, server, phones, internet including backups; provide technical support to other office personnel. Work with IT contractor to ensure up-to-date hardware, software, and office equipment (postage meter, copier, folder/inserter).
Store Sales: Maintain inventory of store merchandise. Process all incoming store item orders. Pack and ship merchandise orders.
Phone/Emails/Visitors/Admin: Respond promptly to all phone calls, emails, mailed correspondence, and in-person visits. Code and process all check payments and prepare monthly bank deposit.
Events/Board Meetings: Create online registration form for events. Process all incoming event registrations. Work with Events Coordinator to answer questions pertaining to events. Provide onsite service to include setup and operation of AFIO audio/visual equipment; coordinate with speakers and hotel staff on IT issues. Provide onsite support at quarterly Board meetings, take meeting notes and prepare draft minutes.

To apply, or arrange an interview, or for additional information, contact Annette Janak at AnnetteJ@afio.com
---
---
Just released to AFIO members-only...
American Cryptographer Juanita Moody

Released 4 May 2021
discussing the Life and Career of the legendary NSA Officer, Juanita Moody
Interview of Monday, 5 April 2021 of David Wolman, author-journalist, on legendary NSA Officer Juanita Moody and her role during the Cuban Missile Crisis.
Interviewer: Sarah (Sally) Botsai PhD, AFIO Vice Chair; former senior NSA official. Host: James Hughes, AFIO President; a former CIA Operations Officer.
TOPIC: David Wolman and Dr Sally Botsai discuss Juanita Moody - an American cryptographer, intelligence analyst and legendary NSA executive. She worked for the Signals Intelligence Service (SIS) and NSA from 1943 until 1976. Moody was responsible for providing intelligence to the White House and Department of Defense during the Cuban Missile Crisis. Her reports helped the U.S. avoid war with the Soviet Union. Also discussed is Wolman's process of determining what stories to write, locating sources, dealing with FOIA requests, interviewing families, and his impressions of his dealings with the U.S. Intelligence Community. Also covered is Moody's role in the Bay of Pigs, and other leadership activities during a long, outstanding career serving the Agency, the IC, the White House, and the country.
The presentation runs 44 minutes. Wolman's Smithsonian Magazine article on Juanita Moody can be accessed here.
Access the Wolman video here or click above image.
---
Prior Videos in the "AFIO Now" Series
To view the publicly-released ones, visit our YouTube page
or log into the Member-only area to view private and public interviews.
---
NEW — PODCASTS: Our new social media expert has been busy! Are you too busy to sit and watch an entire "AFIO Now" episode above on YouTube? Would you rather listen in your car or while accomplishing other tasks? Now you can quickly download or stream episodes on your favorite podcasting platform. AFIO is now available on 8 podcasting platforms. Search for 'AFIO Podcast' for a selection of the interviews above (public released ones) on Podbean; iTunes; Google; Spotify; Amazon Music; Amazon TuneIn + Alexa; iHeartRadio; and Pandora.
---
---
Newly Released, Overlooked, or Forthcoming Books
A Drop of Treason: Philip Agee and His Exposure of the CIA
by Jonathan Stevenson
(University of Chicago Press, May 2021)
"Set against the backdrop of the Cold War, A Drop of Treason reads like a spy thriller, chronicling the life of turned CIA officer Philip Agee. Stevenson masterfully brings together a real-life story of espionage, betrayal, and the dramatic consequences that befell one of the first Americans to publicly turn on the CIA."
— Ali Soufan, former FBI special agent and author of 'The Black Banners (Declassified): How Torture Derailed the War on Terror after 9/11'
"In this engaging biography, Stevenson gives us Philip Agee as a man who 'straddled the giddy line' between dissenter and traitor, between exile and expat, between cad and antihero. Agee's complicated life, in Stevenson's able hands, becomes a lens through which the past half century of statecraft and spycraft come into sharp focus, and with them the politics and culture of a tumultuous era."
— Gary Greenberg, practicing psychotherapist and author of 'The Book of Woe' and "In the Kingdom of the Unabomber."
"One of America's 'most hated' spies receives a lively, thoughtful biography. Stevenson has searched the archives and interviewed everyone willing to talk about Philip Agee. . . . An insightful and evenhanded portrait." — Kirkus (starred review)

Book may be ordered here.
---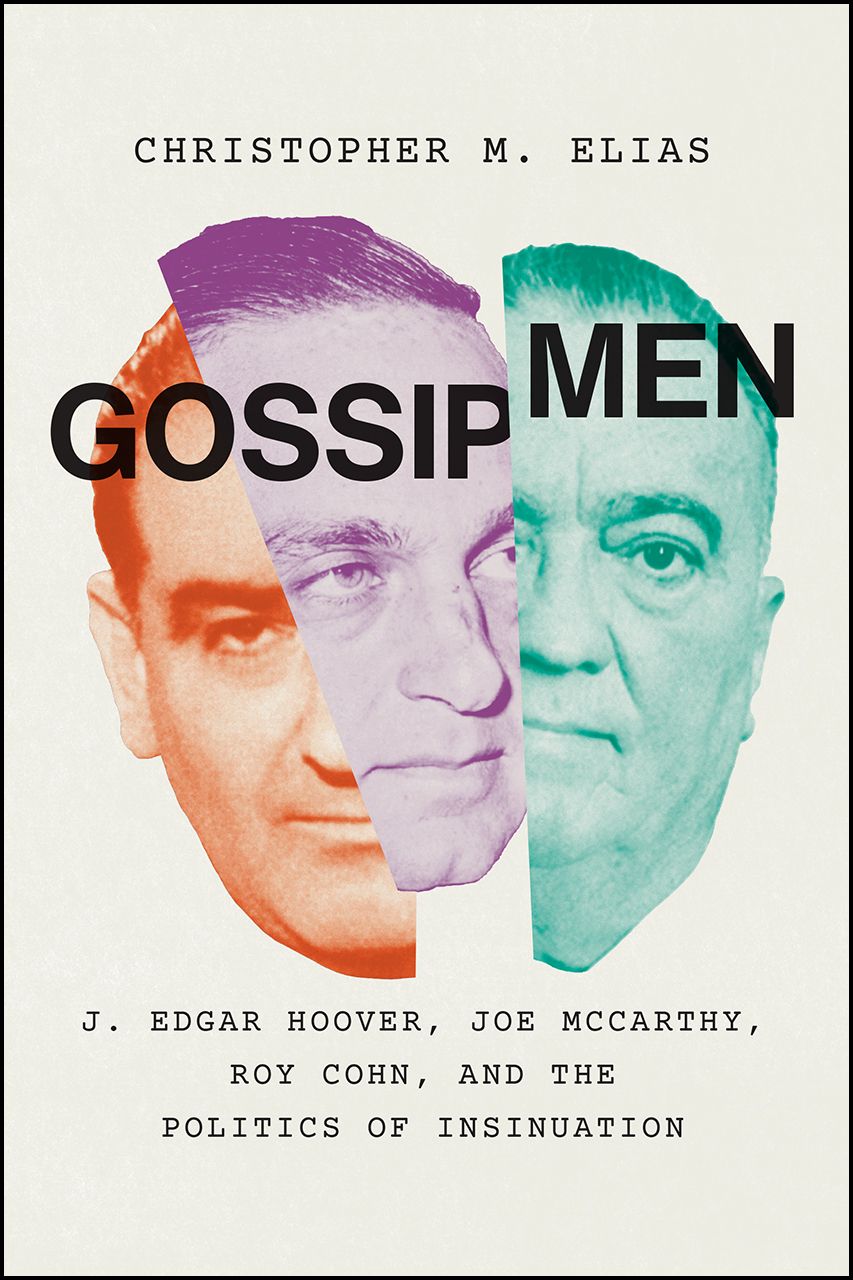 Gossip Men: J. Edgar Hoover, Joe McCarthy, Roy Cohn, and the Politics of Insinuation
by Christopher M. Elias
(University of Chicago Press, Apr 2021)
J. Edgar Hoover, Joseph McCarthy, and Roy Cohn were titanic figures in midcentury America, wielding national power in government and the legal system through intimidation and insinuation. Hoover's FBI thrived on secrecy, threats, and illegal surveillance, while McCarthy and Cohn will forever be associated with the infamous anticommunist smear campaign of the early 1950s, which culminated in McCarthy's public disgrace during televised Senate hearings. In Gossip Men, Christopher M. Elias takes a probing look at these tarnished figures to reveal a host of startling new connections among gender, sexuality, and national security in twentieth-century American politics. Elias illustrates how these three men solidified their power through the skillful use of deliberately misleading techniques like implication, hyperbole, and photographic manipulation. He shows that the American people of the 1950s were particularly primed to accept these coded threats because they were already familiar with such tactics from widely popular gossip magazines. Just as they are today through social media and memes.
Book may be ordered here.
---
Spies, Lies, and Exile: The Extraordinary Story of Russian Double Agent George Blake
by Simon Kuper
(The New Press, May 2021)
"Kuper provides a different and valuable perspective, humane and informative. If the definition of a psychopath is someone who refuses to accept the consequences of his actions, does George fit the definition? There he sits, admitting it was all for nothing, but has no regrets. Or does he?" —John le Carré
Few Cold War spy stories approach the sheer daring and treachery of George Blake's. After fighting in the Dutch resistance during WW II, Blake joined the British spy agency MI6 and was stationed in Seoul. Taken prisoner after the North Korean army overran his post in 1950, Blake later returned to England to a hero's welcome, carrying a dark secret: while in a communist prison camp in North Korea, he had secretly switched sides to the KGB after reading Karl Marx's Das Kapital.
As a Soviet double agent, Blake betrayed uncounted western spying operations—including the storied Berlin Tunnel, the most expensive covert project ever undertaken by the CIA and MI6. Blake exposed hundreds of western agents, forty of whom were likely executed. After his unmasking and arrest, he received, for that time, the longest sentence in modern British history—only to make a dramatic escape to the Soviet Union in 1966, five years into his forty-two-year sentence. He left his wife, three children, and a stunned country behind.
Much of Blake's career existed inside the hall of mirrors that was the Cold War, especially following his sensational escape from Wormwood Scrubs prison. Kuper tracked Blake to his dacha outside Moscow, where the aging spy agreed to be interviewed for this account of Cold War espionage. Following the master spy's death in Moscow at age ninety-eight this past December 26, 2020, Kuper says he is finally able to set the record straight. You decide.
Book may be ordered here.
---
---
One of the special benefits of membership in AFIO: access to CIA's inhouse gift shop — the EAA Store.
It requires a quick preapproval process described here to all newly joined and current AFIO members. And then allows you to purchase online their unusual logo'd gift items for self or colleagues. Here is the latest photo EAA released on March 26 featuring some of their newest items, this time for children of officers:
---
Writers, Officers: Please Provide A Brief Article for This Ongoing AFIO History Project
AFIO's educational project "When Intelligence Made a Difference" seeks writers to identify events throughout history involving any nation or organization when the outcome was affected significantly by intelligence.
AFIO has been publishing edited submissions serially in Intelligencer released two to three times a year.
To see what has been published, it is available here. Also look at the Winter-Spring edition of the journal arriving in the mail of all members and subscribers over the next three weeks.
Those readers interested in contributing an article, should email peter.oleson@afio.com.
For instructors, this project makes a great class assignment. Accepted articles give students a publication credit in a recognized journal.
---
Guide to the Study of Intelligence and When Intelligence Made a Difference
"AFIO's Guide to the Study of Intelligence" has sold out in hard-copy.
However, it is available in digital form in its entirety on the AFIO website here.

Also available on the website here are the individual articles of AFIO's history project "When Intelligence Made a Difference" that have been published to date in The Intelligencer journal. More articles will be forthcoming in future editions.
---
Visit, Follow, Subscribe to AFIO's LinkedIn, Twitter, and YouTube pages to receive updates.
Members who use social media or wish to explore, will find new announcements and other material on AFIO's Twitter and LinkedIn pages. New videos on our YouTube page appears below as well.
Access them here: LinkedIn, Twitter, and YouTube. By following or subscribing on those sites, one can be notified as new material appears.




NEW — PODCASTS: Our new social media expert has been busy! Are you too busy to sit and watch an entire "AFIO Now" episode above on YouTube? Would you rather listen in your car or while accomplishing other tasks? Now you can quickly download or stream episodes on your favorite podcasting platform. AFIO is now available on 8 podcasting platforms. Search for 'AFIO Podcast' for a selection of the interviews above (public released ones) on Podbean; iTunes; Google; Spotify; Amazon Music; Amazon TuneIn + Alexa; iHeartRadio; and Pandora.
---
---
Section I - INTELLIGENCE HIGHLIGHTS

Intelligence Community Creating Hub to Gird Against Foreign Influence. The nation's top spy agency has begun work to establish a hub to combat hostile foreign meddling in U.S. affairs, following multiple assessments that Russia and other countries have sought to sway elections and sow chaos among the American people.

The Office of the Director of National Intelligence will create the Foreign Malign Influence Center "in light of evolving threats and in support of growing policy and congressional requirements," an agency spokesperson said Monday in a statement to POLITICO.

The center will be a clearinghouse for intelligence related to malign influence from multiple government agencies and provide assessments and warning of such activities. [Read more: Matishak/Politico/26April2021]

4-Star Generals Want China, Russia Intel Declassified. Top U.S. military commanders are pressing Biden administration intelligence leaders to expose the depth of China and Russia's "pernicious conduct," calling for a declassification of intelligence.

A group of 4-star generals made the request to expose our top adversaries publicly, particularly as our allies are allegedly being fed disinformation by our top rivals and the U.S. is falling behind in a veritable public relations world war, Politico reported.

"Our inability to speak publicly about the real threats coming from China and Russia means many Americans don't truly know everything we're up against," Senate Armed Services Committee Ranking Member Jim Inhofe, R-Okla., told Politico in a statement. "It makes it easier to argue to cut the defense budget when we can't have an honest discussion about these threats." [Read more: Newsmax/27April2021]

U.S. Intelligence Touts New Emphasis on Climate Change, Calling it an "Urgent National Security Threat". The U.S. intelligence community will seek to "fully" integrate the effects of climate change into the analysis and assessments it offers policymakers, Director of National intelligence Avril Haines said Thursday, calling the varied, intersecting and intensifying consequences of climate-related phenomena "an urgent national security threat."

"For the intelligence community, climate change is both a near-term and a long-term threat that will define the next generation," Haines said during a session of the Biden administration's virtual Summit on Climate. "And it's one that the intelligence community has long recognized as important to our national security, though we have not always made it a key priority."

Climate change issues should "be fully integrated with every aspect of our analysis in order to allow us not only to monitor the threat but also, critically, to ensure that policymakers understand the importance of climate change on seemingly unrelated policies," Haines said. [Read more: Gazis/CBSNews/23April2021]

FBI Says Law Enforcement Shot and Wounded Suspect Outside CIA Headquarters After Hours-Long Standoff. A suspect was shot and wounded by law enforcement just outside the Central Intelligence Agency headquarters in McLean, Virginia, Monday evening, according to the FBI's Washington Field Office.

"The FBI is reviewing an agent-involved shooting that occurred at approximately 6 p.m. on Monday, May 3, 2021. An individual involved in a security incident outside Central Intelligence Agency Headquarters in McLean, VA, emerged from his vehicle with a weapon and was engaged by law enforcement officers," a statement from the field office said.
The suspect, the statement continued, "was wounded and has been transported to a hospital for medical attention." [Read more: CNN/3May2021]

German Intelligence Puts Coronavirus Deniers Under Surveillance. Germany's domestic intelligence service said on Wednesday that it would surveil members of the increasingly aggressive coronavirus denier movement because they posed a risk of undermining the state.

The movement - fueled in part by wild conspiracy theories - has grown from criticizing coronavirus lockdown measures and hygiene rules to targeting the state itself, its leaders, businesses, the press and globalism, to name a few. Over the past year, demonstrators have attacked police officers, defied civil authorities and in one widely publicized episode scaled the steps of Parliament.

"Our basic democratic order, as well as state institutions such as parliaments and governments, have faced multiple attacks since the beginning of the measures to contain the Covid-19 pandemic," the Interior Ministry said in a statement confirming that parts of the denier movement would be under observation. The Interior Ministry oversees the intelligence agency, the Office for the Protection of the Constitution.

In announcing the decision to keep tabs on conspiracy theorists, intelligence officials noted the movement's close ties to extremists like the Reichsbürger, a network of groups that refuse to accept the legitimacy of the modern German state. [Read more: Schuetze/NYTimes/28April2021]

India Pursued Assertive Foreign Policy in 2020, Says US Defence Intelligence Agency. India, under Prime Minister Narendra Modi, pursued an assertive foreign policy in 2020 aimed at demonstrating the country's strength and its perception as a net provider of security in the strategically vital Indian Ocean Region, a top American intelligence agency has said.

The Defence Intelligence Agency also told lawmakers adding that New Delhi also hardened its approach towards an aggressive China.

"Throughout 2020, Narendra Modi's government pursued an assertive foreign policy aimed at demonstrating India's strength and its perception as a net provider of security in the Indian Ocean Region," Scott Berrier, Gen Director of Defence Intelligence Agency told members of the Senate Armed Services Committee during a Congressional hearing on worldwide threats. [Read more: PTI/1May2021]

Spy Chief Predicts Terrorist Attack in Australia Within a Year. The head of Australia's domestic intelligence agency has predicted a terrorist attack in the country in the next year.

Mike Burgess, director-general of the Australian Security Intelligence Organisation (ASIO), told a parliamentary inquiry today that while Islamic extremists were the major threat, right-wing fanatics presented a growing concern.

"If you look at our current caseload, we still think Sunni based violent extremism is the major concern," Mr Burgess said.

"However, given the growth in nationalist and racist violence we have seen, we anticipate there will be a terrorist attack in this country in the next 12 months." [Read more: Wood/9News/29April2021]


---
Section II - CONTEXT & PRECEDENCE

FBI-DHS-CISA Release Joint Advisory on Russian Foreign Intelligence Service Cyber Operations. The Federal Bureau of Investigation (FBI), Department of Homeland Security, and CISA have released a Joint Cybersecurity Advisory (CSA) addressing Russian Foreign Intelligence Service (SVR) cyber actors - also known as Advanced Persistent Threat 29 (APT 29), the Dukes, CozyBear, and Yttrium - continued targeting of U.S and foreign entities. The SVR activity - which includes the recent SolarWinds Orion supply chain compromise - primarily targets government networks, think tank and policy analysis organizations, and information technology companies and seeks to gather intelligence information.

This CSA complements the CISA, FBI, and National Security Agency (NSA) Joint CSA: Russian SVR Targets U.S. and Allied Networks and provides tactics, tools, techniques, and capabilities to help organizations conduct investigations and secure their networks.

CISA is encouraging users and administrators to review Joint CSA AA21-116A: Russian Foreign Intelligence Service (SVR) Cyber Operations: Trends and Best Practices for Network Defenders and implement the recommended mitigations. For additional information on SVR-related activity, review the following resources: [Read more: SecurityMagazine/27April2021]

The U.K. Spy Agency MI5 Joined Instagram. It Wasn't for the Likes. Take Instagram, a clearinghouse for vacation selfies, food pictures and airbrushed dispatches from your friends' lives. Now add MI5, Britain's domestic intelligence agency, known for its spying and secret-keeping, performed - in the fog of popular imagination, anyway - by handsome, tuxedoed men who drink martinis.

A match made in influencer heaven?

MI5 officially joined Instagram on Thursday, making it the latest intelligence agency to try its hand at social media. The agency hopes its account, @Mi5official, will debunk myths about the art of spying, help explain the world of intelligence to the masses and highlight the agency's history, it said in a statement.

"We must get past whatever martini-drinking stereotypes may be lingering," Ken McCallum, MI5's director general, wrote in a column in The Telegraph announcing the new Instagram account. [Read more: Fazio/NYTimes/23April2021]

Exploding Pen Not Required: MI6 Looks For New 'Q' Spy Tech Master. Can you turn a wristwatch into an explosive, or perhaps you're able to design some X-ray glasses to see who is carrying a concealed weapon? If so, perhaps you should apply to be the next "Q" at Britain's MI6 foreign spy service.

The head of Britain's Secret Intelligence Service said on Thursday that the spy agency was hunting for a new tech chief, "Director General Q", known to all James Bond film fans simply as "Q".

"We're looking for a new 'Q'. If you want to serve your country by helping MI6 to develop the operational technology of the future, please take a look," Richard Moore wrote on Twitter. [Read more: Reuters/29April2021]

Spies and the Podcasts Who Love Them. As the bard once wrote, "When sorrows come, they come not single spies, but in battalions." And when spy podcasts come, they too would seem to come in battalions. This week on a spy-themed edition of "Wherever You Get Your Podcasts," OZY's new audio newsletter, we visit NRA conferences, Russian hair metal concerts, Iowa cornfields - and the many other places where undercover agents tend to gather top-secret intelligence and provide top-shelf ear candy for the listening hordes. [Listen here: Braswell/OZY/30April2021]

'I'd Never Been Involved in Anything as Secret as This': The Plan to Kill Osama bin Laden - From the Spycraft to the Assault to its Bizarre Political Backdrop - as Told by the People in the Room. In the morning of May 1, 2011, most Americans had never heard of Abbottabad. By that night, the dusty midsize city near the mountains of northwest Pakistan was the center of the biggest story in the world. A team of U.S. Navy SEALs had just descended by helicopter on a high-walled mansion there in the dark of night, located the globe's most hunted man and killed him.

The effort to track and execute Osama bin Laden, which took place 10 years ago this weekend, was the most closely held operational secret in modern American history - a highly sensitive, politically fraught and physically risky mission that involved breaching the sovereign territory of a purported U.S. ally to target an icon of international violence and terror.

The full story of how, and why, America's top security officials decided to pull the trigger that night in May has never been told. This oral history - the story inside the West Wing and U.S. intelligence agencies as Neptune's Spear coalesced over the fall of 2010 and spring of 2011 - is based on extensive original interviews with nearly 30 key intelligence and national security leaders, White House staff, and presidential aides - including some who have never spoken publicly before, and roughly half of those pictured in Souza's famous photograph. Their accounts, from the White House, CIA headquarters and Afghanistan itself, paint a never-before-seen view of the most momentous decision of Barack Obama's presidency. [Read more: Graff/Politico/30April2021]


---
The US Intelligence Community Needs a 'Wild Bill' Moment. The recent release of the 7th edition of the National Intelligence Council's Global Trends Report highlights the challenges facing the United States and the U.S. intelligence community (IC) over the next twenty years. While this report is usually not uplifting, this edition in particular warns of "more intense and cascading global challenges" ahead. Is the IC poised to provide the insights necessary to shape the strategic environment for the United States during the next two decades? We believe that the answer to that question is a clarion call for a "Wild Bill" moment. [Read more: McCarthy&Scott/TheCipherBrief/28April2021]

Analysis: Russia's Secret Services Betray Their Weakness. So far, 2021 has been the year of Russian intelligence, with four spectacular operations exposed in the last four months. In Berlin, Jens F., an electrician with a Stasi past, was caught selling Bundestag construction plans to secret service agents at the Russian Embassy. In Bulgaria, a Russian spy ring was uncovered around the ex-military intelligence officer Ivan Iliev. In Italy, a frigate captain named Walter Biot was found to be selling military information.

And in the Czech Republic, the Interior Ministry identified officers of the Russian military intelligence agency GRU as the perpetrators of two explosions at an ammunition depot in Vrbetice in 2014. These were the same men who allegedly poisoned Bulgarian arms dealer Emilian Gebrev in 2015, as well as former Russian double agent Sergei Skripal and his daughter with the Soviet-era nerve agent Novichok in 2018.

The Bulgarian Prosecutor General's Office has also linked the GRU with four other instances of sabotage at weapons depots belonging to Gebrev's company, EMKO. All this, of course, comes after Russian opposition politician Alexei Navalny was poisoned with a nerve agent in August 2020, as well as cases of cyberespionage against the German Bundestag in 2015 and, in 2020, against the American IT company SolarWinds.

So, what can we learn from all this Russian activity? [Read more: Nehring/DW/3May2021]

A Letter to President Biden from a Former Intelligence Officer: Close Guantanamo Bay. Dear President Biden:

I was relieved to hear that you intend to close the prison at Guantanamo Bay. I spent two years providing support to President Obama's effort to transfer detainees from that awful place, and seeing this blight on America's reputation close once and for all is something that is near and dear to my heart. I volunteered for that assignment because I believed the America I was born in would never torture - and yet we did. It took me years to get my mind around that, and for me, the process of coming to grips with it meant I needed to do something, no matter how small, to help close this symbol of America's descent into darkness. I read things that made me cry; things I never expected to read, but haunt me to this day.

During those years, and since, I have been struck by the disturbing thought that were it not for a little bit of luck in terms of where I happened to be born, the men in Guantanamo could have included my father or my uncle, not because they had anything to do with terrorism, but simply because they were in the wrong place at the wrong time, or took a job unwitting of who hired them, or were handed over by corrupt authorities who wanted to collect a bounty.

Or, Mr. President, it could have been your son. [Read more: Helt/JustSecurity/29April2021]

CIA Traitor Aldrich Ames Pleaded Guilty to Espionage for Russia 27 Years Ago. It was 27 years ago today, April 28, 1994, that Aldrich "Rick" Ames pleaded guilty to his nine years of espionage on behalf of the Russian Federation/Soviet Union. Ames, at the time of his arrest on February 21 of that same year, had served over 31 years within the CIA's Directorate of Operations, much of it with a focus on Russian and Eastern European operations.

I knew Ames within the context of work. He sat in the office of the CIA's Soviet European division's counterintelligence shop which reviewed of all operational cases involving the targeting and recruiting of Russians. It was from within this office he drew his information when he began his treacherous acts of espionage against the United States in April 1985. My interaction with him began after I finished my multiple tours in the Soviet Union (1981-1986) from the late-1980s into the early 1990s.

Throughout this time period, when I traveled back from abroad to visit CIA headquarters for consultations, Ames always seemed to have time. He was, in hindsight, doing the job the Soviet's were paying him handsomely to do, attempting to identify all activities of the CIA targeting Russian diplomats and intelligence officers abroad. [Read more: Burgess/ClearanceJobs/28April2021]


---
Section IV - Research Requests, Jobs, Obituaries
Call for Papers: 2021 "Bobby R. Inman Award" for Student Scholarship on Intelligence at University of Texas, Austin
The Intelligence Studies Project of The University of Texas at Austin announces the seventh annual competition recognizing outstanding student research and writing on topics related to intelligence and national security. The winner of the "Inman Award" will receive a cash prize of $5,000, with two semifinalists each receiving a cash prize of $2,500. This competition is open to unpublished work by undergraduate and graduate students enrolled in degree programs at accredited U.S. higher education institutions during the 2020-21 academic year. The deadline for submitting papers is June 30, 2021.
The Bobby R. Inman Award recognizes more than six decades of distinguished public service by Bobby R. Inman, Admiral, U.S. Navy (Ret.). Admiral Inman served in multiple leadership positions in the U.S. military, intelligence community, private industry, and at The University of Texas. His previous intelligence posts include Director of Naval Intelligence, Vice-Director of the Defense Intelligence Agency, Director of the National Security Agency, and Deputy Director of Central Intelligence. He continues to serve as a teacher, advisor, and mentor to students, faculty members, and current government officials while occupying the Lyndon B. Johnson Centennial Chair in National Policy at the LBJ School of Public Affairs. His areas of teaching and research are focused on political, economic, and military activities, policy processes and institutions, international affairs and diplomacy, and intelligence and national security.
Additional information about the Inman Award, including submission requirements and previous winners, is available here.
Call for Papers - The Center for Cryptologic History (CCH) and the National Cryptologic Foundation (NCF) invite proposals for papers for 18th Cryptologic History Symposium, 11-13 May 2022.
The Center for Cryptologic History (CCH) and the National Cryptologic Foundation (NCF) invite proposals for papers to be presented at the 18th Cryptologic History Symposium, 11-13 May 2022. The Symposium will be held at the Johns Hopkins University Applied Physics Lab Kossiakoff Center in Laurel, Maryland. The theme for the symposium is "Icons and Innovation." Proposals are due 7 September 2021.
For more information visit the NCF or contact cchevents@nsa.gov.
Seeking Officials Who Served USSR/Russia 1965-2015 and Other Posts - with knowledge of, or exposure to, Microwave/Directed Energy Weapons
Prominent D.C. Attorney seeking former intel officers or others who served in USSR/Russia during 1965-2015, as well as anyone who has information concerning possible microwave/energy directed weapon exposure of U.S. officials by foreign adversary.
Replies to Mark S. Zaid Esq, mark@markzaid.com. Or call him at (202) 454-2809.
More information about Mr. Zaid at MarkZaid.com.
Request for Assistance Researching Clandestine Maritime Operation in Da Nang 1950s-1970s
"My old Master Chief, James "Jim" Gray and I wrote the first history of Naval Special Warfare Combatant Craft (WARBOATS, 55 Years of Naval Special Warfare Combatant Craft History) for our veterans organization the Combatant Craft Crewman Association (CCCA), now in its second printing. One of the areas that we wanted to explore in greater depth were the clandestine maritime operations based in Da Nang from the South Vietnamese and CIA period through Switchback and Military Assistance Command Vietnam-Studies and Observation Group (MACV-SOG) control and the final the American withdrawal.
We are looking for assistance with this research in particular on the CIA side, as much of the MACV-SOG documentation has been declassified and we have spoken with the SEALs and Boat Support Unit One men of Mobile Support Team 1 and the Mobile Repair Team. Our Norwegian colleague, Jan Tore Nilsen is a Senior Reserve Commander in the Norwegian Navy is researching Norwegian involvement in Vietnam and has interviewed the surviving Norwegian contractors and obtained documents and photos from them as well as obtained documents regarding acquisition and construction of the Norwegian PTF (Patrol Torpedo Fast) boats for operations in Vietnam. An old friend of mine who was an historian for the CIA suggested we contact AFIO and ask for assistance. We would greatly appreciate any assistance from AFIO members."
Replies to Phil Garn at pggarn@yahoo.com
Seeking Spy-Themed Tourism Experts and New Recruits (with IC backgrounds) for Metro D.C. area opportunity
ISO former Intelligence Officers who might be interested in getting involved in spy-themed tourism in the Washington D.C. metropolitan area.
Also interested in speaking with those who may already be involved in the tourism and travel industry elsewhere.
Please contact Rosanna Minchew at r_minchew@me.com or 571-236-9052.
Assistant Professor, Intelligence and Information Operations, Tenure Eligible - Arizona (Sierra Vista)
The University of Arizona College of Applied Science and Technology (CAST), an Office of the Director of National Intelligence (ODNI) designated Intelligence Community – Center for Academic Excellence (IC-CAE) located on the University of Arizona Sierra Vista campus, is seeking an Assistant Professor to teach undergraduate courses within the Intelligence and Information Operations (IIO) program and to lead research in the fields of Intelligence, Information warfare, and Law Enforcement Intelligence. Consistent with the Dean's vision for Programs to contribute to interdisciplinary research and educational program innovation, the Tenure-Track Assistant Professor will support the Intelligence and Information Operations Program to contribute to the College's strategy of cross-campus, national, and international multidisciplinary research, and educational initiatives. CAST is seeking candidates who can demonstrate outstanding teaching as well as the ability to develop new research programs consistent with the college's purpose, vision, and values. The Assistant Professor, Intelligence and Information Operations will contribute to building a strong team of culturally diverse faculty and staff who are committed to preparing traditional, post-traditional, and transfer students for success in a 21st-century workforce.
Outstanding UA benefits include health, dental, and vision insurance plans; life insurance and disability programs; sick leave and holidays; UA/ASU/NAU tuition reduction for the employee and qualified family members; state and optional retirement plans; access to UA recreation and cultural activities; and more!
At the University of Arizona, we value our inclusive climate because we know that diversity in experiences and perspectives is vital to advancing innovation, critical thinking, solving complex problems, and creating an inclusive academic community. As a Hispanic-serving institution and a Native American/Alaska Native-serving institution, we translate these values into action by seeking individuals who have experience and expertise working with diverse students, colleagues, and constituencies. Because we seek a workforce with a wide range of perspectives and experiences, we provide equal employment opportunities to applicants and employees without regard to race, color, religion, sex, national origin, age, disability, veteran status, sexual orientation, gender identity, or genetic information. As an Employer of National Service, we also welcome alumni of AmeriCorps, Peace Corps, and other national service programs and others who will help us advance our Inclusive Excellence initiative aimed at creating a university that values student, staff and faculty engagement in addressing issues of diversity and inclusiveness.
For more information and to apply visit this webpage.
Intelligence Analysis Visiting Faculty Position at James Madison University, Harrisonburg, VA
James Madison University (JMU) seeks applicants for a visiting faculty position in its Bachelor's Degree Program in Intelligence Analysis (IA). The appointment is for one academic year (with the possibility of renewal for a second year depending upon the Program's needs) at the Assistant or Associate Professor level. This position will reside within the larger School of Integrated Sciences. The IA program offers a multidisciplinary undergraduate degree with an emphasis on methodology and technology to prepare students to become analysts, with a specialization in intelligence analysis. Its graduates have been successful in securing positions as analysts in both the public and private sectors, to include the Intelligence Community, military and law enforcement organizations, defense contractors, and major consulting firms. The program emphasizes methodology and synthesizes critical and creative thinking methods with technological tools for data collection, visualization, and analysis with situational knowledge of a problem's political, economic, social, and technological context with strong communicative and professional skills to support decision-making.
Review of applications will begin on May 1, 2021; the search will remain open until the position is filled. Application materials should include 1) a detailed cover letter that explains how the candidate's experiences fit the position's requirements and values, and should specifically explain the applicant's views on the importance of diversity and inclusion in higher education, 2) curriculum vitae, 3) concise but specific description (no more than 2 pages) of how the candidate would approach teaching the courses from the above list (if offered the position), and 4) contact information for at least three references. Application materials must be submitted online through JMU's application system: https://joblink.jmu.edu/. To apply refer to job #F1590. Salary shall be commensurate with experience. Employment is contingent upon the successful completion of a criminal background check. Questions can be directed to the Chair of the search committee, Dr. Noel Hendrickson, at hendrinx@jmu.edu.
For a full description of Duties and Responsibilities and Qualifications sought, follow this link: https://joblink.jmu.edu/postings/8812
Intelligence Analysis Faculty Program Director/Sr. Lecturer, Johns Hopkins University: Zanvyl Krieger School of Arts and Sciences: Advanced Academic Programs, Washington, DC
The Advanced Academic Programs (AAP) division seeks a Faculty Program Director to teach in and provide administrative leadership to the M.S. in Intelligence Analysis and the Post-Baccalaureate Certificate in Intelligence programs. These programs are part of the Center for Advanced Governmental Studies (CAGS) which is comprised of seven master's degree and three graduate certificate programs. The Center also includes the following programs: M.A. in Government, M.S. in Data Analytics and Policy, M.A. in Public Management, M.A. in Global Security Studies, M.S. in Geospatial Intelligence, M.A. in NGO Management; Certificate in Government Analytics, and the Certificate in Nonprofit Management. These programs educate students who wish to apply rigorous academic concepts to policy-related careers.
Of particular interest are candidates who have experience teaching and engaging students from diverse backgrounds. The Program Director is a full-time, non-tenure-track, 12-month renewable faculty position with the academic title of Senior Lecturer. The Faculty Program Director will have significant interaction/collaboration with the Director of the Center and the Associate Director of CAGS, as well as with the Associate Dean for AAP, other Program Directors, Program Coordinators, AAP staff, and administrators. The Program Director reports to the Associate Dean for AAP, the Center Director, and the Program Chair for Governmental Studies. This position is expected to begin July 1, 2021. The Program Director will have the following faculty and administrative responsibilities:
Faculty Responsibilities
Teaching 4 graduate courses per year, including the preparation for and time spent in the classroom (online or onsite), using best practices for online teaching, engaging and mentoring students from diverse backgrounds in the learning process, responding to student questions;
Advising students, including capstone advising for the master's program;
Providing innovative leadership for curriculum design and new course development to ensure the growth and delivery of quality programs; and
Other academic duties normally performed by full-time faculty, such as participating on committees, attending academic events, or contributing to other academic service.
Administrative Responsibilities
Providing overall supervision for the M.S. in Intelligence Analysis and Certificate in Intelligence, including shared management with the Center Director for the programs;
Leading some full-time faculty, adjunct faculty development, hiring, and evaluation;
Overseeing program admissions processes, including reviewing and approving prospect admission materials;
Coordinating program promotion and outreach, including interacting with outside groups and developing external / internal partnerships;
Coordinating with staff in student and faculty services, online education, marketing, finance, and enrollment services departments on operational issues related to program administration;
Other administrative duties as assigned.
Minimum Qualifications:
Ph.D. or other terminal degree (e.g., J.D.) in a relevant field to Intelligence Studies;
3 or more years of higher education teaching experience, preferably including online teaching and at the graduate level;
3 or more years of related professional work with the Intelligence Community (IC), preferably at the national/strategic level, including combatant commands;
3 or more years of management or leadership experience in an Associate Director or similar related position;
The ability to teach a variety of courses in intelligence studies, such as intelligence analysis, legal and ethical issues in intelligence, intelligence leadership, strategic culture analysis, and critical thinking and analysis;
Demonstrated track record of excellence in teaching.
For more information and instructions on how to apply, please follow this link: https://apply.interfolio.com/85064
Program Director, National Security and Technology – Georgetown University Law Center
A new 360 Innovation Incubator at GULC will be tackling problems in four focus areas, the first of which is the NatSec Tech Program, which looks at the intersections between national security and new and emerging technologies. The National Security & Technology Program Director will lead this new program, serving as a thought leader for this increasingly important sub-field. Utilizing the Center's innovation methodology, the Program Director will help develop strategic new project ideas for the Incubator, oversee and manage those projects including all aspects of foundation grants and budgets, write grant proposals, and build new relationships and networks for the Center. In the immediate term, the Program Director will be the day to day lead manager for the Center on National Security's new Public Interest Technology grant-funded project: 360 Tech: Innovation, Security, and Governance. The project aims to identify the most critical risks posed by social media to individuals, communities, and society, and then develop and test holistic governance models to address those risks. The Program Director will be a lead member of the core team (overseen by the Executive Director) and will be responsible for managing all day to day aspects of the project, including research and writing, coordination and outreach, project management, event and workshop planning, and operations oversight.
For full description of duties, responsibilites, and qualifications, or to apply for the position, view job posting here.
Assistant Professor (tenure-stream) of International Affairs/Intelligence sought by University of Pittsburgh
The Graduate School of Public and International Affairs at the University of Pittsburgh is seeking to hire an Assistant Professor of International Affairs with a focus in intelligence matters (broadly understood). We are looking for someone who can teach on intelligence subjects in our Security and Intelligence major and contribute to our International Affairs program more generally. We welcome those trained in political science, history, and other disciplines, and are particularly interested in those with cyber or regional expertise. The deadline is March 31.

The full announcement can be read -- and application submitted -- through Pitt's Talent Center here.
THREE Faculty Openings for 2021 at Hilbert College, Hamburg, NY
Assistant Professor, Criminal Justice; Assistant Professor, Forensic Science/Crime Scene Investigation; and Assistant Professor, Intelligence & Data Analysis.
Interested candidates can view our job postings here.
---
Clayton Laurie, Army and CIA Historian
Clayton David Laurie PhD, 66, a historian, educator, and past historian for CIA, and the U.S. Army, died 21 February 2021 of a heart attack in Reston, VA.
Dr. Laurie was born in Cedar Falls, IA, and developed an early and passionate, life-long interest in the study of military history, earning a BA degree in history/liberal arts, and political science at the University of Northern Iowa in 1977. From 1977 until 1984, he taught middle school American History and Government in the Council Bluffs Community School District in Council Bluffs, IA. While teaching, he completed a M.A. degree in history at the University of Nebraska at Omaha in 1982.
Laurie accepted a graduate and teaching fellowship at The American University in Washington, DC, and in 1984 moved to Aspen Hill, MD. He completed his PhD at AU in 1990.
In 1986, Dr. Laurie joined the U.S. Army Center of Military History at Fort McNair in Washington, DC, as a staff historian with the CMH Histories Division, beginning a federal history career that would last until retirement in 2019. During his time with the Center of Military History, he published two major volumes in the U.S. Army official history series, "The Role of Federal Military Forces in Domestic Disorders, 1877-1945," and "Industrialists in Olive Drab: The Emergency Operation of Private Industrial Facilities During World War II." He also authored "The Propaganda Warriors: America's Crusade against Nazi Germany" published in 1996 by the University Press of Kansas. During his career, he authored numerous classified and unclassified books, monographs, and articles on various aspects of U.S. and European military and intelligence history and supervised the publication of many others. In 1995, he was awarded the Secretary of the Army's Research and Study Fellowship, and in 2000, upon leaving the Center of Military History, he received the U.S. Army's Commander's Award for Outstanding Civilian Service to the Department of the Army.
In May 2000, he joined the Central Intelligence Agency as an intelligence staff officer and Deputy Chief Historian at the National Reconnaissance Office in Chantilly, VA. Between 2002 and 2005, Dr. Laurie served a tour as a staff intelligence historian with the CIA History Staff, at CIA's Center for the Study of Intelligence, before returning to the NRO as the Chief Historian in fall 2005. In January 2007, he left the NRO to take a rotational position as Deputy Historian with the ODNI where he wrote volume 2 of the "History of the ODNI: The Negroponte Years, 2005-2007," and helped formulate programs and processes directed toward creating better cooperation between IC Historical Offices and staffs. In 2008, he returned to the CIA History Staff where he remained until his retirement from federal service in 2019.
Although Dr. Laurie found researching and writing military and intelligence history a near perfect occupation, his first love always remained teaching. Following that early career in public education, and two years of teaching European History between 1987 and 1989 at the American University during his graduate studies, Dr. Laurie became a part-time adjunct associate professor with the Department of History at the University of Maryland, Baltimore County, in fall 1991. For the next 23 years, he taught military and intelligence history courses at UMBC, some of the largest and most popular lecture courses at the university. He taught fulltime in addition to his government duties and routinely drew over 100 students for each section of his courses on the history of warfare, WWI, WWII, the Vietnam War, the history of American Intelligence, and Western Civilization. Students consistently commented that Dr. Laurie was a very approachable professor, and a charismatic and dynamic lecturer, with a sense of humor they found unique and refreshing. His enthusiasm and passion for his subjects convinced many of his students to become history majors or minors, and lifelong students of history. He was often gratified to have students contact him in later years concerning their own history careers and continuing interest in the discipline.
In addition to his government and academic careers, Dr. Laurie was a member of several academic and professional societies. He also often served as a guest speaker at conferences and made numerous appearances as a panelist on C-SPAN. Besides history, his hobbies included collecting militaria, traveling, camping with his wife and sons, Border Collies, sailing, gardening, and cooking. An Eagle Scout in his youth, he participated in the Boy Scouts as a Cub Master and Den Leader and Boy Scout leader with his sons, his eldest son also obtaining the Eagle rank.
He is survived by his wife of 21 years, Sarah Jane Laurie, two sons from a previous marriage, two grandchildren, a sister, and other family.
Jason Matthews, CIA Case Officer and Novelist
James Jason Matthews, 69, CIA Officer and Novelist, died 28 April 2021 in Rancho Mirage, CA from corticobasal degeneration (CBD), a rare, untreatable neurodegenerative disease. Matthews was the author of the highly-praised "Red Sparrow Trilogy" spy novels.
Matthews was born in Hartford (Wethersfield), CT. He attended Mount Hermon prep (now Northfield Mount Hermon). Born in Wethersfield, Connecticut, Matthews grew up in a Greek-speaking household, majored in foreign languages at Washington & Lee University, studied journalism at the University of Missouri and eventually learned French, Spanish, Italian, Turkish, and Hungarian. His career choice was unplanned: Through a relative in the State Department, he was interviewed by a government agency that turned out to be the CIA and asked to join because they were seeking Greek-language speakers.
As a CIA case officer, he served 33 years in Europe, Asia, and the Caribbean. In 1981 while on an overseas assignment, he met his future wife Suzanne, also a career Agency officer.
Upon his retirement from the CIA in 2010, Matthews embarked on the writing of thrillers that drew on his long years of experience. Although he coyly joked that this effort was merely ex-Agency officer "therapy," he threw himself into the effort, studying the work of other spies-turned-writers, conducting research and dedicating long hours to his new career. He was attentive to details, whether it be how CIA operatives surveilled targets or the proper ingredients of a classic Russian borscht soup. He enjoyed deploying the spy-craft he used in the CIA to illuminate his novels. His first book, Red Sparrow, won the Edgar award for best first novel and garnered high praise. "Relentless drama is just one of the high points of this sublime and sophisticated debut," said the Washington Post. Echoed the New York Times Book review, "A primer on 21st century spying. Matthews former foes in Moscow will be choking on their blinis when they read how much has been revealed about their tradecraft… terrifically good." Red Sparrow was later adapted into the 2018 Twentieth Century Fox film starring Jennifer Lawrence and Joel Edgerton.
He was an unimposing man whom Men's Journal would describe as "the last person you'd peg as a spy — until you find out he was one." Recipient of a CIA Medal of Merit among other honors, he was reluctant to say too much about where he worked, and what he did. But he would indicate that he specialized in dangerous, "denied operations," turned up on a terrorist hit list in the Middle East; and had to flee the U.S. embassy during the Kosovo War in the late 1990s, He also oversaw U.S. intelligence support for the 2006 Winter Olympics in Turin, Italy.
"Being in the Agency is a very experiential career, like being a policeman or a fireman or a jet pilot, and when it stops, it really stops," he told The New York Times in 2015. "There are retiree groups that get together, mostly in Washington, and sit around and swap war stories, but I was living in California, and it was either write something or go fishing."
His life were animated by wry humor, ferocious patriotism, and devotion to his family and the CIA. A life well-lived, he is fondly and forever remembered by his family, friends, professional colleagues, and the many admirers of his distinctive novels. A celebration of life will be held later this summer.
He is survived by his wife and fellow CIA veteran, Suzanne Moran Matthews, and their two daughters.
Tom Page, NSA Cryptographer/Mathematician
Thomas Wingfield Page Sr, 86, NSA Cryptographer/Mathematician, died 14 April 2021 in Severna Park, MD.
Tom was born in Lynchburg, VA and attended the University of Virginia where he earned a B.S. in Electrical Engineering and a Masters in Mathematics.
He proudly served our nation, spending three years in the U.S. Navy, and enjoyed a long and successful career at the National Security Agency. He was awarded the Exceptional Civilian Service Award for work in crypto mathematics. He retired in 1995 with 33 years of service and was a former member of the Phoenix Society. Tom was also an active member of the Woods Memorial Presbyterian Church.
Tom is survived by his wife, Phyllis Marie Bailey, three sons, and other family.
Expressions of sympathy may be sent to: 600 Mc Kinsey Park Drive Apt 204, Severna Park, MD 21146.

Nat Thayer, NIO for East Asia, Professor
Nathaniel Bowman Thayer PhD, 91, NIO for East Asia for the NIC, long-time Professor at the Johns Hopkins University School of Advanced International Studies, U.S. Foreign Service Officer, died of Parkinson's disease 7 November 2020 in Gretna, NE.
Dr. Thayer was born in Worcester, MA. He graduated the Vermont Academy and was studying architecture at Brown University and the Rhode Island School of Design when the Korean War broke out. During the war he served in the U.S. Army as an Investigator attached to the Counter-Intelligence Corps at the U.S. Armed Forces Far East Headquarters in Tokyo, Japan. After the war he began an academic career devoted to the study of Japanese politics and the international relations of East Asia. He earned his B.A cum laude in 1956 at Columbia University and met his wife Marguerite Hisako nee Takahashi while studying there for his MA and PhD.
He entered the U.S. Foreign Service in 1961 and served as Press Officer at the U.S. Embassy in Tokyo under Ambassador Edwin O. Reischauer. He was at the Ambassador's side when Dr. Reischauer was rushed into Toranomon Hospital following an assassination attempt in 1964. He then served at the U.S. Embassy in Rangoon, Burma before returning to Columbia to complete his PhD, with distinction, in 1967. While working as Program Director at the Japan Society of New York in 1969 he published his classic work on Japanese politics "How the Conservatives Rule Japan," a groundbreaking study of factional politics and the interplay of politicians with the bureaucracy and business. This book was a standard text on the subject in Japan as well as the U.S. Dr. Thayer taught at Columbia University and the City College of New York and was Visiting Professor at Harvard University before joining the faculty of the Johns Hopkins University School of Advanced International Studies (SAIS) in 1975, where he taught generations of Japan scholars and mentored students who have gone on to distinguished careers in academia, diplomacy and business. While at SAIS, he served as Director of Japanese Studies, Director of the Asian Studies Program, Yasuhiro Nakasone Professor and Advisor to the Reischauer Center.
From 1978 to 1980 Dr. Thayer served as the National Intelligence Officer for East Asia on the National Intelligence Council of the CIA. He retired from teaching in 2005, the year in which he was awarded the Order of the Rising Sun, Gold Rays with Neck Ribbon, by the Japanese Government during a ceremony at their embassy in Washington.
During his time at SAIS, Dr. Thayer bought a farm in Fairfax Station, VA where he restored and expanded a pre-Civil War farmhouse. He raised Bouvier des Flandres herding dogs and Angus cattle.
He is survived by his wife of 64 years, Marguerite Hisako nee Takahashi, three daughters, a brother, and other family. A memorial gathering is being planned at the Reischauer Center for the fall, with a web link to Tokyo and elsewhere. Please contact Dr. Fumiko Sasaki fumikosasaki7@gmail.com for details.
Roger Thomas, NSA and CIA
Roger Sutherland Thomas, 71, NSA and CIA, died of cancer 4 April 2021 in Arlington, VA.
He was born in Middleboro, MA, and enjoyed fishing, singing tenor, and playing the saxophone, and summer vacations to his mother's native Nova Scotia and the White Mountains of NH. Shortly after Roger earned his undergraduate degree in history from Suffolk University in Boston, the Vietnam war called him to duty, and he enlisted in the Air Force as an officer. He fine-tuned many skills while in the service, and as a young intelligence careerist, he applied these skills at the National Security Agency - his first job as a civilian. From the NSA, Roger was recruited to work for the Central Intelligence Agency in the early 1980s. With this career move, his childhood dreams of visiting the many lands and cultures in his favorite magazine, National Geographic, came to life as he traveled widely across most continents. Throughout his long career, Roger continued to serve various U.S. agencies, mentor a rising generation of professionals, and received countless achievement awards as a brilliant, creative, likable comrade.
Without realizing it, Roger touched many people with his knowledge, humor, and easy-going ways. His deep cackle will always echo in our hearts, and his experiences, lessons, and impressions leave a lasting mark.
He is survived by his wife, Ellen, a daughter, sister, and other family.
Frank Trippett, CIA
Frank Leftwich Trippett, 70, CIA, of McLean, VA died ~28 Apr 2021. Career and obituary details forthcoming if made available.
Jim Warrick, Foreign Service Officer
James Myrl Warrick, 83, a Foreign Service Officer, died 20 April 2021 in Williamsburg, VA.
Born in Loop City, NE, he spent his early years in Sheridan, WY until the family moved to Ravenna, NE where he attended high school, played the bass drum, and was Senior Class President. He attended the University of Nebraska, earning a B.S. in Marketing in 1959, was a member of the Delta Upsilon fraternity and became a lifelong Cornhusker football fan.
Following in his father's footsteps, Jim started his professional career in retail for Genesco in Nashville and San Francisco and later worked for the family business.
In 1964, Jim entered the Foreign Service and served in the United States Embassies in Nairobi, Kenya; Blantyre, Malawi; Dakar, Senegal; Ankara, Turkey; and Bujumbura, Burundi. He was proud to be a diplomat representing our great country, and his efforts were instrumental in protecting lives abroad.
Retiring to Williamsburg, Jim established the Colonial Chapter of his retiree's association and served as President. He was honored to be invited to the Capital Club of Williamsburg, whose members were among the finest gentlemen he knew, and where he later served as President.
Throughout his career and life, Jim found great pleasure in making family and friends laugh whether in the telling of a joke or story, his years of acting in amateur theater or playing pranks on his children, grandchildren, family and friends. He had an uncanny ability to make friends and fostered those friendships throughout his life.
Jim was quick to compliment, listened intently, worried about those he loved, made strangers feel important, and despite years fighting a debilitating disease, never lost his positive attitude. He was a devoted dog owner to Molly, Annie, and Enzo and could recount their accomplishments to all. He was proud of his midwestern upbringing, and those values were present in everything he did personally and professionally.
He is survived by his wife of 58 years, Karen Elizabeth "Kajs" Fahlgren, a son and a daughter, a brother, a sister, and other family.
A celebration of Jim's life will take place on 14 May 2021 2-4pm EDT for a Celebration of Life at Queens Lake Club, 234 East Queens Drive, Williamsburg, VA 23185. Note: There will be short ceremony at 2:30. Please wear a mask to attend this event.
In his words, "In lieu of contributions or flowers, just give your spouse a long, loving hug like I loved so much from Kajs, and if you have a dog, get down on the floor and tell them there is one less dog-lover today."
Carl Zimmer, CIA Officer
Carl Lee Zimmer, 88, a CIA Officer, died 17 April 2021 in Warrenton, VA.
He was born in Springwater, NY. Carl was an Air Force veteran who served from 1950 to 1954, during the Korean conflict. He spent a year in Korea. He had a distinguished 31-year career with the CIA. He received Presidential Citations from Presidents Kennedy and Ford. He was also awarded the CIA Distinguished Intelligence Commendation Medal when he retired.
He lived in Fairfax County (VA) and was involved in many civic activities and named Fairfax County Citizen of the Year in 1972.
Carl and his wife moved to Warrenton after his 1994 CIA retirement.
He is survived by his wife of 66 years, Anna M. Zimmer; a son, two daughters, and other family.
---
AFIO EDUCATIONAL EVENTS IN COMING TWO MONTHS....
Thursday, 6 May 2021, 6:30 - 7:30 CDT - Zoom - The San Antonio AFIO Chapter will view Norman Roule interview on "The State of Iran Today -- and How Current and Future Administrations Should Approach the Regime."
Norman Roule, former National Intelligence Manager, Iran, ODNI; former Division Chief, CIA Operations Officer, Chief of Station, will be the presenter at this prerecorded San Antonio chapter event. The interviewer is James Hughes, AFIO President, a former CIA Operations Officer. The interview was conducted 11 March 2021 and is on the state of Iran today and how current and future administrations need to approach that regime. This is a very timely interview on the continuing tensions between Iran and the United States. The interview is 42 minutes, including some Questions and Answers. This program is part of the AFIO Now series of programs with national intelligence leaders prepared for AFIO members.
Location:
https://us02web.zoom.us/j/86972236465?pwd=aFZJQTFqcWRTOVArR1p4TUpOdmdjUT09
https://us02web.zoom.us/j/86972236465?pwd=aFZJQTFqcWRTOVArR1p4TUpOdmdjUT09 Meeting ID: 869 7223 6465 Passcode: 052714
One tap mobile +13462487799,,86972236465#,,,,*052714# US (Houston) +16699006833,,86972236465#,,,,*052714# US (San Jose) Dial by your location +1 346 248 7799 US (Houston) +1 669 900 6833 US (San Jose) +1 253 215 8782 US (Tacoma) +1 929 205 6099 US (New York) +1 301 715 8592 US (Washington DC) +1 312 626 6799 US (Chicago) Meeting ID: 869 7223 6465 Passcode: 052714 Find your local number: https://us02web.zoom.us/u/kdxkLQZYGZ
Questions: Send email to chapter president John Franklin.
Wednesday, 30 June 2021, 12 noon - Zoom Webinar - The "Andre Le Gallo" San Francisco Chapter hosts Lt. Gen. Patrick M. Hughes, former DIA Director
Lt Gen Patrick Hughes, former Director of Defense Intelligence Agency, will address chapter on "Internal U.S. Security Concerns and Existential Threats to America."
Registration is required here to receive a zoom link.
Please contact Mariko Kawaguchi, Chapter Secretary at afiosf@aol.com for any questions.
---
Other Upcoming Events from Advertisers, Corporate Sponsors, and Others
Thursday, 6 May 2021, 5:30pm EDT - Zoom Webinar - Spies in Toyland: Live Virtual Spies & Spymasters Happy Hour – Virtual International Spy Museum Program
From Garden Gnomes to G-Men Toys, the Spy Museum has delightful playthings in the toy chest -- and some wicked things, too. The Happy Hour Hosts: Amanda Ohlke, Shana Oltmans, and Hannah Saloio will give you a tour of spy toyland with a special emphasis on all things spy gnome. From playing cards with terrorist signatures to WWII escape and evasion board games, these are not the kind of games you leave behind at the beach rental. They might give you a chance to experience one of the Museum's Mind Games from home or take a stab at their version of Kim's Game.
Event is free of charge. Visit www.spymuseum.org.
Wednesday, May 12, 2021, Noon - 1:30 pm EDT - Zoom Webinar - "Whistleblowing in the Intelligence Community (IC) - Legal and Practical Challenges" — a Joint Event by the CII and ABA
The American Bar Association Standing Committee on Law and National Security and the Council on Intelligence Issues are co-hosting this webinar on "Whistleblowing in the Intelligence Community - Legal and Practical Challenges."
Whistleblowing in the Intelligence Community (IC) is a matter of national security and of increasing public interest and concern. Drawing from their extensive practical experience, the panelists will discuss the legal landscape of IC whistleblower rights and protections and address the challenges that government and private sector counsel face when attempting to validate and resolve whistleblower allegations. Among these key challenges are those relating to preserving essential anonymity and preventing retaliation, protection of classified information, and addressing competing interests among government elements, employees, and the public.
Panelists will address questions such as:
• What are the obligations of IC general counsels, IG's, and whistleblowers when faced with competing executive and legislative branch approaches to handling information about whistleblower complaints?
• What steps can be taken to incentivize individuals to trust whistleblower processes?
• Is it ever appropriate for an intelligence officer to "go public" with a whistleblower complaint if following the established procedures hasn't been effective?
• How are lawful whistleblowers different from those who leak classified information?
Featuring Moderator Dawn Eilenberger (Former Deputy Director of National Intelligence, Former Assistant DNI for Policy & Strategy, Office of the DNI); Michael Atkinson (Partner, Crowell & Moring LLP; co-lead of the National Security practice and former ODNI Inspector General); Joel Brenner (Senior Research Fellow, MIT Center for International Studies and former NSA Inspector General); Jason Klitenic (Partner, Holland & Knight, Head of National Security, Defense and Intelligence Team and former General Counsel, ODNI); and Mark Zaid (Managing Partner, Mark S. Zaid, PC; Founder, James Madison Project and Co-Founder, Whistleblower Aid). Registrants receive 50% off ABA's 2014 publication, Whistleblowers, Leaks, and the Media.
This is a free online panel event being held on Zoom. Registration is limited. All attendees must be registered and will be provided a separate registration link. Ample time will be allowed for questions/discussion.
REGISTER HERE.
13 May 2021, 11 - noon EDT - Virtual via Zoom Webinar - The NCF Quarterly Program features Dr. Robert Spalding, BGen, USAF (Ret)
The National Cryptologic Foundation 2021 Spring Cryptologic Program will feature Dr. Robert Spalding, BGen, USAF (Ret) on "What's to Follow in 2021? From Coronavirus to Taiwan - the new Chinese Communist Party," and will focus on his recent and timely book, Stealth War: How China Took Over While America's Elite Slept.
According to Dr. Spalding, most Americans don't realize just how much influence the Chinese Communist Party (CCP) has had in the United States and the free world. Our democratic freedoms are being challenged by the CCP everyday, by infiltrating our universities, businesses, politicians, and our daily lives. 2020 has been a very hard year for most. How do we stop the CCP in 2021 and years to come?
Signed Book Discount Offer: Dr. Spalding has generously offered a discount for NCF program registrants who would like to purchase his book and have it signed. Upon registration for the program, you will receive a discount code in your confirmation email for 25% off when ordering his book via his website at www.generalspalding.com. The coupon code will be valid through 15 May 2021.
Registration: The cost to attend is free, but registration is required. Deadline to register is 11 May 2021. See link below to register. Your Zoom webinar details will be included in your registration confirmation email. If you are unable to attend the live presentation, there will be a recording of the program made available via their website.
Questions for Dr. Spalding: If you are unable to attend the live presentation, but would still like to submit a question for the speaker, please send them to ncmf@cryptologicfoundation.org prior to 11 May 2021. Those registering for the live program will have an opportunity to include questions with their registration.
Contact: If you have questions about this program, please contact the NCF office at 301-688-5436 or send an email to ncmf@cryptologicfoundation.org
REGISTER HERE
Thursday, 13 May 2021, noon EDT - Zoom Webinar - Virtual Spy Chat with Chris Costa Featuring Special Guest: The Honorable Christopher C. Miller - Virtual International Spy Museum Program
Join an online discussion of the latest intelligence, national security, and terrorism issues in the news. Spy Museum Executive Director Chris Costa, a former intelligence officer of 34 years, will lead the briefing. He will be joined by The Honorable Christopher C. Miller, who recently served as the Acting SecDef. Following the discussion of key issues, you'll be able to ask questions via the online platform. Sponsored by the Honorable Mary Beth Long, International Spy Museum, Board of Directors.
Event is free but registration required. Visit www.spymuseum.org.
Thursday, 13 May 2021, 7 pm EDT - Zoom Webinar - China: National Security Consensus? - theme of this Hayden Center event at George Mason University featuring Mike Morell, Christopher Johnson, and John Culver.
In an era of polarized politics, where agreement on even the most basic issues is elusive, a consensus has emerged that China is America's most important national security challenge over the next several decades. But is there consensus developing on how to address the challenge? What does this mean for U.S. foreign policy? To what degree should America compete or cooperate with Beijing? What role does the Intelligence Community play in informing policy? Are America's national security institutions prepared for the challenge posed by China? Or are reforms like those that occurred at the outset of the Cold War needed?
The Michael V. Hayden Center for Intelligence, Policy, and International Security tackles this issue head on as Michael Morell, former acting and deputy CIA director, sits down with two former leading CIA analysts on China: Christopher Johnson, senior fellow at the Center for Strategic and International Studies; and John Culver, who retired last year as the National Intelligence Officer for East Asia in the National Intelligence Council after decades at CIA.
This Hayden Center presentation is being recorded for use on our website and social media.
TO JOIN THIS VIRTUAL ZOOM EVENT, use this registration link.
Friday, 14 May 2021, 1700-1900 EDT - Arlington, VA - Naval Intelligence Professionals Red Tie Reception
Please join your NIP shipmates at a reception and in person presentation of the Red Tie Award to Rear Admiral (Ret.) Sam Cox. A career intelligence professional with a passion for Naval history and an exceptional record of brilliant and relevant performance in peace, crisis, and combat, RADM Cox is known for his analytical insight, courage, integrity, and mastery of the facts. RADM Cox exemplifies the finest qualities of our Naval Intelligence Professionals. Congratulations RADM Cox!
The NIP Spring/Red Tie Presentation for 2021 is being held outdoors on the 3rd deck patio at the Army Navy Country Club in Arlington, VA. In accordance with the current Virginia health policy, masks are required, and attendance is limited to a maximum of 100 people.
Agenda: 1700-1830 - Socially-distanced Reception with food and drinks provided; 1830 -1900 - Red Tie Award Presentation and Remarks
Registration closes 7 May.
Event Location: Army Navy Country Club, 1700 Army Navy Drive, Arlington, VA 22202
NIP Members: O-4/GG-12 and above: $50**; NIP Members: Enlisted, O-3/GS-11 and below: $40**; NIP Non-Members: $70.
** NIP members need to Login with NIP username and password when registering to get member price.
Event registration will be online by credit card only - no registrations via mail.
To register online, do so here. Or go to NIP website here.
Questions? Contact NIP at naval.intelligence.pros@gmail.com
YOU DO NOT HAVE TO BE A NIP MEMBER TO REGISTER AND ATTEND. PLEASE NO WALKUPS.
Friday, 14 May 2021, 6 - 7:30pm EDT - Virtual - OSS Society's "Oh So Social" Conversation: Osama bin Laden Raid - 10 Years Later
The OSS Society hosts this fourth installment in its 2021 "Oh So Social" Conversation Series. The Honorable Michael Vickers will lead a discussion with Admiral William McRaven and Secretary Leon Panetta to commemorate the 10th anniversary of the Osama bin Laden raid.
With special cocktail presentation by author/cocktail historian Philip Greene.
No fee to attend. Register here.

If you were unable to watch their prior "Oh So Social" conversation between Gen. Norton Schwartz and Captain John Billings, the B-24 Liberator pilot who flew the real "inglorious basterds" behind enemy lines for the OSS, we have made it available online here.
Wednesday, 19 May 2021, noon EDT - Zoom Webinar - Curator's Corner: Dark Mirror with Barton Gellman - Virtual International Spy Museum Program
Edward Snowden touched off a global debate in 2013 when he gave Barton Gellman, Laura Poitras, and Glenn Greenwald each a vast and explosive archive of highly classified files revealing the extent of the American government's access to our every communication. They shared the Pulitzer Prize that year for public service. For Gellman, who never stopped reporting, that was only the beginning. He jumped off from what Snowden gave him to track the reach and methodology of the US surveillance state and bring it to light with astonishing new clarity. Along the way, he interrogated Snowden's own history and found important ways in which myth and reality do not line up. Join International Spy Museum Historian and Curator Andrew Hammond in conversation with Barton Gellman for a look at a true-life spy tale about the surveillance-industrial revolution and its discontents. Gellman told the story of his investigative reporting in the acclaimed 2020 book Dark Mirror: Edward Snowden and the American Surveillance State which went far beyond the unique access he had to Snowden.
Event is free but registration required. Visit www.spymuseum.org.
Wednesday, 26 May 2021, noon EDT - Zoom Webinar - Curator's Corner: Spooked with Barry Meier - Virtual International Spy Museum Program
Join International Spy Museum Historian and Curator Andrew Hammond in conversation with Barry Meier, who investigated the private spying industry for his new book SPOOKED: The Trump Dossier, Black Cube, and the Rise of Private Spies. A former New York Times investigative reporter and Pulitzer Prize-winning journalist, Meier reveals the hidden, billion-dollar industry comprised of corporate investigators - or spies-for-hire - who are paid to dig up dirt and, if need be, destroy their clients' adversaries. Politicians, companies, and dictators are all making use of these dangerously clever freelance intelligence agents. From an underground trade in hacked or purloined documents to a certain well-planted dossier (e.g. the Steele Dossier?), and the manipulated reporters assisting it all, Meier shines a light on a landscape worthy of any spy novel -- a place where loyalties are for sale, information is currency, and double crosses are commonplace.
Event is free but registration required. Visit www.spymuseum.org.
Wednesday, 1 December 2021, TBD Time - Washington, DC - 2021 Webster Distinguished Service Award Event - International Spy Museum
The Spy Museum offers an evening of intrigue for the 2021 Webster Distinguished Service Award event. The award is an opportunity to recognize the extraordinary contributions of individuals in the Intelligence Community. This year's awardee is The Honorable Susan M. Gordon, former principal deputy director of national intelligence. Previous recipients of the Webster Distinguished Service Award include President George H. W. Bush (2017), Admiral William H. McRaven, USN (Ret.) (2018), and Gen. Michael V. Hayden (Ret.) (2019). Webster attendee and sponsor support fuels the nonprofit mission of educating the public about the history and craft of espionage and intelligence through youth and adult programs, community service, and the care of the Museum's unique collection of artifacts for generations to come. For tickets, sponsorship opportunities, or information about ways to support the International Spy Museum, please contact the development office at 202.654.2853. Additional details and online ticket link to follow. Visit www.spymuseum.org.
---
In addition to the new Royal Blue long sleeve shirts, and the gray long sleeve hooded sweatshirts, the AFIO Store also has the following items ready for quick shipment:
NEW: LONG and Short-Sleeved Shirts with embroidered AFIO Logo and New Mugs with color-glazed permanent logo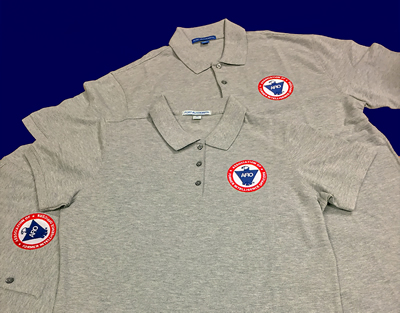 Show your support for AFIO with our new Polo Shirts. Be the first to buy these new, high quality, subtle heathered grey short sleeve shirts, and dark blue long sleeved shirts, of shrink and wrinkle resistant fine cotton with a soft yet substantial feel. They feature a detailed embroidered AFIO seal. Get a shirt for yourself and consider as gifts for colleagues, family, and friends. Only $45 each including shipping.
Sizes of (M) men or (W) women shirts; Small, Medium, Large, XL, XXL, and XXXL. At this time all orders will arrive as Short Sleeve shirts.
You may pay by check or credit card. Complete your order online here or mail an order along with payment to: AFIO, 7600 Leesburg Pike, Ste 470 East, Falls Church, VA 22043-2004. Phone orders at 703-790-0320. If interested in other shirt colors or sleeve lengths, contact Annette at: annettej@afio.com.



Available as a thank you for donations are the new AFIO logo face masks:
These soft, form-fitting, washable, non-medical grade fabric face masks have wide behind-the-ear elastics to make long periods of wear comfortable. Also easier to quickly put on or take off. Blue on outside, white inside. The masks do not have a nose wire but are sculpted, shaped, and sewn to fit most users. The all-cloth composition allows the masks to be washed or steam-disinfected without concerns over metal wires. The color logo is washable and a permanent part of the mask.
The masks, however, are not for sale. They are being offered strictly as a thank you gift to our donors.
For tax-deductible donations of $50 you will receive a receipt and our thank you gift of two of these newly-arrived face masks.
Donations of $100 receive four masks to be sent to the same address. Other amounts and split-shipments are available.
To donate now to support AFIO's programs and publications, please do so here.
We wish all members and donors continued good health, safe social distancing, and warmly appreciate any support you are able to provide the association.
---
AFIO Mug with color glazed logo. Made in America. Sturdy enough to sit on desk to hold pens, cards, paperclips, and candy.
This handsome large, heavy USA-made ceramic mug is dishwasher-safe with a glazed seal. $35 per mug includes shipping. Order this and other store items online here.
---
Guide to the Study of Intelligence and When Intelligence Made a Difference
"AFIO's Guide to the Study of Intelligence" has sold out in hard-copy.
However, it is available in digital form in its entirety on the AFIO website here.

Also available on the website here are the individual articles of AFIO's history project "When Intelligence Made a Difference" that have been published to date in The Intelligencer journal. More articles will be forthcoming in future editions.
---
Disclaimers and Removal Instructions
Weekly Intelligence Notes (WINs) are commentaries on Intelligence and related national security matters, based on open media sources, selected, interpreted, edited and produced for non-profit educational uses by members and WIN subscribers.
REMOVAL INSTRUCTIONS: We do not wish to add clutter to inboxes. To discontinue receiving the WINs:
a) IF YOU ARE A MEMBER - click here: UNSUBSCRIBE and supply your full name and email address where you receive the WINs. Click SEND, you will be removed from list. If this link doesn't open a blank email, create one on your own and send to afio@afio.com with the words: REMOVE FROM WINs as the subject, and provide your full name and email address where you are currently receiving them.
b) IF YOU ARE NOT A MEMBER, and you received this message, someone forwarded this newsletter to you [contrary to AFIO policies]. Forward to afio@afio.com the entire WIN or message you received and we will remove the sender from our membership and distribution lists. The problem will be solved for both of us.
CONTENTS of this WIN [HTML version recipients - Click title to jump to story or section, Click Article Title to return to Contents. This feature does not work for Plaintext Edition or for some AOL recipients]. If you wish to change to HTML format, let us know at afio@afio.com. The HTML feature also does not work for those who access their e-mail using web mail...however NON-HTML recipients may view the latest edition each week in HTML at this link: https://www.afio.com/pages/currentwin.htm
---
WINs are protected by copyright laws and intellectual property laws, and may not be reproduced or re-sent without specific permission from the Producer. Opinions expressed in the WINs are solely those of the editor's or author's listed with each article. AFIO Members Support the AFIO Mission - sponsor new members! CHECK THE AFIO WEBSITE at www.afio.com for back issues of the WINs, information about AFIO, conference agenda and registrations materials, and membership applications and much more!
(c) 1998 thru 2021. AFIO, 7600 Leesburg Pike, Suite 470 East, Falls Church, VA 22043-2004. Voice: (703) 790-0320; Fax: (703) 991-1278; Email: afio@afio.com
---
About AFIO | Membership Renewal | Change of Address | Upcoming Events | Chapter Locations | Corporate/Institutional Memberships | Careers in Intelligence Booklet | Guide to the Study of Intelligence | Intelligencer Journal | Weekly Intelligence Notes | To Make A Donation | AFIO Store | Member-Only Section | Code of Ethics | Home Page
---