---
CONTENTS
Section I - INTELLIGENCE HIGHLIGHTS
Section II - CONTEXT & PRECEDENCE
Section IV - Research Requests, Jobs, Obituaries
Other Upcoming Events from Advertisers, Corporate Sponsors, and Others
For additional AFIO and other Events two+ months or more... Calendar of Events
WIN CREDITS FOR THIS ISSUE: The WIN editors thank the following special contributors: rsy, ec, po, pj, mh, km, gh, mk, rd, fm, kc, jm, mr, jg, th, ed, and fwr. They have contributed one or more stories used in this issue.

The WIN editors attempt to include a wide range of articles and commentary in the Weekly Notes to inform and educate our readers. However, the views expressed in the articles are purely those of the authors, and in no way reflect support or endorsement from the WIN editors or the AFIO officers and staff. We welcome comments from the WIN readers on any and all articles and commentary.

CAVEATS: IMPORTANT: AFIO does not "vet" or endorse research inquiries, career announcements, or job offers. Reasonable-sounding inquiries and career offerings are published as a service to our members, and for researchers, educators, and subscribers. You are urged to exercise your usual caution and good judgment when responding, and should verify the source independently before supplying any resume, career data, or personal information.]
If you are having difficulties with the links or viewing this newsletter when it arrives by email, members may view the latest edition each week at this link.

---

Other items brought to our attention:

The origin of COVID: Did people or nature open Pandora's box at Wuhan? By Nicholas Wade — May 5, 2021
The Bulletin of Atomic Scientists. An extensive scientific inquiry.

Wade weighs evidence that the Covid virus originated in the wild, perhaps among Chinese bats, against evidence that the virus was leaked unintentionally from a Wuhan laboratory that was conducting research financed by the US government. He warns against drawing final conclusions, but the preponderance of scientific evidence in favor of a lab leak is overwhelming. Article here

---

Covid Origins: Several editorials and opinion pieces on Covid origins have appeared in nonscientific publications. One appeared in New York Magazine's Intelligencer here as "The Lab-Leak Hypothesis — For decades, scientists have been hot-wiring viruses in hopes of preventing a pandemic, not causing one. But what if …?" by Nicholson Baker.
And the second article was in USA Today here as "Could an accident have caused COVID-19? Why the Wuhan lab-leak theory shouldn't be dismissed" by Allison Young.

---

The Ritchie Boys: The secret U.S. unit bolstered by German-born Jews that helped the Allies beat Hitler - 60 Minutes video of 9 May 2021 program
The Ritchie Boys were responsible for uncovering more than half the combat intelligence on the Western Front during World War II. For the many German-born Jews in their ranks, defeating the Nazis was heartbreakingly personal.
From the 60 Minutes introduction: For as casually as we often toss around the word "hero," sometimes no lesser term applies. Tonight we'll introduce you to members of a secret American intelligence unit who fought in World War II. What's most extraordinary about this group: many of them were German-born Jews who fled their homeland, came to America, and then joined the U.S. Army. Their mission: to use their knowledge of the German language and culture to return to Europe and fight Nazism. The Ritchie Boys, as they were known, trained in espionage and frontline interrogation. And incredibly, they were responsible for most of the combat intelligence gathered on the Western Front. For decades, they didn't discuss their work. Fortunately, some of the Ritchie Boys are still around to tell their tales, and that includes the life force that is Guy Stern, age 99.
Click video image above or here to view 27 minute program.

---

The Arkin Group's May 14 "In Other News" letter to private clients by former Operations Officer Jack Devine features...

Russia has denied involvement in the ransomware cyberattack on the Colonial Pipeline in the United States, which has disrupted activity and supply from the biggest U.S. gasoline pipeline.
Renewed violent clashes between Israelis and Palestinians have made it difficult for Arab states with new diplomatic relations with Israel as well as for the United States and its role in the Middle East.
Iran has enriched uranium to a higher purity than previously believed, according to the UN atomic watchdog agency.


Recently released was Jack Devine's Spymaster's Prism. AFIO's interview with him about this book appears in this issue at top of right column of this issue of the WINs. You can view the video at this link. Or hear the podcast here.

---

The Latest... from Jeff Stein's highly popular "SpyTalk" series has now added a few weekend podcasts...

May 13: "CIA Officer Became 'Formidable Foe' of U.S. Government" by Jeff Stein
Janine Brookner took on the KGB, sexist rivals and Justice Department lawyers alike during a pioneering career as a spy and lawyer
Article here

May 13: "Crisis and Confusion" by Jeff Stein
This week's SpyTalk podcast features intelligence challenges from Europe to Afghanistan and beyond
Article here

May 11: "SpyTalk at the Movies: A Descent into Online Terror" by Elaine Monaghan
'Profile,' an unconventional thriller inspired by a French journalist's real use of Facebook to infiltrate the Islamic State, exposes the possibilities...
Article here

May 7: "Iran Talks in a Pressure Cooker" by Jonathan Broder
Resistance from Israel, Congress, Iran hardliners imperil return to nuclear deal
Article here

May 6: "Listen Up" by Jeff Stein
Israeli sabotage ops in Iran; directed energy attacks in DC; and Gilman Louie on the CIA and artificial intelligence
Article here

May 6: "New from the SpyTalk Podcast" by Jeff Stein
Israeli sabotage ops in Iran; directed energy attacks in DC; and Gilman Louie on the CIA and artificial intelligence
Podcast here

May 6: "SpyTalk at the Movies: The Human Factor" by Stuart Schoffman
An intense new documentary on the Israeli-Palestinian peace negotiations is 'a tortuous saga of good intentions and broken dreams,' our reviewer in Jer...
Article here

May 4: "My Jason Matthews" by Jeff Stein
Praise keeps rolling in for the fallen former CIA master spy and novelist
Article here.

Readers, for a brief time, can subscribe for free for articles and weekend podcasts here.

---

Inside the SCIF:

Inside the SCIF by JJ Green, WTOP - Issue #113, 13 May has details on DNI visit to DMZ; Exec Order to improve cybersecurity; more on possible GRU energy attacks on U.S. soil; anomalous health incidents being investigated by ODNI; Ways to calm Israeli-Palestinian conflict; Swiss Intel Chief and Crypto Affair; Women in Afghanistan under Taliban; Military Diversity; Looming U.S.-Russia talks over Arctic; German 2021 Elections and more.

The latest Target USA Podcast 276 is on: Americans allegedly attacked by foreign agents on U.S. soil
Former CIA covert operative Robert Baer and current and former intelligence officials suspect Russian intelligence agents are attacking U.S. government officials with directed energy weapons inside the U.S.

And "The Hunt" explores: "The Hunt: Rocket attacks from Hamas inside Israel have been met with air strikes from Israeli Defense Forces in Gaza. It marks the worst violence in five years in the region" Correspondent J.J. Green presents Capt. Libby Weiss, a spokesperson for the Israeli Defense Forces, who describes the activity on the ground. Green also spoke with with Laura Albast and Sammy Alqasem of the Palestinian Youth Movement about the recent rash of hostilities between Israel and Palestine.

---

---

From the National Cryptologic Museum Foundation:

THE NCMF's #CyberChats, held virtually via their Nepris online classroom, have resumed.

25 May, 3pm EST: How Breaking the Codes during the Battle at Midway Inspired a Cadet!

Other NCF Events can be found here on NCF website here, and CCH website here.

---

---
---
---

---

Work at AFIO National. AFIO is seeking to fill the following position in our McLean-Tysons-Falls Church, VA offices:

DIRECTOR OF MEMBERSHIP

Part-time position; hourly pay rate. Work hours daily Monday through Friday. Maximum number of monthly work hours is 140.

Memberships: Maintain AFIO membership database, to include processing information changes, membership renewals, and new membership applications; produce membership data statistics. Serve as the liaison between corporate members and AFIO chapters and the Board of Directors. Provide annual roster verification and recruitment support for AFIO chapters. Responsible for monthly invoicing cycle and membership renewal cards and welcome package mailings. Perform targeted mass mailings at intervals throughout the year. Process donations and work with the Events Coordinator to prepare notes of appreciation and to pack/ship thank you gifts.
Office/Office Systems: Order, maintain inventory of, and label office supplies; organize storeroom and office reception space. Responsible for all office systems: computers, server, phones, internet including backups; provide technical support to other office personnel. Work with IT contractor to ensure up-to-date hardware, software, and office equipment (postage meter, copier, folder/inserter).
Store Sales: Maintain inventory of store merchandise. Process all incoming store item orders. Pack and ship merchandise orders.
Phone/Emails/Visitors/Admin: Respond promptly to all phone calls, emails, mailed correspondence, and in-person visits. Code and process all check payments and prepare monthly bank deposit.
Events/Board Meetings: Create online registration form for events. Process all incoming event registrations. Work with Events Coordinator to answer questions pertaining to events. Provide onsite service to include setup and operation of AFIO audio/visual equipment; coordinate with speakers and hotel staff on IT issues. Provide onsite support at quarterly Board meetings, take meeting notes and prepare draft minutes.

To apply, or arrange an interview, or for additional information, contact Annette Janak at AnnetteJ@afio.com
---
---
Just released to AFIO members-only...
Intelligence Community Careers and Education

Released 18 May 2021
Interview of Friday, 9 April 2021 of Dr Edward Mienie, Associate Professor at the University of North Georgia, discussing intelligence education and careers in the U.S. Intelligence Community.
Interviewer: Renée Priess, AFIO Social Media and Engagement; former CIA Officer.
Host: James Hughes, AFIO President; a former CIA Operations Officer.
TOPIC: Dr Edward Mienie and Renée Priess discuss insights and advice on teaching intelligence at the university level. And exposing students to the wide variety of agencies and careers available in the U.S. Intelligence Community. Includes Dr. Mienie's comprehensive seven themes for his University of North Georgia intelligence courses, as well as a newly approved and equally comprehensive course at the high school level.
The presentation runs 40 minutes.

Dr. Mienie's Strategic & Security Studies program at the UNG is here.
The Georgia High School intelligence program "Introduction to U.S. Intelligence and National Security Studies - Social Studies Georgia Standards of Excellence (GSE)" is here.
Access the Mienie video here or click above image.
---
Prior Videos in the "AFIO Now" Series
To view the publicly-released ones, visit our YouTube page
or log into the Member-only area to view private and public interviews.
---
NEW — PODCASTS: Our new social media expert has been busy! Are you too busy to sit and watch an entire "AFIO Now" episode above on YouTube? Would you rather listen in your car or while accomplishing other tasks? Now you can quickly download or stream episodes on your favorite podcasting platform. AFIO is now available on 8 podcasting platforms. Search for 'AFIO Podcast' for a selection of the interviews above (public released ones) on Podbean; iTunes; Google; Spotify; Amazon Music; Amazon TuneIn + Alexa; iHeartRadio; and Pandora.
---
---
Newly Released, Overlooked, or Forthcoming Books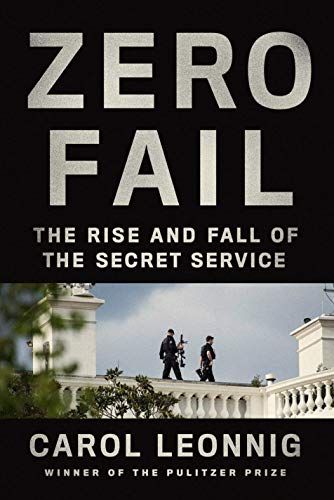 Zero Fail: The Rise and Fall of the Secret Service
by Carol Leonnig
(Random House, May 2021)
"Terrifying . . . There is certainly heroism here, and there are certainly plots that were foiled, and there are certainly instances of an agency in the moment being well run and foiling an attack and chasing something down and being on top of stuff. But there is an astonishing litany of stuff they have done wrong and scrapes we have narrowly avoided in this country by the skin of our teeth and through sheer luck. . . . It just flips your stomach up and down. This is one of those books that will go down as the seminal work—the determinative work—in this field."—Rachel Maddow
The rise and fall of the Secret Service, from the Kennedy assassination to the alarming mismanagement of the Obama and Trump years. The secrets, scandals, and shortcomings that plague the agency today—from a toxic work culture to dangerously outdated equipment to the deep resentment within the ranks at key agency leaders, who put protecting the agency's once-hallowed image before fixing its flaws. Contains many interviews with former Secret Service officers who...know the Service is broken and needs fixing, and by telling their stories hope to revive the Service they love.

Book may be ordered here.
---
Doom: The Politics of Catastrophe
by Niall Ferguson
(Penguin Press, May 2021)
Why we are getting worse, not better, at handling disasters. Yes...disasters are inherently hard to predict. Pandemics, like earthquakes, wildfires, financial crises. and wars, are not normally distributed; there is no cycle of history to help us anticipate the next catastrophe. But when disaster strikes, we ought to be better prepared than the Romans were when Vesuvius erupted, or medieval Italians when the Black Death struck. We have science on our side, after all. Yet in 2020 the responses of many developed countries, including the US, to a new virus from China, were badly bungled. Why? Why did only a few Asian countries learn the right lessons from SARS and MERS?
Ferguson argues that it transcends politics or political leaders at the time of the disaster. And that more profound pathologies were at work—pathologies already visible in our responses to earlier disasters. From imperial hubris to bureaucratic sclerosis and online fragmentation. They all played a role in the dizzy, ditsy response to the unexpected. Our ever more bureaucratic and complex systems might be making day-to-day life easier, but it is getting worse at managing crises. And lazier...rushing to build "websites" and calling that "assistance" during major catastrophes. And it is the poor handling of crises which topples leaders, governments, countries, and civilizations.
Book may be ordered here.
---
Agents of Influence: Britain's Secret Intelligence War Against the IRA
by Aaron Edwards
(Merrion Press, Apr 2021)
Recruited by British Intelligence MI5 to infiltrate the IRA and Sinn Féin during the height of the Northern Ireland Troubles, they were 'agents of influence'. With codenames like INFLICTION, STAKEKNIFE, 3007 and CAROL, these spies played a pivotal role in the fight against Irish republicanism. Some of these agents have emerged from the shadows to tell their stories of the secret intelligence war which helped bring the IRA's armed struggle to an end. Historian Edwards explains how the IRA was penetrated by British agents, and the hidden agendas of prominent republicans like Martin McGuinness and Freddie Scappaticci and lesser-known ones like Joe Haughey and John Joe Magee. Brings to light recently declassified TOP SECRET documents and first-hand testimonies of agents and their handlers, revealing how British Intelligence gained extraordinary access to the IRA's inner circle and manipulated them into engaging with the peace process. Provides insights into the spy masters behind the scenes, their strategies and tactics, and operations in Europe, the United States and beyond.
Book may be ordered here. A brief Youtube video about the book is here.
---
---
One of the special benefits of membership in AFIO: access to CIA's inhouse gift shop — the EAA Store.
It requires a quick preapproval process described here to all newly joined and current AFIO members. And then allows you to purchase online their unusual logo'd gift items for self or colleagues. Here is the latest photo EAA released on March 26 featuring some of their newest items, this time for children of officers:
---
Writers, Officers: Please Provide A Brief Article for This Ongoing AFIO History Project
AFIO's educational project "When Intelligence Made a Difference" seeks writers to identify events throughout history involving any nation or organization when the outcome was affected significantly by intelligence.
AFIO has been publishing edited submissions serially in Intelligencer released two to three times a year.
To see what has been published, it is available here. Also look at the Winter-Spring edition of the journal arriving in the mail of all members and subscribers over the next three weeks.
Those readers interested in contributing an article, should email peter.oleson@afio.com.
For instructors, this project makes a great class assignment. Accepted articles give students a publication credit in a recognized journal.
---
Guide to the Study of Intelligence and When Intelligence Made a Difference
"AFIO's Guide to the Study of Intelligence" has sold out in hard-copy.
However, it is available in digital form in its entirety on the AFIO website here.

Also available on the website here are the individual articles of AFIO's history project "When Intelligence Made a Difference" that have been published to date in The Intelligencer journal. More articles will be forthcoming in future editions.
---
Visit, Follow, Subscribe to AFIO's LinkedIn, Twitter, and YouTube pages to receive updates.
Members who use social media or wish to explore, will find new announcements and other material on AFIO's Twitter and LinkedIn pages. New videos on our YouTube page appears below as well.
Access them here: LinkedIn, Twitter, and YouTube. By following or subscribing on those sites, one can be notified as new material appears.




NEW — PODCASTS: Our new social media expert has been busy! Are you too busy to sit and watch an entire "AFIO Now" episode above on YouTube? Would you rather listen in your car or while accomplishing other tasks? Now you can quickly download or stream episodes on your favorite podcasting platform. AFIO is now available on 8 podcasting platforms. Search for 'AFIO Podcast' for a selection of the interviews above (public released ones) on Podbean; iTunes; Google; Spotify; Amazon Music; Amazon TuneIn + Alexa; iHeartRadio; and Pandora.
---
---
Section I - INTELLIGENCE HIGHLIGHTS

'Flattered' Russian Spy Chief Denies SolarWinds Attack. Russia's spy chief on Tuesday denied responsibility for the SolarWinds (SWI.N) cyber attack but said he was "flattered" by the accusations from the United States and Britain that Russian foreign intelligence was behind such a sophisticated hack.

The United States and Britain have blamed Russia's Foreign Intelligence Service (SVR), successor to the foreign spying operations of the KGB, for the hack which compromised nine U.S. federal agencies and hundreds of private sector companies.

"These claims are like a bad detective novel," SVR Director Sergei Naryshkin, a close ally of Kremlin chief Vladimir Putin, told the BBC in Russian. [Read more: Reuters/18May2021]

Former Army Green Beret Sentenced for Russian Espionage Conspiracy. A Virginia man and former Army Green Beret was sentenced today to 188 months in prison for conspiring with Russian intelligence operatives to provide them with U.S. national defense information.

Peter Rafael Dzibinski Debbins, 46, of Gainesville, admitted to conspiring with agents of a Russian intelligence service. According to court documents, from December 1996 to January 2011, Debbins periodically visited Russia and met with Russian intelligence agents. In 1997, Debbins was assigned a code name by Russian intelligence agents and signed a statement attesting that he wanted to serve Russia.

"Debbins violated his oath as a U.S. Army officer, betrayed the Special Forces, and endangered our country's national security by revealing classified information to Russian intelligence officers, providing details of his unit, and identifying Special Forces team members for Russian intelligence to try to recruit them as spies," said Assistant Attorney General John C. Demers for the Justice Department's National Security Division. "His conduct is a personal betrayal of colleagues and country, and it reflects the threat of Russian intelligence operations targeting our military. Today's almost 16-year sentence reflects the seriousness of his conduct. It should also serve as a warning to those who would be tempted to do the same." [Read more: DOJ/14May2021]

Switzerland Intelligence Chief Steps Down After Crypto Affair. The Swiss government decided on Wednesday to accept the mutually-agreed departure of its top intelligence officer, who was criticised for his handling of last year's Crypto affair.

The mandate of Jean-Philippe Guadin, head of the Federal Intelligence Service (FIS), ends on August 31. He is expected to move into the private sector.

Defence Minister Viola Amherd thanked Gaudin for his commitment to the role. Jürg Bühler will act as interim director of the intelligence service until the succession is settled. [Read more: SwissInfo/12May2021]

Space Force to Launch Classified Rocket from Mid Atlantic. The United States Space Force (USSF) will be launching a classified rocket mission from the NASA Wallops spaceport on the Virginia coast on June 15. Describing it only as a "national security payload", the mission, NROL-111, is being lifted into space for the National Reconnaissance Office (NRO.)

The NRO is a member of the U.S. Intelligence Community, a sister agency to the Central Intelligence Agency (CIA), National Security Agency (NSA), and Defense Intelligence Agency (DIA.) While the NRO was created in 1960, its existence was kept classified until 1992. The NRO is the Intelligence Community element and a Department of Defense agency responsible for developing, acquiring, launching, and operating America's intelligence satellites to meet the national security needs of the nation. [Read more: Weatherboy/17May2021]


---
Section II - CONTEXT & PRECEDENCE

Report: DHS Division Failed To Analyze Intelligence Ahead Of Capitol Violence. For months, officials have been saying the Jan. 6 attack on the U.S. Capitol was the result of a classic intelligence failure. Now key officials are questioning whether that was the case.

A report written by the former head of intelligence at the New York Police Department, Mitch Silber, and titled Domestic Violent Extremism and the Intelligence Challenge makes clear that officials at the FBI, Department of Homeland Security and other agencies had collected plenty of intelligence leading up to the insurrection at the Capitol. What they failed to do was analyze it.

"Intelligence collection did not fail," Silber writes in an analysis for the Atlantic Council obtained by NPR before its publication next week. "In fact, it was robust. Rather, the failure was in the analysis of the intelligence and the failure of senior government officials to issue warnings based on that intelligence." [Read more: NPR/18May2021]

Spy Agencies Seek New Afghan Allies as U.S. Withdraws. Western spy agencies are evaluating and courting regional leaders outside the Afghan government who might be able to provide intelligence about terrorist threats long after U.S. forces withdraw, according to current and former American, European and Afghan officials.

The effort represents a turning point in the war. In place of one of the largest multinational military training missions ever is now a hunt for informants and intelligence assets. Despite the diplomats who say the Afghan government and its security forces will be able to stand on their own, the move signals that Western intelligence agencies are preparing for the possible - or even likely - collapse of the central government and an inevitable return to civil war.

Courting proxies in Afghanistan calls back to the 1980s and '90s, when the country was controlled by the Soviets and then devolved into a factional conflict between regional leaders. [Read more: Gibbens-Neff&Barnes/NYTimes/17May2021]

The Hardest Spy to Catch Isn't the One Motivated by Money. Over the years American history has revealed we have spies aplenty who are native born. Many assert, even though world intelligence services have often contended, that Americans will do almost anything for money. But it is not really true. Benedict Arnold betrayed as much for pride as for money. He felt he was neither recognized nor remunerated for his admittedly outstanding contributions to the American Revolution. Counterespionage professionals admit the hardest spy to capture is the 'true believer'. Such spies believe deeply in the righteousness of their secretly served cause. [Read more: Davis/ClearanceJobs/16May2021]

The CIA Officer Who Became a "Formidable Foe" of the U.S. Government. Janine Brookner, who battled communist spies and boorish male bureaucrats alike during a pioneering career as a CIA officer and later became a fierce advocate for women and whistleblowers in the intelligence community, died May 11 after a long struggle with kidney disease, "fueled at the end by a highly aggressive cancer," according to her longtime companion Colin Thompson. She was 80.

"She was an exemplary CIA case officer and then a lawyer who represented men and women employees of the U.S. government, often successfully, seeking redress from a government that had treated them unethically and unfairly," Thompson, a retired former senior CIA officer himself, told SpyTalk. Recently, Brookner had been representing victims of the so-called "Havana Syndrome," a mysterious disease thought to be caused by directed energy weapon targeting State Department and CIA officers.

"She was as hard as nails and full of passion," said her son, Steven, the founder and principal officer of Radiance Structured Finance in Arlington, Va. [Read more: Stein/SpyTalk/15May2021]

The Former CIA Spies who are now Raising their Children like Mini-Intelligence Operatives. A former CIA operative turned stay-at-home mum has told how she is raising the ultimate 'spy kids' family - with her toddler son already riding motorbikes, shooting a bow and arrow and using a knife.

Christina Hillsberg, 36, was initially worried by the idea of raising children as mini-intelligence officers, but her husband Ryan, 42 - also an ex-spy - had already tried it out on his three kids from a previous relationship and she decided to raise their son, Ari, four and daughter Gigi, two, the same way.

And now her decision has led Christina from a small town east of Seattle in Washington State, USA, to write a new book called License To Parent that explains the unusual parenting style and is soon set to be turned into a TV show. [Read more: Frank-Keyes&Jones/WalesOnline/16May2021]

Psy-Ops in High Places. In recent years, Russia's National Security Council (or Sovbez) has come increasingly to resemble the USSR's Politburo (the Soviet Communist Party's powerful executive committee). On May 11, Vladimir Putin made significant changes to the Sovbez's Science Council, which provides "scientific-methodological and expert-analytical support," assists with the development of Russia's national security strategy and strategic planning documents, and helps define priorities, criteria, and metrics. One newcomer to the Science Council is a man named A. G. Starunsky, a deputy commander of Russia's Military Unit 55111. Meduza has learned that intelligence agencies in Estonia and the United States suspect this person of involvement in online disinformation campaigns run by Russia's Military Intelligence Directorate (GRU).

Little is known about this unit. Unlike many other Russian military formations, there's almost no public information available about 55111. One explanation could be that the unit is relatively new. (Another group outside Irkutsk used this number before it was disbanded in 2012.) [Read more: Meduza/17May2021]


---
How US Intelligence Community Views Rivalry With Russia and China. Each year, the Office of the US Director of National Intelligence issues the Annual Threat Assessment Report, which compiles the views of all 17 intelligence services. This unclassified document is prepared for submission to Congress for the attention of the Special Commissions for Intelligence and Armed Forces.

The report is a cumulative view of the American intelligence community on the "most direct and serious threats to the United States" that the intelligence community expects next year. Each of these threats, according to the authors of the report, warrants an immediate response. At the same time, the report itself, although it contains a list of threats, omits assessments of the vulnerabilities of US rivals. These estimates are most likely contained in other classified documents that are used in the planning of the activities of the US intelligence services.

Although the foreword to the report states that the sequence of topics does not reflect the priorities of US intelligence, the structure of the report speaks for itself. [Read more: Sushentsov/ValdaiClub/5/18/2021]

Intelligence on Afghanistan: A Difficult but not Impossible Task. During annual testimony on 22 April, the CENTCOM Commander was asked about the impact of a key Presidential policy decision, the decision to go to zero troops in Afghanistan. When asked if he had a chance to advise the president, Gen McKenzie said, "Sir, I can tell you that I had multiple opportunities to have a detailed conversation with the president and give my advice. He heard my advice. I'm not going to be able to share it with you here this morning."

The President's decision will have been a difficult one. Things are seldom straightforward in the national security arena and this is particularly so with anything involving Afghanistan. As would any commander, General McKenzie executed his duty in providing his best military advice to our civilian leadership. That advice would have been considered, along with the best advice of other leaders within the defense department, other government departments, partners, and the Intelligence Community - each contributing their own expert perspective - in considering risk, cost, and gain to develop the final U.S. government position.

The Intelligence Community does not make policy, but it is a core component of the national security decision making process. [Read more: Ashley&Wiley/TheCipherBrief/12May2021]

Opinion: The Mystery Attacks on Americans Must be Solved. Within the past two weeks, the Senate Select Committee on Intelligence has reported that a pattern of "debilitating" attacks on U.S. citizens abroad is "increasing," in some cases leading to traumatic brain injury. CBS News reported that this year "more than a dozen CIA officers" serving in multiple overseas locations have returned to the United States to seek care after such attacks. CNN reported that a National Security Council official was attacked near the Ellipse last November - walking near the White House.

All these add up to an assault on Americans abroad - and now on U.S. soil - that has eluded detection and is running unabated. Although experts have suggested the cause may be a device emitting "directed, pulsed radio frequency energy," or microwaves, nothing is known for certain, nor is it known who is carrying out the attacks, although the intelligence community considers Russia the leading suspect.

The attacks have caused real suffering. [Read more: WashingtonPost/13May2021]


---
Section IV - Research Requests, Jobs, Obituaries
Call for Papers: 2021 "Bobby R. Inman Award" for Student Scholarship on Intelligence at University of Texas, Austin
The Intelligence Studies Project of The University of Texas at Austin announces the seventh annual competition recognizing outstanding student research and writing on topics related to intelligence and national security. The winner of the "Inman Award" will receive a cash prize of $5,000, with two semifinalists each receiving a cash prize of $2,500. This competition is open to unpublished work by undergraduate and graduate students enrolled in degree programs at accredited U.S. higher education institutions during the 2020-21 academic year. The deadline for submitting papers is June 30, 2021.
The Bobby R. Inman Award recognizes more than six decades of distinguished public service by Bobby R. Inman, Admiral, U.S. Navy (Ret.). Admiral Inman served in multiple leadership positions in the U.S. military, intelligence community, private industry, and at The University of Texas. His previous intelligence posts include Director of Naval Intelligence, Vice-Director of the Defense Intelligence Agency, Director of the National Security Agency, and Deputy Director of Central Intelligence. He continues to serve as a teacher, advisor, and mentor to students, faculty members, and current government officials while occupying the Lyndon B. Johnson Centennial Chair in National Policy at the LBJ School of Public Affairs. His areas of teaching and research are focused on political, economic, and military activities, policy processes and institutions, international affairs and diplomacy, and intelligence and national security.
Additional information about the Inman Award, including submission requirements and previous winners, is available here.
Call for Papers - The Center for Cryptologic History (CCH) and the National Cryptologic Foundation (NCF) invite proposals for papers for 18th Cryptologic History Symposium, 11-13 May 2022.
The Center for Cryptologic History (CCH) and the National Cryptologic Foundation (NCF) invite proposals for papers to be presented at the 18th Cryptologic History Symposium, 11-13 May 2022. The Symposium will be held at the Johns Hopkins University Applied Physics Lab Kossiakoff Center in Laurel, Maryland. The theme for the symposium is "Icons and Innovation." Proposals are due 7 September 2021.
For more information visit the NCF or contact cchevents@nsa.gov.
Seeking Officials Who Served USSR/Russia 1965-2015 and Other Posts - with knowledge of, or exposure to, Microwave/Directed Energy Weapons
Prominent D.C. Attorney seeking former intel officers or others who served in USSR/Russia during 1965-2015, as well as anyone who has information concerning possible microwave/energy directed weapon exposure of U.S. officials by foreign adversary.
Replies to Mark S. Zaid Esq, mark@markzaid.com. Or call him at (202) 454-2809.
More information about Mr. Zaid at MarkZaid.com.
Request for Assistance Researching Clandestine Maritime Operation in Da Nang 1950s-1970s
"My old Master Chief, James "Jim" Gray and I wrote the first history of Naval Special Warfare Combatant Craft (WARBOATS, 55 Years of Naval Special Warfare Combatant Craft History) for our veterans organization the Combatant Craft Crewman Association (CCCA), now in its second printing. One of the areas that we wanted to explore in greater depth were the clandestine maritime operations based in Da Nang from the South Vietnamese and CIA period through Switchback and Military Assistance Command Vietnam-Studies and Observation Group (MACV-SOG) control and the final the American withdrawal.
We are looking for assistance with this research in particular on the CIA side, as much of the MACV-SOG documentation has been declassified and we have spoken with the SEALs and Boat Support Unit One men of Mobile Support Team 1 and the Mobile Repair Team. Our Norwegian colleague, Jan Tore Nilsen is a Senior Reserve Commander in the Norwegian Navy is researching Norwegian involvement in Vietnam and has interviewed the surviving Norwegian contractors and obtained documents and photos from them as well as obtained documents regarding acquisition and construction of the Norwegian PTF (Patrol Torpedo Fast) boats for operations in Vietnam. An old friend of mine who was an historian for the CIA suggested we contact AFIO and ask for assistance. We would greatly appreciate any assistance from AFIO members."
Replies to Phil Garn at pggarn@yahoo.com
Seeking Spy-Themed Tourism Experts and New Recruits (with IC backgrounds) for Metro D.C. area opportunity
ISO former Intelligence Officers who might be interested in getting involved in spy-themed tourism in the Washington D.C. metropolitan area.
Also interested in speaking with those who may already be involved in the tourism and travel industry elsewhere.
Please contact Rosanna Minchew at r_minchew@me.com or 571-236-9052.
Assistant Professor, Intelligence and Information Operations, Tenure Eligible - Arizona (Sierra Vista)
The University of Arizona College of Applied Science and Technology (CAST), an Office of the Director of National Intelligence (ODNI) designated Intelligence Community – Center for Academic Excellence (IC-CAE) located on the University of Arizona Sierra Vista campus, is seeking an Assistant Professor to teach undergraduate courses within the Intelligence and Information Operations (IIO) program and to lead research in the fields of Intelligence, Information warfare, and Law Enforcement Intelligence. Consistent with the Dean's vision for Programs to contribute to interdisciplinary research and educational program innovation, the Tenure-Track Assistant Professor will support the Intelligence and Information Operations Program to contribute to the College's strategy of cross-campus, national, and international multidisciplinary research, and educational initiatives. CAST is seeking candidates who can demonstrate outstanding teaching as well as the ability to develop new research programs consistent with the college's purpose, vision, and values. The Assistant Professor, Intelligence and Information Operations will contribute to building a strong team of culturally diverse faculty and staff who are committed to preparing traditional, post-traditional, and transfer students for success in a 21st-century workforce.
Outstanding UA benefits include health, dental, and vision insurance plans; life insurance and disability programs; sick leave and holidays; UA/ASU/NAU tuition reduction for the employee and qualified family members; state and optional retirement plans; access to UA recreation and cultural activities; and more!
At the University of Arizona, we value our inclusive climate because we know that diversity in experiences and perspectives is vital to advancing innovation, critical thinking, solving complex problems, and creating an inclusive academic community. As a Hispanic-serving institution and a Native American/Alaska Native-serving institution, we translate these values into action by seeking individuals who have experience and expertise working with diverse students, colleagues, and constituencies. Because we seek a workforce with a wide range of perspectives and experiences, we provide equal employment opportunities to applicants and employees without regard to race, color, religion, sex, national origin, age, disability, veteran status, sexual orientation, gender identity, or genetic information. As an Employer of National Service, we also welcome alumni of AmeriCorps, Peace Corps, and other national service programs and others who will help us advance our Inclusive Excellence initiative aimed at creating a university that values student, staff and faculty engagement in addressing issues of diversity and inclusiveness.
For more information and to apply visit this webpage.
Intelligence Analysis Visiting Faculty Position at James Madison University, Harrisonburg, VA
James Madison University (JMU) seeks applicants for a visiting faculty position in its Bachelor's Degree Program in Intelligence Analysis (IA). The appointment is for one academic year (with the possibility of renewal for a second year depending upon the Program's needs) at the Assistant or Associate Professor level. This position will reside within the larger School of Integrated Sciences. The IA program offers a multidisciplinary undergraduate degree with an emphasis on methodology and technology to prepare students to become analysts, with a specialization in intelligence analysis. Its graduates have been successful in securing positions as analysts in both the public and private sectors, to include the Intelligence Community, military and law enforcement organizations, defense contractors, and major consulting firms. The program emphasizes methodology and synthesizes critical and creative thinking methods with technological tools for data collection, visualization, and analysis with situational knowledge of a problem's political, economic, social, and technological context with strong communicative and professional skills to support decision-making.
Review of applications will begin on May 1, 2021; the search will remain open until the position is filled. Application materials should include 1) a detailed cover letter that explains how the candidate's experiences fit the position's requirements and values, and should specifically explain the applicant's views on the importance of diversity and inclusion in higher education, 2) curriculum vitae, 3) concise but specific description (no more than 2 pages) of how the candidate would approach teaching the courses from the above list (if offered the position), and 4) contact information for at least three references. Application materials must be submitted online through JMU's application system: https://joblink.jmu.edu/. To apply refer to job #F1590. Salary shall be commensurate with experience. Employment is contingent upon the successful completion of a criminal background check. Questions can be directed to the Chair of the search committee, Dr. Noel Hendrickson, at hendrinx@jmu.edu.
For a full description of Duties and Responsibilities and Qualifications sought, follow this link: https://joblink.jmu.edu/postings/8812
Program Director, National Security and Technology – Georgetown University Law Center
A new 360 Innovation Incubator at GULC will be tackling problems in four focus areas, the first of which is the NatSec Tech Program, which looks at the intersections between national security and new and emerging technologies. The National Security & Technology Program Director will lead this new program, serving as a thought leader for this increasingly important sub-field. Utilizing the Center's innovation methodology, the Program Director will help develop strategic new project ideas for the Incubator, oversee and manage those projects including all aspects of foundation grants and budgets, write grant proposals, and build new relationships and networks for the Center. In the immediate term, the Program Director will be the day to day lead manager for the Center on National Security's new Public Interest Technology grant-funded project: 360 Tech: Innovation, Security, and Governance. The project aims to identify the most critical risks posed by social media to individuals, communities, and society, and then develop and test holistic governance models to address those risks. The Program Director will be a lead member of the core team (overseen by the Executive Director) and will be responsible for managing all day to day aspects of the project, including research and writing, coordination and outreach, project management, event and workshop planning, and operations oversight.
For full description of duties, responsibilites, and qualifications, or to apply for the position, view job posting here.
Assistant Professor (tenure-stream) of International Affairs/Intelligence sought by University of Pittsburgh
The Graduate School of Public and International Affairs at the University of Pittsburgh is seeking to hire an Assistant Professor of International Affairs with a focus in intelligence matters (broadly understood). We are looking for someone who can teach on intelligence subjects in our Security and Intelligence major and contribute to our International Affairs program more generally. We welcome those trained in political science, history, and other disciplines, and are particularly interested in those with cyber or regional expertise. The deadline is March 31.

The full announcement can be read -- and application submitted -- through Pitt's Talent Center here.
THREE Faculty Openings for 2021 at Hilbert College, Hamburg, NY
Assistant Professor, Criminal Justice; Assistant Professor, Forensic Science/Crime Scene Investigation; and Assistant Professor, Intelligence & Data Analysis.
Interested candidates can view our job postings here.
---
Bruce Bixby, a CIA Technical Operations Officer
Bruce Stearns Bixby, 87, a CIA Technical Operations Officer, died 10 May 2021 in Locust grove, VA.
Bruce was born in Camden, ME and grew up in Waltham, MA. He graduated from Waltham High School and enlisted in the service where he served as a SAC B-36 aerial gunner in the U.S. Air Force during the Korean War.
In 1965 he received a B.S. in engineering from Northeastern University. For several years he worked in the Boston area at Raytheon and Sage Labs as a microwave engineer on NASA's Gemini and Apollo programs.
In 1966 he was recruited by the CIA and served 25 years as a Technical Operations Officer. He received many citations for technical skills and bravery. He was stationed with family in Athens, Greece; Frankfurt, Germany; Panama; and Miami, FL, with travel to over 50 other countries during his long career. Since his retirement at Lake of the Woods (VA), Bruce enjoyed playing golf, reading, genealogy, and socializing with friends on and off the golf course.
He is survived by a daughter, and other family.
A funeral for Bruce will be held at 10:15am on Thursday, 20 May 2021 at Johnson Funeral Home in Locust Grove, VA. A Catholic Deacon will do a short service at the Funeral Home for about 20 minutes at 11:00am. Interment with Military Honors will be a private service for the family at the Culpeper National Cemetery.
Janine Brookner, former CIA Chief of Station, Lawyer
Janine Marilyn Okun Brookner, 80, former CIA Chief of Station, Unfairly ousted, challenged Agency in court, Lawyer, died of kidney disease and cancer on 11 May 2021 in Washington, DC.
She was born in Syracuse, NY. She married soon after high school, then graduated in 1964 from Russell Sage College in Troy, NY. In 1968, she received a master's degree in Russian studies from New York University. One of her professors recommended she apply to the CIA.
For 20 years, she worked out of U.S. embassies around the world, attended diplomatic gatherings, met people and developed friendships. She had a quiet, soft-spoken manner, and was seen as not the kind of person one would expect to be a spy. Good cover.
She was regarded by her DO bosses as one of the most skilled and admired case officers, and was one of the few women out in the field, recruiting agents. Until her career was derailed in an witchhunt conducted by the Inspector General's office in the 1990s over what turned out to be false accusations (revenge) of professional misconduct.
When she was still in her 20s, on her first CIA assignment in Manila, she employed an old spy's trick of befriending bartenders, telling them to leave the gin out of her gin and tonics as she met potential sources. She also persuaded people to become undercover informants and infiltrated the Filipino Communist Party. She had an exemplary record in later postings in Thailand, Venezuela and New York, where she monitored United Nations delegations from Communist countries.
Her problems began when she was named Station Chief in Jamaica in 1989, becoming the first woman to lead a station in the Caribbean or Latin America. It was a troubled post that was, according to the CIA's own records, "a managerial nightmare." While there, she cited several senior colleagues for corrupt, drunken, threatening, illegal, or other activities. With results which her bosses called "superb" and "top notch." But in 1991, the knives were out...waiting for revenge. When she expected to take over a key post in Prague, her career came to an odd halt. Soon afterward, the CIA inspector general's office, then led by Frederick P. Hitz, began an investigation — not of the actions of the out-of-control officers in Jamaica, but of Ms. Brookner herself. Based on anonymous, outlandish claims against her, and using a system that shielded the identity of accusers.
Brookner lodged an EEO complaint against the CIA, but her claim was rejected. She then hired a lawyer, Victoria Toensing, who in 1994 filed a lawsuit alleging that Ms. Brookner had been the victim of a "pervasive atmosphere of machismo and sexual discrimination."
The Inspector General's report began to quickly unravel under the close scrutiny and fact-checking Ms Toensing and Brookner conducted. So quickly that CIA agreed to settle the case the next day with the Agency paying Brookner $410,000, plus legal fees totaling more than $250,000. She retired as part of the agreement, and the CIA made no admission of wrongdoing.
But Brookner was still haunted by the experience and wished to clear her name. In 1995, she asked the Justice Department to open a criminal investigation into the CIA, on the grounds that the case against her was "predicated on perjury" by vindictive officers from the Jamaica station.
"All the accusations made against her came from people she'd disciplined," Toensing told The Post in 2004.
Brookner appeared on ABC's "Nightline," along with other former CIA officials, calling out the agency for what she considered an ingrained culture of discrimination. The lawsuit against the Agency never proceeded.
Brookner decided to reinvent her life and attended George Washington University law school at night, graduating in 1998 at age 57. She set up a solo practice at her home in Georgetown. She represented dozens of women in gender discrimination cases against the CIA and defended whistleblowers, including two federal meat inspectors who were fired after drawing attention to widespread corruption in the Agriculture Department. She represented a gay State Department official who was declared a security risk because of his sexual orientation.
She also handled legal matters for Bonnie Hanssen, the wife of FBI agent Robert Hanssen, who was convicted of spying for Russia.
In 2004, Brookner published "Piercing the Veil of Secrecy" about how to fight the CIA and other federal agencies in court.
Her marriages to Howard Brookner and Colin Thompson, a former CIA officer, ended in divorce. Survivors include a son from her first marriage, a daughter from her second marriage, and other family.
Despite her experiences, "I really have no regrets about the CIA," she told The Washington Post. "I knew I wanted an adventurous life," she said. "And I got it."
Charles Gandy, Outstanding NSA Cryptologic Officer
Charles Lee Gandy, 89, NSA Senior Cryptologic Executive, died 12 May 2021.
Born in Homer LA, Gandy earned his first FCC radio license at age nine. Fascinated with electronics, he worked his way through college as Chief Engineer of commercial station KRUS. He graduated from Louisiana Tech and ROTC in 1955. From his first Air Force assignment to the National Security Agency in 1955 until retirement as a Senior Cryptologic Executive, Charles made significant contributions to US Signals Intelligence. His work in the field of remote collection systems was applied during the Viet Nam War where it helped save the lives of thousands of Americans. De-classified from the 1980s, Charles' leadership on the GUNMAN project is documented in "The Spy in Moscow Station." He uncovered KGB electronic spyware that compromised Embassy security for eight years. His distinguished service to our country was acknowledged in 2008 by induction into the National Security Cryptologic Hall of Honor for his work in SIGINT, Information Assurance, and Counterintelligence. He was awarded five medals for Exceptional Civilian Service from NSA, CIA, and the USAF.
His colleagues considered him a major force, with more unfathomable tricks and schemes than one would think possible. A national security treasure.
After leaving NSA, Charles continued engineering research activities as a civilian. He developed a special radar that detected breathing and heart rate for people trapped in rubble of collapsed buildings and mines. For all of his achievements, he was named an outstanding alum by the College of Engineering and Science at his alma mater. Curiosity and technical intellect remained strong throughout his long life.
Sailing was a wonderful hobby that mentally and physically engaged Charles and his wife Freda. He was befriended by many "dock rats" through his adventures on the Chesapeake, FL Keys, and in the Bahamas.
He is survived by a son, and other family.
Ken Ilgenfritz, CIA Officer
Kenneth Howard Ilgenfritz, 63, a CIA Officer, died 3 May 2021 of cancer in Potomac Falls, VA.
Ken was born in Perth Amboy, NJ and grew up in Glen Ridge, NJ. He was a graduate of Shepherd University in WV.
Ken had a distinguished 31-year career with the CIA that included war zone tours in Sarajevo, Kabul, and Baghdad, among others. He retired from the CIA in 2014. At the time of his death, he was working for Fluor Federal Solutions.
He was a longtime resident of Potomac Falls and Williamsburg, VA. Ken was a history buff, lifelong baseball fan, and lover of Golden Retrievers. He loved the beach, traveling with his wife, and attending Washington Nationals games with his family.
He is survived by his wife of 33 years, Rebecca L. Ilgenfritz, a son and a daughter.
Ray Taylor, DIA Intelligence Analyst
Raymond Gary Taylor Sr, 82, a DIA Intelligence Analyst, died 8 May 2021 in Reston, VA.
He was born in Buffalo, NY. He received a BS in geology/geography at the University of Buffalo in 1960. He served in the U.S. Army from 1961 to 1964. He spent the next 30 years as an intelligence analyst for the U.S. Defense Intelligence Agency. He was passionately interested in science, especially regarding space exploration and geology.
He is survived by his wife, Judith; two daughters, two sons, five grandchildren, a sister, and other family.
The family will receive friends from 11 a.m. until 12 p.m. on Friday, May 21, 2021 followed by a funeral service at 12 noon at Adams-Green Funeral Home.
Frank Trippett, Deputy Chief, TSD/CIA
Frank Leftwich Trippett, 70, former Deputy Chief, TSD/CIA, died of mesothelioma on 29 April 2021 in McLean, VA.
Frank was born in Greenwood, MI. As a youngster he exhibited a serious and sober demeanor combined with natural humor, qualities he showed throughout his life and which drew so many people to him. He was proud of his family's Mississippi and Ohio roots, which were the foundation of the principles by which he lived: honor, duty, and love for his country and his family.
Frank graduated from Miami University in Oxford, OH and then earned a master of arts degree at the Fletcher School of Law and Diplomacy at Tufts University. He joined the Central Intelligence Agency in 1975. He served abroad with distinction in Islamabad, Karachi, Rabat, Bucharest, Jerusalem, twice in London, and Stockholm. During his career, Frank earned three exceptional performance awards and one group meritorious citation. Upon his retirement in 2001, he was awarded the Career Intelligence Medal. Following his government service, Frank successfully pursued engagements in the private sector.
Frank was a good listener and had an abiding curiosity about the world. He could size up a situation and make sense of it through the maze of culture, language and philosophical differences that often cloud our relations with other countries. A gifted linguist, he spoke French, Italian, Romanian, and Urdu. His family accompanied him on most of his overseas tours; they too served America. Frank felt a special connection to patriotic service when the destroyer USS Leftwich, named in honor of Colonel William G. Leftwich, his father's first cousin who was killed in Vietnam, was commissioned in August 1979.
He enjoyed hiking and cycling, and created opportunities to learn something from everyone. He was proud of completing the Tour de Mont Blanc. Hiking and biking also allowed Frank to pursue his fascination with sports equipment of all kinds. He was an amusing and knowledgeable guide to gear for his less learned friends. His music ranged from old time rock and roll to Bob Dylan, the Rolling Stones, and Eric Clapton playing Robert Johnson. He was also an eclectic reader.
Frank made it a priority in his life to keep in regular contact with his friends and classmates from his early school years, his cousins in Mississippi, and his many friends and colleagues around the world. He was a faithful correspondent known for his lengthy and wry letters, emails, and sometimes surprise phone calls.
He is survived by his wife Linda, two daughters, a sister, and other family.
Joe Trombino Jr, CIA Officer
Joseph Edmundo Trombino Jr, 76, a CIA Officer, died 2 May 2021 in Hampstead, NC.
He was born in Manhattan but grew up in Staten Island, NY. Joe was a NYC Police Officer before spending two years as a sargeant in the Army with service in Germany. He then became a CIA Officer serving in the U.S. and overseas. Joe retired after a 24-year distinctive federal career. He was awarded the Intelligence Medal of Merit in recognition of many achievements.
Joe enjoyed golf, fishing, and being a ham radio enthusiast. He had been a ham radio operator for over 50 years with last call sign W2KJ. Joe was a life-long NY Yankees fan and also liked watching OU Sooner football games with his wife.
He is survived by his wife of 45 years, Barbara, a son, a daughter from a previous marriage, and other family.
---
AFIO EDUCATIONAL EVENTS IN COMING TWO MONTHS....
Thursday, 3 June 2021, noon EDT - Tampa, FL - The Florida Suncoast AFIO Chapter hosts Jeffrey Sanow on "Insider Threat & Cyber Security"
The Florida Suncoast AFIO Chapter is meeting IN PERSON at noon on Thursday, 3 June, at the offices of Bleakley, Bavol, Denman & Grace, 15316 N Florida Avenue, Tampa, FL 33613.
Jeffrey Sanow, intelligence and security expert and retired member of the Intelligence Community, will be speaking on Insider Threat & Cyber Security—very topical given the recent Colonial Pipeline ransomware incident.
The charge for the meeting is $10 cash or check, which includes a box lunch.
RSVPs including COVID health acknowledgement and food choice selection must be received by noon on Thursday, 27 May.
Questions, Registrations...contact the Chapter secretary, michaels@suncoastafio.org.
Wednesday, 30 June 2021, 12 noon - Zoom Webinar - The "Andre Le Gallo" San Francisco Chapter hosts Lt. Gen. Patrick M. Hughes, former DIA Director
Lt Gen Patrick Hughes, former Director of Defense Intelligence Agency, will address chapter on "Internal U.S. Security Concerns and Existential Threats to America."
Registration is required here to receive a zoom link.
Please contact Mariko Kawaguchi, Chapter Secretary at afiosf@aol.com for any questions.
---
Other Upcoming Events from Advertisers, Corporate Sponsors, and Others
Wed-Thurs, 19 - 20 May 2021 - Online - New Data Solutions for the China S&T Challenge - Intelligence Seminar Series - Harvard University
On Wednesday, May 19 and Thursday, May 20 at 8 a.m. EDT, join us for an online workshop hosted by Harvard Kennedy School's Belfer Center Intelligence Project, the Massachusetts Institute of Technology's Innovation Initiative, and The Center for Advanced Defense Studies.
This two-day conference will bring together practitioners from academia, industry, government, and civil society for the first time to begin charting concrete solutions to problems hindering the adoption of data into defense and intelligence awareness.
The last decade has seen dramatic alterations in the international security environment. China is seeking to dominate emergent technologies and gain advantage over the traditional liberal economies through both rapid development of domestic innovation eco-systems and large scale, organized networks for licit and illicit acquisition of foreign technologies. Activities by state and non-state actors across the world's digitized infrastructure produce ever increasing volumes of data, which can be collected, interpreted and acted upon.
Traditional intelligence collection paradigms are ill-configured for a borderless, digital age. Understanding the nature and scale of competition with China will require data collection sensors, advanced analytical tools, and data-literate analysts. It will demand innovative partnerships between industry, academia and government.
Advance registration required. Do so here.
Wednesday, 19 May 2021, noon EDT - Zoom Webinar - Curator's Corner: Dark Mirror with Barton Gellman - Virtual International Spy Museum Program
Edward Snowden touched off a global debate in 2013 when he gave Barton Gellman, Laura Poitras, and Glenn Greenwald each a vast and explosive archive of highly classified files revealing the extent of the American government's access to our every communication. They shared the Pulitzer Prize that year for public service. For Gellman, who never stopped reporting, that was only the beginning. He jumped off from what Snowden gave him to track the reach and methodology of the US surveillance state and bring it to light with astonishing new clarity. Along the way, he interrogated Snowden's own history and found important ways in which myth and reality do not line up. Join International Spy Museum Historian and Curator Andrew Hammond in conversation with Barton Gellman for a look at a true-life spy tale about the surveillance-industrial revolution and its discontents. Gellman told the story of his investigative reporting in the acclaimed 2020 book Dark Mirror: Edward Snowden and the American Surveillance State which went far beyond the unique access he had to Snowden.
Event is free but registration required. Visit www.spymuseum.org.
Wednesday, 19 May 2021, 7 pm EDT - Virtual on Zoom - "The Future of Intelligence" webinar featuring Former CIA Director John Brennan, former DD/DIA Robert Cardillo, and former PPDNI Sue Gordon, with Michael Morell, former Acting CIA Director
The Michael V. Hayden Center for Intelligence, Policy, and International Security at GMU is presenting a virtual conversation on "The Future of Intelligence." Joining them as panelists will be former deputy and acting CIA Director, Michael Morell will moderate a discussion featuring former CIA director John Brennan; Robert Cardillo, former Deputy Director of the Defense Intelligence Agency and Director of the National Geospatial-Intelligence Agency; and former Principal Deputy Director of National Intelligence Sue Gordon; and moderator Michael Morell, former Deputy/Acting CIA Director.
Full details of the conference topic and online registration are here.
Come prepared to ask questions of these newsworthy panelists.
N.B. This Hayden Center presentation will be recorded for use on their website and social media.
Wednesday, 26 May 2021, noon EDT - Zoom Webinar - Curator's Corner: Spooked with Barry Meier - Virtual International Spy Museum Program
Join International Spy Museum Historian and Curator Andrew Hammond in conversation with Barry Meier, who investigated the private spying industry for his new book SPOOKED: The Trump Dossier, Black Cube, and the Rise of Private Spies. A former New York Times investigative reporter and Pulitzer Prize-winning journalist, Meier reveals the hidden, billion-dollar industry comprised of corporate investigators - or spies-for-hire - who are paid to dig up dirt and, if need be, destroy their clients' adversaries. Politicians, companies, and dictators are all making use of these dangerously clever freelance intelligence agents. From an underground trade in hacked or purloined documents to a certain well-planted dossier (e.g. the Steele Dossier?), and the manipulated reporters assisting it all, Meier shines a light on a landscape worthy of any spy novel -- a place where loyalties are for sale, information is currency, and double crosses are commonplace.
Event is free but registration required. Visit www.spymuseum.org.
Sunday, 6 June 2021, 2-3 pm EDT - Zoom Virtual - The Cold War Museum hosts Chris Pocock on "Still Essential: The Enduring Legacy of the U-2"
The Cold War Museum invites you to attend a presentation by the world expert on the history of the U-2. When the U-2 first took off in 1955, no one involved in the top-secret project dreamed that this unique reconnaissance aircraft would still be flying today. The long story of the Dragon Lady is amazing but complex. It includes the early days overflying the Soviet Union under CIA sponsorship; the U-2's roles in the Cuba Missile Crisis and the Vietnam War; and the epic missions over Communist China, flown by nationalist pilots from Taiwan. Chris will focus on the U-2 during the Cold War period and beyond.
Cost: $20, 100% of which is a contribution to the Cold War Museum.
Location: ONLINE ONLY. Register here. Eventbrite ticket buyers will receive a link to the virtual room on the Zoom platform where this event will take place. We are videoing the whole event, including the Q&A, for the Museum's archives.
Agenda:
• 1:30-2:00 EST. Participants arrive in the Zoom room online.
• 2:00-2:05. Jason Hall, Executive Director of the Cold War Museum, introduces the Museum and Chris Pocock
• 2:05-3:00. Chris presents on the story of the U-2, from the Cold War era to its current uses.
• 3:00-3:30 Q&A opportunity for the audience.
Questions? Call or email Jason Hall, 703-283-4124 (cell), jason@coldwar.org
Wednesday, 27 October 2021, 6 - 10 pm - Washington, DC - 30th (+1) Anniversary Gala and Chancellor's Dinner - Institute of World Politics
Save the date. Current timing of this in-person celebration is:
6:00 PM Cocktail Reception
7:00 PM Dinner
9:00 PM Dessert and Dancing
Location: The Mayflower Hotel, 1127 Connecticut Ave NW, Washington, DC
Additional details to follow
*Because this is an unusual year, if you are considering attending the 30th (+1!) Anniversary Gala, please fill out this form: iwp.edu/gala-survey
Wednesday, 1 December 2021, TBD Time - Washington, DC - 2021 Webster Distinguished Service Award Event - International Spy Museum
The Spy Museum offers an evening of intrigue for the 2021 Webster Distinguished Service Award event. The award is an opportunity to recognize the extraordinary contributions of individuals in the Intelligence Community. This year's awardee is The Honorable Susan M. Gordon, former principal deputy director of national intelligence. Previous recipients of the Webster Distinguished Service Award include President George H. W. Bush (2017), Admiral William H. McRaven, USN (Ret.) (2018), and Gen. Michael V. Hayden (Ret.) (2019). Webster attendee and sponsor support fuels the nonprofit mission of educating the public about the history and craft of espionage and intelligence through youth and adult programs, community service, and the care of the Museum's unique collection of artifacts for generations to come. For tickets, sponsorship opportunities, or information about ways to support the International Spy Museum, please contact the development office at 202.654.2853. Additional details and online ticket link to follow. Visit www.spymuseum.org.
---
In addition to the new Royal Blue long sleeve shirts, and the gray long sleeve hooded sweatshirts, the AFIO Store also has the following items ready for quick shipment:
NEW: LONG and Short-Sleeved Shirts with embroidered AFIO Logo and New Mugs with color-glazed permanent logo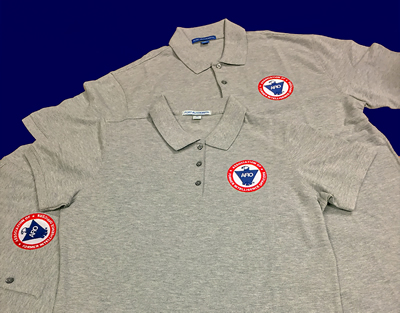 Show your support for AFIO with our new Polo Shirts. Be the first to buy these new, high quality, subtle heathered grey short sleeve shirts, and dark blue long sleeved shirts, of shrink and wrinkle resistant fine cotton with a soft yet substantial feel. They feature a detailed embroidered AFIO seal. Get a shirt for yourself and consider as gifts for colleagues, family, and friends. Only $45 each including shipping.
Sizes of (M) men or (W) women shirts; Small, Medium, Large, XL, XXL, and XXXL. At this time all orders will arrive as Short Sleeve shirts.
You may pay by check or credit card. Complete your order online here or mail an order along with payment to: AFIO, 7700 Leesburg Pike, Ste 324, Falls Church, VA 22043-2618. Phone orders at 703-790-0320. If interested in other shirt colors or sleeve lengths, contact Annette at: annettej@afio.com.



Available as a thank you for donations are the new AFIO logo face masks:
These soft, form-fitting, washable, non-medical grade fabric face masks have wide behind-the-ear elastics to make long periods of wear comfortable. Also easier to quickly put on or take off. Blue on outside, white inside. The masks do not have a nose wire but are sculpted, shaped, and sewn to fit most users. The all-cloth composition allows the masks to be washed or steam-disinfected without concerns over metal wires. The color logo is washable and a permanent part of the mask.
The masks, however, are not for sale. They are being offered strictly as a thank you gift to our donors.
For tax-deductible donations of $50 you will receive a receipt and our thank you gift of two of these newly-arrived face masks.
Donations of $100 receive four masks to be sent to the same address. Other amounts and split-shipments are available.
To donate now to support AFIO's programs and publications, please do so here.
We wish all members and donors continued good health, safe social distancing, and warmly appreciate any support you are able to provide the association.
---
AFIO Mug with color glazed logo. Made in America. Sturdy enough to sit on desk to hold pens, cards, paperclips, and candy.
This handsome large, heavy USA-made ceramic mug is dishwasher-safe with a glazed seal. $35 per mug includes shipping. Order this and other store items online here.
---
Guide to the Study of Intelligence and When Intelligence Made a Difference
"AFIO's Guide to the Study of Intelligence" has sold out in hard-copy.
However, it is available in digital form in its entirety on the AFIO website here.

Also available on the website here are the individual articles of AFIO's history project "When Intelligence Made a Difference" that have been published to date in The Intelligencer journal. More articles will be forthcoming in future editions.
---
Disclaimers and Removal Instructions
Weekly Intelligence Notes (WINs) are commentaries on Intelligence and related national security matters, based on open media sources, selected, interpreted, edited and produced for non-profit educational uses by members and WIN subscribers.
REMOVAL INSTRUCTIONS: We do not wish to add clutter to inboxes. To discontinue receiving the WINs:
a) IF YOU ARE A MEMBER - click here: UNSUBSCRIBE and supply your full name and email address where you receive the WINs. Click SEND, you will be removed from list. If this link doesn't open a blank email, create one on your own and send to afio@afio.com with the words: REMOVE FROM WINs as the subject, and provide your full name and email address where you are currently receiving them.
b) IF YOU ARE NOT A MEMBER, and you received this message, someone forwarded this newsletter to you [contrary to AFIO policies]. Forward to afio@afio.com the entire WIN or message you received and we will remove the sender from our membership and distribution lists. The problem will be solved for both of us.
CONTENTS of this WIN [HTML version recipients - Click title to jump to story or section, Click Article Title to return to Contents. This feature does not work for Plaintext Edition or for some AOL recipients]. If you wish to change to HTML format, let us know at afio@afio.com. The HTML feature also does not work for those who access their e-mail using web mail...however NON-HTML recipients may view the latest edition each week in HTML at this link: https://www.afio.com/pages/currentwin.htm
---
WINs are protected by copyright laws and intellectual property laws, and may not be reproduced or re-sent without specific permission from the Producer. Opinions expressed in the WINs are solely those of the editor's or author's listed with each article. AFIO Members Support the AFIO Mission - sponsor new members! CHECK THE AFIO WEBSITE at www.afio.com for back issues of the WINs, information about AFIO, conference agenda and registrations materials, and membership applications and much more!
(c) 1998 thru 2021. AFIO, 7700 Leesburg Pike Suite 324, Falls Church, Virginia 22043. Voice: (703) 790-0320; Fax: (703) 991-1278; Email: afio@afio.com
---
About AFIO | Membership Renewal | Change of Address | Upcoming Events | Chapter Locations | Corporate/Institutional Memberships | Academic Listings | Careers in Intelligence Booklet | Guide to the Study of Intelligence | Intelligencer Journal | Weekly Intelligence Notes | To Make A Donation | AFIO Store | Member-Only Section | Code of Ethics | Home Page
---