---
CONTENTS
Section I - INTELLIGENCE HIGHLIGHTS
Section II - CONTEXT & PRECEDENCE
Section IV - Research Requests, Jobs, Obituaries
Saturday, 26 June 2021, 11 a.m. - Indialantic/Melbourne, FL - Florida Satellite Chapter hosts Bill Prince on "The Qur'an"
Other Upcoming Events from Advertisers, Corporate Sponsors, and Others
For additional AFIO and other Events two+ months or more... Calendar of Events
WIN CREDITS FOR THIS ISSUE: The WIN editors thank the following special contributors: rsy, ec, po, pj, mh, km, gh, mk, rd, fm, kc, jm, mr, jg, th, ed, and fwr. They have contributed one or more stories used in this issue.

The WIN editors attempt to include a wide range of articles and commentary in the Weekly Notes to inform and educate our readers. However, the views expressed in the articles are purely those of the authors, and in no way reflect support or endorsement from the WIN editors or the AFIO officers and staff. We welcome comments from the WIN readers on any and all articles and commentary.

CAVEATS: IMPORTANT: AFIO does not "vet" or endorse research inquiries, career announcements, or job offers. Reasonable-sounding inquiries and career offerings are published as a service to our members, and for researchers, educators, and subscribers. You are urged to exercise your usual caution and good judgment when responding, and should verify the source independently before supplying any resume, career data, or personal information.]
If you are having difficulties with the links or viewing this newsletter when it arrives by email, members may view the latest edition each week at this link.

---

Other items brought to our attention:

High-Ranking Chinese Defector Reportedly Working With DIA Has "Direct Knowledge" of China's Bioweapons Program by Tyler Durden, Saturday, Jun 05, 2021 - 08:30 PM on ZeroHedge.

A person believed to be among the highest-ranking defectors ever to the United States from the People's Republic of China has been working with the Defense Intelligence Agency (DIA) for months. Sources tell RedState the defector has been with the DIA for three months and has provided an extensive, technically detailed debrief to US officials. In DIA's assessment, the information provided by the defector is legitimate. Sources say the level of confidence in the defector's information is what has led to a sudden crisis of confidence in Dr. Anthony Fauci, adding that U.S. Army Medical Research Institute of Infectious Diseases (USAMRIID) personnel detailed to DIA have corroborated very technical details of information provided by the defector. ... US intelligence believes China is trying to produce variants that suggest it came from bats to cover up that it originally came from a lab. The belief is still that it escaped accidentally, but was allowed to spread.
Article here

---

For CIA, protecting defectors is a daunting task Chinese defectors face assassination fears, former case officer says [By Bill Gertz - The Washington Times - Tuesday, June 1, 2021]

The CIA is quietly providing lifetime security for several hundred high-value defectors who worked secretly for the United States and fled Russia, China and other hostile states, says the former head of the CIA's defector resettlement program. Joseph Augustyn, who spent 28 years in the agency's clandestine service before retiring in 2004, said in an interview that most defectors who enter the CIA's covert security and resettlement program change their names and quietly adapt to their new lives. Those who don't enter the program risk assassination. Former Russian KGB Col. Alexander Zaporozhsky was conned by a Moscow intelligence operation into returning to Russia, where he was promptly arrested and sentenced to prison labor.
Article here...

---

AFIO: A Rich Source of Intelligence Material. Former AFIO board member Peter Oleson, who currently serves as Senior Editor of Intelligencer Journal, provided the current IAFIE Newsletter with an item on AFIO and the intelligence material it provides to its members and the U.S. public. It is a very nice piece, and we are very appreciative. We thought you would be interested in reading it. It is linked here.

---

Losing To China — New Rule by Bill Maher / HBO. Clip on YouTube. "You're not going to win the battle for the 21st century if you are a silly people. And Americans are a silly people," Maher began the monologue, alluding to a "Lawrence of Arabia" quote. Do you know who doesn't care that there's a stereotype of a Chinese man in a Dr. Seuss book? China," he said. "All 1.4 billion of them couldn't give a crouching tiger flying f--- because they're not a silly people. If anything, they are as serious as a prison fight." He stressed, "There's got to be something between an authoritarian government that tells everyone what to do and a representative government that can't do anything at all." "In two generations, China has built 500 entire cities from scratch, moved the majority of their huge population from poverty to the middle class, and mostly cornered the market in 5G and pharmaceuticals. Oh, and they bought Africa," Maher said, pointing to China's global Silk Road infrastructure initiative. The HBO star cited how it took "ten years" for a bus line in San Francisco to pass its environmental review and how it took "16 years" to build the Big Dig tunnel in Boston, comparing that to a 57-story skyscraper that China built in "19 days" and Beijing's Sanyuan Bridge, which was demolished and rebuilt in "43 hours." If you fail to see the National Security repercussions of this...that's another major problem.

To hear his "wake up and smell the tea, America!" click image below or here.

---

The Arkin Group's June 4 "In Other News" letter to private clients by former Operations Officer Jack Devine features...

As Mexicans go to the polls on June 6, Mexico's President Andrés Manuel López Obrador is counting on his high approval rating to hold on to a supermajority in Congress.
In a show of unity, New Zealand and Australia make a joint declaration noting concerns about human rights abuses in China and affirm their support for an inquiry into the origins of Covid-19.
WhatsApp and Twitter remain in dispute with the Indian government over implementing new national regulations on encryption and content.

Recently released was Jack Devine's Spymaster's Prism. AFIO's interview with him about this book appears in this issue at top of right column of this issue of the WINs. You can view the video at this link. Or hear the podcast here.

---

The Latest... from Jeff Stein's highly popular "SpyTalk" series include a few podcasts...

June 8: "Former CIA Officer: Close Guantánamo" by Gail Helt
Every drop of intelligence has been drained from the detainees, says Gail Helt. Release those cleared and transfer the 9/11 plotters to the U.S. for trial.
Article here.

June 3: "Stop Me If You've Heard This one Before" by Jeff Stein
Why are U.S. spies, generals and national security officials surprised so often?
Article here.

May 29: "Russian Cyber Swipes Expose U.S. Leadership Gap" by Ronald A. Marks
Biden's new cyber czar slot threatens to add confusion to the top
Article here

June 4: "The Gathering Storms" by Jeff Stein
This week's SpyTalk podcast features some unsettling developments
Podcast here.

May 29: "Easy Listening" by Jeff Stein
In Episode Six, "Spies in the Soup," my co-host Jeanne Meserve talks with former Homeland Security Assistant Secretary Juliette Kayyem about the mess in DHS' intelligence shop, and I interview Pulitzer winner Barry Meier about his controversial new book, Spooked: The Trump Dossier, Black Cube, and the Rise of Private Spies. Get it here or on Apple or wherever you get your podcasts.

Readers, for a brief time, can subscribe for free for articles and weekend podcasts here.

---

---

From the National Cryptologic Museum Foundation:

Did you miss some of these exciting programs? You can view them now at your leisure...

THE NCMF's #CyberChats, held virtually via their Nepris online classroom, have resumed.

Other NCF Events can be found here on NCF website here, and CCH website here.

---

GOING...GOING...GONE...

AFIO logo face masks are BEING DISCONTINUED. They will likely become COLLECTOR'S ITEMS of the "Year of the Pandemic." A few remain and are available as a thank you for donations:

These soft, form-fitting, washable, non-medical grade fabric face masks have wide behind-the-ear elastics to make long periods of wear comfortable. Also easier to quickly put on or take off. Blue on outside, white inside. The masks do not have a nose wire but are sculpted, shaped, and sewn to fit most users. The all-cloth composition allows the masks to be washed or steam-disinfected without concerns over metal wires. The color logo is washable and a permanent part of the mask.

The masks, however, are not for sale. They are being offered strictly as a thank you gift to our donors.
For tax-deductible donations of $50 you will receive a receipt and our thank you gift of two of these newly-arrived face masks.
Donations of $100 receive four masks to be sent to the same address. Other amounts and split-shipments are available.
To donate now to support AFIO's programs and publications, please do so here.

We warmly appreciate any support you are able to provide the association.

---

---

One of the special benefits of membership in AFIO: access to CIA's inhouse gift shop — the EAA Store.

It requires a quick preapproval process described here to all newly joined and current AFIO members. And then allows you to purchase online their unusual logo'd gift items for self or colleagues. Here is the latest photo EAA released on May 28 featuring some of their newest items, this time for children of officers:
---
Hold the date: AFIO National's first in-person event is scheduled for Friday 8 October 2021
Friday, 8 October 2021, 11 am - 2 pm - In-Person Tysons Corner, VA - AFIO Luncheon featuring David Ignatius on "The Paladin" and Stephen Vogel on Traitor George Blake.
FOR YOUR CALENDAR. The first in-person AFIO National Luncheon for 2021 will take place on Friday, 8 October at DoubleTree Hotel, Tysons Corner. Event will feature David Ignatius discussing "The Paladin" or possibly another topic TBA. And the morning speaker, Stephen Vogel, discussing "Betrayal in Berlin" and traitor George Blake.
TO REGISTER: Registration link forthcoming.
VENUE: DoubleTree by Hilton, 1960 Chain Bridge Rd, Tysons Corner, VA 22182 Phone: (703) 893-2100. Directions at this link.
---
---
AFIO Now program released to AFIO members-only last week...

The Stasi Remains Deeply Embedded and in Power in Post-Unified Germany


Released 1 June 2021

Ralph Hope, Former FBI Special Agent

on his book: The Grey Men: Pursuing the Stasi into the Present

Interview of Friday, 16 April 2021 of Ralph Hope, former FBI Special Agent, on the release of his new book: The Grey Men: Pursuing the Stasi into the Present.
Host-Interviewer: James Hughes, AFIO President; a former CIA Operations Officer.

TOPIC: Ralph Hope and Jim Hughes discuss the odd and often chilling post-Germany unification that left many members of the Stasi still in power or influential, able to access, hide, or destroy evidence, and relatively unpunished. Hope analyzes the German code of secrecy that protects and shrouds many of those with Stasi backgrounds in the newly reunited Germany up to the present. He also draws parallels with the danger that comes from any political or social group that insists on a single point of view, refuses to allow free speech, demands control of words and expressions, and seeks to alter history. A warning for the U.S., China, and many other countries.
The presentation runs 29 minutes.

Access the Hope intervew here or click above image.

---

Prior Videos in the "AFIO Now" Series

View the publicly-released ones on our YouTube page

or log into the Member-only area to view private and public interviews.

---

PODCASTS: AFIO NOW is also available on 8 podcasting platforms. Search for 'AFIO Podcast' for a selection of the interviews above (public released ones) on Podbean; iTunes; Google; Spotify; Amazon Music; Amazon TuneIn + Alexa; iHeartRadio; and Pandora.

---

---

---

Position Available at AFIO National

Work at AFIO National. AFIO is seeking to fill the following position in our McLean-Tysons-Falls Church, VA offices:

DIRECTOR OF MEMBERSHIP

Part-time position; hourly pay rate. Work hours daily Monday through Friday. Maximum number of monthly work hours is 140.

Memberships: Maintain AFIO membership database, to include processing information changes, membership renewals, and new membership applications; produce membership data statistics. Serve as the liaison between corporate members and AFIO chapters and the Board of Directors. Provide annual roster verification and recruitment support for AFIO chapters. Responsible for monthly invoicing cycle and membership renewal cards and welcome package mailings. Perform targeted mass mailings at intervals throughout the year. Process donations and work with the Events Coordinator to prepare notes of appreciation and to pack/ship thank you gifts.
Office/Office Systems: Order, maintain inventory of, and label office supplies; organize storeroom and office reception space. Responsible for all office systems: computers, server, phones, internet including backups; provide technical support to other office personnel. Work with IT contractor to ensure up-to-date hardware, software, and office equipment (postage meter, copier, folder/inserter).
Store Sales: Maintain inventory of store merchandise. Process all incoming store item orders. Pack and ship merchandise orders.
Phone/Emails/Visitors/Admin: Respond promptly to all phone calls, emails, mailed correspondence, and in-person visits. Code and process all check payments and prepare monthly bank deposit.
Events/Board Meetings: Create online registration form for events. Process all incoming event registrations. Work with Events Coordinator to answer questions pertaining to events. Provide onsite service to include setup and operation of AFIO audio/visual equipment; coordinate with speakers and hotel staff on IT issues. Provide onsite support at quarterly Board meetings, take meeting notes and prepare draft minutes.

To apply, or arrange an interview, or for additional information, contact Annette Janak at AnnetteJ@afio.com
---
---
Newly Released, Overlooked, or Forthcoming Books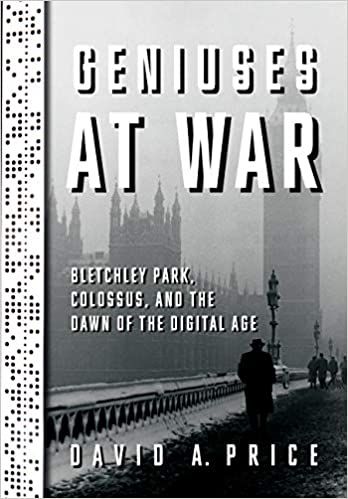 Geniuses at War: Bletchley Park, Colossus, and the Dawn of the Digital Age
by David A. Price
(Knopf Publishing Group, June 2021)
"David Price has produced the riveting story of how a team of colorful geniuses in Bletchley Park, England broke the most secure German World War II codes. The tale of Alan Turing and the Enigma machine is well known, but Price describes the very secret code-breaking project that Turing and his colleagues tackled later in the war, which involved building the world's first electronic computer. Thus was the digital age born." —Walter Isaacson, author of The Innovators
"World War II opened two legendary gateways to the modern age: Los Alamos and Bletchley Park. A declassified report on the construction of the atomic bomb was released just six days after Hiroshima, while the Official Secrets Act lingered for thirty years over the codebreaking at Bletchley Park. David Price has distilled the available knowledge into an authoritative yet fast-paced account, lending the characters behind Colossus a voice that was silenced for far too long." —George Dyson, author of Turing's Cathedral
"[Price] weaves a superb narrative, at once compelling and relatable. . . . Incredibly well-written and well-researched, this fast-paced book reads like a novel. Highly recommended to readers with an interest in World War II and 20th-century history, as well as anyone looking for an exciting story of code breaking and intrigue." —Library Journal (starred)
"Fresh. . . . Page-turning. . . . Price delivers a fascinating account of the problems Flowers and his team overcame before the massive machine called Colossus arrived. . . . He tells a terrific story. An entertaining history of brilliant minds at work against the Nazi behemoth." —Kirkus Reviews (starred)
Book may be ordered here.
---
The Grey Men: Pursuing the Stasi into the Present
by Ralph Hope
(Oneworld Publications, June 2021)
What do you do with a hundred thousand idle spies?
By 1990 the Berlin Wall had fallen and the East German state security service folded. For forty years, they had amassed more than a billion pages in manila files detailing the lives of their citizens. Almost a hundred thousand Stasi employees, many of them experienced officers with access to highly personal information, found themselves unemployed overnight.
This is the story of what they did next.
Former FBI agent Ralph Hope uses present-day sources and access to Stasi records to track and expose ex-officers working everywhere from the Russian energy sector to the police and even the government department tasked with prosecuting Stasi crimes. He examines why the key players have never been called to account and, in doing so, asks if we have really learned from the past at all. He highlights a man who continued to fight the Stasi for thirty years after the Wall fell, and reveals a truth that many today don't want spoken.
The Grey Men comes as an urgent warning from the past at a time when governments the world over are building an unprecedented network of surveillance over their citizens. Ultimately, this is a book about the present.
Book may be ordered here.
---
Surviving Katyń: Stalin's Polish Massacre and the Search for Truth
by Jane Rogoyska
(Oneworld Publications, June 2021)
The Katyń Massacre of 22,000 Polish prisoners of war is a crime to which there are no witnesses. Committed in utmost secrecy in April–May 1940 by the NKVD on the direct orders of Joseph Stalin, for nearly fifty years the Soviet regime succeeded in maintaining the fiction that Katyń was a Nazi atrocity, their story unchallenged by Western governments fearful of upsetting a powerful wartime ally and Cold War adversary. Surviving Katyń explores the decades-long search for answers, focusing on the experience of those individuals with the most at stake – the few survivors of the massacre and the Polish wartime forensic investigators—whose quest for the truth in the face of an inscrutable, unknowable, and utterly ruthless enemy came at great personal cost.
"...vividly recreates the last months of the officers – artists, scientists, engineers and poets as well as career military men – who were initially held at three special camps run by the NKVD." — Sunday Times
"...offers a riveting story of the crime, the cover-up and the search for the truth, which is far from over even today. In bringing the story of Katyń up to date, Rogoyska helps us understand not only the crimes of the past but also the political manipulations of the present. — Serhii Plokhy, the author of Chernobyl and Forgotten Bastards of the Eastern Front: An Untold Story
Book may be ordered here.
---
Visit, Follow, Subscribe to AFIO's LinkedIn, Twitter, and YouTube pages to receive updates.
Members who use social media or wish to explore, will find new announcements and other material on AFIO's Twitter and LinkedIn pages. New videos on our YouTube page appears below as well.
Access them here: LinkedIn, Twitter, and YouTube. By following or subscribing on those sites, one can be notified as new material appears.




NEW — PODCASTS: Our new social media expert has been busy! Are you too busy to sit and watch an entire "AFIO Now" episode above on YouTube? Would you rather listen in your car or while accomplishing other tasks? Now you can quickly download or stream episodes on your favorite podcasting platform. AFIO is now available on 8 podcasting platforms. Search for 'AFIO Podcast' for a selection of the interviews above (public released ones) on Podbean; iTunes; Google; Spotify; Amazon Music; Amazon TuneIn + Alexa; iHeartRadio; and Pandora.
---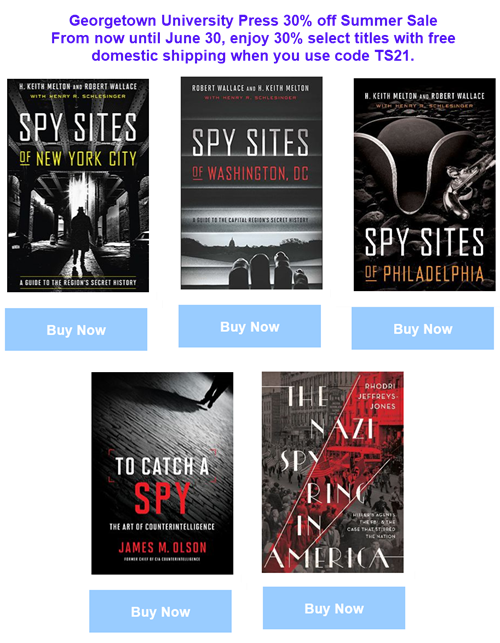 ---
Writers, Officers: Please Provide A Brief Article for This Ongoing AFIO History Project
AFIO's educational project "When Intelligence Made a Difference" seeks writers to identify events throughout history involving any nation or organization when the outcome was affected significantly by intelligence.
AFIO has been publishing edited submissions serially in Intelligencer released two to three times a year.
To see what has been published, it is available here. Also look at the Winter-Spring edition of the journal arriving in the mail of all members and subscribers over the next three weeks.
Those readers interested in contributing an article, should email peter.oleson@afio.com.
For instructors, this project makes a great class assignment. Accepted articles give students a publication credit in a recognized journal.
---
Guide to the Study of Intelligence and When Intelligence Made a Difference
"AFIO's Guide to the Study of Intelligence" has sold out in hard-copy.
However, it is available in digital form in its entirety on the AFIO website here.

Also available on the website here are the individual articles of AFIO's history project "When Intelligence Made a Difference" that have been published to date in The Intelligencer journal. More articles will be forthcoming in future editions.
---
---
Section I - INTELLIGENCE HIGHLIGHTS

Former NSDC Official Spied for Foreign Intelligence Agency - Ukraine. Ukraine's SBU State Security Service has exposed a former official of the National Security and Defense Council (NSDC) who was recruited by a foreign intelligence agency, the SBU's press service has told Ukrinform.

"According to the counterintelligence of the Security Service of Ukraine, investigators approved a suspicion notice under Part 1 of Article 111 of the Criminal Code of Ukraine for a former official with a permit under Form 2 of the Presidential Administration and the National Security and Defense Council," the press service said.

SBU operatives found that the official had been collecting and passing information to curators for a long time, including classified information. [Read more: Ukrinform/8June2021]

Syracuse University Intelligence Community Center for Academic Excellence Awards Downey Scholarships to 13 Students. The Syracuse University Intelligence Community Center for Academic Excellence (SU ICCAE) has awarded Downey Scholarships to a group of 13 undergraduate, graduate and law students. The $1,500 award recognizes academic excellence, commitment to public service and potential to bring diverse and distinctive backgrounds and experiences to the U.S. Intelligence Community (IC).

As a designated U.S. Intelligence Community Center for Academic Excellence, Syracuse University is part of the congressionally mandated program funded by the U.S. Office of the Director of National Intelligence, which partners with universities to increase the diversity of the U.S. intelligence workforce. The ICCAE offers undergraduate and graduate students unique coursework as well as programmatic and training opportunities to prepare for careers in any of the 17 IC agencies.

The Downey Scholarship is named for John "Jack" Downey, who was one of the first CIA paramilitary officers who distinguished himself under duress. In 1952, while on a clandestine mission during the Korean War, Downey's aircraft was shot down in Manchuria, and he was imprisoned in China for 21 years. Downey, who later became a Superior Court judge, earned the Distinguished Intelligence Cross, the CIA's highest award for valor. [Read more: Haley/SyracuseUniversity/4June2021]

Senior Iraqi Intelligence Officer Assassinated in Baghdad. A senior Iraqi intelligence officer was shot dead near his home east of Baghdad on Monday, according to state media.

This is the latest in a wave of targeted killings that has swept the country in recent years.

Col Nebras Shaban was assistant director of the Intelligence Service's Monitoring Department, according to local news reports.

"Unidentified gunmen opened fire on the officer in the Al Baladiyat area, east of Baghdad early on Monday. He died immediately,"Iraq's state-run National Iraqi News Agency said quoting a security source. [Read more: Alroubi/TheNational/7June2021]

'Trojan Horse'? Security Fears Drive Protests Against Plans for a Chinese University in Hungary. China's Fudan University, which will host international and domestic students, will be built in Budapest and will become the first Chinese university in Europe.

The plans were approved in April by Hungarian Prime Minister Viktor Orban and are being promoted as a gesture of friendship by both Hungary and China, who already enjoy close diplomatic ties. Indeed, Prime Minister Orban has increasingly tilted toward China - and Russia - in recent years as part of his "Eastern Opening" strategy to increase cooperation on issues like trade.

But the university, set to open in 2024, is proving immensely unpopular in Hungary, with two-thirds of Hungarians opposed to it, according to liberal think tank Republikon Institute.

Many of them spilled onto the streets of Budapest on Saturday in their thousands rounding on the populist-led government. [Read more: Trian/France24/8June2021]


---
Section II - CONTEXT & PRECEDENCE

Public Attitudes on U.S. Intelligence in 2020. The Chicago Council on Global Affairs recently published the results from the fourth round of an annual poll sponsored by the University of Texas at Austin's Intelligence Studies Project that seeks to shed light on Americans' perceptions of U.S. intelligence agencies. The data from summer 2020 - along with selected graphics, a summary of the survey history and methodology, and related policy analysis - is available here.

The most recent survey reaffirmed Americans' broad-based belief that U.S. intelligence agencies are vital to protecting the nation and effective in accomplishing their core missions. This round of polling was the last conducted during Donald Trump's presidency. The high levels of public support for the intelligence community (IC) recorded over the life of this project have proved stable and remarkably resilient to the persistent public criticism by the former president and his political allies.

We argue that close examination of the survey data could help inform a strategy aimed at further enhancing the IC's democratic legitimacy through increased openness and renewed public engagement. [Read more: Lawfare/7June2021]

C.I.A. Scrambles for New Approach in Afghanistan. The rapid U.S. military withdrawal from Afghanistan is creating intense pressure on the C.I.A. to find new ways to gather intelligence and carry out counterterrorism strikes in the country, but the agency has few good options.

The C.I.A., which has been at the heart of the 20-year American presence in Afghanistan, will soon lose bases in the country from where it has run combat missions and drone strikes while closely monitoring the Taliban and other groups such as Al Qaeda and the Islamic State. The agency's analysts are warning of the ever-growing risks of a Taliban takeover.

United States officials are in last-minute efforts to secure bases close to Afghanistan for future operations. But the complexity of the continuing conflict has led to thorny diplomatic negotiations as the military pushes to have all forces out by early to mid-July, well before President Biden's deadline of Sept. 11, according to American officials and regional experts.

One focus has been Pakistan. [Read more: Mazzetti&Barnes/NYTimes/6June2021]

On His Majesty's Secret Service: The Forgotten Spy Who Made D-Day Happen. The forgotten story of a WWII Polish spy who played a key role in the success of the Allies' Operation D-Day has been brought to light following the release of declassified British Intelligence documents.

Initially spying for Poland, then Britain and then pretending to spy for Germany while instead working for the Allies, during his extraordinary undercover life Roman Czerniawski had not only been a secret agent, he had also been a double and triple agent.

The forgotten story of a WWII Polish spy who played a key role in the success of the Allies' Operation D-Day has been brought to light following the release of declassified British Intelligence documents.

Initially spying for Poland, then Britain and then pretending to spy for Germany while instead working for the Allies, during his extraordinary undercover life Roman Czerniawski had not only been a secret agent, he had also been a double and triple agent. [Read more: Konopa/TheFirstNews/8June2021]

How the CIA Went on the Hunt for Soviet Drifting Ice Stations in the Arctic. On May 28, 1962, two Americans parachuted from a B-17 Flying Fortress bomber and landed on Severny Polyus-8 (North Pole-8, or NP-8), an abandoned Soviet research station drifting on an ice floe in the Arctic Ocean. This was the start of one of the CIA's most unusual operations, which went down in history under the codename 'Operation Coldfeet'.

A drifting station was only of any use to Soviet polar explorers up to the moment the ice floe it was on began to disintegrate. At that point, the scientists would be urgently evacuated and the abandoned station would continue to drift in the ocean until its final destruction.

In the early 1960s, the CIA and the Office of Naval Research of the United States Department of the Navy launched a real hunt for abandoned Soviet stations. It was believed there was equipment for the acoustic detection of American submarines installed on them. [Read more: Egorov/RussiaBeyond/8June2021]


---
Peeking Behind the Iron Curtain: National Intelligence Estimates and the Soviet Space Program. During the Cold War, the US intelligence community had a vast array of intelligence assets collecting information about the Soviet space program, from satellites to listening posts to radars pointed into space. Information was gathered up and processed and combined and then turned into products for decision makers. One of the major focuses at the time was the Soviet manned lunar landing program. American intelligence analysts had determined by around 1967 that the Soviet program, based on its huge N1 rocket, was not competitive with Apollo. Nevertheless, analysts in the US intelligence community maintained close tabs on Soviet space progress and regularly reported their assessments in a regular series of highly secret documents known as National Intelligence Estimates (NIEs). Now, new versions of several NIEs on the Soviet space program produced during the height of the space race have been released, and they shed further light on what the Soviets were doing, as well as some of the sources and methods used by the US intelligence community to keep tabs on their activities. [Read more: Day/TheSpaceReview/7June2021]

Security Clearance Demands are Exploding and Government Must Keep Up. Costly security breaches, including the SolarWinds attack and the Colonial Pipeline ransomware scheme, are an increasing threat to national security. The federal government's frontline defense is a combination of public sector civil servants and private sector contractors who, together, protect both the online and bricks and mortar assets of our nation.

The sensitive nature of our nation's security demands that most members of this workforce undergo a robust security clearance process to ensure they are able and willing to safeguard the nation and its national security information and assets.

The United States, however, is at a critical inflection point. The number of individuals with a security clearance has plummeted 17% since 2013 - igniting fierce competition between government and private sector partners for cleared talent. Moreover, ubiquitous over sharing on social media, the crazy quilt of state and local drug laws and structural racism built into the security clearance process can make it difficult, to nearly impossible to recruit and expeditiously hire the next generation of our national security workforce. [Read more: Connolly/FCW/7June2021]

Why the China - Russia Relationship Should Worry You - Part One. In 1937, Winston Churchill contrasted the "two rival religions" of Nazism and Communism then afflicting the world. Those fascist and communist "infernal twins", he wrote, "imagine themselves as exact opposites" but are, in fact "similar in all essentials", breeding in reaction to each other. Today's 'infernal twins' - China and Russia - are ostensible great power rivals united by a common adversary. On the face of it, these communist and post-communist authoritarian states are unlikely allies with often conflicting interests. And they are in differing places strategically. One sees itself as an expanding power assuming its rightful, dominant place in the global order. The other is a revisionist state, seeking to restore strength and influence lost with the collapse of empire. Yet, according to the US National Intelligence Council (NIC), China and Russia are "likely to remain strongly aligned as long as (Vladimir) Putin and XI (Jinping) remain in power." They have, the NIC judged, formed a "comprehensive strategic partnership of coordination". Putin and XI, as President Biden said in comparing the two, share a belief that "that an autocracy is the wave of the future and democracy can't function" in a complex world. What they are most united in is a belief that the American giant that has heretofore impeded their respective aspirations is now in a weakened state, plagued by political divides and societal rifts at home while projecting uncertain leadership abroad. Like sharks that smell blood in the water, these allies of convenience sense opportunity in perceived American vulnerability. Accordingly, Beijing and Moscow are subordinating potential points of friction between them such as competition for influence in Central Asia and resources in the Arctic to advance their common goals of confounding American policy and diminishing Washington's role in the world. [Read more: Kelton/TheCipherBrief/8June2021]


---
Section IV - Research Requests, Jobs, Obituaries
ISO former CIA officers w/ Czech experience
I'm the daughter of Dagmar Stapleton who worked on the Czech desk from around '74 to '94. Am hoping to talk with former Prague case officers, station chiefs, deputy station chiefs from that time period for a research project.
Please contact me at viveca.novak@gmail.com. [Viveca Novak is an American journalist who has worked as the editorial and communications director at the Center for Responsive Politics since 2011. She was previously a Washington correspondent for Time and The Wall Street Journal. She is a frequent guest on CNN, NBC, PBS, and Fox.]
Researcher Seeking Your Experiences Working in Western North Carolina on DoD/NSA Rosman Research Station in 1980s.
I'm Craig Gralley, a 34-year veteran of CIA and currently a freelance writer in the Brevard, NC area. I'm also a volunteer at PARI - the Pisgah Astronomical Research Institute in nearby Rosman. PARI is now dedicated to STEM education and research, but has had a storied history that is largely unknown to the people of this mostly underserved area of rural North Carolina. I have volunteered to write PARI's history. NASA first constructed the site in 1962 as a ground station for a variety of unmanned scientific satellites. AFIO members might remember when DoD/NSA took over the site in 1981 and called it the Rosman Research Station (NSA's participation at the site was declassified nearly a decade ago). NSA gave up the site in 1995.
I am receiving NSA's support through a FOIA request to declassify more information about the facility. My goal is to make this history less about satellites and their capabilities and more about what it was like working in a remote location in western North Carolina. Personal stories, things that could have gone wrong but didn't (or did), success stories—humorous/serious anecdotes—all of it is welcome. My goal is to take the edge off of a dry history and give the Rosman ground station a human face.
I'd be glad to attribute anything that comes to me in the way desired by the contributor.
Thanks for your help.
REPLIES to Craig R. Gralley, 703.581.3440 (mobile), craig.gralley@gmail.com. More about Craig at www.craiggralley.com
Call for Papers: 2021 "Bobby R. Inman Award" for Student Scholarship on Intelligence at University of Texas, Austin
The Intelligence Studies Project of The University of Texas at Austin announces the seventh annual competition recognizing outstanding student research and writing on topics related to intelligence and national security. The winner of the "Inman Award" will receive a cash prize of $5,000, with two semifinalists each receiving a cash prize of $2,500. This competition is open to unpublished work by undergraduate and graduate students enrolled in degree programs at accredited U.S. higher education institutions during the 2020-21 academic year. The deadline for submitting papers is June 30, 2021.
The Bobby R. Inman Award recognizes more than six decades of distinguished public service by Bobby R. Inman, Admiral, U.S. Navy (Ret.). Admiral Inman served in multiple leadership positions in the U.S. military, intelligence community, private industry, and at The University of Texas. His previous intelligence posts include Director of Naval Intelligence, Vice-Director of the Defense Intelligence Agency, Director of the National Security Agency, and Deputy Director of Central Intelligence. He continues to serve as a teacher, advisor, and mentor to students, faculty members, and current government officials while occupying the Lyndon B. Johnson Centennial Chair in National Policy at the LBJ School of Public Affairs. His areas of teaching and research are focused on political, economic, and military activities, policy processes and institutions, international affairs and diplomacy, and intelligence and national security.
Additional information about the Inman Award, including submission requirements and previous winners, is available here.
Call for Papers - The Center for Cryptologic History (CCH) and the National Cryptologic Foundation (NCF) invite proposals for papers for 18th Cryptologic History Symposium, 11-13 May 2022.
The Center for Cryptologic History (CCH) and the National Cryptologic Foundation (NCF) invite proposals for papers to be presented at the 18th Cryptologic History Symposium, 11-13 May 2022. The Symposium will be held at the Johns Hopkins University Applied Physics Lab Kossiakoff Center in Laurel, Maryland. The theme for the symposium is "Icons and Innovation." Proposals are due 7 September 2021.
For more information visit the NCF or contact cchevents@nsa.gov.
Seeking Officials Who Served USSR/Russia 1965-2015 and Other Posts - with knowledge of, or exposure to, Microwave/Directed Energy Weapons
Prominent D.C. Attorney seeking former intel officers or others who served in USSR/Russia during 1965-2015, as well as anyone who has information concerning possible microwave/energy directed weapon exposure of U.S. officials by foreign adversary.
Replies to Mark S. Zaid Esq, mark@markzaid.com. Or call him at (202) 454-2809.
More information about Mr. Zaid at MarkZaid.com.
Request for Assistance Researching Clandestine Maritime Operation in Da Nang 1950s-1970s
"My old Master Chief, James "Jim" Gray and I wrote the first history of Naval Special Warfare Combatant Craft (WARBOATS, 55 Years of Naval Special Warfare Combatant Craft History) for our veterans organization the Combatant Craft Crewman Association (CCCA), now in its second printing. One of the areas that we wanted to explore in greater depth were the clandestine maritime operations based in Da Nang from the South Vietnamese and CIA period through Switchback and Military Assistance Command Vietnam-Studies and Observation Group (MACV-SOG) control and the final the American withdrawal.
We are looking for assistance with this research in particular on the CIA side, as much of the MACV-SOG documentation has been declassified and we have spoken with the SEALs and Boat Support Unit One men of Mobile Support Team 1 and the Mobile Repair Team. Our Norwegian colleague, Jan Tore Nilsen is a Senior Reserve Commander in the Norwegian Navy is researching Norwegian involvement in Vietnam and has interviewed the surviving Norwegian contractors and obtained documents and photos from them as well as obtained documents regarding acquisition and construction of the Norwegian PTF (Patrol Torpedo Fast) boats for operations in Vietnam. An old friend of mine who was an historian for the CIA suggested we contact AFIO and ask for assistance. We would greatly appreciate any assistance from AFIO members."
Replies to Phil Garn at pggarn@yahoo.com
Seeking Spy-Themed Tourism Experts and New Recruits (with IC backgrounds) for Metro D.C. area opportunity
ISO former Intelligence Officers who might be interested in getting involved in spy-themed tourism in the Washington D.C. metropolitan area.
Also interested in speaking with those who may already be involved in the tourism and travel industry elsewhere.
Please contact Rosanna Minchew at r_minchew@me.com or 571-236-9052.
Assistant Professor, Intelligence and Information Operations, Tenure Eligible - Arizona (Sierra Vista)
The University of Arizona College of Applied Science and Technology (CAST), an Office of the Director of National Intelligence (ODNI) designated Intelligence Community – Center for Academic Excellence (IC-CAE) located on the University of Arizona Sierra Vista campus, is seeking an Assistant Professor to teach undergraduate courses within the Intelligence and Information Operations (IIO) program and to lead research in the fields of Intelligence, Information warfare, and Law Enforcement Intelligence. Consistent with the Dean's vision for Programs to contribute to interdisciplinary research and educational program innovation, the Tenure-Track Assistant Professor will support the Intelligence and Information Operations Program to contribute to the College's strategy of cross-campus, national, and international multidisciplinary research, and educational initiatives. CAST is seeking candidates who can demonstrate outstanding teaching as well as the ability to develop new research programs consistent with the college's purpose, vision, and values. The Assistant Professor, Intelligence and Information Operations will contribute to building a strong team of culturally diverse faculty and staff who are committed to preparing traditional, post-traditional, and transfer students for success in a 21st-century workforce.
Outstanding UA benefits include health, dental, and vision insurance plans; life insurance and disability programs; sick leave and holidays; UA/ASU/NAU tuition reduction for the employee and qualified family members; state and optional retirement plans; access to UA recreation and cultural activities; and more!
At the University of Arizona, we value our inclusive climate because we know that diversity in experiences and perspectives is vital to advancing innovation, critical thinking, solving complex problems, and creating an inclusive academic community. As a Hispanic-serving institution and a Native American/Alaska Native-serving institution, we translate these values into action by seeking individuals who have experience and expertise working with diverse students, colleagues, and constituencies. Because we seek a workforce with a wide range of perspectives and experiences, we provide equal employment opportunities to applicants and employees without regard to race, color, religion, sex, national origin, age, disability, veteran status, sexual orientation, gender identity, or genetic information. As an Employer of National Service, we also welcome alumni of AmeriCorps, Peace Corps, and other national service programs and others who will help us advance our Inclusive Excellence initiative aimed at creating a university that values student, staff and faculty engagement in addressing issues of diversity and inclusiveness.
For more information and to apply visit this webpage.
Intelligence Analysis Visiting Faculty Position at James Madison University, Harrisonburg, VA
James Madison University (JMU) seeks applicants for a visiting faculty position in its Bachelor's Degree Program in Intelligence Analysis (IA). The appointment is for one academic year (with the possibility of renewal for a second year depending upon the Program's needs) at the Assistant or Associate Professor level. This position will reside within the larger School of Integrated Sciences. The IA program offers a multidisciplinary undergraduate degree with an emphasis on methodology and technology to prepare students to become analysts, with a specialization in intelligence analysis. Its graduates have been successful in securing positions as analysts in both the public and private sectors, to include the Intelligence Community, military and law enforcement organizations, defense contractors, and major consulting firms. The program emphasizes methodology and synthesizes critical and creative thinking methods with technological tools for data collection, visualization, and analysis with situational knowledge of a problem's political, economic, social, and technological context with strong communicative and professional skills to support decision-making.
Review of applications will begin on May 1, 2021; the search will remain open until the position is filled. Application materials should include 1) a detailed cover letter that explains how the candidate's experiences fit the position's requirements and values, and should specifically explain the applicant's views on the importance of diversity and inclusion in higher education, 2) curriculum vitae, 3) concise but specific description (no more than 2 pages) of how the candidate would approach teaching the courses from the above list (if offered the position), and 4) contact information for at least three references. Application materials must be submitted online through JMU's application system: https://joblink.jmu.edu/. To apply refer to job #F1590. Salary shall be commensurate with experience. Employment is contingent upon the successful completion of a criminal background check. Questions can be directed to the Chair of the search committee, Dr. Noel Hendrickson, at hendrinx@jmu.edu.
For a full description of Duties and Responsibilities and Qualifications sought, follow this link: https://joblink.jmu.edu/postings/8812
Program Director, National Security and Technology – Georgetown University Law Center
A new 360 Innovation Incubator at GULC will be tackling problems in four focus areas, the first of which is the NatSec Tech Program, which looks at the intersections between national security and new and emerging technologies. The National Security & Technology Program Director will lead this new program, serving as a thought leader for this increasingly important sub-field. Utilizing the Center's innovation methodology, the Program Director will help develop strategic new project ideas for the Incubator, oversee and manage those projects including all aspects of foundation grants and budgets, write grant proposals, and build new relationships and networks for the Center. In the immediate term, the Program Director will be the day to day lead manager for the Center on National Security's new Public Interest Technology grant-funded project: 360 Tech: Innovation, Security, and Governance. The project aims to identify the most critical risks posed by social media to individuals, communities, and society, and then develop and test holistic governance models to address those risks. The Program Director will be a lead member of the core team (overseen by the Executive Director) and will be responsible for managing all day to day aspects of the project, including research and writing, coordination and outreach, project management, event and workshop planning, and operations oversight.
For full description of duties, responsibilites, and qualifications, or to apply for the position, view job posting here.
Assistant Professor (tenure-stream) of International Affairs/Intelligence sought by University of Pittsburgh
The Graduate School of Public and International Affairs at the University of Pittsburgh is seeking to hire an Assistant Professor of International Affairs with a focus in intelligence matters (broadly understood). We are looking for someone who can teach on intelligence subjects in our Security and Intelligence major and contribute to our International Affairs program more generally. We welcome those trained in political science, history, and other disciplines, and are particularly interested in those with cyber or regional expertise. The deadline is March 31.

The full announcement can be read -- and application submitted -- through Pitt's Talent Center here.
THREE Faculty Openings for 2021 at Hilbert College, Hamburg, NY
Assistant Professor, Criminal Justice; Assistant Professor, Forensic Science/Crime Scene Investigation; and Assistant Professor, Intelligence & Data Analysis.
Interested candidates can view our job postings here.
---
John Ricciardi, Career CIA Officer
John Francis Ricciardi, 82, a career CIA Officer, died 27 May 2021 in Fairfax, VA.
He was a US Navy veteran who went on to serve CIA for 45 years.
He was an avid amateur photographer, motorcycle rider, lover of all things Canadian, Sign Language Interpreter for the deaf at various churches and the Agency, and a humorist.
He is survived by his companion of 30 years, Ruby Agne, by a brother, and other family.
Join the family on 12 June 2021 at Murphy Funeral Home, 4510 Wilson Blvd, Arlington, VA at 11:30 a.m. for a gathering followed by a memorial service at 12:30 p.m. Condolences may be express online here.
---
AFIO EDUCATIONAL EVENTS IN COMING TWO MONTHS....
Saturday, 26 June 2021, 11 a.m. - Indialantic/Melbourne, FL - Florida Satellite Chapter hosts Bill Prince on "The Qur'an"
The Florida Satellite AFIO Chapter is meeting in person to hear Bill Prince, West Point graduate, Army Ranger, and CIA case officer, speaking on "Everything You Wanted to Know About the Qur'an But Were Afraid to Ask"
A sit down lunch will be served. Cost $30.00.
Event will start at 11:00 AM at the Hilton Doubletree Suites, 1665 N Highway A1A, Indialantic, Fl 32903. Location and Directions via Google Maps.
Prepaid reservations are required and must be received by 19 June 2021. Please mail to Treasurer Rhonda Rhoads, PO Box 410158, Melbourne, Fl, 32941.
Questions? Rhonda can be reached at afiofstreas@gmail.com or 321-626-4465.
Wednesday, 30 June 2021, 12 noon - Zoom Webinar - The "Andre Le Gallo" San Francisco Chapter hosts Lt. Gen. Patrick M. Hughes, former DIA Director
Lt Gen Patrick Hughes, former Director of Defense Intelligence Agency, will address chapter on "Internal U.S. Security Concerns and Existential Threats to America."
Registration is required here to receive a zoom link.
Please contact Mariko Kawaguchi, Chapter Secretary at afiosf@aol.com for any questions.
Friday, 8 October 2021, 11 am - 2 pm - In-Person Tysons Corner, VA - AFIO Luncheon featuring David Ignatius on "The Paladin" and Stephen Vogel on Traitor George Blake.
FOR YOUR CALENDAR. The first in-person AFIO National Luncheon for 2021 will take place on Friday, 8 October at DoubleTree Hotel, Tysons Corner. Event will feature David Ignatius discussing "The Paladin" or possibly another topic TBA. And the morning speaker, Stephen Vogel, discussing "Betrayal in Berlin" and traitor George Blake.
TO REGISTER: Registration link forthcoming.
VENUE: DoubleTree by Hilton, 1960 Chain Bridge Rd, Tysons Corner, VA 22182 Phone: (703) 893-2100. Directions at this link.
---
Other Upcoming Events from Advertisers, Corporate Sponsors, and Others
Thursday, 15 June 2021, 6:30pm - Zoom Webinar - Virtual Members - Only Tour of NSA Treasures - Virtual International Spy Museum Program
Your mission, should you choose to accept it, is to attend this exclusive look at some of the most important and unique objects in the history of covert communications. Grab your favorite beverage for this one-of-a-kind event just for Spy Museum members and watch SPY Lead Curator Dr. Alexis Albion and SPY Director of Adult Education Amanda Ohlke present highlights from our temporary exhibit "Codes, Ciphers & Mysteries: NSA Treasures Tell Their Secrets" live from the International Spy Museum. These objects range from a 200-year-old cypher cylinder to one of the first secure cell phones. Each has a fascinating story to tell.
You can join SPY as a member online or by calling 202.654.2840. If you are a current member and have not received the link to sign up for this event, please email membership@spymuseum.org to register. Event is free of charge for members. Visit www.spymuseum.org.
Thursday, 17 June 2021, 11:00am - Zoom Webinar - Virtual Spy Chat with Chris Costa with Special Guest Robert C. O'Brien - Virtual International Spy Museum Program
Join an online discussion of the latest intelligence, national security, and terrorism issues in the news. Spy Museum Executive Director Chris Costa, a former intelligence officer of 34 years, will lead the briefing. He will be joined by Robert C. O'Brien, who recently served as the 28th United States National Security Advisor from September 18, 2019 to January 20, 2021. Following their discussion of key issues, you'll be able to ask questions via our online platform. Sponsored by the Honorable Mary Beth Long, International Spy Museum, Board of Directors. Event is free – registration required. Visit www.spymuseum.org.
Monday, 28 June to 2 July 2021, 9:30am-noon - Zoom Webinar - Virtual Spy Camp - Virtual International Spy Museum Program
From the moment recruits receive their super-secret spy kit, they will hit the ground running on an "Eyes Only" mission so classified that we can't put it in print. Each day will be filled with top secret briefing and activities that put spy skills to the test. Real former spies will "beam" in from all over the world to help recruits hone their tradecraft. From mastering escape and evasion techniques, to crafting the perfect disguise, building a gadget on the fly or decoding secret intel, Virtual Spy Camp has activities that will appeal to all types of recruits. Each day of camp will take recruits beyond their screens and out into the shadow world of espionage, where "all is not what it seems." Tickets: $350. Visit www.spymuseum.org.
29 July 2021, 6 pm - Virtual - OSS Society hosts Gen. David Petraeus USA (Ret) and Gus Biggio on "The War in Afghanistan"
The OSS Society hosts the fifth installment in its 2021 "Oh So Social" Conversation Series on July 29. General David Petraeus, who commanded U.S. military forces in Afghanistan, will speak with Gus Biggio about his Afghan war memoir, The Wolves of Helmand:
"At turns poignant, funny, philosophical, and raw—but always real—The Wolves of Helmand is both a heartfelt homage to the Marine brotherhood with whom Biggio served and an expression of respect and love for the people of Afghanistan who ultimately trusted, shared, and appreciated their purpose. Ten years after serving his country as a U.S. Marine, Captain Frank "Gus" Biggio signed up once again because he missed the brotherhood of the military. Leaving behind his budding law career, his young wife, and newborn son, he was deployed to Helmand Province—the most violent region in war-torn Afghanistan—for reasons few would likely understand before reading this book."
Do not miss this important conversation as America's military forces prepare to leave Afghanistan later this year.
If you would like to register for this event, click here.
If you were unable to watch our most recent "Oh So Social" conversation with Admiral William McRaven, Secretary Leon Leon Panetta, and Dr. Mike Vickers, who discussed the Osama bin Laden raid on its 10th anniversary, please click here.
Wednesday, 27 October 2021, 6 - 10 pm - Washington, DC - 30th (+1) Anniversary Gala and Chancellor's Dinner - Institute of World Politics
Save the date. Current timing of this in-person celebration is:
6:00 PM Cocktail Reception
7:00 PM Dinner
9:00 PM Dessert and Dancing
Location: The Mayflower Hotel, 1127 Connecticut Ave NW, Washington, DC
Additional details to follow
*Because this is an unusual year, if you are considering attending the 30th (+1!) Anniversary Gala, please fill out this form: iwp.edu/gala-survey
Wednesday, 1 December 2021, TBD Time - Washington, DC - 2021 Webster Distinguished Service Award Event - International Spy Museum
The Spy Museum offers an evening of intrigue for the 2021 Webster Distinguished Service Award event. The award is an opportunity to recognize the extraordinary contributions of individuals in the Intelligence Community. This year's awardee is The Honorable Susan M. Gordon, former principal deputy director of national intelligence. Previous recipients of the Webster Distinguished Service Award include President George H. W. Bush (2017), Admiral William H. McRaven, USN (Ret.) (2018), and Gen. Michael V. Hayden (Ret.) (2019). Webster attendee and sponsor support fuels the nonprofit mission of educating the public about the history and craft of espionage and intelligence through youth and adult programs, community service, and the care of the Museum's unique collection of artifacts for generations to come. For tickets, sponsorship opportunities, or information about ways to support the International Spy Museum, please contact the development office at 202.654.2853. Additional details and online ticket link to follow. Visit www.spymuseum.org.
---
In addition to the new Royal Blue long sleeve shirts, and the gray long sleeve hooded sweatshirts, the AFIO Store also has the following items ready for quick shipment:
NEW: LONG and Short-Sleeved Shirts with embroidered AFIO Logo and New Mugs with color-glazed permanent logo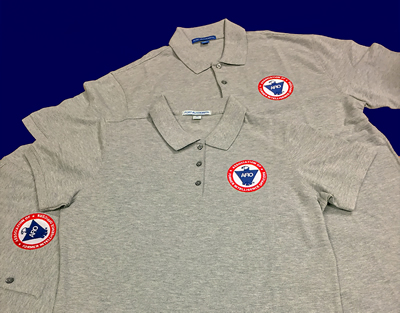 Show your support for AFIO with our new Polo Shirts. Be the first to buy these new, high quality, subtle heathered grey short sleeve shirts, and dark blue long sleeved shirts, of shrink and wrinkle resistant fine cotton with a soft yet substantial feel. They feature a detailed embroidered AFIO seal. Get a shirt for yourself and consider as gifts for colleagues, family, and friends. Only $45 each including shipping.
Sizes of (M) men or (W) women shirts; Small, Medium, Large, XL, XXL, and XXXL. At this time all orders will arrive as Short Sleeve shirts.
You may pay by check or credit card. Complete your order online here or mail an order along with payment to: AFIO, 7600 Leesburg Pike, Ste 470 East, Falls Church, VA 22043-2004. Phone orders at 703-790-0320. If interested in other shirt colors or sleeve lengths, contact Annette at: annettej@afio.com.
---
AFIO Mug with color glazed logo. Made in America. Sturdy enough to sit on desk to hold pens, cards, paperclips, and candy.
This handsome large, heavy USA-made ceramic mug is dishwasher-safe with a glazed seal. $35 per mug includes shipping. Order this and other store items online here.
---
Guide to the Study of Intelligence and When Intelligence Made a Difference
"AFIO's Guide to the Study of Intelligence" has sold out in hard-copy.
However, it is available in digital form in its entirety on the AFIO website here.

Also available on the website here are the individual articles of AFIO's history project "When Intelligence Made a Difference" that have been published to date in The Intelligencer journal. More articles will be forthcoming in future editions.
---
Disclaimers and Removal Instructions
Weekly Intelligence Notes (WINs) are commentaries on Intelligence and related national security matters, based on open media sources, selected, interpreted, edited and produced for non-profit educational uses by members and WIN subscribers.
REMOVAL INSTRUCTIONS: We do not wish to add clutter to inboxes. To discontinue receiving the WINs:
a) IF YOU ARE A MEMBER - click here: UNSUBSCRIBE and supply your full name and email address where you receive the WINs. Click SEND, you will be removed from list. If this link doesn't open a blank email, create one on your own and send to afio@afio.com with the words: REMOVE FROM WINs as the subject, and provide your full name and email address where you are currently receiving them.
b) IF YOU ARE NOT A MEMBER, and you received this message, someone forwarded this newsletter to you [contrary to AFIO policies]. Forward to afio@afio.com the entire WIN or message you received and we will remove the sender from our membership and distribution lists. The problem will be solved for both of us.
CONTENTS of this WIN [HTML version recipients - Click title to jump to story or section, Click Article Title to return to Contents. This feature does not work for Plaintext Edition or for some AOL recipients]. If you wish to change to HTML format, let us know at afio@afio.com. The HTML feature also does not work for those who access their e-mail using web mail...however NON-HTML recipients may view the latest edition each week in HTML at this link: https://www.afio.com/pages/currentwin.htm
---
WINs are protected by copyright laws and intellectual property laws, and may not be reproduced or re-sent without specific permission from the Producer. Opinions expressed in the WINs are solely those of the editor's or author's listed with each article. AFIO Members Support the AFIO Mission - sponsor new members! CHECK THE AFIO WEBSITE at www.afio.com for back issues of the WINs, information about AFIO, conference agenda and registrations materials, and membership applications and much more!
(c) 1998 thru 2021. AFIO, 7600 Leesburg Pike, Suite 470 East, Falls Church, VA 22043-2004. Voice: (703) 790-0320; Fax: (703) 991-1278; Email: afio@afio.com
---
About AFIO | Membership Renewal | Change of Address | Upcoming Events | Chapter Locations | Corporate/Institutional Memberships | Careers in Intelligence Booklet | Guide to the Study of Intelligence | Intelligencer Journal | Weekly Intelligence Notes | To Make A Donation | AFIO Store | Member-Only Section | Code of Ethics | Home Page
---