---
CONTENTS
Section I - INTELLIGENCE HIGHLIGHTS
Section II - CONTEXT & PRECEDENCE
Section IV - Research Requests, Jobs, Obituaries
Other Upcoming Events from Advertisers, Corporate Sponsors, and Others
For additional AFIO and other Events two+ months or more... Calendar of Events
WIN CREDITS FOR THIS ISSUE: The WIN editors thank the following special contributors: rsy, ec, po, pj, mh, km, gh, mk, rd, fm, kc, jm, mr, jg, th, ed, and fwr. They have contributed one or more stories used in this issue.

The WIN editors attempt to include a wide range of articles and commentary in the Weekly Notes to inform and educate our readers. However, the views expressed in the articles are purely those of the authors, and in no way reflect support or endorsement from the WIN editors or the AFIO officers and staff. We welcome comments from the WIN readers on any and all articles and commentary.

CAVEATS: IMPORTANT: AFIO does not "vet" or endorse research inquiries, career announcements, or job offers. Reasonable-sounding inquiries and career offerings are published as a service to our members, and for researchers, educators, and subscribers. You are urged to exercise your usual caution and good judgment when responding, and should verify the source independently before supplying any resume, career data, or personal information.]
If you are having difficulties with the links or viewing this newsletter when it arrives by email, members may view the latest edition each week at this link.

---

Other items brought to our attention:

JACK DEVINE: We Need Nothing Short of New Moscow Rules to Wrangle Putin—MOSCOW MULISHNESS
by Jack Devine in The Daily Beast, 15 June 2021
Putin clearly likes the optics of an equal-footing summit, but Russia's aggressive intelligence operations directed at the West signal that his agenda remains unchanged.
It's been a good spring for Russian President Vladimir Putin. First, the White House announced that they were waiving sanctions on the company behind Russia's Nord Stream II gas pipeline to Germany, and then days later it was announced that U.S. President Joe Biden and Putin would meet for a day-long summit in Geneva on June 16. These overtures towards Moscow stand in stark contrast to the most recent round of sanctions against Russia that the Biden administration imposed just a few weeks ago. This appears to be a carrot and stick approach. But it will take more than one round of sanctions to recalibrate our relationship with Moscow.
Everywhere we turn today we find examples of Russia's aggressive intelligence operations... Article continues here

---

MATT BRAZIL 2Q Newsletter Just Released - on Chinese Espionage Research...

IN THE HEADLINES

Tightened CCP Controls in Hong Kong Reflect the Party's Intelligence and Security History
The Story Behind Apple User Data in China—and How the CCP Gained Control of It
Thoughts on Beijing's View of the American Espionage Threat
New Counterintelligence Rules Underline Heightened Risk for Foreigners in China 
Beijing and Australian and Canadian "Spies": Just the Latest Chapter of China's Timeworn Use of Hostage Diplomacy

His website includes a glossary of Chinese Intelligence Terms, a one-of-a-kind reference with hundreds of espionage and counterintelligence terms, translated into English with sources referenced so that you can see that is the product of open source research—not a leaked document.

His next book, China's Secret Wars, From Mao to Now will be a narrative account of Beijing's modern spy apparatus. The research will involve extensive international travel for interviews to obtain perspective from outside the Washington, DC Capital Beltway, and I will hire graduate research assistants.
Please contact me for details at matthew.brazil@gmail.com or matt.brazil@hushmail.com.

---

Attacks on American Agents Leave Baffling Battle Scars by Brian Owen, 11 June 2021, Medscape

The piercing sound was so loud that night it awoke the official assigned to the US embassy in Cuba who was trying to sleep at home in Havana. Intense pressure to the face followed the stabbing noise as the civil servant ached in pain with nausea and dizziness.
When the mysterious commotion in the dark of night stopped, the symptoms didn't go away and the dizziness and trouble concentrating lingered, making it hard to continue working at the embassy.
What exactly happened that night in Havana in 2016 is not known, but the same thing started occurring to other embassy staffers and US intelligence officers in Havana and elsewhere.
The symptoms weren't always the same, but they typically started with a sudden onset of pain and pressure in the head and ears. Some people reported hearing a loud noise, like in that case in Havana, followed by nausea, dizziness, confusion, and feelings of disorientation. It usually happened in people's homes, and some say it altered the way they could move their bodies afterward.
The next year, it happened again, this time at the US consulate in Guangzhou, China. And new incidents have also been reported in Russia and other unnamed countries in Europe and the Middle East, where diplomats and intelligence and military personnel, and sometimes their family members, have reported similar experiences. More than 130 people have been affected, including a couple of officials on US soil, and many report lingering health effects, to the point that some are unable to work.
Medscape article here

---

THE LAZARUS HEIST: North Korea - a BBC Special Podcast Presentation

The most daring bank theft ever attempted? From hacking Hollywood to a billion-dollar plot. Premiered 19 April 2021. With Geoff White and Jean Lee. Eleven episodes so far.

How hackers cracked Sony Pictures' network. Tony Lewis, former US attorney, discusses how Sony Pictures's network got taken down.

The Lazarus Heist: The 'superdollar' that fooled the world
How the FBI stopped a major fake money operation via a "wedding" and Playboy Mansion party.

Watch The Lazarus Heist on YouTube. A playlist of visulaisations of the podcast episodes.

---

The Arkin Group's June 18 "In Other News" letter to private clients by former Operations Officer Jack Devine features...

Ahead of the U.S.-Russia summit, Russian President Vladimir Putin claims the Russian economy has now reached pre-pandemic levels.
Nigeria's conflict with Twitter is indicative of growing socio-economic unrest.
El Salvador is the first country to pass legislation recognizing Bitcoin as legal tender, leading to questions of implementation and risk.

Follow link here or above to read analyses and predictions given to their private clients on the topics above.
Also, see June 15 Daily Beast article on Putin and Biden by Devine here.

Recently released was Jack Devine's Spymaster's Prism. AFIO's interview with him about this book appears in this issue at top of right column of this issue of the WINs. You can view the video at this link. Or hear the podcast here.

---

The Latest... from Jeff Stein's highly popular "SpyTalk" series include a few podcasts...

June 22: "Feds: We Don't Have Chinese Defector Dong Jingwei" by Jeff Stein
Rumors of Chinese counterintelligence chief fleeing are false, Washington says
Article here

June 21: "Chinese Defector Mystery Deepens" by Matthew Brazil and Jeff Stein
Beijing's sketchy report of Dong Jingwei's appearance at a spy-catcher seminar only adds suspicion that top counterintelligence official fled to U.S.
Article here

June 21: "High-level Chinese Defection Rumored" by Matthew Brazil and Jeff Stein
Chinese State Security Vice Minister Dong Jingwei would be highest-level defector in the history of the People's Republic.
Article here

June 15: "Our Darkest Hours" by Jeff Stein
When Britain faced extinction in June 1940, it mounted a covert psyops campaign here to rally America against the fascists. Who's going to do it this time?
Article here

Readers, for a brief time, can subscribe for free for articles and weekend podcasts here.

---

---

From the National Cryptologic Museum Foundation:

Did you miss some of these exciting programs? You can view them now at your leisure...

THE NCMF's #CyberChats, held virtually via their Nepris online classroom, have resumed.

Other NCF Events can be found here on NCF website here, and CCH website here.

---

---

Inside the SCIF:

Inside the SCIF by JJ Green, WTOP - Issue #118, 17 June has details on Russian hackers compromised Dutch police computers investigating Flight 17 crash; Biden/Putin Summit analysis; Joint statements issued; Russian labor camp statement on Whelan; Capitol Riot participants; DOJ on US Marshals Service activities; Top Oxford academic unmasked as Czech spy; Questions about advisor to SECDEF; Hong Kong crackdown on newspaper; Germans warn of Iran cyber activities; and more.

The latest Target USA Podcast 281 is on: Biden and Putin meet in Geneva
U.S. President Joe Biden and Russian President Vladimir Putin met in Geneva, Switzerland to once again try to reset relations between the two nations. We hear from both of them. Also former Director of National Intelligence Jim Clapper weighs in on the importance of the meeting.

And "The Hunt" explores: QAnon remains a threat. The FBI issued an alert to members of Congress recently, warning that QAnon followers may still engage in violent acts against them.
J.J. Green of WTOP talks with retired FBI Agent Tom O'Connor who claims the QAnon movement is under pressure, but it's not going to just disappear.
---
Released to members last week...
The Discovery, Cautious Investigation, Arrest and Conviction of a Cuban Spy in the DIA

Released 15 June 2021
Co-Case Agent for the Ana Montes Investigation
Interview of Tuesday, 4 May 2021 of Pete Lapp, retired FBI Special Agent, and Senior Advisor for Homeland Security and Law Enforcement with DNI, on DIA Intelligence Analyst Ana Belén Montes, a Cuba expert, who was spying for Cuban Intelligence, caught, and pled guilty in 2002. She was sentenced to 25-years in federal prison. Lapp was the Co-Case Agent for the Ana Montes investigation.
Interviewer: John Quattrocki, former Supervisory Special Agent, FBI, served on National Security Council, ODNI and DOD. Currently a professor.
Host: James Hughes, AFIO President; a former CIA Operations Officer.
TOPIC: Pete Lapp speaks with his FBI colleague John Quattrocki (an AFIO Board Member) about DIA Intelligence Analyst Ana Belén Montes, a Cuba expert, who was spying for Cuban Intelligence, caught, and pled guilty in 2002. She was sentenced to 25-years.
The presentation runs 68 minutes.
Access the Lapp interview here or click above image.
---
Prior Videos in the "AFIO Now" Series
View the publicly-released ones on our YouTube page
or log into the Member-only area to view private and public interviews.
---
PODCASTS: AFIO NOW is also available on 8 podcasting platforms. Search for 'AFIO Podcast' for a selection of the interviews above (public released ones) on Podbean; iTunes; Google; Spotify; Amazon Music; Amazon TuneIn + Alexa; iHeartRadio; and Pandora.
---
Hold the date: AFIO National's first in-person event is scheduled for Friday 8 October 2021
Friday, 8 October 2021, 11 am - 2 pm - In-Person Tysons Corner, VA - AFIO Luncheon featuring David Ignatius on "The Paladin" and Stephen Vogel on Traitor George Blake.
FOR YOUR CALENDAR. The first in-person AFIO National Luncheon for 2021 will take place on Friday, 8 October at DoubleTree Hotel, Tysons Corner. Event will feature David Ignatius discussing "The Paladin" or possibly another topic TBA. And the morning speaker, Stephen Vogel, discussing "Betrayal in Berlin" and traitor George Blake.
TO REGISTER: Registration link forthcoming.
VENUE: DoubleTree by Hilton, 1960 Chain Bridge Rd, Tysons Corner, VA 22182 Phone: (703) 893-2100. Directions at this link.
---
---
Newly Released, Overlooked, or Forthcoming Books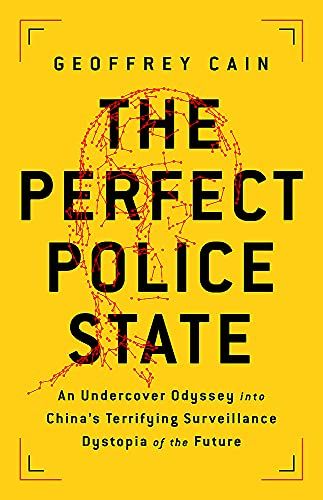 The Perfect Police State: An Undercover Odyssey into China's Terrifying Surveillance Dystopia of the Future
by Geoffrey Cain
(Public Affairs, June 2021)
A scarifying dive into China's pernicious spy state. — Kirkus
Investigation into how a restive region of China became the site of a nightmare Orwellian social experiment—the definitive police state—and the global technology giants that made it possible.
Blocked from facts and truth, under constant surveillance, surrounded by a hostile alien police force. Most citizens cannot discern between enemy and friend. Social trust has been destroyed systematically. Friends betray each other, bosses snitch on employees, teachers expose their students, and children turn on their parents. Everyone is dependent on a government that nonetheless treats them with suspicion and contempt. Welcome to the Perfect Police State.

Using the haunting story of one young woman's attempt to escape the vicious technological dystopia, his own reporting from Xinjiang, and extensive firsthand testimony from exiles, Cain reveals the extraordinary intrusiveness and power of the tech surveillance giants and the chilling implications for all our futures.  
Book may be ordered here.
---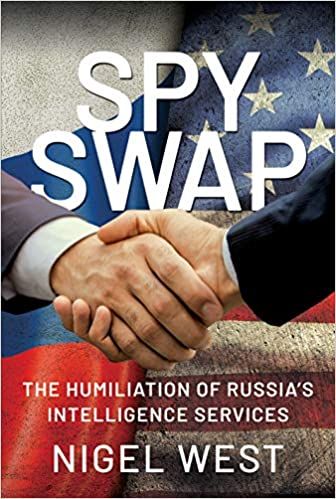 Spy Swap: The Humiliation of Russia's Intelligence Services
by Nigel West
(Frontline Books, July 2021)
On Monday, 4 March 2019, Sergei Skripal and his 33-year-old daughter Yulia collapsed in the centre of Salisbury in Wiltshire. Both were suffering the effects of A-234, a third-generation Russian-manufactured military grade Novichok nerve agent. As three suspects, all GRU officers, were quickly identified, it was also established that the door handle to the Skripals' suburban home had been contaminated with the toxin.
Whilst the Skripals had lived in the cathedral city for the past seven years, what Sergei's neighbours did not know was that he had once been a colonel in the Russian Federation's military intelligence service. Back in July 1996, he had been posted under diplomatic cover to Madrid where he was subsequently cultivated by Pablo Miller, an MI6 officer operating as a businessman under the alias Antonio Alvares de Idalgo. Sergei's recruitment by Miller was one of many successes achieved by Western agencies following the collapse of the Soviet Bloc. These counter-intelligence triumphs had their origins in a joint FBI/CIA project codenamed COURTSHIP which was based on the rather risky tactic of making an approach to almost any identified KGB or GRU officer, in almost any environment – a technique known as a 'cold pitch'. It soon yielded results; within five years COURTSHIP had netted about twenty assets.
Codenamed FORTHWITH, Sergei was betrayed in December 2001. Arrested in 2004, he was convicted of high treason in Russia, but was subsequently included in a prisoner swap in July 2010 and brought to the UK. The journey to the attempt on his life had begun.
The Vienna spy swap was the culmination of a CIA plan to free a specific individual, Gennadi Vasilenko, who had been the Agency's key mole inside the KGB since March 1979. To acquire the necessary leverage, the FBI swooped on a large network in the United States, bringing to an end a surveillance operation, codenamed GHOST STORIES, that lasted ten years. Anxious to avoid further embarrassment over the arrests, Vladimir Putin personally authorised an exchange, unaware of Vasilenko's true status. It was only after the transaction had been completed, and two further Russian spies were exfiltrated from Moscow, that the Kremlin learned of Vasilenko's value, and the scale of the deception. For the very first time, a Russian government had been persuaded to release four traitors and send them to the West. The humiliation was complete. As Spy Swap reveals, Putin's retribution would manifest itself in a quiet Wiltshire market town.
Book may be ordered here.
---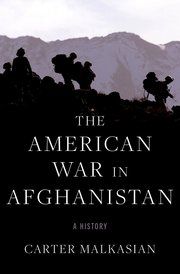 The American War in Afghanistan: A History
by Carter Malkasian
(Oxford University Press, July 2021)
The American war in Afghanistan, which began in 2001, is now the longest armed conflict in the nation's history. It is currently winding down, and American troops are likely to leave soon — but only after a stay of nearly two decades.
In The American War in Afghanistan, Carter Malkasian provides the first comprehensive history of the entire conflict. Malkasian is both a leading academic authority on the subject and an experienced practitioner, having spent nearly two years working in the Afghan countryside and going on to serve as the senior advisor to General Joseph Dunford, the US military commander in Afghanistan and later the chairman of the joint chiefs of staff. Drawing from a deep well of local knowledge, understanding of Pashto, and review of primary source documents, Malkasian moves through the war's multiple phases: the 2001 invasion and after; the light American footprint during the 2003 Iraq invasion; the resurgence of the Taliban in 2006, the Obama-era surge, and the various resets in strategy and force allocations that occurred from 2011 onward, culminating in the 2018-2020 peace talks. Malkasian lived through much of it, and draws from his own experiences to provide a unique vantage point on the war. Today, the Taliban is the most powerful faction, and sees victory as probable. The ultimate outcome after America leaves is inherently unpredictable given the multitude of actors there, but one thing is sure: the war did not go as America had hoped. Although the al-Qa'eda leader Osama bin Laden was killed and no major attack on the American homeland was carried out after 2001, the United States was unable to end the violence or hand off the war to the Afghan authorities, which could not survive without US military backing. The American War in Afghanistan explains why the war had such a disappointing outcome.
Wise and all-encompassing. Provides a vivid portrait of the conflict in all of its phases that will remain the authoritative account for years to come.
Book may be ordered here.
---
Visit, Follow, Subscribe to AFIO's LinkedIn, Twitter, and YouTube pages to receive updates.
Members who use social media or wish to explore, will find new announcements and other material on AFIO's Twitter and LinkedIn pages. New videos on our YouTube page appears below as well.
Access them here: LinkedIn, Twitter, and YouTube. By following or subscribing on those sites, one can be notified as new material appears.




NEW — PODCASTS: Our new social media expert has been busy! Are you too busy to sit and watch an entire "AFIO Now" episode above on YouTube? Would you rather listen in your car or while accomplishing other tasks? Now you can quickly download or stream episodes on your favorite podcasting platform. AFIO is now available on 8 podcasting platforms. Search for 'AFIO Podcast' for a selection of the interviews above (public released ones) on Podbean; iTunes; Google; Spotify; Amazon Music; Amazon TuneIn + Alexa; iHeartRadio; and Pandora.
---
Writers, Officers: Please Provide A Brief Article for This Ongoing AFIO History Project
AFIO's educational project "When Intelligence Made a Difference" seeks writers to identify events throughout history involving any nation or organization when the outcome was affected significantly by intelligence.
AFIO has been publishing edited submissions serially in Intelligencer released two to three times a year.
To see what has been published, it is available here. Also look at the Winter-Spring edition of the journal arriving in the mail of all members and subscribers over the next three weeks.
Those readers interested in contributing an article, should email peter.oleson@afio.com.
For instructors, this project makes a great class assignment. Accepted articles give students a publication credit in a recognized journal.
---
---
One of the special benefits of membership in AFIO: access to CIA's inhouse gift shop — the EAA Store.
It requires a quick preapproval process described here to all newly joined and current AFIO members. And then allows you to purchase online their unusual logo'd gift items for self or colleagues. Here is the latest photo EAA released on June 18 featuring some of their newest items, this time for children of officers:
---

---

Guide to the Study of Intelligence and When Intelligence Made a Difference

"AFIO's Guide to the Study of Intelligence" has sold out in hard-copy.
However, it is available in digital form in its entirety on the AFIO website here.

Also available on the website here are the individual articles of AFIO's history project "When Intelligence Made a Difference" that have been published to date in The Intelligencer journal. More articles will be forthcoming in future editions.

---

MASKS GONE...

THANK YOU Members! All AFIO logo face masks have now been distributed from the sudden arrival of many of your donations. We appreciated your generosity, support, and continuing interest.

---

---

Position Available at AFIO National

Work at AFIO National. AFIO is seeking to fill the following position in our McLean-Tysons-Falls Church, VA offices:

DIRECTOR OF MEMBERSHIP

Part-time position; hourly pay rate. Work hours daily Monday through Friday. Maximum number of monthly work hours is 140.

Memberships: Maintain AFIO membership database, to include processing information changes, membership renewals, and new membership applications; produce membership data statistics. Serve as the liaison between corporate members and AFIO chapters and the Board of Directors. Provide annual roster verification and recruitment support for AFIO chapters. Responsible for monthly invoicing cycle and membership renewal cards and welcome package mailings. Perform targeted mass mailings at intervals throughout the year. Process donations and work with the Events Coordinator to prepare notes of appreciation and to pack/ship thank you gifts.
Office/Office Systems: Order, maintain inventory of, and label office supplies; organize storeroom and office reception space. Responsible for all office systems: computers, server, phones, internet including backups; provide technical support to other office personnel. Work with IT contractor to ensure up-to-date hardware, software, and office equipment (postage meter, copier, folder/inserter).
Store Sales: Maintain inventory of store merchandise. Process all incoming store item orders. Pack and ship merchandise orders.
Phone/Emails/Visitors/Admin: Respond promptly to all phone calls, emails, mailed correspondence, and in-person visits. Code and process all check payments and prepare monthly bank deposit.
Events/Board Meetings: Create online registration form for events. Process all incoming event registrations. Work with Events Coordinator to answer questions pertaining to events. Provide onsite service to include setup and operation of AFIO audio/visual equipment; coordinate with speakers and hotel staff on IT issues. Provide onsite support at quarterly Board meetings, take meeting notes and prepare draft minutes.

To apply, or arrange an interview, or for additional information, contact Annette Janak at AnnetteJ@afio.com
---
---
---
Section I - INTELLIGENCE HIGHLIGHTS

Polish Intelligence Agencies Link Cyberattack to Russia. Poland's government said Tuesday it has evidence linking a recent cyber attack on thousands of email and social media accounts of politicians, public figures and other Poles to Russia's secret services.

The spokesman for the minister who coordinates Poland's intelligence agencies, Stanislaw Zaryn, claimed the attack was part of a campaign to destabilize politics in Central Europe. He said Poland's Internal Security Agency and military intelligence established that the attacks were by the UNC1151 group.

"The services are in possession of information confirming the links of the aggressors with the activity of the Russian special services," Zaryn said in a statement. [Read more: AP/22June2021]

CIA Names David Marlowe to Run Espionage Operations. In his first major personnel move, CIA Director William Burns has tapped a 30-year agency veteran to run espionage operations at a time when the spy agency is increasing its focus on China and retooling human intelligence gathering in an age of growing digital surveillance.

David Marlowe, who will serve as the new deputy director of operations, is a veteran officer who served overseas as the senior Central Intelligence Agency officer, known as station chief, "in several of the largest and most complex environments, including war zones," a CIA spokeswoman said.

Mr. Marlowe, whose position does not require congressional confirmation, will run a directorate at the agency's Langley, Va., headquarters that oversees undercover officers who recruit foreign spies, ranging from foreign government officials to businessmen to disgruntled members of terrorist networks. The operations directorate also conducts covert actions abroad when directed by the president. [Read more: Strobel/WSJ/16June2021]

Canada: Five MPs Join National Security and Intelligence Committee of Parliamentarians. The committee of parliamentarians that oversees the security and intelligence community is almost doubling in size with the addition of five MPs.

The Prime Minister's Office has appointed Conservatives Leona Alleslev and Rob Morrison, Liberals Peter Fragiskatos and Iqra Khalid and the Bloc Québécois' Stéphane Bergeron to the committee.

They join Liberal MP David McGuinty, who is committee chairman, Liberal MP Brenda Shanahan, New Democrat MP Don Davies, Sen. Vern White, Sen. Frances Lankin and Sen. Dennis Dawson.

The National Security and Intelligence Committee of Parliamentarians, established in 2017, has the authority to review sensitive activities across the federal government. [Read more: TheCanadianPress/15June2021]

Dawn Calls on Congress to Interrogate Egypt Intelligence Chief Over Khashoggi Murders. Democracy for the Arab World Now (DAWN) is calling on members of Congress to interrogate Egypt's intelligence chief about reports that Cairo was involved in the death of Saudi journalist Jamal Khashoggi.

Last week, Yahoo News reported that the airplane carrying Saudi assassins who killed journalist Jamal Khashoggi in the consulate in Istanbul in October 2018 stopped off in Cairo to pick up deadly narcotics.

These narcotics were injected into Khashoggi's left arm by a Saudi Interior Minister doctor, killing him within a matter of minutes, reported Yahoo, disclosing a previously unknown link between Egypt and the journalist's death.

There is also evidence that Egypt provided training for the hit squad as it has in the past. [Read more: MEM/22June2021]

North Korean Group Suspected of Hacking Seoul's Nuclear Agency. A suspected North Korean hacking group broke into the computer systems of South Korea's atomic research agency, prompting fears that nuclear technology was compromised.

The threat actor breached the state-run Korea Atomic Energy Research Institute (KAERI) network via a "VPN system vulnerability" on 14 May, officials confirmed.

On 31 May the agency, which conducts research into nuclear power, reported the attack to the government and said 13 IP addresses were involved.

One of these addresses was traced back to North Korean hacking group Kimsuky by Seoul-based cybersecurity company IssueMakersLab. [Read more: [Read more: Scammell/Verdict/21June2021]


---
Section II - CONTEXT & PRECEDENCE

The Intelligence Community's University: NIU Transitions to the ODNI. J. Scott Cameron eagerly awaits the National Intelligence University's (NIU's) "watershed moment" this weekend that will punctuate years of diligent work to "bring the university home... with ruthless government efficiency."

On Sunday, the university officially transfers from the Defense Intelligence Agency (DIA) to the Office of the Director of National Intelligence (ODNI).

This shift enables the staff, faculty and students to benefit directly from the intelligence community's (IC) stakeholders and from the ODNI's integrating role; bringing into its fold the educational efforts that are building the next generation of the country's intelligence officers, said Cameron, the university's president.

"We are a knowledge bank of the intelligence community" that helps craft the solutions to the hard national security problems and builds the leaders of the future, Cameron said. [Read more: Jontz/AFCEA/17June2021]

Mystery of Top Chinese Spymaster's Rumored Defection Gets Weirder. Where is Dong Jingwei? Rumors that China's top counterintelligence official had defected to the United States last February reached fever pitch over the weekend, propelled largely by unfounded reports in anticommunist and pro-Trump circles that Dong had brought with him evidence that the COVID-19 pandemic had originated in a leak from a virology lab in Wuhan, not from an animal source.

The Wuhan lab leak theory has not been proven. The vast majority of researchers believe the virus leapt from an infected animal to a person, probably via Wuhan's "wet market," where both live and butchered meat is sold, but definitive evidence has yet to be found. The controversy has been further exacerbated by Chinese secrecy, which has aided the campaign by pro-Taiwan and Donald Trump allies to deflect blame for the spread of the pandemic away from the former president and onto Beijing.

The magnitude of the rumors about the supposed flight of Dong, 57, the number two official in the Ministry of State Security, along with his daughter Dong Yang, from Hong Kong five months ago appears to have rattled Beijing. [Read more: Brazil&Stein/SpyTalk&DailyBeast/21June2021]

Afghans Who Spied for CIA Have a Problem: No Paperwork to Get U.S. Visas. Rahmat says he carried out secret missions spying on the Taliban for the Central Intelligence Agency in remote border areas of Afghanistan for almost a decade.

He has no contract to prove it, and his CIA supervisors never shared their real names. Now, as the U.S. prepares to withdraw all U.S. forces from Afghanistan by Sept. 11, thousands of Afghans who worked for the U.S. are at risk of Taliban retaliation.

"They didn't give us anything because our missions were secret," said Rahmat, who has wavy black hair and a slight frame, recalling in low tones the CIA officers who cycled in and out of his life. "One was Santos. Mary, Jason, Stu, John."

Rahmat's story is emblematic of the hurdles that Afghans, particularly those in intelligence, face in joining a visa program aimed at relocating people who worked for the U.S. government to the U.S. Applications for the Special Immigrant Visa typically require details such as contract numbers, certificates and supervisors' names and addresses. [Read more: WSJ/22June2021]

Why Geneva Is Teeming With Spies As Biden And Putin Prepare To Meet. Geneva is crawling with spies right now, says a longtime CIA veteran.

Intelligence agents from the U.S. and Russia are out in force as President Biden prepares to meet with Russian President Vladimir Putin on Wednesday, says Daniel Hoffman. Hoffman served as CIA station chief in Moscow for five years, and had assignments elsewhere in Europe, the Middle East and South Asia.

Knowing what the other side wants and is willing to concede is crucial in any tough discussion. On the U.S. side, Hoffman says now is the time that the State Department, intelligence agencies and the Defense Department are in "high gear" to prepare Biden as much as possible for what Putin might say.

And it's not just the U.S. and Russia, he says. [Read more: Kelly/NPR/15June2021]

DoD Cuts Clearance Reciprocity Times by 95%. Security clearance reciprocity is the process where clearances are transferred between agencies. The need to transfer clearances frequently happens as individuals look to move between positions, particularly for contractors looking to move between positions with their contract company. The process is painfully slow, at a high cost. A 2019 report by the Intelligence and National Security Alliance (INSA) noted that reciprocity failures cost 1,000 contractor-labor years at a cost of $2 billion in the Intelligence Community, and across government more than 90,000 lost contract labor years and $8 billion.

It's a known pain point, and one without a clear path for improvement. Continuous Vetting (CV) is the cornerstone of Trusted Workforce 2.0 and is well on its way to full implementation by the end of the year. But as more cleared personnel move into CV, there is more concern that reciprocity will lag, as agencies layer their own suitability requirements rather than 'trusting' the CV process.

The Defense Counterintelligence and Security Agency (DCSA) isn't resting on the laurels of the progress they've made in reducing the security clearance backlog over the past two years. [Read more: Kyzer/ClearanceJobs/21June2021]

The Forgotten French Scientist Who Courted Thomas Jefferson - and Got Pulled into Scandal. A decade before Lewis and Clark, André Michaux wanted to explore the American continent. Spying for France gave him that chance. [Read more: Assael/SmithsonianMagazine/JulyAug2021]


---
IRGC's Intelligence Agency in Iranian Power Grab. Tyrannical regimes always collapse years - and perhaps even decades - before their downfall is officially announced. In a state like Iran, fears about, and hedges against, downfall represented a focal point in the thoughts of its founding father Ayatollah Khomeini and his loyalists such as Morteza Motahari, Mahmoud Taleghani and Mohammed Kazem Shariatmadari.

They believed that any future collapse of the regime would be caused by external pressures, so they focused on ways to handle them. They were heedless of any potential adverse interactions at home, believing that the mere existence of the Islamic Republic would result in all the Iranian people submitting and becoming obedient servants of the Vilayat-e Faqih (Guardianship of the Islamic Jurist) system. [Read more: Al-Sulami/ArabNews/21June2021]

Think Small: Why the Intelligence Community Should Do Less About New Threats. A week into his administration, President Joe Biden announced that he was "putting the climate crisis at the center of United States foreign policy and national security," and directed the intelligence community to draft a national intelligence estimate on the implications of climate change. In so doing, the president injected new urgency into an old question: What counts as a national security threat?

For intelligence agencies, the traditional answer has revolved around foreign military powers. The architects of the U.S. intelligence community designed a bureaucracy whose main focus was watching the Soviet Union, assessing its conventional and nuclear capabilities, and searching for signs of attack. After the Cold War its focus shifted to terrorism and support for military operations, as the United States undertook a series of humanitarian interventions and state-building campaigns.

Recent years have witnessed an even more profound change. [Read more: Rovner/WarOnTheRocks/16June2021]

Among Us: The Secretive, Subversive History of Spying in Hong Kong. On June 8, Hong Kong Chief Executive Carrie Lam Cheng Yuet-ngor warned the city's universities not to let their students be "easily indoctrinated" after being "penetrated by foreign forces" bent on "brainwashing"; forces who either "want to undermine the Chinese government, or have ideological prejudices against China", expressing that she had "no doubt" that "ulterior motives" were at play, confirming her belief that "these external forces are at work".

Which external forces were these exactly? She declined to say.

As far back as the beginning of Hong Kong's tenure as a British colony, in 1841, there has been an element of clandestine intrigue about the place, imagined or otherwise. In Hong Kong, spooks have always been among us.

In 1857, with the second opium war under way between Britain and China, the emerging city was plunged into its first spy panic. [Read more: French/SCMP/20June2021]


---
Section IV - Research Requests, Jobs, Obituaries
ISO former CIA officers w/ Czech experience
I'm the daughter of Dagmar Stapleton who worked on the Czech desk from around '74 to '94. Am hoping to talk with former Prague case officers, station chiefs, deputy station chiefs from that time period for a research project.
Please contact me at viveca.novak@gmail.com. [Viveca Novak is an American journalist who has worked as the editorial and communications director at the Center for Responsive Politics since 2011. She was previously a Washington correspondent for Time and The Wall Street Journal. She is a frequent guest on CNN, NBC, PBS, and Fox.]
Researcher Seeking Your Experiences Working in Western North Carolina on DoD/NSA Rosman Research Station in 1980s.
I'm Craig Gralley, a 34-year veteran of CIA and currently a freelance writer in the Brevard, NC area. I'm also a volunteer at PARI - the Pisgah Astronomical Research Institute in nearby Rosman. PARI is now dedicated to STEM education and research, but has had a storied history that is largely unknown to the people of this mostly underserved area of rural North Carolina. I have volunteered to write PARI's history. NASA first constructed the site in 1962 as a ground station for a variety of unmanned scientific satellites. AFIO members might remember when DoD/NSA took over the site in 1981 and called it the Rosman Research Station (NSA's participation at the site was declassified nearly a decade ago). NSA gave up the site in 1995.
I am receiving NSA's support through a FOIA request to declassify more information about the facility. My goal is to make this history less about satellites and their capabilities and more about what it was like working in a remote location in western North Carolina. Personal stories, things that could have gone wrong but didn't (or did), success stories—humorous/serious anecdotes—all of it is welcome. My goal is to take the edge off of a dry history and give the Rosman ground station a human face.
I'd be glad to attribute anything that comes to me in the way desired by the contributor.
Thanks for your help.
REPLIES to Craig R. Gralley, 703.581.3440 (mobile), craig.gralley@gmail.com. More about Craig at www.craiggralley.com
Call for Papers: 2021 "Bobby R. Inman Award" for Student Scholarship on Intelligence at University of Texas, Austin
The Intelligence Studies Project of The University of Texas at Austin announces the seventh annual competition recognizing outstanding student research and writing on topics related to intelligence and national security. The winner of the "Inman Award" will receive a cash prize of $5,000, with two semifinalists each receiving a cash prize of $2,500. This competition is open to unpublished work by undergraduate and graduate students enrolled in degree programs at accredited U.S. higher education institutions during the 2020-21 academic year. The deadline for submitting papers is June 30, 2021.
The Bobby R. Inman Award recognizes more than six decades of distinguished public service by Bobby R. Inman, Admiral, U.S. Navy (Ret.). Admiral Inman served in multiple leadership positions in the U.S. military, intelligence community, private industry, and at The University of Texas. His previous intelligence posts include Director of Naval Intelligence, Vice-Director of the Defense Intelligence Agency, Director of the National Security Agency, and Deputy Director of Central Intelligence. He continues to serve as a teacher, advisor, and mentor to students, faculty members, and current government officials while occupying the Lyndon B. Johnson Centennial Chair in National Policy at the LBJ School of Public Affairs. His areas of teaching and research are focused on political, economic, and military activities, policy processes and institutions, international affairs and diplomacy, and intelligence and national security.
Additional information about the Inman Award, including submission requirements and previous winners, is available here.
Call for Papers - The Center for Cryptologic History (CCH) and the National Cryptologic Foundation (NCF) invite proposals for papers for 18th Cryptologic History Symposium, 11-13 May 2022.
The Center for Cryptologic History (CCH) and the National Cryptologic Foundation (NCF) invite proposals for papers to be presented at the 18th Cryptologic History Symposium, 11-13 May 2022. The Symposium will be held at the Johns Hopkins University Applied Physics Lab Kossiakoff Center in Laurel, Maryland. The theme for the symposium is "Icons and Innovation." Proposals are due 7 September 2021.
For more information visit the NCF or contact cchevents@nsa.gov.
Seeking Officials Who Served USSR/Russia 1965-2015 and Other Posts - with knowledge of, or exposure to, Microwave/Directed Energy Weapons
Prominent D.C. Attorney seeking former intel officers or others who served in USSR/Russia during 1965-2015, as well as anyone who has information concerning possible microwave/energy directed weapon exposure of U.S. officials by foreign adversary.
Replies to Mark S. Zaid Esq, mark@markzaid.com. Or call him at (202) 454-2809.
More information about Mr. Zaid at MarkZaid.com.
Request for Assistance Researching Clandestine Maritime Operation in Da Nang 1950s-1970s
"My old Master Chief, James "Jim" Gray and I wrote the first history of Naval Special Warfare Combatant Craft (WARBOATS, 55 Years of Naval Special Warfare Combatant Craft History) for our veterans organization the Combatant Craft Crewman Association (CCCA), now in its second printing. One of the areas that we wanted to explore in greater depth were the clandestine maritime operations based in Da Nang from the South Vietnamese and CIA period through Switchback and Military Assistance Command Vietnam-Studies and Observation Group (MACV-SOG) control and the final the American withdrawal.
We are looking for assistance with this research in particular on the CIA side, as much of the MACV-SOG documentation has been declassified and we have spoken with the SEALs and Boat Support Unit One men of Mobile Support Team 1 and the Mobile Repair Team. Our Norwegian colleague, Jan Tore Nilsen is a Senior Reserve Commander in the Norwegian Navy is researching Norwegian involvement in Vietnam and has interviewed the surviving Norwegian contractors and obtained documents and photos from them as well as obtained documents regarding acquisition and construction of the Norwegian PTF (Patrol Torpedo Fast) boats for operations in Vietnam. An old friend of mine who was an historian for the CIA suggested we contact AFIO and ask for assistance. We would greatly appreciate any assistance from AFIO members."
Replies to Phil Garn at pggarn@yahoo.com
Seeking Spy-Themed Tourism Experts and New Recruits (with IC backgrounds) for Metro D.C. area opportunity
ISO former Intelligence Officers who might be interested in getting involved in spy-themed tourism in the Washington D.C. metropolitan area.
Also interested in speaking with those who may already be involved in the tourism and travel industry elsewhere.
Please contact Rosanna Minchew at r_minchew@me.com or 571-236-9052.
BECOME THE DIRECTOR OF CID: The U.S. Army Criminal Investigation Command seeks new Director of CID
The U.S. Army Criminal Investigation Command is seeking a Senior Executive Service (SES) to lead CID and execute its worldwide felony investigative mission. The SES is a small elite group of top government leaders. SES members possess a diverse portfolio of experiences including strong skills to lead across organizations. Senior Executives influence the direction of innovation and transformation of the federal government and lead the next generation of public servants.
CID supports the Army in peacetime and during war. An SES can make a significant contribution to the nation by leading a team of highly-trained professionals while fighting felony crime and making the U.S. Army strong and safe.
Open & closing dates 06/22/2021 to 07/06/2021. Service Senior Executive Pay scale & grade ES 00 - Salary $132,552 to $199,300 per year. This is a Tier 2 Position. Salary for Tier 2 positions in Army are normally between $174,225 and $192,000.
View full job announcement on USAjobs.gov and apply. A flyer about the position is here.
Assistant Professor, Intelligence and Information Operations, Tenure Eligible - Arizona (Sierra Vista)
The University of Arizona College of Applied Science and Technology (CAST), an Office of the Director of National Intelligence (ODNI) designated Intelligence Community – Center for Academic Excellence (IC-CAE) located on the University of Arizona Sierra Vista campus, is seeking an Assistant Professor to teach undergraduate courses within the Intelligence and Information Operations (IIO) program and to lead research in the fields of Intelligence, Information warfare, and Law Enforcement Intelligence. Consistent with the Dean's vision for Programs to contribute to interdisciplinary research and educational program innovation, the Tenure-Track Assistant Professor will support the Intelligence and Information Operations Program to contribute to the College's strategy of cross-campus, national, and international multidisciplinary research, and educational initiatives. CAST is seeking candidates who can demonstrate outstanding teaching as well as the ability to develop new research programs consistent with the college's purpose, vision, and values. The Assistant Professor, Intelligence and Information Operations will contribute to building a strong team of culturally diverse faculty and staff who are committed to preparing traditional, post-traditional, and transfer students for success in a 21st-century workforce.
Outstanding UA benefits include health, dental, and vision insurance plans; life insurance and disability programs; sick leave and holidays; UA/ASU/NAU tuition reduction for the employee and qualified family members; state and optional retirement plans; access to UA recreation and cultural activities; and more!
At the University of Arizona, we value our inclusive climate because we know that diversity in experiences and perspectives is vital to advancing innovation, critical thinking, solving complex problems, and creating an inclusive academic community. As a Hispanic-serving institution and a Native American/Alaska Native-serving institution, we translate these values into action by seeking individuals who have experience and expertise working with diverse students, colleagues, and constituencies. Because we seek a workforce with a wide range of perspectives and experiences, we provide equal employment opportunities to applicants and employees without regard to race, color, religion, sex, national origin, age, disability, veteran status, sexual orientation, gender identity, or genetic information. As an Employer of National Service, we also welcome alumni of AmeriCorps, Peace Corps, and other national service programs and others who will help us advance our Inclusive Excellence initiative aimed at creating a university that values student, staff and faculty engagement in addressing issues of diversity and inclusiveness.
For more information and to apply visit this webpage.
Intelligence Analysis Visiting Faculty Position at James Madison University, Harrisonburg, VA
James Madison University (JMU) seeks applicants for a visiting faculty position in its Bachelor's Degree Program in Intelligence Analysis (IA). The appointment is for one academic year (with the possibility of renewal for a second year depending upon the Program's needs) at the Assistant or Associate Professor level. This position will reside within the larger School of Integrated Sciences. The IA program offers a multidisciplinary undergraduate degree with an emphasis on methodology and technology to prepare students to become analysts, with a specialization in intelligence analysis. Its graduates have been successful in securing positions as analysts in both the public and private sectors, to include the Intelligence Community, military and law enforcement organizations, defense contractors, and major consulting firms. The program emphasizes methodology and synthesizes critical and creative thinking methods with technological tools for data collection, visualization, and analysis with situational knowledge of a problem's political, economic, social, and technological context with strong communicative and professional skills to support decision-making.
Review of applications will begin on May 1, 2021; the search will remain open until the position is filled. Application materials should include 1) a detailed cover letter that explains how the candidate's experiences fit the position's requirements and values, and should specifically explain the applicant's views on the importance of diversity and inclusion in higher education, 2) curriculum vitae, 3) concise but specific description (no more than 2 pages) of how the candidate would approach teaching the courses from the above list (if offered the position), and 4) contact information for at least three references. Application materials must be submitted online through JMU's application system: https://joblink.jmu.edu/. To apply refer to job #F1590. Salary shall be commensurate with experience. Employment is contingent upon the successful completion of a criminal background check. Questions can be directed to the Chair of the search committee, Dr. Noel Hendrickson, at hendrinx@jmu.edu.
For a full description of Duties and Responsibilities and Qualifications sought, follow this link: https://joblink.jmu.edu/postings/8812
Assistant Professor (tenure-stream) of International Affairs/Intelligence sought by University of Pittsburgh
The Graduate School of Public and International Affairs at the University of Pittsburgh is seeking to hire an Assistant Professor of International Affairs with a focus in intelligence matters (broadly understood). We are looking for someone who can teach on intelligence subjects in our Security and Intelligence major and contribute to our International Affairs program more generally. We welcome those trained in political science, history, and other disciplines, and are particularly interested in those with cyber or regional expertise. The deadline is March 31.

The full announcement can be read -- and application submitted -- through Pitt's Talent Center here.
THREE Faculty Openings for 2021 at Hilbert College, Hamburg, NY
Assistant Professor, Criminal Justice; Assistant Professor, Forensic Science/Crime Scene Investigation; and Assistant Professor, Intelligence & Data Analysis.
Interested candidates can view our job postings here.
---
Ron Brelsford, Exceptional NSA German Linguist
Ronald Gilbert Brelsford, 85, Outstanding NSA German Linguist, died 8 June 2021 in Columbia, MD.
He spent his formative years in Ohio and graduated from Springfield High School. He received an undergraduate degree in history from The College of Wooster where he was a member of Delta Phi Alpha, the National German Honorary Society. And later earned his Master of Arts in German from the University of Iowa.
Ronald enlisted in the U.S. Army as both active duty and a reservist, and fondly recounted many adventures during his service including a cross-country drive in his tiny VW Beetle to attend the Defense Language Institute in Monterey, CA. His passport was stamped for the first time when he was stationed in Germany; there, he observed construction of the Berlin Wall and his wanderlust was sparked.
After graduate school and the Army, Ron worked at the National Security Agency for over 30 years. Marrying his language and people skills with his love of travel, a position in international diplomacy was the perfect fit, and his government career took him, along with his family, around the globe. After retirement from the civil service, he returned to the workforce for another decade as a contractor at SAIC. He is well-remembered for his diverse hobbies such as genealogy, clock collecting, and photography.
He is survived by his wife of 43 years, Carolyn, a sister, four daughters and a son, and other family.
Jim Burridge, NSA Japanese Linguist, State, ODNI, CIA Contractor and Historian
James Michael Burridge, NSA Japanese Linguist, State, ODNI, CIA Contractor and Historian, 76, died 22 May 2021 in Arlington, VA, from injuries suffered in a fall.
Jim was born in Exeter, NH.
Jim grew up in Eliot, ME, where he graduated from Eliot High School in 1962. He earned a B.S. in 1966 from Georgetown University's School of Foreign Service and in 1968 received an M.S. in Asian Studies from the University of Minnesota. He was drafted into the Army in 1970 and honorably discharged in 1972. He was awarded a Ph.D. in International Relations from George Washington University in 1988.
Jim worked for over 50 years in the U.S. intelligence community...the majority of his time at the National Security Agency where he was a Japanese linguist. He retired from NSA in 2007. He had a two-year assignment at the U.S. Department of State, where he met his wife, Terry. He spent a year as a Congressional Fellow in the office of Rep. Morris Udall. He worked for two years at the Office of the Director of National Intelligence. As a contractor with the Central Intelligence Agency, he worked on intelligence support for NGOs. Jim was particularly proud of his assistance to the International Criminal Tribunal for the former Yugoslavia and the Tribunal for Rwanda. His final position was as an historian with the CIA's Center for the Study of Intelligence, for which he wrote nine studies on the intelligence relationships between the United States and foreign countries.
His interests included aviation, softball, baseball, and community service. Jim's fascination with airplanes began in childhood. He was a civil air cadet in high school. Throughout his life, he photographed planes at air shows and built scale models with historically correct markings. Jim authored several articles for modeling magazines and contributed numerous photos to books and articles. He founded a softball team, Smiley's People, which he coached for 31 years, and cheered on the Washington Nationals, reveling in their 2019 World Series championship. For 10 years, he was a tutor and college mentor for AHC Inc.
He has slipped the surly bonds of Earth And danced the skies on laughter-silvered wings...
He is survived by his wife of 37 years, Teresa Hughes Burridge, a son, a daughter, and other family.
A private Celebration of Life for Jim will be held in July. To leave condolences or to find information for Jim's Celebration of Life, please visit https://tinyurl.com/JMBurridge.
Phil Cherry, CIA Operations Officer
Philip B. Cherry, 89, CIA Operations Officer, died 27 May 2021 in Bethesda, MD.
He was born in Philadelphia, PA. Growing up in Philadelphia, Phil was active in the Boy Scouts of America before graduating from South Philadelphia High School for Boys. He then served in the Navy from 1949 to 1953, including on board the destroyer USS Dyess (DDR-880). He graduated from Temple University and the University of Pennsylvania Law School. He also studied at the Hague Academy of International Law.
Phil's career was in CIA's Directorate of Operations, serving his country domestically as well as in Rhodesia (Zimbabwe), Kenya, India, Bangladesh, and Nigeria. Upon retirement, he practiced law and worked as a consultant.
He is survived by his wife of almost 60 years, Barbara Clay, three sons and a daughter, and other family.
Jim Glerum, Chief of the Special Activities Division, CIA
James Neal Glerum, 89, Chief of the Special Activities Division, CIA, died 5 December 2020 in McLean, VA.
He loved his country and dedicated his life to serving it through work at the Central Intelligence Agency. He was among the second generation of Central Intelligence Agency Paramilitary Officer in Special Activities Division. He played an integral role in paramilitary operations in China, Indonesia, Vietnam and Laos. Widely respected by subordinates and superiors alike, he rose to become the Chief of the Special Activities Division and was a key figure in the division's post-Vietnam era professional development and modernization. Glerum continued to act in a consulting capacity following his retirement and was also involved in a successful program to collect and organize an enormous body of files and records documenting the 60-plus year history of the Special Activities Division.
His wife, Diane Morales Glerum, will be holding a Celebration of Life service on Friday, 25 June 2021, at Trinity United Methodist Church, 1205 Dolley Madison Blvd, McLean, VA 22101 at 2 – 4:30 p.m. EDT. She invites the attendance of anyone who wishes to join her in remembering her husband.
If you are unable to attend, please go to https://www.youtube.com/UMTrinity to live-stream Jim's service or to view the service later.
Vern McConnell, NSA Director of Telecommunications Policy
Vernon Ian McConnell, 92, NSA Director of Telecommunications Policy, died 16 June 2021 in Severna Park, MD.
Vern was born in Los Angeles, CA. He served in the US Merchant Marines and Navy. He attended the American College of Armed Forces in Washington, DC. He was a dedicated athlete and a lifetime member of the Amateur Athletic Union. In his youth, he was due to participate in the Olympics for cycling, but the games were cancelled due to the War.
In his professional life, Vern represented the defense and security interests in satellite communications, retiring as the Director of Telecommunications Policy at NSA. He briefed Congressional committees, the Joint Chiefs of Staff and the Office of the President domestically and served as part of the US delegations to NATO and the United Nations on many occasions. He spent the bulk of his career attending conferences in London, Geneva, and Brussels, much enjoyed his work and made lifelong friends along the way. He was chairman of the IEEE as well as chairman in the Maritime Administration in June of 1953. His most cherished achievement was to receive the Meritorious Civilian Service Award from NSA for his dedication to the Agency's mission.
Vern was an avid stamp and coin collector and also enjoyed genealogy.
He is survived by two sons, two daughters, another daughter, an ex-spouse, and other family.
Family and friends may visit on Thursday, 24 June 2021 from 2-4 pm and 6-8 pm at Barranco Severna Park Funeral Home & Cremation Care, 495 Ritchie Highway, Severna Park, MD 21146. A mass of Christian Burial will be held on Friday, 25 June 2021 at 11 am at St. John the Evangelist Roman Catholic Church, 689 Ritchie Highway, Severna Park, MD, 21146. Interment is to follow at the Maryland Veterans Cemetery in Crownsville.
---
AFIO EDUCATIONAL EVENTS IN COMING TWO MONTHS....
Saturday, 26 June 2021, 11 a.m. - Indialantic/Melbourne, FL - Florida Satellite Chapter hosts Bill Prince on "The Qur'an"
The Florida Satellite AFIO Chapter is meeting in person to hear Bill Prince, West Point graduate, Army Ranger, and CIA case officer, speaking on "Everything You Wanted to Know About the Qur'an But Were Afraid to Ask"
A sit down lunch will be served. Cost $30.00.
Event will start at 11:00 AM at the Hilton Doubletree Suites, 1665 N Highway A1A, Indialantic, Fl 32903. Location and Directions via Google Maps.
Prepaid reservations are required and must be received by 19 June 2021. Please mail to Treasurer Rhonda Rhoads, PO Box 410158, Melbourne, Fl, 32941.
Questions? Rhonda can be reached at afiofstreas@gmail.com or 321-626-4465.
Wednesday, 30 June 2021, 12 noon - Zoom Webinar - The "Andre Le Gallo" San Francisco Chapter hosts Lt. Gen. Patrick M. Hughes, former DIA Director
Lt Gen Patrick Hughes, former Director of Defense Intelligence Agency, will address chapter on "Internal U.S. Security Concerns and Existential Threats to America."
Registration is required here to receive a zoom link.
Please contact Mariko Kawaguchi, Chapter Secretary at afiosf@aol.com for any questions.
1 July 2021, 6:30 p.m. CDT - Virtual - San Antonio AFIO Chapter hears Ralph Hope, FBI, on "Pursuing the Stasi into the Present"
Ralph Hope, Former FBI Special Agent, discusses his book: The Grey Men: Pursuing the Stasi into the Present at this San Antonio AFIO Chapter virtual meeting.
Host-Interviewer: James Hughes, AFIO President; a former CIA Operations Officer.
TOPIC: Ralph Hope and Jim Hughes discuss the odd and often chilling post-Germany unification that left many members of the Stasi still in power or influential, able to access, hide, or destroy evidence, and relatively unpunished. Hope analyzes the German code of secrecy that protects and shrouds many of those with Stasi backgrounds in the newly reunited Germany up to the present. He also draws parallels with the danger that comes from any political or social group that insists on a single point of view, refuses to allow free speech, demands control of words and expressions, and seeks to alter history. A warning for the U.S., China, and many other countries.
The presentation runs 29 minutes and is from the AFIO NOW series of interviews.
This will be a virtual meeting. The meeting on-line location will be forwarded prior to the meeting to all registrants.
Register with John Franklin, President, AFIO San Antonio Chapter, satxafio@gmail.com or call 210 863-0430.
Friday, 8 October 2021, 11 am - 2 pm - In-Person Tysons Corner, VA - AFIO Luncheon featuring David Ignatius on "The Paladin" and Stephen Vogel on Traitor George Blake.
FOR YOUR CALENDAR. The first in-person AFIO National Luncheon for 2021 will take place on Friday, 8 October at DoubleTree Hotel, Tysons Corner. Event will feature David Ignatius discussing "The Paladin" or possibly another topic TBA. And the morning speaker, Stephen Vogel, discussing "Betrayal in Berlin" and traitor George Blake.
TO REGISTER: Registration link forthcoming.
VENUE: DoubleTree by Hilton, 1960 Chain Bridge Rd, Tysons Corner, VA 22182 Phone: (703) 893-2100. Directions at this link.
---
Other Upcoming Events from Advertisers, Corporate Sponsors, and Others
Thursday, 24 June 2021, 1800/6PM EDT; 1500/3PM PDT; 1200/12PM HST - GoToMeeting - NIP Virtual Speaker Series features LCDR Chris George
This Naval Intelligence Professionals virtual event features LCDR James "Chris" George, LT/LCDR Detailer who will provide an update on the Naval Intelligence Officer Community from Millington.
FORMAT: Video Conference – GoToMeeting
Please join the meeting from your computer, tablet or smartphone, beginning at 1750/5:50 EDT:
https://global.gotomeeting.com/join/484676077
You can also dial in using your phone. United States: +1 (571) 317-3112 Access Code: 484-676-077
New to GoToMeeting? Get the app now and be ready when your first meeting starts: https://global.gotomeeting.com/install/484676077
As always, please mute your device/phone. Thanks.
AGENDA:
• (3 min) RDML (Ret.) Cothron, NIP Chairman, welcoming remarks.
• (~30 min) LCDR George remarks
• (~30 min) Q & A moderated by CAPT (Ret.) Bob Allen.
Please enter your questions in the GoToMeeting chat window or email your questions in advance/during the video conference to: bob_allen36@hotmail.com.
Sunday, 27 June 2021, 2 - 3 pm - Virtual - Cold War Museum presents Journalist Dori Jones Yang on "The Real Leap Forward: Witness to the Origins of China's Economic Rise"
The Cold War Museum invites you to attend a presentation by former Business Week Hong Kong Bureau Chief Dori Jones Yang on "The Real Leap Forward: Witnessing the Origins of Modern China's Economic Rise."
Mao's Great Leap Forward and Cultural Revolution were disasters in many ways for both the Chinese Communist Party and the people of China. At the end of the 1970s and in the early 1980s, toward the end of the Cold War period, one of Mao's successors, Deng Xiaoping, made some bold choices, differing greatly from those of Mikhail Gorbachev in the Soviet Union but with same basic goal: to save his damaged Party and people and to secure his country's future. We see the effects of those choices made in the final years of the Cold War period in the China of today.
Dori Jones Yang was among the first American correspondents to cover China under Deng Xiaoping in the 1980s, and she will speak about her new memoir, When the Red Gates Opened: A Memoir of China's Reawakening. This book follows her rise from rookie reporter to experienced journalist. Her cross-cultural romance gave her an inside look deep into China and led to insights into how Deng's reforms led to hopes for better lives. She covered the euphoria that reached its peak in 1989, when peaceful protesters filled Tiananmen Square, demanding democracy. On the ground in Beijing, Dori lived that hope, as well as the despair that followed. After Tiananmen, she returned to America yet continued to watch closely as China resumed its growth. Published in 2020, when China's rapid rise began setting off fears in Washington, her memoir offers insight into the daring policies that started it all as the Cold War period was ending.

This is the 46th in a series of presentations sponsored by the Museum featuring eyewitnesses to, and other experts on, significant Cold War-era events and activities.
Cost: $20, 100% of which is a contribution to the Cold War Museum.
Location: ONLINE ONLY. Eventbrite ticket buyers will receive a link to the virtual room on the Zoom platform where this event will take place. We are recording the whole event, including the Q&A, for the Museum's archives.
Agenda:
• 1:30-2:00. Participants arrive in the Zoom room online.
• 2:00-2:05. Jason Hall, Executive Director of the Cold War Museum, introduces the Museum and Dori Jones Yang.
• 2:05-3:00. Dori presents on what she saw and heard as an eyewitness over time to the effects of Deng's dramatic economic reforms in China.
• 3:00-3:30. Q&A opportunity for the audience.
To participate in this Zoom event, use this link.
Questions? Call or email Jason Hall, 703-283-4124 (cell), jason@coldwar.org
Monday, 28 June to 2 July 2021, 9:30am-noon - Zoom Webinar - Virtual Spy Camp - Virtual International Spy Museum Program
From the moment recruits receive their super-secret spy kit, they will hit the ground running on an "Eyes Only" mission so classified that we can't put it in print. Each day will be filled with top secret briefing and activities that put spy skills to the test. Real former spies will "beam" in from all over the world to help recruits hone their tradecraft. From mastering escape and evasion techniques, to crafting the perfect disguise, building a gadget on the fly or decoding secret intel, Virtual Spy Camp has activities that will appeal to all types of recruits. Each day of camp will take recruits beyond their screens and out into the shadow world of espionage, where "all is not what it seems." Tickets: $350. Visit www.spymuseum.org.
29 July 2021, 6 pm - Virtual - OSS Society hosts Gen. David Petraeus USA (Ret) and Gus Biggio on "The War in Afghanistan"
The OSS Society hosts the fifth installment in its 2021 "Oh So Social" Conversation Series on July 29. General David Petraeus, who commanded U.S. military forces in Afghanistan, will speak with Gus Biggio about his Afghan war memoir, The Wolves of Helmand:
"At turns poignant, funny, philosophical, and raw—but always real—The Wolves of Helmand is both a heartfelt homage to the Marine brotherhood with whom Biggio served and an expression of respect and love for the people of Afghanistan who ultimately trusted, shared, and appreciated their purpose. Ten years after serving his country as a U.S. Marine, Captain Frank "Gus" Biggio signed up once again because he missed the brotherhood of the military. Leaving behind his budding law career, his young wife, and newborn son, he was deployed to Helmand Province—the most violent region in war-torn Afghanistan—for reasons few would likely understand before reading this book."
Do not miss this important conversation as America's military forces prepare to leave Afghanistan later this year.
If you would like to register for this event, click here.
If you were unable to watch our most recent "Oh So Social" conversation with Admiral William McRaven, Secretary Leon Leon Panetta, and Dr. Mike Vickers, who discussed the Osama bin Laden raid on its 10th anniversary, please click here.
Wednesday, 27 October 2021, 6 - 10 pm - Washington, DC - 30th (+1) Anniversary Gala and Chancellor's Dinner - Institute of World Politics
Save the date. Current timing of this in-person celebration is:
6:00 PM Cocktail Reception
7:00 PM Dinner
9:00 PM Dessert and Dancing
Location: The Mayflower Hotel, 1127 Connecticut Ave NW, Washington, DC
Additional details to follow
*Because this is an unusual year, if you are considering attending the 30th (+1!) Anniversary Gala, please fill out this form: iwp.edu/gala-survey
Wednesday, 1 December 2021, TBD Time - Washington, DC - 2021 Webster Distinguished Service Award Event - International Spy Museum
The Spy Museum offers an evening of intrigue for the 2021 Webster Distinguished Service Award event. The award is an opportunity to recognize the extraordinary contributions of individuals in the Intelligence Community. This year's awardee is The Honorable Susan M. Gordon, former principal deputy director of national intelligence. Previous recipients of the Webster Distinguished Service Award include President George H. W. Bush (2017), Admiral William H. McRaven, USN (Ret.) (2018), and Gen. Michael V. Hayden (Ret.) (2019). Webster attendee and sponsor support fuels the nonprofit mission of educating the public about the history and craft of espionage and intelligence through youth and adult programs, community service, and the care of the Museum's unique collection of artifacts for generations to come. For tickets, sponsorship opportunities, or information about ways to support the International Spy Museum, please contact the development office at 202.654.2853. Additional details and online ticket link to follow. Visit www.spymuseum.org.
---
In addition to the new Royal Blue long sleeve shirts, and the gray long sleeve hooded sweatshirts, the AFIO Store also has the following items ready for quick shipment:
LONG and Short-Sleeved Shirts with embroidered AFIO Logo and New Mugs with color-glazed permanent logo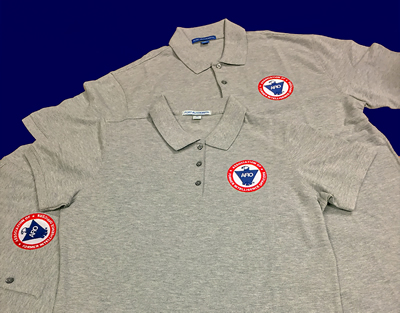 Show your support for AFIO with our new Polo Shirts. Be the first to buy these new, high quality, subtle heathered grey short sleeve shirts, and dark blue long sleeved shirts, of shrink and wrinkle resistant fine cotton with a soft yet substantial feel. They feature a detailed embroidered AFIO seal. Get a shirt for yourself and consider as gifts for colleagues, family, and friends. Only $45 each including shipping.
Sizes of (M) men or (W) women shirts; Small, Medium, Large, XL, XXL, and XXXL. At this time all orders will arrive as Short Sleeve shirts.
You may pay by check or credit card. Complete your order online here or mail an order along with payment to: AFIO, 7600 Leesburg Pike, Ste 470 East, Falls Church, VA 22043-2004. Phone orders at 703-790-0320. If interested in other shirt colors or sleeve lengths, contact Annette at: annettej@afio.com.
---
AFIO Mug with color glazed logo. Made in America. Sturdy enough to sit on desk to hold pens, cards, paperclips, and candy.
This handsome large, heavy USA-made ceramic mug is dishwasher-safe with a glazed seal. $35 per mug includes shipping. Order this and other store items online here.
---
Guide to the Study of Intelligence and When Intelligence Made a Difference
"AFIO's Guide to the Study of Intelligence" has sold out in hard-copy.
However, it is available in digital form in its entirety on the AFIO website here.

Also available on the website here are the individual articles of AFIO's history project "When Intelligence Made a Difference" that have been published to date in The Intelligencer journal. More articles will be forthcoming in future editions.
---
Disclaimers and Removal Instructions
Weekly Intelligence Notes (WINs) are commentaries on Intelligence and related national security matters, based on open media sources, selected, interpreted, edited and produced for non-profit educational uses by members and WIN subscribers.
REMOVAL INSTRUCTIONS: We do not wish to add clutter to inboxes. To discontinue receiving the WINs:
a) IF YOU ARE A MEMBER - click here: UNSUBSCRIBE and supply your full name and email address where you receive the WINs. Click SEND, you will be removed from list. If this link doesn't open a blank email, create one on your own and send to afio@afio.com with the words: REMOVE FROM WINs as the subject, and provide your full name and email address where you are currently receiving them.
b) IF YOU ARE NOT A MEMBER, and you received this message, someone forwarded this newsletter to you [contrary to AFIO policies]. Forward to afio@afio.com the entire WIN or message you received and we will remove the sender from our membership and distribution lists. The problem will be solved for both of us.
CONTENTS of this WIN [HTML version recipients - Click title to jump to story or section, Click Article Title to return to Contents. This feature does not work for Plaintext Edition or for some AOL recipients]. If you wish to change to HTML format, let us know at afio@afio.com. The HTML feature also does not work for those who access their e-mail using web mail...however NON-HTML recipients may view the latest edition each week in HTML at this link: https://www.afio.com/pages/currentwin.htm
---
WINs are protected by copyright laws and intellectual property laws, and may not be reproduced or re-sent without specific permission from the Producer. Opinions expressed in the WINs are solely those of the editor's or author's listed with each article. AFIO Members Support the AFIO Mission - sponsor new members! CHECK THE AFIO WEBSITE at www.afio.com for back issues of the WINs, information about AFIO, conference agenda and registrations materials, and membership applications and much more!
(c) 1998 thru 2021. AFIO, 7600 Leesburg Pike, Suite 470 East, Falls Church, VA 22043-2004. Voice: (703) 790-0320; Fax: (703) 991-1278; Email: afio@afio.com
---
About AFIO | Membership Renewal | Change of Address | Upcoming Events | Chapter Locations | Corporate/Institutional Memberships | Careers in Intelligence Booklet | Guide to the Study of Intelligence | Intelligencer Journal | Weekly Intelligence Notes | To Make A Donation | AFIO Store | Member-Only Section | Code of Ethics | Home Page
---