---
CONTENTS
Section I - INTELLIGENCE HIGHLIGHTS
Section II - CONTEXT & PRECEDENCE
Section IV - Research Requests, Jobs, Obituaries
Other Upcoming Events from Advertisers, Corporate Sponsors, and Others
For additional AFIO and other Events two+ months or more... Calendar of Events
WIN CREDITS FOR THIS ISSUE: The WIN editors thank the following special contributors: rsy, ec, po, pj, mh, km, gh, mk, rd, fm, kc, jm, mr, jg, th, ed, and fwr. They have contributed one or more stories used in this issue.

The WIN editors attempt to include a wide range of articles and commentary in the Weekly Notes to inform and educate our readers. However, the views expressed in the articles are purely those of the authors, and in no way reflect support or endorsement from the WIN editors or the AFIO officers and staff. We welcome comments from the WIN readers on any and all articles and commentary.

CAVEATS: IMPORTANT: AFIO does not "vet" or endorse research inquiries, career announcements, or job offers. Reasonable-sounding inquiries and career offerings are published as a service to our members, and for researchers, educators, and subscribers. You are urged to exercise your usual caution and good judgment when responding, and should verify the source independently before supplying any resume, career data, or personal information.]
If you are having difficulties with the links or viewing this newsletter when it arrives by email, members may view the latest edition each week at this link.

---

Other items brought to our attention:

The Last—And Only—Foreign Scientist in the Wuhan Lab Speaks Out.
Virologist Danielle Anderson paints a very different picture of the Wuhan Institute.
By Michelle Fay Cortez, 27 June 2021, Bloomberg News

Danielle Anderson was working in what has become the world's most notorious laboratory just weeks before the first known cases of Covid-19 emerged in central China. Yet, the Australian virologist still wonders what she missed. An expert in bat-borne viruses, Anderson is the only foreign scientist to have undertaken research at the Wuhan Institute of Virology's BSL-4 lab, the first in mainland China equipped to handle the planet's deadliest pathogens. Her most recent stint ended in November 2019, giving Anderson an insider's perspective on a place that's become a flashpoint in the search for what caused the worst pandemic in a century. Her experience and findings contradict all the claims the lab was the source of the Covid-19 pandemic. Article continues here.

---

FEPLI: FEDERAL EMPLOYEE PROFESSIONAL LIABILITY INSURANCE - by Starr Wright

The one-minute video above provides an overview that quickly covers some of the main points and common questions about the insurance every federal employee should have. And agencies will cover 50% of the fee. This is a must-do to protect your future and your family. View video above or use link here. Then visit Starr Wright to apply for the worthwhile coverage. Coverage available for current, part-time, contract, and former federal employees.

---

Solving the Mystery of Havana Syndrome — A Cold War espionage case could hold clues to a baffling neurological syndrome.
by Eric Haseltine, PhD, 23 June 2021, Psychology Today
KEY POINTS — • Havana syndrome is a mysterious neurological disorder that spontaneously appeared in US officers overseas. • The National Academy of Sciences said pulsed microwave radiation beamed at US officers by adversaries is the likely cause of the syndrome. • If this assessment is correct, using Russian espionage tradecraft to unmask and locate the harmful microwaves may help catch the perpetrators.
Havana syndrome is a collection of baffling neurological symptoms that were first documented in State Department employees in Cuba in 2017--including persistent dizziness, headaches, memory deficits, sleep disorders and mental fog. Thus far, there are 130 acknowledged cases in American officers posted outside the US and two cases inside the US, very near the White House, There are also 26 documented cases in Canadian diplomats. Some published medical studies blame mass hysteria or insecticide exposure, but others point to organic brain damage, such as white matter abnormalities, similar to those present with severe concussions. Article continues here

---

The Unexplained Phenomena of the U.F.O. Report

A well-worded assessment of the DNI's UAP-UFO Report.

A new intelligence document examines a hundred and forty-three sightings that might have been caused by errant balloons, foreign drones, or "Other"—a reserved way of saying aliens. by Gideon Lewis-Kraus, 26 June 2021, The New Yorker.

A brief provision accompanying the 2021 Intelligence Authorization Act, which was signed last December, called on the Director of National Intelligence, in consultation with the Secretary of Defense and the heads of various pertinent agencies, to produce an "intelligence assessment of the threat posed by UAP and the progress the UAPTF has made to understand this threat." U.A.P., or "unidentified aerial phenomena," is the revamped acronym for the perennial enigmas previously known as "U.F.O.s"; the U.A.P.T.F. is a task force that was established to investigate them. The formal announcement of the task force, last August, marked an inflection point in the arc of renewed official interest in the topic. An initial phase of government attention—running from 2007, when Harry Reid was persuaded to set aside twenty-two million dollars of "black money" appropriations for the study of U.F.O.s, through the end of 2017, when reporters for the Times revealed the existence of the secretive program—could be conceivably written off as the self-indulgent work of a small cadre of U.F.O. hobbyists who happened to be in the right place at the right time. The task force's report, however, would have the imprimatur of the intelligence community, and its very existence was hard to square with charges of hobbyism. Article continues here.

---

More on That CCP Defection...or Not.

Gen. Tom McInerney Reveals Why the CCP's Top Intel Head Defected to the DIA, NOT the CIA or FBI
by "Two Mikes" with Michael Scheuer and Col Mike. The Two Mikes had the good fortune to again host Lt. Gen. Tom McInerney (ret'd), who provided a good deal of new information about the top-level Chinese defector Dong Jinwei, who brought his daughter to America with him. The defector is a senior member of the Chinese Communist Party (CCP) and was in charge of its overseas intelligence apparatus, including supervision of all Chinese spies or agents overseas. Listen to their exchange here.

Also see: Did a Chinese Spymaster Defect to the US? Circumstantial evidence mounts that a top Chinese official may have switched his allegiance by John Jiang, 24 June 2021, The Spectator.

---

IFC Films to release "Enemies of the State" - July 2021

Opening in theaters and VOD July 30. An average American family becomes entangled in a bizarre web of espionage and corporate secrets when their hacker son ["Anonymous"] who has been running a secret server, receives a packet of classified information, and is subsequently targeted by the U.S. government for hosting and violating U.S. secrecy.
Director: Sonia Kennebeck Starring: Joel Widman, Stuart Anderson, Nemo Baletic. Trailer above. Runs 2 minutes.

---

The Arkin Group's June 25 "In Other News" letter to private clients by former Operations Officer Jack Devine features...

U.S. withdrawal from Afghanistan presents a challenging opportunity for Turkey.
A new Saudi-Pakistan oil deal will help Pakistan, but it will also help Saudi Arabia put a check on Iranian influence in the region.
A crackdown in Nicaragua intensifies as November elections draw near.

Follow link here to read analyses and predictions given to their private clients on the topics above.
Also, see June 15 Daily Beast article on Putin and Biden by Devine here.

Recently released was Jack Devine's Spymaster's Prism. AFIO's interview with him about this book appears in this issue at top of right column of this issue of the WINs. You can view the video at this link. Or hear the podcast here.

---

Inside the SCIF:

Inside the SCIF by JJ Green, WTOP - Issue #119, 24 June has details on DHS and Trump "Reinstatement Conspiracy"; Florida Condo Collapse Theories; NATO Stratcom Report on Russian cyberspace intentions; AG Garland on the Capitol Riot; TSA Ramping Up Inflight Security; and Amb. Joseph DeTrani on Alternate Paths to Resuming Negotiations with North Korea; German Arrest of Russian Spy; Proposed Foreign Military Sales; JCPOA on Iran; NK hack of SK nuclear agency; Siberia and global temperature hikes; and more.

The latest Target USA Podcast 282 is on: Will the U.S. Leave Thousands of Afghan Translators Behind?
John, an Afghan translator, explains why he helped the U.S. military. James Miervaldes, Chairman of "No One Left Behind," says the U.S. is failing John and tens of thousands of other Afghans who are being hunted down and killed by the Taliban.

And "The Hunt" explores: Afghans who helped the US hunt terrorists now being targeted. The Taliban has killed more than 300 Afghans who helped the U.S. during the war in Afghanistan. James Miervaldis, Chairman of the non-profit "No One Left Behind," says tens of thousands have been waiting for years for special visas to come to the U.S., but time may be running out on them.

---

The Latest... from Jeff Stein's highly popular "SpyTalk" series include a few podcasts...

June 27: "New: Another Bond, James Bond" by Jeff Stein
We meet a real live Bond, and explore other Cold War topics in this week's podcast.
Podcast here. Runs 31 min.

June 25: "Did the Navy Try to Design Its Own UFO?" by Peter Eisner
Patent Office and Navy green-lighted wild blueprint for physics-denying craft. Was it a psywar op?
Article here

June 22: "Feds: We Don't Have Chinese Defector Dong Jingwei" by Jeff Stein
Rumors of Chinese counterintelligence chief fleeing are false, Washington says
Article here

Readers, for a brief time, can subscribe for free for articles and weekend podcasts here.

---

---

Details on the exciting upcoming Virtual Education Programs of the National Cryptologic Museum Foundation are available on their new webpage here

Other NCF Events can be found here on NCF website here, and CCH website here.

---

---
---
Just Released to members...
Insights on Ali Hassan Salameh, the 1972 Munich massacre mastermind

Released 29 June 2021
on the "Red Prince" - Ali Hassan Salameh - the chief of operations—code name Abu Hassan—for Black September,
the organization responsible for the 1972 Munich massacre and other terror attacks
Interview of Friday, 7 May 2021 of Sam Wyman, former senior CIA Field Operations officer and Arabist. Interviewer - Host: James Hughes, AFIO President, a former CIA Operations Officer.
TOPIC: Sam Wyman and Jim Hughes discuss the "Red Prince" - Ali Hassan Salameh - the chief of operations—code name Abu Hassan—for Black September, the organization responsible for the 1972 Munich massacre and other terror attacks. Also discusses Beirut, Lebanon, Al-Fatah, Yasser Arafat, the PLO, Palestine, Syria, Israel, the "Wrath of God" response to the Munich massacres, the assassination of Hassan, Robert Ames, former CIA Chief, Near East Division.
The interview runs 33 minutes and includes several Q&As.
Access the Wyman interview here or click above image.
---
Prior Videos in the "AFIO Now" Series
View the publicly-released ones on our YouTube page
or log into the Member-only area to view private and public interviews.
---
PODCASTS: AFIO NOW is also available on 8 podcasting platforms. Search for 'AFIO Podcast' for a selection of the interviews above (public released ones) on Podbean; iTunes; Google; Spotify; Amazon Music; Amazon TuneIn + Alexa; iHeartRadio; and Pandora.
---
Hold the date: AFIO National's first in-person event is scheduled for Friday 8 October 2021
Friday, 8 October 2021, 11 am - 2 pm - In-Person Tysons Corner, VA - AFIO Luncheon featuring David Ignatius on "The Paladin" and Stephen Vogel on Traitor George Blake.
FOR YOUR CALENDAR. The first in-person AFIO National Luncheon for 2021 will take place on Friday, 8 October at DoubleTree Hotel, Tysons Corner. Event will feature David Ignatius discussing "The Paladin" or possibly another topic TBA. And the morning speaker, Stephen Vogel, discussing "Betrayal in Berlin" and traitor George Blake.
TO REGISTER: Registration link forthcoming.
VENUE: DoubleTree by Hilton, 1960 Chain Bridge Rd, Tysons Corner, VA 22182 Phone: (703) 893-2100. Directions at this link.
---
---
Newly Released, Overlooked, or Forthcoming Books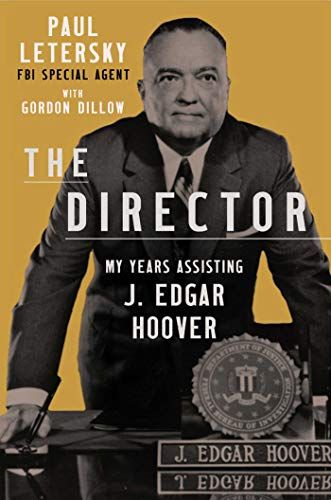 The Director: My Years Assisting J. Edgar Hoover
by Paul Letersky
(Scribner, June 2021)
In 1965, in the midst of the chaos, twenty-two-year old Paul Letersky was assigned to assist the legendary FBI director J. Edgar Hoover who'd just turned seventy and had, by then, led the Bureau for an incredible forty-one years. Hoover was a rare and complex man who walked confidently among the most powerful. His personal privacy was more tightly guarded than the secret "files" that he carefully collected—and that were so feared by corrupt politicians. Through Letersky's close working relationship with Hoover, and the trust and confidence he gained from Hoover's most loyal senior assistant for decades, Helen Gandy, Paul became one of the few able to enter the Director's secretive—and sometimes perilous—world.

Hoover, who would ultimately serve the country for forty-eight years, built the FBI into a professional crime-fighting organization unmatched by any nation. In his lifetime he was honored and feared, respected and denounced. Since his death half a century ago, millions of words have been written about him and hundreds of hours of TV dramas and A-list Hollywood films produced. But until now, there have been virtually no accounts from someone who, for a period of years, spent hours with the Director on a daily basis.

Balanced, honest, and keenly observed, The Director offers a unique inside look at one of the most powerful law enforcement figures in American history.
Book may be ordered here.
---
Checkmate in Berlin: The Cold War Showdown That Shaped the Modern World
by Giles Milton
(Henry Holt and Co., July 2021)
Story of the race to seize Berlin in the aftermath of World War II that fired the starting gun for the Cold War.
Berlin's fate was sealed at the 1945 Yalta Conference: the city, along with the rest of Germany, was to be carved up between the victorious powers—American, British, French, and Soviet. On paper, it seemed a pragmatic solution. In reality, now that the four powers were no longer united by the common purpose of defeating Germany, they wasted little time reverting to their pre-war hostility toward and suspicion of each other. The veneer of civility between Allies and Soviets was to break down in spectacular fashion. Rival systems, rival ideologies, and rival personalities ensured that Berlin became an explosive battleground.
The warring leaders who ran the zones that Berlin and Germany were divided into were charismatic, mercurial, larger-than-life men you'd sooner expect to find in a Quentin Tarantino movie than a history book. We meet America's explosive Frank "Howlin" Howley, a blunt sharp-tongued colonel with a relish for mischief who detested all Russians, and the Soviet Vassily Sokolovsky, who motored around Berlin in a luxury, American-made LaSalle sedan. Worldly and urbane, Sokolovsky sparkled with jokes, witty aphorisms, and folksy Russian proverbs and peppered his speech with quotes from the novels of Jane Austen.
Book may be ordered here.
---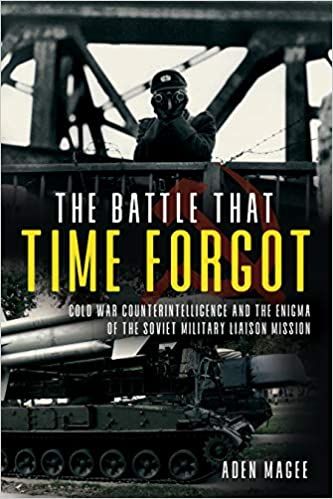 The Battle that Time Forgot: Cold War Counterintelligence and the Enigma of the Soviet Military Liaison Mission
by Aden C. Magee
(Casemate Publishers and Book Distributors LLC, July 2021)
An unprecedented survey of the counterintelligence war between the US and the USSR from the strategic level down to the countrysides of West and East Germany where the MLMs operated.
Details the Soviet Military Liaison Mission (SMLM) in West Germany and the U.S. Military Liaison Mission (USMLM) in East Germany as microcosms of the Cold War strategic intelligence and counterintelligence landscape. Thirty years since the fall of the Berlin Wall, the Soviet and U.S. Military Liaison Missions are all but forgotten. Their operation was established by a post-WWII Allied occupation forces' agreement, and missions had relative freedom to travel and collect intelligence throughout East and West Germany from 1947 until 1990.
Book may be ordered here.
---
Visit, Follow, Subscribe to AFIO's LinkedIn, Twitter, and YouTube pages to receive updates.
Members who use social media or wish to explore, will find new announcements and other material on AFIO's Twitter and LinkedIn pages. New videos on our YouTube page appears below as well.
Access them here: LinkedIn, Twitter, and YouTube. By following or subscribing on those sites, one can be notified as new material appears.




NEW — PODCASTS: Our new social media expert has been busy! Are you too busy to sit and watch an entire "AFIO Now" episode above on YouTube? Would you rather listen in your car or while accomplishing other tasks? Now you can quickly download or stream episodes on your favorite podcasting platform. AFIO is now available on 8 podcasting platforms. Search for 'AFIO Podcast' for a selection of the interviews above (public released ones) on Podbean; iTunes; Google; Spotify; Amazon Music; Amazon TuneIn + Alexa; iHeartRadio; and Pandora.
---
Writers, Officers: Please Provide A Brief Article for This Ongoing AFIO History Project
AFIO's educational project "When Intelligence Made a Difference" seeks writers to identify events throughout history involving any nation or organization when the outcome was affected significantly by intelligence.
AFIO has been publishing edited submissions serially in Intelligencer released two to three times a year.
To see what has been published, it is available here. Also look at the Winter-Spring edition of the journal arriving in the mail of all members and subscribers over the next three weeks.
Those readers interested in contributing an article, should email peter.oleson@afio.com.
For instructors, this project makes a great class assignment. Accepted articles give students a publication credit in a recognized journal.
---
---
One of the special benefits of membership in AFIO: access to CIA's inhouse gift shop — the EAA Store.
It requires a quick preapproval process described here to all newly joined and current AFIO members. And then allows you to purchase online their unusual logo'd gift items for self or colleagues. Here is the latest photo EAA released on June 18 featuring some of their newest items, this time for children of officers:
---

---

Guide to the Study of Intelligence and When Intelligence Made a Difference

"AFIO's Guide to the Study of Intelligence" has sold out in hard-copy.
However, it is available in digital form in its entirety on the AFIO website here.

Also available on the website here are the individual articles of AFIO's history project "When Intelligence Made a Difference" that have been published to date in The Intelligencer journal. More articles will be forthcoming in future editions.

---

MASKS GONE...

THANK YOU Members! All AFIO logo face masks have now been distributed from the sudden arrival of many of your donations. We appreciated your generosity, support, and continuing interest.

---

---

Position Available at AFIO National

Work at AFIO National. AFIO is seeking to fill the following position in our McLean-Tysons-Falls Church, VA offices:

DIRECTOR OF MEMBERSHIP

Part-time position; hourly pay rate. Work hours daily Monday through Friday. Maximum number of monthly work hours is 140.

Memberships: Maintain AFIO membership database, to include processing information changes, membership renewals, and new membership applications; produce membership data statistics. Serve as the liaison between corporate members and AFIO chapters and the Board of Directors. Provide annual roster verification and recruitment support for AFIO chapters. Responsible for monthly invoicing cycle and membership renewal cards and welcome package mailings. Perform targeted mass mailings at intervals throughout the year. Process donations and work with the Events Coordinator to prepare notes of appreciation and to pack/ship thank you gifts.
Office/Office Systems: Order, maintain inventory of, and label office supplies; organize storeroom and office reception space. Responsible for all office systems: computers, server, phones, internet including backups; provide technical support to other office personnel. Work with IT contractor to ensure up-to-date hardware, software, and office equipment (postage meter, copier, folder/inserter).
Store Sales: Maintain inventory of store merchandise. Process all incoming store item orders. Pack and ship merchandise orders.
Phone/Emails/Visitors/Admin: Respond promptly to all phone calls, emails, mailed correspondence, and in-person visits. Code and process all check payments and prepare monthly bank deposit.
Events/Board Meetings: Create online registration form for events. Process all incoming event registrations. Work with Events Coordinator to answer questions pertaining to events. Provide onsite service to include setup and operation of AFIO audio/visual equipment; coordinate with speakers and hotel staff on IT issues. Provide onsite support at quarterly Board meetings, take meeting notes and prepare draft minutes.

To apply, or arrange an interview, or for additional information, contact Annette Janak at AnnetteJ@afio.com
---
---
---
Section I - INTELLIGENCE HIGHLIGHTS

Russian Intelligence Service Chief Says Moscow Will Work With US to Find Hackers. Alexander Bortnikov, head of Russia's FSB security agency, said Wednesday morning that Russia would work with the United States to bring criminal hackers to justice.

Bortnikov spent the day speaking at the Moscow International Security Conference, where he emphasized cybersecurity risks to critical IT infrastructure, a worry in line with growing international concern about hackers disrupting critical services.

"We are taking actions within the framework of the agreements that were implemented by our presidents. So we will work together, we hope for reciprocity," he said, answering a reporter's question, as quoted in Russia's state-run RIA news service.

Obtaining Russian cooperation in the fight against cybercrime is considered by most experts a critical component of deterring cybercrime in general and ransomware specifically. [Read more: Uchill/SCMedia/23June2021]

Christy Abizaid Confirmed to Lead National Counterterrorism Center; DNI Avril Haines Quoted. Christy Abizaid, most recently vice president of global operations at Dell Technologies, has received Senate confirmation to serve as director of the National Counterterrorism Center (NCTC).

She will be the first female head of the government's primary organization responsible for analyzing terror threats and sharing terrorism-related information with government and commercial entities.

"Christy brings a command of counterterrorism issues, leadership acumen, thoughtfulness, and enterprising approach that will enable her to effectively steer the Intelligence Community's work on these issues and lead the CT mission into the future," said Avril Haines, director of national intelligence and a 2021 Wash100 Award recipient. [Read more: Leishman/ExecutiveGov/28June2021]

Potential Terrorist Attacks in the Western Region in Libya, Intelligence Service Warns. The Chief of the Libyan Intelligence Service, Hussein Al-Aeb, issued a warning that Al-Qaeda in the Islamic Maghreb is planning to carry out terrorist operations on Libyan soil.

Many activists on social media have circulated a letter described as 'confidential', sent by Al-Aeb to the Prime Minister, Abdel Hamid Dbeibah and a number of various officials, in which he confirmed the 'very reliable intelligence' regarding the intention of Al-Qaeda to launch attacks in the western region, specifically, Tripoli, Al-Zawiya and Surman.

In the message, Al-Aeb demanded the issuance of emergency orders requiring awareness and the raising of all levels of security in preparation of the anticipated attacks, according to the text of the letter. [Golden/LibyaObserver/25June2021]

NATO Strengthens Cooperation Between Intelligence and Security Community and Centres of Excellence. On 24 June 2021, Deputy Assistant Secretary General for Intelligence Major General Jürgen Brötz hosted the second annual meeting between intelligence and security related Centres of Excellence (COEs) and NATO's intelligence and security community. They discussed strengthening cooperation, with a focus on education and training opportunities. The online meeting contributed to the further strengthening of mutual understanding and awareness, as well as to identifying areas where the thirteen invited COEs could assist NATO's intelligence and security efforts on matters of common interest.

The decisions taken by Allied leaders at last week's NATO Summit formed the backdrop of this year's meeting. [Read more: NATO/24June2021]

Clark Construction and HKS Break Ground on FBI Innovation Center at Redstone Arsenal. Clark Construction Group and HKS joined representatives from the FBI including its director Christopher Wray, the Alabama Congressional delegation, the United States Army, NASA, MDA, and the city of Huntsville to celebrate the groundbreaking of the FBI Innovation Center in Huntsville, Alabama. Clark-HKS is serving as the design-build team on the project.

The Innovation Center is located at Redstone Arsenal where the FBI is building a 243-acre campus to strategically realign the Bureau, build its capabilities, enhance its training programs, and tap into top talent in the region.

As the flagship building of the FBI's new Science and Technology District at Redstone Arsenal, the 250,000-square-foot Innovation Center will be a first-of-its-kind facility dedicated to cyber threat intelligence, data analytics, and training to combat emerging threats. [Read more: BusinessWire/29June2021]

Canadian Public Health Agency Launches Intelligence Team to Prepare for Future Pandemics. The Public Health Agency of Canada has quietly reorganized its internal divisions and assembled a security and intelligence section tasked with providing better, faster warnings of future pandemics, CBC News has learned.

The creation of the intelligence division - part of a widespread reconfiguration of teams within the agency - comes in response to pointed criticism of PHAC's early pandemic response in 2020.

Government sources with knowledge of the file said the pandemic led to an influx of new personnel and resources, making it necessary to revamp PHAC's organizational structure. CBC News is not identifying the confidential sources because they were not authorized to speak publicly. [Read more: Brewster/CBCNews/24June2021]

4th Circ. Upholds NSA, CIA's Employee Pre-Publication Review Policies. A U.S. appeals court on Wednesday said the Central Intelligence Agency, Department of Defense and two other federal agencies do not violate former employees' free-speech rights by requiring them to seek review before publishing information that could be classified or otherwise implicate national security.

A unanimous three-judge panel of the 4th U.S. Circuit Court of Appeals said that by voluntarily signing agreements to seek pre-publication review, the five plaintiffs in the 2019 case waived their right to pursue claims that the policies violated the 1st Amendment of the U.S. Constitution.

The panel also rejected the plaintiffs' claims that the scope of the agencies' review was too broad, and their guidelines for pre-publication review were confusing and unclear. [Read more: Reuters/23June2021]


---
Section II - CONTEXT & PRECEDENCE

Crack the Code - Mural Honouring Queer Hero Alan Turing Unveiled at UK Intelligence Agency. The UK's intelligence agency, GCHQ, has come up with an ingenious way of honouring the wartime codebreaker and gay hero, Alan Turing. A vast work, created by the 3D artist Joe Hill in consultation with staff from GCHQ's Pride network, takes pride of place at the GCHQ hub in Benhall, Gloucestershire. The rainbow-coloured piece shows Turing inside "drums" from the British Bombe, his machine designed to break Enigma-enciphered messages during the Second World War. The celebratory piece was unveiled yesterday on what would have been Turing's 109th birthday (the Bletchley Park codebreaker took his own life in 1954 after being convicted of gross indecency). There is an extra element to the arty tribute - the mural contains 15 hidden codes that may take a while to decipher (these are very brainy puzzles). "Alan Turing was a genius who helped to shorten the war and influence the technology that still shapes our lives today. He was embraced for his brilliance but persecuted for being gay," says GCHQ director, Jeremy Fleming. Turing is also the first LGBTQ person to be honoured on hard cash after a £50 note featuring his fine features entered circulation in the UK yesterday (thanks for everything Alan). [Read more: TheArtNewspaper/24June2021]

The CIA's Bird-Shaped Aquiline Drones Could Still Be Caged Up At Area 51. Documents declassified about the CIA's Project Aquiline, which sought to develop a small, stealthy drone that resembled a bird in flight, ended up being stored at Area 51 after the project was cancelled. Like so many other aerospace projects that were kept from the public eye, the Aquiline drones could very well still be kept at the secretive Nevada base collecting dust in a storage facility or even buried in the dirt.

According to the CIA's paper trail, Aquiline was intended for "multi-sensor collection and advanced emplacement capability for collection of intelligence" and to "enable an almost completely surreptitious penetration" into unfriendly skies. Aquiline's designers attempted to mimic the characteristics of a bird in order to allow it to remain as undetectable as possible, a feature that can clearly be seen in some of the drone's prototypes. While the project was terminated before it ever reached operational status, the Aquiline documentation released by the CIA shows that after it ended, all Project Aquiline assets were stored at Area 51 "semi-permanently." It's unknown what became of them after that. [Read more: Tingley/TheDrive/28June2021]

The Story of the Hexagon, a Danbury-Built Spy Satellite That Helped Win the Cold War. The retired spies met regularly at the Danbury mall food court for lunch.

Before COVID-19's arrival they'd gather at a table near the McDonald's kiosk and talk about old times, current goings-on and golf. Beginning in 2011, they'd often repeat a word that for nearly a half-century they hadn't dared even to whisper: Hexagon.

They weren't really spies, not exactly, but they'd been cleared for top-secret work and long ago had crawled down a rabbit hole that led to the front lines of Cold War espionage.

On June 15, 1971, 50 years ago this month, the first Hexagon spy satellite launched into space from Vandenberg Air Force Base in California aboard a giant Titan IIID rocket. [Read more: Ofgang/ConnecticutMagazine/29June2021]

The Indian Master Spy Who Solved the Plot to Kill Zhou Enlai. R.N. Kao was born in Benaras to a Kashmiri Pandit family in 1918. He joined the United Provinces Cadre of the Indian Imperial Police (the Indian Police Service after Independence) in 1940. After Independence, he was transferred to the IB - India's oldest Intelligence agency, formed in London in 1887 and recast in 1947 as the Central Intelligence Bureau under the Ministry of Home Affairs.

One of the principal tasks assigned to Kao at IB in those days was VIP security. In this role, he had handled the security detail for Nehru himself. Kao was also in charge of VIP security for foreign dignitaries visiting India. It was the training that he received in this capacity that prepared him for this, his first major assignment: the 1955 Kashmir Princess (crash) probe in Beijing, formerly known as Peking.

Kao knew he had been handpicked to lead the investigation and was well aware of the magnitude of the task that lay ahead of him. The eyes of China, Hong Kong, the UK and India were on him. It was his first 'special assignment' and the pressure was tremendous, even for the usually imperturbable Kao. [Read more: Mint/29June2021]


---
Reimagining Human Intelligence - The Case for a Sunlight Strategy. Rumors of a recent high-level Chinese intelligence defector bring into focus a much-neglected facet of human intelligence (HUMINT) that begs for greater energy and innovation. A typical U.S. HUMINT operator, if asked to explain the goal of HUMINT, would likely respond that it is intelligence provided by a clandestine agent inside an adversary government or country. In fact, HUMINT is simply intelligence provided by human beings, and sometimes those humans are clandestine sources working in-place. While the recruitment of agent penetrations of U.S. adversaries is its highest expression, other forms of HUMINT also offer tremendous potential to answer key intelligence questions.

Intelligence defectors, for example - individuals who flee their countries conveying their secrets with them rather than covertly sharing them from inside - have historically supplied the United States with vital insights into the capabilities of dangerous foes. Despite their demonstrated high impact, I contend the United States does not have a well-defined defector strategy, nor has the defector facet of HUMINT received the level of doctrinal attention commensurate with its historic contribution to national security. But even if this deficiency were corrected, it would not represent an innovation, rather the overdue refinement of a known element of espionage. What then would a true innovation look like in a HUMINT context? [Read more: Sims/JustSecurity/25June2021]

Russia, Colonial Pipeline, and Whether the Attack Is an Alarming Omen. The May 7, 2021, ransomware attack on Colonial Pipeline by a cyber-threat actor known to have been operating out of Russia is believed to have been at least tacitly authorized by the Russian government. The implications of the attack were immediately intriguing, but the analysis provided in this article was held pending a more definitive degree of attribution, which has yet to materialize.

The most compelling evidence that the Russian government is at least allowing cyber-crime actors to operate with relative safe haven is the fact that Russia would be among the last countries an organization would choose to operate from if it were concerned with government detection and retribution. Whether Russia is using malign actors such as DarkSide as GRU front organizations or cyberspace mercenaries - or simply turning a blind eye as long as they only target countries other than Russia and its allies - it is now among the top information operations with which the U.S. Intelligence Community is contending. Dating back to the early 1900s, however, the Russian ability to protect state secrets, disinform the West, and obfuscate their true intentions has remained consistently effective.

As it stands, based on what is known, there are two competing alternatives which suggest that either the GRU will now bring criminal organizations under more stringent control, or that the Colonial attack may be an even more alarming omen. [Read more: HomelandSecurityToday/29June2021]

The National Security Risks of the US Drought. Each new report about this year's western drought reveals another record-breaking development: Hoover Dam's Lake Mead is at its lowest level ever. More acres have already burned across California compared to this time last year. Extraordinary electricity demand is straining the Texas electric grid to its limit.

As a former member of the US intelligence community, I have no doubt that intelligence analysts in foreign capitals are watching the reports come in with one purpose in mind - analyzing the impact of these unprecedented developments on security in the United States.

What might their analysis reveal? [Read more: Sikorsky/TheHill/26June2021]


---
Section IV - Research Requests, Jobs, Obituaries
ISO former CIA officers w/ Czech experience
I'm the daughter of Dagmar Stapleton who worked on the Czech desk from around '74 to '94. Am hoping to talk with former Prague case officers, station chiefs, deputy station chiefs from that time period for a research project.
Please contact me at viveca.novak@gmail.com. [Viveca Novak is an American journalist who has worked as the editorial and communications director at the Center for Responsive Politics since 2011. She was previously a Washington correspondent for Time and The Wall Street Journal. She is a frequent guest on CNN, NBC, PBS, and Fox.]
Researcher Seeking Your Experiences Working in Western North Carolina on DoD/NSA Rosman Research Station in 1980s.
I'm Craig Gralley, a 34-year veteran of CIA and currently a freelance writer in the Brevard, NC area. I'm also a volunteer at PARI - the Pisgah Astronomical Research Institute in nearby Rosman. PARI is now dedicated to STEM education and research, but has had a storied history that is largely unknown to the people of this mostly underserved area of rural North Carolina. I have volunteered to write PARI's history. NASA first constructed the site in 1962 as a ground station for a variety of unmanned scientific satellites. AFIO members might remember when DoD/NSA took over the site in 1981 and called it the Rosman Research Station (NSA's participation at the site was declassified nearly a decade ago). NSA gave up the site in 1995.
I am receiving NSA's support through a FOIA request to declassify more information about the facility. My goal is to make this history less about satellites and their capabilities and more about what it was like working in a remote location in western North Carolina. Personal stories, things that could have gone wrong but didn't (or did), success stories—humorous/serious anecdotes—all of it is welcome. My goal is to take the edge off of a dry history and give the Rosman ground station a human face.
I'd be glad to attribute anything that comes to me in the way desired by the contributor.
Thanks for your help.
REPLIES to Craig R. Gralley, 703.581.3440 (mobile), craig.gralley@gmail.com. More about Craig at www.craiggralley.com
Call for Papers: 2021 "Bobby R. Inman Award" for Student Scholarship on Intelligence at University of Texas, Austin
The Intelligence Studies Project of The University of Texas at Austin announces the seventh annual competition recognizing outstanding student research and writing on topics related to intelligence and national security. The winner of the "Inman Award" will receive a cash prize of $5,000, with two semifinalists each receiving a cash prize of $2,500. This competition is open to unpublished work by undergraduate and graduate students enrolled in degree programs at accredited U.S. higher education institutions during the 2020-21 academic year. The deadline for submitting papers is June 30, 2021.
The Bobby R. Inman Award recognizes more than six decades of distinguished public service by Bobby R. Inman, Admiral, U.S. Navy (Ret.). Admiral Inman served in multiple leadership positions in the U.S. military, intelligence community, private industry, and at The University of Texas. His previous intelligence posts include Director of Naval Intelligence, Vice-Director of the Defense Intelligence Agency, Director of the National Security Agency, and Deputy Director of Central Intelligence. He continues to serve as a teacher, advisor, and mentor to students, faculty members, and current government officials while occupying the Lyndon B. Johnson Centennial Chair in National Policy at the LBJ School of Public Affairs. His areas of teaching and research are focused on political, economic, and military activities, policy processes and institutions, international affairs and diplomacy, and intelligence and national security.
Additional information about the Inman Award, including submission requirements and previous winners, is available here.
Call for Papers - The Center for Cryptologic History (CCH) and the National Cryptologic Foundation (NCF) invite proposals for papers for 18th Cryptologic History Symposium, 11-13 May 2022.
The Center for Cryptologic History (CCH) and the National Cryptologic Foundation (NCF) invite proposals for papers to be presented at the 18th Cryptologic History Symposium, 11-13 May 2022. The Symposium will be held at the Johns Hopkins University Applied Physics Lab Kossiakoff Center in Laurel, Maryland. The theme for the symposium is "Icons and Innovation." Proposals are due 7 September 2021.
For more information visit the NCF or contact cchevents@nsa.gov.
Seeking Officials Who Served USSR/Russia 1965-2015 and Other Posts - with knowledge of, or exposure to, Microwave/Directed Energy Weapons
Prominent D.C. Attorney seeking former intel officers or others who served in USSR/Russia during 1965-2015, as well as anyone who has information concerning possible microwave/energy directed weapon exposure of U.S. officials by foreign adversary.
Replies to Mark S. Zaid Esq, mark@markzaid.com. Or call him at (202) 454-2809.
More information about Mr. Zaid at MarkZaid.com.
Request for Assistance Researching Clandestine Maritime Operation in Da Nang 1950s-1970s
"My old Master Chief, James "Jim" Gray and I wrote the first history of Naval Special Warfare Combatant Craft (WARBOATS, 55 Years of Naval Special Warfare Combatant Craft History) for our veterans organization the Combatant Craft Crewman Association (CCCA), now in its second printing. One of the areas that we wanted to explore in greater depth were the clandestine maritime operations based in Da Nang from the South Vietnamese and CIA period through Switchback and Military Assistance Command Vietnam-Studies and Observation Group (MACV-SOG) control and the final the American withdrawal.
We are looking for assistance with this research in particular on the CIA side, as much of the MACV-SOG documentation has been declassified and we have spoken with the SEALs and Boat Support Unit One men of Mobile Support Team 1 and the Mobile Repair Team. Our Norwegian colleague, Jan Tore Nilsen is a Senior Reserve Commander in the Norwegian Navy is researching Norwegian involvement in Vietnam and has interviewed the surviving Norwegian contractors and obtained documents and photos from them as well as obtained documents regarding acquisition and construction of the Norwegian PTF (Patrol Torpedo Fast) boats for operations in Vietnam. An old friend of mine who was an historian for the CIA suggested we contact AFIO and ask for assistance. We would greatly appreciate any assistance from AFIO members."
Replies to Phil Garn at pggarn@yahoo.com
Seeking Spy-Themed Tourism Experts and New Recruits (with IC backgrounds) for Metro D.C. area opportunity
ISO former Intelligence Officers who might be interested in getting involved in spy-themed tourism in the Washington D.C. metropolitan area.
Also interested in speaking with those who may already be involved in the tourism and travel industry elsewhere.
Please contact Rosanna Minchew at r_minchew@me.com or 571-236-9052.
LUNINT Flight Software Engineer - Washington, DC area location - for Rhea Space Activity
The Flight Software Engineer is responsible for providing technical expertise on the needs of the proposed system, contributing in technical discussions with a multidisciplinary team, and developing navigation software for spacecraft operating throughout cislunar space. As part of our small team, you will be our in-house flight software expert, and be instrumental in the development of novel flight control software for the USSF/USAF.
MANDATORY QUALIFICATIONS
1. Deep experience with coding in C and/or C++.
2. Deep experience with coding MATLAB/Simulink.
3. Familiarity or experience in several of the following areas: orbital dynamics, astrodynamics, manifold dynamics, guidance, navigation, control, avionics, Kalman filtering, optics, and systems engineering.
4. Completed M.S., Ph.D, or equivalent in a STEM field.
5. Able to relocate to the Washington D.C. metro area no later than September 2021.
6. Ability to travel within the continental United States and to various international destinations
7. Must be a U.S. citizen or national, U.S. permanent resident (current Green Card holder), or lawfully admitted into the U.S. as a refugee or granted asylum.
Full job description here.
Intelligence Researcher - Johns Hopkins APL, Laurel, Maryland
Are you seeking an opportunity to learn about foreign weapons systems?
Do you take pride in your deep knowledge of adversary capabilities?
If so, we're looking for someone like you to join our team at APL.
We are seeking an intelligence researcher to help us to inform APL's research and development of sensitive technologies for the U.S. Government. You will assist the Scientific and Technical Intelligence Liaison Officer (STILO) in the National Security Analysis Department (NSAD). This position is designed for a creative, dynamic individual who fosters excellence and innovation, who has a passion for research, and effectively partners to ensure systems developed by APL for the U.S. Government are capable of addressing the most stressing future threats. This position provides strategic, forward leaning intelligence analysis to lead APL and our sponsors to understanding the threat environment and the integration of threat analysis into current and future technology development, studies, and operational analyses.
As a Intelligence Researcher...
Your primary responsibility will be to contribute to APL's participation in the U.S. Navy STILO Program (OPNAVINST 3880.6B)
You will conduct in-depth research of U.S. Government intelligence products and materials in direct support of selected APL programs.
You will develop and maintain in-depth knowledge of adversary threats and capabilities in support of assigned APL Mission Areas and programs.
You will review and approve APL program requests for threat support. Submit intelligence production requirements via the DoD COLISEUM tool (or other tasking methods as appropriate). Determine the level of detail required and identify the Intelligence Community production facility best suited to satisfy the requirement and oversee coordination with the intelligence community organization being tasked to provide support.
You will assist with overhead functions associated with running the APL STILO organization and STILO Facility.
Full job description here.
BECOME THE DIRECTOR OF CID: The U.S. Army Criminal Investigation Command seeks new Director of CID
The U.S. Army Criminal Investigation Command is seeking a Senior Executive Service (SES) to lead CID and execute its worldwide felony investigative mission. The SES is a small elite group of top government leaders. SES members possess a diverse portfolio of experiences including strong skills to lead across organizations. Senior Executives influence the direction of innovation and transformation of the federal government and lead the next generation of public servants.
CID supports the Army in peacetime and during war. An SES can make a significant contribution to the nation by leading a team of highly-trained professionals while fighting felony crime and making the U.S. Army strong and safe.
Open & closing dates 06/22/2021 to 07/06/2021. Service Senior Executive Pay scale & grade ES 00 - Salary $132,552 to $199,300 per year. This is a Tier 2 Position. Salary for Tier 2 positions in Army are normally between $174,225 and $192,000.
View full job announcement on USAjobs.gov and apply. A flyer about the position is here.
Assistant Professor, Intelligence and Information Operations, Tenure Eligible - Arizona (Sierra Vista)
The University of Arizona College of Applied Science and Technology (CAST), an Office of the Director of National Intelligence (ODNI) designated Intelligence Community – Center for Academic Excellence (IC-CAE) located on the University of Arizona Sierra Vista campus, is seeking an Assistant Professor to teach undergraduate courses within the Intelligence and Information Operations (IIO) program and to lead research in the fields of Intelligence, Information warfare, and Law Enforcement Intelligence. Consistent with the Dean's vision for Programs to contribute to interdisciplinary research and educational program innovation, the Tenure-Track Assistant Professor will support the Intelligence and Information Operations Program to contribute to the College's strategy of cross-campus, national, and international multidisciplinary research, and educational initiatives. CAST is seeking candidates who can demonstrate outstanding teaching as well as the ability to develop new research programs consistent with the college's purpose, vision, and values. The Assistant Professor, Intelligence and Information Operations will contribute to building a strong team of culturally diverse faculty and staff who are committed to preparing traditional, post-traditional, and transfer students for success in a 21st-century workforce.
Outstanding UA benefits include health, dental, and vision insurance plans; life insurance and disability programs; sick leave and holidays; UA/ASU/NAU tuition reduction for the employee and qualified family members; state and optional retirement plans; access to UA recreation and cultural activities; and more!
At the University of Arizona, we value our inclusive climate because we know that diversity in experiences and perspectives is vital to advancing innovation, critical thinking, solving complex problems, and creating an inclusive academic community. As a Hispanic-serving institution and a Native American/Alaska Native-serving institution, we translate these values into action by seeking individuals who have experience and expertise working with diverse students, colleagues, and constituencies. Because we seek a workforce with a wide range of perspectives and experiences, we provide equal employment opportunities to applicants and employees without regard to race, color, religion, sex, national origin, age, disability, veteran status, sexual orientation, gender identity, or genetic information. As an Employer of National Service, we also welcome alumni of AmeriCorps, Peace Corps, and other national service programs and others who will help us advance our Inclusive Excellence initiative aimed at creating a university that values student, staff and faculty engagement in addressing issues of diversity and inclusiveness.
For more information and to apply visit this webpage.
Intelligence Analysis Visiting Faculty Position at James Madison University, Harrisonburg, VA
James Madison University (JMU) seeks applicants for a visiting faculty position in its Bachelor's Degree Program in Intelligence Analysis (IA). The appointment is for one academic year (with the possibility of renewal for a second year depending upon the Program's needs) at the Assistant or Associate Professor level. This position will reside within the larger School of Integrated Sciences. The IA program offers a multidisciplinary undergraduate degree with an emphasis on methodology and technology to prepare students to become analysts, with a specialization in intelligence analysis. Its graduates have been successful in securing positions as analysts in both the public and private sectors, to include the Intelligence Community, military and law enforcement organizations, defense contractors, and major consulting firms. The program emphasizes methodology and synthesizes critical and creative thinking methods with technological tools for data collection, visualization, and analysis with situational knowledge of a problem's political, economic, social, and technological context with strong communicative and professional skills to support decision-making.
Review of applications will begin on May 1, 2021; the search will remain open until the position is filled. Application materials should include 1) a detailed cover letter that explains how the candidate's experiences fit the position's requirements and values, and should specifically explain the applicant's views on the importance of diversity and inclusion in higher education, 2) curriculum vitae, 3) concise but specific description (no more than 2 pages) of how the candidate would approach teaching the courses from the above list (if offered the position), and 4) contact information for at least three references. Application materials must be submitted online through JMU's application system: https://joblink.jmu.edu/. To apply refer to job #F1590. Salary shall be commensurate with experience. Employment is contingent upon the successful completion of a criminal background check. Questions can be directed to the Chair of the search committee, Dr. Noel Hendrickson, at hendrinx@jmu.edu.
For a full description of Duties and Responsibilities and Qualifications sought, follow this link: https://joblink.jmu.edu/postings/8812
Assistant Professor (tenure-stream) of International Affairs/Intelligence sought by University of Pittsburgh
The Graduate School of Public and International Affairs at the University of Pittsburgh is seeking to hire an Assistant Professor of International Affairs with a focus in intelligence matters (broadly understood). We are looking for someone who can teach on intelligence subjects in our Security and Intelligence major and contribute to our International Affairs program more generally. We welcome those trained in political science, history, and other disciplines, and are particularly interested in those with cyber or regional expertise. The deadline is March 31.

The full announcement can be read -- and application submitted -- through Pitt's Talent Center here.
THREE Faculty Openings for 2021 at Hilbert College, Hamburg, NY
Assistant Professor, Criminal Justice; Assistant Professor, Forensic Science/Crime Scene Investigation; and Assistant Professor, Intelligence & Data Analysis.
Interested candidates can view our job postings here.
---
Michael Bennett, CIA Engineer and Author
Michael E. Bennett, 68, CIA Engineer and author, died of sero-negative auto-immune hepatitis on 30 March 2021 in Lovettsville, VA.
A Milwaukee, WI native, he held many and varied jobs throughout his career. It all began at A.O. Smith in Milwaukee working as a co-op while attending Purdue University. From there, Michael worked as an engineer at the CIA and later as a consultant to various entities of the Federal Government. He was a subject matter expert on Denial & Deception and coauthor of "Counterdeception Principles and Applications for National Security." His final position was serving as a patent examiner at the US Patent and Trademark Office.
After that, he retired to a rural property in Lovettsville with his wife. Michael was passionate about his cats, gardening, and outdoor activities. A three-time cancer survivor and successful stem cell transplant recipient, he didn't hesitate to tell his story and provide invaluable support to others who were struggling through similar situations.
He is survived by his wife, Catherine S. Gill; a sister, his devoted cat Molly, and other family.
Bob Bergin, former FSO, Author
Robert C. Bergin, 83, former Foreign Service Officer, Author, died 9 June 2021 in Fairfax, VA.
Bob Bergin, like his beloved cats, had many lives. While a student at Villanova in English Lit he enlisted in the U.S. Army, the sole GI on the troop carrier to Japan not to be seasick in a typhoon. He rode his beloved Yamaha motorcycle all over Japan, taught English to high school students and rode cross country on the Yamaha on his return to the U.S.
Bob joined the Foreign Service, interrupting his MA studies in English Lit at Georgetown University and his sky-diving hobby, to begin Vietnamese language studies. He had volunteered for his posting in Saigon and witnessed firsthand the TET offensive and the attack on the U.S. Embassy. Tours in Thailand (twice), Indonesia, South Africa and Kenya followed.
In 1986, he and wife Monique, started their Asian antique business, Banana Tree. They opened their shop on King Street in Alexandria, VA in 1988. When not hunting art treasures for Banana Tree, Bob pursued other interests in Asia. He worked closely with the Foundation for the Development of Thai Aircraft and with groups involved with the recovery of WWII aircraft in Asia. He maintained a special interest in the American Volunteer Group (AVG) "Flying Tigers", one of the most effective and colorful combat units in the history of aerial warfare. His many articles on these subjects are often referenced.
In recent years his writing interest expanded to include OSS and Free Thai operations. On visits to China, he pursued interests in WWII aviation and the People's Liberation Army Air Force (PLAAF). He is the first American writer to be given interviews with senior PLAAF combat pilots, including a leading MIG-15 ace, and a PLAAF attack pilot involved with China's nuclear program who became the pilot to drop China's first H-Bomb. The resulting article published by the Smithsonian Air and Space magazine was selected by the New York Times for their weekly Must Read Section.
Bob wrote 4 novels, all set in Asia, and numerous short stories, two of which appeared in Evergreen Review.
He moved on to his next life June 9, age 83, where hopefully there are airplanes, Thai food, good word processors, old friends and cats.
Offer Condolence for the family of Robert C. Bergin here.
Tom Brennan, NSA Analyst/Officer
Thomas James Brennan, 91, NSA Analyst/Officer, died 20 April 2021 in Bowie, MD.
Born in Washington, DC, the family lived a simple life in southeast Washington, prioritizing friendships and family. Tom attended Gonzaga High School, earning his diploma in 1947. He took a position with Pepco, the Washington DC-based utility company, working as bookkeeper and junior accountant until drafted into the Army. After basic training, he earned a position in Officer's Candidate School, and was commissioned as a Lieutenant. He then served in the Korean War participating in engineering, supply and training assignments before his discharge in 1953. His time in Korea led to him disappointing his children by denying their request to go camping with his quip, "I camped for two straight years in Korea. I'm done camping."
He took advantage of the GI Bill and enrolled in the University of Maryland, College Park, becoming the first in his family to do so. After four years, he earned his Bachelor of Arts degree in History.
After college, Tom received a position as an analyst and intelligence officer at the National Security Agency (NSA) in Fort Meade, MD. He was a dedicated and faithful employee, ultimately providing 33 years of service. His work, contributions, and successes throughout his career at NSA remain known only to his colleagues. His loyalty and commitment to his oath as an intelligence officer extended beyond his tenure at NSA. Even at the age of 90, 32 years after his retirement, when a grandson asked him to share some of the specifics of his work for a school assignment, he declined, stating he was uncomfortable discussing it and wished to keep his vow to the Agency.
One career decision had a profound impact on his family. In 1981, Tom accepted a three-year tour of duty at the Government Communications Headquarters (GCHQ) in Cheltenham, England, Britain's counterpart to the NSA. The move to England opened doors, minds and hearts for the entire family. Everyone developed an appreciation of another nation and culture and a desire to travel. Most importantly, the family developed friendships that remain strong to this day.
In 1989, Tom retired from NSA and embarked on the final chapter of his life that lasted 32 years. He and his wife traveled across the US and abroad, kept busy on projects around the house, and took courses with Elder Hostel. The University of Notre Dame, Williamsburg, and Hilton Head were frequent destinations.
His quiet nature masked his exceptional intelligence and keen sense of humor. He humbly practiced his Catholic faith. He went to the gym until COVID-19 put a stop to it. He enjoyed the latest technical gadgets. And loved Maryland Terps basketball and Notre Dame football.
He is survived by his wife, Katherine (Kitty) Hanlon, two daughters, two sons, and other family.
James Chiao, USG Officer
James Tse-Min Chiao, 93, a USG Officer, died of heart failure on 3 June 2021 in Shanghai, China.
James left a mark on this world unlike most. He served in the U.S. Army during the Korean War and was an esteemed officer for the U.S. government for over 30 years. He and his wife of 54 years, Karen, traveled the world together, changing the lives of everyone they met. He was the life of every party and the rock that held his family together. He will be remembered for his selflessness, charm, and commitment to what is right.
He is survived by a daughter, by two granddaughters, and other family.
William Clarke, Ambassador, FSO, INR CI Executive
William Davis Clarke, 79, Ambassador and FSO, INR CI Executive, died of kidney failure on 23 May 2021 in Renton, WA.
Clarke retired in 2001 after three years (1998-2001) as Ambassador to Eritrea.
Clarke, a Chicago native, began his State Department career in 1965. His foreign postings included Panama, Japan, France and Egypt. He had been deputy assistant secretary of counterintelligence. A former resident of Purcellville, VA, he moved to the state of Washington in 2020.
He is survived by a daughter.
Jack Downing, DDO, COS, CIA Trailblazer
Jack Gregory Downing, 80, DDO CIA, a CIA Trailblazer, died 27 June 2021 in Portland, OR.
Jack was born in Honolulu, HI shortly before the Japanese attack on Pearl Harbor. His father, a naval officer, survived the attack but was killed in action less than a year later. With his mother and sister, Jack moved into his grandparents' home in Texas where he grew up. He graduated from Harvard with a BA and MA, then joined the Marines, serving as an infantry lieutenant in a rifle company during the Vietnam war. From his college years he had a passion for the Russian and and Chinese languages, and for the history and literature of China which he was able to indulge during multiple assignments in China and the Soviet Union. He continued to be an enthusiastic student of Chinese until his 80th year. After four years, he began a career with the CIA. Over the course of 30 years in the Agency, Jack served in a number of overseas and Headquarters assignments, and was the only Agency officer to be Station Chief in both Moscow and Beijing during the Cold War. He retired in 1995 but was asked to return in mid-1997 to become the CIA's Deputy Director for Operations, in charge of worldwide espionage operations. Jack received a number of awards during his Agency career, including the Distinguished Intelligence Medal and the Director's Medal. A decade after his second retirement he was called back to CIA Headquarters to receive the Trailblazer medal from then CIA Director Leon Panetta.
In retirement, Jack played a leading role, with former CIA Director Richard Helms, in establishing the CIA Officer's Memorial Foundation. Jack also served on the AFIO board three years… 2004 - 2006.
Jack attributed his good fortune to the three women in his life — a generous, indomitable mother; a loving, adventurous wife with him every step of the way, from college days to back streets of Cold War Moscow where, although never a staff officer of the Agency, she was a full participant in high-risk espionage operations; and a caring sister — a true friend for life with whom he shared a fatherless and sometimes difficult Texas childhood.
Jack was proud of his service in the Marine Corps. In later years, some of his happiest occasions were the reunions of his cohort of Marine officers (the "Kaneohe Bay Marines" or "Pineapple Marines") who, with no advance notice, were ordered from the paradise of Hawaii to the battlefields of Vietnam at the onset of America's entry into the ground war there.
Jack is survived by his wife Suzanne ("Suzie"), a son, a daughter, and other family.
He had a spectacular career in CIA, with legendary success as C/SE, C/EA and DDO. He represented the best of America and of the CIA.
Roy Piercy, NSA Branch Chief
Roy Donald Piercy, 92, NSA Branch Chief, died 23 June 2021 in Millsboro, DE.
Roy was born in the small Appalachian town of Iron Gate, VA.
He led a long and wonderful life, living through the Great Depression in his youth and serving in the Army in World War II. When he left the Army, he and his wife Iris became pioneers at the National Security Agency. Roy worked as a Crypto Analyst, Russian linguist, and ended his career as a Branch Chief over a group of Systems Analysts working on some of the world's first mainframe computers.
Roy loved spending time with his family, whistling along to classic country music, creating architectural watercolor paintings, dropping a fishing line in the water along the riverbank, and telling stories of his childhood in the mountains.
He is survived by three children and other family.
A chapel service and full military honors will be held at 11:00 AM on Wednesday, 30 June 2021, at the Delaware Veterans Memorial Cemetery, located at 26669 Patriots Way, Millsboro, DE 19966. Letters of condolence may be emailed via www.watsonfh.com
---
AFIO EDUCATIONAL EVENTS IN COMING TWO MONTHS....
Wednesday, 30 June 2021, 12 noon - Zoom Webinar - The "Andre Le Gallo" San Francisco Chapter hosts Lt. Gen. Patrick M. Hughes, former DIA Director
Lt Gen Patrick Hughes, former Director of Defense Intelligence Agency, will address chapter on "Internal U.S. Security Concerns and Existential Threats to America."
Registration is required here to receive a zoom link.
Please contact Mariko Kawaguchi, Chapter Secretary at afiosf@aol.com for any questions.
1 July 2021, 6:30 p.m. CDT - Virtual - San Antonio AFIO Chapter hears Ralph Hope, FBI, on "Pursuing the Stasi into the Present"
Ralph Hope, Former FBI Special Agent, discusses his book: The Grey Men: Pursuing the Stasi into the Present at this San Antonio AFIO Chapter virtual meeting.
Host-Interviewer: James Hughes, AFIO President; a former CIA Operations Officer.
TOPIC: Ralph Hope and Jim Hughes discuss the odd and often chilling post-Germany unification that left many members of the Stasi still in power or influential, able to access, hide, or destroy evidence, and relatively unpunished. Hope analyzes the German code of secrecy that protects and shrouds many of those with Stasi backgrounds in the newly reunited Germany up to the present. He also draws parallels with the danger that comes from any political or social group that insists on a single point of view, refuses to allow free speech, demands control of words and expressions, and seeks to alter history. A warning for the U.S., China, and many other countries.
The presentation runs 29 minutes and is from the AFIO NOW series of interviews.
This will be a virtual meeting. The meeting on-line location will be forwarded prior to the meeting to all registrants.
Register with John Franklin, President, AFIO San Antonio Chapter, satxafio@gmail.com or call 210 863-0430.
15 July 2021, 12:30-1:30 PM (PST) - Virtual via GoToMeeting - AFIO-Los Angeles Chapter hosts John B. Alexander PhD on "Central Asia - Probably Not What You Think"
The next upcoming meeting for the AFIO-Los Angeles Chapter takes place on July 15th with guest speaker John B. Alexander, Ph.D., a retired senior Army officer, covering the topic of Central Asia. Dr. Alexander will be discussing his travel to Central Asia in 2019 including the "five Stans", Kazakhstan, Kyrgyzstan, Tajikistan, Uzbekistan, and Turkmenistan. Included in the presentation will be a better understanding of the area, its current development and its history. Details for the event are listed below.
John B. Alexander PhD, is a retired senior Army officer with nearly half a century experience in special operations, intelligence, and research and development. A Green Beret combat commander in Vietnam, he later advised senior Ministry of Defence officials in Kabul, Afghanistan. His second career was at Los Alamos National Laboratory as progenitor of non-lethal warfare. He served with National Research Council, Army Science Board, and several NATO studies. He also was as an advisor to the National Intelligence Council and U.S. Special Operations Command. A recipient of a Knowlton Award by the Military Intelligence Corps, and the DOE Nuclear Weapon's Program Award of Excellence, he was inducted into the Aviation Week & Space Technology Laureate Hall of Fame and is listed in Who's Who in Science and Engineering. Educated at Walden University, Harvard's JFK School of Government, and MIT's Sloan School, he has traveled on all eight continents and made presentations on most of them.
He is a founding member of AFIO-Las Vegas and was a former senior fellow of a DoD university. He is author of many articles, monographs and books, including, Future War --Non-Lethal Weapons in 21st Century Warfare, with foreword by Tom Clancy, UFOS: Myths, Conspiracies, and Realities, and most recently, Reality Denied: Firsthand Experiences with Things that Can't Happen – But Did.
Platform: GoToMeeting
Please RSVP via email for the meeting access link: afio_LA@yahoo.com
Questions? Contact Vincent Autiero, President, AFIO-Los Angeles Chapter at afio_LA@yahoo.com
Friday, 8 October 2021, 11 am - 2 pm - In-Person Tysons Corner, VA - AFIO Luncheon featuring David Ignatius on "The Paladin" and Stephen Vogel on Traitor George Blake.
FOR YOUR CALENDAR. The first in-person AFIO National Luncheon for 2021 will take place on Friday, 8 October at DoubleTree Hotel, Tysons Corner. Event will feature David Ignatius discussing "The Paladin" or possibly another topic TBA. And the morning speaker, Stephen Vogel, discussing "Betrayal in Berlin" and traitor George Blake.
TO REGISTER: Registration link forthcoming.
VENUE: DoubleTree by Hilton, 1960 Chain Bridge Rd, Tysons Corner, VA 22182 Phone: (703) 893-2100. Directions at this link.
---
Other Upcoming Events from Advertisers, Corporate Sponsors, and Others
Monday, 28 June to 2 July 2021, 9:30am-noon - Zoom Webinar - Virtual Spy Camp - Virtual International Spy Museum Program
From the moment recruits receive their super-secret spy kit, they will hit the ground running on an "Eyes Only" mission so classified that we can't put it in print. Each day will be filled with top secret briefing and activities that put spy skills to the test. Real former spies will "beam" in from all over the world to help recruits hone their tradecraft. From mastering escape and evasion techniques, to crafting the perfect disguise, building a gadget on the fly or decoding secret intel, Virtual Spy Camp has activities that will appeal to all types of recruits. Each day of camp will take recruits beyond their screens and out into the shadow world of espionage, where "all is not what it seems." Tickets: $350. Visit www.spymuseum.org.
Thursday, 8 July 2021, noon EDT – Virtual Zoom Webinar – Virtual Spy Chat with Chris Costa with Special Guest Ambassador Nathan A. Sales – Virtual International Spy Museum Program
Attend this virtual online discussion of the latest intelligence, national security, and terrorism issues in the news. Spy Museum Executive Director Chris Costa, a former intelligence officer of 34 years, will lead the briefing. He will be joined by Ambassador Nathan A. Sales, who recently served as the Acting Under Secretary for Civilian Security, Democracy, and Human Rights at the US Department of State. Following their discussion of key issues, you'll be able to ask questions via our online platform. Sponsored by the Honorable Mary Beth Long, International Spy Museum, Board of Directors. Event is free – registration required. Visit www.spymuseum.org.
Thursday, 15 July 2021, 7 - 9pm EDT – Washington, DC – The Big Fake Wedding: Sneak Peek on SPYWeddings – International Spy Museum
This is a bridal show alternative complete with a meaningful vow renewal ceremony, light bites, and a dance-party reception. At The Big Fake Wedding, we will connect brides and grooms to the best local vendors. Attendees will receive wedding inspiration they can see and taste. Unlike typical bridal shows or wedding websites, attendees will have the opportunity to bond with each vendor and witness them in action before making an investment toward their big day. Program will take place on site at the International Spy Museum. Tickets: $32. Visit www.spymuseum.org.
Monday, 26 July 2021, noon EDT – Virtual Zoom Webinar – Curator's Corner: Sleeper Agent with Ann Hagedorn – Virtual International Spy Museum Program
There were hundreds of spies in the US during World War II but George Koval was the only Soviet military spy with security clearances in the atomic-bomb project. The ultimate sleeper agent, he was an all-American country boy who was born in Iowa, played baseball, and loved Walt Whitman's poetry. Join Spy Museum Historian and Curator Andrew Hammond in conversation with Ann Hagedorn, the award-winning author of Sleeper Agent: The Atomic Spy in America Who Got Away. Event is free – registration required. Visit www.spymuseum.org.
Thursday, 29 July 2021, 5:30pm EDT – Virtual Zoom Webinar – Clarity in Crisis: True Stories from Your Spy Next Door Marc Polymeropoulos – Virtual International Spy Museum Program
Marc Polymeropoulos served 26 years in the CIA before retiring from the Senior Intelligence Service in June 2019. After wide ranging experience in field and headquarters operational assignments covering the Middle East, Europe, Eurasia, and counterterrorism, he has written Clarity in Crisis: Leadership Lessons from the CIA. He bases his strategies and core principles on hard-earned experience. He had to live with the consequences of decisions made under the most high-stress of circumstances, and he wants to help others approach their crises head on and come through stronger. Spy Museum Historian and Curator Andrew Hammond will talk with Marc Polymeropoulos about his extraordinary career and how what he learned can help regular people gain confidence in the face of crisis and embrace less than ideal situations with no fear. Event is free – registration required. Visit www.spymuseum.org.
29 July 2021, 6 pm - Virtual - OSS Society hosts Gen. David Petraeus USA (Ret) and Gus Biggio on "The War in Afghanistan"
The OSS Society hosts the fifth installment in its 2021 "Oh So Social" Conversation Series on July 29. General David Petraeus, who commanded U.S. military forces in Afghanistan, will speak with Gus Biggio about his Afghan war memoir, The Wolves of Helmand:
"At turns poignant, funny, philosophical, and raw—but always real—The Wolves of Helmand is both a heartfelt homage to the Marine brotherhood with whom Biggio served and an expression of respect and love for the people of Afghanistan who ultimately trusted, shared, and appreciated their purpose. Ten years after serving his country as a U.S. Marine, Captain Frank "Gus" Biggio signed up once again because he missed the brotherhood of the military. Leaving behind his budding law career, his young wife, and newborn son, he was deployed to Helmand Province—the most violent region in war-torn Afghanistan—for reasons few would likely understand before reading this book."
Do not miss this important conversation as America's military forces prepare to leave Afghanistan later this year.
If you would like to register for this event, click here.
If you were unable to watch our most recent "Oh So Social" conversation with Admiral William McRaven, Secretary Leon Leon Panetta, and Dr. Mike Vickers, who discussed the Osama bin Laden raid on its 10th anniversary, please click here.
Wednesday, 27 October 2021, 6 - 10 pm - Washington, DC - 30th (+1) Anniversary Gala and Chancellor's Dinner - Institute of World Politics
Save the date. Current timing of this in-person celebration is:
6:00 PM Cocktail Reception
7:00 PM Dinner
9:00 PM Dessert and Dancing
Location: The Mayflower Hotel, 1127 Connecticut Ave NW, Washington, DC
Additional details to follow
*Because this is an unusual year, if you are considering attending the 30th (+1!) Anniversary Gala, please fill out this form: iwp.edu/gala-survey
Wednesday, 1 December 2021, TBD Time - Washington, DC - 2021 Webster Distinguished Service Award Event - International Spy Museum
The Spy Museum offers an evening of intrigue for the 2021 Webster Distinguished Service Award event. The award is an opportunity to recognize the extraordinary contributions of individuals in the Intelligence Community. This year's awardee is The Honorable Susan M. Gordon, former principal deputy director of national intelligence. Previous recipients of the Webster Distinguished Service Award include President George H. W. Bush (2017), Admiral William H. McRaven, USN (Ret.) (2018), and Gen. Michael V. Hayden (Ret.) (2019). Webster attendee and sponsor support fuels the nonprofit mission of educating the public about the history and craft of espionage and intelligence through youth and adult programs, community service, and the care of the Museum's unique collection of artifacts for generations to come. For tickets, sponsorship opportunities, or information about ways to support the International Spy Museum, please contact the development office at 202.654.2853. Additional details and online ticket link to follow. Visit www.spymuseum.org.
---
In addition to the new Royal Blue long sleeve shirts, and the gray long sleeve hooded sweatshirts, the AFIO Store also has the following items ready for quick shipment:
LONG and Short-Sleeved Shirts with embroidered AFIO Logo and New Mugs with color-glazed permanent logo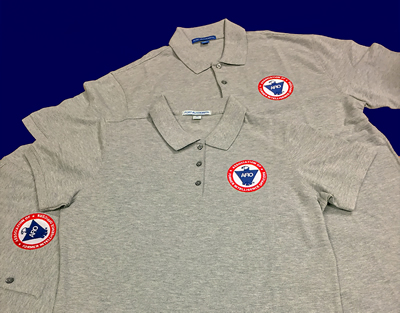 Show your support for AFIO with our new Polo Shirts. Be the first to buy these new, high quality, subtle heathered grey short sleeve shirts, and dark blue long sleeved shirts, of shrink and wrinkle resistant fine cotton with a soft yet substantial feel. They feature a detailed embroidered AFIO seal. Get a shirt for yourself and consider as gifts for colleagues, family, and friends. Only $45 each including shipping.
Sizes of (M) men or (W) women shirts; Small, Medium, Large, XL, XXL, and XXXL. At this time all orders will arrive as Short Sleeve shirts.
You may pay by check or credit card. Complete your order online here or mail an order along with payment to: AFIO, 7600 Leesburg Pike, Ste 470 East, Falls Church, VA 22043-2004. Phone orders at 703-790-0320. If interested in other shirt colors or sleeve lengths, contact Annette at: annettej@afio.com.
---
AFIO Mug with color glazed logo. Made in America. Sturdy enough to sit on desk to hold pens, cards, paperclips, and candy.
This handsome large, heavy USA-made ceramic mug is dishwasher-safe with a glazed seal. $35 per mug includes shipping. Order this and other store items online here.
---
Guide to the Study of Intelligence and When Intelligence Made a Difference
"AFIO's Guide to the Study of Intelligence" has sold out in hard-copy.
However, it is available in digital form in its entirety on the AFIO website here.

Also available on the website here are the individual articles of AFIO's history project "When Intelligence Made a Difference" that have been published to date in The Intelligencer journal. More articles will be forthcoming in future editions.
---
Disclaimers and Removal Instructions
Weekly Intelligence Notes (WINs) are commentaries on Intelligence and related national security matters, based on open media sources, selected, interpreted, edited and produced for non-profit educational uses by members and WIN subscribers.
REMOVAL INSTRUCTIONS: We do not wish to add clutter to inboxes. To discontinue receiving the WINs:
a) IF YOU ARE A MEMBER - click here: UNSUBSCRIBE and supply your full name and email address where you receive the WINs. Click SEND, you will be removed from list. If this link doesn't open a blank email, create one on your own and send to afio@afio.com with the words: REMOVE FROM WINs as the subject, and provide your full name and email address where you are currently receiving them.
b) IF YOU ARE NOT A MEMBER, and you received this message, someone forwarded this newsletter to you [contrary to AFIO policies]. Forward to afio@afio.com the entire WIN or message you received and we will remove the sender from our membership and distribution lists. The problem will be solved for both of us.
CONTENTS of this WIN [HTML version recipients - Click title to jump to story or section, Click Article Title to return to Contents. This feature does not work for Plaintext Edition or for some AOL recipients]. If you wish to change to HTML format, let us know at afio@afio.com. The HTML feature also does not work for those who access their e-mail using web mail...however NON-HTML recipients may view the latest edition each week in HTML at this link: https://www.afio.com/pages/currentwin.htm
---
WINs are protected by copyright laws and intellectual property laws, and may not be reproduced or re-sent without specific permission from the Producer. Opinions expressed in the WINs are solely those of the editor's or author's listed with each article. AFIO Members Support the AFIO Mission - sponsor new members! CHECK THE AFIO WEBSITE at www.afio.com for back issues of the WINs, information about AFIO, conference agenda and registrations materials, and membership applications and much more!
(c) 1998 thru 2021. AFIO, 7600 Leesburg Pike, Suite 470 East, Falls Church, VA 22043-2004. Voice: (703) 790-0320; Fax: (703) 991-1278; Email: afio@afio.com
---
About AFIO | Membership Renewal | Change of Address | Upcoming Events | Chapter Locations | Corporate/Institutional Memberships | Careers in Intelligence Booklet | Guide to the Study of Intelligence | Intelligencer Journal | Weekly Intelligence Notes | To Make A Donation | AFIO Store | Member-Only Section | Code of Ethics | Home Page
---