---
CONTENTS
Section I - INTELLIGENCE HIGHLIGHTS
Section II - CONTEXT & PRECEDENCE
Section IV - Research Requests, Jobs, Obituaries
Other Upcoming Events from Advertisers, Corporate Sponsors, and Others
For additional AFIO and other Events two+ months or more... Calendar of Events
WIN CREDITS FOR THIS ISSUE: The WIN editors thank the following special contributors: rsy, ec, po, pj, mh, km, gh, mk, rd, fm, kc, jm, mr, jg, th, ed, and fwr. They have contributed one or more stories used in this issue.

The WIN editors attempt to include a wide range of articles and commentary in the Weekly Notes to inform and educate our readers. However, the views expressed in the articles are purely those of the authors, and in no way reflect support or endorsement from the WIN editors or the AFIO officers and staff. We welcome comments from the WIN readers on any and all articles and commentary.

CAVEATS: IMPORTANT: AFIO does not "vet" or endorse research inquiries, career announcements, or job offers. Reasonable-sounding inquiries and career offerings are published as a service to our members, and for researchers, educators, and subscribers. You are urged to exercise your usual caution and good judgment when responding, and should verify the source independently before supplying any resume, career data, or personal information.]
If you are having difficulties with the links or viewing this newsletter when it arrives by email, members may view the latest edition each week at this link.

---

Other items brought to our attention:

---

Details on the exciting upcoming Virtual Education Programs of the National Cryptologic Museum Foundation are available on their new webpage here

Other NCF Events can be found here on NCF website here, and CCH website here.

---

---

---

Inside the SCIF:

Inside the SCIF by JJ Green, WTOP - Issue #120, 1 July has details on DHS new alert, "If You See Something, Say Something" for racial/ethnic violence; Peru former intel chief caught in election bribery scheme; Apartment used by Afghani & Iraqi special immigrants trigger fire; Russia's FSB concurs US-Russia working on framework to investigate cyberhacks; Biden Administration stovepiping press contacts through large media networks only; Author Bill Browder expounds on his views of the recent Biden/Putin summit, seeing it as win for Putin; Salvini's man is also a Putin spy; Do not let ransomware distract from insider risks; CISA new ransomware self-assessment audit tool; and more.

The latest Target USA Podcast 283 is on: National Intelligence University Makes a Big Move
Some call it the school for spies. But ODNI C.O.O. Lora Shiao and University President Dr. Scott Cameron tell us, it's much more than that.

And "The Hunt" explores: US-led coalition in Middle East attacked by Iran-backed militia.
Last week, U.S. and Coalition forces in Iraq and Syria, fighting ISIS, were attacked by a militia supported by Iran, despite U.S. airstrikes to push them back. WTOP national security correspondent J.J. Green, interviews Col. Wayne Marotto, spokesman for the Combined Joint Task Force Operation Inherent Resolve, to hear his explanation of what happened.

---

The Latest... from Jeff Stein's highly popular "SpyTalk" series...

July 5: "Spy Swap Puzzler" by Gus Russo
Nigel West's head-scratching claim that Gennady Vasilenko was a longtime CIA mole inside the KGB
Article here

July 2: "The Spies That Bind" by Jeff Stein
The FBI faces stiff challenges from both domestic insurrectionists and Chinese spies. How's it doing?
Article here

July 2: "Interrogations: How Did We Get to Brutal?" by Maria Hartwig
From brute force to mindful strategies, the evolution of interrogation science
Article here

July 1: "'Dozens' of Chinese Moles in U.S. Intelligence, U.S. expert claims" by Jeff Stein
FBI is 'completely outmatched' by espionage onslaught, says Nicholas Eftimiades, a former top DIA expert on Chinese espionage. Others agree.
Article here

Readers, for a brief time, can subscribe for free for articles and weekend podcasts here.

---

The Arkin Group's July 2 "In Other News" letter to private clients by former Operations Officer Jack Devine features...

Iran's newly elected Ebrahim Raisi has yet to stray from the hardline path that has led him straight to the top, but his ruthlessness could be his downfall.
New FATF rulings highlight both conventional and novel regulatory challenges.
Brazil's President Jair Bolsonaro is under fire for corruption allegations linked to a Covid-19 vaccine deal with India.

Follow link here to read analyses and predictions given to their private clients on the topics above.
Also, see June 15 Daily Beast article on Putin and Biden by Devine here.

Recently released was Jack Devine's Spymaster's Prism. AFIO's interview with him about this book appears in this issue at top of right column of this issue of the WINs. You can view the video at this link. Or hear the podcast here.

---

FEPLI: FEDERAL EMPLOYEE PROFESSIONAL LIABILITY INSURANCE - by Starr Wright

The one-minute video above provides an overview that quickly covers some of the main points and common questions about the insurance every federal employee should have. And agencies will cover 50% of the fee. This is a must-do to protect your future and your family. View video above or use link here. Then visit Starr Wright to apply for the worthwhile coverage. Coverage available for current, part-time, contract, and former federal employees.

---

The Last—And Only—Foreign Scientist in the Wuhan Lab Speaks Out.
Virologist Danielle Anderson paints a very different picture of the Wuhan Institute.
By Michelle Fay Cortez, 27 June 2021, Bloomberg News

Danielle Anderson was working in what has become the world's most notorious laboratory just weeks before the first known cases of Covid-19 emerged in central China. Yet, the Australian virologist still wonders what she missed. An expert in bat-borne viruses, Anderson is the only foreign scientist to have undertaken research at the Wuhan Institute of Virology's BSL-4 lab, the first in mainland China equipped to handle the planet's deadliest pathogens. Her most recent stint ended in November 2019, giving Anderson an insider's perspective on a place that's become a flashpoint in the search for what caused the worst pandemic in a century. Her experience and findings contradict all the claims the lab was the source of the Covid-19 pandemic. Article continues here.

---

---

---

One of the special benefits of membership in AFIO: access to CIA's inhouse gift shop — the EAA Store.

It requires a quick preapproval process described here to all newly joined and current AFIO members. And then allows you to purchase online their unusual logo'd gift items for self or colleagues. At left is the latest photo EAA released on July 2 featuring some of their newest items:

---
---
Released to members last week...
Insights on Ali Hassan Salameh, the 1972 Munich massacre mastermind

Released 29 June 2021
on the "Red Prince" - Ali Hassan Salameh - the chief of operations—code name Abu Hassan—for Black September,
the organization responsible for the 1972 Munich massacre and other terror attacks
Interview of Friday, 7 May 2021 of Sam Wyman, former senior CIA Field Operations officer and Arabist. Interviewer - Host: James Hughes, AFIO President, a former CIA Operations Officer.
TOPIC: Sam Wyman and Jim Hughes discuss the "Red Prince" - Ali Hassan Salameh - the chief of operations—code name Abu Hassan—for Black September, the organization responsible for the 1972 Munich massacre and other terror attacks. Also discusses Beirut, Lebanon, Al-Fatah, Yasser Arafat, the PLO, Palestine, Syria, Israel, the "Wrath of God" response to the Munich massacres, the assassination of Hassan, Robert Ames, former CIA Chief, Near East Division.
The interview runs 33 minutes and includes several Q&As.
Access the Wyman interview here or click above image.
---
Prior Videos in the "AFIO Now" Series
View the publicly-released ones on our YouTube page
or log into the Member-only area to view private and public interviews.
---
PODCASTS: AFIO NOW is also available on 8 podcasting platforms. Search for 'AFIO Podcast' for a selection of the interviews above (public released ones) on Podbean; iTunes; Google; Spotify; Amazon Music; Amazon TuneIn + Alexa; iHeartRadio; and Pandora.
---
Hold the date: AFIO National's first in-person event is scheduled for Friday 8 October 2021
Friday, 8 October 2021, 11 am - 2 pm - In-Person Tysons Corner, VA - AFIO Luncheon featuring David Ignatius on "The Paladin" and Stephen Vogel on Traitor George Blake.
FOR YOUR CALENDAR. The first in-person AFIO National Luncheon for 2021 will take place on Friday, 8 October at DoubleTree Hotel, Tysons Corner. Event will feature David Ignatius discussing "The Paladin" or possibly another topic TBA. And the morning speaker, Stephen Vogel, discussing "Betrayal in Berlin" and traitor George Blake.
TO REGISTER: Registration link forthcoming.
VENUE: DoubleTree by Hilton, 1960 Chain Bridge Rd, Tysons Corner, VA 22182 Phone: (703) 893-2100. Directions at this link.
---
---
Newly Released, Overlooked, or Forthcoming Books
Sleeper Agent: The Atomic Spy in America Who Got Away
by Ann Hagedorn
(Simon & Schuster, July 2021)
The biography of a Soviet spy whose story may be new even to history buffs. George Koval was an American-born Soviet spy in the atom bomb project in WWII.
He was born in 1913 in Iowa. In 1932, his Russian parents decided to return to Russia to live out their socialist ideals. George, who was as committed to socialism, went with them. It was there that he was recruited by the Soviet Army as a spy and returned to the US in 1940. A gifted science student, he enrolled at Columbia University, where he knew scientists heading to work on the Manhattan Project. After being drafted into the US Army, George used his scientific background and connections to secure an assignment at a site where plutonium and uranium were produced to fuel the atom bomb. There, and later in a second top-secret location, he had full access to all facilities and passed highly sensitive info to Moscow.

There were hundreds of spies in the US during WWII, but Koval was the only Soviet military spy with security clearances in the atomic-bomb project. The ultimate sleeper agent, he was an all-American boy who had played baseball, loved Walt Whitman's poetry, and mingled freely with fellow Americans. After the war he slipped away into the vapors of history. In 1949 Soviet scientists produced a bomb identical to America's years earlier than US experts expected.
Posthumously awarded Russia's highest civilian honor, Koval flew so far under the radar that Putin hadn't heard of him before attending a 2006 Moscow exhibition on Cold War-era spies.
Book may be ordered here.
---
Spycraft Revolution: Espionage and Secret Services in the Third Millennium [SPIONAGGIO E SERVIZI SEGRETI NEL TERZO MILLENNIO] - In Italian
by Antonio Teti
(Rubbettino, June 2021)
Over the past two decades the world of espionage has faced huge organizational changes imposed by development of digital technologies, from the continuous mutations of politics and of trade and the evolution of a new and more conscious respect of privacy and the metamorphosis of multiform societies, more and more influenced by the pervasiveness of the virtual world. The winners of the challenge of the "intelligence of the future" will be those who will break the old rules of the espionage and counterintelligence game, developing new ones that will use conceived tools and techniques for Cyberspace. In this new digital ecosystem, services secrets must be more agile and collaborative and, paradoxically, they will have to assume an apparent connotation of "Minor secrecy" to get rid of that cloak of secrecy that often has produced surreal judgments and unfounded accusations about their real work.
ANTONIO TETI is responsible for the Information Systems and Innovation Sector Technology of the University of Chieti-Pescara, where he is a professor of IT Governance, Big Data, Data Science and Technology Intelligence. He is a professor of Cyber ​​Intelligence at LUISS, at the University of Calabria, at the University of Udine and at the Postgraduate School of the Police Forces of Rome.
Book may be ordered here.
---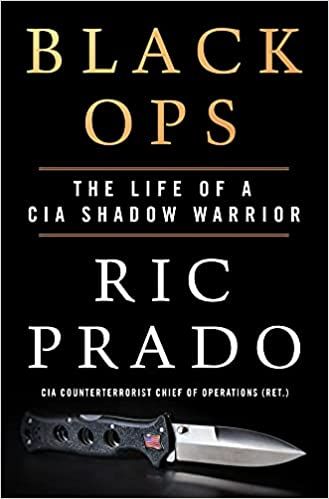 COMING IN MARCH 2022 - but can be preordered now
Black Ops: The Life of a CIA Shadow Warrior
by Ric Prado
(St. Martin's Press, March 2022)
A memoir by the highest-ranking covert warrior to lift the veil of secrecy and offer a glimpse into the shadow wars that America has fought since the Vietnam Era.
Enrique Prado was the son of a middle-class Cuban family caught in the Castro Revolution. His family fled to America. Fifty years later, the Cuban refugee retired from the CIA after two decades operating in the shadows. Ric and his fellow CIA officers fought a little-seen and virtually unknown war to keep USA safe from those who would do it harm.
After duty stations in Central, South America, and the Philippines, Ric became Deputy Chief of Station and co-founding member of the Bin Laden Task Force in 1995. Three years later, after serving as head of Korean Operations, he took on the mission to re-establish a once-abandoned CIA station inside a hostile nation long since considered a front line of the fight against Islamic terrorism. He and his team carried out covert operations and developed assets that proved pivotal in the coming War on Terror.
This is his memoir of a life in the world of assassins, terrorists, spies, and revolutionaries. He also provides an appreciation for the courage, creativity, and dedication of the Agency's Special Activities Group and its elite shadow warriors.
Book may be ordered here.
---
---

Position Available at AFIO National

Work at AFIO National. AFIO is seeking to fill the following position in our McLean-Tysons-Falls Church, VA offices:

DIRECTOR OF MEMBERSHIP

Part-time position; hourly pay rate. Work hours daily Monday through Friday. Maximum number of monthly work hours is 140.

Memberships: Maintain AFIO membership database, to include processing information changes, membership renewals, and new membership applications; produce membership data statistics. Serve as the liaison between corporate members and AFIO chapters and the Board of Directors. Provide annual roster verification and recruitment support for AFIO chapters. Responsible for monthly invoicing cycle and membership renewal cards and welcome package mailings. Perform targeted mass mailings at intervals throughout the year. Process donations and work with the Events Coordinator to prepare notes of appreciation and to pack/ship thank you gifts.
Office/Office Systems: Order, maintain inventory of, and label office supplies; organize storeroom and office reception space. Responsible for all office systems: computers, server, phones, internet including backups; provide technical support to other office personnel. Work with IT contractor to ensure up-to-date hardware, software, and office equipment (postage meter, copier, folder/inserter).
Store Sales: Maintain inventory of store merchandise. Process all incoming store item orders. Pack and ship merchandise orders.
Phone/Emails/Visitors/Admin: Respond promptly to all phone calls, emails, mailed correspondence, and in-person visits. Code and process all check payments and prepare monthly bank deposit.
Events/Board Meetings: Create online registration form for events. Process all incoming event registrations. Work with Events Coordinator to answer questions pertaining to events. Provide onsite service to include setup and operation of AFIO audio/visual equipment; coordinate with speakers and hotel staff on IT issues. Provide onsite support at quarterly Board meetings, take meeting notes and prepare draft minutes.

To apply, or arrange an interview, or for additional information, contact Annette Janak at AnnetteJ@afio.com
---
---
Visit, Follow, Subscribe to AFIO's LinkedIn, Twitter, and YouTube pages to receive updates.
Members who use social media or wish to explore, will find new announcements and other material on AFIO's Twitter and LinkedIn pages. New videos on our YouTube page appears below as well.
Access them here: LinkedIn, Twitter, and YouTube. By following or subscribing on those sites, one can be notified as new material appears.




NEW — PODCASTS: Our new social media expert has been busy! Are you too busy to sit and watch an entire "AFIO Now" episode above on YouTube? Would you rather listen in your car or while accomplishing other tasks? Now you can quickly download or stream episodes on your favorite podcasting platform. AFIO is now available on 8 podcasting platforms. Search for 'AFIO Podcast' for a selection of the interviews above (public released ones) on Podbean; iTunes; Google; Spotify; Amazon Music; Amazon TuneIn + Alexa; iHeartRadio; and Pandora.
---
Guide to the Study of Intelligence and When Intelligence Made a Difference

"AFIO's Guide to the Study of Intelligence" has sold out in hard-copy.
However, it is available in digital form in its entirety on the AFIO website here.

Also available on the website here are the individual articles of AFIO's history project "When Intelligence Made a Difference" that have been published to date in The Intelligencer journal. More articles will be forthcoming in future editions.

---

---
---
Section I - INTELLIGENCE HIGHLIGHTS

Intelligence Community Named a 'Best Pace to Work' for 12th Consecutive Year. For the 12th consecutive year, the Intelligence Community (IC) has been named as one of the "Best Places to Work in the Federal Government." The IC ranked second overall among large federal agencies with more than 15,000 full-time permanent employees. This overall ranking is up from third since 2019 and is the IC's highest ranking ever.

The Partnership for Public Service (PPS) compiled the 2020 rankings and presented the awards to agency leaders during a virtual conference today. Lora Shiao, Chief Operating Officer for the Office of the Director of National Intelligence (ODNI), accepted the award on behalf of the IC.

"The Intelligence Community has the most extraordinary workforce - talented, compassionate, and dedicated," said DNI Avril Haines. "This award is a testament to their resilience during an especially difficult year confronted by the COVID-19 pandemic. I am honored to work alongside such exceptional professionals and congratulate the entire IC on this well-deserved recognition." [Read more: ODNI/29June2021]

German Who Ran Think Tank Arrested for Spying for China. A German man who ran a think tank has been arrested on suspicion of being an informant for Chinese intelligence for years, German prosecutors said Tuesday.

Federal prosecutors said the suspect, identified only as Dr. Klaus L. in line with German privacy rules, was arrested on suspicion of espionage Monday following an indictment that they filed at a Munich court in May.

They said he is a political scientist and had run a think tank, which they didn't identify, since 2001. According to prosecutors, employees of a Chinese intelligence service contacted him when he went on a lecture trip to Shanghai in June 2010. [Read more: AP/6July2021]

Iranian Disinformation Effort Went Small to Stay Under Big Tech's Radar. On June 13, as Benjamin Netanyahu ended his decade-long run as Israel's prime minister, a Telegram channel dedicated to protesting him hummed with celebration.

"And now prison, go to prison," read a short message below a photoshopped image of Mr. Netanyahu behind bars. The 7,000 followers of the Telegram channel quickly spread the message to other groups and social media apps.

The channel and the message were secretly part of an Iranian disinformation campaign, according to Israeli disinformation researchers. Over several months, Iranian agents had infiltrated small WhatsApp groups, Telegram channels and messaging apps that Israeli activists used for intimate discussions among dozens to thousands of people.

Once there, the agents shared polarizing images and text, and began to send direct messages to people within the groups. [Read more: Frenkel/NYTimes/30June2021]

Russia Detains Estonian Consul Over Allegations of Espionage. Russian security forces have said they had detained Estonia's consul to Saint Petersburg for allegedly receiving classified documents, the latest in a series of espionage cases between Moscow and the West.

The FSB security service said consul Mart Latte was "caught red-handed while receiving classified documents from a Russian national" and detained for activities "incompatible with the status of a diplomatic worker" and "openly hostile" to Russia.

"Measures will be taken against the foreign diplomat in accordance with the rules of international law," said the statement. [Read more:TRTWorld/6July2021]

Albania Investigates 7 Russians, Czechs for Military Espionage. The Prosecutor General of Tirana is investigating two Russian and five Czech citizens on suspicions of military espionage carried out during the Defender-Europe 21 military exercises.

According to Euronews sources, the Russians are being investigated for obtaining confidential information about the operations of a foreign government. Whereas, the Czech citizens are suspected of photographing NATO headquarters in Kuçovë and the military exercises of US troops in Durrës.

All suspects have since left Albania. [Read more: ExitNews/1July2021]


---
Section II - CONTEXT & PRECEDENCE

Should Israel Have Seized Iran's Nuclear Archive? - Ex-Mossad Official. There is still an ongoing debate over whether it was wise to publicly reveal to the world the Mossad's seizing of Iran's secret nuclear archive or whether the disclosures should have been limited to allied intelligence services, former Mossad official Sima Shine said on Tuesday.

Speaking as part of an INSS conference honoring the memory of deceased former senior IDF intelligence official Shmuel Even, Shine, who now leads research on Iran at INSS, seemed to hint that she was against the 2018 public reveal by then prime minister Benjamin Netanyahu.

"Was there a need to publicize it? Maybe we could have held onto the information and revealed it a little bit at a time, drawn out over several years," she said.

If the Mossad had only quietly shared the intelligence with counterparts like the CIA, MI6 and the IAEA (International Atomic Energy Agency) international inspectors, "the Iranians would not have known how much we took from them." [Read more: Bob/JerusalemPost/6July2021]

Biden Administration Still Weighing CIA Drone Strike Policy Amid Afghanistan Withdrawal. As President Joe Biden's withdrawal from Afghanistan nears completion, his administration still hasn't finalized its policy for pursuing terrorists in the country once US troops have departed.

While the US military will retain authority to carry out strikes against the Taliban in support of Afghan forces, as CNN reported on Friday, that authority does not necessarily extend to counter-terrorism operations in the country against those suspected of planning attacks against the US homeland or allies.

For years, the CIA and US military have had broad authority to kill suspected terrorists in Afghanistan, targeting decisions that could be made by senior military and intelligence officials and did not always need final sign off by the White House.

But as Biden prepares to end the war, his National Security Council is studying whether to raise the bar for the CIA and the Pentagon to carry out deadly drone strikes and commando raids once US troops are gone, according to people familiar with the matter. [Read more: CNN/5July2021]

China Expert John Culver on Beijing's Military Prowess - "Intelligence Matters". In this episode of "Intelligence Matters," host Michael Morell speaks with John Culver, a career CIA analyst, former National Intelligence officer for East Asia, and leading expert on the Chinese military. Culver and Morell discuss the decades-long modernization of the People's Liberation Army and the prowess China has attained across multiple war-fighting arenas. Culver offers insights into Xi Jinping's rise to and continued hold on power and describes the many challenges of engaging Beijing in a multi-polar, interconnected global system. [Read or listen: CBSNews/30June2021]

'May the Party Continue': La Jolla Centenarian and World Traveler Max Gurney is Celebrated by Local Rotarians. Whether it's his because of service with the military or the Rotary Club, advice for international travel or sharing a good glass of Burgundy wine, La Jollan Max Gurney is a good man to know.

Though the centenarian celebrated his actual 100th birthday overseas, a lunch was held in La Jolla in his honor June 30, at which loved ones shared stories of the many facets of his life.

Gurney was born in Frankfurt, Germany, on June 10, 1921, but moved to Manhattan as a child. Already a multilinguist at age 20, he joined the Army and was trained in cryptographic and intelligence operations and the Signal Intelligence Service and was stationed in North Africa.

During his years in the military, Gurney traveled to Tunisia, Italy and more. He received his honorable discharge from the Army in November 1945. [Read more: Mackin-Solomon/LaJollaLight/6July2021]

An American Lawyer Went on a Lunch Date in Moscow. Now He's Languishing in a Jail Cell in Belarus. When Youras Ziankovich, a lawyer with American citizenship, returned to his Moscow hotel after a lunch date with a friend in April, he found four men waiting for him in the street.

Ziankovich's wife, Alena Dzenisavets, says that according to the manager of the Nordic Rooms hotel, the men - all in plain clothes - put a hood over his head and bundled him into a car outside the hotel in the Moscow suburb of Ostankino.

She told CNN that Youras was then spirited across the Russian border in a three-vehicle convoy and driven more than 700 kilometers (435 miles) to the Belarusian capital, Minsk.

Dzenisavets says she pieced together what happened to her husband through his court-appointed lawyer in Belarus. She has not had any direct contact with Youras for nearly three months. [Read more: Lister/CNN/5July2021]

Podcast: Cofer Black on Leadership Lessons Learned and Speaking Truth to Power. In this OODAcast, we talk with renowned counter-terrorism expert and career clandestine services professional Cofer Black. Cofer is best known for having been the Director of the CIA's Counterterrorism Center on 9/11 and having been part of the intelligence community warning about the near-term threat of terrorism in the United States prior to the attacks. However, his pedigree in counterterrorism issues was well established with a distinguished career in the field in high-risk areas and operations.

During our discussion Cofer provides insight on a variety of issues including: [Listen here: OODALoop/2July2021]


---
Understanding Russia's Cyber Strategy. The Russian Federation's willingness to engage in offensive cyber operations has caused enormous harm, including massive financial losses, interruptions to the operation of critical infrastructure, and disruptions of crucial software supply chains. The variety and frequency of these operations, as well as the resulting attribution efforts, have offered an unusually vivid picture of Russia's cyber capabilities and tactics. While many other countries have relied heavily on vague strategies and threats to signal their emerging cyber powers, Russia has exercised its technical capabilities with relative impunity for more than a decade. This makes it possible to chart Moscow's increasingly bold forays into the cyber domain alongside the increasingly technically sophisticated specific vulnerabilities, techniques, and tactics that Russia has leveraged. This timeline reveals a shift towards more covert, targeted cyber capabilities in recent years, as well as an evolution away from phishing-based compromises to supply chain and service provider intrusions, in conjunction with a continued reliance on and reuse of the same infrastructure and malware across multiple operations. [Read more: Wolff/FPRI/6July2021]

Reforming the FISA Process: Tweak or Overhaul? Earlier this month, Adam Klein, the outgoing chair of the Privacy and Civil Liberties Oversight Board, took the unusual step of issuing a unilateral "Chairman's White Paper" on oversight of the Foreign Intelligence Surveillance Act, based on PCLOB's review of 19 FISA applications for electronic surveillance of U.S. persons in counterterrorism investigations. This is in itself notable, given how tightly restricted access to the applications underlying FISA surveillance has historically been. Until 2018, when a redacted version of the applications to monitor former Trump advisor Carter Page was declassified, the general public had never seen one. When an unprecedented deep-dive review of the Page applications by the Justice Department's Inspector General uncovered serious deficiencies in that process, this fact took on sudden salience: Nobody could be certain whether the problems were sui generis of a larger pattern of errors and omissions. Predictably, alas, Klein's discussion of the substantive contents of the applications PCLOB reviewed is largely redacted, but the report does offer some helpful procedural analysis and some welcome, but ultimately rather conservative, proposals for reform. [Read more: Sanchez/JustSecurity/30June2021]

Health Intelligence: Missing Dimension in the Security of Pakistan. It is a weary but the factual point that the post-Cold War world is a composite place. Cold War has been supplanted by something that is not war but certainly is not peace. In this scenario the policymaking and intelligence challenges are far more complicated. Of all the intelligence challenges in the post-Cold War world, health issues are evolving as among the utmost importance. Policymakers are acknowledging that infectious diseases, climate change, pollution, health systems' collapse, and misuse of science and technology all signify instability and fascinating epochs. Correspondingly, we never thought about the connection between health and national security but, the severity of the global CoVID-19 pandemic forced us to change our minds.

The new 21st century threats necessitate us to transition from building tanks, missiles and aircrafts to deploying soft-power approaches, developing cutting edge technology and cyber capabilities, together with robust and efficient laboratories. [Read more: Baig/ModernDiplomacy/6July2021]

Clearance Holders Need to Protect America by Studying Espionage. I enjoy the study of espionage. This is not some quirk of personality, but comes from a distinct reason. I've been influenced over the years by some of the world's most distinguished spy-catchers.

I recall one rainy German winter day during the Cold War. While sitting at the office, I asked my older colleague, "What kind of professional development do you do regularly?" He responded, "I read about cases." He gave me case histories and books I might study. I've followed his example from that day to this. To be sure, I started with the cases in our safe. I made myself acquainted with the events which our office had been involved with over the years. I came to know our area as best I could through these reports of investigations, or curious events 'of counterintelligence interest.' These latter seemed to have no particular conclusion. They were reported 'higher' of course, and kept on file in case some later development might shed some further light.

'Later' is a significant part of espionage investigations. Events from 30, even 80 years ago come to light through memoirs, investigative journalist reporting, or government releases of information. These events often cause further current investigations to develop, or previous research to be illuminated. But these developments are not always as you'd expect. [Read more: Davis/ClearanceJobs/4July2021]


---
Section IV - Research Requests, Jobs, Obituaries
ISO former CIA officers w/ Czech experience
I'm the daughter of Dagmar Stapleton who worked on the Czech desk from around '74 to '94. Am hoping to talk with former Prague case officers, station chiefs, deputy station chiefs from that time period for a research project.
Please contact me at viveca.novak@gmail.com. [Viveca Novak is an American journalist who has worked as the editorial and communications director at the Center for Responsive Politics since 2011. She was previously a Washington correspondent for Time and The Wall Street Journal. She is a frequent guest on CNN, NBC, PBS, and Fox.]
Researcher Seeking Your Experiences Working in Western North Carolina on DoD/NSA Rosman Research Station in 1980s.
I'm Craig Gralley, a 34-year veteran of CIA and currently a freelance writer in the Brevard, NC area. I'm also a volunteer at PARI - the Pisgah Astronomical Research Institute in nearby Rosman. PARI is now dedicated to STEM education and research, but has had a storied history that is largely unknown to the people of this mostly underserved area of rural North Carolina. I have volunteered to write PARI's history. NASA first constructed the site in 1962 as a ground station for a variety of unmanned scientific satellites. AFIO members might remember when DoD/NSA took over the site in 1981 and called it the Rosman Research Station (NSA's participation at the site was declassified nearly a decade ago). NSA gave up the site in 1995.
I am receiving NSA's support through a FOIA request to declassify more information about the facility. My goal is to make this history less about satellites and their capabilities and more about what it was like working in a remote location in western North Carolina. Personal stories, things that could have gone wrong but didn't (or did), success stories—humorous/serious anecdotes—all of it is welcome. My goal is to take the edge off of a dry history and give the Rosman ground station a human face.
I'd be glad to attribute anything that comes to me in the way desired by the contributor.
Thanks for your help.
REPLIES to Craig R. Gralley, 703.581.3440 (mobile), craig.gralley@gmail.com. More about Craig at www.craiggralley.com
Call for Papers: 2021 "Bobby R. Inman Award" for Student Scholarship on Intelligence at University of Texas, Austin
The Intelligence Studies Project of The University of Texas at Austin announces the seventh annual competition recognizing outstanding student research and writing on topics related to intelligence and national security. The winner of the "Inman Award" will receive a cash prize of $5,000, with two semifinalists each receiving a cash prize of $2,500. This competition is open to unpublished work by undergraduate and graduate students enrolled in degree programs at accredited U.S. higher education institutions during the 2020-21 academic year. The deadline for submitting papers is June 30, 2021.
The Bobby R. Inman Award recognizes more than six decades of distinguished public service by Bobby R. Inman, Admiral, U.S. Navy (Ret.). Admiral Inman served in multiple leadership positions in the U.S. military, intelligence community, private industry, and at The University of Texas. His previous intelligence posts include Director of Naval Intelligence, Vice-Director of the Defense Intelligence Agency, Director of the National Security Agency, and Deputy Director of Central Intelligence. He continues to serve as a teacher, advisor, and mentor to students, faculty members, and current government officials while occupying the Lyndon B. Johnson Centennial Chair in National Policy at the LBJ School of Public Affairs. His areas of teaching and research are focused on political, economic, and military activities, policy processes and institutions, international affairs and diplomacy, and intelligence and national security.
Additional information about the Inman Award, including submission requirements and previous winners, is available here.
Call for Papers - The Center for Cryptologic History (CCH) and the National Cryptologic Foundation (NCF) invite proposals for papers for 18th Cryptologic History Symposium, 11-13 May 2022.
The Center for Cryptologic History (CCH) and the National Cryptologic Foundation (NCF) invite proposals for papers to be presented at the 18th Cryptologic History Symposium, 11-13 May 2022. The Symposium will be held at the Johns Hopkins University Applied Physics Lab Kossiakoff Center in Laurel, Maryland. The theme for the symposium is "Icons and Innovation." Proposals are due 7 September 2021.
For more information visit the NCF or contact cchevents@nsa.gov.
Seeking Officials Who Served USSR/Russia 1965-2015 and Other Posts - with knowledge of, or exposure to, Microwave/Directed Energy Weapons
Prominent D.C. Attorney seeking former intel officers or others who served in USSR/Russia during 1965-2015, as well as anyone who has information concerning possible microwave/energy directed weapon exposure of U.S. officials by foreign adversary.
Replies to Mark S. Zaid Esq, mark@markzaid.com. Or call him at (202) 454-2809.
More information about Mr. Zaid at MarkZaid.com.
Request for Assistance Researching Clandestine Maritime Operation in Da Nang 1950s-1970s
"My old Master Chief, James "Jim" Gray and I wrote the first history of Naval Special Warfare Combatant Craft (WARBOATS, 55 Years of Naval Special Warfare Combatant Craft History) for our veterans organization the Combatant Craft Crewman Association (CCCA), now in its second printing. One of the areas that we wanted to explore in greater depth were the clandestine maritime operations based in Da Nang from the South Vietnamese and CIA period through Switchback and Military Assistance Command Vietnam-Studies and Observation Group (MACV-SOG) control and the final the American withdrawal.
We are looking for assistance with this research in particular on the CIA side, as much of the MACV-SOG documentation has been declassified and we have spoken with the SEALs and Boat Support Unit One men of Mobile Support Team 1 and the Mobile Repair Team. Our Norwegian colleague, Jan Tore Nilsen is a Senior Reserve Commander in the Norwegian Navy is researching Norwegian involvement in Vietnam and has interviewed the surviving Norwegian contractors and obtained documents and photos from them as well as obtained documents regarding acquisition and construction of the Norwegian PTF (Patrol Torpedo Fast) boats for operations in Vietnam. An old friend of mine who was an historian for the CIA suggested we contact AFIO and ask for assistance. We would greatly appreciate any assistance from AFIO members."
Replies to Phil Garn at pggarn@yahoo.com
Seeking Spy-Themed Tourism Experts and New Recruits (with IC backgrounds) for Metro D.C. area opportunity
ISO former Intelligence Officers who might be interested in getting involved in spy-themed tourism in the Washington D.C. metropolitan area.
Also interested in speaking with those who may already be involved in the tourism and travel industry elsewhere.
Please contact Rosanna Minchew at r_minchew@me.com or 571-236-9052.
LUNINT Flight Software Engineer - Washington, DC area location - for Rhea Space Activity
The Flight Software Engineer is responsible for providing technical expertise on the needs of the proposed system, contributing in technical discussions with a multidisciplinary team, and developing navigation software for spacecraft operating throughout cislunar space. As part of our small team, you will be our in-house flight software expert, and be instrumental in the development of novel flight control software for the USSF/USAF.
MANDATORY QUALIFICATIONS
1. Deep experience with coding in C and/or C++.
2. Deep experience with coding MATLAB/Simulink.
3. Familiarity or experience in several of the following areas: orbital dynamics, astrodynamics, manifold dynamics, guidance, navigation, control, avionics, Kalman filtering, optics, and systems engineering.
4. Completed M.S., Ph.D, or equivalent in a STEM field.
5. Able to relocate to the Washington D.C. metro area no later than September 2021.
6. Ability to travel within the continental United States and to various international destinations
7. Must be a U.S. citizen or national, U.S. permanent resident (current Green Card holder), or lawfully admitted into the U.S. as a refugee or granted asylum.
Full job description here.
Intelligence Researcher - Johns Hopkins APL, Laurel, Maryland
Are you seeking an opportunity to learn about foreign weapons systems?
Do you take pride in your deep knowledge of adversary capabilities?
If so, we're looking for someone like you to join our team at APL.
We are seeking an intelligence researcher to help us to inform APL's research and development of sensitive technologies for the U.S. Government. You will assist the Scientific and Technical Intelligence Liaison Officer (STILO) in the National Security Analysis Department (NSAD). This position is designed for a creative, dynamic individual who fosters excellence and innovation, who has a passion for research, and effectively partners to ensure systems developed by APL for the U.S. Government are capable of addressing the most stressing future threats. This position provides strategic, forward leaning intelligence analysis to lead APL and our sponsors to understanding the threat environment and the integration of threat analysis into current and future technology development, studies, and operational analyses.
As a Intelligence Researcher...
Your primary responsibility will be to contribute to APL's participation in the U.S. Navy STILO Program (OPNAVINST 3880.6B)
You will conduct in-depth research of U.S. Government intelligence products and materials in direct support of selected APL programs.
You will develop and maintain in-depth knowledge of adversary threats and capabilities in support of assigned APL Mission Areas and programs.
You will review and approve APL program requests for threat support. Submit intelligence production requirements via the DoD COLISEUM tool (or other tasking methods as appropriate). Determine the level of detail required and identify the Intelligence Community production facility best suited to satisfy the requirement and oversee coordination with the intelligence community organization being tasked to provide support.
You will assist with overhead functions associated with running the APL STILO organization and STILO Facility.
Full job description here.
---
Jack Downing, DDO, COS, CIA Trailblazer - additional obituary info
AFIO announced Jack Downing's death last week in WIN #23-21 on 29 June 2021. Two subsequent extended obituaries appeared and are worth bringing to your attention. See the Washington Post obituary, "Jack Downing, Cold War spy who came out of retirement to help CIA, dies at 80" Jack Downing, a renowned spymaster who became the only CIA officer to run and recruit agents in both Beijing and Moscow during the Cold War, then came out of retirement in 1997 to reinvigorate the agency's demoralized clandestine branch, died June 27 at his home in Portland, Ore. He was 80. Mr. Downing was the consummate field agent, colleagues said, a Harvard graduate and Marine Corps veteran who served two tours in Vietnam, spoke fluent Chinese and Russian, and delighted in reciting Chinese poetry as well as developing new ways to evade the KGB. "He was everybody's idealized version of what a spy would be like," said Jonna Mendez, a former chief of disguise at the CIA. Obituary by Harrison Smith, 3 July 2021.
Also see the New York Times obituary, "Jack Downing, C.I.A. Chief in Cold War Capitals, Dies at 80." He was the agency's only official to have served as station head in both Moscow and Beijing. Then he was drawn out of retirement in 1997 to save its espionage operations. Obituary by Sam Roberts, 30 June 2021.
John King, lawyer, former Military Intelligence Officer
John Carroll King, 83, a former Military Intelligence officer, died 22 June 2021 after a long illness.
He was born in Charleston, WV. He attended Charleston High School, West Virginia University, and graduated Harvard Law School in 1962. He was a law clerk for the U.S. Ninth Circuit Court of Appeals after law school. John served from 1963 to 1965 in the United States Army as a First Lieutenant in command of an intelligence unit.
He moved to Phoenix, AZ in 1965, where he practiced law for the next thirty years, focusing on corporate tax and estate planning. He was legal counsel for the Arizona House Majority Leader in 1968, on the Phoenix Planning Commission (as its Chair in 1979-80) and was elected to two terms (1985 - 1989) in the Arizona House representing his Central Phoenix district.
After private practice, John became the Director of the Arizona Department of Insurance, and the Deputy Commissioner of the Arizona Real Estate Department.
John served on a host of volunteer boards and committees, including as a member of AFIO.
He enjoyed golf, traveling, sports events, and community service.
John is survived by longtime companion, Debbie Beebe, by a son, and other family.

---
AFIO EDUCATIONAL EVENTS IN COMING TWO MONTHS....
15 July 2021, 12:30-1:30 PM (PST) - Virtual via GoToMeeting - AFIO-Los Angeles Chapter hosts John B. Alexander PhD on "Central Asia - Probably Not What You Think"
The next upcoming meeting for the AFIO-Los Angeles Chapter takes place on July 15th with guest speaker John B. Alexander, Ph.D., a retired senior Army officer, covering the topic of Central Asia. Dr. Alexander will be discussing his travel to Central Asia in 2019 including the "five Stans", Kazakhstan, Kyrgyzstan, Tajikistan, Uzbekistan, and Turkmenistan. Included in the presentation will be a better understanding of the area, its current development and its history. Details for the event are listed below.
John B. Alexander PhD, is a retired senior Army officer with nearly half a century experience in special operations, intelligence, and research and development. A Green Beret combat commander in Vietnam, he later advised senior Ministry of Defence officials in Kabul, Afghanistan. His second career was at Los Alamos National Laboratory as progenitor of non-lethal warfare. He served with National Research Council, Army Science Board, and several NATO studies. He also was as an advisor to the National Intelligence Council and U.S. Special Operations Command. A recipient of a Knowlton Award by the Military Intelligence Corps, and the DOE Nuclear Weapon's Program Award of Excellence, he was inducted into the Aviation Week & Space Technology Laureate Hall of Fame and is listed in Who's Who in Science and Engineering. Educated at Walden University, Harvard's JFK School of Government, and MIT's Sloan School, he has traveled on all eight continents and made presentations on most of them.
He is a founding member of AFIO-Las Vegas and was a former senior fellow of a DoD university. He is author of many articles, monographs and books, including, Future War --Non-Lethal Weapons in 21st Century Warfare, with foreword by Tom Clancy, UFOS: Myths, Conspiracies, and Realities, and most recently, Reality Denied: Firsthand Experiences with Things that Can't Happen – But Did.
Platform: GoToMeeting
Please RSVP via email for the meeting access link: afio_LA@yahoo.com
Questions? Contact Vincent Autiero, President, AFIO-Los Angeles Chapter at afio_LA@yahoo.com
Friday, 8 October 2021, 11 am - 2 pm - In-Person Tysons Corner, VA - AFIO Luncheon featuring David Ignatius on "The Paladin" and Stephen Vogel on Traitor George Blake.
FOR YOUR CALENDAR. The first in-person AFIO National Luncheon for 2021 will take place on Friday, 8 October at DoubleTree Hotel, Tysons Corner. Event will feature David Ignatius discussing "The Paladin" or possibly another topic TBA. And the morning speaker, Stephen Vogel, discussing "Betrayal in Berlin" and traitor George Blake.
TO REGISTER: Registration link forthcoming.
VENUE: DoubleTree by Hilton, 1960 Chain Bridge Rd, Tysons Corner, VA 22182 Phone: (703) 893-2100. Directions at this link.
---
Other Upcoming Events from Advertisers, Corporate Sponsors, and Others
Thursday, 8 July 2021, noon EDT – Virtual Zoom Webinar – Virtual Spy Chat with Chris Costa with Special Guest Ambassador Nathan A. Sales – Virtual International Spy Museum Program
Attend this virtual online discussion of the latest intelligence, national security, and terrorism issues in the news. Spy Museum Executive Director Chris Costa, a former intelligence officer of 34 years, will lead the briefing. He will be joined by Ambassador Nathan A. Sales, who recently served as the Acting Under Secretary for Civilian Security, Democracy, and Human Rights at the US Department of State. Following their discussion of key issues, you'll be able to ask questions via our online platform. Sponsored by the Honorable Mary Beth Long, International Spy Museum, Board of Directors. Event is free – registration required. Visit www.spymuseum.org.
Thursday, 15 July 2021, 7 - 9pm EDT – Washington, DC – The Big Fake Wedding: Sneak Peek on SPYWeddings – International Spy Museum
This is a bridal show alternative complete with a meaningful vow renewal ceremony, light bites, and a dance-party reception. At The Big Fake Wedding, we will connect brides and grooms to the best local vendors. Attendees will receive wedding inspiration they can see and taste. Unlike typical bridal shows or wedding websites, attendees will have the opportunity to bond with each vendor and witness them in action before making an investment toward their big day. Program will take place on site at the International Spy Museum. Tickets: $32. Visit www.spymuseum.org.
Monday, 26 July 2021, noon EDT – Virtual Zoom Webinar – Curator's Corner: Sleeper Agent with Ann Hagedorn – Virtual International Spy Museum Program
There were hundreds of spies in the US during World War II but George Koval was the only Soviet military spy with security clearances in the atomic-bomb project. The ultimate sleeper agent, he was an all-American country boy who was born in Iowa, played baseball, and loved Walt Whitman's poetry. Join Spy Museum Historian and Curator Andrew Hammond in conversation with Ann Hagedorn, the award-winning author of Sleeper Agent: The Atomic Spy in America Who Got Away. Event is free – registration required. Visit www.spymuseum.org.
Thursday, 29 July 2021, 5:30pm EDT – Virtual Zoom Webinar – Clarity in Crisis: True Stories from Your Spy Next Door Marc Polymeropoulos – Virtual International Spy Museum Program
Marc Polymeropoulos served 26 years in the CIA before retiring from the Senior Intelligence Service in June 2019. After wide ranging experience in field and headquarters operational assignments covering the Middle East, Europe, Eurasia, and counterterrorism, he has written Clarity in Crisis: Leadership Lessons from the CIA. He bases his strategies and core principles on hard-earned experience. He had to live with the consequences of decisions made under the most high-stress of circumstances, and he wants to help others approach their crises head on and come through stronger. Spy Museum Historian and Curator Andrew Hammond will talk with Marc Polymeropoulos about his extraordinary career and how what he learned can help regular people gain confidence in the face of crisis and embrace less than ideal situations with no fear. Event is free – registration required. Visit www.spymuseum.org.
29 July 2021, 6 pm - Virtual - OSS Society hosts Gen. David Petraeus USA (Ret) and Gus Biggio on "The War in Afghanistan"
The OSS Society hosts the fifth installment in its 2021 "Oh So Social" Conversation Series on July 29. General David Petraeus, who commanded U.S. military forces in Afghanistan, will speak with Gus Biggio about his Afghan war memoir, The Wolves of Helmand:
"At turns poignant, funny, philosophical, and raw—but always real—The Wolves of Helmand is both a heartfelt homage to the Marine brotherhood with whom Biggio served and an expression of respect and love for the people of Afghanistan who ultimately trusted, shared, and appreciated their purpose. Ten years after serving his country as a U.S. Marine, Captain Frank "Gus" Biggio signed up once again because he missed the brotherhood of the military. Leaving behind his budding law career, his young wife, and newborn son, he was deployed to Helmand Province—the most violent region in war-torn Afghanistan—for reasons few would likely understand before reading this book."
Do not miss this important conversation as America's military forces prepare to leave Afghanistan later this year.
If you would like to register for this event, click here.
If you were unable to watch our most recent "Oh So Social" conversation with Admiral William McRaven, Secretary Leon Leon Panetta, and Dr. Mike Vickers, who discussed the Osama bin Laden raid on its 10th anniversary, please click here.
Wednesday, 27 October 2021, 6 - 10 pm - Washington, DC - 30th (+1) Anniversary Gala and Chancellor's Dinner - Institute of World Politics
Save the date. Current timing of this in-person celebration is:
6:00 PM Cocktail Reception
7:00 PM Dinner
9:00 PM Dessert and Dancing
Location: The Mayflower Hotel, 1127 Connecticut Ave NW, Washington, DC
Additional details to follow
*Because this is an unusual year, if you are considering attending the 30th (+1!) Anniversary Gala, please fill out this form: iwp.edu/gala-survey
Wednesday, 1 December 2021, TBD Time - Washington, DC - 2021 Webster Distinguished Service Award Event - International Spy Museum
The Spy Museum offers an evening of intrigue for the 2021 Webster Distinguished Service Award event. The award is an opportunity to recognize the extraordinary contributions of individuals in the Intelligence Community. This year's awardee is The Honorable Susan M. Gordon, former principal deputy director of national intelligence. Previous recipients of the Webster Distinguished Service Award include President George H. W. Bush (2017), Admiral William H. McRaven, USN (Ret.) (2018), and Gen. Michael V. Hayden (Ret.) (2019). Webster attendee and sponsor support fuels the nonprofit mission of educating the public about the history and craft of espionage and intelligence through youth and adult programs, community service, and the care of the Museum's unique collection of artifacts for generations to come. For tickets, sponsorship opportunities, or information about ways to support the International Spy Museum, please contact the development office at 202.654.2853. Additional details and online ticket link to follow. Visit www.spymuseum.org.
---
In addition to the new Royal Blue long sleeve shirts, and the gray long sleeve hooded sweatshirts, the AFIO Store also has the following items ready for quick shipment:
LONG and Short-Sleeved Shirts with embroidered AFIO Logo and New Mugs with color-glazed permanent logo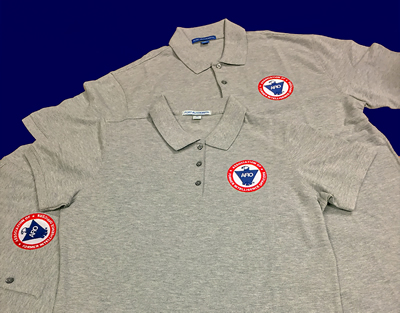 Show your support for AFIO with our new Polo Shirts. Be the first to buy these new, high quality, subtle heathered grey short sleeve shirts, and dark blue long sleeved shirts, of shrink and wrinkle resistant fine cotton with a soft yet substantial feel. They feature a detailed embroidered AFIO seal. Get a shirt for yourself and consider as gifts for colleagues, family, and friends. Only $45 each including shipping.
Sizes of (M) men or (W) women shirts; Small, Medium, Large, XL, XXL, and XXXL. At this time all orders will arrive as Short Sleeve shirts.
You may pay by check or credit card. Complete your order online here or mail an order along with payment to: AFIO, 7600 Leesburg Pike, Ste 470 East, Falls Church, VA 22043-2004. Phone orders at 703-790-0320. If interested in other shirt colors or sleeve lengths, contact Annette at: annettej@afio.com.
---
AFIO Mug with color glazed logo. Made in America. Sturdy enough to sit on desk to hold pens, cards, paperclips, and candy.
This handsome large, heavy USA-made ceramic mug is dishwasher-safe with a glazed seal. $35 per mug includes shipping. Order this and other store items online here.
---
Guide to the Study of Intelligence and When Intelligence Made a Difference
"AFIO's Guide to the Study of Intelligence" has sold out in hard-copy.
However, it is available in digital form in its entirety on the AFIO website here.

Also available on the website here are the individual articles of AFIO's history project "When Intelligence Made a Difference" that have been published to date in The Intelligencer journal. More articles will be forthcoming in future editions.
---
Disclaimers and Removal Instructions
Weekly Intelligence Notes (WINs) are commentaries on Intelligence and related national security matters, based on open media sources, selected, interpreted, edited and produced for non-profit educational uses by members and WIN subscribers.
REMOVAL INSTRUCTIONS: We do not wish to add clutter to inboxes. To discontinue receiving the WINs:
a) IF YOU ARE A MEMBER - click here: UNSUBSCRIBE and supply your full name and email address where you receive the WINs. Click SEND, you will be removed from list. If this link doesn't open a blank email, create one on your own and send to afio@afio.com with the words: REMOVE FROM WINs as the subject, and provide your full name and email address where you are currently receiving them.
b) IF YOU ARE NOT A MEMBER, and you received this message, someone forwarded this newsletter to you [contrary to AFIO policies]. Forward to afio@afio.com the entire WIN or message you received and we will remove the sender from our membership and distribution lists. The problem will be solved for both of us.
CONTENTS of this WIN [HTML version recipients - Click title to jump to story or section, Click Article Title to return to Contents. This feature does not work for Plaintext Edition or for some AOL recipients]. If you wish to change to HTML format, let us know at afio@afio.com. The HTML feature also does not work for those who access their e-mail using web mail...however NON-HTML recipients may view the latest edition each week in HTML at this link: https://www.afio.com/pages/currentwin.htm
---
WINs are protected by copyright laws and intellectual property laws, and may not be reproduced or re-sent without specific permission from the Producer. Opinions expressed in the WINs are solely those of the editor's or author's listed with each article. AFIO Members Support the AFIO Mission - sponsor new members! CHECK THE AFIO WEBSITE at www.afio.com for back issues of the WINs, information about AFIO, conference agenda and registrations materials, and membership applications and much more!
(c) 1998 thru 2021. AFIO, 7600 Leesburg Pike, Suite 470 East, Falls Church, VA 22043-2004. Voice: (703) 790-0320; Fax: (703) 991-1278; Email: afio@afio.com
---
About AFIO | Membership Renewal | Change of Address | Upcoming Events | Chapter Locations | Corporate/Institutional Memberships | Careers in Intelligence Booklet | Guide to the Study of Intelligence | Intelligencer Journal | Weekly Intelligence Notes | To Make A Donation | AFIO Store | Member-Only Section | Code of Ethics | Home Page
---