---
CONTENTS
Section I - INTELLIGENCE HIGHLIGHTS
Section II - CONTEXT & PRECEDENCE
Section IV - Research Requests, Jobs, Obituaries
Other Upcoming Events from Advertisers, Corporate Sponsors, and Others
For additional AFIO and other Events two+ months or more... Calendar of Events
WIN CREDITS FOR THIS ISSUE: The WIN editors thank the following special contributors: rsy, ec, po, pjk, mh, km, gh, mk, rd, fm, kc, jm, mr, jg, th, ed, and fwr. They have contributed one or more stories used in this issue.

The WIN editors attempt to include a wide range of articles and commentary in the Weekly Notes to inform and educate our readers. However, the views expressed in the articles are purely those of the authors, and in no way reflect support or endorsement from the WIN editors or the AFIO officers and staff. We welcome comments from the WIN readers on any and all articles and commentary.

CAVEATS: IMPORTANT: AFIO does not "vet" or endorse research inquiries, career announcements, or job offers. Reasonable-sounding inquiries and career offerings are published as a service to our members, and for researchers, educators, and subscribers. You are urged to exercise your usual caution and good judgment when responding, and should verify the source independently before supplying any resume, career data, or personal information.]
If you are having difficulties with the links or viewing this newsletter when it arrives by email, members may view the latest edition each week at this link.
---
Other items brought to our attention:
RANSOMWARE - CYBER INSURANCE, VISUALLY TRACKING BITCOIN PAYOFFS
AP News: In crosshairs of ransomware crooks, cyber insurers struggle. "Before ransomware evolved into a full-scale global epidemic plaguing businesses, hospitals, schools and local governments, cyber insurance was a profitable niche industry. It was accused of fueling the criminal feeding frenzy by routinely recommending that victims pay up, but kept many from going bankrupt. Now, the sector isn't just in the criminals' crosshairs. It's teetering on the edge of profitability, upended by a more than 400% rise last year in ransomware cases and skyrocketing extortion demands. As a percentage of premiums collected, cyber insurance payouts now top 70%, the break-even point." Story here.

Gizmodo: This Crowdsourced Ransomware Payment Tracker Shows How Much Cybercriminals Have Heisted. "The way it works is Ransomwhere keeps a running tally of ransoms paid out to cybercriminals in the bitcoin cryptocurrency. This is largely made possible because of the transparent nature of bitcoin: All transactions involving the cryptocurrency are recorded on the blockchain, a decentralized database that acts as a public ledger, thus allowing anyone to track any transactions specifically associated with ransomware groups." Story here.
---
WHISTLEBLOWING IN THE IC
Did you miss the Council on Intelligence Issues' panel on "Whistleblowing in the Intelligence Community"? It is now available online.

The Council on Intelligence Issues presented a May 2021 panel on "Whistleblowing in the Intelligence Community" in partnership with the ABA's Standing Committee on Law and National Security.
A video recording of that discussion is now online at the CII website as well as at the ABA's site.
Over the last two years, the Council put together and co-sponsored events with the ABA, Spy Museum, FPRI, and the Bar Association of DC, as well as with the law firm of Steptoe & Johnson. Their topics included "Intelligence Briefings for Presidential Candidates," "The Billion Dollar Spy," "Information Operations," and "Maintaining Intelligence Integrity."
Information about those events and many of their other publications and activities is available at the CII website here.
Here is the link to the Whistleblower Panel video.
---
Charlie Allen: A Life in Intelligence
Discusses Glomar Explorer, U-2, A-12, SR-71, CIA Sense of Mission, The Ideal Intelligence Officer, The Ideal Analyst, The Ideal Special Operations Officer, A Moral Compass, The Future Intelligence Officer, The CIA Family, The Cuban Missile Crisis, Saddam Hussein and the War in Kuwait, 9/11, Death from Above, Anwar Al-Awlaki, and What's Next.

Few if any intelligence professionals have contributed to US intelligence and national security as has Mr. Allen. Known by his friends and admirers as "Charlie," he served as a senior government executive for over 25 years (more than 51 years total service) with extensive experience in program management, intelligence analysis and production, intelligence collection management, and system acquisition. He held senior intelligence and management positions with responsibilities for providing all-source intelligence to cabinet-level officials and as a program manager under the Director of National Intelligence. Since retiring from active government service, Mr. Allen continues to contribute in a variety of ways. Watch AFCEA video here.
Runs 16:32 minutes. Released 25 May 2021. Another fine Carl Colby Production.
---
Understanding Russia's Cyber Strategy
Josephine Wolff, 6 July 2021, Eurasia Program of the Foreign Policy Research Institute
The Russian Federation's willingness to engage in offensive cyber operations has caused enormous harm, including massive financial losses, interruptions to the operation of critical infrastructure, and disruptions of crucial software supply chains. The variety and frequency of these operations, as well as the resulting attribution efforts, have offered an unusually vivid picture of Russia's cyber capabilities and tactics. While many other countries have relied heavily on vague strategies and threats to signal their emerging cyber powers, Russia has exercised its technical capabilities with relative impunity for more than a decade. This makes it possible to chart Moscow's increasingly bold forays into the cyber domain alongside the increasingly technically sophisticated specific vulnerabilities, techniques, and tactics that Russia has leveraged. This timeline reveals a shift towards more covert, targeted cyber capabilities in recent years, as well as an evolution away from phishing-based compromises to supply chain and service provider intrusions, in conjunction with a continued reliance on and reuse of the same infrastructure and malware across multiple operations. Article continues here.
---
The Latest... from Jeff Stein's "SpyTalk" series...
July 9 Podcast: "Enemies Within and Without" by Jeff Stein
Listen now (44 min) | CIA plans for a Taliban takeover, DoD grapples with violent extremists
Former senior CIA officer Doug London talks with Jeff Stein about the present and future intelligence picture in chaotic Afghanistan. And Jeanne Meserve has a fascinating talk with former top DHS intel official and retired Brigadier General Francis X. Taylor about dealing with violent extremists in the military ranks.
Podcast here

July 2: "The Spies That Bind" by Jeff Stein
The FBI faces stiff challenges from both domestic insurrectionists and Chinese spies. How's it doing?
Article here

July 1: "'Dozens' of Chinese Moles in U.S. Intelligence, U.S. expert claims" by Jeff Stein
FBI is 'completely outmatched' by espionage onslaught, says Nicholas Eftimiades, a former top DIA expert on Chinese espionage. Others agree.
Article here

Readers, for a brief time, can subscribe for free for articles and weekend podcasts here.
---
The Arkin Group's July 9 "In Other News" letter to private clients by former Operations Officer Jack Devine features...
Climate change and diversification key factors in UAE-Saudi rivalry.
Lebanon's deepening humanitarian crisis prompts aid offers from Qatar to Israel.
Over the past year China has systematically attacked democratic institutions in Hong Kong and laid a devastating groundwork of fear to contain their return.

Follow link here to read analyses and predictions given to their private clients on the topics above.
Also, see June 15 Daily Beast article on Putin and Biden by Devine here.

Recently released was Jack Devine's Spymaster's Prism. AFIO's interview with him about this book appears in this issue at top of right column of this issue of the WINs. You can view the video at this link. Or hear the podcast here.

---

---

Details on the exciting upcoming Virtual Education Programs of the National Cryptologic Museum Foundation are available on their new webpage here

Other NCF Events can be found here on NCF website here, and CCH website here.

---

---
---
Just released to members...
The Benefits and Drawbacks of Covert Action

Released 13 July 2021
on "CIA and Covert Action" - Pros and Cons
Interview of Thursday, 13 May 2021 with David Robarge PhD, CIA Chief Historian, PDB Editor. Host-Interviewer: AFIO President James Hughes, a former CIA Operations Officer.
TOPIC: Dr Robarge discusses "CIA and Covert Action" — the complexities, pros and cons, of covert action, with examples throughout modern U.S. history.
The presentation, which uses extensive number of PowerPoint slides, runs 76 minutes.
Access the Robarge interview here or click above image.
---
Prior Videos in the "AFIO Now" Series
View the publicly-released ones on our YouTube page
or log into the Member-only area to view private and public interviews.
---
PODCASTS: AFIO NOW content is also available on various podcasting platforms. Search for 'AFIO Podcast' for a selection of public released videos on Podbean; iTunes; Google; Spotify; Amazon Music; Amazon TuneIn + Alexa; iHeartRadio; and Pandora.
---
Hold the date: AFIO National's first in-person event is scheduled for Friday 8 October 2021
Friday, 8 October 2021, 11 am - 2 pm - In-Person Tysons Corner, VA - AFIO Luncheon featuring David Ignatius on "The Paladin" and Stephen Vogel on Traitor George Blake.
FOR YOUR CALENDAR. The first in-person AFIO National Luncheon for 2021 will take place on Friday, 8 October at DoubleTree Hotel, Tysons Corner. Event will feature David Ignatius discussing "The Paladin" or possibly another topic TBA. And the morning speaker, Stephen Vogel, discussing "Betrayal in Berlin" and traitor George Blake.
TO REGISTER: Registration link forthcoming.
VENUE: DoubleTree by Hilton, 1960 Chain Bridge Rd, Tysons Corner, VA 22182 Phone: (703) 893-2100. Directions at this link.
---
---
Newly Released, Overlooked, or Forthcoming Books
The Aristocracy of Talent: How Meritocracy Made the Modern World
by Adrian Wooldridge
(Allen Lane, July 2021)
"This unique and fascinating history explains why the blame now being piled upon meritocracy is misplaced—and that assigning responsibilities to the people best able to discharge them really is better than the time-honored customs of corruption, patronage, nepotism, and hereditary castes. Wooldridge upends many common assumptions and provides an indispensable back story to this fraught and pressing issue." —Steven Pinker, Johnstone Family Professor of Psychology at Harvard University
"Wonderful...The Aristocracy of Talent provides an important and needed corrective to contemporary critiques of meritocracy. It puts meritocracy in an illuminating historical and cross-cultural perspective that shows how critical the judgment of people by their talents rather than their bloodlines or connections has been to creating the modern world. Highly recommended." —Francis Fukuyama, Senior Fellow at Stanford University's Freeman Spogli Institute for International Studies
Meritocracy: the idea that people should be advanced according to their talents rather than their status at birth. For much of history this was a revolutionary thought, but by the end of the twentieth century it had become the world's ruling ideology. How did this happen, and why is meritocracy now under attack from both right and left?
Wooldridge traces the history of meritocracy forged by the politicians and officials who introduced the revolutionary principle of open competition, the psychologists who devised methods for measuring natural mental abilities and the educationalists who built ladders of educational opportunity. He looks outside western cultures and shows what transformative effects it has had everywhere it has been adopted, especially once women were brought into the meritocractic system.
Wooldridge also shows how meritocracy has now become corrupted and argues that the recent stalling of social mobility is the result of failure to complete the meritocratic revolution. Rather than abandoning meritocracy, he says, we should call for its renewal.
Book may be ordered here.
---
Speechless: Controlling Words, Controlling Minds
by Michael J. Knowles
(Regnery, July 2021)
"This book is a must-read for anyone who hopes to preserve our culture." — Mike Pompeo, former Director, CIA and U.S. secretary of state
How the "free speech absolutists" gave away the store. The First Amendment does not require a value-neutral public square. How the Communists figured out that their revolution could never succeed as long as the common man was attached to his own culture. Where political correctness came from. How, comply or resist, political correctness is a win-win game for the bad guys. Why taking our stand on "freedom of speech" helps put atheism, decadence, and nonsense on the same plane with faith, virtue, and reality.
Book may be ordered here.
---
"I Have Nothing to Hide": And 20 Other Myths about Surveillance and Privacy
by Heidi Boghosian
(Beacon Press, July 2021)
"...clearly and concisely tears down the lies we tell ourselves when it comes to the dark underbelly of technology as it relates to surveillance. Privacy is a right, and we need leaders like Heidi to tell us how to defend it from entities that purport to protect and serve us." —Rachel A. Pickens, executive director, National Police Accountability Project
Many Americans assume that their government does not monitor them as closely as authoritarian governments, but that is simply not true. After the 9/11 attacks, domestic surveillance increased exponentially in the name of national security, and many Americans continue to believe that providing unlimited access to their data is necessary to be a dutiful citizen. However, attorney and data privacy expert Boghosian argues that the ongoing effects of increased surveillance do not protect Americans from attack, but rather makes them even more vulnerable.
Boghosian unpacks the widespread myths around data privacy and data mining and sets the record straight about what government agencies and corporations do with our personal data and what we can do to protect ourselves. Before the 2016 presidential election, Cambridge Analytica harvested data from 50 million Americans on Facebook without their consent – creating hyper-targeted ads that were designed influence voter behavior. Law enforcement agencies have drawn upon personal data to cobble together criminal charges against civil rights and antiwar activists for decades – and as recently as 2020, police have used social media usage to target and press charges against Black Lives Matter protesters. Boghosian breaks down the misinformation surrounding 21 core issues of data privacy, including: - No one wants to spy on kids; - Police don't monitor social media; - The USA doesn't spy as much as authoritarian regimes; and - There's nothing I can do to stop surveillance.
Book may be ordered here.
---
---

Position Available at AFIO National

Work at AFIO National. AFIO is seeking to fill the following position in our McLean-Tysons-Falls Church, VA offices:

DIRECTOR OF MEMBERSHIP

Part-time position; hourly pay rate. Work hours daily Monday through Friday. Maximum number of monthly work hours is 140.

Memberships: Maintain AFIO membership database, to include processing information changes, membership renewals, and new membership applications; produce membership data statistics. Serve as the liaison between corporate members and AFIO chapters and the Board of Directors. Provide annual roster verification and recruitment support for AFIO chapters. Responsible for monthly invoicing cycle and membership renewal cards and welcome package mailings. Perform targeted mass mailings at intervals throughout the year. Process donations and work with the Events Coordinator to prepare notes of appreciation and to pack/ship thank you gifts.
Office/Office Systems: Order, maintain inventory of, and label office supplies; organize storeroom and office reception space. Responsible for all office systems: computers, server, phones, internet including backups; provide technical support to other office personnel. Work with IT contractor to ensure up-to-date hardware, software, and office equipment (postage meter, copier, folder/inserter).
Store Sales: Maintain inventory of store merchandise. Process all incoming store item orders. Pack and ship merchandise orders.
Phone/Emails/Visitors/Admin: Respond promptly to all phone calls, emails, mailed correspondence, and in-person visits. Code and process all check payments and prepare monthly bank deposit.
Events/Board Meetings: Create online registration form for events. Process all incoming event registrations. Work with Events Coordinator to answer questions pertaining to events. Provide onsite service to include setup and operation of AFIO audio/visual equipment; coordinate with speakers and hotel staff on IT issues. Provide onsite support at quarterly Board meetings, take meeting notes and prepare draft minutes.

To apply, or arrange an interview, or for additional information, contact Annette Janak at AnnetteJ@afio.com
---
---
Visit, Follow, Subscribe to AFIO's LinkedIn, Twitter, and YouTube pages to receive updates.
Members who use social media or wish to explore, will find new announcements and other material on AFIO's Twitter and LinkedIn pages. New videos on our YouTube page appears below as well.
Access them here: LinkedIn, Twitter, and YouTube. By following or subscribing on those sites, one can be notified as new material appears.




NEW — PODCASTS: Our new social media expert has been busy! Are you too busy to sit and watch an entire "AFIO Now" episode above on YouTube? Would you rather listen in your car or while accomplishing other tasks? Now you can quickly download or stream episodes on your favorite podcasting platform. AFIO is now available on 8 podcasting platforms. Search for 'AFIO Podcast' for a selection of the interviews above (public released ones) on Podbean; iTunes; Google; Spotify; Amazon Music; Amazon TuneIn + Alexa; iHeartRadio; and Pandora.
---
Guide to the Study of Intelligence and When Intelligence Made a Difference

"AFIO's Guide to the Study of Intelligence" has sold out in hard-copy.
However, it is available in digital form in its entirety on the AFIO website here.

Also available on the website here are the individual articles of AFIO's history project "When Intelligence Made a Difference" that have been published to date in The Intelligencer journal. More articles will be forthcoming in future editions.

---

---

---

One of the special benefits of membership in AFIO: access to CIA's inhouse gift shop — the EAA Store.

It requires a quick preapproval process described here to all newly joined and current AFIO members. And then allows you to purchase online their unusual logo'd gift items for self or colleagues. At left is the latest photo EAA released on July 2 featuring some of their newest items:

---
---
Section I - INTELLIGENCE HIGHLIGHTS

South Korea's Intelligence Agency Confirms North Korean Cyberattacks. The National Intelligence Service (NIS) on Thursday told the National Assembly's Intelligence Committee that South Korean companies and public institutions had been damaged by cyberattacks from North Korea.

Ha Tae-kyung, a member of the Intelligence Committee and legislator for the main opposition party, said that the NIS has taken measures to control the damage among companies and public institutions. The North's attempted cyberattacks on the public sector decreased by 4 percent while its cyberattacks on the private sector increased by 13 percent from last year's figures, Ha said.

The major public institutions affected by North Korean hacking were related to national security. [Read more: Shin/TheDiplomat/9July2021]

Venezuela Arrests Freddy Guevara for 'Terrorism, Treason'. Venezuelan prosecutors have announced "terrorism" and "treason" charges against a prominent opposition politician after intelligence agents arrested him from his car on a Caracas highway.

In a statement on Monday, Attorney General Tarek Saab said that Freddy Guevara was detained by members of the Bolivarian National Intelligence Service (Sebin) due to "his links with extremist and paramilitary groups associated with the Colombian government".

"He will be charged with the crimes of terrorism, attacks against the constitutional order, conspiracy to commit a crime and treason," the statement said.

Guevara, a close ally of opposition leader Juan Guaido, posted on social media from inside his car as secret police intercepted him on a Caracas highway. [Read more: AlJazeera/13May2021]

Iranian Hackers Pose as UK Scholars to Target Experts. A notorious hacker group tied to the Iranian Revolutionary Guard Corps has covertly targeted university professors and other experts seeking sensitive information, according to research by cybersecurity firm Proofpoint.

The group, known as TA453, has been masquerading as British scholars at the University of London's School of Oriental and African Studies (SOAS) since at least January to approach their victims, Proofpoint said in a new report released Tuesday.

The researchers said that while they could not independently confirm that the hacker group is part of the IRGC, they assess with "high confidence" that it supports IRGC's intelligence collection efforts. IRGC is a US-designated foreign terrorist organization. [Read more: Farivar/VOA/13July2021]

French Spy Agency DGSI Emerges From Shadows With First Website. France's intelligence agency, the DGSI, has launched its first website - giving ordinary folk a peek at its top secret missions fending off terrorism, cyberattacks, foreign spies and more.

A year in the making, the website is a PR tool of sorts. It aims to demystify the agency's activities to millions of French people who are either unsure what it does, or who believe it was created to monitor the population.

Described as "a tool for contact and exchange", the new online address also gives individuals another avenue for reporting a person suspected of having been radicalised.

"All of the world's major intelligence services have dedicated website," DGSI director general Nicolas Lerner told a press conference Tuesday at the agency's headquarters in the Paris suburb of Levallois-Perret. [Read more: Morrow/RFI/8July2021]

Bedouin Businessman Arrested for Providing Intelligence to Iran. Bedouin businessman Yaakub Abu Alqian was indicted on serious offenses including contact with a foreign agent and providing intelligence to an enemy country, the Shin Bet internal security agency announced on Monday.

Abu-alQian was arrested on June 10th following a joint investigation by the Shin Bet and Israel police on suspicion of having illegal contacts with a Lebanese-Iraqi operative as well an Iranian intelligence.

A full gag order was placed on his case until last week when Ynet and Haaretz requested it from the Ashkelon District court. Following the decision to scale back the gag order the media outlets reported that he had been barred from speaking to his attorneys during his over 20 days in custody.

He was suspected of "serious and severe security crimes that undermine the security of the state," the court said at the time. [Read more: Ahronheim/JerusalemPost/12July2021]


---
Section II - CONTEXT & PRECEDENCE

The Canadian CIA Is Hiring Intelligence Officers & You Need To Know How To Be Sneaky. The Canadian Security Intelligence Service (CSIS), part of the country's national security system, is hiring Intelligence Officers and you need to be sneaky if you want to get the job.

With this Ottawa-based position, the yearly pay is between $71,010 to $102,250 and eligibility is only open to Canadian citizens who are visible minorities and Indigenous people. Anyone who applies has to know English and French or agree to become bilingual through training.

Requirements for the job include a bachelor's degree, an understanding of the CSIS mandate and priorities about national security, a willingness to travel and the ability to relocate anywhere in Canada for work as needed. International travel and knowledge of foreign or Indigenous languages are considered assets but are not necessities. [Read more: Belmonte/Narcity/13July2021]

Five Years After Nice's Deadly Attack, is France's Terror Threat Any Weaker? Just five years ago, the seafront of Nice turned from a place of celebration to a scene of horror when a man driving a truck ploughed through crowds watching fireworks on Bastille Day.

86 people were killed, including 10 children, and another 458 were injured.

Mohamed Lahouaiej-Bouhlel, the Tunisian-born attacker, was shot dead during an exchange of gunfire with police after his two-kilometre rampage on the Promenade des Anglais.

The attack was claimed by the so-called Islamic State group, who said that Lahouaiej-Bouhlel had heeded the militant group's call to arms. But according to prosecutors, there was no evidence that Bouhlel had sworn allegiance to the extremist group. [Read more: Amiel/EuroNews/13July2021]

A Read for Spy Nerds. Nigel West is the pen name of Rupert Allason, a former Conservative Party politician in the UK, who is arguably one of the most prolific writers of security and intelligence mongraphs in the modern era. West has authored more than 30 books, has lectured extensively around the world including, he says, at the CIA and KGB/SVR headquarters. As far back as 1989, the British newspaper The Observer called him ..."the experts' expert." West was recognized by the Association of Former Intelligence Officers (AFIO) in 2011 with the Lifetime Literature Achievement Award and was elected to the Honorary Board of that association.

West's most recent addition to his cornucopia of espionage scholarship is Spy Swap: The Humiliation of Russia's Intelligence Services. This relatively thin monograph (170 pages of text) is a comprehensively and meticulously researched study of the history of both US and Soviet/Russian intelligence activities from the Cold War to the present. The book's title is inspired by the FBI's successful years-long operation, known as Ghost Stories, that eventually led to the "spy swap" of July 2010, and yet that story doesn't get told until the second half of the book. [Read more: Joe Augustyn/TheCipherBrief/7July2021]

Supersonic Drone Missing: Where Is The US 'Spy Drone' That Flew On A Secret Mission & Never Returned? The National Reconnaissance Office declassified some documents that highlight a US program to develop a spy drone in the 1960s to prevent the risk of sending manned spy planes like the U-2 over hostile territory.

The D-21 was straight out of science fiction. Built by Lockheed Martin with the support of the US Air Force, the drone was capable of flying at Mach 3.3 speed, reaching unreachable altitudes of 95,000 feet, and could traverse 3,000 nautical miles on its outward and return journey.

The D-21 was one of the earliest unmanned aerial reconnaissance vehicles designed specifically for collecting photo evidence of China's nuclear sites. [Read more: Jain/TheEurAsian/11July2021]


---
Let's Bet on the Next Big Policy Crisis - No, Really. Will Belarusian President Alexander Lukashenko - "Europe's last dictator," who ordered the hijacking of a plane to apprehend a dissident journalist - still be in power in 2024?

Nobody knows, of course. But it's a question that the U.S. government definitely wants the answer to. Lukashenko's regime is infamously personalistic; Belarus would likely see several changes if he were no longer in charge.

But imagine if Lukashenko's odds of remaining in the presidency were ascertainable. Would government policymakers plan differently? Would CEOs change investment strategies in eastern Europe? Would military strategists watch the Belarusian-Russian border more warily?

Sure, this situation is entirely hypothetical. But it turns out that the idea of predicting developments in foreign policy is not as far-fetched as it may seem. [Read more: Brooks&Rosenzweig/Lawfare/13July2021]

Lessons From South Korea's Approach to Tackling Disinformation. Baseless rumors about new technologies spreading cancerous radiation. Politicians condemning negative stories as "false" or "defamatory." Deepening polarization amid constant online manipulation. These might sound like recent episodes in U.S. public life. But they in fact come from South Korea, where rumormongering and manipulation of public opinion have become key features of its politics.

Although South Korea consistently tops indices measuring a country's digital maturity, digital disinformation is changing its politics. Despite evidence to the contrary in the United States, South Korea's experiences suggest that political polarization is not the death knell for the state's ability to address domestic disinformation and provide clear guidance during crises like COVID-19.

South Korea's experience with disinformation contains important lessons for other democracies on how to address this challenge. [Read more: Tworek&Lee/TechStream/12July2021]

Pushing Putin Won't Solve America's Ransomware Problem. Unlike his predecessor, Biden isn't interested in coddling Putin. The president has appointed cyber-savvy officials and issued an important executive order about the federal government's cybersecurity posture that could have and should have been issued four years ago. But there will inevitably be another big ransomware attack. Having created expectations that the executive branch can control the situation, Biden risks having his policies and actions be unfairly denounced as inadequate or worse.

The main reason the solution to Russian-tolerated (if not sponsored) cybercrime is out of the president's hands is Russia itself. Putin is only too happy to watch the United States suffer ransomware attacks; anything that creates political or economic turmoil in our nation supports his self-interested portrayal of a decaying America. At best, he turns a blind eye to criminal gangs operating inside Russia as they export cyber maliciousness; at worst, he and the Russian intelligence agencies might even facilitate their crimes. Indeed, many Kremlin observers suspect that the gangs are part of a Russian underworld that helps keep Putin and his cronies in power.

We have limited maneuvering room to force Putin to change. [Read more: Gerstell/Barrons/13July2021]

The Al-Kiyan Affair Shows Iran isn't Stopping for a Second. Bedouin Israeli businessman Yakub Abu Al-Kiyan wasn't some major spy. It's doubtful he would have become one even if he had continued to be handled by Iran for considerable time, simply because he had early no access to information and decision-makers.

The information he did hand over was elementary, of the kind that any average consumer of news could have picked up. But it's not the level of the information he provided that indicates the potential seriousness of the case, but rather his intentions. Al-Kiyan was completely aware of his actions. More than that: he initiated them, and wanted to move forward to more meetings, more contacts. It was clear to him what he was doing and with whom he was doing it, and nevertheless, he chose to continue. As proof, we have the fact that he corresponded not through written means but by conversations on Whatsapp, which are easier to hide and make vanish later.

Al-Kiyan's motives will be made clear at his trial. Unlike former MK Azmi Bishara, who intentionally handed sensitive information to Hezbollah during the 2006 Second Lebanon War, it does not appear that Al-Kiyan's motives were security-related. [Read more: Limor/IsraelHayom/13July2021]


---
Section IV - Research Requests, Jobs, Obituaries
US-China co-operation against the Soviets in the 1980s. Seeking Intelligence Officers who worked in Western China on joint monitoring stations dedicated to Soviet missile sites
Jane Perlez, the NYTimes bureau chief in Beijing, is seeking officers who worked in China on the joint monitoring stations in Western China that were dedicated to the Soviet missile sites. It is for a podcast that deals with the China-US opening by Richard Nixon. The program, run in part by the Science and Technology division, featured in the excellent book "The Wizards of Langley" by Jeffrey Richelson, "The Great Wall" by Patrick Tyler, and in some press accounts.
To respond, email her at janeperlez@gmail.com; twitter: @janeperlez; +1-646 884 4949
ISO former CIA officers w/ Czech experience
I'm the daughter of Dagmar Stapleton who worked on the Czech desk from around '74 to '94. Am hoping to talk with former Prague case officers, station chiefs, deputy station chiefs from that time period for a research project.
Please contact me at viveca.novak@gmail.com. [Viveca Novak is an American journalist who has worked as the editorial and communications director at the Center for Responsive Politics since 2011. She was previously a Washington correspondent for Time and The Wall Street Journal. She is a frequent guest on CNN, NBC, PBS, and Fox.]
Researcher Seeking Your Experiences Working in Western North Carolina on DoD/NSA Rosman Research Station in 1980s.
I'm Craig Gralley, a 34-year veteran of CIA and currently a freelance writer in the Brevard, NC area. I'm also a volunteer at PARI - the Pisgah Astronomical Research Institute in nearby Rosman. PARI is now dedicated to STEM education and research, but has had a storied history that is largely unknown to the people of this mostly underserved area of rural North Carolina. I have volunteered to write PARI's history. NASA first constructed the site in 1962 as a ground station for a variety of unmanned scientific satellites. AFIO members might remember when DoD/NSA took over the site in 1981 and called it the Rosman Research Station (NSA's participation at the site was declassified nearly a decade ago). NSA gave up the site in 1995.
I am receiving NSA's support through a FOIA request to declassify more information about the facility. My goal is to make this history less about satellites and their capabilities and more about what it was like working in a remote location in western North Carolina. Personal stories, things that could have gone wrong but didn't (or did), success stories—humorous/serious anecdotes—all of it is welcome. My goal is to take the edge off of a dry history and give the Rosman ground station a human face.
I'd be glad to attribute anything that comes to me in the way desired by the contributor.
Thanks for your help.
REPLIES to Craig R. Gralley, 703.581.3440 (mobile), craig.gralley@gmail.com. More about Craig at www.craiggralley.com
Seeking Officials Who Served USSR/Russia 1965-2015 and Other Posts - with knowledge of, or exposure to, Microwave/Directed Energy Weapons
Prominent D.C. Attorney seeking former intel officers or others who served in USSR/Russia during 1965-2015, as well as anyone who has information concerning possible microwave/energy directed weapon exposure of U.S. officials by foreign adversary.
Replies to Mark S. Zaid Esq, mark@markzaid.com. Or call him at (202) 454-2809.
More information about Mr. Zaid at MarkZaid.com.
LUNINT Flight Software Engineer - Washington, DC area location - for Rhea Space Activity
The Flight Software Engineer is responsible for providing technical expertise on the needs of the proposed system, contributing in technical discussions with a multidisciplinary team, and developing navigation software for spacecraft operating throughout cislunar space. As part of our small team, you will be our in-house flight software expert, and be instrumental in the development of novel flight control software for the USSF/USAF.
MANDATORY QUALIFICATIONS
1. Deep experience with coding in C and/or C++.
2. Deep experience with coding MATLAB/Simulink.
3. Familiarity or experience in several of the following areas: orbital dynamics, astrodynamics, manifold dynamics, guidance, navigation, control, avionics, Kalman filtering, optics, and systems engineering.
4. Completed M.S., Ph.D, or equivalent in a STEM field.
5. Able to relocate to the Washington D.C. metro area no later than September 2021.
6. Ability to travel within the continental United States and to various international destinations
7. Must be a U.S. citizen or national, U.S. permanent resident (current Green Card holder), or lawfully admitted into the U.S. as a refugee or granted asylum.
Full job description here.
Intelligence Researcher - Johns Hopkins APL, Laurel, Maryland
Are you seeking an opportunity to learn about foreign weapons systems?
Do you take pride in your deep knowledge of adversary capabilities?
If so, we're looking for someone like you to join our team at APL.
We are seeking an intelligence researcher to help us to inform APL's research and development of sensitive technologies for the U.S. Government. You will assist the Scientific and Technical Intelligence Liaison Officer (STILO) in the National Security Analysis Department (NSAD). This position is designed for a creative, dynamic individual who fosters excellence and innovation, who has a passion for research, and effectively partners to ensure systems developed by APL for the U.S. Government are capable of addressing the most stressing future threats. This position provides strategic, forward leaning intelligence analysis to lead APL and our sponsors to understanding the threat environment and the integration of threat analysis into current and future technology development, studies, and operational analyses.
As a Intelligence Researcher...
Your primary responsibility will be to contribute to APL's participation in the U.S. Navy STILO Program (OPNAVINST 3880.6B)
You will conduct in-depth research of U.S. Government intelligence products and materials in direct support of selected APL programs.
You will develop and maintain in-depth knowledge of adversary threats and capabilities in support of assigned APL Mission Areas and programs.
You will review and approve APL program requests for threat support. Submit intelligence production requirements via the DoD COLISEUM tool (or other tasking methods as appropriate). Determine the level of detail required and identify the Intelligence Community production facility best suited to satisfy the requirement and oversee coordination with the intelligence community organization being tasked to provide support.
You will assist with overhead functions associated with running the APL STILO organization and STILO Facility.
Full job description here.
---
Joseph Amshey, NSA and CIA Officer
Joseph A. Amshey, 80, NSA and CIA Officer, died 18 December 2020 in DuBois, PA.
He was born in Punxsutawney, PA. He proudly served his country with the US Air Force, and was stationed in Germany. He received the Defense Meritorious Service Medal for his time served, presented to him by VP Dick Cheney.
He graduated from the University of Maryland with a degree in Russian Studies and went on to complete graduate work at George Washington University. He retired from positions he held with the National Security Agency and Central Intelligence Agency. He held many memberships, including St. Joseph's Catholic Church, American Legion, Fort Meade Officer's Club, and Vietnam Veterans of America.
He is survived by a daughter, a son, and other family.
Mike Gardner, CIA, Former President TSRA
Michael Farrel Gardner, 72, CIA, Former President TSRA, died 10 July 2021 in St. James, NC.
Born in Battle Creek, MI. Mike graduated from St. Philip Catholic High School in Battle Creek, and attended Western Michigan University in Kalamazoo, MI before entering the U.S. Army. He proudly served his country his entire adult life, beginning with his Army tenure as a military policeman and dog handler in both the U.S. and Korea. Upon completing his enlistment, he earned a BS in Forensic Chemistry and Police Science at Michigan State University. After graduation, he served as a criminal investigator for St. John's County, FL before joining the CIA, from which he retired after a long and successful career.
Following retirement, Mike continued to serve his country in multiple roles - including as President of the CIA's Technical Services Retirees Association [TSRA] of which he was very proud. As a young man growing up in Battle Creek, Mike learned to play the guitar and made quite a name for himself playing all over the state supporting the Catholic Teens Encounter Christ retreats. He continued playing for weddings and other celebratory occasions, at clubs, and for work colleague events (including CIA Family Day) until well after he retired. Throughout his life, he also maintained close ties with his high school classmates in Michigan or wherever they had moved.
Mike loved life and everyone around him. He had a ready smile and never knew a stranger, often picking up a conversation with someone in line with him at a concert, in the grocery store, or in an elevator. He was a humorist and charming flirt to the very end, which made us all smile.
He will be remembered as a loving husband, brother, uncle, and friend; as a devoted father, stepdad, and grandfather; and as a generous giver of himself, time, and gifts.
Online condolences may be made at www.peacocknewnamwhite.com.
He is survived by his wife Deborra Reckmeyer Gardner; a son, a stepdaughter, and other family.
Tom Hamilton, SCES NSA Officer in Office of Security and Personnel
John "Tom" Hamilton, 91, SCES NSA Officer in Office of Security and Personnel, died 5 July 2021 in Severna Park, MD
Tom was born in Baltimore, MD. He was a graduate of Kenwood Senior High School and graduated with a B.A. from the University of Maryland in 1952 and was named an All American in Soccer. Upon graduation, Tom was commissioned as a 2 nd Lt. in the U.S. Air Force serving at Mountain Home AFB, ID and Great Falls AFB, MT.
Upon discharge from the service, he was hired by the NSA. Tom's NSA career spanned 33 years serving in increasing positions of responsibility as chiefs of various staff and offices and was known for his expertise in the Offices of Security and Personnel. Tom was elevated to the prestigious ranks of Senior Cryptologic Executive Service (SCES) in recognition of his leadership and contributions to the mission of the Agency. He received the Meritorious Service Award and a cash emolument from the Director of the Agency upon his retirement. Tom consistently led by words and deeds, and was an authority on a vast number of subjects without being authoritarian. He was treasured for the manner in which he freely gave of his time, his larger than life intellect and gifted insights.
Tom was an avid golfer. If he wasn't playing, he was marshalling or watching a tournament on TV. He also enjoyed crosswords, jigsaw puzzles, coaching his sons' soccer teams, pool, bridge and dancing.
Tom's first wife predeceased him. His second wife, Alice Kagan Birx Hamilton, survives him. He is survived by many children and family from both marriages.
Visitation will be on Friday, 23 July 2021 from 5-8pm at Barranco Severna Park Funeral Home & Cremation Care, P.A., 495 Ritchie Hwy, Severna Park, MD, 21146.
Condolences may be sent to: Alice Hamilton, 1416 Amethyst Ct., Odenton, MD 21113.
Jim Kallstrom, SAC, FBI New York Office
James Keith Kallstrom, 78, FBI Assistant Director and Special Agent in Charge of the NY Office, died 3 July 2021 of heart failure in Fairfield, CT.
Kallstrom was born in Worcester, MA.
After graduating with a bachelor's degree in marketing from the University of Massachusetts Amherst in 1966 (he later received a master's at the C.W. Post campus of Long Island University), he joined the Marine Corps and served for four years, including in Vietnam in the fierce defense of the U.S. Marine base at Khe Sanh in 1968. He was discharged as a captain in 1970 and immediately went to work for the FBI.
Kallstrom started working in the New York office in 1971 and spent his entire career there, with the exception of three years spent in Washington in charge of the Special Operations Division, which oversees technical and surveillance operations. He was chosen to lead the New York office, as the FBI's Assistant Director, in February 1995.
His surveillance expertise served him well in investigations of organized crime. He supervised the eavesdropping that led to convictions in the so-called Mafia Commission trial of the heads of New York's mob families in 1987. In one instance, agents hid a quarter-size electronic bug in a couch used by John Gotti; in another, they disarmed attack Rottweilers with sedative-dosed meatballs so that agents could sneak into a Colombo family social club to plant microphones.
Kallstrom also coordinated the surveillance in the Pizza Connection case, in which 17 people were convicted in 1987 of using local pizzerias as fronts for an international drug ring.
In both cases he worked closely with Rudolph W. Giuliani, then the United States attorney, an association that led to his support for Donald J. Trump in his 2016 presidential campaign against Hillary Clinton; Mr. Giuliani had become a personal lawyer to Mr. Trump. Kallstrom called the Clintons a "crime family" akin to the New York Mafia.
As the FBI chief in New York in 1997, he spent 16 months investigating why Flight 800 crashed 12 minutes after takeoff, killing all 230 people on board.
In his 27 years with the Bureau, Kallstrom helped convict the bosses of New York City's five Mafia families using cleverly concealed wiretaps and spiked meatballs. He investigated the 1993 terrorist bombing of the World Trade Center, expanded the bureau's surveillance purview to include cellular phones, and recovered a half-million dollars in diamond jewelry that had been stolen by a baggage handler at Kennedy International Airport in 1995 and that had belonged to Sarah, the Duchess of York.
In the investigation of the crash of Flight 800, he became the face of the FBI in daily briefings as he and other authorities sought to understand what caused the explosion that sent the jetliner plummeting into the waves off Long Island on 17 July 1996 — one of the deadliest aviation incidents in American history.
Though the internet was rife with rumors that the plane had been accidentally shot down by the American military, the Bureau of Alcohol, Tobacco, Firearms and Explosives ultimately concluded it was a mechanical flaw in the jetliner's center fuel tank that caused the explosion when it ignited fumes.
Mr. Kallstrom retired from the Bureau in December 1997, but after the 9/11 attacks, he returned from the private sector when Gov. George E. Pataki of New York named him to head a newly-minted state Office of Public Security.
Kallstrom also introduced episodes of "The FBI Files," a Discovery Channel series, and was a founder of the Marine Corps-Law Enforcement Foundation, which raises money for children who lost a parent in the line of duty.
When he retired from the FBI, he won accolades from Joseph R. Biden Jr., then a senator from Delaware, who said Mr. Kallstrom had "stepped in and imposed order on the incipient chaos" of the government's inquiry into what had caused Flight 800 to crash.
"The bad news is that Jim Kallstrom is sometimes intimidating," Mr. Biden said. "The good news is also that Jim Kallstrom is sometimes intimidating. He gets the job done. He also projects confidence and determination. That is what was needed of the head of the FBI's New York office, and that is what was needed by the head of the TWA Flight 800 investigation."
In addition to his wife, Susan Auer Kallstrom, he is survived by two daughters, and other family.
Charlie Kane, NSA, DIA, Naval Intelligence
Charles Kent Kane, 92, NSA, DIA, and Naval Commander-Intelligence Officer, died 2 July 2021 in Alexandria, VA.
Born in Princeton, WV, Charlie's secondary education was at Riverside Military Academy, Gainesville, GA. He earned his BA degree from West Virginia University with post-graduate work at the Defense Intelligence School and Catholic University.
Charlie entered the Navy via Officer Candidate School and embarked on a career as a Special Duty Officer (Naval Intelligence). He served on three aircraft carriers, the last of which was the USS Forrestal. His career began with the National Security Agency and culminated at the Defense Intelligence Agency.
After his retirement from the Navy, Charlie became the business manager at St. Agnes School and then business and advertising manager of The Retired Officers Association before retiring as the Deputy Comptroller from TROA.
Charlie and his wife, Carol, were world travelers with some of their expeditions taking them to Russia, China, Australia, New Zealand, Europe, Greece, Turkey, Vancouver, and countless US destinations. Charlie was an avid golfer, but the ever desirable hole-in-one eluded him.
Charlie is survived by his two daughters and other family.
Funeral services and burial will be held at Christ Church in Old Town Alexandria, at 3 p.m. on 19 July 2021 at 118 N. Washington St.
Priscilla McMillan, JFK Assassination Historian
Priscilla Johnson McMillan, 92, a historian who knew both JFK and Oswald, died on 7 July 2021 in Cambridge, MA from the consequences of a fall a week earlier.
Priscilla Mary Post Johnson was born in Glen Cove, NY and raised in nearby Locust Valley, on the North Shore of Long Island.
After graduating from the private Brearley School in Manhattan, she studied Russian at Bryn Mawr College, receiving a bachelor's degree in 1950. Three years later, she earned a master's in Russian studies from Radcliffe College, now part of Harvard.
She translated Russian newspaper articles before traveling to the Soviet Union for the first time, in 1955, paying her way by working as a translator for the New York Times. In Leningrad, now St. Petersburg. In Moscow she drew on her fluency in Russian to file stories for the North American Newspaper Alliance. In November 1959, a friend at the U.S. Embassy mentioned that "a boy named Oswald" was in town trying to defect. He was staying at her hotel, the Metropol, where she spent five hours interviewing him over tea.
The young man seemed excited, nervous, a little frightened. He was 20, a former Marine with a light Southern accent, and wanted to talk about Marxist economics and complain about the U.S. Embassy, which he said had tried to dissuade him from renouncing his citizenship. "I want to give people in the United States something to think about," he said.
Four years later, on Nov. 22, 1963, Mrs. McMillan was suddenly jolted back to their conversation, not long after learning that President Kennedy had been assassinated in Dallas. Walking through Harvard Square, near the university where she was a visiting scholar, a friend told her that authorities had arrested the shooter. His name was Lee Harvey Oswald.
"My God," Mrs. McMillan recalled saying. "I know that boy."
Indeed, she was one of the only people who knew both Kennedy and his killer, who died two days later after being shot by nightclub owner Jack Ruby in the basement of Dallas police headquarters. Their deaths launched her on a 14-year odyssey, as she tried to find out why the quiet young man she met in Moscow had decided to shoot the president.
Mrs. McMillan persuaded Oswald's Soviet-born widow, Marina, to sit for an exclusive book interview in exchange for a share of the royalties. They wound up speaking for nearly seven months, providing Mrs. McMillan with the core of "Marina and Lee" (1977), a critically acclaimed account of the Kennedy assassination, told through the lens of Oswald and his wife.
In 1966, she married George McMillan, an author and journalism instructor. They later divorced.
Mrs. McMillan went on to a career as a historian of the Cold War and U.S. nuclear weapons policy. She was an associate at Harvard's Davis Center for Russian and Eurasian Studies. While writing her Oswald book, Mrs. McMillan translated "Twenty Letters to a Friend," a 1967 memoir by Stalin's daughter, Svetlana Alliluyeva, who had defected to the U.S. earlier that year. She later spent more than two decades researching and writing "The Ruin of J. Robert Oppenheimer" (2005), about the father of the atomic bomb, whose career unraveled after he was accused of being a Soviet spy during the McCarthy era.
But she remained best known for her book on Oswald. His widow, who remarried and went by Marina Oswald Porter, described him as a fame-obsessed liar with a short temper and violent mood swings. "He was a lonely person," she told Mrs. McMillan. "He trusted no one. He was too sick. It was the fantasy of a sick person, to get attention only for himself."
[In 'Marina and Lee,' the assassin's widow remembers]
By the time Mrs. McMillan published her book, conspiracy theories had proliferated about the killing. There seemed to be little appetite for her relatively straightforward account of a wayward, self-described Marxist; sales were modest, although "Marina and Lee" was reissued in 2013.
"The argument over Kennedy was a kind of national madness for decades — but that is largely over now, and I would argue that Priscilla's book stands firm as balanced and persuasive," wrote historian Thomas Powers.
In recent years, Marina Oswald insisted that her husband was actually innocent, and blamed the Mafia and CIA for Kennedy's killing. Mrs. McMillan remained convinced that Oswald acted alone, telling the Atlantic that "Marina's change of views may stem from her daughters' reluctance to accept their father as the assassin."
She had long believed that the assassination would prompt conspiracy theories, in part for psychological reasons. "The killing of a President, or a king or father, is the hardest of all crimes for men to deal with," she wrote in a 1975 Washington Post essay. "As Freud pointed out, it is this crime that stirs the deepest guilt and anxiety. . . . No matter what steps are taken, what investigation may be authorized or what autopsy material made public, I suspect that the doubts about President Kennedy's murder are going to be with us forever."
She has no immediate survivors.
Athan Theoharis, Cold War Historian, Obsessed Chronicler of FBI
Athan George Theoharis, 84, obsessed author of accounts of the FBI, died of pneumonia on 3 July 2021 in Syracuse, NY.
Theoharis was born in Milwaukee, WI. At 16, he entered the University of Chicago, where he earned bachelor's degrees in 1956 and 1957, a master's degree in 1958 and a Ph.D. in history in 1965.
He taught history at what is now Texas A&M University, Wayne State University in Detroit, and Staten Island Community College (now part of the College of Staten Island) before joining the Marquette faculty in 1969. He taught 20th-century American history there until his retirement in 2006.
Professor Theoharis was originally a Cold War scholar; his early books included "The Yalta Myths: An Issue in U.S. Politics, 1945-55" (1970) and "Seeds of Repression: Harry S. Truman and the Origins of McCarthyism" (1971).
He became a historian of the FBI, producing histories of its decades of civil liberties abuses under the leadership of J. Edgar Hoover.
Beginning in the mid-1970s, Theoharis used streams of Freedom of Information Act requests to obtain the Bureau's secrets, showing the extent to which Hoover compiled damning information on public officials. The documents showed the extent of the agency's break-ins and its illegal surveillance of left-wing organizations; its pursuit of allegations that President Dwight D. Eisenhower had extramarital affairs; and the use of the Bureau by presidents of both parties for political purposes.
One of Professor Theoharis's most alarming finds was a surveillance program forged by the FBI and the American Legion in 1940 that lasted until 1966. The Bureau used tens of thousands of the organization's volunteers to report information about other citizens.
That book, published in 2014, and a film, released the same year, dealt with the burglars who stole critical documents from an FBI office in Media, PA, which showed, among other things, active unlawful surveillance of Black, student and peace groups, and led to the revelation of Hoover's secret Cointelpro program, begun in 1956, which spied on civil rights leaders, political organizers, and suspected Communists.
Before the creation of Cointelpro, the Legionnaires were "monitoring activities at defense plants, they were monitoring activities among ethnics within their community, they were monitoring activities of radical activists," Professor Theoharis said.
"Hoover was ... a genius who could set up a system of illegal activities and a way to keep all documentation secret for many years." Theoharis figured out the key words to file the right FOIA requests.
Theoharis's article "Thirty Years of Wire Tapping," published in The Nation in 1971, brought him to the attention of the Senate Select Committee to Study Governmental Operations With Respect to Intelligence Activities, better known as the Church Committee for its chairman, the Idaho Democrat Frank Church. Theoharis became a consultant to the committee, which in 1975 and 1976 investigated the legality of the FBI, the CIA, and the NSA's intelligence operations. He did research in the archives of several presidential libraries, including those of Truman, Eisenhower and Lyndon B. Johnson, on the classified material the FBI sent to presidents.
Professor Theoharis wrote numerous books about the FBI, among them "The Boss: J. Edgar Hoover and the American Inquisition" (1988, with John Stuart Cox) and "From the Secret Files of J. Edgar Hoover" (1991), which reprinted Bureau memorandums accompanied by Professor Theoharis's commentary.
Theoharis is survived by two daughters, and other family.
Bill Vennard, NSA Division Chief
William J. Vennard, 83, NSA Division Chief, died 5 June 2021.
Bill was born in Chelmsford, MA. He graduated with the Class of 1955 at Chelmsford High, and went on to study Fine Arts at Boston College.
He served in the US Army prior to joining the NSA where he served 35 years, retiring as a Division Chief in A8 in 1995. He was a past member of the Phoenix Society.
He is survived by a brother, a son and daughter, and other family.
James Weiner, FSO and Executive Director, INR
James Alan Weiner, 85, FSO and Executive Director INR, died 22 June 2021 in Palm Beach, FL.
Born in Lynn, MA, he grew up in Swampscott which was his home until he left to go to Bates College. After graduating and serving in the Military, he worked briefly at the Baltimore Social Security Administration before he joined the US Foreign Service. Embarking with the rank of Consul for the American Embassy in Quito, Ecuador, James moved through the Foreign Service ranks to Counsellor of Embassies to become a senior Foreign Service Career Officer. In addition to Ecuador, he served in Sao Paolo, Rio de Janeiro, Brasilia, Bogota, as well as assisting in opening the U.S. Embassy of the German Democratic Republic, serving as Embassy Counsellor in Berlin under Ambassador John Sherman Cooper.
James had a unique ability to immerse himself in the culture and language of the many assigned countries. His interest in foreign and domestic affairs was a paramount activity for him. He brought his gifts of understanding complicated situations, managing teams, and conveying his deep sense of pride in his country to his postings. His enthusiasm, his passion for his work, his skill with people and his gift for entertaining became anticipated trademarks.
He shared these diplomatic years abroad with his former wife, Aniko Gaal, who along with James, was a consummate ambassador for the countries in which they served. Upon his return to Washington, DC, his roles included Director of the Office of Recruitment and Management, Executive Director of the Bureau of Intelligence and Research and that of the Bureau of Western Hemisphere Affairs. He also served as a Foreign Service Inspector and was a proud alumnus of the National War College.
James retired from the Foreign Service after four decades with the rank of Minister Counsellor. As one of the country's top diplomats, he served our country with admiration and dedication, earning the respect of his colleagues.
He loved to ski, and excelled at golf, tennis, and bridge. He enjoyed good food and fine wine, had a wonderful sense of humor, and danced a mean Samba. He was an engaging storyteller and appreciated the Boa Vida with friends. In retirement he moved to Palm Beach and became a member of the World Affairs Council, the Foreign Service Retiree Association, and the Cato Institute. For fifteen years he served as one of the Directors of the Palm Beach Civic Association, involved in town governance.
He is survived by a brother and other family.
---
AFIO EDUCATIONAL EVENTS IN COMING TWO MONTHS....
15 July 2021, 12:30-1:30 PM (PST) - Virtual via GoToMeeting - AFIO-Los Angeles Chapter hosts John B. Alexander PhD on "Central Asia - Probably Not What You Think"
The next upcoming meeting for the AFIO-Los Angeles Chapter takes place on July 15th with guest speaker John B. Alexander, Ph.D., a retired senior Army officer, covering the topic of Central Asia. Dr. Alexander will be discussing his travel to Central Asia in 2019 including the "five Stans", Kazakhstan, Kyrgyzstan, Tajikistan, Uzbekistan, and Turkmenistan. Included in the presentation will be a better understanding of the area, its current development and its history. Details for the event are listed below.
John B. Alexander PhD, is a retired senior Army officer with nearly half a century experience in special operations, intelligence, and research and development. A Green Beret combat commander in Vietnam, he later advised senior Ministry of Defence officials in Kabul, Afghanistan. His second career was at Los Alamos National Laboratory as progenitor of non-lethal warfare. He served with National Research Council, Army Science Board, and several NATO studies. He also was as an advisor to the National Intelligence Council and U.S. Special Operations Command. A recipient of a Knowlton Award by the Military Intelligence Corps, and the DOE Nuclear Weapon's Program Award of Excellence, he was inducted into the Aviation Week & Space Technology Laureate Hall of Fame and is listed in Who's Who in Science and Engineering. Educated at Walden University, Harvard's JFK School of Government, and MIT's Sloan School, he has traveled on all eight continents and made presentations on most of them.
He is a founding member of AFIO-Las Vegas and was a former senior fellow of a DoD university. He is author of many articles, monographs and books, including, Future War --Non-Lethal Weapons in 21st Century Warfare, with foreword by Tom Clancy, UFOS: Myths, Conspiracies, and Realities, and most recently, Reality Denied: Firsthand Experiences with Things that Can't Happen – But Did.
Platform: GoToMeeting
Please RSVP via email for the meeting access link: afio_LA@yahoo.com
Questions? Contact Vincent Autiero, President, AFIO-Los Angeles Chapter at afio_LA@yahoo.com
Friday, 8 October 2021, 11 am - 2 pm - In-Person Tysons Corner, VA - AFIO Luncheon featuring David Ignatius on "The Paladin" and Stephen Vogel on Traitor George Blake.
FOR YOUR CALENDAR. The first in-person AFIO National Luncheon for 2021 will take place on Friday, 8 October at DoubleTree Hotel, Tysons Corner. Event will feature David Ignatius discussing "The Paladin" or possibly another topic TBA. And the morning speaker, Stephen Vogel, discussing "Betrayal in Berlin" and traitor George Blake.
TO REGISTER: Registration link forthcoming.
VENUE: DoubleTree by Hilton, 1960 Chain Bridge Rd, Tysons Corner, VA 22182 Phone: (703) 893-2100. Directions at this link.
---
Other Upcoming Events from Advertisers, Corporate Sponsors, and Others
Thursday, 15 July 2021, 7 - 9pm EDT – Washington, DC – The Big Fake Wedding: Sneak Peek on SPYWeddings – International Spy Museum
This is a bridal show alternative complete with a meaningful vow renewal ceremony, light bites, and a dance-party reception. At The Big Fake Wedding, we will connect brides and grooms to the best local vendors. Attendees will receive wedding inspiration they can see and taste. Unlike typical bridal shows or wedding websites, attendees will have the opportunity to bond with each vendor and witness them in action before making an investment toward their big day. Program will take place on site at the International Spy Museum. Tickets: $32. Visit www.spymuseum.org.
Sunday, 18 July 2021, 2-3:30 pm EST - Zoom Webinar - The Cold War Museum hosts Olga Sheymov on Victor Sheymov's "Tower of Secrets: Inside the KGB, and How We Escaped to the West."
Recruited by the KGB in 1971 at age 25, Victor Sheymov eventually became the Eighth Chief Directorate's principal troubleshooter, ensuring the security of enciphered KGB communications throughout the world. But as he learned more and more, he became increasingly disillusioned with Communism and the Kremlin elite's corruption. Resolved to inflict as much damage as he could on the system, he evaded his minder on a Warsaw site visit and made contact with the CIA. He became probably the most important CIA asset inside the KGB in the 1980s. The Agency awarded him its Distinguished Service Medal.
Drawing from Victor's book Tower of Secrets, his widow Olga, who lived these events with him, tells their real story, including; Our life in Moscow, how we met, Victor's background, our friends, and the Soviet lifestyle; Victor's work highlights, and our path to discovery of what the Communist system is; Our daughter coming home with "propaganda"; The death of Victor's close friend because he wanted to leave the KGB; Being watched and followed, and our trust in and commitment to each other; Victor's escape plans; working on the operational details; Our exfiltration—the first, and one of the most successful, of the Cold War exfiltrations from the USSR; Our pursuit of freedom and a new life in the U.S.
(More information at www.olgaarts.com )
This is the 47th in a series of presentations sponsored by the Museum featuring eyewitnesses to, and other experts on, significant Cold War-era events and activities.
Questions? Contact CWM Executive Director Jason Hall at jason@coldwar.org
Cost: $20, 100% of which is a contribution to the Cold War Museum.
ONLINE event. Purchase ticket from Eventbrite here and receive link to the virtual room on the Zoom platform where this event will take place.
Thursday, 22 July 2021, 1800/6PM EDT; 1500/3PM PDT; 1200/12PM HST - Virtual GoToMeeting Webinar - NIP Virtual Speaker Series
Naval Intelligence Professionals will be virtually hosting the following Guest Speakers:
• Rear Admiral Ralph R. "Russ" Smith, Vice Director of Intelligence, J2, Joint Staff
• LCDR Ustav "Soho" Sohoni, Intelligence Director, CTF 1020
• LCDR Tolulope "Tolu" O'Brien, NAVSPACE Intelligence Lead
TOPIC: "Intelligence Support to Cyber and Space Operations"
Principal Biography of Rear Admiral Ralph R."Russ" Smith is here.
FORMAT: Video Conference – GoToMeeting. Join the meeting from your computer, tablet or smartphone, beginning at 1750/5:50 EDT:https://global.gotomeeting.com/join/864825405
You can also dial in using your phone.US: +1 (224) 501-3412 Access Code: 864-825-405. New to GoToMeeting? Get the app now and be ready when your first meeting starts: https://global.gotomeeting.com/install/484676077
As always, please mute your device/phone. Thanks.
AGENDA: • (3 min) RDML (Ret.) Tony Cothron, NIP Chairman, welcoming remarks.; • (~30 min) RDML "Russ" Smith, LCDR Sohoni, and LCDR O'Brien remarks; • (~30 min) Q & A moderated by CAPT (Ret.) Bob Allen. - Please enter your questions in the GoToMeeting chat window or email your questions in advance/during the video conference to: bob_allen36@hotmail.com.
Monday, 26 July 2021, noon EDT – Virtual Zoom Webinar – Curator's Corner: Sleeper Agent with Ann Hagedorn – Virtual International Spy Museum Program
There were hundreds of spies in the US during World War II but George Koval was the only Soviet military spy with security clearances in the atomic-bomb project. The ultimate sleeper agent, he was an all-American country boy who was born in Iowa, played baseball, and loved Walt Whitman's poetry. Join Spy Museum Historian and Curator Andrew Hammond in conversation with Ann Hagedorn, the award-winning author of Sleeper Agent: The Atomic Spy in America Who Got Away. Event is free – registration required. Visit www.spymuseum.org.
Thursday, 29 July 2021, 5:30pm EDT – Virtual Zoom Webinar – Clarity in Crisis: True Stories from Your Spy Next Door Marc Polymeropoulos – Virtual International Spy Museum Program
Marc Polymeropoulos served 26 years in the CIA before retiring from the Senior Intelligence Service in June 2019. After wide ranging experience in field and headquarters operational assignments covering the Middle East, Europe, Eurasia, and counterterrorism, he has written Clarity in Crisis: Leadership Lessons from the CIA. He bases his strategies and core principles on hard-earned experience. He had to live with the consequences of decisions made under the most high-stress of circumstances, and he wants to help others approach their crises head on and come through stronger. Spy Museum Historian and Curator Andrew Hammond will talk with Marc Polymeropoulos about his extraordinary career and how what he learned can help regular people gain confidence in the face of crisis and embrace less than ideal situations with no fear. Event is free – registration required. Visit www.spymuseum.org.
29 July 2021, 6 pm - Virtual - OSS Society hosts Gen. David Petraeus USA (Ret) and Gus Biggio on "The War in Afghanistan"
The OSS Society hosts the fifth installment in its 2021 "Oh So Social" Conversation Series on July 29. General David Petraeus, who commanded U.S. military forces in Afghanistan, will speak with Gus Biggio about his Afghan war memoir, The Wolves of Helmand:
"At turns poignant, funny, philosophical, and raw—but always real—The Wolves of Helmand is both a heartfelt homage to the Marine brotherhood with whom Biggio served and an expression of respect and love for the people of Afghanistan who ultimately trusted, shared, and appreciated their purpose. Ten years after serving his country as a U.S. Marine, Captain Frank "Gus" Biggio signed up once again because he missed the brotherhood of the military. Leaving behind his budding law career, his young wife, and newborn son, he was deployed to Helmand Province—the most violent region in war-torn Afghanistan—for reasons few would likely understand before reading this book."
Do not miss this important conversation as America's military forces prepare to leave Afghanistan later this year.
If you would like to register for this event, click here.
If you were unable to watch our most recent "Oh So Social" conversation with Admiral William McRaven, Secretary Leon Leon Panetta, and Dr. Mike Vickers, who discussed the Osama bin Laden raid on its 10th anniversary, please click here.
Wednesday, 27 October 2021, 6 - 10 pm - Washington, DC - 30th (+1) Anniversary Gala and Chancellor's Dinner - Institute of World Politics
Save the date. Current timing of this in-person celebration is:
6:00 PM Cocktail Reception
7:00 PM Dinner
9:00 PM Dessert and Dancing
Location: The Mayflower Hotel, 1127 Connecticut Ave NW, Washington, DC
Additional details to follow
*Because this is an unusual year, if you are considering attending the 30th (+1!) Anniversary Gala, please fill out this form: iwp.edu/gala-survey
Wednesday, 1 December 2021, TBD Time - Washington, DC - 2021 Webster Distinguished Service Award Event - International Spy Museum
The Spy Museum offers an evening of intrigue for the 2021 Webster Distinguished Service Award event. The award is an opportunity to recognize the extraordinary contributions of individuals in the Intelligence Community. This year's awardee is The Honorable Susan M. Gordon, former principal deputy director of national intelligence. Previous recipients of the Webster Distinguished Service Award include President George H. W. Bush (2017), Admiral William H. McRaven, USN (Ret.) (2018), and Gen. Michael V. Hayden (Ret.) (2019). Webster attendee and sponsor support fuels the nonprofit mission of educating the public about the history and craft of espionage and intelligence through youth and adult programs, community service, and the care of the Museum's unique collection of artifacts for generations to come. For tickets, sponsorship opportunities, or information about ways to support the International Spy Museum, please contact the development office at 202.654.2853. Additional details and online ticket link to follow. Visit www.spymuseum.org.
---
In addition to the new Royal Blue long sleeve shirts, and the gray long sleeve hooded sweatshirts, the AFIO Store also has the following items ready for quick shipment:
LONG and Short-Sleeved Shirts with embroidered AFIO Logo and New Mugs with color-glazed permanent logo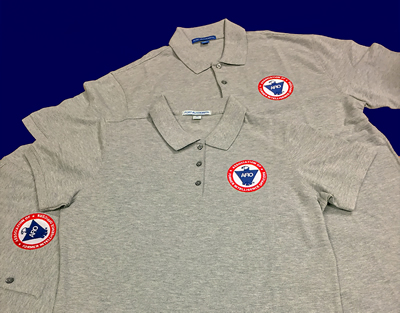 Show your support for AFIO with our new Polo Shirts. Be the first to buy these new, high quality, subtle heathered grey short sleeve shirts, and dark blue long sleeved shirts, of shrink and wrinkle resistant fine cotton with a soft yet substantial feel. They feature a detailed embroidered AFIO seal. Get a shirt for yourself and consider as gifts for colleagues, family, and friends. Only $45 each including shipping.
Sizes of (M) men or (W) women shirts; Small, Medium, Large, XL, XXL, and XXXL. At this time all orders will arrive as Short Sleeve shirts.
You may pay by check or credit card. Complete your order online here or mail an order along with payment to: AFIO, 7600 Leesburg Pike, Ste 470 East, Falls Church, VA 22043-2004. Phone orders at 703-790-0320. If interested in other shirt colors or sleeve lengths, contact Annette at: annettej@afio.com.
---
AFIO Mug with color glazed logo. Made in America. Sturdy enough to sit on desk to hold pens, cards, paperclips, and candy.
This handsome large, heavy USA-made ceramic mug is dishwasher-safe with a glazed seal. $35 per mug includes shipping. Order this and other store items online here.
---
Guide to the Study of Intelligence and When Intelligence Made a Difference
"AFIO's Guide to the Study of Intelligence" has sold out in hard-copy.
However, it is available in digital form in its entirety on the AFIO website here.

Also available on the website here are the individual articles of AFIO's history project "When Intelligence Made a Difference" that have been published to date in The Intelligencer journal. More articles will be forthcoming in future editions.
---
Disclaimers and Removal Instructions
Weekly Intelligence Notes (WINs) are commentaries on Intelligence and related national security matters, based on open media sources, selected, interpreted, edited and produced for non-profit educational uses by members and WIN subscribers.
REMOVAL INSTRUCTIONS: We do not wish to add clutter to inboxes. To discontinue receiving the WINs:
a) IF YOU ARE A MEMBER - click here: UNSUBSCRIBE and supply your full name and email address where you receive the WINs. Click SEND, you will be removed from list. If this link doesn't open a blank email, create one on your own and send to afio@afio.com with the words: REMOVE FROM WINs as the subject, and provide your full name and email address where you are currently receiving them.
b) IF YOU ARE NOT A MEMBER, and you received this message, someone forwarded this newsletter to you [contrary to AFIO policies]. Forward to afio@afio.com the entire WIN or message you received and we will remove the sender from our membership and distribution lists. The problem will be solved for both of us.
CONTENTS of this WIN [HTML version recipients - Click title to jump to story or section, Click Article Title to return to Contents. This feature does not work for Plaintext Edition or for some AOL recipients]. If you wish to change to HTML format, let us know at afio@afio.com. The HTML feature also does not work for those who access their e-mail using web mail...however NON-HTML recipients may view the latest edition each week in HTML at this link: https://www.afio.com/pages/currentwin.htm
---
WINs are protected by copyright laws and intellectual property laws, and may not be reproduced or re-sent without specific permission from the Producer. Opinions expressed in the WINs are solely those of the editor's or author's listed with each article. AFIO Members Support the AFIO Mission - sponsor new members! CHECK THE AFIO WEBSITE at www.afio.com for back issues of the WINs, information about AFIO, conference agenda and registrations materials, and membership applications and much more!
(c) 1998 thru 2021. AFIO, 7600 Leesburg Pike, Suite 470 East, Falls Church, VA 22043-2004. Voice: (703) 790-0320; Fax: (703) 991-1278; Email: afio@afio.com
---
About AFIO | Membership Renewal | Change of Address | Upcoming Events | Chapter Locations | Corporate/Institutional Memberships | Careers in Intelligence Booklet | Guide to the Study of Intelligence | Intelligencer Journal | Weekly Intelligence Notes | To Make A Donation | AFIO Store | Member-Only Section | Code of Ethics | Home Page
---