---
CONTENTS
Section I - INTELLIGENCE HIGHLIGHTS
Section II - CONTEXT & PRECEDENCE
Section IV - Research Requests, Jobs, Obituaries
Other Upcoming Events from Advertisers, Corporate Sponsors, and Others
For additional AFIO and other Events two+ months or more... Calendar of Events
WIN CREDITS FOR THIS ISSUE: The WIN editors thank the following special contributors: rsy, ec, po, pjk, mh, km, gh, mk, rd, fm, kc, jm, mr, jg, th, ed, and fwr. They have contributed one or more stories used in this issue.

The WIN editors attempt to include a wide range of articles and commentary in the Weekly Notes to inform and educate our readers. However, the views expressed in the articles are purely those of the authors, and in no way reflect support or endorsement from the WIN editors or the AFIO officers and staff. We welcome comments from the WIN readers on any and all articles and commentary.

CAVEATS: IMPORTANT: AFIO does not "vet" or endorse research inquiries, career announcements, or job offers. Reasonable-sounding inquiries and career offerings are published as a service to our members, and for researchers, educators, and subscribers. You are urged to exercise your usual caution and good judgment when responding, and should verify the source independently before supplying any resume, career data, or personal information.]
If you are having difficulties with the links or viewing this newsletter when it arrives by email, members may view the latest edition each week at this link.
---
Other items brought to our attention:
What steps to take when you find your computer hijacked, encrypted, locked. Greatest salvation: frequent OFFLINE backups (not in the Cloud), which are tested, verified. Ransomware has revealed that recovery from Cloud backups can take months and still might not work. Keep extra encrypted offline backups in another office, car, house, or vault to protect from fire, floods, theft.
StopRansomware.gov offers free, authoritative information, resources, and tools that can help prevent and mitigate ransomware attacks in the U.S. It brings together into one location resources from across the federal government, to give organizations, the general public, federal, state, local, tribal and territorial (SLTT) governments, and critical infrastructure organizations a one-stop-shop to learn how to reduce their ransomware risk. And what steps to take when you find your computer hijacked, encrypted, and locked.
---
AFIO Board Member - JAMES BRUCE on "The Foreign Intelligence Threat to the U.S.: Russia, China and Other Bad Actors"
Held yesterday at "Seminars at Steamboat, 2021" and available for viewing online here.

James Bruce, PhD, a former senior executive officer at CIA, an adjunct researcher and former Senior Political Scientist at the RAND Corporation, and an adjunct professor at Georgetown and Florida Atlantic Universities, discusses Foreign Intelligence Threats to the U.S. by China, Russia, and other Bad Actors.
---
Inside the SCIF: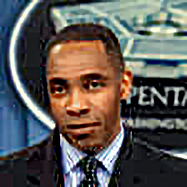 Inside the SCIF by JJ Green, WTOP - Issue #121, 12 July has details on Directed Energy Weapon use against US officials occuring worldwide says former CIA Officer Marc Polymeropoulos; Luke Harding et al. role in analysis of unverified Russian document which purports to show, in Cyrillic, Putin's goal to put Trump in WH, sow dissension in U.S. already seething; Iranian Official indicted on kidnapping conspiracy charge; Miami security firm role in Haiti president's assassination; New StopRansomeware.gov website; Renewed Brit focus on Russia and China; released by and more.

The latest Target USA Podcast 285 is on: Clarity in Crisis: Leadership Lessons from the CIA. Retired Sr. Operations Officer Marc Polymeropoulos discusses his new book and surviving a microwave attack by Russian intelligence. He says the attacks are continuing and praises the CIA's handling of the problem. But he says the State Department's efforts to help diplomats, who've been attacked are falling short

And "The Hunt" explores: The cost of leaving Afghanistan.
The commanding general of U.S. troops in Afghanistan returned to the U.S. this week, permanently. J.J. Green speaks with the former head of U.S. Central Command, Gen. Joseph Votel (Ret.), about the impact of the U.S. departure on the Afghan people as the Taliban begins to ramp up terror attacks.
---
The Latest... from Jeff Stein's "SpyTalk" series...
July 18: "A Dazzling Debut Spy Thriller Carved in Poison" by Matthew Brazil
Sergei Lebedev's 'Untraceable' explores evil through the minds of both the hunter and the hunted
Article here

July 15: "New Russiagate Docs: Bombshell or Hoax?" by Craig Unger
The Guardian's scoop has many experts urging caution, questioning the "leak"
Article here

July 15: "Battling on All Fronts" by Jeff Stein
Rising to the challenge of both Chinese and Russian subversion
Podcast here

July 9 Podcast: "Enemies Within and Without" by Jeff Stein
Listen now (44 min) | CIA plans for a Taliban takeover, DoD grapples with violent extremists
Former senior CIA officer Doug London talks with Jeff Stein about the present and future intelligence picture in chaotic Afghanistan. And Jeanne Meserve has a fascinating talk with former top DHS intel official and retired Brigadier General Francis X. Taylor about dealing with violent extremists in the military ranks.
Podcast here

Readers, for a brief time, can subscribe for free for articles and weekend podcasts here.
---
The Arkin Group's July 16 "In Other News" letter to private clients by former Operations Officer Jack Devine features...
Simmering unrest in Cuba erupts in collective protest, Venezuela watching closely.
As ransomware attacks continue at a pricey and rapid clip, cyber insurance is a heated topic of debate.
India-China border conflict exposes distrust of diplomatic measures.

Follow link here to read analyses and predictions given to their private clients on the topics above.
Also, see June 15 Daily Beast article on Putin and Biden by Devine here.

Recently released was Jack Devine's Spymaster's Prism. AFIO's interview with him about this book appears in this issue at top of right column of this issue of the WINs. You can view the video at this link. Or hear the podcast here.

---

WHISTLEBLOWING IN THE IC

Did you miss the Council on Intelligence Issues' panel on "Whistleblowing in the Intelligence Community"? It is now available online.

The Council on Intelligence Issues presented a May 2021 panel on "Whistleblowing in the Intelligence Community" in partnership with the ABA's Standing Committee on Law and National Security.
A video recording of that discussion is now online at the CII website as well as at the ABA's site.
Over the last two years, the Council put together and co-sponsored events with the ABA, Spy Museum, FPRI, and the Bar Association of DC, as well as with the law firm of Steptoe & Johnson. Their topics included "Intelligence Briefings for Presidential Candidates," "The Billion Dollar Spy," "Information Operations," and "Maintaining Intelligence Integrity."
Information about those events and many of their other publications and activities is available at the CII website here.
Here is the link to the Whistleblower Panel video.

---

Charlie Allen: A Life in Intelligence

Discusses Glomar Explorer, U-2, A-12, SR-71, CIA Sense of Mission, The Ideal Intelligence Officer, The Ideal Analyst, The Ideal Special Operations Officer, A Moral Compass, The Future Intelligence Officer, The CIA Family, The Cuban Missile Crisis, Saddam Hussein and the War in Kuwait, 9/11, Death from Above, Anwar Al-Awlaki, and What's Next.

Few if any intelligence professionals have contributed to US intelligence and national security as has Mr. Allen. Known by his friends and admirers as "Charlie," he served as a senior government executive for over 25 years (more than 51 years total service) with extensive experience in program management, intelligence analysis and production, intelligence collection management, and system acquisition. He held senior intelligence and management positions with responsibilities for providing all-source intelligence to cabinet-level officials and as a program manager under the Director of National Intelligence. Since retiring from active government service, Mr. Allen continues to contribute in a variety of ways. Watch AFCEA video here.
Runs 16:32 minutes. Released 25 May 2021. Another fine Carl Colby Production.

---
---
Recently released to members...
The Benefits and Drawbacks of Covert Action

Released 13 July 2021
on "CIA and Covert Action" - Pros and Cons
Interview of Thursday, 13 May 2021 with David Robarge PhD, CIA Chief Historian, PDB Editor. Host-Interviewer: AFIO President James Hughes, a former CIA Operations Officer.
TOPIC: Dr Robarge discusses "CIA and Covert Action" — the complexities, pros and cons, of covert action, with examples throughout modern U.S. history.
The presentation, which uses extensive number of PowerPoint slides, runs 76 minutes.
Access the Robarge interview here or click above image.
---
Prior Videos in the "AFIO Now" Series
View the publicly-released ones on our YouTube page
or log into the Member-only area to view private and public interviews.
---
PODCASTS: AFIO NOW content is also available on various podcasting platforms. Search for 'AFIO Podcast' for a selection of public released videos on Podbean; iTunes; Google; Spotify; Amazon Music; Amazon TuneIn + Alexa; iHeartRadio; and Pandora.
---
SPIES TOURS OF GEORGETOWN (D.C.) and OTHER AREAS OF DC/MD/VA
Tuesday, 27 July 2021, 5:30 - 7:00p - in-person, DC/MD/VA Area - The Spies of Georgetown Walking Tour
This is a 1.5 hour walking tour of spy sites in Georgetown, Washington, DC, hosted by George. George is a former Senior National Security Officer with 30 years of experience with the Central Intelligence Agency, Department of State, and as a Military Intelligence Officer in the United States Army. He served multiple assignments in Central Europe, Eastern Europe, and South Asia leading intelligence collection operations. He also led the CIA's advanced tradecraft school and worked in the CIA's Counterintelligence Center.
Fee: $42/per person. Tour dates are available for 27 July, 29 July and later dates per online form.
To explore available dates and to register for a tour, do so here.
---
---
Details on the exciting upcoming Virtual Education Programs of the National Cryptologic Museum Foundation are available on their new webpage here
Other NCF Events can be found here on NCF website here, and CCH website here.
---
---
---
Newly Released, Overlooked, or Forthcoming Books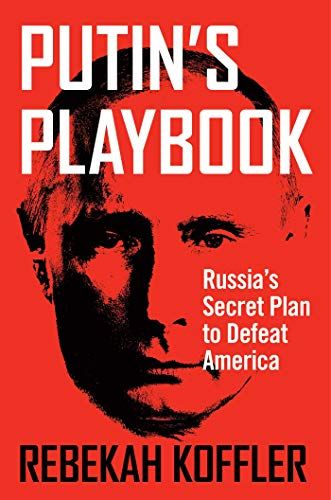 Putin's Playbook: Russia's Secret Plan to Defeat America
by Rebekah Koffler
(Regnery Gateway, July 2021)
The "Russian collusion" hoax not only poisoned American politics but also sowed confusion about the real Russian threat to the United States. President Vladimir Putin wasn't colluding with the Trump campaign, but as a former U.S. intelligence specialist makes clear in this eye-opening book, the judo-loving ex-KGB agent most certainly has a plan to defeat the United States
Born and raised in the Soviet Union, Rebekah Koffler came to America as a young woman. After 9/11, she joined the Defense Intelligence Agency, devoting her career to protecting her new country. Now she reveals in chilling detail Putin's long-range plan—his "playbook"—to weaken and subdue the United States, preparing for the war that he believes is inevitable.
With the insight of a native, Koffler explains how Russians, formed by centuries of wartorn history, understand the world and their national destiny. The collapse of the Soviet empire, which Putin experienced as a vulnerable KGB agent in East Germany, was a catastrophic humiliation. Seeing himself as the modern "Czar Vladimir" of a unique Slavic nation at war with the West, he is determined to restore Russia to its place as a great power.
Koffler's analysis is enriched by her deeply personal account of her life in the Soviet Union. Devoted to her adopted homeland but concerned about the complacency of her fellow citizens, she appreciates American freedoms as only a survivor of totalitarianism can.
Book may be ordered here.
---
TWO NOVELS FOR SUMMER READING
Red Traitor: A Novel
by Owen Matthews
(Doubleday, July 2021)
Novelist Matthews has crafted an incredibly taut thriller around one of the most treacherous moments in modern history, where the fate of the world rested with the itchy trigger finger of one lone Soviet naval officer, 100 meters under the sea, out of all contact with his commanders.
Set during the height of the Cuban Missile Crisis, seen from avantage point: somewhere off the Florida coastline, trapped aboard the claustrophobic confines of an isolated Soviet submarine with open orders to fire its nuclear payload.
The year is 1962, and KGB Lieutenant Colonel Alexander Vasin is chasing a white elephant: the long-rumored existence of an American spy embedded at the highest echelon of Soviet power. In a wild goose chase that has Vasin engaged in high-stakes espionage against a rival State agency, he first hears whispers of an ominous top-secret undertaking: Operation Anadyr.
As tensions flare between Nikita Khrushchev and President Kennedy over Russian missiles hidden in Cuba, four Soviet submarines are ordered to make a covert run at the American blockade in the Caribbean--each sub carrying tactical ballistic missiles armed with thermonuclear warheads.
Book may be ordered here.
---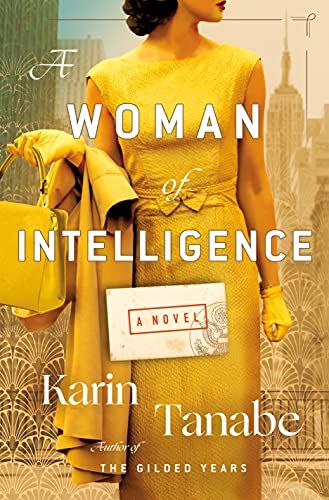 A Woman of Intelligence: A Novel
by Karin Tanabe
(St. Martin's Press, July 2021)
A well-off young mother is recruited as an undercover agent by the FBI in this historical thriller.
A Fifth Avenue address, parties at the Plaza, two healthy sons, and the ideal husband: what looks like a perfect life for Katharina Edgeworth is anything but. It's 1954, and the post-war American dream has become a nightmare.
A born and bred New Yorker, Katharina is the daughter of immigrants, Ivy-League-educated, and speaks four languages. As a single girl in 1940s Manhattan, she is a translator at the newly formed United Nations, devoting days to her work and the promise of world peace—and her nights to cocktails and the promise of a good time.
Now the wife of a pediatric surgeon, heir to a shipping fortune, Katharina is trapped in a gilded cage, desperate to escape the constraints of domesticity. So when she is approached by the Bureau to join their ranks as an informant, Katharina seizes the opportunity. A man from her past has become a high-level Soviet spy, but no one has been able to infiltrate his circle. Enter Katharina.
Navigating the demands of the FBI and the secrets of the KGB, she becomes a courier, carrying stolen government documents from D.C. to Manhattan. But as those closest to her lose their covers, and their lives, Katharina's secret soon threatens to destroy her.
Book may be ordered here.
---
Visit, Follow, Subscribe to AFIO's LinkedIn, Twitter, and YouTube pages to receive updates.
Members who use social media or wish to explore, will find new announcements and other material on AFIO's Twitter and LinkedIn pages. New videos on our YouTube page appears below as well.
Access them here: LinkedIn, Twitter, and YouTube. By following or subscribing on those sites, one can be notified as new material appears.




NEW — PODCASTS: Our new social media expert has been busy! Are you too busy to sit and watch an entire "AFIO Now" episode above on YouTube? Would you rather listen in your car or while accomplishing other tasks? Now you can quickly download or stream episodes on your favorite podcasting platform. AFIO is now available on 8 podcasting platforms. Search for 'AFIO Podcast' for a selection of the interviews above (public released ones) on Podbean; iTunes; Google; Spotify; Amazon Music; Amazon TuneIn + Alexa; iHeartRadio; and Pandora.
---
Guide to the Study of Intelligence and When Intelligence Made a Difference

"AFIO's Guide to the Study of Intelligence" has sold out in hard-copy.
However, it is available in digital form in its entirety on the AFIO website here.

Also available on the website here are the individual articles of AFIO's history project "When Intelligence Made a Difference" that have been published to date in The Intelligencer journal. More articles will be forthcoming in future editions.

---

---

---

One of the special benefits of membership in AFIO: access to CIA's inhouse gift shop — the EAA Store.

It requires a quick preapproval process described here to all newly joined and current AFIO members. And then allows you to purchase online their unusual logo'd gift items for self or colleagues. At left is the latest photo EAA released on July 16 featuring some of their newest items:

---
---
Section I - INTELLIGENCE HIGHLIGHTS

New Zealand Security Intelligence Service NZSIS Spy Agency Spends More Than $45,000 on Rebrand. New Zealand spy agency the Security Intelligence Service (NZSIS) is under fire for spending more than $40,000 on an under the radar rebranding.

Andrew Little, the Minister Responsible for the NZSIS, says the rebranding was necessary to bring the security vetting service up to modern standards.

"The NZSIS has had a programme to improve the security clearance vetting process for people going through it. This includes replacing a clunky manual application system with an intuitive and secure online portal," he told Newshub. [Read more: Small/NewsHub/20July2021]

Call for SA Intelligence Community to Stand Up on Civil Unrest Causes; Mapisa-Nqakula Taken to Task. Parliament's Joint Standing Committee on Defence (JSCD) wants South Africa's intelligence community "critically involved in understanding and characterising" civil unrest and violence that rocked the country over the last week.

The committee yesterday (Monday) held a follow-up meeting with Defence and Military Veterans Minister Nosiviwe Mapisa-Nqakula and senior SA National Defence Force (SANDF) officers on what it called "violence, wanton looting and destruction of property".

A Parliamentary Communication Services statement has it the JSCD wants "coherence to characterise" the cause or causes of the civil unrest that rocked KwaZulu-Natal and Gauteng. The Cambridge English Dictionary defines coherence as "the situation when the parts of something fit together in a natural or reasonable way". [Read more: defenceWeb/20July2021]

China Spy Agency Blamed by US, Others of Using Contract Hackers. U.S. President Joe Biden said he is to receive a detailed report Tuesday about the role China's civilian intelligence agency played in using ransomware to extort American businesses.  

"They're still determining exactly what happened. The investigation is not finished," the president said on Monday in response to a reporter's question about why no sanctions against Beijing immediately followed his government's public accusation that China's Ministry of State Security used criminal contract hackers to conduct unsanctioned cyber operations globally, from which the hackers personally profited.  

The United States, along with NATO, the European Union, the United Kingdom, Japan, Canada, Australia and New Zealand on Monday specifically blamed China for a cyberattack in March that affected tens of thousands of organizations via Microsoft Exchange servers. [Read more: Herman/VOA/19July2021]

Hungarians Urge Spy-Claim Probe. Opposition lawmakers in Hungary's parliament have demanded an inquiry into findings by an international investigation that the country's right-wing government used powerful malware to spy on critical journalists, politicians and business figures.

The investigation by a global media consortium suggested that military-grade spyware from Israel-based NSO Group, an infamous hacker-for-hire outfit, was used in Hungary to infiltrate the digital devices of a range of targets -- including at least 10 lawyers, an opposition politician and at least five journalists.

The results of the investigation, headed by the French nonprofit journalism organization Forbidden Stories, were published Sunday, prompting three members of Hungary's parliamentary national security committee to call for an emergency session to question government agencies on their potential involvement in the spying. [Read more: AP/20July2021]

Two Decades After 9/11, British Spies Turn Focus Back to Russia and China. Britain's top domestic spymaster cautioned citizens on Wednesday to treat the threat of spying from Russia, China and Iran with as much vigilance as terrorism, in a shift of focus back to counter-espionage nearly two decades after the 9/11 attacks.

The Sept. 11, 2001 attacks on the United States made tackling terrorism the biggest priority for Western intelligence agencies, with vast resources being focused on the threat from home-grown and foreign-based militants.

But the growing assertiveness of post-Soviet Russia, the rise of China, and Iran's sometimes daring espionage has forced the West's spies to return their focus to counter-intelligence, or spies tracking, countering and tackling other spies. [Read more: Faulconbridge/Reuters/14July2021]

Indonesian State Intelligence Agency Launches Vaccinations for 12,000 Children. The Indonesian State Intelligence Agency (BIN) launched a mass vaccination program targeting 12 thousand middle and high school students on Monday.

Under the program, BIN held simultaneous vaccinations in six provinces - West Java, Central Java, Banten, Riau, West Kalimantan, and South Sulawesi, BIN head Budi Gunawan informed in Jakarta on Monday.

President Joko Widodo has tasked BIN with vaccinating students from several schools given the high COVID-19 positivity rate among children, he said. [Read more: AntaraNews/19July2021]



---
Section II - CONTEXT & PRECEDENCE

These Afghan-Born Siblings Escaped War There Only To Return For The U.S. Military. Every day of Lyla Kohistany's life her native Afghanistan was at war. But the first time she really saw the country, she was a 25-year-old U.S. Navy intelligence officer.

"I remember the aircraft doing the whole zigging and zagging because you don't want to get hit by insurgent fire," Kohistany said of her first deployment in 2005.

Kohistany's family had left when she was a toddler, so she had no memory of the breathtaking snowy mountains that surround the Afghan capital. Their beauty moved her, but also made her realize how lucky she was to have grown up in the U.S.

"I was born an Afghan woman at a time when it was awful to be an Afghan woman," she said. "But as an adult, I became an intelligence officer at the most opportune time to become an intelligence officer focused on Afghanistan." [Read more: Lawrence/NPR/20July2021]

'Sleeper Agent' Review: From Moscow to Oak Ridge. Many Americans are familiar with the names of the Soviet assets Alger Hiss, Klaus Fuchs, and Julius and Ethel Rosenberg. Few, however, have heard of George Koval, a devastatingly effective atomic spy during World War II who walked away from his exploits completely undetected by U.S. intelligence. Now writer Ann Hagedorn has told his story in "Sleeper Agent" (Simon & Schuster, 272 pages, $28), a historical page-turner of the highest order.

In the fall of 1944, she writes, Koval, a 30-year-old American electrical engineer, could be found driving his U.S. Army jeep daily around the site of the Manhattan Project labs in Oak Ridge, Tenn. There and later in Dayton, Ohio, Koval, who five years earlier had been recruited by Soviet intelligence, obtained data from top-secret research facilities that would help to produce the enriched plutonium used in the first Russian A-bomb, detonated in August 1949. [Read more: Radosh/WSJ/15July2021]

The IC is Recruiting for a 'Titan of Industry' to be CIO. The Office of the Director for National Intelligence is actively recruiting to bring on a "titan" of the tech industry to be the next CIO of the intelligence community, the IC's current acting CIO told FedScoop.

The office is set to issue a job listing soon to bring on a permanent CIO, said Michael Waschull, the IC deputy CIO who's been acting CIO since January. Waschull said Director of National Intelligence Avril Haines is looking for a "visionary" IT leader who can take the IC's technology and information environment "to the next level."

"What we're looking for is a titan of this industry, we're looking for a former CEO of a telco, we're looking for a former CEO of a major information-intensive organization," he told FedScoop in an interview. The IC is searching for "somebody who is absolutely steeped in the business of cloud and IT and telecommunications and application development and information management and data science. We're looking for somebody that's got real gravitas and stature in this space to take us to the next level." [Read more: Mitchell/FedScoop/16July2021]



---
Secrets Alone Won't Save Us: Providing 'Decision Advantage' On Climate Security. When I was a CIA officer, one thing about work I could actually share with my family was a tour of the museum at headquarters in Langley. Visitors would marvel at the concealment devices and exclaim over tales of derring-do in the name of gathering hidden information. When we arrived at the section on Directorate of Analysis, however, they would feign interest. Printed copies of reports weren't as interesting as the exhibit on robot spy fish.

Stealing secrets has always captured the public imagination about the intelligence profession, with good reason. Secrets were the claim to fame of the CIA's predecessor, the Office of Strategic Services. Ahead of D-Day, it was "Wild Bill" Donovan's placement of spies throughout European ports and behind enemy lines that gathered information needed to support a successful invasion. As President Dwight Eisenhower said of the Office of Strategic Services: "If [it] had done nothing else, the intelligence gathered alone before D-Day justified its existence."

Of course, the security and intelligence landscape has changed significantly since the days of Eisenhower. [Read more: Sikorsky/WarOnTheRocks/15July2021]

Constant but Camouflaged, Flurry of Cyberattacks Offer Glimpse of New Era. The world woke up on Monday to revelations of a sort that have become disconcertingly routine.

Chinese hackers had breached governments and universities in a yearslong campaign to steal scientific research, according to a U.S. Justice Department indictment.

Separately, several governments, including the Biden administration, accused Beijing of hiring criminal hackers to infiltrate the world's largest companies and governments for profit.

Only hours before, a consortium of news agencies reported that governments worldwide have used spyware sold by an Israeli company to monitor journalists, rights workers, opposition politicians and foreign heads of state. [Read more: Fisher/NYTimes/20July2021]

Kennedy, Cuba, and the "War of the Sands". This year marks the 60th anniversary of one of the greatest disasters in the history of American intelligence, the Bay of Pigs. A poorly designed operation to oust the Soviet-aligned Cuban leader Fidel Castro, it was an early fiasco for the new U.S. President John F. Kennedy - but one he learned a great deal from, as later events would show. It also helped lead to Castro's first deployment of Cuban troops abroad, in North Africa in 1963.

I had the good fortune to have as my advisor in college at Brown University the former inspector general of the Central Intelligence Agency, Lyman Kirkpatrick, who authored the agency's post-mortem on the Bay of Pigs failure. It was so devastating that all copies were recalled. It showed that the American planners of the April 1961 invasion by a few hundred Cuban anti-communists had just assumed that if the invaders got into trouble on the beach fighting the much larger Cuban army, then JFK would send in the Marines and Navy to defeat Castro, turning a covert operation into a war. Kennedy had no intention of doing so, and at the moment of crisis on the beach, he refused to send in U.S. forces. [Read more: Riedel/Brookings/19July2021]

Calling out China for Cyberattacks is Risky - but a Lawless Digital World is Even Riskier. Today's multi-country condemnation of cyber-attacks by Chinese state-sponsored agencies was a sign of increasing frustration at recent behaviour. But it also masks the real problem - international law isn't strong or coherent enough to deal with this growing threat.

The coordinated announcement by several countries, including the US, UK, Australia and New Zealand, echoes the most recent threat assessment from the US intelligence community: cyber threats from nation states and their surrogates will remain acute for the foreseeable future.

Joining the chorus against China may be diplomatically risky for New Zealand and others, and China has already described the claims as "groundless and irresponsible". But there is no doubt the problem is real. [Read more: Gillespie/TheConversation/19July2021]

US Military Must Avoid a 'Kasserine Pass' Failure for Space Power. The first battle of Kasserine Pass in North Africa in February 1943 revealed some hard lessons learned for U.S. forces in their first major encounter in the European-North Africa-Middle East theater during World War II. This battle represented the only major engagement during World War II, or since, where U.S. forces did not own air superiority, with disastrous results.

Of the many lessons in this poor first performance for America's military in the struggle against the Axis powers, most prominent for airmen were the consequences of not having a single independent air commander directing limited air assets to achieve air superiority, and the assigning of airpower units to land force commanders as "auxiliary" forces. America cannot afford to repeat these mistakes when it comes to command and control of space power and maintaining space superiority in a future conflict with a peer adversary.

One of the primary reasons U.S. Space Command was reestablished and the U.S. Space Force created was to ensure necessary war-fighting synergies are achieved through unity of effort under an independent commander for U.S. military space power. [Read more: Donovan/DefenseNews/19July2021]

Was Jeffrey Epstein a Spy? Back in 2002, when I was reporting on Jeffrey Epstein's finances for Vanity Fair magazine, he was not a household name. During that time, I paid a visit to the Federal Medical Center, Devens in Devens, Massachusetts, to meet with an inmate, one Steven Hoffenberg.

We sat in a little room near a recreation area, Hoffenberg dressed in the requisite orange jumpsuit, while I, several months pregnant with twins, was dressed per prison requirements: as shapelessly as possible.

It was an absolutely intriguing meeting.

Hoffenberg was serving 18 years in prison for committing a $450 million Ponzi scheme. In the 1980s, he'd been running Towers Financial, a debt collection and reinsurance business, and had worked alongside Epstein, who was a paid consultant. Hoffenberg told me that Epstein had plans to turn Towers into a global colossus - through illegal means. [Read more: Ward/RollingStone/15July2021]



---
Section IV - Research Requests, Jobs, Obituaries
Seeking Former CIA Officers who knew Abu Bakr al-Baghdadi, others in ISIS, to assist Israeli Journalist with Documentary
My name is Hadar Gat, I'm a journalist from Israel, currently working on the second season of a documentary series about the most influential Arab leaders in the middle east.
It's an international production, broadcasted on Kan Israeli channel (IPBC).
The documentary series provides a profound profile analysis of leaders in the Arab world, and is one of the leading document series of IPBC.
Each episode is covering the history and profile of a different leader, and reviewing his personality and actions from every aspect possible. Especially the way he was grasped through the eyes of different Intelligence agencies.
I'm contacting [AFIO] because in one of the episodes we are focusing on Abu Bakr al-Baghdadi, and ISIS itself. Therefore, we wish to interview former CIA officers or agents who are relevant to that matter. I'm available for any questions and more details, so feel free to contact me at any time.
Looking forward to hearing from you.
Replies to Hadar Gat, 972-50-4800-306 or hadargat8@gmail.com
US-China co-operation against the Soviets in the 1980s. Seeking Intelligence Officers who worked in Western China on joint monitoring stations dedicated to Soviet missile sites
Jane Perlez, the NYTimes bureau chief in Beijing, is seeking officers who worked in China on the joint monitoring stations in Western China that were dedicated to the Soviet missile sites. It is for a podcast that deals with the China-US opening by Richard Nixon. The program, run in part by the Science and Technology division, featured in the excellent book "The Wizards of Langley" by Jeffrey Richelson, "The Great Wall" by Patrick Tyler, and in some press accounts.
To respond, email her at janeperlez@gmail.com; twitter: @janeperlez; +1-646 884 4949
ISO former CIA officers w/ Czech experience
I'm the daughter of Dagmar Stapleton who worked on the Czech desk from around '74 to '94. Am hoping to talk with former Prague case officers, station chiefs, deputy station chiefs from that time period for a research project.
Please contact me at viveca.novak@gmail.com. [Viveca Novak is an American journalist who has worked as the editorial and communications director at the Center for Responsive Politics since 2011. She was previously a Washington correspondent for Time and The Wall Street Journal. She is a frequent guest on CNN, NBC, PBS, and Fox.]
Researcher Seeking Your Experiences Working in Western North Carolina on DoD/NSA Rosman Research Station in 1980s.
I'm Craig Gralley, a 34-year veteran of CIA and currently a freelance writer in the Brevard, NC area. I'm also a volunteer at PARI - the Pisgah Astronomical Research Institute in nearby Rosman. PARI is now dedicated to STEM education and research, but has had a storied history that is largely unknown to the people of this mostly underserved area of rural North Carolina. I have volunteered to write PARI's history. NASA first constructed the site in 1962 as a ground station for a variety of unmanned scientific satellites. AFIO members might remember when DoD/NSA took over the site in 1981 and called it the Rosman Research Station (NSA's participation at the site was declassified nearly a decade ago). NSA gave up the site in 1995.
I am receiving NSA's support through a FOIA request to declassify more information about the facility. My goal is to make this history less about satellites and their capabilities and more about what it was like working in a remote location in western North Carolina. Personal stories, things that could have gone wrong but didn't (or did), success stories—humorous/serious anecdotes—all of it is welcome. My goal is to take the edge off of a dry history and give the Rosman ground station a human face.
I'd be glad to attribute anything that comes to me in the way desired by the contributor.
Thanks for your help.
REPLIES to Craig R. Gralley, 703.581.3440 (mobile), craig.gralley@gmail.com. More about Craig at www.craiggralley.com
Seeking Officials Who Served USSR/Russia 1965-2015 and Other Posts - with knowledge of, or exposure to, Microwave/Directed Energy Weapons
Prominent D.C. Attorney seeking former intel officers or others who served in USSR/Russia during 1965-2015, as well as anyone who has information concerning possible microwave/energy directed weapon exposure of U.S. officials by foreign adversary.
Replies to Mark S. Zaid Esq, mark@markzaid.com. Or call him at (202) 454-2809.
More information about Mr. Zaid at MarkZaid.com.
LUNINT Flight Software Engineer - Washington, DC area location - for Rhea Space Activity
The Flight Software Engineer is responsible for providing technical expertise on the needs of the proposed system, contributing in technical discussions with a multidisciplinary team, and developing navigation software for spacecraft operating throughout cislunar space. As part of our small team, you will be our in-house flight software expert, and be instrumental in the development of novel flight control software for the USSF/USAF.
MANDATORY QUALIFICATIONS
1. Deep experience with coding in C and/or C++.
2. Deep experience with coding MATLAB/Simulink.
3. Familiarity or experience in several of the following areas: orbital dynamics, astrodynamics, manifold dynamics, guidance, navigation, control, avionics, Kalman filtering, optics, and systems engineering.
4. Completed M.S., Ph.D, or equivalent in a STEM field.
5. Able to relocate to the Washington D.C. metro area no later than September 2021.
6. Ability to travel within the continental United States and to various international destinations
7. Must be a U.S. citizen or national, U.S. permanent resident (current Green Card holder), or lawfully admitted into the U.S. as a refugee or granted asylum.
Full job description here.
---
JoEllen Bunton, CIA Officer
JoEllen Spaulding Bunton, 72, a CIA Officer, died 6 July 2021 in Eagle, ID from endometrial cancer.
JoEllen was born in Lansing, MI, and spent early years in Modesto, CA, and Alexandria, VA. She received a bachelor's degree from the University of Georgia in 1970 and immediately joined the CIA working at the Langley, VA headquarters. She served in overseas postings which included Paris, Athens, and Frankfurt.
In 1987, she met Gerald "Jerry" Bunton, a fellow Agency colleague, whom she married in 1988, living and traveling extensively during their Agency careers. JoEllen had many friends from around the world and our country.
Following Jerry's death, she made her home in Eagle, ID where she fell in love with the scenic foothills and adopted a close-knit circle of friends.
JoEllen was an expert gardener and gourmet cook and supported the Family Advocate Program in Boise, Humane Society of Idaho, the Idaho Food Bank, The Peregrine Fund, and Days for Girls, Boise.
She is survived by a step-daughter and other family.
Tory Failmezger, Naval Intelligence Officer
Victor 'Tory' Failmezger, Commander USN Retired, 74, a Senior Naval Intelligence Officer, died 2 July 2021 in Warren County, VA of complications of heart failure.
He was born in New Brunswick, NJ and graduated from East Brunswick High School class of 1965. He was active in track, band and was an Eagle Scout.
He graduated from Southern Methodist University in 1969 with a degree in History. Subject to the US military draft, he enlisted in the US Navy. He was first stationed at the NATO Base in Naples, Italy where in his off time he joined the Archaeological Team of Dr. R. F. Paget and worked on the ancient Roman road system north of Naples and the Oracle of the Dead at Baia.
In Italy, he met and married Patricia Grant of Council Bluffs, IA, a Lieutenant Junior Grade in the US Navy Nurse Corps stationed at the US Naval Hospital, Naples. While in Italy, Failmezger earned a Master's Degree in International Relations from Boston University, Naples, Italy campus.
Selected to attend Aviation Officer Candidate School in Pensacola, FL, he was commissioned an Ensign, Special Duty Intelligence in April 1974. His first major assignment was to Attack Squadron VA-56, embarked on USS Midway and homeported in Yokosuka, Japan Most notable was his participation in Operation Frequent Wind, the emergency evacuation of Saigon in 1975.
The next assignment was at a US Naval Intelligence Center in Suitland, MD where he was appointed the Special Assistant to Rear Admiral Sumner Shapiro, the Director of Naval Intelligence and a Pentagon Aide to then Rear Admiral E.A. Burkhalter, Jr. the Deputy Director of Naval Intelligence.
He served for three years as the Assistant Naval Attache, in Rome, Italy. Back in the States, he joined Commander Carrier Group Eight and was embarked on the USS Dwight D. Eisenhower (CVAN-69) and the USS Nimitz (CVAN-68). Additionally he was part of the first staff to embark aboard the USS Iowa (BB-61) since WW2.
Following German language training in California, he was assigned as Director US Naval Science and Technical Unit, Munich, Germany. There he conducted naval intelligence information exchange with NATO Naval Allies, sought out innovative technologies and was often called to travel to East Berlin to exercise US Navy rights to enter that city.
His final Navy assignment was at the Defense Intelligence Agency in Washington, DC, where he directed a team evaluating bomb damage inflicted during Operation Desert Storm.
Over the course of his 22 years in Naval Service, Commander Failmezger was awarded eight personal decorations including two Defense Meritorious Service Medals, two Meritorious Service Medals and other commendation and achievement medals.
In civilian life, he worked for several small consulting companies bringing European technology to the US and export US Technology to Europe. He was active with the US Department of Energy to transfer government developed technologies to the private sector and worked with NASA on Satellite Remote Sensing technology transfer issues. During the period he was featured speaker at international conferences in Hungary, the Czech Republic, Slovenia and Qatar.
At the same time he assisted Patricia with her architectural salvage business, Architectural Old House Parts of Front Royal, Virginia. Growing out of the experience he supervised the building of the family home a recreation of Thomas Jefferson's private house, Popular Forest in Warren Country. For four years he served as a Warren County, VA Planning Commissioner.
He was author of six books, including "American Knights, the story of the legendary WWII 601st Tank Destroyer Battalion" and "Rome, City in Terror, the Nazi Occupation 1943-1944," published by Osprey Publications of Oxford, UK. He was a long time member of the Ancient Numismatic Society of Washington and moderated two international numismatic conferences in York, England.
He is survived by his wife of 50 years, Patricia A. Grant, a son, a daughter, and other family.
Mike Heyman, CIA Psychologist, Chief, Behavioral Analysis Branch of TSD, DO
Marshall Nathaniel "Mike" Heyman PhD, 96, a CIA Psychologist, Chief, Behavioral Analysis Branch of TSD, DO, died 28 January 2021.
Born in Albany, NY. He was active in Boy Scouts, Eagle Scouts, and the Order of the Arrow, returning during college as waterfront director for the Scout summer camp.
He went to Union College in Schenectady, NY just as the war started, and enlisted in the Army after his sophomore year. The Army sent him to Georgia, and then to Europe, as a Recon Platoon section leader for Team Cherry, 3rd Tank Battalion, 10th Armored Division where he saw action in Bastogne during the Battle of the Bulge; experienced enemy machinegun fire; watched a German tank blow up his jeep; managed to locate and direct a missing supply train into Bastogne, assuring the battalion's survival; greeted and briefed arriving elements of the 101st Airborne; and then, after surviving the siege, froze his feet New Year's Eve sleeping in a foxhole in the deep snow which got him sent back to England to thaw out. Five months later, he was sent back to Germany with the Aviation Engineers, this time "to rebuild it, not to destroy it," overseeing an element of yet to be demobilized former German POWs building the runways of Rhine-Main air base.
Back in the States in 1946, he graduated from Union, married his high school sweetheart Blessing Maieroff, and headed to the University of Iowa where he received a PhD in psychology. In 1951, he moved to Washington, DC and worked for the Navy Department, writing Officers Candidates exams. In 1952, he joined the CIA where he spent his career as an operations support psychologist, helping his mentor John Gittinger develop and implement the Personality Assessment System (PAS). He got to travel extensively, twice sojourning abroad with family in tow on extended tours in Saipan and Tokyo, and retired in 1979 as a branch chief.
For many years in the 1960s and 1970s, Dr. Heyman served as Deputy Chief and then Chief of the Behavioral Analysis Branch of the Technical Services Division of the Directorate of Operations (BAB/TSD/DDO) later transferred to the Directorate of Science and Technology (BAB/OTS).
Well-liked and respected by his colleagues, Dr. Heyman's team did pioneering work on behavioral assessment support for the Clandestine Services and on some counterterrorism programs. He authored a number of articles in CIA's Studies in Intelligence including "The Vietnamese as Operational Target" (written under pseudonym Titus Leisdorf)
Retirement did not stop him or his travels – he consulted with the Department of Defense on foreign group assessment models, with the US Marshals Service crafting witness relocation identities, and the Secret Service, exploring the personality profiles of presidential assassins. His mainstay, though, became his support of Hocking College in Ohio, where he spent many years helping students define their course of study.
In the early aughts, fed up with Northern Virginia traffic, he moved to Sedona, AZ to be closer to family. They embraced the red rocks, threw themselves into the 10th Armored Division Veterans Association, enjoyed semi-annual visits from grandkids. After his wife died in 2015, Mike soldiered on, feeding the javelinas, bunnies, deer, and quail that frequented his yard while waiting out his days, endlessly expressing gratitude and love for his home, career, life, and for the people he loved and loved him back.
He leaves two sons and other family.
---
AFIO EDUCATIONAL EVENTS IN COMING TWO MONTHS....
Friday, 8 October 2021, 11 am - 2 pm - In-Person Tysons Corner, VA - AFIO Luncheon featuring David Ignatius on "The Paladin" and Stephen Vogel on Traitor George Blake.
FOR YOUR CALENDAR. The first in-person AFIO National Luncheon for 2021 will take place on Friday, 8 October at DoubleTree Hotel, Tysons Corner. Event will feature David Ignatius discussing "The Paladin" or possibly another topic TBA. And the morning speaker, Stephen Vogel, discussing "Betrayal in Berlin" and traitor George Blake.
TO REGISTER: Registration link forthcoming.
VENUE: DoubleTree by Hilton, 1960 Chain Bridge Rd, Tysons Corner, VA 22182 Phone: (703) 893-2100. Directions at this link.
---
Other Upcoming Events from Advertisers, Corporate Sponsors, and Others
Thursday, 22 July 2021, 1800/6PM EDT; 1500/3PM PDT; 1200/12PM HST - Virtual GoToMeeting Webinar - NIP Virtual Speaker Series
Naval Intelligence Professionals will be virtually hosting the following Guest Speakers:
• Rear Admiral Ralph R. "Russ" Smith, Vice Director of Intelligence, J2, Joint Staff
• LCDR Ustav "Soho" Sohoni, Intelligence Director, CTF 1020
• LCDR Tolulope "Tolu" O'Brien, NAVSPACE Intelligence Lead
TOPIC: "Intelligence Support to Cyber and Space Operations"
Principal Biography of Rear Admiral Ralph R."Russ" Smith is here.
FORMAT: Video Conference – GoToMeeting. Join the meeting from your computer, tablet or smartphone, beginning at 1750/5:50 EDT:https://global.gotomeeting.com/join/864825405
You can also dial in using your phone.US: +1 (224) 501-3412 Access Code: 864-825-405. New to GoToMeeting? Get the app now and be ready when your first meeting starts: https://global.gotomeeting.com/install/484676077
As always, please mute your device/phone. Thanks.
AGENDA: • (3 min) RDML (Ret.) Tony Cothron, NIP Chairman, welcoming remarks.; • (~30 min) RDML "Russ" Smith, LCDR Sohoni, and LCDR O'Brien remarks; • (~30 min) Q & A moderated by CAPT (Ret.) Bob Allen. - Please enter your questions in the GoToMeeting chat window or email your questions in advance/during the video conference to: bob_allen36@hotmail.com.
Monday, 26 July 2021, noon EDT – Virtual Zoom Webinar – Curator's Corner: Sleeper Agent with Ann Hagedorn – Virtual International Spy Museum Program
There were hundreds of spies in the US during World War II but George Koval was the only Soviet military spy with security clearances in the atomic-bomb project. The ultimate sleeper agent, he was an all-American country boy who was born in Iowa, played baseball, and loved Walt Whitman's poetry. Join Spy Museum Historian and Curator Andrew Hammond in conversation with Ann Hagedorn, the award-winning author of Sleeper Agent: The Atomic Spy in America Who Got Away. Event is free – registration required. Visit www.spymuseum.org.
Tuesday, 27 July 2021, 5:30 - 7:00p - in-person, DC/MD/VA Area - The Spies of Georgetown Walking Tour
This is a 1.5 hour walking tour of spy sites in Georgetown, Washington, DC, hosted by George. George is a former Senior National Security Officer with 30 years of experience with the Central Intelligence Agency, Department of State, and as a Military Intelligence Officer in the United States Army. He served multiple assignments in Central Europe, Eastern Europe, and South Asia leading intelligence collection operations. He also led the CIA's advanced tradecraft school and worked in the CIA's Counterintelligence Center.
Fee: $42/per person. Tour dates are available for 27 July, 29 July and later dates per online form.
To explore available dates and to register for a tour, do so here.
Wednesday, 28 July 2021, noon - 2p - in-person Vienna, VA - CIRA's first in-person luncheon of the year
For more information about the speaker, location, costs, and registration, log into www.cira.org
Thursday, 29 July 2021, 5:30pm EDT – Virtual Zoom Webinar – Clarity in Crisis: True Stories from Your Spy Next Door Marc Polymeropoulos – Virtual International Spy Museum Program
Marc Polymeropoulos served 26 years in the CIA before retiring from the Senior Intelligence Service in June 2019. After wide ranging experience in field and headquarters operational assignments covering the Middle East, Europe, Eurasia, and counterterrorism, he has written Clarity in Crisis: Leadership Lessons from the CIA. He bases his strategies and core principles on hard-earned experience. He had to live with the consequences of decisions made under the most high-stress of circumstances, and he wants to help others approach their crises head on and come through stronger. Spy Museum Historian and Curator Andrew Hammond will talk with Marc Polymeropoulos about his extraordinary career and how what he learned can help regular people gain confidence in the face of crisis and embrace less than ideal situations with no fear. Event is free – registration required. Visit www.spymuseum.org.
29 July 2021, 6 pm - Virtual - OSS Society hosts Gen. David Petraeus USA (Ret) and Gus Biggio on "The War in Afghanistan"
The OSS Society hosts the fifth installment in its 2021 "Oh So Social" Conversation Series on July 29. General David Petraeus, who commanded U.S. military forces in Afghanistan, will speak with Gus Biggio about his Afghan war memoir, The Wolves of Helmand:
"At turns poignant, funny, philosophical, and raw—but always real—The Wolves of Helmand is both a heartfelt homage to the Marine brotherhood with whom Biggio served and an expression of respect and love for the people of Afghanistan who ultimately trusted, shared, and appreciated their purpose. Ten years after serving his country as a U.S. Marine, Captain Frank "Gus" Biggio signed up once again because he missed the brotherhood of the military. Leaving behind his budding law career, his young wife, and newborn son, he was deployed to Helmand Province—the most violent region in war-torn Afghanistan—for reasons few would likely understand before reading this book."
Do not miss this important conversation as America's military forces prepare to leave Afghanistan later this year.
If you would like to register for this event, click here.
If you were unable to watch our most recent "Oh So Social" conversation with Admiral William McRaven, Secretary Leon Leon Panetta, and Dr. Mike Vickers, who discussed the Osama bin Laden raid on its 10th anniversary, please click here.
14 September 2021, 10am EDT - Zoom Webinar - Virtual Panel Discussion with Former Deputy Directors of National Intelligence as part of NCF's 25th Anniversary
The National Cryptologic Foundation is excited to announce the next NCF 25th Anniversary virtual program which features a panel of former deputy directors of national intelligence. Greg Myre, NPR National Security Correspondent, will serve as moderator for the program.
The program is free, but as with our other 25th Anniversary events and activities - we appreciate any and all donations as they will help to support our mission - especially our growing list of exciting education initiatives. Stay tuned as registration will open soon.
Who: National Cryptologic Foundation
What: 25th Anniversary September 14th Panel Discussion with Former Deputy Directors of National Intelligence: Confirmed panelists include: Gen Michael V. Hayden, USAF (Ret), Mr. Donald Kerr, and Ms. Stephanie O'Sullivan. This panel discussion will be moderated by: Greg Myre, National Security Correspondent, NPR.
When: 14 September 2021, 10-11:30 am EDT
Where: Virtual Program - offered via Zoom webinar (Once registration opens, your Zoom details will be in your confirmation email.)
*If you are unable to attend, please stay tuned to the NCF e-newsletter and social media for an announcement about the recording, once available.
Cost: Free. Donations Appreciated.
Contact: If you have questions about this program, please email ncfinfo@cryptologicfoundation.org.
Registration to Open Soon and will be at this link.
14 October 2021, 8:15a to 2p - virtual and in-person - NCF General Membership Meeting (GMM) & Annual Symposium
SAVE THE DATE for the first hybrid (virtual and in-person) National Cryptologic Foundation General Membership Meeting. We are excited to be planning to gather in person again. The 2021 GMM & Annual Symposium will be held on 14 October and will be a hybrid event - offering options to attend virtually or in person. The program will be held at the CACI in the National Business Park. Seating will be limited and the program will be shorter in duration this year. Schedule: Check-in and breakfast from 8:15-8:45am; Program 9am-12pm; Lunch and Booksigning 12-1pm. Stay tuned for program details and registration will be available at this link.
Wednesday, 27 October 2021, 6 - 10 pm - Washington, DC - 30th (+1) Anniversary Gala and Chancellor's Dinner - Institute of World Politics
Save the date. Current timing of this in-person celebration is:
6:00 PM Cocktail Reception
7:00 PM Dinner
9:00 PM Dessert and Dancing
Location: The Mayflower Hotel, 1127 Connecticut Ave NW, Washington, DC
Additional details to follow
*Because this is an unusual year, if you are considering attending the 30th (+1!) Anniversary Gala, please fill out this form: iwp.edu/gala-survey
Wednesday, 1 December 2021, 5:30 PM VIP Reception / 6:30 PM Progressive Reception & Award Program - Washington, DC - 2021 Webster Distinguished Service Award Event - International Spy Museum
The Spy Museum offers an evening of intrigue for the 2021 Webster Distinguished Service Award event. The award is an opportunity to recognize the extraordinary contributions of individuals in the Intelligence Community. This year's awardee is The Honorable Susan M. Gordon, former principal deputy director of national intelligence. Previous recipients of the Webster Distinguished Service Award include President George H. W. Bush (2017), Admiral William H. McRaven, USN (Ret.) (2018), and Gen. Michael V. Hayden (Ret.) (2019). Webster attendee and sponsor support fuels the nonprofit mission of educating the public about the history and craft of espionage and intelligence through youth and adult programs, community service, and the care of the Museum's unique collection of artifacts for generations to come.
Event will be held at the International Spy Museum.
For tickets, sponsorship opportunities, or information about ways to support the International Spy Museum, please contact the development office at 202.654.2853. Event tickets, other details are available here.
---
In addition to the new Royal Blue long sleeve shirts, and the gray long sleeve hooded sweatshirts, the AFIO Store also has the following items ready for quick shipment:
LONG and Short-Sleeved Shirts with embroidered AFIO Logo and New Mugs with color-glazed permanent logo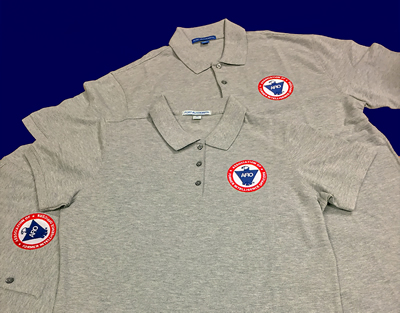 Show your support for AFIO with our new Polo Shirts. Be the first to buy these new, high quality, subtle heathered grey short sleeve shirts, and dark blue long sleeved shirts, of shrink and wrinkle resistant fine cotton with a soft yet substantial feel. They feature a detailed embroidered AFIO seal. Get a shirt for yourself and consider as gifts for colleagues, family, and friends. Only $45 each including shipping.
Sizes of (M) men or (W) women shirts; Small, Medium, Large, XL, XXL, and XXXL. At this time all orders will arrive as Short Sleeve shirts.
You may pay by check or credit card. Complete your order online here or mail an order along with payment to: AFIO, 7600 Leesburg Pike, Ste 470 East, Falls Church, VA 22043-2004. Phone orders at 703-790-0320. If interested in other shirt colors or sleeve lengths, contact Annette at: annettej@afio.com.
---
AFIO Mug with color glazed logo. Made in America. Sturdy enough to sit on desk to hold pens, cards, paperclips, and candy.
This handsome large, heavy USA-made ceramic mug is dishwasher-safe with a glazed seal. $35 per mug includes shipping. Order this and other store items online here.
---
Guide to the Study of Intelligence and When Intelligence Made a Difference
"AFIO's Guide to the Study of Intelligence" has sold out in hard-copy.
However, it is available in digital form in its entirety on the AFIO website here.

Also available on the website here are the individual articles of AFIO's history project "When Intelligence Made a Difference" that have been published to date in The Intelligencer journal. More articles will be forthcoming in future editions.
---
Disclaimers and Removal Instructions
Weekly Intelligence Notes (WINs) are commentaries on Intelligence and related national security matters, based on open media sources, selected, interpreted, edited and produced for non-profit educational uses by members and WIN subscribers.
REMOVAL INSTRUCTIONS: We do not wish to add clutter to inboxes. To discontinue receiving the WINs:
a) IF YOU ARE A MEMBER - click here: UNSUBSCRIBE and supply your full name and email address where you receive the WINs. Click SEND, you will be removed from list. If this link doesn't open a blank email, create one on your own and send to afio@afio.com with the words: REMOVE FROM WINs as the subject, and provide your full name and email address where you are currently receiving them.
b) IF YOU ARE NOT A MEMBER, and you received this message, someone forwarded this newsletter to you [contrary to AFIO policies]. Forward to afio@afio.com the entire WIN or message you received and we will remove the sender from our membership and distribution lists. The problem will be solved for both of us.
CONTENTS of this WIN [HTML version recipients - Click title to jump to story or section, Click Article Title to return to Contents. This feature does not work for Plaintext Edition or for some AOL recipients]. If you wish to change to HTML format, let us know at afio@afio.com. The HTML feature also does not work for those who access their e-mail using web mail...however NON-HTML recipients may view the latest edition each week in HTML at this link: https://www.afio.com/pages/currentwin.htm
---
WINs are protected by copyright laws and intellectual property laws, and may not be reproduced or re-sent without specific permission from the Producer. Opinions expressed in the WINs are solely those of the editor's or author's listed with each article. AFIO Members Support the AFIO Mission - sponsor new members! CHECK THE AFIO WEBSITE at www.afio.com for back issues of the WINs, information about AFIO, conference agenda and registrations materials, and membership applications and much more!
(c) 1998 thru 2021. AFIO, 7600 Leesburg Pike, Suite 470 East, Falls Church, VA 22043-2004. Voice: (703) 790-0320; Fax: (703) 991-1278; Email: afio@afio.com
---
About AFIO | Membership Renewal | Change of Address | Upcoming Events | Chapter Locations | Corporate/Institutional Memberships | Careers in Intelligence Booklet | Guide to the Study of Intelligence | Intelligencer Journal | Weekly Intelligence Notes | To Make A Donation | AFIO Store | Member-Only Section | Code of Ethics | Home Page
---