---
CONTENTS
Section I - INTELLIGENCE HIGHLIGHTS
Section II - CONTEXT & PRECEDENCE
Section IV - Research Requests, Jobs, Obituaries
Other Upcoming Events from Advertisers, Corporate Sponsors, and Others
For additional AFIO and other Events two+ months or more... Calendar of Events
WIN CREDITS FOR THIS ISSUE: The WIN editors thank the following special contributors: rsy, ec, po, pjk, mh, km, gh, mk, rd, fm, kc, jm, mr, jg, th, ed, and fwr. They have contributed one or more stories used in this issue.

The WIN editors attempt to include a wide range of articles and commentary in the Weekly Notes to inform and educate our readers. However, the views expressed in the articles are purely those of the authors, and in no way reflect support or endorsement from the WIN editors or the AFIO officers and staff. We welcome comments from the WIN readers on any and all articles and commentary.

CAVEATS: IMPORTANT: AFIO does not "vet" or endorse research inquiries, career announcements, or job offers. Reasonable-sounding inquiries and career offerings are published as a service to our members, and for researchers, educators, and subscribers. You are urged to exercise your usual caution and good judgment when responding, and should verify the source independently before supplying any resume, career data, or personal information.]
If you are having difficulties with the links or viewing this newsletter when it arrives by email, members may view the latest edition each week at this link.
---
Other items brought to our attention:
Intelligence agencies give Biden their report on the origin of the coronavirus, but fail to crack the case, U.S. officials say
By Ellen Nakashima, et al., 24 Aug 2021, 9:30pm, Washington Post
President Biden was briefed Tuesday on the report, which fell short of answering critical questions about whether the virus jumped from an animal to a human or accidentally leaked from a Wuhan, China, lab. Despite renewed debate around the origins of the virus in the spring, the intelligence community does not appear to have unearthed information that yields a consensus, according to two U.S. officials.
The intelligence community will seek within days to declassify elements of the report for potential public release, officials said.
The assessment is the result of a 90-day sprint after Biden tasked his intelligence agencies in May to produce a report "that could bring us closer to a definitive conclusion" on the origins of a virus that has killed more than 4 million people globally and wrecked national economies. But despite analyzing a raft of existing intelligence as well as searching for new clues, intelligence officials fell short of a consensus, said the officials, who spoke on the condition of anonymity because the report is not yet public.
Article continues here...
Also see....
FRONTLINE: China's COVID Secrets (first released February 2021)
Tonight on FRONTLINE, revisit China's COVID Secrets — our February 2021 documentary investigating the gulf between what Chinese scientists and officials knew as the coronavirus outbreak began and what they told the world.
"I believe that the true history needs to be remembered," the first health care worker from Wuhan Central Hospital to talk to international journalists about what was happening in the early days of the outbreak says in the documentary. "We need to learn the lessons so that this doesn't happen again."
With leaked documents, secret recordings, and accounts from Chinese scientists and doctors, international disease experts and health officials, China's COVID Secrets reveals missed opportunities to suppress the outbreak and lessons for the world.
Watch an encore presentation of
China's COVID Secrets on select PBS stations tonight at 10/9c (check local listings). You can also stream the documentary, a coproduction with the BBC, anytime on our site, on YouTube and in the PBS Video App.
---
A Top U.S. Military Officer Finally Admits He Was Wrong About Afghanistan
"It's hard to deny the evidence in front of you."
By Fred Kaplan, 23 Aug 2021, 1:34 PM in Slate

Retired Adm. Mike Mullen, the top U.S. military officer under Presidents George W. Bush and Barack Obama, who strongly supported the "nation-building" war policy in Afghanistan, now says we should have pulled out our troops a decade ago, soon after Osama bin Laden was killed.
Mullen is thus far the only senior officer from that period who has publicly admitted that the U.S. policy—and he personally—was deeply mistaken. "It's hard to deny the evidence in front of you," Mullen said to me in a phone interview Monday morning.
Mullen—who was chairman of the Joint Chiefs of Staff from October 2007 till September 2011—first admitted his mistake on this past Sunday's episode of the ABC News show This Week.
...
In our phone conversation the next morning, Mullen acknowledged that, back in 2009, he and all the other top officers and officials advised Obama to send 40,000 more troops to Afghanistan and to adopt a nation-building strategy. Article continues here...
---
ANALYSIS/OPINION: Why Afghanistan is more dangerous — U.S. left behind a permanent fog of war, which our enemies will exploit
By Daniel N. Hoffman, former CIA Chief of Station, NCS, 24 Aug 2021, Washington Times
How ironic that as the 20th anniversary of 9/11 approaches, after decades of highly effective counterterrorism operations and horrific failures at nation-building, Afghanistan is more of a clear and present danger to our nation than ever before.
The US always maintained there was no military solution to the conflict, but that was not true for the Taliban, who saw the value in staying in the fight as an insurgent force even while losing battle after battle until the Biden administration's horrifically planned and executed withdrawal presented them a propitious opportunity during the height of the fighting season to conquer Kabul.
The Taliban used "peace negotiations" only to secure prisoner releases and fortify its blitzkrieg attacks against the Kabul government. Article continues here...
---
CIA's Former Counterterrorism Chief for the Region: Afghanistan, Not An Intelligence Failure — Something Much Worse
by Douglas London, former Senior Operations Officer, Chief of Station and CIA's Counterterrorism Chief for South and Southwest Asia, 18 August 2021 in Just Security
While it's certainly convenient to depict the shock and miscalculation U.S. officials claim over Afghanistan's tragic, rapid fall to the Taliban as an intelligence failure, the reality is far worse. It's a convenient deflection of responsibility for decisions taken owing to political and ideological considerations and provides a scapegoat for a policy decision that's otherwise unable to offer a persuasive defense.
As CIA's Counterterrorism Chief for South and Southwest Asia before my 2019 retirement, I was responsible for assessments concerning Afghanistan prepared for former President Donald Trump. And as a volunteer with candidate Joe Biden's counterterrorism working group, I consulted on these same issues. The decision Trump made, and Biden ratified, to rapidly withdraw U.S. forces came despite warnings projecting the outcome we're now witnessing. And it was a path to which Trump and Biden allowed themselves to be held captive owing to the "ending Forever Wars" slogan they both embraced.
Article continues here...
---
The Collapse in Afghanistan: Early Insights from RAND Researchers
Q&As from The Rand Blog, 17 August 2021, Rand Corporation
The sudden end to America's longest war came Sunday as the Taliban rolled into the capital of Afghanistan and the national government collapsed. Thousands of U.S. citizens and Afghans who worked for Americans are waiting to be evacuated. U.S. troops are at the Kabul airport to keep flights going. Even as the situation remains in flux, a handful of RAND researchers have shared some of their initial thoughts.
Qs discussed are: What can the United States and the international community do at this point to protect Afghan refugees? Even if all Afghans who want to flee the country can do so, are there other potential risks? What's the most likely scenario for Afghans who are trying to flee? Will Afghanistan become a safe haven for terrorist groups like the last time the Taliban was in charge, before the 9/11 attacks? Should we expect a threat to the U.S. homeland? Speaking of the agreement with the Taliban that the Trump administration signed in February 2020, what effects did this have on recent events? Finally, what are some of the geopolitical implications of the rapid collapse in Afghanistan? Q&As can be found here.
---
Guidance to Inquiries for Aiding Those in Afghanistan Who Aided the IC and Other USG Entities and Are Now Seeking Asylum
The Afghan SIV Program
The U.S. State Department has established an expedited program to provide Special Immigrant Visas for Afghans Who Were Employed by/on Behalf of the U.S. Government
Please use or refer others to these links:
Afghan SIV Program - Steps to Apply
Special Immigrant Visas (SIVs) for Iraqi and Afghan Translators/Interpreters
Members are urged to not recommend any illegal means (e.g., invading this country using northern or southern borders) or filing of fraudulent visa applications, dishonest statements claiming job offers to applicants, sham marriages or claims of U.S. relatives, false claims of U.S. assistance, with expectation there will be amnesty. The Afghan SIV Program above has been carefully organized to vet applicants to avoid admitting terrorists, extremists, criminals, and others who would not qualify for a U.S. Visa and have little to offer the country.
---
---
The Latest... from Jeff Stein's "SpyTalk" series...
Aug 24: "Implications for the Kabul Catastrophe" by Jeff Stein
The loss of the US embassy deprives the CIA of a base of operations only days before the 20th anniversary of its victory march into Kabul.

Aug 22: "New Kabul Scare: Terror Groups and Anti-Aircraft Missiles" by Jeff Stein
No one knows the number of MANPADS left behind in Kabul, if any. But the DoD-linked RAND Corp estimated 4,500 last year.

Aug 20: "CIA Won't Back an Afghan Resistance Anytime Soon, If Ever" by Jeff Stein
Central Asia's former Soviet states are now back in Moscow's orbit, for starters, depriving the agency of once friendly staging grounds.

Aug 17: "Al-Qaeda's Learning Curve: the Fall of the Roman Empire" by Jeff Stein
Former FBI agent Ali Soufan says its goal is to unite 'the savage regions' like the barbarians who took down Rome

Aug 15: "Kabul Doomwatch: A Veteran TV Correspondent Recalls Escapes from Vietnam, Cambodia" by Jim Laurie
Longtime ABC-TV international correspondent Jim Laurie also watched the Russians leave Afghanistan. It was more orderly than the US exit from Kabul.

Readers, for a brief time, can subscribe for free for articles and weekend podcasts here.
---
The Arkin Group's Aug 20 "In Other News" letter to private clients by former Operations Officer Jack Devine features...
Taliban at the helm, regional actors engage new Afghan leadership for geostrategic gains.
Venezuelan negotiations underway with limited expectations, investors watching closely.

Follow link here to read analyses and predictions given to their private clients on the topics above.

Jack Devine's Spymaster's Prism was released this year. AFIO's interview with him about this book appears at this link. Or hear the podcast here.

---

Inside the SCIF:

Inside the SCIF by JJ Green, WTOP - Issue #126, 19 Aug has details on Capitol Hill Bomb Threat Suspect; the Fall of Afghanistan to the Taliban; Lessons never learned from Twenty Years of Afghanistan "reconstruction"; New Undersea data cable to thwart Chinese espionage; NK Spies posed as defectors to spy on SK; CISA Fact Sheet on Protecting Info from Ransomware; The Use of AI in the IC; and more.

The latest Target USA Podcast 290 is on: The Taliban Takeover of Afghanistan: The Human Cost
Two Afghan brothers, NT and RT, former U.S. military interpreters have wives stuck in Afghanistan under death threats from the Taliban. They tell very personal stories.

And "The Hunt" explores: Will the Taliban allow terrorists inside Afghanistan?
The Taliban have suggested that it has shed it old habits. Few people really believe them.
WTOP National Security Correspondent J.J. Green talks with Dr. Hans-Jakob Schindler, senior director of the Counter Extremism Project, who says the Taliban are unlikely to turn their back on Al Qaida.
---
---
Released today to members-only...
The first battle after 9/11 in Mazār-i-Sharīf, Afghanistan,
which resulted in the death of CIA Officer Johnny Micheal Spann

Released 24 August 2021
Mark E. Mitchell
Former Director for Counterterrorism, National Security Council
and Principal Deputy Assistant Secretary of Defense
for Special Operations/Low-Intensity Conflict
Interview of Tuesday, 29 June 2021 of Mark E. Mitchell, Former Director for Counterterrorism on the National Security Council and Former Principal Deputy Assistant Secretary of Defense for Special Operations/Low-Intensity Conflict; Host: James Hughes, AFIO President and a former CIA Operations Officer.
TOPIC: Mark Mitchell discusses the first battle after 9/11 which occurred in Mazār-i-Sharīf, also called Mazār-e Sharīf, or just Mazar, the fourth largest city in Afghanistan. An uprising during the battle of Qala-i-Jangi -- to overthrow the Taliban's Islamic Emirate of Afghanistan, which had been harboring al-Qaeda operatives -- resulted in the death of Johnny Micheal Spann, an American paramilitary operations officer in the CIA's Special Activities Division. Spann was the first American killed in combat during this late 2001 U.S. invasion of Afghanistan. As Mitchell explains, Spann died at the Qala-i-Jangi fortress during a Taliban prisoner uprising. Mitchell describes what these early days involved as US Special Forces were brought in to treacherous terrain -- human and geographic -- in Afghanistan. Mitchell met up with CIA Alpha Team already in country, and later captured US-born traitor, John Walker Lindh, who admitted he was aiding the Taliban (and later sentenced to 20 years in prison in 2002).
The presentation runs 40 minutes.
Access the Mitchell Interview here or click above image.
---
Prior Videos in the "AFIO Now" Series
View the publicly-released ones on our YouTube page, or listen to the podcast version at the links below.
PODCASTS: AFIO NOW content is also available on various podcasting platforms. Search for 'AFIO Podcast' for a selection of public released videos on Podbean; iTunes; Google; Spotify; Amazon Music; Amazon TuneIn + Alexa; iHeartRadio; and Pandora
Or log into the Member-only area to view private and public interviews.
---
---

Tuesday, 14 September 2021, 10 - 11:30 a.m. EDT - Zoom Webinar Event
Virtual Zoom Webinar panel discussion with Former Principal Deputy Directors of National Intelligence.
Speakers: Gen Michael V. Hayden USAF(Ret), Dr Donald Kerr, Stephanie O'Sullivan; Moderator Greg Myre of NPR.
No charge to attend.
More information or to register, do so at cryptologicfoundation.org

Details on the Virtual Education Programs of the National Cryptologic Museum Foundation are available here Other NCF Events can be found here on NCF website here, and CCH website here.
---
---
---
Newly Released, Overlooked, or Forthcoming Books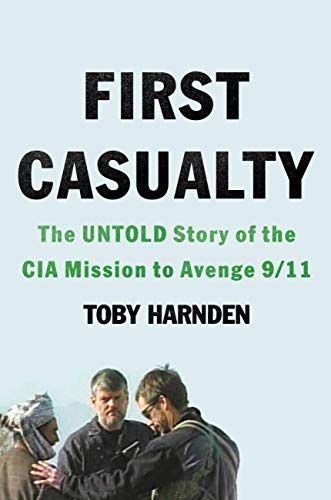 First Casualty: The Untold Story of the CIA Mission to Avenge 9/11
by Toby Harnden
(Little, Brown and Company, Sep 2021)
9/11. America is reeling; Al-Qaeda has struck and thousands are dead. The country scrambles to respond, but the Pentagon has no plan for Afghanistan—where Osama bin Laden masterminded the attack and is protected by the Taliban. Instead, the CIA steps forward to spearhead the war. Eight CIA officers are dropped into the mountains of northern Afghanistan on October 17, 2001. They are Team Alpha, an eclectic band of linguists, tribal experts, and elite warriors: the first Americans to operate inside Taliban territory. Their covert mission is to track down Al- Qaeda and stop the terrorists from infiltrating the United States again.

First Casualty places you with Team Alpha as the CIA rides into battle on horseback alongside the warlord Abdul Rashid Dostum. In Washington, DC, few trust that the CIA men, the Green Berets, and the Americans' outnumbered Afghan allies can prevail before winter sets in. On the ground, Team Alpha is undeterred. The Taliban is routed but hatches a plot with Al-Qaeda to hit back. Hundreds of suicidal fighters, many hiding weapons, fake a surrender and are transported to Qala-i Jangi—the "Fort of War."

Team Alpha's Mike Spann, an ex-Marine, and David Tyson, a polyglot former Central Asian studies academic, seize America's initial opportunity to extract intelligence from men trained by bin Laden—among them a young Muslim convert from California. The prisoners revolt and one CIA officer falls—the first casualty in America's longest war, which will last two decades. The other CIA man shoots dead the Al-Qaeda jihadists attacking his comrade. To survive, he must now fight his way out.

Tells how America found a winning strategy only to abandon it. Reveals that the lessons of early victory and the haunting foretelling it contained—unreliable allies, ethnic rivalries, suicide attacks, and errant US bombs—were ignored, tragically fueling a twenty-year conflict from which America has just fled with worldwide shame.
Book may be ordered here.
---
Spies on the Mekong: CIA Clandestine Operations in Laos
by Ken Conboy
(Casemate, July 2021)
During the Cold War, the CIA's biggest and longest paramilitary operation was in the tiny kingdom of Laos. Hundreds of advisors and support personnel trained and led guerrilla formations across the mountainous Laotian countryside, as well as running smaller road-watch and agent teams that stretched from the Ho Chi Minh Trail to the Chinese frontier. Added to this number were hundreds of contract personnel providing covert aviation services.
It was dangerous work. On the Memorial Wall at Agency HQ in Langley, nine stars are dedicated to officers who perished in Laos. On top of this are more than one hundred from proprietary airlines killed in aviation mishaps between 1961 and 1973. Combined, this grim casualty figure is orders of magnitude larger than any other CIA paramilitary operation.
But for the officers at Langley, Laos was more than a paramilitary battleground. Because of its geographic location as a buffer state, as well as its trifurcated political structure, Laos was a unique Cold War melting pot. All three of the Lao political factions, including the communist Pathet Lao, had representation in Vientiane. The Soviet Union had an extremely active embassy in the capital, while the People's Republic of China—though in the throes of the Cultural Revolution—had multiple diplomatic outposts across the kingdom. So, too, did both North and South Vietnam. All of this made Laos fertile ground for clandestine operations. This book comprehensively details the cloak-and-dagger side of the war in Laos for the first time, from agent recruitments to servicing dead-drops in Vientiane.
Book may be ordered here.
---
Three Dangerous Men: Russia, China, Iran and the Rise of Irregular Warfare
by Seth G. Jones
(W. W. Norton & Company, Sep 2021)
"...provides an unparalleled look at how Beijing, Moscow, and Tehran are competing with the United States―through their eyes. It is a cogently argued, well-researched, and elegantly written book on one of the US's most important challenges ahead." — General Michael Hayden, US Air Force (Ret.) and former director of the Central Intelligence Agency
"Jones makes a compelling, riveting argument ...that the United States needs to reconsider significant aspects of the very concept of contemporary warfare…This is a must read for anyone seeking to understand the present-day challenges facing the US and our allies and partners around the world." ― General David Petraeus, US Army (Ret.) and former director of the Central Intelligence Agency
Defense expert Jones argues that the US is woefully unprepared for the future of global competition. While America has focused on building fighter jets, missiles, and conventional warfighting capabilities, its three principal rivals—Russia, Iran, and China—have increasingly adopted irregular warfare: cyber attacks, the use of proxy forces, propaganda, espionage, and disinformation to undermine American power.

Jones profiles three pioneers of irregular warfare in Moscow, Beijing, and Tehran who adapted American techniques and made huge gains without waging traditional warfare: Russian Chief of Staff Valery Gerasimov; the deceased Iranian Major General Qassem Soleimani; and vice chairman of China's Central Military Commission Zhang Youxia. Each spent his career studying American power and devised techniques to avoid a conventional or nuclear war with the US. Gerasimov helped oversee a resurgence of Russian irregular warfare, which included attempts to influence US presidential elections and the SolarWinds cyber attack. Soleimani was so effective in expanding Iranian power in the Middle East that Washington targeted him for assassination. Zhang Youxia presents the most alarming challenge because China has more power and potential at its disposal.
Jones shows how America's rivals have bloodied its reputation and seized territory worldwide. Instead of standing up to autocratic regimes, Jones demonstrates that the US has largely abandoned the kind of information, special operations, intelligence, and economic and diplomatic action that helped win the Cold War. Details steps the US must take to alter how it thinks about—and engages in—competition before it is too late.
Book may be ordered here.
---
---
One of the special benefits of membership in AFIO: access to CIA's inhouse gift shop — the EAA Store.

It requires a quick preapproval process described here to all newly joined and current AFIO members. And then allows you to purchase online their unusual logo'd gift items for self or colleagues. At left is the latest photo EAA released on August 13 featuring some of their newest items:
---
---
Visit, Follow, Subscribe to AFIO's LinkedIn, Twitter, and YouTube pages to receive updates.
Members who use social media or wish to explore, will find new announcements and other material on AFIO's Twitter and LinkedIn pages. New videos on our YouTube page appears below as well.
Access them here: LinkedIn, Twitter, and YouTube. By following or subscribing on those sites, one can be notified as new material appears.




NEW — PODCASTS: Are you too busy to sit and watch an entire "AFIO Now" episode above on YouTube? Would you rather listen in your car or while accomplishing other tasks? Now you can quickly download or stream episodes on your favorite podcasting platform. AFIO is now available on 8 podcasting platforms. Search for 'AFIO Podcast' for a selection of the interviews above (public released ones) on Podbean; iTunes; Google; Spotify; Amazon Music; Amazon TuneIn + Alexa; iHeartRadio; and Pandora.
---
The Spies of Georgetown walking tours
Enjoy walks through the scenic Georgetown neighborhood with a former CIA officer. Learn about the pivotal role the residents here played in the WWII era. These pre- and post- war influencers played friend and foe alike to the Soviets. Learn more about the origins of the CIA, and the life of an operative shared through curated (and unclassified) real-life stories. We'll visit the former homes of William "Wild Bill" Donovan, William Colby, Roald Dahl, and Alger Hiss and see places linked to the espionage activities of Elizabeth Bentley, and Vitaly Yurchenko.
Along the way, participants will be asked to put on their spy hats and consider the role of surveillance in an operative's daily life.
Other things to note:
- This event will take place rain or shine. In the event of thunder/lightening, the event will be cancelled and guests will be issued a full refund and be encouraged to reschedule. A determination on cancellation due to thunder/lightning will be made no later than 2 hours prior to the event. Cancellations will be communicated through the app.
- This event is interactive. Be prepared to participate!
This 1.5 hr walking tour begins in northwest Georgetown and crosses over Wisconsin Ave. to northeast Georgetown and then south towards M Street. We spend most of the tour away from the hustle and bustle of Wisconsin Ave. and M Street, in quieter neighborhoods that have remained timeless. Please note we will end at Martin's Tavern on Wisconsin, away from the starting point.
Dates available: Tue 31 Aug 5-6:30pm; Fri 3 Sep 5:30 - 7pm; Sun 5 Sep 10-11:30am; Mon 6 Sep 10-11:30am; Tue 7 Sep 5-6:30pm; Tue 14 Sep 5-6:30pm; Sun 19 Sep 10-11:30am; Tue 21 Sep 5-6:30pm; Tue 28 Sep 5-6:30pm.
Explore the tours here. Or immediately book your tour at this link.
---
---
Guide to the Study of Intelligence and When Intelligence Made a Difference
"AFIO's Guide to the Study of Intelligence" has sold out in hard-copy.
However, it is available in digital form in its entirety on the AFIO website here.

Also available on the website here are the individual articles of AFIO's history project "When Intelligence Made a Difference" that have been published to date in The Intelligencer journal. More articles will be forthcoming in future editions.
---
---
---
---
Section I - INTELLIGENCE HIGHLIGHTS

Afghan Refugees Arriving in Wisconsin have already been Vetted by Intelligence Professionals, White House Says. Afghan Refugees fleeing the rise of the Taliban arriving at Wisconsin's Fort McCoy are receiving rigorous vetting by intelligence agencies, White House officials said Monday.

Refugees, and others arriving in the coming days, will undergo stringent security checks - including biometric and biographic screenings to ensure their identity - as well as health screenings, like COVID-19 tests, the White House said in a briefing with reporters.

Those arriving in the state are a combination of people with Special Immigrant Visa applications that have reached a certain point in the acceptance process, submitted by those who worked along U.S. troops in Afghanistan, officials said, as well as Green Card holders and other vulnerable populations, including women journalists, professors and attendees at girls' schools. [Read more: Schulte/MilwaukeeJournalSentinel/23August2021]

UK, U.S. Impose Sanctions on Russian Intelligence Agents over Navalny Poisoning. Britain and the United States imposed sanctions on Friday on men they said were Russian intelligence operatives responsible for the poisoning one year ago of Kremlin critic Alexei Navalny.

The two countries both targeted seven Russians with sanctions and also issued a joint statement warning Russia over chemical weapons.

Washington separately imposed sanctions on another two men and four Russian institutes it said were involved in chemical weapons research or what it described as an assassination attempt against Navalny.

Navalny was flown to Germany for medical treatment after being poisoned in Siberia on Aug. 20 last year with what Western experts concluded was the military nerve agent Novichok. [Read more: James&Lewis/Reuters/20August2021]

Peru Minister Resigns After Suggesting Shining Path Rebels had CIA Support. Peru's foreign minister has resigned after footage emerged in which he suggested that a Maoist rebel group that killed tens of thousands of Peruvians had received support from the Central Intelligence Agency (CIA), making him the first cabinet member to fall under leftist President Pedro Castillo.

Hector Bejar, 85, who in his youth participated in a socialist guerrilla movement, had said he believed the Shining Path rebel group had emerged in part because of backing from the US Central Intelligence Agency.

About 70,000 people are estimated to have died as government forces battled the Shining Path in the 1980s and early 1990s in large swaths of the country. [Read more: Reuters/17August2021]

Raisi's Key Ministers Approved By Khamenei,Iran Speaker Says. Parliament Speaker Mohammad-Bagher Ghalibaf (Qalibaf) rose to President Ebrahim Raisi's defense in the case of candidates proposed for key ministries at the parliament session Sunday morning and confirmed that ministers for thosepositions have already received the approval of Supreme Leader Ali Khamenei.

Ghalibaf made the declaration after Hossein Mirzaei a lawmaker from Esfahan, questioned the credentials of Raisi's candidate for the intelligence ministry, Esmail Khatib, and accused Raisi's supporters of lying to the Parliament about Khamenei's approval of Khatib.

Ghalibaf who told lawmakers that the proposed ministers were in fact approved by Khamenei argued that the leader is "personally responsible for defense, security and foreign policy matters" by virtue of Articles 110 and 176 of the Constitution of the Islamic Republic. [Read more: IranInternational/22August2021]

Ireland: Garda Intelligence Warns of Attacks on Vaccine Centres and Phone Masts. Gardaí across the country have been issued an urgent notice warning them about possible far-right attacks on vaccination centres and telecommunications infrastructure.

The bulletin came from the Garda National Crime and Security Intelligence Service, headed by Detective Chief Superintendent Tony Howard.

Gardaí received the confidential notice over the weekend through the Garda internal internet portal.

It is understood the intelligence is based on information gleaned from the monitoring of internet forums popular among far-right, anti-vaccination and conspiracy theory groups. [Read more: Gallagher/IrishTimes/24August2021]


---
Section II - CONTEXT & PRECEDENCE
Waterboarded at a CIA Black Site, the 'Number One Terrorist' Gave Up a Name. In this series, Newsweek maps the road to 9/11 as it happened 20 years ago, day by day.

Jordanian intelligence reported on August 24 that al Qaeda member and Palestinian national Abu Zubaydah was considering mounting attacks in the United States itself. At a time when the arrest of Zacarias Moussaoui and the search for the California duo - Khalid al-Mihdhar and Nawaf al-Hazmi - were going on, the new report was a major diversion.

Since 1999, Zubaydah had been characterized as the "chief of operations" for al Qaeda and Osama bin Laden's "number three." The intelligence community had been "on the trail" of Zubaydah since November 1999, when the so-called "Millennium" plot was first detected, leading to the arrest of numerous plotters in Amman, Jordan. Jordanian intelligence uncovered the al Qaeda plot to attack the Radisson Hotel as well as other sites planned for the night of December 31/January 1, all assumed to be under the operational control Zubaydah. [Read more: Arkin/Newsweek/24August2021]
8 Spies Who Leaked Atomic Bomb Intelligence to the Soviets. These eight men and women (among others) shared atomic secrets that enabled the Soviet Union to successfully detonate its first nuclear weapon by 1949.

Even while joining forces with the United States and Britain against Nazi Germany during World War II, the Soviet Union launched a massive effort to collect intelligence on the secret Anglo-American atomic bomb program that would become the Manhattan Project.

As part of Operation Enormoz ("enormous"), Soviet agents recruited American and British spies who were committed communists, including several scientists at the Los Alamos laboratory. The extent of Soviet nuclear espionage was unknown until after the war, when the United States and Britain succeeded in deciphering the code used in Soviet telegraphs. Because the decryption project, known as Venona, remained classified until 1995, evidence from it couldn't be used in court, allowing many suspected spies to escape prosecution. [Read more: Pruitt/History/18August2021]
I, SPY: London-born Ex-CSIS Agent Reflects on 32-Year Intelligence Career. Phil Gurski's job prospects were bleak when he graduated from Western University amid a recession in the early 1980s.

With a master's degree in Spanish and an undergraduate degree in French and Spanish, Gurski wasn't interested in working at London Life, one of the few local employers hiring arts graduates.

"There were no jobs for arts students in the early 1980s," Gurski said.

Then he saw a poster at Western recruiting linguists for the Department of National Defence. Gurski didn't know at the time that the advertisement would lead to a 32-year career in intelligence work, followed by a post-retirement career as an author of books on terrorism. [Read more: Carruthers/LondonFreePress/22August2021]
BRIXMIS Built Real-World Spy Cars Fit for a Scruffier 007. Any gearhead familiar with the James Bond franchise is no doubt also a fan of the gadget-laden automobiles that frequently accompanied 007's exploits. While these hyper-modified products of Q division might have seemed entirely fabricated - what with their various lasers, machine guns, and ejection seats - in reality British spies during the Cold War also had access to a tricked out, if not quite as fanciful, fleet of vehicles.

The best examples of these secret-agent-mobiles can be found when examining the British Commander-in-Chief's Mission to the Group Soviet Forces of Occupation in Germany (BRIXMIS) that operated in East Germany from the end of World War II all the way through the toppling of the Berlin Wall in the late 1980s. This unique detachment was charged with exploring the Soviet side of the divided country as discretely as possible, keeping tabs on communist antagonists while at the same time having their tacit permission to be there. The same courtesy was extended to the French (FMLM) and the Americans (USMLM), with the Soviet SOXMIS enjoying their own liberties on the Allied side. The British group was the largest, with 31 members, followed by a 14 member American squad and a smaller number of French.

While each of these missions was officially tolerated (and allowed to bypass formal government controls at the border), they had to be uniformed and in possession of their official passes at all times. It wasn't long, however, before what had originally been envisioned as "military liaison" forces quickly became conduits for intelligence gathering. [Read more: Hunting/MotorTrend/24August2021]
---
Opinion: The Time for Equivocating About a Nuclear-armed, Taliban-Friendly Pakistan is Over. Many profound ramifications of America's exodus from Afghanistan are competing for attention. Among the top challenges, Pakistan's future stands out. For decades, Islamabad has recklessly pursued nuclear weapons and aided Islamist terrorism - threats that U.S. policymakers have consistently underestimated or mishandled. With Kabul's fall, the time for neglect or equivocation is over.

The Taliban's takeover next door immediately poses the sharply higher risk that Pakistani extremists will increase their already sizable influence in Islamabad, threatening at some point to seize full control.

A description once applied to Prussia - where some states possess an army, the Prussian army possesses a state - is equally apt for Pakistan. Islamabad's "steel skeleton" is the real government on national security issues, the civilian veneer notwithstanding. Inter-Services Intelligence, or ISI, has long been a hotbed of radicalism, which has spread throughout the military, to higher and higher ranks. Prime Minister Imran Khan, like many prior elected leaders, is essentially just another pretty face. [Read more: Bolton/WashingtonPost/23August2021]

Former Acting CIA Director on Taliban Takeover of Afghanistan: Blaming US Intelligence 'Infuriates Me'. Former Acting CIA Director Mike Morell told "The Brian Kilmeade Show" on Tuesday that the intelligence community getting blamed for the Taliban takeover of Afghanistan is "infuriating." Morell said the process of the Afghan military's defeat to the Taliban started about three months ago when the U.S. withdrawal announcement was made and was consistent with officials' estimates.

"The intelligence community for the last 20 years has been more pessimistic than any other organization in the U.S. government about how this was going and whether victory was possible. So to blame intelligence now infuriates me, absolutely infuriates me." [Watch here: FoxNews/18August2021]

The Challenges of Understanding Taliban Finance. Last week, the Taliban effectively took control of most of Afghanistan. This has naturally led to questions about how the group managed to do it - and about how they were funded. Researchers do have a high-level understanding of how the Taliban raise funds, but much less is known about how the group uses, moves, stores, manages and obscures its funds. Even public understanding of Taliban revenues suffers from lack of precision.

The lack of precise knowledge on these fronts prevents the international community from developing effective policy responses and levers to the Taliban's takeover of Afghanistan, and can lead to politicized and inflated estimates of their financial prowess. As the Taliban shift from a non-state actor to a state-based one, the group takes on greater expenses in terms of salary, territorial control and state administration. Understanding all aspects of the Taliban's financial situation allows for greater nuance in developing policy responses to the group, particularly in terms of understanding the utility of sanctions and financial exclusion, which may be needed in order to incentivize regional actors to cooperate and adhere to global norms, and how sometimes adversarial actors such as Russia, China and Pakistan can be important allies (or spoilers). [Read more: Davis/Lawfare/23August2021]

September 11 in the White House. I was in the Situation Room in the White House on September 11, 2001 when the second plane crashed into the World Trade Center and America learned it was under attack. The intelligence community had been warning for months that an attack on America was coming from al-Qaida. Pakistan, which was best placed to know the most about any plot or rumors of a plot, was not forthcoming with information.

At the time, I was special assistant to the president for the Near East and North Africa on the National Security Council (NSC) staff, with a portfolio that included Afghanistan. National Security Advisor Condoleezza Rice had asked me to stay on in the NSC after serving four years with the Clinton administration.

We had been receiving a massive flow of reports from the agency that an attack was coming. The President's Daily Brief on August 6 famously said that the group was determined to strike inside the United States. While exact timing and targets were not specified, some reports indicated intentions to hijack aircraft. Tenet was constantly going around town warning an attack was imminent. [Read more: Riedel/Brookings/23August2021]


---
Section IV - Research Requests, Jobs, Obituaries
Seeking Accounts of Hostage Taking in China - Foreign or Chinese
Hostage-taking has been part of the Chinese playbook since long before the People's Republic.
As I wrote back in 2016 [see story here] your accounts of similar incidents will help me to write an informative update.
Message me at matt.brazil@hushmail.com
Seeking Those With Knowledge of 1980s Monitoring of Soviet Tests (Operation Chestnut)
Related to US/Chicom cooperation in joint monitoring Soviet missile/nuclear testing 1980s (Operation Chestnut), seeking DEFSMAC staff with knowledge of such operations. This is for research support on this cooperation.
Lend your expertise/experiences to: Emil Levine, Captain, USNR, RET (NFOIO, SECGRU) emil.levine@a1.net.
Author of new SpyCom series seeks blurbs from fellow AFIO members
Author Lee Pinsky is seeking AFIO member input on a new work of spycom. "Sometimes spywork is funny. It ain't all James Bond, all the time."
For a review copy (prefinal edits) email leepinsky@gmail.com to receive a review copy. Please review & send back a short blurb.
Searching for Panelists - Society of Military History 2022 Annual Conference
From Philip Shackelford: I am looking to put together a panel revolving around airpower, intelligence, or early Cold War - ideally a combination of the three - for the 2022 Society of Military History (SMH) annual conference, taking place in Fort Worth, TX April 28 - May 1, 2022. SMH is an international society focused on "stimulating and advancing the study of military history."Learn more here.
My email is pshackelford@southark.edu, and I'm happy to put together the required proposal paperwork, etc. Let me know if you are interested and feel free to share with others.
Seeking Former CIA Officers who knew Abu Bakr al-Baghdadi, others in ISIS, to assist Israeli Journalist with Documentary
My name is Hadar Gat, I'm a journalist from Israel, currently working on the second season of a documentary series about the most influential Arab leaders in the middle east.
It's an international production, broadcasted on Kan Israeli channel (IPBC).
The documentary series provides a profound profile analysis of leaders in the Arab world, and is one of the leading document series of IPBC.
Each episode is covering the history and profile of a different leader, and reviewing his personality and actions from every aspect possible. Especially the way he was grasped through the eyes of different Intelligence agencies.
I'm contacting [AFIO] because in one of the episodes we are focusing on Abu Bakr al-Baghdadi, and ISIS itself. Therefore, we wish to interview former CIA officers or agents who are relevant to that matter. I'm available for any questions and more details, so feel free to contact me at any time.
Looking forward to hearing from you.
Replies to Hadar Gat, 972-50-4800-306 or hadargat8@gmail.com
US-China co-operation against the Soviets in the 1980s. Seeking Intelligence Officers who worked in Western China on joint monitoring stations dedicated to Soviet missile sites
Jane Perlez, the NYTimes bureau chief in Beijing, is seeking officers who worked in China on the joint monitoring stations in Western China that were dedicated to the Soviet missile sites. It is for a podcast that deals with the China-US opening by Richard Nixon. The program, run in part by the Science and Technology division, featured in the excellent book "The Wizards of Langley" by Jeffrey Richelson, "The Great Wall" by Patrick Tyler, and in some press accounts.
To respond, email her at janeperlez@gmail.com; twitter: @janeperlez; +1-646 884 4949
ISO former CIA officers w/ Czech experience
I'm the daughter of Dagmar Stapleton who worked on the Czech desk from around '74 to '94. Am hoping to talk with former Prague case officers, station chiefs, deputy station chiefs from that time period for a research project.
Please contact me at viveca.novak@gmail.com. [Viveca Novak is an American journalist who has worked as the editorial and communications director at the Center for Responsive Politics since 2011. She was previously a Washington correspondent for Time and The Wall Street Journal. She is a frequent guest on CNN, NBC, PBS, and Fox.]
Researcher Seeking Your Experiences Working in Western North Carolina on DoD/NSA Rosman Research Station in 1980s.
I'm Craig Gralley, a 34-year veteran of CIA and currently a freelance writer in the Brevard, NC area. I'm also a volunteer at PARI - the Pisgah Astronomical Research Institute in nearby Rosman. PARI is now dedicated to STEM education and research, but has had a storied history that is largely unknown to the people of this mostly underserved area of rural North Carolina. I have volunteered to write PARI's history. NASA first constructed the site in 1962 as a ground station for a variety of unmanned scientific satellites. AFIO members might remember when DoD/NSA took over the site in 1981 and called it the Rosman Research Station (NSA's participation at the site was declassified nearly a decade ago). NSA gave up the site in 1995.
I am receiving NSA's support through a FOIA request to declassify more information about the facility. My goal is to make this history less about satellites and their capabilities and more about what it was like working in a remote location in western North Carolina. Personal stories, things that could have gone wrong but didn't (or did), success stories—humorous/serious anecdotes—all of it is welcome. My goal is to take the edge off of a dry history and give the Rosman ground station a human face.
I'd be glad to attribute anything that comes to me in the way desired by the contributor.
Thanks for your help.
REPLIES to Craig R. Gralley, 703.581.3440 (mobile), craig.gralley@gmail.com. More about Craig at www.craiggralley.com
Seeking Officials Who Served USSR/Russia 1965-2015 and Other Posts - with knowledge of, or exposure to, Microwave/Directed Energy Weapons
Prominent D.C. Attorney seeking former intel officers or others who served in USSR/Russia during 1965-2015, as well as anyone who has information concerning possible microwave/energy directed weapon exposure of U.S. officials by foreign adversary.
Replies to Mark S. Zaid Esq, mark@markzaid.com. Or call him at (202) 454-2809.
More information about Mr. Zaid at MarkZaid.com.
---
Lem Eldridge, USG Officer
Lemuel Francis Eldridge, 78, a patriotic USG Officer, died of brain cancer on 10 August 2021 in Frederick, MD.
Lem was born in Cambridge, MA. He earned a B.A. degree from Arizona State University, and a Master's degree from Northern Arizona University.
He served the nation overseas in the Africa division and later in Central America. The family was based in Somalia (83-87), Khartoum (87-89), and El Salvador (91-93).
In June, having learned he had late stage cancer, Lem returned from El Salvador to New England for further diagnostics. In July, he hosted his family at the lake house in New Hampshire. A wonderful gathering and likely the last, with priceless memories. Lem moved to Frederick, MD for treatment and to be with family.
He was a loving brother, father, husband, colleague, classmate, and dear friend to more people than we can ever imagine. If you knew Lem, then memories of him likely rush to mind and a smile naturally spreads across your face. Everyone cherishes at least one story of that one-of-a-kind Lem Eldridge.
To "attend" the earlier memorial service, it is online at this link.
For family, friends, colleagues who have fond stories/memories of Lem, share them in the "Guestbook" and/or the "Timeline."
Join this celebration in any way you are able or comfortable.
Jack Gower, CIA Operations Officer
John Patrick Gower, 85, a CIA Operations Officer, died 14 August 2021 in Rockville, MD.
Jack was born in Scranton, PA. He graduated from Central High School in Scranton in 1954 and received a B.S. in English literature from the University of Scranton and a M.A. in political science from Georgetown University.
His earliest jobs were lifeguard at a Jewish Community Center and disc jockey at WARM radio. After college he attended OCS in Newport, RI, and was commissioned an ensign in the US Navy. He served aboard the destroyer USS Bache assigned to the Atlantic Fleet which participated in the infamous Bay of Pigs operation. He later taught at the US Naval Academy, and after active duty he remained in the Navy Reserve. He then served honorably and with distinction for 30 years in the Central Intelligence Agency's Directorate of Operations clandestine service in six foreign countries, earning many awards including the Career Intelligence Medal and rising to the Senior Intelligence Service.
Jack exemplified a life filled with love, happiness, generosity, and service. He married the love of his life, Mary Walsh RN, whom he first dated in high school and survives him after 62 years of marriage. Also surviving him are six children, and other family.
Please view and sign online family guestbook here.
Martin Lowenkopf, State Department Intelligence Analyst
Martin Lowenkopf PhD, 93, a State Department intelligence analyst, died of cardiac arrest on 21 May 2021 in NYC.
Dr. Lowenkopf was born in Perth Amboy, NJ, and began his State Department service in Munich as an immigrant relocation officer in 1949. Later he sailed a 90-foot schooner off the coast of Canada and taught political science at Stanford University and Franklin & Marshall College in Pennsylvania, but he returned to the State Department in the 1960s and again from 1975 to 1989. He retired from federal service in 1989 as deputy director of African affairs.
In the 1990s, he was a visiting fellow at Johns Hopkins University's School of Advanced International Studies. A former resident of Bethesda, Md., he moved to New York in 2020.
Bob Naylor, Army and NSA Officer
Robert Carter Naylor, 85, Army and NSA Officer, died of leukemia on 16 August 2021 in Frederick, MD.
Bob was born in New York City and attended a private boys' school in Manhattan until age 8, when the family moved upstate to Central Valley, occupying the former Quaker meeting house.
After graduating high school he began a 20-year career in the U.S. Army, first in a field artillery unit in Austria, where he served as a cook. In 1960 he completed the German language course at the Army Language School in Monterey, CA, and was sent to Munich where he was involved in recruiting scientists to work for the U.S.
In 1966 he began work as a POW Interrogation Officer at Joint Interrogation Centers in Duesseldorf, Giessen, Nuremberg, Mainz, and Munich, producing and managing the production of intelligence reporting obtained from East European refugees. Bob also served in Vietnam from 1968 to 1969, deploying with the 82nd Airborne Division as NCOIC of the POW Interrogation Section, 518th MI Detachment, 3rd Brigade. He was awarded the Bronze Star Medal and the Vietnam Cross of Gallantry with Palm for his service.
During his tour in Giessen he completed requirements for a bachelor's degree in German, graduating with honors from the University of Maryland in Germany.
He spent four years in Bad Aibling, Bavaria, and when the 18th MI and the 66th MI group began to draw down in 1993, the family moved to RAF Molesworth in the UK where he was involved in producing intelligence reports for the Commander in Chief of the European Command.
Bob's intelligence career spanned 43 years, including 34 in Germany and five in the UK. It was challenging and fascinating work, he loved it, and he loved the opportunity it gave him to spend half his adult life in Germany, a place where he felt totally at home and where he made many lifelong friends.
Upon retiring from civil service and returning to the U.S. in 1998, he took a job managing the Howard County Food Bank, where for five years he wrote grant applications, solicited donations from local businesses, oversaw the delivery of food to distribution points, and provided holiday turkeys to hundreds of local residents. He took his two daughters to work with him on many occasions to help out. In the final year of his working life, he retired to a job as a starter at the Fort Meade Golf Course, which allowed him to improve his game in his off hours.
He is the spouse of Patricia Naylor, an NSA retiree and former Phoenix Society member.
Bob enjoyed hiking and in 2005, at the age of 69, he and several younger friends successfully climbed to the summit of Mount Washington, an elevation gain of almost 5000 feet.
He was a man of duty, integrity and responsibility, with a wry sense of humor.
He is survived by his first wife Maria, by his second wife Patricia, three children, and other family.
---
AFIO EDUCATIONAL EVENTS IN COMING TWO MONTHS....
Thursday, 26 August 2021, noon EDT - Tampa, FL - The Florida Suncoast AFIO Chapter hosts in-person luncheon to hear Michael Peck on "Drones, Computer Brains, and Hackers: Warfare in the 21st Century."
The Florida Suncoast AFIO Chapter is holding its next in-person meeting at the offices of Bleakley, Bavol, Denman & Grace, 15316 N Florida Avenue, Tampa, FL 33613. The offices are off I-275 just north of the Bearss Avenue exit. The program starts at noon.
Michael Peck, our featured speaker, is a prolific defense writer specializing in military technology, strategic issues and military history. Among many other publications, he is a contributing writer for Forbes. He will present "Drones, Computer Brains and Hackers: Warfare in the 21st Century," discussing the future of warfare, including technological trends such as autonomous weapons, cyberwarfare and artificial intelligence.
Cost: $15, cash or check. We are also testing limited online access to the meeting. If you are interested or to attend in person, please contact the Chapter Secretary at michaels@suncoastafio.org. You will need to complete some forms to attend. The reply deadline is noon on Thursday, 19 August.
Thursday, 2 September 2021, 6:30 pm - Virtual - San Antonio AFIO Chapter hosts Graham Plaster about his "The Intelligence Community, Inc."
The founder of "The Intelligence Community, Inc." [?] will make a presentation at this chapter virtual event. Graham Plaster, a Navy veteran, serial entrepreneur, national security technology startup advisor, investor, and Founder of The Intelligence Community Inc., will speak. He is the Editor in Chief for the Foreign Area Officer Association Journal, "International Affairs." His book, "In the Shadow of Greatness" is on the official reading list for the US Navy. Graham is a graduate of the US Naval Academy and resides near Annapolis with his family and two dogs, Bravo and Zulu.
Prior to the meeting we will send a link to this virtual meeting. This is a meeting you do not want to miss.
Questions or to register, contact John Franklin, President, AFIO San Antonio Chapter, 210 863-0430 or at satxafio@gmail.com.
Saturday, 11 September 2021, 11:30a - 1:30p - Indialantic, FL - In-person Luncheon by Florida Satellite Chapter featuring Capt John Byron USN on "Subs as Intelligence Platforms"
The AFIO Florida Satellite Chapter is holding an in person meeting featuring guest speaker Captain John Byron USN discussing "Submarines as Intelligence Platforms."
Location: Doubletree Hotel, 1665 North A1A, Indialantic, FL. Time 11:30 AM to 1:30 PM.
Fee: Sit down lunch for $30.00.
Reservation deadline: 7 September.
Contact Larry Sanford at afiofloridasatellitechapter@gmail.com or call 978-502-3328.
Friday, 8 October 2021, 11 am - 2 pm - In-Person Tysons Corner, VA - AFIO Luncheon featuring David Ignatius on "The Paladin" and Stephen Vogel on Traitor George Blake.
FOR YOUR CALENDAR. The first in-person AFIO National Luncheon for 2021 will take place on Friday, 8 October at DoubleTree Hotel, Tysons Corner. Event will feature David Ignatius discussing "The Paladin" or possibly another topic TBA. And the morning speaker, Stephen Vogel, discussing "Betrayal in Berlin" and traitor George Blake.
TO REGISTER: Registration link forthcoming.
VENUE: DoubleTree by Hilton, 1960 Chain Bridge Rd, Tysons Corner, VA 22182 Phone: (703) 893-2100. Directions at this link.
---
Other Upcoming Events from Advertisers, Corporate Sponsors, and Others
Thursday, 26 August 2021, noon EDT - Washington, DC - Curator's Corner: Ethel Rosenberg, An American Tragedy - International Spy Museum
In June of 1953, Ethel Rosenberg and her husband were executed for conspiracy to commit espionage for the Soviet Union. Evidence against Ethel was shaky, but she would not incriminate her husband to gain a lesser sentence. Participate with International Spy Museum Historian and Curator Andrew Hammond in conversation with Anne Sebba, the author of Ethel Rosenberg: An American Tragedy.
Following their discussion, you'll be able to ask questions via our online platform. Mike Meeropol, the son of Julius and Ethel, who has spent his life in pursuit of "the real story" behind his parents' secret lives, will join in for the Q&A portion of the program.
Event is free - registration required. Visit www.spymuseum.org.
Sunday, 29 August 2021, 2-3:30 pm EDT - Zoom Webinar - Shock & Awe from the Air: Planning & Executing the Desert Storm Air War by The Cold War Museum
Saddam Hussein Knows You're Coming, and He's Got Potent French-Designed Integrated Air Defenses
But Air Superiority Has to Be Total. How Do You Plan That? And How Do You Make It Happen? Hear and Ask the Two People in Charge of Those Two Things
Hear the story of the transformation of air power in the first Gulf War from two pioneers of the planning and execution of the Desert Storm Air Campaign.
Lt Gen Dave Deptula, USAF (Ret.) invented the master air-attack plan and wrote the attack plans for each day of the Desert Storm air campaign, using desired end-state effects as a planning mechanism by capitalizing on the technologies of stealth and precision in a fashion never applied in warfare before.
Col Al Mink, USAF (Ret.) deployed as the first bomber pilot from the Air Force's only wing of tactically-qualified and ready bomber forces. He served as initial cadre on the secret "black hole" team to plan the shape of the air campaign applying Gen Deptula's new campaign approach. He brought the fighter-approach of Air Tasking Orders to the nuclear bomber force. During combat operations, he coordinated the launch and refueling of the largest bomber strike in the war and flew 18-hour strike formations.
Cost: $20, 100% of which is a contribution
Agenda:
• 1:30-2:00. Participants arrive in the Zoom room online.
• 2:00-2:05. Jason Hall, Executive Director of the Cold War Museum, introduces the Museum, then Dave Deptula and Al Mink.
• 2:05-3:00. Dave and Al present on planning and executing the Desert Storm air war.
• 3:00-3:30. Q&A opportunity for the audience.
Questions? Call or email Jason Hall, 703-283-4124 (cell), jason@coldwar.org
To sign up, do so here on EventBrite.
Wednesday, 1 September 2021, 5:30pm - Washington, DC - License to Parent: Back to School with Christina and Ryan Hillsberg - Virtual International Spy Museum Program
What if you could draw on hard-earned experience and strategies from one of the world's most clandestine organizations to raise your kids? That's exactly what Christina Hillsberg (with some help from her husband and fellow spy/field operative Ryan Hillsberg) has done with License to Parent: How My Career as a Spy Helped Me Raise Resourceful, Self-Sufficient Kids. Spy Museum's Family & Youth Programs Manager Jessica Harvey and Director of Adult Education Amanda Ohlke will chat with Christina and Ryan about tips to prepare kids for tricky situations, how to teach kids to verify sources, and when it's okay to persuade them to select the cheesecake you secretly crave. Event is free - registration required. Visit www.spymuseum.org.
Thursday, 2 September 2021, 7:00pm - Washington, DC - 9/11 - The Intelligence Angle: Teacher Professional Development Workshop - International Spy Museum
September 11th, 2001: a day that is seared into the minds of millions and changed the course of history. Yet for students today, it is an event that is hard to grasp and understand. As the world approaches the 20th anniversary of the terrorist attacks, the International Spy Museum will host a virtual teacher professional development workshop to examine the crucial role intelligence played leading up to, during, and following the events of that fateful day. Join SPY's youth education team and Historian/Curator Dr. Andrew Hammond as they delve into declassified documents and provide teachers with a better understanding of intelligence in national security. Teachers will come away with classroom activities and resources to assist them in teaching this important and complex event in the nation's history. Designed for middle and high school teachers. Sponsored by the Diana Davis Spencer Foundation. Event is free - registration required. Visit www.spymuseum.org.
Wednesday, 8 September 2021, noon - Washington, DC - Curator's Corner: Osama bin Laden with Peter Bergen - Virtual International Spy Museum Program
As the 20th anniversary of 9/11 approached, Peter Bergen sought to reevaluate the man responsible for precipitating America's long wars with al-Qaeda and its descendants. Bergen produced the first television interview with bin Laden in 1997. He has had years to reflect on and study the man. Thanks to exclusive interviews with family members and associates, and documents unearthed only recently, Bergen has used the knowledge he has gained in the intervening years to craft his new book The Rise and Fall of Osama bin Laden where he captures all the dimensions of bin Laden's life - family man, zealot, battlefield commander, terrorist leader, and fugitive - to dissect his contradictions and legacy. Following their discussion of key issues, you'll be able to ask questions via our online platform. Event is free - registration required. Visit www.spymuseum.org.
Wednesday-Thursday, 8-9 September 2021 - Zoom Webinar - IMSE 2021 Conference on Illegal, Unregulated and Unreported (IUU) Fishing.
Indo-Pacific Maritime Security Exchange (IMSE). IUU Fishing has replaced piracy as the top global maritime security threat, according to the USCG commandant. The world's fish stocks are threatened by over and unregulated fishing. Countering IUU fishing is largely an intelligence problem. The IMSE two-day conference examines the problem of IUU fishing. The conference has assembled a rich and diverse program, and a distinguished group of speakers to include the vice commandant of the US Coast Guard, NOAA's regional administrator for the Pacific, representatives from the Pew Charitable Trust, Global Fishing Watch, The Nature Conservancy, and others from the State Department, Indo-Pacific nations and academic experts. Day 2 of the conference examines open source technologies used to counter IUU fishing, including imagery, RF, and SAR remote sensing from space to acoustics underwater; integrating disparate data; and the contributions of artificial intelligence and machine learning.
Registration required. Go to https://imsehawaii.org.
14 September 2021, 10am EDT - Zoom Webinar - Virtual Panel Discussion with Former Deputy Directors of National Intelligence as part of NCF's 25th Anniversary
The National Cryptologic Foundation is excited to announce the next NCF 25th Anniversary virtual program which features a panel of former deputy directors of national intelligence. Greg Myre, NPR National Security Correspondent, will serve as moderator for the program.
The program is free, but as with our other 25th Anniversary events and activities - we appreciate any and all donations as they will help to support our mission - especially our growing list of exciting education initiatives. Stay tuned as registration will open soon.
Who: National Cryptologic Foundation
What: 25th Anniversary September 14th Panel Discussion with Former Deputy Directors of National Intelligence: Confirmed panelists include: Gen Michael V. Hayden, USAF (Ret), Mr. Donald Kerr, and Ms. Stephanie O'Sullivan. This panel discussion will be moderated by: Greg Myre, National Security Correspondent, NPR.
When: 14 September 2021, 10-11:30 am EDT
Where: Virtual Program - offered via Zoom webinar (Once registration opens, your Zoom details will be in your confirmation email.)
*If you are unable to attend, please stay tuned to the NCF e-newsletter and social media for an announcement about the recording, once available.
Cost: Free. Donations Appreciated.
Contact: If you have questions about this program, please email ncfinfo@cryptologicfoundation.org.
Registration to Open Soon and will be at this link.
Thursday, 23 September 2021, 6:30pm - Washington, DC - Virtual Members-Only SPY themed Trivia Night - Virtual International Spy Museum Program
Join other members of the Spy Museum Inner Circle for an exclusive virtual trivia night. Test your knowledge with trivia centered around the International Spy Museum's history, exhibits, and fun facts. If you've visited the museum recently, you might have an advantage. Event is free and open exclusively to Spy Museum members. You can join SPY as a member online or by calling 202.654.2840. If you are a current member and have not received the link to sign up for this event, please email membership@spymuseum.org to register. Visit www.spymuseum.org.
14 October 2021, 8:15a to 2p - virtual and in-person - NCF General Membership Meeting (GMM) & Annual Symposium
SAVE THE DATE for the first hybrid (virtual and in-person) National Cryptologic Foundation General Membership Meeting. We are excited to be planning to gather in person again. The 2021 GMM & Annual Symposium will be held on 14 October and will be a hybrid event - offering options to attend virtually or in person. The program will be held at the CACI in the National Business Park. Seating will be limited and the program will be shorter in duration this year. Schedule: Check-in and breakfast from 8:15-8:45am; Program 9am-12pm; Lunch and Booksigning 12-1pm. Stay tuned for program details and registration will be available at this link.
Wednesday, 27 October 2021, 6 - 10 pm - Washington, DC - 30th (+1) Anniversary Gala and Chancellor's Dinner - Institute of World Politics
Save the date. Current timing of this in-person celebration is:
6:00 PM Cocktail Reception
7:00 PM Dinner
9:00 PM Dessert and Dancing
Location: The Mayflower Hotel, 1127 Connecticut Ave NW, Washington, DC
Additional details to follow
*Because this is an unusual year, if you are considering attending the 30th (+1!) Anniversary Gala, please fill out this form: iwp.edu/gala-survey
Wednesday, 1 December 2021, 5:30 PM VIP Reception / 6:30 PM Progressive Reception & Award Program - Washington, DC - 2021 Webster Distinguished Service Award Event - International Spy Museum
The Spy Museum offers an evening of intrigue for the 2021 Webster Distinguished Service Award event. The award is an opportunity to recognize the extraordinary contributions of individuals in the Intelligence Community. This year's awardee is The Honorable Susan M. Gordon, former principal deputy director of national intelligence. Previous recipients of the Webster Distinguished Service Award include President George H. W. Bush (2017), Admiral William H. McRaven, USN (Ret.) (2018), and Gen. Michael V. Hayden (Ret.) (2019). Webster attendee and sponsor support fuels the nonprofit mission of educating the public about the history and craft of espionage and intelligence through youth and adult programs, community service, and the care of the Museum's unique collection of artifacts for generations to come.
Event will be held at the International Spy Museum.
For tickets, sponsorship opportunities, or information about ways to support the International Spy Museum, please contact the development office at 202.654.2853. Event tickets, other details are available here.
---
In addition to the new Royal Blue long sleeve shirts, and the gray long sleeve hooded sweatshirts, the AFIO Store also has the following items ready for quick shipment:
LONG and Short-Sleeved Shirts with embroidered AFIO Logo and New Mugs with color-glazed permanent logo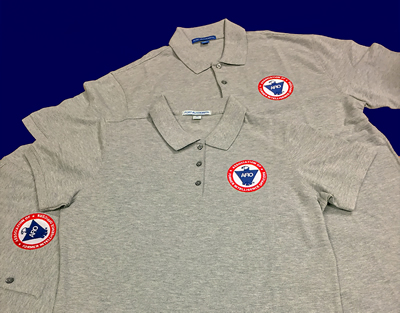 Show your support for AFIO with our new Polo Shirts. Be the first to buy these new, high quality, subtle heathered grey short sleeve shirts, and dark blue long sleeved shirts, of shrink and wrinkle resistant fine cotton with a soft yet substantial feel. They feature a detailed embroidered AFIO seal. Get a shirt for yourself and consider as gifts for colleagues, family, and friends. Only $45 each including shipping.
Sizes of (M) men or (W) women shirts; Small, Medium, Large, XL, XXL, and XXXL. At this time all orders will arrive as Short Sleeve shirts.
You may pay by check or credit card. Complete your order online here or mail an order along with payment to: AFIO, 7600 Leesburg Pike, Ste 470 East, Falls Church, VA 22043-2004. Phone orders at 703-790-0320. If interested in other shirt colors or sleeve lengths, contact Annette at: annettej@afio.com.
---
AFIO Mug with color glazed logo. Made in America. Sturdy enough to sit on desk to hold pens, cards, paperclips, and candy.
This handsome large, heavy USA-made ceramic mug is dishwasher-safe with a glazed seal. $35 per mug includes shipping. Order this and other store items online here.
---
Guide to the Study of Intelligence and When Intelligence Made a Difference
"AFIO's Guide to the Study of Intelligence" has sold out in hard-copy.
However, it is available in digital form in its entirety on the AFIO website here.

Also available on the website here are the individual articles of AFIO's history project "When Intelligence Made a Difference" that have been published to date in The Intelligencer journal. More articles will be forthcoming in future editions.
---
Disclaimers and Removal Instructions
Weekly Intelligence Notes (WINs) are commentaries on Intelligence and related national security matters, based on open media sources, selected, interpreted, edited and produced for non-profit educational uses by members and WIN subscribers.
REMOVAL INSTRUCTIONS: We do not wish to add clutter to inboxes. To discontinue receiving the WINs:
a) IF YOU ARE A MEMBER - click here: UNSUBSCRIBE and supply your full name and email address where you receive the WINs. Click SEND, you will be removed from list. If this link doesn't open a blank email, create one on your own and send to afio@afio.com with the words: REMOVE FROM WINs as the subject, and provide your full name and email address where you are currently receiving them.
b) IF YOU ARE NOT A MEMBER, and you received this message, someone forwarded this newsletter to you [contrary to AFIO policies]. Forward to afio@afio.com the entire WIN or message you received and we will remove the sender from our membership and distribution lists. The problem will be solved for both of us.
CONTENTS of this WIN [HTML version recipients - Click title to jump to story or section, Click Article Title to return to Contents. This feature does not work for Plaintext Edition or for some AOL recipients]. If you wish to change to HTML format, let us know at afio@afio.com. The HTML feature also does not work for those who access their e-mail using web mail...however NON-HTML recipients may view the latest edition each week in HTML at this link: https://www.afio.com/pages/currentwin.htm
---
WINs are protected by copyright laws and intellectual property laws, and may not be reproduced or re-sent without specific permission from the Producer. Opinions expressed in the WINs are solely those of the editor's or author's listed with each article. AFIO Members Support the AFIO Mission - sponsor new members! CHECK THE AFIO WEBSITE at www.afio.com for back issues of the WINs, information about AFIO, conference agenda and registrations materials, and membership applications and much more!
(c) 1998 thru 2021. AFIO, 7600 Leesburg Pike, Suite 470 East, Falls Church, VA 22043-2004. Voice: (703) 790-0320; Fax: (703) 991-1278; Email: afio@afio.com
---
About AFIO | Membership Renewal | Change of Address | Upcoming Events | Chapter Locations | Corporate/Institutional Memberships | Careers in Intelligence Booklet | Guide to the Study of Intelligence | Intelligencer Journal | Weekly Intelligence Notes | To Make A Donation | AFIO Store | Member-Only Section | Code of Ethics | Home Page
---