---
CONTENTS
Section I - INTELLIGENCE HIGHLIGHTS
Section II - CONTEXT & PRECEDENCE
Section IV - Research Requests, Jobs, Obituaries
Other Upcoming Events from Advertisers, Corporate Sponsors, and Others
For additional AFIO and other Events two+ months or more... Calendar of Events
WIN CREDITS FOR THIS ISSUE: The WIN editors thank the following special contributors: rsy, ec, po, pjk, mh, km, gh, mk, rd, fm, kc, jm, mr, jg, th, ed, and fwr. They have contributed one or more stories used in this issue.

The WIN editors attempt to include a wide range of articles and commentary in the Weekly Notes to inform and educate our readers. However, the views expressed in the articles are purely those of the authors, and in no way reflect support or endorsement from the WIN editors or the AFIO officers and staff. We welcome comments from the WIN readers on any and all articles and commentary.

CAVEATS: IMPORTANT: AFIO does not "vet" or endorse research inquiries, career announcements, or job offers. Reasonable-sounding inquiries and career offerings are published as a service to our members, and for researchers, educators, and subscribers. You are urged to exercise your usual caution and good judgment when responding, and should verify the source independently before supplying any resume, career data, or personal information.]
If you are having difficulties with the links or viewing this newsletter when it arrives by email, members may view the latest edition each week at this link.
---
Other items brought to our attention:
America After 9/11 - A Frontline Special

It has been nearly 20 years since Al Qaeda operatives carried out the deadliest terror attacks on America in the country's history, killing nearly 3,000 people and injuring thousands more. Today the complex legacy of the Sept. 11 attacks and the U.S.'s ensuing "war on terror" is still unfolding, from the bloody conflicts in Afghanistan, Iraq and beyond to division and distrust at home. Tonight at a special time — 9/8c — Frontline begins their new season with "America After 9/11," a re-examination of the decisions that transformed the U.S. and changed the world. With extraordinary access to key participants and decision-makers, this two-hour documentary from filmmaker Michael Kirk and his team traces the response to the terror attacks and, to them, triggered the compromises and consequences for American democracy across four presidencies.
9/11 ushered in an era of fear, mistrust, and division in America. Whether it was really 9/11, or aggressive U.S. policies which are destructive to national identity and cohesiveness, or other causes, has yet to be determined. This Frontline special presents one theory. Stream it here America After 9/11 - A Frontline Special
---
Inside Skunk Works, Lockheed's super-secret weapons facility
The world's largest defense contractor opens the gate to its aircraft factory in the desert. By Lee Hudson, Politico, 6 Sep 2021
Sixty-two miles north of Los Angeles, this desert town known as America's Aerospace Valley is home to one of the most secretive aircraft design and production programs on the planet. Few are allowed in, but the sky is littered with clues of the work being done behind the high fences topped with barbed wire. It's routine to spot a U-2 spy plane or a Janet 737, a highly classified fleet of aircraft used to shuttle military and contractors between Palmdale and places such as Area 51, the storied Nevada base. For just a few hours last month, Lockheed invited a select group of reporters to tour the massive facility, lifting the veil behind its magic workshop...(article continues here)
---
American Spies Are Fighting the Last War, Again
When the Cold War ended, the intelligence community failed to adapt. Today it faces a similar challenge. By Amy Zegart, 6 Sep 2021, The Atlantic.
Twenty years ago, al-Qaeda hijackers carried out the worst-ever terrorist attack on American soil, killing nearly 3,000 innocents, terrifying the nation, and forever changing the course of history—ushering in America's wars in Afghanistan and Iraq. Yet September 11 was also something else: our worst intelligence failure in more than half a century. It was a surprise attack that should not have been a surprise. The agonizing truth is that American intelligence agencies saw the danger coming but failed to stop it because they were hardwired to fight a different enemy from a bygone era. My research found that when the Cold War ended and the threats shifted in the 1990s, America's intelligence community failed to adapt. Today, we face a similar challenge. Since 9/11, spies have become adept at countering al Qaeda but al Qaeda is no longer the overarching problem it once was. The global threat landscape has become much more crowded and complex, encompassing escalating cyberattacks, a rising China, Russian aggression, nuclear proliferation in Iran and North Korea, the fallout from climate change, and more. And once again, spy agencies are struggling to keep up. Article continues here
---
Documentary: FIRST IN: CIA vs bin Laden

The Inside Story of the Ten Year Hunt for Bin Laden
From the first CIA officers from the Special Activities Division that set boots on the ground in Afghanistan 15 days after 9/11, until the night bin Laden was killed by Seal Team 6 under the direction of CIA, discover the secrets of the hunt for the most wanted terrorist in history. How did CIA know who was behind the attacks so quickly? How did bin Laden manage to escape Afghanistan while he was surrounded? How did CIA pick up his trace years later? Who helped him? Who fought him? What lines have been crossed? These are all the questions that we will answer frankly, thanks to the collaboration of the largest and most secret Intelligence agency in the world.
Features: FIRST IN - Phil Reilly, Jawbreaker Team-CIA; THE CLOSER - Mark Kelton, COS Pakistan; THE HUNTER - Jose Rodriguez, Director CTC.
View trailer here. More about the production here.
Kelton: "Honor the dead...and then finish the fight."
---
Documentary: 26th Street Garage: The FBI's Untold Story of 9/11 - by Paramount+/CBS starting September 9.
FBI agents recall evacuating their New York headquarters near the World Trade Center. When the towers collapsed, agents turned their automotive garage into the Bureau's new command center to investigate the deadliest terror attack on American soil in the documentary "26th Street Garage: The FBI's Untold Story of 9/11," streaming on Paramount+ starting Thursday, September 9.
Inside the FBI's unlikely nerve center for the 9/11 investigation: The 26th Street garage
By Anne Beagan (former FBI), 7 September 2021, CBS NEWS
Within hours of the 9/11 attacks, we were forced to quickly identify and then staff an unlikely nerve center for what would become the largest investigation in the Bureau's history.
That morning, we had to evacuate our offices at 26 Federal Plaza — just blocks from the World Trade Center. The offices were uninhabitable, all communications were down in lower Manhattan and we were unsure if another attack loomed.
As the lead investigative agency, we needed to move fast.
Options were limited and the clock was ticking. We settled on setting up shop in the Bureau's automotive garage on 26th Street and the West Side Highway. Cars were pulled out mid-repair, and computers and phone lines quickly installed. We worked on card tables and folding chairs and in some cases, the hoods of cars not yet pulled out doubled as desks. The smell of gas and oil hung over everything. It wasn't ideal — but it worked. It was a nondescript structure, it was secure and a short trip to Ground Zero.
Preview: "26th Street Garage: The FBI's Untold Story of 9/11"
---
Lessons Learned...? Until the next time?
Learning the Right Lessons from the Afghan War - a report by Anthony H. Cordesman, Emeritus Chair in Strategy, CSIS

The U.S. has a poor history of making effective efforts to learn the lessons of its recent wars, and it is already focusing on other strategic issues and the crises that are following the collapse of Afghanistan. It will be all too easy for U.S. policymakers and Congress to ignore the need to learn from the preceding twenty years of conflict and to fail to preserve the data and institutions necessary to learn as much from the war and the collapse of the Afghan government and forces as possible. The examination needs to focus on why the war ended with so many sudden Taliban gains, what lessons need to be drawn from each major phase of the war, and how the U.S. can act more effectively in the future. A valid analysis must look at the entire course of the war, each major decision or action that limited the chances of victory over a twenty-year period, and their cumulative consequences – rather than focusing on the final years and months of U.S. withdrawal. Report continues here...
---
The Arkin Group's Sep 3 "In Other News" letter to private clients by former Deputy Director, Operations Officer Jack Devine features...
Taliban navigates transition from political movement to national government in high stakes, volatile environment.
Qatar is uniquely well-positioned to play a role in Afghanistan's future.

Follow link here to read analyses and predictions given to their private clients on the topics above.

Jack Devine's Spymaster's Prism was released earlier this year. The book has just been released on audio from Tantor or Amazon. AFIO's interview with him about this book appears at this link. Or hear the podcast here.
---
The Latest... from Jeff Stein's "SpyTalk" series...
Sep 3: "Kabul's loss and a new 9/11 terror warning" by Jeff Stein and Craig Whitlock
Craig Whitlock discusses the CIA's place in 'The Afghanistan Papers,' while Coast Guard Commandant Karl Schultz addresses readiness for a 9/11 terror p...

Sep 2 "Now, for the Accountability" by Jeff Stein
The CIA and FBI also need a reckoning now that Kabul is gone. Two new startling insider accounts offer a roadmap.

Aug 26: "Spying After Kabul: The Human Factor" by Jeff Stein
Penetrating the Taliban, Al Qaeda and ISIS-K is nigh impossible now, a CIA veteran tells us

Readers, for a brief time, can subscribe for free for articles and weekend podcasts here.
---
Inside the SCIF:
Inside the SCIF by JJ Green, WTOP - A special abbreviated "Kabul" Issue #128, 2 Sep has details on 14th Lennart Meri Conference - N and E Europe; Brett Bruen, Jake Sullivan, and the NSC; Covid-19 Disinfo; UK Sanctions Seven Russians over Poisoning; Intel Sharing Post-Afghanistan Debacle; Taliban and Biometric Devices Left Behind; and more.

Target USA Podcast 292 is on: The Afghan Diaries: Part Two
Douglas Dreyer describes himself as an ordinary American trying to do the right thing. What he's doing is trying to help several Afghan friends get out of Afghanistan. And it's not going so well.

And "The Hunt" explores: Are the Taliban and ISIS really enemies?
The U.S. military has officially left Afghanistan. Can the Taliban control the other terrorist groups? J.J. Green speaks with Dr. Hans Jakob Schindler, senior director at the Counter Extremism Project, who says they may not want to. e.g., The Enemy of my Enemy is my friend.

---
---
REGISTER FOR OUR FIRST POST-PANDEMIC IN-PERSON LUNCHEON

Friday, 8 October 2021, 11 am - 2 pm
- In-Person Tysons Corner, VA -

The first in-person AFIO National Luncheon for 2021 will feature
Seth Jones on his latest book Three Dangerous Men: Russia, China, Iran and the Rise of Irregular Warfare
and Stephen Vogel on Traitor George Blake from his book, Betrayal in Berlin.

Special health precautions will be instituted. Event restricted to 90 attendees to allow spacing of only 4 seated at each table. Proof of vaccination required. Masks required except while eating.




REGISTER HERE

VENUE: DoubleTree by Hilton, 1960 Chain Bridge Rd, Tysons Corner, VA 22182 Phone: (703) 893-2100. Directions at this link.
---
Released last week to members-only...
The first battle after 9/11 in Mazār-i-Sharīf, Afghanistan,
which resulted in the death of CIA Officer Johnny Micheal Spann

Released 24 August 2021
Mark E. Mitchell
Former Director for Counterterrorism, National Security Council
and Principal Deputy Assistant Secretary of Defense
for Special Operations/Low-Intensity Conflict
Interview of Tuesday, 29 June 2021 of Mark E. Mitchell, Former Director for Counterterrorism on the National Security Council and Former Principal Deputy Assistant Secretary of Defense for Special Operations/Low-Intensity Conflict; Host: James Hughes, AFIO President and a former CIA Operations Officer.
TOPIC: Mark Mitchell discusses the first battle after 9/11 which occurred in Mazār-i-Sharīf, also called Mazār-e Sharīf, or just Mazar, the fourth largest city in Afghanistan. An uprising during the battle of Qala-i-Jangi — to overthrow the Taliban's Islamic Emirate of Afghanistan, which had been harboring al-Qaeda operatives — resulted in the death of Johnny Micheal Spann, an American paramilitary operations officer in the CIA's Special Activities Division. Spann was the first American killed in combat during this late 2001 U.S. invasion of Afghanistan. As Mitchell explains, Spann died at the Qala-i-Jangi fortress during a Taliban prisoner uprising. Mitchell describes what these early days involved as US Special Forces were brought in to treacherous terrain — human and geographic — in Afghanistan. Mitchell met up with CIA Alpha Team already in country, and later captured US-born traitor, John Walker Lindh, who admitted he was aiding the Taliban (and later sentenced to 20 years in prison in 2002).
The presentation runs 40 minutes.
Access the Mitchell Interview here or click above image.
---
Prior Videos in the "AFIO Now" Series
View the publicly-released ones on our YouTube page, or listen to the podcast version at the links below.
PODCASTS: AFIO NOW content is also available on various podcasting platforms. Search for 'AFIO Podcast' for a selection of public released videos on Podbean; iTunes; Google; Spotify; Amazon Music; Amazon TuneIn + Alexa; iHeartRadio; and Pandora
Or log into the Member-only area to view private and public interviews.
---
---

REGISTER TO ATTEND
Tuesday, 14 September 2021, 10 - 11:30 a.m. EDT - Zoom Webinar Event
Virtual Zoom Webinar panel discussion with Former Principal Deputy Directors of National Intelligence.
Speakers: Gen Michael V. Hayden USAF(Ret), Dr Donald Kerr, Stephanie O'Sullivan; Moderator Greg Myre of NPR.
No charge to attend. Register here. More information at cryptologicfoundation.org

Details on the Virtual Education Programs of the National Cryptologic Museum Foundation are available here Other NCF Events can be found here on NCF website here, and CCH website here.
---
---
---
Newly Released, Overlooked, or Forthcoming Books
Our Biggest Experiment: An Epic History of the Climate Crisis
by Alice Bell
(Counterpoint, Sep 2021)
Shines spotlight on the little-known scientists who sounded the alarm to reveal the history behind the defining story of our age: the climate crisis.
In 1856, American scientist and women's rights activist Eunice Newton Foote first warned the world that an atmosphere heavy with carbon dioxide could send temperatures here on Earth soaring. No one paid much attention.
Bell provides the stories of the many scientists who helped build our modern understanding of climate change. It also tells the story of our energy system, from whale oil to kerosene and beyond, the first steamships, wind turbines, electric cars, oil tankers, and fridges. From the Enlightenment into WW II and later, tracing the development of big science and our advancing realization that global warming was a significant global problem. Chronicles the growth of the environmental movement, climate skepticism, and political systems such as the UN climate talks.
As citizens of the twenty-first century, it can feel like history has dealt us a bad hand with the climate crisis. In many ways, this is true. Our ancestors have left us an almighty mess. But they left us a few tools for survival.
Book may be ordered here.
---
Climate Chaos: Lessons on Survival from Our Ancestors
by Brian Fagan, Nadia Durrani
(PublicAffairs, Sep 2021)
A long look back at human interactions with changing climate issues in the past. Can we survive climate change? This book suggests that a few will, but not many. And it won't be easy.
A 30,000-year history of the relationship between climate and civilization that teaches powerful lessons about how humankind (some) might survive. Human-made climate change may have begun in the last two hundred years, but our species has witnessed many eras of climate instability. The results have not been pretty. From Ancient Egypt to Rome to the Maya, some of history's mightiest civilizations have been felled by pestilence and glacial melt and drought.
The challenges are greater today. We face hurricanes and megafires and food shortages, invasions and unwanted migrations by the desperate, and more. We can now reconstruct seasonal weather going back thousands of years and see how people and nature interacted. Will that help us in a more complicated, crowded world? Unlikely; however, the lesson is clear: the societies that survive are those that plan ahead. Perhaps ruthlessly.
Book may be ordered here.
---
Space Force!: A Quirky and Opinionated Look at America's Newest Military Service
by Taylor Dinerman
(Permuted Press, Sep 2021)
The US Space Force has a noble mission—to protect America, to support our allies, and to support our nation's interest as we, along with other nations, move out into the little patch of the universe that is our home system.
The desire to establish a US Space Force has been around for decades, in both science fiction and in the minds of people who attempt to seriously consider what our nation needs in order to deter future wars (and if necessary, to fight and win them). As an institution, the US Space Force has gotten off to a shaky start; however, space writer Dinerman has great confidence that someday soon, it will find the right leadership and eventually be emancipated from the Department of the Air Force. At that point, the institution can begin to truly serve the great cause of creating a spacefaring civilization—as it was always meant to.
Book may be ordered here.
---
---
One of the special benefits of membership in AFIO: access to CIA's inhouse gift shop — the EAA Store.

It requires a quick preapproval process described here to all newly joined and current AFIO members. And then allows you to purchase online their unusual logo'd gift items for self or colleagues. At left is the latest photo EAA released on Sep 3 featuring some of their newest items.



---
---
Visit, Follow, Subscribe to AFIO's LinkedIn, Twitter, and YouTube pages to receive updates.
Members who use social media or wish to explore, will find new announcements and other material on AFIO's Twitter and LinkedIn pages. New videos on our YouTube page appears below as well.
Access them here: LinkedIn, Twitter, and YouTube. By following or subscribing on those sites, one can be notified as new material appears.




PODCASTS: Are you too busy to sit and watch an entire "AFIO Now" episode above on YouTube? Would you rather listen in your car or while accomplishing other tasks? Now you can quickly download or stream episodes on your favorite podcasting platform. AFIO is now available on 8 podcasting platforms. Search for 'AFIO Podcast' for a selection of the interviews above (public released ones) on Podbean; iTunes; Google; Spotify; Amazon Music; Amazon TuneIn + Alexa; iHeartRadio; and Pandora.
---
Intelligence Matters: A CBS News original national security podcast hosted by former CIA acting director and CBS News national security contributor Michael Morell


A few recent "Intelligence Matters" podcasts to stream or download:

Sep 1 | Remembering 9/11 Part 4: Sandy Winnefeld
In the fourth installment Michael Morell speaks with Adm. James "Sandy" Winnefeld, former Vice Chairman of the Joint Chiefs of Staff and Commander of the USS Enterprise on September 11, 2001. Winnefeld and Morell discuss the moment the crew became aware of the attacks and how the decision was made to turn the massive aircraft carrier around to position it within striking distance of Afghanistan. Winnefeld also describes his message to the crew ahead of their engagement in the first strikes of the war. Morell and Winnefeld exchange views on recent developments related to the U.S. military drawdown in Afghanista
Aug 25 | Remembering 9/11 Part 3: Winston Wiley
In the third installment host Michael Morell speaks with Winston Wiley, the CIA's most senior analyst on 9/11, about his experience on that day. Wiley and Morell discuss the CIA's pre-9/11 focus on al Qaeda how the agency immediately surged resources to counterterrorism efforts after the attacks occurred. They also discuss recent developments in Afghanistan, including the Taliban's takeover of Kabul.
Aug 18 | Remembering 9/11 Part 2: Andy Card
In the second installment host Michael Morell speaks with Andy Card, who served Chief of Staff to President George W. Bush on the day of the September 11, 2001 attacks. Card and Morell walk through the moments that senior officials traveling with the president learned of the planes striking the towers, and the president's reaction upon being informed the country was under attack. They also discuss the tense moments aboard Air Force One in the immediate aftermath of the attacks, as the U.S. government rushed to identify additional threats and to plot a course forward.
Aug 11 | Remembering 9/11 Part 1: Stephen Hadley
In the first installment host Michael Morell speaks with Stephen Hadley, who served as deputy national security advisor to President George W. Bush on the day of the September 11, 2001 attacks. Hadley and Morell walk through the reactions and responses of White House officials who scrambled to understand the scope and origin of the attacks in real time. They also discuss President Bush's early instructions to government agencies and his messages to the shocked and grieving nation.
More about Intelligence Matters by Michael Morell here. Podcasts also located here.
---
Cyberblog by Steptoe & Johnson LLP
Episode 372: Blockchain and Cryptocurrency Regulatory Roundup
By Stewart Baker and Alan Cohn on 24 Aug 2021 02:40 pm
Blockchain takes over the cyberlaw podcast again! This episode of the cyberlaw podcast is a roundtable discussion of the various new regulations that have been brought into effect in the latter part of 2020 and the first half of 2021. There was a flurry of last-minute rulemakings at the end of the previous administration, many... Continue Reading
Recent Articles:
Episode 371: Fighting Ransomware by Pushing All the Buttons on the Dashboard
Episode 370: Should We Add "Jumping U.S. Red Lines" to the 2021 Olympics?
New York DFS Issues Guidance on Ransomware Prevention and Response
Colorado Becomes Third State to Adopt a Comprehensive Privacy Law
Episode 369: This Episode Could Be Worth $1,000 To The ACLU — Ransomware and Florida's deplatforming law
---
The Spies of Georgetown Walking Tours
Enjoy walks through the scenic Georgetown neighborhood with a former CIA officer. Learn about the pivotal role the residents here played in the WWII era. These pre- and post- war influencers played friend and foe alike to the Soviets. Learn more about the origins of the CIA, and the life of an operative shared through curated (and unclassified) real-life stories. We'll visit the former homes of William "Wild Bill" Donovan, William Colby, Roald Dahl, and Alger Hiss and see places linked to the espionage activities of Elizabeth Bentley, and Vitaly Yurchenko.
Along the way, participants will be asked to put on their spy hats and consider the role of surveillance in an operative's daily life.
Other things to note:
- This event will take place rain or shine. In the event of thunder/lightening, the event will be cancelled and guests will be issued a full refund and be encouraged to reschedule. A determination on cancellation due to thunder/lightning will be made no later than 2 hours prior to the event. Cancellations will be communicated through the app.
- This event is interactive. Be prepared to participate!
This 1.5 hr walking tour begins in northwest Georgetown and crosses over Wisconsin Ave. to northeast Georgetown and then south towards M Street. We spend most of the tour away from the hustle and bustle of Wisconsin Ave. and M Street, in quieter neighborhoods that have remained timeless. Please note we will end at Martin's Tavern on Wisconsin, away from the starting point.
Dates available: Tue 14 Sep 5-6:30pm; Sun 19 Sep 10-11:30am; Tue 21 Sep 5-6:30pm; Tue 28 Sep 5-6:30pm.
Explore the tours here. Or immediately book your tour at this link.
---
---
Section I - INTELLIGENCE HIGHLIGHTS

Israel Promotes Spy Pollard's Recruiter to Brigadier General. Israeli Defence Minister Benny Gantz approved the promotion of Aviem Sella, who recruited American spy Jonathan Pollard 30 years ago, local media reported yesterday.

The Israeli army said in a statement that the former Israeli Air Force officer Sella was promoted to Brigadier General upon the recommendation of the chief of the Israeli Air Force and the approval of the Chief of Staff Aviv Kohavi and Defence Minister Benny Gantz.

During his last days in office, former US President Donald Trump pardoned Sella, who is a former intelligence analyst in the American marines. [Read more: MiddleEastMonitor/2September2021]

Uganda: Cmi Arrests University Don Over Spying Claims. A university don was arrested yesterday in Kampala on suspicion of spying for a foreign country and working in the country illegally.

A joint security team from the Chieftaincy of Military Intelligence (CMI) and Police Crime Intelligence Directorate arrested Dr Lawrence Muganga, the Vice Chancellor of Victoria University, and his personal assistant, whose identity remains unconfirmed.

"He is being held on allegations of espionage," Uganda People's Defence Forces (UPDF) spokesperson Brigadier Flavia Byekwaso said. [Read more: Bagala/AllAfrica/3September2021]

Pentagon Extends Intelligence Agency Program That Helps Track Wildfires. The Pentagon said that it plans to extend a pilot program that provides imagery from satellites, drones, ground sensors and cameras to help track and combat wildfires.

The National Geospatial Intelligence Agency (NGA) started the program in 2019, developing a tool that maps the location and shape of fires. Under this project, NGA provides firefighting agencies updated maps in 15 minute intervals on areas where fires are rapidly spreading.

The project, dubbed 'Firefly', was first used by the State of California and the California National Guard in 2019. The US Forest Service in 2020 asked the Department of Defense (DoD) to make this service available nationwide. "Recognizing the continuing value of the pilot program, DoD recently approved an extension of Firefly support, through September 2022," said Pentagon spokesman John Kirby. [Read more: GeospatialWorld/7September2021]

Somali PM Suspends Intelligence Chief Amid Political Rift. Somalia's prime minister suspended the intelligence chief on Monday, prompting a public rebuke from the president and highlighting growing divisions at the heart of the political elite.

The suspension - triggered by a dispute over investigations into an unsolved murder - followed months of wrangling that have threatened to further destabilise a country already riven by militant attacks and clan rivalries.

Prime Minister Mohammed Hussein Roble said he had told Fahad Yasin, the director of Somalia's National Intelligence Service Agency (NISA), to step aside for failing to deliver a report on the murder of one of the agency's agents. [Read more: Reuters/6September2021]

US Intelligence Chief Intervenes to Block State Secrets in Saudi Crown Prince's Feud with Former Saudi Official. The US Director of National Intelligence has made an extraordinary intervention in a federal court case brought against a top former Saudi intelligence official, invoking the rarely used state secrets privilege to stop classified information from coming out that could cause "exceptionally grave" harm to US national security.

The declaration by Director Avril Haines was submitted on Friday to the Massachusetts District Court and says it is "based upon my own knowledge" of what could be revealed in the civil case brought by a state-owned Saudi holding company against former Saudi counterterrorism official Saad Aljabri, who claims Saudi Arabia's Crown Prince has tried to kill him and whose children are being held in the Kingdom.

Last month, the Department of Justice said it would intervene in the case against Aljabri - and two of his sons - because allowing it to proceed unchecked could lead to "the disclosure of information that could reasonably be expected to damage the national security of the United States." [Read more: Marquardt/CNN/2September2021]


---
Section II - CONTEXT & PRECEDENCE

Married Kremlin Spies, a Shadowy Mission to Moscow and Unrest in Catalonia. In the spring of 2019, an emissary of Catalonia's top separatist leader traveled to Moscow in search of a political lifeline.

The independence movement in Catalonia, the semiautonomous region in Spain's northeast, had been largely crushed after a referendum on breaking away two years earlier. The European Union and the United States, which supported Spain's effort to keep the country intact, had rebuffed the separatists' pleas for support.

But in Russia, a door was opening. [Read more: Schwirtz&Bautista/NYTimes/3September2021]

Meet Amrullah Saleh: The Face of the Afghan Resistance Against the Taliban and One of the Fiercest Critics of Pakistan. Even after twenty years of long-drawn-out war, Afghanistan remains at the cusp of a crisis as the US forces unceremoniously pull out of the country, leaving helpless Afghans at the mercy of their radical Taliban rulers.

The situation came to pass after Kabul fell to the Taliban on the 15th of August as President Ashraf Ghani made a run from the country. In a blitzkrieg, the Taliban managed to capture the whole of Afghanistan in a matter of few weeks following the US president Joe Biden's announcement that he would honour the withdrawal agreement signed by his predecessor Donald Trump. The speed at which the Afghan Government collapsed came as a shock to many, with Afghan soldiers leaving the force to join the ranks of the Taliban.

With the president having already fled to the United Arab Emirates and scores of Afghan soldiers either surrendering or joining the Talibani ranks, it seemed like the Taliban wouldn't face any credible resistance in overthrowing the last vestiges of the Afghan government and establishing its supremacy in the country.

Panic and chaos gripped the country, with thousands of people streaming to the Kabul airport fearing the return of the oppressive rule reminiscent of the Taliban rule in the late 90s. Just when it appeared that the Taliban rule is imminent and unchallenged, the Vice President of Afghanistan under the Ashraf Ghani government, Amrullah Saleh, stepped up to the plate and decided that he would not go down without giving a fight to the fundamentalist group. [Read more: Jain/OpIndia/1September2021]

Politics, Terrorism and Cyberattacks: The Challenges Facing Israel's New Shin Bet Chief. Prime Minister Naftali Bennett has named the current deputy director of the Shin Bet security service as the domestic security agency's new director, pending the approval of the committee that vets all senior public service appointments and the cabinet. Bennett announced the appointment Wednesday.

The appointee's full name and photograph are prohibited from publication until the confirmation process is completed. Until then, he will be known only as R.

In his new role, R. will face at least three main challenges: maintaining the Shin Bet's independent and apolitical status; preventing an escalation of terrorism against Israel, chiefly Palestinian terrorism; and thwarting espionage and cyberattacks. [Read more: Harel/Haaretz/1September2021]

Podcast: Sue Gordon and John McLaughlin on Intelligence and the Afghanistan Withdrawal. Many questions involving intelligence and Afghanistan have come up in the past few weeks. Did intelligence prepare policymakers for the rapid collapse of the Afghan forces and the Taliban's taking of the capital? How unusual is it for a CIA director to visit a de facto war zone - in this case, Bill Burns to travel to Kabul to meet with Taliban leaders? What's the context for intelligence sharing with the Taliban? To tackle these issues, David Priess sat down with Sue Gordon, who for two years during the Trump administration was the principal deputy director of national intelligence after decades of service at the Central Intelligence Agency and the National Geospatial-Intelligence Agency, and John McLaughlin, who served as the acting director of Central Intelligence and the deputy director during the George W. Bush presidency, after a career as an analyst, manager and executive in the CIA. [Listen here: Howell/Lawfare/3September2021]


---
MASSEY: 'TURИ: Washington's Spies' Well Worth Watching. Something hit me after writing my review of "Hollywood History" - I forgot to mention the television series, "TURN: Washington's Spies." The series originally aired on the AMC network for four seasons, from April 2014 to August 2017. It is based on Alexander Rose's book, "Washington's Spies: The Story of America's First Spy Ring." It is a history of the Culper Ring, one many have heard of but few know much about.

The Blanks sisters and I were at Mount Vernon in 2017 where they were promoting the program in the visitors center, the gift shops, and even had a kids spy program to explore and earn prizes. When we arrived back home, we made it an every evening affair to get together and dine while watching "TURN." It was that good. We would even go back and rewatch parts to catch what we missed. This past winter, Caroline and I rewatched the entire series. It is that good.

This program is as historically accurate as you're going to get but If you want a legitimate and well-researched breakdown of the Culper Spy Ring, I would suggest reading Rose's "Washington's Spies: The Story of America's First Spy Ring." One of the great mysteries is just who was number 355 on the Culper spy list? It was a woman, there has been much speculation, but nobody really knows for sure.

Still to this day, there is much of the Culper ring shrouded in mystery. [Read more: Massey/GreenvilleSun/3September2021]

South Africa: How Seriously Should We Take the Claim of a Possible Chinese Spy in Parliament? When News24 broke the news on Wednesday that local spooks had determined that ANC MP Xiaomei Havard might be a Chinese spy, there were two general categories of responses.

The first was, in essence: "Obviously".

The second was to express disbelief - purely on the grounds that if Xiaomei Havard has indeed been sent into the ANC parliamentary caucus to spy for the Chinese government, she seems a very silly choice. To say that she sticks out is to employ massive understatement, as witnessed by the fact that her arrival in Parliament has caused ongoing expressions of Sinophobia and confusion.

But even if the Sinophobia should be condemned, the confusion is valid. [Read more: Davis/DailyMaverick/1September2021]

Opinion: It's a Real Possibility That Our Next 9/11 Could Arrive From Within. For many Americans, the first searing image of terrorism was not of jets plunging into Manhattan skyscrapers or a smoldering Pentagon but of a heroic firefighter cradling a soot-covered, lifeless infant in Oklahoma City.

Two White men - both Americans - had blown up a federal office building.

Domestic terrorism - fueled by government-hating extremists - awakened the nation in April 1995. And as the United States prepares to commemorate the 20th anniversary of the Sept. 11 attacks, we must confront the real possibility that our next 9/11 could arrive from within. We must resist the urge to see the horrific suicide attacks in Afghanistan in August - and the apparent reemergence of the Islamic State and al-Qaeda - as a reason to return to dated strategies and tactics.

As someone who has worked on national security issues in the U.S. government for more than a decade, I've concluded that the U.S. "war on terror" launched in the wake of 9/11 has left us unprepared for the domestic threat that grows by the day. [Read more: Blazakis/WashingtonPost/6September2021]

A Responsive Launch Capability Will Deter Enemies, Boost National Security. In 2019, shortly after my tenure as director of the U.S. National Geospatial-Intelligence Agency, a Russian satellite began to surreptitiously shadow one of our reconnaissance satellites. At times it edged within 100 miles of our satellite, which is tantamount to tailgating in the space domain. The capabilities and intent of the Russian system remain unclear. Unintentional or not, it was the first time the Department of Defense publicly revealed an adversarial on-orbit threat.

This "close call" also illuminated a distinct vulnerability in our doctrine and planning: We lacked the means to rapidly reconstitute our critical, space-based capabilities. Fortunately, the Pentagon has taken stock and is beginning to lean in. The U.S. Space Force, the Defense Advanced Research Projects Agency, the Space Development Agency and others are developing and deploying a resilient space architecture, exploring concepts such as satellite protection, proliferation and redundancy, as well as more fully embracing the innovation of the commercial space sector.

That vibrant, innovative portion of our broader ecosystem is stepping up to the challenge. [Read more: Cardillo/DefenseNews/3September2021]


---
Section IV - Research Requests, Jobs, Obituaries
Searching for Panelists - Society of Military History 2022 Annual Conference
From Philip Shackelford: I am looking to put together a panel revolving around airpower, intelligence, or early Cold War - ideally a combination of the three - for the 2022 Society of Military History (SMH) annual conference, taking place in Fort Worth, TX April 28 - May 1, 2022. SMH is an international society focused on "stimulating and advancing the study of military history."Learn more here.
My email is pshackelford@southark.edu, and I'm happy to put together the required proposal paperwork, etc. Let me know if you are interested and feel free to share with others.
Seeking Former CIA Officers who knew Abu Bakr al-Baghdadi, others in ISIS, to assist Israeli Journalist with Documentary
My name is Hadar Gat, I'm a journalist from Israel, currently working on the second season of a documentary series about the most influential Arab leaders in the middle east.
It's an international production, broadcasted on Kan Israeli channel (IPBC).
The documentary series provides a profound profile analysis of leaders in the Arab world, and is one of the leading document series of IPBC.
Each episode is covering the history and profile of a different leader, and reviewing his personality and actions from every aspect possible. Especially the way he was grasped through the eyes of different Intelligence agencies.
I'm contacting [AFIO] because in one of the episodes we are focusing on Abu Bakr al-Baghdadi, and ISIS itself. Therefore, we wish to interview former CIA officers or agents who are relevant to that matter. I'm available for any questions and more details, so feel free to contact me at any time.
Looking forward to hearing from you.
Replies to Hadar Gat, 972-50-4800-306 or hadargat8@gmail.com
US-China co-operation against the Soviets in the 1980s. Seeking Intelligence Officers who worked in Western China on joint monitoring stations dedicated to Soviet missile sites
Jane Perlez, the NYTimes bureau chief in Beijing, is seeking officers who worked in China on the joint monitoring stations in Western China that were dedicated to the Soviet missile sites. It is for a podcast that deals with the China-US opening by Richard Nixon. The program, run in part by the Science and Technology division, featured in the excellent book "The Wizards of Langley" by Jeffrey Richelson, "The Great Wall" by Patrick Tyler, and in some press accounts.
To respond, email her at janeperlez@gmail.com; twitter: @janeperlez; +1-646 884 4949
ISO former CIA officers w/ Czech experience
I'm the daughter of Dagmar Stapleton who worked on the Czech desk from around '74 to '94. Am hoping to talk with former Prague case officers, station chiefs, deputy station chiefs from that time period for a research project.
Please contact me at viveca.novak@gmail.com. [Viveca Novak is an American journalist who has worked as the editorial and communications director at the Center for Responsive Politics since 2011. She was previously a Washington correspondent for Time and The Wall Street Journal. She is a frequent guest on CNN, NBC, PBS, and Fox.]
Researcher Seeking Your Experiences Working in Western North Carolina on DoD/NSA Rosman Research Station in 1980s.
I'm Craig Gralley, a 34-year veteran of CIA and currently a freelance writer in the Brevard, NC area. I'm also a volunteer at PARI - the Pisgah Astronomical Research Institute in nearby Rosman. PARI is now dedicated to STEM education and research, but has had a storied history that is largely unknown to the people of this mostly underserved area of rural North Carolina. I have volunteered to write PARI's history. NASA first constructed the site in 1962 as a ground station for a variety of unmanned scientific satellites. AFIO members might remember when DoD/NSA took over the site in 1981 and called it the Rosman Research Station (NSA's participation at the site was declassified nearly a decade ago). NSA gave up the site in 1995.
I am receiving NSA's support through a FOIA request to declassify more information about the facility. My goal is to make this history less about satellites and their capabilities and more about what it was like working in a remote location in western North Carolina. Personal stories, things that could have gone wrong but didn't (or did), success stories—humorous/serious anecdotes—all of it is welcome. My goal is to take the edge off of a dry history and give the Rosman ground station a human face.
I'd be glad to attribute anything that comes to me in the way desired by the contributor.
Thanks for your help.
REPLIES to Craig R. Gralley, 703.581.3440 (mobile), craig.gralley@gmail.com. More about Craig at www.craiggralley.com
Seeking Officials Who Served USSR/Russia 1965-2015 and Other Posts - with knowledge of, or exposure to, Microwave/Directed Energy Weapons
Prominent D.C. Attorney seeking former intel officers or others who served in USSR/Russia during 1965-2015, as well as anyone who has information concerning possible microwave/energy directed weapon exposure of U.S. officials by foreign adversary.
Replies to Mark S. Zaid Esq, mark@markzaid.com. Or call him at (202) 454-2809.
More information about Mr. Zaid at MarkZaid.com.
---
Dick Niemela, Test Pilot
John Richard Niemela, Col USAF(Ret), 92, died 28 August 2021 in Reston, VA.
Dick was born in Peterborough, NH. He graduated from the University of Omaha, earned a masters degree from the University of New Hampshire, and was a graduate of the Air War College.
He entered the US Air Force in 1950. During the Korean War he flew the F100. In the Vietnam War he flew the 01 Bird Dog as Forward Air Controller (FAC) leading the American Air Support for the 1st Australian Task Force. Dick was one of the pioneer pilots in jet aviation testing the F86, F100, and F104 aircraft. In one test run over the Sierra Mountains in California the aircraft malfunctioned and he managed the second successful downward ejection in the F104. As one of the original F104 pilots he was signed into the Order of Starfighters International F-104 Society. While stationed at Tactical Air Command at George Air Force Base in 1956 he flew the F100-C Super Sabre in the Bendix Trophy Race in a dash from George Air Force Base, California to Will Rogers Air Field, Oklahoma. He was a recipient of several medals including the Distinguished Flying Cross, the Bronze Star, and the Air Medal.
In retirement he was a gentleman farmer. For the farm animals in his care, he ensured their fields were always full of clover. His peach and pear trees were prolific.
He is survived by his wife of 65 years, JoAnn Huston Niemela, five children, and other family.
Stanley Weiss, Founder BENS, Monitored Defense Spending
Stanley Alan Weiss, 94, founder of Business Executives for National Security, a group that often joined AFIO for events inside various member agencies of the IC, died 26 August 2021 in London.
Weiss was born in Philadelphia, PA. He joined the Army at 17 during World War II and was preparing to join a planned Allied invasion of Japan when the war ended. Afterward, he started his first business, selling surplus Army supplies and scrap metal.
Weiss attended several colleges, including Lehigh University in Pennsylvania, the old Pennsylvania Military College and what is now the Walsh School of Foreign Service at Georgetown University.
A week after he saw "The Treasure of the Sierra Madre" in 1951, he left Georgetown and was in his car driving to Mexico where he became a metals prospector. He became wealthy as a mining executive.
Manganese proved to be a key element in producing metal alloys, and by 1960, Weiss and a business partner had founded American Minerals, a mining and mineral processing company.
Weiss settled in London in 1971 and began to develop an interest in public service. He spent a year as a fellow at Harvard University's Center for International Affairs, a foreign policy research center.
In 1978, Mr. Weiss helped found the Nuclear Information and Resource Service, which seeks to reduce the role of nuclear power in the world. A year later, he helped found the Citizens Party, a short-lived effort to build an alternative to the Republican and Democratic political parties.
Weiss then sought to blend his interests in government policy and business by launching Business Executives for National Security (BENS) in 1982. The nonprofit, made up of business leaders, offers advice and research to the Pentagon and other federal officials concerned with defense spending, cybersecurity and planning for national emergencies.
Asked on NBC's "Today" Show in 1983 why corporate executives should involve themselves in defense matters and preventing nuclear war, Weiss replied, "Being dead is bad for business." (a phrase that became the title of his memoir.)
BENS sought to draw attention to bloated defense budgets caused by overspending by contractors and duplicated efforts. Weiss recommended ineffective, costly weapons systems be eliminated and called for the closing of unneeded military bases around the country. "All too often, the Congress and the Pentagon are not sufficiently focused on defense, but rather on pork, parochialism and promotions," Weiss told the Dallas Morning News in 1989.
Through his work with BENS and his widespread travels, Mr. Weiss began to write on foreign policy and international business and for many years was a regular contributor to the International Herald Tribune and HuffPost. He was a member of the Council on Foreign Relations and served on the board of Georgetown's Walsh School of Foreign Service, among other boards and advisory panels.
Mr. Weiss stepped down as chairman of BENS when he was 80 but remained active with the group and his varied business interests until his death. When he was 65, he was asked how he managed to devote attention to so many projects. He joked that BENS took up 70 percent of his time, and business took up the remaining 60 percent.
Weiss's company merged several times with other firms, and he retired from day-to-day management in the late 1990s. He invested in other businesses, including venture capital firms, and had homes in Washington and Switzerland, in addition to London.
Survivors include his wife of 63 years, the former Lisa Popper of London; two children, and other family.
---
AFIO EDUCATIONAL EVENTS IN COMING TWO MONTHS....
Saturday, 11 September 2021, 11:30a - 1:30p - Indialantic, FL - In-person Luncheon by Florida Satellite Chapter featuring Capt John Byron USN on "Subs as Intelligence Platforms"
The AFIO Florida Satellite Chapter is holding an in person meeting featuring guest speaker Captain John Byron USN discussing "Submarines as Intelligence Platforms."
Location: Doubletree Hotel, 1665 North A1A, Indialantic, FL. Time 11:30 AM to 1:30 PM.
Fee: Sit down lunch for $30.00.
Reservation deadline: 7 September.
Contact Larry Sanford at afiofloridasatellitechapter@gmail.com or call 978-502-3328.
Friday, 8 October 2021, 11 am - 2 pm - In-Person Tysons Corner, VA - AFIO National Luncheon featuring Seth Jones on his latest book "Three Dangerous Men" and Stephen Vogel on Traitor George Blake from his book, "Betrayal in Berlin."
REGISTRATION FOR AFIO NATIONAL'S FIRST POST-PANDEMIC IN-PERSON LUNCHEON HAS OPENED

Friday, 8 October 2021, 11 am - 2 pm - In-Person Tysons Corner, VA -
AFIO National Luncheon features Seth Jones on his latest book "Three Dangerous Men" and Stephen Vogel on Traitor George Blake from his book, "Betrayal in Berlin."
FOR YOUR CALENDAR. The first in-person AFIO National Luncheon for 2021 will take place on Friday, 8 October at DoubleTree Hotel, Tysons Corner. Event will feature Seth Jones on his latest book Three Dangerous Men and Stephen Vogel on Traitor George Blake from his book, Betrayal in Berlin. Special health precautions will be instituted. Event restricted to 90 attendees to allow spacing of only 4 seated at each table. Proof of vaccination required. Masks required except while eating.
TO REGISTER: Do so here.
VENUE: DoubleTree by Hilton, 1960 Chain Bridge Rd, Tysons Corner, VA 22182 Phone: (703) 893-2100. Directions at this link.
---
Other Upcoming Events from Advertisers, Corporate Sponsors, and Others
Wednesday, 8 September 2021, noon - Washington, DC - Curator's Corner: Osama bin Laden with Peter Bergen - Virtual International Spy Museum Program
As the 20th anniversary of 9/11 approached, Peter Bergen sought to reevaluate the man responsible for precipitating America's long wars with al-Qaeda and its descendants. Bergen produced the first television interview with bin Laden in 1997. He has had years to reflect on and study the man. Thanks to exclusive interviews with family members and associates, and documents unearthed only recently, Bergen has used the knowledge he has gained in the intervening years to craft his new book The Rise and Fall of Osama bin Laden where he captures all the dimensions of bin Laden's life - family man, zealot, battlefield commander, terrorist leader, and fugitive - to dissect his contradictions and legacy. Following their discussion of key issues, you'll be able to ask questions via our online platform. Event is free - registration required. Visit www.spymuseum.org.
Wednesday-Thursday, 8-9 September 2021 - Zoom Webinar - IMSE 2021 Conference on Illegal, Unregulated and Unreported (IUU) Fishing.
Indo-Pacific Maritime Security Exchange (IMSE). IUU Fishing has replaced piracy as the top global maritime security threat, according to the USCG commandant. The world's fish stocks are threatened by over and unregulated fishing. Countering IUU fishing is largely an intelligence problem. The IMSE two-day conference examines the problem of IUU fishing. The conference has assembled a rich and diverse program, and a distinguished group of speakers to include the vice commandant of the US Coast Guard, NOAA's regional administrator for the Pacific, representatives from the Pew Charitable Trust, Global Fishing Watch, The Nature Conservancy, and others from the State Department, Indo-Pacific nations and academic experts. Day 2 of the conference examines open source technologies used to counter IUU fishing, including imagery, RF, and SAR remote sensing from space to acoustics underwater; integrating disparate data; and the contributions of artificial intelligence and machine learning.
Registration required. Go to https://imsehawaii.org.
Thursday, 9 September 2021, 1800/6PM EDT; 1500/3PM PDT; 1200/12PM HST - GoToMeeting Virtual - Naval Intelligence Professionals 9/11 Virtual Remembrance Event
TOPIC: "Rebuilding Chief of Naval Operations Intelligence Plot (CNO-IP) After 9-11"
GUEST PANELISTS with current responsibilities and duties on 9-11:
• Brian Nicholson, CAPT (Ret.), Dep NIA N5; CDR, Deputy Head of Production
• Dr. Keith Dunbar, LCDR (Ret.); LCDR, Assistant-Officer-in-Charge CNO-IP
• CAPT James Pendergast, CO HOPPER ISC; LT, Back-up Briefer
• CAPT Jeff Kargol, Deputy Director N74/Navy Strategy Panel; LT, Flag Briefer
• Claudio Biltoc, LCDR (Ret.); LT, Watch Officer
• Victor Minella, LT, Watch Officer
FORMAT: Video Conference – GoToMeeting
Please join the meeting from your computer, tablet or smartphone, beginning at 1750/5:50 EDT:
https://global.gotomeeting.com/join/128383133
You can also dial in using your phone. United States: +1 (408) 650-3123 Access Code: 128-383-133
New to GoToMeeting? Get the app now and be ready when your first meeting starts: https://global.gotomeeting.com/install/128383133
As always, please mute your device/phone. Thanks.
AGENDA:
• (5 min) RDML (Ret.) Tony Cothron, NIP Chairman, welcoming remarks.
• (~45-60 min) Guest Panel Remarks
• (~30 min) Q & A moderated by CAPT (Ret.) Bob Allen. - Please enter your questions in the GoToMeeting chat window or email your questions in advance/during the video conference to: bob_allen36@hotmail.com.
14 September 2021, 10am EDT - Zoom Webinar - Virtual Panel Discussion with Former Deputy Directors of National Intelligence as part of NCF's 25th Anniversary
The National Cryptologic Foundation is excited to announce the next NCF 25th Anniversary virtual program which features a panel of former deputy directors of national intelligence. Greg Myre, NPR National Security Correspondent, will serve as moderator for the program.
The program is free, but as with our other 25th Anniversary events and activities - we appreciate any and all donations as they will help to support our mission - especially our growing list of exciting education initiatives. Stay tuned as registration will open soon.
Who: National Cryptologic Foundation
What: 25th Anniversary September 14th Panel Discussion with Former Deputy Directors of National Intelligence: Confirmed panelists include: Gen Michael V. Hayden, USAF (Ret), Mr. Donald Kerr, and Ms. Stephanie O'Sullivan. This panel discussion will be moderated by: Greg Myre, National Security Correspondent, NPR.
When: 14 September 2021, 10-11:30 am EDT
Where: Virtual Program - offered via Zoom webinar (Once registration opens, your Zoom details will be in your confirmation email.)
*If you are unable to attend, please stay tuned to the NCF e-newsletter and social media for an announcement about the recording, once available.
Cost: Free. Donations Appreciated.
Contact: If you have questions about this program, please email ncfinfo@cryptologicfoundation.org.
Registration to Open Soon and will be at this link.
Sunday, 19 September 2021, 2 - 3:30 pm EDT - Virtual - The Cold War Museum hosts TD Barnes on "CIA Station D: Area 51 in the Cold War" - The True Story
No aliens. Much more interesting. The real story behind Area 51, by a man who was on the ground for CIA's Station D.You've Heard About Area 51. And You Know There Weren't Any Aliens Hanging Around. But What Was REALLY Happening at That Top Secret Location? And Why Was the CIA There? Ask the Agency's Man On the Ground
Area 51 In the Cold War: The True Story
TD Barnes will provide us with an accurate unclassified insider's account of the CIA era at Area 51, a.k.a. Station D, including:
• The need for an Area 51; • Why Nevada was chosen as the location; • Why CIA needed to be there; • The politics; • The challenges; • The accomplishments; • The spy planes; • The development of stealth technology; • Soviet MiG exploitation; and • The lives lost and family sacrifices.
TD Barnes served in US Army intelligence and then worked on radar and surface-to-air missiles. Later he served in Nevada on the NASA High Range during Project X-15 and at Area 51 in the CIA's Science & Technology Special Projects, working on the CIA's Project Oxcart, the Soviet MiG exploitation projects, the development of stealth technology, and other black projects that remain classified today.
Cost: $20, 100% of which is a contribution to the Cold War Museum.
Sign Up Here on EventBrite.
Location: ONLINE ONLY. Eventbrite ticket buyers will receive a link to the virtual room on the Zoom platform where this event will take place. We are recording the whole event, including the Q&A, for the Museum's archives.
Agenda:
• 1:30-2:00. Participants arrive in the Zoom room online.
• 2:00-2:05. Jason Hall, Executive Director of the Cold War Museum, introduces the Museum and TD Barnes
• 2:05-3:00. TD presents on what was happening at Area 51.
• 3:00-3:30. Q&A opportunity for the audience.
Questions? Call or email Jason Hall, 703-283-4124 (cell), jason@coldwar.org
Thursday, 23 September 2021, 6:30pm - Washington, DC - Virtual Members-Only SPY themed Trivia Night - Virtual International Spy Museum Program
Join other members of the Spy Museum Inner Circle for an exclusive virtual trivia night. Test your knowledge with trivia centered around the International Spy Museum's history, exhibits, and fun facts. If you've visited the museum recently, you might have an advantage. Event is free and open exclusively to Spy Museum members. You can join SPY as a member online or by calling 202.654.2840. If you are a current member and have not received the link to sign up for this event, please email membership@spymuseum.org to register. Visit www.spymuseum.org.
14 October 2021, 8:15a to 2p - virtual and in-person - NCF General Membership Meeting (GMM) & Annual Symposium
SAVE THE DATE for the first hybrid (virtual and in-person) National Cryptologic Foundation General Membership Meeting. We are excited to be planning to gather in person again. The 2021 GMM & Annual Symposium will be held on 14 October and will be a hybrid event - offering options to attend virtually or in person. The program will be held at the CACI in the National Business Park. Seating will be limited and the program will be shorter in duration this year. Schedule: Check-in and breakfast from 8:15-8:45am; Program 9am-12pm; Lunch and Booksigning 12-1pm. Stay tuned for program details and registration will be available at this link.
Wednesday, 27 October 2021, 6 - 10 pm - Washington, DC - 30th (+1) Anniversary Gala and Chancellor's Dinner - Institute of World Politics
Save the date. Current timing of this in-person celebration is:
6:00 PM Cocktail Reception
7:00 PM Dinner
9:00 PM Dessert and Dancing
Location: The Mayflower Hotel, 1127 Connecticut Ave NW, Washington, DC
Additional details to follow
*Because this is an unusual year, if you are considering attending the 30th (+1!) Anniversary Gala, please fill out this form: iwp.edu/gala-survey
Wednesday, 1 December 2021, 5:30 PM VIP Reception / 6:30 PM Progressive Reception & Award Program - Washington, DC - 2021 Webster Distinguished Service Award Event - International Spy Museum
The Spy Museum offers an evening of intrigue for the 2021 Webster Distinguished Service Award event. The award is an opportunity to recognize the extraordinary contributions of individuals in the Intelligence Community. This year's awardee is The Honorable Susan M. Gordon, former principal deputy director of national intelligence. Previous recipients of the Webster Distinguished Service Award include President George H. W. Bush (2017), Admiral William H. McRaven, USN (Ret.) (2018), and Gen. Michael V. Hayden (Ret.) (2019). Webster attendee and sponsor support fuels the nonprofit mission of educating the public about the history and craft of espionage and intelligence through youth and adult programs, community service, and the care of the Museum's unique collection of artifacts for generations to come.
Event will be held at the International Spy Museum.
For tickets, sponsorship opportunities, or information about ways to support the International Spy Museum, please contact the development office at 202.654.2853. Event tickets, other details are available here.
---
In addition to the new Royal Blue long sleeve shirts, and the gray long sleeve hooded sweatshirts, the AFIO Store also has the following items ready for quick shipment:
LONG and Short-Sleeved Shirts with embroidered AFIO Logo and New Mugs with color-glazed permanent logo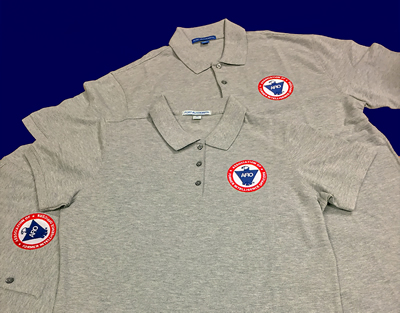 Show your support for AFIO with our new Polo Shirts. Be the first to buy these new, high quality, subtle heathered grey short sleeve shirts, and dark blue long sleeved shirts, of shrink and wrinkle resistant fine cotton with a soft yet substantial feel. They feature a detailed embroidered AFIO seal. Get a shirt for yourself and consider as gifts for colleagues, family, and friends. Only $45 each including shipping.
Sizes of (M) men or (W) women shirts; Small, Medium, Large, XL, XXL, and XXXL. At this time all orders will arrive as Short Sleeve shirts.
You may pay by check or credit card. Complete your order online here or mail an order along with payment to: AFIO, 7600 Leesburg Pike, Ste 470 East, Falls Church, VA 22043-2004. Phone orders at 703-790-0320. If interested in other shirt colors or sleeve lengths, contact Annette at: annettej@afio.com.
---
AFIO Mug with color glazed logo. Made in America. Sturdy enough to sit on desk to hold pens, cards, paperclips, and candy.
This handsome large, heavy USA-made ceramic mug is dishwasher-safe with a glazed seal. $35 per mug includes shipping. Order this and other store items online here.
---
Guide to the Study of Intelligence and When Intelligence Made a Difference
"AFIO's Guide to the Study of Intelligence" has sold out in hard-copy.
However, it is available in digital form in its entirety on the AFIO website here.

Also available on the website here are the individual articles of AFIO's history project "When Intelligence Made a Difference" that have been published to date in The Intelligencer journal. More articles will be forthcoming in future editions.
---
Disclaimers and Removal Instructions
Weekly Intelligence Notes (WINs) are commentaries on Intelligence and related national security matters, based on open media sources, selected, interpreted, edited and produced for non-profit educational uses by members and WIN subscribers.
REMOVAL INSTRUCTIONS: We do not wish to add clutter to inboxes. To discontinue receiving the WINs:
a) IF YOU ARE A MEMBER - click here: UNSUBSCRIBE and supply your full name and email address where you receive the WINs. Click SEND, you will be removed from list. If this link doesn't open a blank email, create one on your own and send to afio@afio.com with the words: REMOVE FROM WINs as the subject, and provide your full name and email address where you are currently receiving them.
b) IF YOU ARE NOT A MEMBER, and you received this message, someone forwarded this newsletter to you [contrary to AFIO policies]. Forward to afio@afio.com the entire WIN or message you received and we will remove the sender from our membership and distribution lists. The problem will be solved for both of us.
CONTENTS of this WIN [HTML version recipients - Click title to jump to story or section, Click Article Title to return to Contents. This feature does not work for Plaintext Edition or for some AOL recipients]. If you wish to change to HTML format, let us know at afio@afio.com. The HTML feature also does not work for those who access their e-mail using web mail...however NON-HTML recipients may view the latest edition each week in HTML at this link: https://www.afio.com/pages/currentwin.htm
---
WINs are protected by copyright laws and intellectual property laws, and may not be reproduced or re-sent without specific permission from the Producer. Opinions expressed in the WINs are solely those of the editor's or author's listed with each article. AFIO Members Support the AFIO Mission - sponsor new members! CHECK THE AFIO WEBSITE at www.afio.com for back issues of the WINs, information about AFIO, conference agenda and registrations materials, and membership applications and much more!
(c) 1998 thru 2021. AFIO, 7600 Leesburg Pike, Suite 470 East, Falls Church, VA 22043-2004. Voice: (703) 790-0320; Fax: (703) 991-1278; Email: afio@afio.com
---
About AFIO | Membership Renewal | Change of Address | Upcoming Events | Chapter Locations | Corporate/Institutional Memberships | Careers in Intelligence Booklet | Guide to the Study of Intelligence | Intelligencer Journal | Weekly Intelligence Notes | To Make A Donation | AFIO Store | Member-Only Section | Code of Ethics | Home Page
---