---
CONTENTS
Section I - INTELLIGENCE HIGHLIGHTS
Section II - CONTEXT & PRECEDENCE
Section IV - Research Requests, Jobs, Obituaries
Other Upcoming Events from Advertisers, Corporate Sponsors, and Others
For additional AFIO and other Events two+ months or more... Calendar of Events
WIN CREDITS FOR THIS ISSUE: The WIN editors thank the following special contributors: rsy, ec, po, pjk, mh, km, gh, mk, rd, fm, kc, jm, mr, jg, th, ed, and fwr. They have contributed one or more stories used in this issue.

The WIN editors attempt to include a wide range of articles and commentary in the Weekly Notes to inform and educate our readers. However, the views expressed in the articles are purely those of the authors, and in no way reflect support or endorsement from the WIN editors or the AFIO officers and staff. We welcome comments from the WIN readers on any and all articles and commentary.

CAVEATS: IMPORTANT: AFIO does not "vet" or endorse research inquiries, career announcements, or job offers. Reasonable-sounding inquiries and career offerings are published as a service to our members, and for researchers, educators, and subscribers. You are urged to exercise your usual caution and good judgment when responding, and should verify the source independently before supplying any resume, career data, or personal information.]
If you are having difficulties with the links or viewing this newsletter when it arrives by email, members may view the latest edition each week at this link.
---
Other items brought to our attention:
Member of CIA chief's team reported Havana syndrome symptoms on recent trip to India
by Kylie Atwood, CNN, 20 September 2021
Washington (CNN) - When CIA Director Bill Burns traveled to India earlier this month a member of his team reported symptoms consistent with Havana syndrome and had to receive medical attention, according to three sources familiar with the matter. The incident set off alarm bells within the US government and left Burns "fuming" with anger, one source explained. Some officials at the CIA viewed the chilling episode as a direct message to Burns that no one is safe, including those working directly for the nation's top spy... Article continues here
---
Israel reportedly used a remote-controlled gun to assassinate an Iranian scientist
It could change the nature of espionage.
by J Fingas, Engadget.com, 18 Sep 2021
Countries have assassinated people with drones, but those attacks now appear to include robotic weapons on the ground. The New York Times sources claim Israel assassinated top Iranian nuclear scientist Mohsen Fakhrizadeh on November 27th, 2020 using a remotely-controlled, AI-assisted machine gun. Israel reportedly mounted the gun on a pickup truck by the side of the road and, when Fakhrizadeh's car approached had a distant operator fire the gun using a satellite link. The attack was precise, sparing Fakhrizadeh's wife, but may not have used facial recognition to assist with aiming as unnamed Iranian officials said. While Israel purportedly used the AI to compensate for the satellite system's lag and gun recoil, operatives identified Fakhrizadeh by staging a decoy car with a camera to force a U-turn and get a clear image. Article continues here
---
The Scientist and the A.I.-Assisted, Remote-Control Killing Machine
Israeli agents had wanted to kill Iran's top nuclear scientist for years. Then they came up with a way to do it with no operatives present.
by Ronen Bergman and Farnaz Fassihi, NYTimes, 18 Sep 2021
Iran's top nuclear scientist woke up an hour before dawn, as he did most days, to study Islamic philosophy before his day began. That afternoon, he and his wife would leave their vacation home on the Caspian Sea and drive to their country house in Absard, a bucolic town east of Tehran, where they planned to spend the weekend. Iran's intelligence service had warned him of a possible assassination plot, but the scientist, Mohsen Fakhrizadeh, had brushed it off. Article continues here
---
Cyberblog by Steptoe & Johnson LLP
THE LATEST —
By Stewart Baker on Sep 13, 2021
Episode 375: China, U.S. Tech Policy: "Let Thousand Hands Throw Sand in the Gears."
Jordan Schneider rejoins us after too long an absence to summarize the tech policy coming out of Beijing today: Any Chinese government agency with a beef against a tech company has carte blanche to at least try it out. From Didi and others being told to stop taking on subscribers to an end to Western IPOs, to the forced contributions to common welfare, China's beefs with Big Tech sound a lot like those in the West (well, except for the complaints about AI-enabled censorship). What's different is that China has freed up its agencies to actually throw sand in the gears of technology businesses. Jordan and I explore the downside of empowering agencies this way. First, it makes the Chinese government responsible for an enormous and hard to govern part of the economy, as the government's problems with the overvalued property sector show. And it creates opportunities for companies that are better at politics than customer service to cripple their competitors.... Continue Reading
A Few Prior Conversations:
Episode 374: What's the Opposite of Facial Recognition? Ask Your "Smart Toilet."
Episode 373: We Can't Run a Twelfth-Century Regime Without WhatsApp!
Episode 372: Blockchain and Cryptocurrency Regulatory Roundup
Episode 371: Fighting Ransomware by Pushing All the Buttons on the Dashboard
Episode 370: Should We Add "Jumping U.S. Red Lines" to the 2021 Olympics?
New York DFS Issues Guidance on Ransomware Prevention and Response
Colorado Becomes Third State to Adopt a Comprehensive Privacy Law
Episode 369: This Episode Could Be Worth $1,000 To The ACLU — Ransomware and Florida's deplatforming law
---
The Arkin Group's Sep 10 "In Other News" letter to private clients by former Deputy Director, Operations Officer Jack Devine features...
Terrorism after 9/11 and the potential impact of the Taliban's reemergence.
UAE establishing specialized court for money laundering as part of larger effort to strengthen nation's standing as an international financial center.

Follow link here to read analyses and predictions given to their private clients on the topics above.

Jack Devine's Spymaster's Prism was released earlier this year. The book has just been released on audio from Tantor or Amazon. AFIO's interview with him about this book appears at this link. Or hear the podcast here.
---
The Latest... from Jeff Stein's provocative "SpyTalk" series...
Sep 19: "Pakistan to Taliban: You Owe Us" by Jonathan Broder
With the new regime courting India, Pakistan suddenly reminded the Taliban who paid the bills all those years.

Sep 17: "The Milley Miasma" by Jeff Stein
Who controls the nukes got lost in the partisan uproar.

Sep 15: "Diplomats in Wolves' Clothing" by Matthew Brazil
China's smack-talking envoys get a closeup in an impressive new book.

Sep 13: "What Now?" by Jeff Stein
After accountability, we can move on—if it's not too late.​​

Sep 9: "The Man Who Loved Spying" by Jeff Stein [podcast - runs 39 minutes]
Former senior CIA officer Doug London raises unsettling issues about the CIA in his new book, 'The Recruiter: Spying and the Lost Art of American Intelligence.'

Sep 8: "The 'American Taliban' and Me" by Jeff Stein
A former CIA analyst digests a new film on the saga of John Walker Lindh.

Readers, for a brief time, can subscribe for free for articles and weekend podcasts here.
---
Inside the SCIF:
Inside the SCIF by JJ Green, WTOP - Issue #130, 16 Sep has details on... Was kidnapping a member of Congress part of the Sep 18 rally?; Havana Syndrome now in Vietnam... What Weapon might it be? MW?; NK, SK, and Cruise Missiles; Using Unwanted Migrants as Weapons -- foisting them on your enemies; EU and Espionage; Chinese Cyber Hacks of Indonesian Intel; You're on Candid Camera...Hidden Cameras in Airbnbs?; al-Qa'ida in Turkey sanctioned as terrorists by US Treas; and more.

Target USA Podcast 294 is on: NATO: One for all, All for one
The U.S. withdrawal from Afghanistan has raised serious doubts about the relationship between the US and NATO. It was a key topic at the Lennart Meri Conference in Tallinn, Estonia September 3-6. We bring you a panel discussion that revealed just how concerned NATO allies are about the relationship.

And "The Hunt" explores: Is Homeland Security prepared to deal with latest threats facing the nation?
J.J. Green speaks with former DHS Secretary Jeh Johnson who says the agency is "outdated."
---

Call for Papers: 9th Annual Hot Topics in the Science of Security (HotSoS) Symposium, Week of April 4, 2022, Virtual http://hotsos.org

Hot topics in Science of Security (HotSoS) is a forum for presenting and discussing the latest research and development advances in the scientific foundations of cyber security and privacy. The forum brings together researchers, practitioners, and thought leaders from government, industry, and academia. The National Security Agency (NSA) sponsorship of HotSoS provides for a collaborative relationship with NSA researchers, practitioners and leaders and results in a unique attendee audience. The HotSoS vision is to engage and grow a community that includes researchers and skilled practitioners from diverse disciplines focused on the advancement of scientific methods. Following the success of the virtual HotSoS in 2021, HotSoS`22 will be a virtual event in April 2022. In addition to research paper discussions and presentations, the symposium program will also include invited talks and panels.

We solicit submissions in the following three categories:

Already published research papers will be accepted for presentation provided their scope aligns with HotSoS.
Working papers (WiP) will be evaluated for scope, potential for impact, and technical merit. Papers in this category will be discussed during the special WiP session and receive detailed feedback towards making the paper publishable at a top-tier venue. We are looking for bold, risky, and interdisciplinary ideas.
Posters abstracts will be selected for brief presentations and highlighted by a poster competition.

Topics of interest include: Trustworthy AI, theoretical limits, explainability; Security analysis techniques, testing, verification, and validation; Design principles, tools, architectures, and provably secure systems; Resiliency, fault-tolerance; Security, privacy in new collaborative workspaces; Scalable and composable frameworks for security; Human behavior and security; users and adversaries; Security of cyber-physical and autonomous systems; Security metrics; and Security policies.

Important Dates: Submission Deadline: December 17, 2021; Acceptance Decisions: February 23, 2022; Virtual Symposium: Week of April 4, 2022; *The Symposium will start on Tuesday, April 5 and will be either 2 or 3 days. The exact number of days will be determined once submissions have been reviewed.

Organization: General Chair, Sayan Mitra (University of Illinois at Urbana Champaign)
Program Co-Chairs: Adam Tagert (National Security Agency); Benjamin E. Ujcich (Georgetown University)
Visit the website for full details. Send any questions to hotsos2022@cpsvo.org.
---
Filling Fast...
Register Now for our first in-person Luncheon

Friday, 8 October 2021, 11 am - 2 pm
- safely in-person at Tysons Corner, VA -
The first in-person 2021 AFIO National Luncheon will feature
Seth Jones on his latest book
Three Dangerous Men: Russia, China, Iran and the Rise of Irregular Warfare
and Stephen Vogel
on Traitor George Blake from his book, Betrayal in Berlin.
Special health precautions will be instituted. Event restricted to 90 attendees to allow spacing of only 4 seated per table.
Proof of vaccination required. Masks required except while eating (so keep eating and enjoy the two presentations and collegial reunion).
REGISTER HERE
VENUE: DoubleTree by Hilton, 1960 Chain Bridge Rd, Tysons Corner, VA 22182 Phone: (703) 893-2100. Directions at this link.
---
Released today exclusively to members...
Damascus Station — How McCloskey's CIA Tours in Syria give the novel such authenticity

Released 21 September 2021
David McCloskey
Former CIA Analyst, discussing his realistic novel,
Damascus Station, set in Syria during its civil war
Interview of Tuesday, 14 September 2021 of former CIA Analyst David McCloskey discussing his latest novel, Damascus Station: Host/Interviewer: James Hughes, AFIO President, a former CIA Operations Officer.
TOPIC: Former CIA Analyst David McCloskey and former CIA Operations Officer (and President of AFIO) James Hughes discuss David's latest novel, Damascus Station. The novel centers on CIA case officer Sam Joseph who is dispatched to Paris to recruit Syrian Palace official Mariam Haddad. The two fall into a forbidden relationship which creates extraordinary danger when they enter Damascus to find the man responsible for the disappearance of an American spy. The chase for the killer leads to high-profile assassinations and the discovery of a dark secret at the heart of the Syrian regime, bringing the pair under the eyes of Assad's spy catcher, Ali Hassan, and his brother Rustum, the head of the ruthless Republican Guard. Set against the backdrop of a Syria pulsing with fear and rebellion...an area McCloskey knows intimately from his years with the Agency. McCloskey provides considerable authentic modern-day tradecraft.
The interview runs 25 minutes.
Damascus Station is available from Amazon here.
Access the McCloskey Interview here or click above image.
---
---
Click title above or here to view the public and member-only interviews in the AFIO Now series.
Or view the publicly-release-only interviews on our YouTube page. Or listen to the podcast version at the links below.
PODCASTS: AFIO NOW content is also available on various podcasting platforms. Search for 'AFIO Podcast' for a selection of public released videos on Podbean; iTunes; Google; Spotify; Amazon Music; Amazon TuneIn + Alexa; iHeartRadio; and Pandora
Log into the Member-only area to view private and public interviews.
---
---
Newly Released, Overlooked, or Forthcoming Books
Russia Upside Down: An Exit Strategy for the Second Cold War
by Joseph Weisberg
(PublicAffairs, Sep 2021)
Former CIA officer Weisberg, the creator of the hit TV series The Americans, makes the case that America's policy towards Russia is failing—and we'll never fix it until we rethink our relationship. Coming of age in America in the 1970s and 80s, Weisberg was a Cold Warrior. After briefly studying Russian in Leningrad, he joined the CIA in 1990—just in time to watch the Soviet Union collapse. But less than a decade after the first Cold War ended, a new one broke out. Russia changed in many of the ways that America hoped it might–more capitalist, more religious, more open to Western ideas. But US sanctions have crippled Russia's economy; and Russia's interventions have exacerbated political problems in America. The old paradigm—America, the free capitalist good guys, fighting Russia, the repressive communist bad guys—simply doesn't apply anymore. But we've continued to act as if it does.
Weisberg interrogates these assumptions, asking hard questions about American policy and attempting to understand what Russia truly wants. This book makes the case against the new Cold War. It suggests we are fighting an enemy with whom we have few if any serious conflicts of interest. It argues we are fighting with ineffective and dangerous tools. And most of all, it demonstrates that our approach is not working.
With our own political system in peril and continually buffeted by Russian attacks, we need a new framework, urgently. Weisberg shows the stakes and lays out that new plan, at a time when it is badly needed.
Book may be ordered here.
---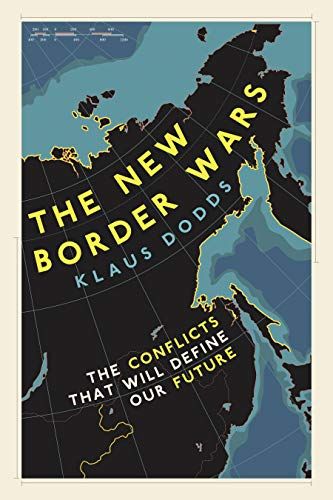 The New Border Wars: The Conflicts That Will Define Our Future
by Klaus Dodds
(Diversion Books, Sep 2021)
What do the world's best-known, most dangerous, and most unexpected border conflicts mean for our changing international relationships? Dodds journeys into the geopolitical clashes of tomorrow in a tour of border walls—literal and figurative—from the Gaza Strip to the space race. In the Himalayas, the Mediterranean, and elsewhere, the tension inherent to trying to divide the world into separate parcels has not gone away.
And with climate change shifting our natural borders, from mountains to glaciers to rivers, the question of how we live in a world that's becoming warmer and wetter—and ceaselessly growing in populations—looms large. Dodds answers why now more than ever we are likely to see more walls, barriers, and securitization in our daily lives. What borders mean in the modern world: How are they built; what do they signify for citizens and governments; and how do they help us understand our political past and, most importantly, our diplomatic future? This book will provide the answers and "Open Borders" is not a survival strategy.
Book may be ordered here.
---
Nixon's War at Home: The FBI, Leftist Guerrillas, and the Origins of Counterterrorism
by Daniel S. Chard
(The University of North Carolina Press, Sep 2021)
During the presidency of Richard Nixon, homegrown leftist guerrilla groups like the Weather Underground and the Black Liberation Army carried out hundreds of attacks in the US. The FBI had a long history of infiltrating activist groups, but this type of clandestine action posed a unique challenge.
Drawing on thousands of pages of declassified FBI documents, Chard shows how America's war with domestic guerillas prompted a host of new policing measures as the FBI revived (illegal) spy techniques previously used against communists in the name of fighting terrorism. These efforts did little to stop the guerrillas—instead, they led to a bureaucratic struggle between the Nixon administration and the FBI that fueled the Watergate Scandal and brought down Nixon.
Yet despite their internal conflicts, FBI and White House officials developed preemptive surveillance practices that would inform U.S. counterterrorism strategies into the 21st century, entrenching mass surveillance as a cornerstone of the national security state. Connecting the dots between political violence and "law and order" politics, Chard reveals how American counterterrorism emerged in the 1970s from violent conflicts over racism, imperialism, and policing that remain unresolved today.
Book may be ordered here.
---
---
One of the special benefits of membership in AFIO: access to CIA's inhouse gift shop — the EAA Store.

It requires a quick preapproval process described here to all newly joined and current AFIO members. And then allows you to purchase online their unusual logo'd gift items for self or colleagues. At left is the latest photo EAA released on Sep 17 featuring some of their newest items.



---
---
Visit, Follow, Subscribe to AFIO's LinkedIn, Twitter, and YouTube pages to receive updates.
Members who use social media or wish to explore, will find new announcements and other material on AFIO's Twitter and LinkedIn pages. New videos on our YouTube page appears below as well.
Access them here: LinkedIn, Twitter, and YouTube. By following or subscribing on those sites, one can be notified as new material appears.




PODCASTS: Are you too busy to sit and watch an entire "AFIO Now" episode above on YouTube? Would you rather listen in your car or while accomplishing other tasks? Now you can quickly download or stream episodes on your favorite podcasting platform. AFIO is now available on 8 podcasting platforms. Search for 'AFIO Podcast' for a selection of the interviews above (public released ones) on Podbean; iTunes; Google; Spotify; Amazon Music; Amazon TuneIn + Alexa; iHeartRadio; and Pandora.
---
Intelligence Matters: A CBS News original national security podcast hosted by former CIA acting director and CBS News national security contributor Michael Morell


The most recent "Intelligence Matters" podcast/interview by Mike Morell:

Sep 15 | 9/11, the CIA, and Afghanistan: Part 1
In this episode Morell offers personal reflections of a two-part essay on the CIA's strategic warnings before 9/11, the terror plots it helped foil in its aftermath, and developments in Afghanistan today. Morell explains why he believes the CIA provided "the loudest and most persistent warning in the history of the agency on any issue" about al Qaeda to both the Clinton and Bush administrations, and outlines the missteps that may have led to the attacks. He also reveals new details about the level of frustration among CIA leadership with inaction by the White House.

A few recent "Intelligence Matters" podcasts to stream or download:
Sep 8 | Remembering 9/11 Part 5: Gina Bennett
Sep 1 | Remembering 9/11 Part 4: Sandy Winnefeld
Aug 25 | Remembering 9/11 Part 3: Winston Wiley
Aug 18 | Remembering 9/11 Part 2: Andy Card
Aug 11 | Remembering 9/11 Part 1: Stephen Hadley
More about Intelligence Matters by Michael Morell here. Podcasts also located here.
---
VIDEO OF NCF PROGRAM NOW AVAILABLE
Did you miss the 14 September 2021 Webinar - panel discussion with Former Principal Deputy Directors of National Intelligence?
Speakers: Gen Michael V. Hayden USAF(Ret), Dr Donald Kerr, Stephanie O'Sullivan; Moderator Greg Myre of NPR.
This outstanding event featured first-hand accounts of their reactions as 9/11 unfolded, placing some of these principals in the very buildings under attack. It also covered domestic privacy and intelligence issues, countering cyberthreats, views on continuing to function clandestinely in Afghanistan, complexities of avoiding politicization impacting the important work of the IC, and more.
The 1:40:22 recorded program can be viewed here.



Details on the Virtual Education Programs of the National Cryptologic Museum Foundation are available here Other NCF Events can be found here on NCF website here, and CCH website here.
---
Section I - INTELLIGENCE HIGHLIGHTS

U.K. Police Charge 3rd Man in Effort to Kill Russian Dissident. British counterterrorism police announced criminal charges against a senior Russian military intelligence officer on Tuesday for the attempted assassination of a former Russian spy who was poisoned in England in 2018 with a deadly nerve agent.

Breaking with past practice, the police identified the officer by his real name, Denis Sergeev, instead of the alias he used to enter the United Kingdom on March 2, 2018. That was two days before the former Russian spy, Sergei V. Skripal, and his daughter Yulia collapsed on a park bench in the English town of Salisbury.

Mr. Sergeev is the third officer to be charged in the poisoning of Mr. Skripal. [Read more: Schwirtz&Englebrecht/NYTimes/21September2021]

Former FDA Commissioner Gottlieb says U.S. Intelligence Agencies Should Investigate Virus Outbreaks. Former Food and Drug Administration Commissioner Dr. Scott Gottlieb said Monday that U.S. intelligence agencies should be tasked with investigating emerging public health threats overseas to combat future disease outbreaks.

Gottlieb, who also sits on Pfizer's board, told CNBC's "Squawk Box" that the public has lost trust in U.S. health agencies and called for more funding for the Centers for Disease Control and Prevention.

He said identifying problematic viruses abroad and equipping the CDC with better crisis mitigation resources would improve the nation's ability to counter any new contagions that arise. [Read more: Towey/CNBC/20September2021]

Indonesia Says No Evidence of Alleged Chinese Intel Hack. Indonesian authorities have found no evidence that the country's main intelligence service's computers were compromised, after a U.S.-based private cybersecurity company alerted them of a suspected breach of its internal networks by a Chinese hacking group, an official said.

The Insikt Group, the threat research division of Massachusetts-based Recorded Future, said it discovered the hack in April when it detected malware servers operated by the "Mustang Panda" group communicating with hosts inside Indonesian government networks.

The activity targeted the Badan Intelijen Negara, or BIN, intelligence agency as well as nine other Indonesian government agencies, Recorded Future said. [Read more: AP/20September2021]

Somalia Accuses Djibouti of Detaining Ex-Intelligence Chief. A tense political dispute between Somalia's president and prime minister threatened to broaden into a regional crisis on Friday after the president accused neighboring Djibouti of unlawfully detaining his former national intelligence chief.

Djibouti's foreign minister, Mahmoud Ali Youssouf, quickly denied Somalia's statement in a social media post, calling the claim fake news that tried to "create confusion and drag Djibouti into Somalia internal challenges." He asserted that a Turkish Airlines flight to Somalia's capital with former intelligence chief Fahad Yasin aboard didn't take off from Djibouti because a pilot didn't have special authorization to land in Mogadishu, and that all passengers would return to Istanbul for another flight.

Yasin is a close ally of Somali President Mohamed Abdullahi Mohamed who has been accused by critics of trying to extend his stay in power after national elections set for last February were delayed. [Read more: Anna/AP/17September2021]

Slovak Journalists to Face Charges for Revealing Spy-For-Hire in Jan Kuciak Case. Two journalists from Slovak independent media platform Dennik N could face up to a year in prison for revealing the identity of a man who conducted and organised illegal surveillance of journalists, including Jan Kuciak, who was killed in 2018.

Monika Todova and Konstantin Cikovsky have been charged with disclosing classified information. The charges, filed just weeks before the statute of limitations expires, dates back to an article published in 2018.

The story focussed on Peter Toth, at the time head of counter-intelligence at the Slovak Intelligence Service. One of the journalists under surveillance was Kuciak, who was later murdered together with his girlfriend in their home. Among those monitored was also Todova, a co-author of the investigation.

But the illegal surveillance wasn't carried out by the Intelligence Services. [Read more: Taylor/TheShift/21September2021]


---
Section II - CONTEXT & PRECEDENCE
Getting Talent is a Top Priority for Intelligence Community Leaders. The second day of the 2021 Intelligence and National Security Summit cohosted by AFCEA International and INSA continued to lay out the themes, priorities, and drivers in the Intelligence Community (IC). Several intelligence agencies laid out their key priorities, including counterterrorism and Afghanistan, the threat of China, and the continued quest to attract and retain talent.

In a panel discussion that kicked off day two of the Summit, each agency representative provided the most pressing needs in their organizations. Everyone zeroed in on the impact of attracting and retaining its workforce. [Read more: Hamilton/ClearanceJobs/14September2021]
Book Review: The Anatomy of a Spy: A History of Espionage and Betrayal. In his latest book on spies and special forces, The Anatomy of a Spy [Arcade Books, Jan 2020], former British military intelligence serviceman turned journalist and historian Michael Smith analyzes what makes someone betray their country or their friends, to determine why spies spy. The goal here is not to produce the most famous, popular, or even the most important spy stories in history. Rather, what Smith proposes is an interesting study of spy psychology. He explains the history of espionage by focusing primarily on the agents' motivations: sexual relationships, money, patriotism, adventure, fantasy, psychopathology, revenge, moral duty, or by being what the Brits called ""unwitting," or unconscious, agents of a foreign power.

Smith's study revolves around the following questions: How do intelligence services induce ordinary men and women to spy for them? How do they ensure that the agents they recruit do what they want and produce the intelligence required? How can they be confident the agent will not betray them? What makes the perfect spy? [Read more: Nicole/TheCipherBrief/21September2021]
Air Force Testing How to do Intelligence in Disconnected Environments. As the Air Force looks to mature its information warfare organization and posture, it is beginning to experiment with how to conduct intelligence, surveillance and reconnaissance in disconnected and disaggregated environments.

Unlike the last 20 years, the U.S. military expects every aspect of its operations - including the flow of data and information - to be stressed by high-tech adversaries.

"We certainly originally built in a peace time environment to move all that data back to the United States and then push intelligence product forward. We're not going to have that luxury," Lt. Gen. Timothy Haugh, commander of 16th Air Force, the service's information warfare entity, told C4ISRNET in a Sept. 20th interview at the annual Air, Space and Cyber conference hosted by the Air Force Association. [Read more: Pomerleau/DefenseNews/20September2021]
Love and Deception: Philby in Beirut by James Hanning Review - The Spy Who Loved, Maybe. In a coolly furious essay published in book form in 1968, Hugh Trevor-Roper singled out Kim Philby's "truly extraordinary egotism and complacency" as forces that seemed to the historian "to have dominated Philby's character and determined his lonely and difficult course". Trevor-Roper knew whereof he spoke, for he had served with the British Secret Intelligence Service during the war and saw much of Philby during those years. His observations on his former friend are shrewd. Only a man who believed in himself utterly could have given himself utterly to a cause, as Philby did.

Yet he was no fanatic; anything but. John le Carré - who, incidentally, Trevor-Roper strongly attacks in his Philby monograph - pointed out that in the depths of the "fanatic heart" there lurks a doubt, and doubt, in such a heart, is a fatal weakness. There is a question as to whether Philby had a heart at all. His capacity for self-control was well nigh inhuman. He was a secret communist as far back as 1933 - though never a member of the Communist party - and for nearly 35 years, no one in British intelligence knew.

Indeed, it seems that no one knew the man at all. [Read more: Banville/TheGuardian/18September2021]
Meet Esmaeil Khatib, Iran's New Spymaster. Ebrahim Raisi was sworn in as the new president of the Islamic Republic of Iran on August 5, 2021. Six days later, he released his cabinet selections. Raisi chose cleric Esmaeil Khatib as Minister of Intelligence. Khatib will be the regime's eighth Minister of Intelligence, succeeding Mahmoud Alavi.

Information on Khatib is scarce. He was born in 1961-62 and is an influential cleric with close ties to Supreme Leader Ali Khamenei. This is no surprise, as he was Khamenei's student when studying Islamic jurisprudence. He was also a student of Muhammad Fazel Lankarani, Naser Makarem Shirazi, and Mojtaba Tehrani; all of them are radical Islamists.

Khatib is a highly conservative and radical cleric with close ties to the Islamic establishment and to Ali Khamenei. [Read more: Khoshnood&Fard/BESA/17September2021]
---
Israel's IDF: 'No Target is Un-Hackable. Period'. Anyone who deals with technology, or is familiar with it, can't remain indifferent to what is happening in the IDF's Unit 8200. The technological breakthroughs, the intelligence superiority, the advances - these all position the unit, and Israel, as a world leader that is at the same level as the US, Russia, or China.

The public is virtually unaware of all this. By its very intelligence/operational nature, 8200 mostly operates in the shadows. When it makes headlines, it's usually in a less-than-positive context, one that focuses on the typical profile of the soldiers who serve in it or the enormous salaries its veterans earn when they enter the world of high-tech.

Very little is said about the unit's real work, or how important that work is to Israel. This has to do with a genuine concern about losing assets or exposing intelligence to the enemy, thus hurting the enormous superiority of intelligence Israel has over its enemies (and sometimes, its partners). So this interview is a rare and one-time peek into the unit's activity and the future of the technological world it operates. [Read more: Limor/IsraelHayom/20September2021]

Where is the US' Counterterrorism Doctrine Now? In the afterglow of the somber commemorations and ceremonies marking the twenty-year anniversary of the 9/11 attacks around the country and the recent decisions to end the US military mission in Afghanistan, questions remain about the overarching framework and guiding principles the United States will follow with respect to counterterrorism.

As a former counterterrorism analyst and professional who supported or worked in every administration from Clinton to Trump, I saw firsthand that each president and their team had different visions for what the counterterrorism focus of the country should be at the time, driven by the state of threats, national priorities, domestic politics, and US government resources and capabilities available to respond to or prevent attacks.

The decision to withdraw US troops from Afghanistan, the Taliban's takeover of the country after a twenty-year absence from power, and the tragic events on the ground there - including the horrific attack at Kabul Airport which killed 13 US troops and almost 150 Afghans - underscores the perils of leaving that country. [Read more: Ali/TheCipherBrief/20September2021]

America Must Reassess its Commitment to the War on Terror. In commemorating the two decades since the terrorist attacks against the United States on Sept. 11, 2001, American officials and the public alike should reassess the nation's overall strategy of combatting terrorism.

America's approach to eradicating global terrorism can best be summed up by two doctrines prevalent in foreign policy circles over the last twenty years: the "one-percent doctrine" and the "good enough doctrine." On the one hand, a strategy coined by former Vice President Richard Cheney demands preemptive action even with miniscule evidence of threat. On the other hand, an approach summed up by author Daniel Byman in the current issue of Foreign Affairs supposes that the U.S. can rely on its intelligence capability, military, and homeland security focus to successfully limit terrorism. [Read more: Hoff/USAToday/17September2021]


---
Section IV - Research Requests, Jobs, Obituaries
Searching for Panelists - Society of Military History 2022 Annual Conference
From Philip Shackelford: I am looking to put together a panel revolving around airpower, intelligence, or early Cold War - ideally a combination of the three - for the 2022 Society of Military History (SMH) annual conference, taking place in Fort Worth, TX April 28 - May 1, 2022. SMH is an international society focused on "stimulating and advancing the study of military history."Learn more here.
My email is pshackelford@southark.edu, and I'm happy to put together the required proposal paperwork, etc. Let me know if you are interested and feel free to share with others.
Seeking Former CIA Officers who knew Abu Bakr al-Baghdadi, others in ISIS, to assist Israeli Journalist with Documentary
My name is Hadar Gat, I'm a journalist from Israel, currently working on the second season of a documentary series about the most influential Arab leaders in the middle east.
It's an international production, broadcasted on Kan Israeli channel (IPBC).
The documentary series provides a profound profile analysis of leaders in the Arab world, and is one of the leading document series of IPBC.
Each episode is covering the history and profile of a different leader, and reviewing his personality and actions from every aspect possible. Especially the way he was grasped through the eyes of different Intelligence agencies.
I'm contacting [AFIO] because in one of the episodes we are focusing on Abu Bakr al-Baghdadi, and ISIS itself. Therefore, we wish to interview former CIA officers or agents who are relevant to that matter. I'm available for any questions and more details, so feel free to contact me at any time.
Looking forward to hearing from you.
Replies to Hadar Gat, 972-50-4800-306 or hadargat8@gmail.com
US-China co-operation against the Soviets in the 1980s. Seeking Intelligence Officers who worked in Western China on joint monitoring stations dedicated to Soviet missile sites
Jane Perlez, the NYTimes bureau chief in Beijing, is seeking officers who worked in China on the joint monitoring stations in Western China that were dedicated to the Soviet missile sites. It is for a podcast that deals with the China-US opening by Richard Nixon. The program, run in part by the Science and Technology division, featured in the excellent book "The Wizards of Langley" by Jeffrey Richelson, "The Great Wall" by Patrick Tyler, and in some press accounts.
To respond, email her at janeperlez@gmail.com; twitter: @janeperlez; +1-646 884 4949
---
Bob Buchanan, CIA, SES DIA, DOE, ATF, USSS, OPM, and Naval Intelligence
Bob Buchanan Sr, CDR, USN(Ret), 72, Chief IO and Info Resources Mgmt Div, USSS, died 9 September 2021 in Hartwood, VA.
He was born in Wheeling, WV. He grew up Bethany, New Castle, PA., Sunnyvale, CA, Youngstown, OH, and Edinburg, PA. He joined the Navy at 17 after high school, went to boot camp at Great Lakes, IL, and was a radioman. He then went to Radioman School in Bainbridge, MD, high speed Morse code school in Newport, RI, and SERE school in Little Creek, VA before receiving orders to serve in Vietnam, where he served in country with MSTS for 13 months.
Bob left the Navy and was recruited by the CIA and attended a communications school in Virginia before being assigned to Bangkok, Thailand. After a few years he left the CIA and returned to New Castle, PA where he worked for the B&O Railroad, a battery manufacturer, and for a company installing some of the first cable TV systems in the U.S.
Bob returned to government service in northern VA working for the DOE, the U.S. Secret Service, and the ATF.
During his time at the ATF, Bob joined the Naval Reserves and earned an Associate's Degree in Business Management from Northern VA Community College, a Bachelor's degree in Liberal Studies from Mary Washington College, and a Masters in Business Administration and Information Systems from Strayer University... all at night! He entered the reserves as an RM3 and over the years rose through the ranks. He went from being a radioman to a Chief Petty Officer and received his commission as an Ensign while assigned to CINCIBERLANT (a NATO Command). He was subsequently assigned to Mobile Inshore Undersea Warfare (MIUW), Navy Command Center, Naval Beach Group Two, Mobile Mine Assembly Group, CINCIBERLANT and Navy Telecommunications Command, finally attaining the rank of Lieutenant Commander, and serving as an OIC, Executive Officer, and twice as a Commanding Officer before retiring after 26 years of service and receiving numerous awards and medals.
He then received a special request for foreign duty and spent a few years in the Middle East working for the Sultan of Oman. Back in the US, he settled in the Fredericksburg, VA area working for Naval Intelligence. He then worked for the Office of Personnel Management, Naval Security Group, and the Navy's COMSEC Material Systems Command before returning to the Secret Service, where he retired as the Chief Information Officer and Chief Information Resources Management Division, completing 34 years of Government service.
Bob lived in many countries. A poor country boy from WV who made it in the big city.
He is survived by three sons, and other family.
Ray Hart, NSA Liaison Officer with Germany
Raymond Sagar Hart Jr, 86, NSA Liaison Officer with Germany, died 12 September 2021 of Parkinson's disease.
Ray was born in Washington, DC. He graduated from Bethesda Chevy Chase High School, Montgomery Junior College, and then the University of Maryland with a Bachelor's degree in Commerce.
Ray worked for the National Security Agency. His career took him to Germany (Frankfurt and Berlin) for four years. He became the liaison between NSA Headquarters and Bad Aibling Station Germany, which had him traveling to Bad Aibling 26 times. He traveled to more than 46 countries. Ray retired in 1992 after 36 years of federal service. He was a former member of the Phoenix Society.
Because of his love for travel, Ray and his wife purchased a motorhome and went on the road for the next 23 years, visiting 49 states, including a visit (not in the MH) to Hawaii and on several cruises. During this time, they made many friends and enjoyed traveling with their children and grandsons.
Ray is survived by his wife of 62 years, Marcy (Marthana Stoneburner) Hart, a daughter, a son, and other family.

Ron Mattingly, NSA Deputy Director Training Directorate
Ronald Gene Mattingly, 80, NSA Deputy Director Training Directorate, died 14 September 2021 in Hanover, PA.
Born in Lebanon, KY, he was voted prettiest baby in Marion County, enjoyed many childhood friends whose friendship lasted a lifetime. Ron could play any song on the piano by ear and never met a stranger.
He enlisted in the Air Force after high school, was sent to Yale to learn Chinese, and earned a degree in Chinese and a master's in political science from the University of Maryland. He went on to enjoy a long, storied career at the National Security Agency, retiring at 55 as the Deputy Director for the Training Directorate.
This led to an adventurous retirement which included traveling to Europe, China, Japan, and Russia. He also enjoyed an encore career working for his daughter, networking, and building new business with his many government agency contacts.
Ron enjoyed rehabbing old houses, and was known as "the fixer," builder, and Radar O'Reilly by many. If it could be built, fixed, or taken to the next level, Ron would make it happen.
Nothing gave him greater pleasure than a spontaneous road trip, once driving from Pennsylvania to Connecticut for a grilled cheese sandwich.
An honorary Yorkshireman, Ron spent many years living in the northern English towns of Ripon, Knaresborough, Ripley, and Harrogate, with his children and first wife, Ruth Mattingly, where he developed a second home and many friends.
He is survived by his three children and other family.
He was a unique man of vision who carved his own path, despite obstacles, and will be missed by many.
A celebration of life memorial service will be held at 11AM on Sunday, 26 September 2021, at Panebaker Funeral Home, 311 Broadway, Hanover, PA. The family will receive friends at a visitation one hour prior. In honor of Ron's positive approach to life, colorful, casual dress is encouraged.
---
AFIO EDUCATIONAL EVENTS IN COMING TWO MONTHS....
Friday, 8 October 2021, 11 am - 2 pm - In-Person Tysons Corner, VA - AFIO National Luncheon featuring Seth Jones on his latest book "Three Dangerous Men" and Stephen Vogel on Traitor George Blake from his book, "Betrayal in Berlin."
REGISTRATION FOR AFIO NATIONAL'S FIRST POST-PANDEMIC IN-PERSON LUNCHEON HAS OPENED

Friday, 8 October 2021, 11 am - 2 pm - In-Person Tysons Corner, VA -
AFIO National Luncheon features Seth Jones on his latest book "Three Dangerous Men" and Stephen Vogel on Traitor George Blake from his book, "Betrayal in Berlin."
FOR YOUR CALENDAR. The first in-person AFIO National Luncheon for 2021 will take place on Friday, 8 October at DoubleTree Hotel, Tysons Corner. Event will feature Seth Jones on his latest book Three Dangerous Men and Stephen Vogel on Traitor George Blake from his book, Betrayal in Berlin. Special health precautions will be instituted. Event restricted to 90 attendees to allow spacing of only 4 seated at each table. Proof of vaccination required. Masks required except while eating.
TO REGISTER: Do so here.
VENUE: DoubleTree by Hilton, 1960 Chain Bridge Rd, Tysons Corner, VA 22182 Phone: (703) 893-2100. Directions at this link.
Saturday, 16 October 2021, 2 pm EST - Kennebunk, ME - The Maine Chapter hears from FSO Louis Sell on "Kosovo and Bosnia."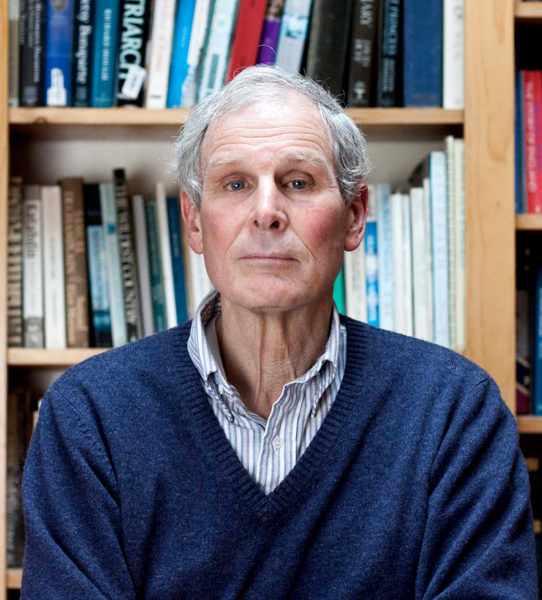 The Maine Chapter of AFIO hosts Louis Sell, a former foreign service officer and author, who will discuss Kosovo and Bosnia. Sell is the author of "From Washington to Moscow: US-Soviet Relations and the Collapse of the USSR" and "Slobodan Milosevic and the Destruction of Yugoslavia."
The meeting is open to the public and begins at 2 p.m. at the Program Center of the Brick Store Museum, 4 Dane St., Kennebunk. A question period will follow the presentation.
Questions? Email chapter president, Mike Severance, at maineboats@roadrunner.com or call 207 967-4298
Wednesday, 17 November, 2021, noon PST - Zoom-virtual - The AFIO San Francisco Chapter hosts Capt Aynesworth on "Intelligence Challenges of the Movement of International Containerized Cargo."
The "Andre Le Gallo" San Francisco Chapter hosts James L. Aynesworth, Captain, U.S. Navy Reserve (ret); President, Trident Information Services International on "Movement of International Containerized Cargo: Intelligence Challenges."

Registration required to receive a zoom link. Register here.
Qs?: contact Mariko Kawaguchi, Chapter Secretary at afiosf@aol.com.
---
Other Upcoming Events from Advertisers, Corporate Sponsors, and Others
Thursday, 23 September 2021, 6:30pm - Washington, DC - Virtual Members-Only SPY themed Trivia Night - Virtual International Spy Museum Program
Join other members of the Spy Museum Inner Circle for an exclusive virtual trivia night. Test your knowledge with trivia centered around the International Spy Museum's history, exhibits, and fun facts. If you've visited the museum recently, you might have an advantage. Event is free and open exclusively to Spy Museum members. You can join SPY as a member online or by calling 202.654.2840. If you are a current member and have not received the link to sign up for this event, please email membership@spymuseum.org to register. Visit www.spymuseum.org.
14 October 2021 - 8:45 am - 11:30 am - Hybrid in-person at Annapolis Junction, and virtual - 2021 NCF General Membership Meeting & Annual Symposium features Donald Alexander on "The Character of a Leader."
The 2021 National Cryptologic Foundation (NCF) General Membership Meeting & Annual Symposium will be an abbreviated program. In addition to updates from NCF and Museum staff, a keynote presentation will be provided by Harry L. Wetherbee, a former CIA Senior Operation Officer who writes under the pseudonym "Donald Alexander." A book-signing for Alexander's "The Character of a Leader: A Handbook for the Young Leader" will take place at the conclusion of the program.
Masks will be required for entrance. Coffee and water will be permitted and provided but no food allowed.
A preliminary draft of the agenda is available here.
Location: CACI conference facility, 2720 National Business Parkway, Annapolis Junction, MD.
Seating will be limited, but options for viewing the program online will also be available. For in-person attendees, check-in will begin at 8:15am. The program will start at 8:45am.
More information about the program is here.
Thursday, 21 October 2021, 6 - 7:30 pm EDT - Virtual - The OSS Society hosts Gen David Petraeus speaking with former CIA Operations Officer Douglas London
Register for the sixth installment in The OSS Society's 2021 "Oh So Social" Conversation Series. General David Petraeus will speak with retired senior CIA operations officer Douglas London about his new memoir, The Recruiter: Spying and the Lost Art of American Intelligence.
It is a "revealing memoir from a 34-year veteran of the CIA who worked as a case officer and recruiter of foreign agents before and after 9/11. It provides an invaluable perspective on the state of modern spycraft, how the CIA has developed, and how it must continue to evolve. The Recruiter: Spying and the Lost Art of American Intelligence captures the best stories from London's life as a spy, his insights into the challenges and failures of intelligence work, and the complicated relationships he developed with agents and colleagues. In the end, London presents a highly readable insider's tale about the state of espionage, a warning about the decline of American intelligence since 9/11 and Iraq, and what can be done to recover."
You will not want to miss this important and timely discussion. To register for this event, do so here.
Wednesday, 1 December 2021, 5:30 PM VIP Reception / 6:30 PM Progressive Reception & Award Program - Washington, DC - 2021 Webster Distinguished Service Award Event - International Spy Museum
The Spy Museum offers an evening of intrigue for the 2021 Webster Distinguished Service Award event. The award is an opportunity to recognize the extraordinary contributions of individuals in the Intelligence Community. This year's awardee is The Honorable Susan M. Gordon, former principal deputy director of national intelligence. Previous recipients of the Webster Distinguished Service Award include President George H. W. Bush (2017), Admiral William H. McRaven, USN (Ret.) (2018), and Gen. Michael V. Hayden (Ret.) (2019). Webster attendee and sponsor support fuels the nonprofit mission of educating the public about the history and craft of espionage and intelligence through youth and adult programs, community service, and the care of the Museum's unique collection of artifacts for generations to come.
Event will be held at the International Spy Museum.
For tickets, sponsorship opportunities, or information about ways to support the International Spy Museum, please contact the development office at 202.654.2853. Event tickets, other details are available here.
---
In addition to the new Royal Blue long sleeve shirts, and the gray long sleeve hooded sweatshirts, the AFIO Store also has the following items ready for quick shipment:
LONG and Short-Sleeved Shirts with embroidered AFIO Logo and New Mugs with color-glazed permanent logo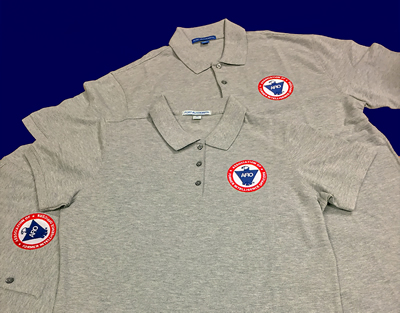 Show your support for AFIO with our new Polo Shirts. Be the first to buy these new, high quality, subtle heathered grey short sleeve shirts, and dark blue long sleeved shirts, of shrink and wrinkle resistant fine cotton with a soft yet substantial feel. They feature a detailed embroidered AFIO seal. Get a shirt for yourself and consider as gifts for colleagues, family, and friends. Only $45 each including shipping.
Sizes of (M) men or (W) women shirts; Small, Medium, Large, XL, XXL, and XXXL. At this time all orders will arrive as Short Sleeve shirts.
You may pay by check or credit card. Complete your order online here or mail an order along with payment to: AFIO, 7600 Leesburg Pike, Ste 470 East, Falls Church, VA 22043-2004. Phone orders at 703-790-0320. If interested in other shirt colors or sleeve lengths, contact Annette at: annettej@afio.com.
---
AFIO Mug with color glazed logo. Made in America. Sturdy enough to sit on desk to hold pens, cards, paperclips, and candy.
This handsome large, heavy USA-made ceramic mug is dishwasher-safe with a glazed seal. $35 per mug includes shipping. Order this and other store items online here.
---
Guide to the Study of Intelligence and When Intelligence Made a Difference
"AFIO's Guide to the Study of Intelligence" has sold out in hard-copy.
However, it is available in digital form in its entirety on the AFIO website here.

Also available on the website here are the individual articles of AFIO's history project "When Intelligence Made a Difference" that have been published to date in The Intelligencer journal. More articles will be forthcoming in future editions.
---
Disclaimers and Removal Instructions
Weekly Intelligence Notes (WINs) are commentaries on Intelligence and related national security matters, based on open media sources, selected, interpreted, edited and produced for non-profit educational uses by members and WIN subscribers.
REMOVAL INSTRUCTIONS: We do not wish to add clutter to inboxes. To discontinue receiving the WINs:
a) IF YOU ARE A MEMBER - click here: UNSUBSCRIBE and supply your full name and email address where you receive the WINs. Click SEND, you will be removed from list. If this link doesn't open a blank email, create one on your own and send to afio@afio.com with the words: REMOVE FROM WINs as the subject, and provide your full name and email address where you are currently receiving them.
b) IF YOU ARE NOT A MEMBER, and you received this message, someone forwarded this newsletter to you [contrary to AFIO policies]. Forward to afio@afio.com the entire WIN or message you received and we will remove the sender from our membership and distribution lists. The problem will be solved for both of us.
CONTENTS of this WIN [HTML version recipients - Click title to jump to story or section, Click Article Title to return to Contents. This feature does not work for Plaintext Edition or for some AOL recipients]. If you wish to change to HTML format, let us know at afio@afio.com. The HTML feature also does not work for those who access their e-mail using web mail...however NON-HTML recipients may view the latest edition each week in HTML at this link: https://www.afio.com/pages/currentwin.htm
---
WINs are protected by copyright laws and intellectual property laws, and may not be reproduced or re-sent without specific permission from the Producer. Opinions expressed in the WINs are solely those of the editor's or author's listed with each article. AFIO Members Support the AFIO Mission - sponsor new members! CHECK THE AFIO WEBSITE at www.afio.com for back issues of the WINs, information about AFIO, conference agenda and registrations materials, and membership applications and much more!
(c) 1998 thru 2021. AFIO, 7600 Leesburg Pike, Suite 470 East, Falls Church, VA 22043-2004. Voice: (703) 790-0320; Fax: (703) 991-1278; Email: afio@afio.com
---
About AFIO | Membership Renewal | Change of Address | Upcoming Events | Chapter Locations | Corporate/Institutional Memberships | Careers in Intelligence Booklet | Guide to the Study of Intelligence | Intelligencer Journal | Weekly Intelligence Notes | To Make A Donation | AFIO Store | Member-Only Section | Code of Ethics | Home Page
---