---
Section I - INTELLIGENCE HIGHLIGHTS
We Now Know What Information the FBI Can Obtain from Encrypted Messaging Apps - Riana Pfefferkorn, JustSecurity.org, 14 Dec
What user data can U.S. federal law enforcement obtain from providers of encrypted messaging services? A recently disclosed January 2021 document () from the Federal Bureau of Investigation (FBI) supplies a concise summary with respect to nine different "secure messaging" apps. It shows that with legal process, the FBI can get various types of metadata, and in some cases even stored message content. Exactly what's available, though, varies widely by app. The one-page document should give useful guidance to privacy-conscious people – including journalists, whistleblowers, and activists – while also helping to dispel misconceptions about the FBI's surveillance capabilities (or lack thereof) in the encrypted messaging context. Kudos to government-transparency nonprofit Property of the People (https://propertyofthepeople.org/ (https://propertyofthepeople.org/document-detail/?doc-id=21114562)) (POTP), run by "FOIA guru" Ryan Shapiro and indefatigable lawyer Jeffrey Light, for obtaining this record under the Freedom of Information Act.
Dated Jan. 7, 2021, the document states that it reflects FBI capabilities as of November 2020.
The apps included in the chart are iMessage, LINE, Signal, Telegram, Threema, Viber, WeChat, WhatsApp (owned by Meta, fka Facebook), and Wickr (which was acquired by AWS () in June). Article continues here
Denmark arrests four intelligence officers for disclosing 'highly classified' information - Fitsanakis in Intelnews, 13 Dec
Four current and former employees of Denmark's intelligence community were arrested last week, as part of what Danish authorities described as a "lengthy and ongoing" counterintelligence investigation. News of the arrests came on Thursday in a brief press statement posted online by the Danish Security and Intelligence Service (PET). Known in Denmark as the Police Intelligence Service, the PET is tasked with domestic counterterrorism and counterintelligence.
In its statement on Thursday, the PET said that four individuals had been arrested the day before during "searches at various addresses" in Denmark. It did not disclose the identities... Article continues here
After 20 years of anti-terror work, CIA gets back to spycraft basics in shift to China - Katie Bo Lillis, CNN, 10 Dec
The CIA is overhauling how it trains and manages its network of spies as part of a broader effort to transition away from 20 years of counterterrorism wars and focus more closely on adversaries like China and Russia, multiple sources familiar with the move tell CNN.
After two decades of intense paramilitary action against Islamist terror groups, some former officers and intelligence overseers say the CIA needs to get back to the kind of traditional, quiet tradecraft needed to collect intelligence against complex nation-states — in particular China, which senior officials have openly acknowledged presents the agency with its biggest challenge.
In theory, the change will allow the CIA to better staff remote outposts seen as critical to the China mission — places like west Africa, for example, that have a lot of Chinese infrastructure investment but are seen as too far away from the action to be a desirable assignment, sources said.
It will also help ensure that the agency is developing officers with the appropriate expertise over the long term. Beyond just hiring more Mandarin speakers and investing in technology, the move cuts to the very heart of the CIA: its human intelligence collectors. Article continues here
We ask "C": how do intelligence services need to change in the 21st century? - McElvoy, Joshi, and Moore, The Economist, 9 Dec
In a rare interview, Richard Moore, the chief of Britain's Secret Intelligence Service, describes his priorities and plans for MI6.
In his first public speech since he became chief of Britain's Secret Intelligence Service, Richard Moore said the service needs to "become more open to stay secret." On "The Economist Asks" podcast, host Anne McElvoy and Shashank Joshi, The Economist's defence editor, ask Mr Moore exactly what that means in practice.
The spymaster, whose position is traditionally referred to simply as "C", describes the "entrepreneurial animal spirits" he hopes to attract by lifting the veil on MI6's plans and challenges. Can partnering with technological talent lend British intelligence the heft it needs to punch above its weight against larger rivals like Russia and China?
Interview may be heard here
The Internet Is on Fire - Simantiras at Artemus Consulting Group, 11 Dec
A vulnerability in a widely used logging library has become a full-blown security meltdown, affecting digital systems across the internet. Hackers are already attempting to exploit it, but even as fixes emerge, researchers warn that the flaw could have serious repercussions worldwide.
The problem lies in Log4j, a ubiquitous, open source Apache logging framework that developers use to keep a record of activity within an application. Security responders are scrambling to patch the bug, which can be easily exploited to take control of vulnerable systems remotely. At the same time, hackers are actively scanning the internet for affected systems. Some have already developed tools that automatically attempt to exploit the bug, as well as worms that can spread independently from one vulnerable system to another under the right conditions.
Log4j is a Java library, and while the programming language is less popular with consumers these days, it's still in very broad use in enterprise systems and web apps. Researchers told WIRED on Friday that they expect many mainstream services will be affected. Article continues here.

Also see: Artemus Consulting Group's FANS Summary Weekly newsletter November 14 - December 10, 2021 pdf
Russian National in Connecticut Sentenced for Providing Crypting Service for Kelihos Botnet - 9 Dec, DOJ
A Russian national was sentenced today in Hartford federal court to 48 months in prison for operating a "crypting" service used to conceal the Kelihos malware from antivirus software, which enabled hackers to systematically infect approximately hundreds of thousands of victim computers around the world with malicious software, including ransomware.
According to court documents, Oleg Koshkin, 41, was convicted by a federal jury on June 15 of one count of conspiracy to commit computer fraud and abuse and one count of computer fraud and abuse.
"The defendant provided a critical service used by cybercriminals to evade one of the first lines of cybersecurity defense, antivirus software," said Assistant Attorney General Kenneth A. Polite Jr. of the Justice Department's Criminal Division. "Cybercriminals depend on services like these to infect computers around the world with malware, including ransomware. The Criminal Division and our law enforcement partners are committed to investigating and prosecuting anyone who criminally operates these services to the fullest extent of the law."
Sentence summary appears here
---
Section II - IC PODCASTS, COMMENTARY, BLOG UPDATES
China's Ambitions as Seen by Three Top Academic Experts, Moderated by Former Acting D/CIA Mike Morell
Intelligence Matters: A CBS News original national security podcast hosted by former CIA acting director and CBS News national security contributor Michael Morell. Morell is crisp, precise, cautious, fair, avoids political slant, and provides remarkable insights. Not to miss.


The most recent "Intelligence Matters" podcasts/interviews by or with Mike Morell:
Dec 8 | China's Ambitions: Graham Allison, Hal Brands, and Ketian Zhang
In this episode of Intelligence Matters, host Michael Morell moderates a conversation among three top experts on China's geopolitical ambitions and their implications for the United States. Harvard University Professor Graham Allison, Johns Hopkins Professor Hal Brands, and George Mason University Assistant Professor Ketian Zhang discuss President Xi Jinping's near and long-term political objectives, the domestic challenges he may face, and how the US should develop its own strategies for confronting or cooperating with Beijing.

Other recent "Intelligence Matters" podcasts to stream or download:
Nov 30 | Dealing with the Taliban: Former Afghanistan Ambassador Zalmay Khalilzad
Nov 24 | National Cyber Director Chris Inglis on Stemming Cyber Threats
Nov 17 | Defense Intelligence Agency Director LTG Scott Berrier on Global Threats
Nov 10 | Former Defense Secretary and CIA Director Leon Panetta on Top Security Threats
Nov 03 | Iran expert Norman Roule on escalating tensions with Tehran
Oct 27 | Putin's Russia: Former Ambassador Michael McFaul
Oct 20 | The Syria Conflict: Former CIA Analyst David McCloskey
Oct 13 | CIA Chief Historian David Robarge on Pivotal Global Events
Oct 06 | Hayden Center Panel on Intelligence and War in Afghanistan
More about Intelligence Matters by Michael Morell here. Podcasts also available here.
---
Ten Pounds of Cyberlaw in a Five-pound Sack - Stewart Baker, Others at Steptoe Cyberblog
Cyberblog by Steptoe & Johnson LLP — By Stewart Baker on 13 Dec 2021
Episode 387: Ten Pounds of Cyberlaw in a Five-pound Sack
All the cyberlitigation that didn't get filed, or decided, hit the fan last week, and we're still cleaning up. Stewart (Baker) asks Dave Aitel for sanity check a on Log4Shell. Does it really deserve a 10 out of 10 for impact? In the first of several cyberlawsuits covered in this episode, Jamil Jaffer and Stewart praise Google for a creative approach to suing cybercriminals. RICO plus a boatload of computer privacy violations are at the heart of Google's complaint against two criminals behind the Glupteba botnet. ... Other topics in this final 2021 episode include: Microsoft used litigation to take down a Chinese government network using same approach for so long botnets are only inconvenienced, not destroyed; Apple's secret, 5-year old $275 billion of investment to China; Why Tor might not be a secure as we think; A Saudi women's rights activist has brought a CFAA lawsuit against DarkMatter and its expat American employees for an iPhone hack that she says got her arrested; The recent Italian fine penalizing Amazon over a billion euros; Story of Ilya Sachkov, a Russian cybersecurity whiz kid who helped unravel the DNC attackers identities in 2016 and is now facing a Russian treason charge; Wikileaks founder Julian Assange's lost extradition battle; This right-wing French candidate's very effective campaign ad was claimed "unfit for children" by YouTube; and What it means to "impose a cost" on ransomware gangs. With this episode, the Cyberlaw Podcast bids farewell to 2021..... Continue Reading
Some Prior Conversations:
Episode 386: Does a Dead Horse Have a Right to Self-defense?
Episode 385: International Tech Policy Week
Episode 384: What to Do About Deplatformed Data?
Episode 383: Cyber Incident Reporting Bill: Good News for K Street
Episode 382: NSO on the Hot Seat
Episode 381: Raven Mad
Episode 380: The FBI Laughs Last
Episode 379: LinkedIn, Slinkedout: Microsoft and China
Episode 378: The Federal Government is Getting Creative in Regulating Technology
Episode 377: Ransomware – Death and Diplomacy
Episode 376: AI Dystopia: Only the Elite Will Escape the Algorithm
Episode 375: China, U.S. Tech Policy: "Let Thousand Hands Throw Sand in the Gears."
---
New US Strategy on Dismantling Financial Corruption - those who hide assets and launder proceeds - Latest Insights from Jack Devine of Arkin Group
The Arkin Group's Dec 10 "In Other News" letter to private clients by former Deputy Director, Operations Officer Jack Devine features...
Greater private public collaboration anticipated after United States releases new strategy on dismantling corruption.
Uptick in tensions with China as new information about human rights abuse surfaces, Beijing Olympics approach.
Despite the pandemic, sustained government demand keeps the sale of weapons and military services on upward trajectory.
Follow link here to read analyses and predictions given to their private clients on the topics from last week. There is a delay of seven days before the above topics will appear at this link.
Released 11 December 2021 in The National Interest: Strategic Clarity Can Counter Chinese and Russian Aggression - Jack Devine and Jonathan D. T. Ward. Article is also cited above in Section III.
Released 8 November 2021: "A Spymaster and a Gentleman, Jack Devine Dispels CIA Myth and Dispenses his Truth" on The Live Drop, Episode 56. "A wonderful discussion with an experienced spymaster himself who's knowledge of intelligence history drives vivid and prescient insights from the past into the future. Jack dispels some persistently inaccurate mythology, and also clarifies why code phrases need not be improvised."
---
Visit to a Lost CIA Afghanistan Base; Spies, Lies, Algorithms & Sex Crimes - The Latest... from Jeff Stein's provocative "SpyTalk" series...

Dec 8: "Visit to a Lost CIA Base in Afghanistan" by Franz J. Marty
Shkin allowed CIA to monitor al-Qaeda fighters on both sides of the Af-Pak border. Now the Taliban has it and jihadis are back.
Dec 5: "New HBO Documentary on CIA Torture Has a John Le Carré Vibe" by Jeff Stein
Alex Gibney's 'The Forever Prisoner' plumbs CIA desperation to discredit FBI methods
Dec 2: "Spies, Lies, Algorithms & Sex Crimes" podcast by Jeff Stein with cohost Jeanne Meserve
This week's SpyTalk podcast has it all. We talk with Hoover Institution cyber expert Amy Zegart
Nov 28: "Spies in the Ointment: Which Way Will FBI, CIA Swing if Trump Returns?" by Jeff Stein
Intelligence veterans anxious about Trump reelection prospects—'by any means necessary'
Nov 17: "The Endless CIA-Oswald Coverup" by Jeff Stein
Another JFK Assassination Anniversary arrives with still buried secrets
Nov 17: "The CIA Swamp in a Novel Nutshell" by Peter Eisner
An ex-CIA man's debut thriller dives deep into politics amid foreign threats
Nov 13: "Updated: Steele Dossier in Tatters" by Jeff Stein
Kick 'em when they're up, kick 'em when they're down
Readers, for a brief time, can subscribe for free for articles and weekend podcasts here.
---
"If Ukraine falls to Russia, Europe is over" - Sleeper Cells Aided Fall of Afghanistan - more from Inside the SCIF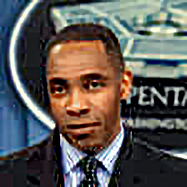 Inside the SCIF by JJ Green, WTOP - Issue #142, 9 Dec has details on... Russia's threat to Ukraine/Baltics grows; Why no breakthrough?; Russia Warns Ukraine Against Attacking Rebels; Putin Won't Invade but will use Proxies - Moldova, Belarus, others; Biden Summit on Democracies; Cong. Staffer arrested with gun in bag; Mossad recruited Iranian scientists to destroy nuclear facility; Belarus, a Defector, and the Ryanair Flight It Forced Down.

Target USA Podcast 309 is on: "If Ukraine falls to Russia, Europe is over"
Kurt Volker, former US Special Representative for the Ukraine Negotiation tells Target USA, there is a very real chance that Russia invades Ukraine and other neighboring countries. And if that happens, it will fundamentally change Europe.
And "The Hunt" explores: New details about Afghanistan's rapid collapse
J.J. Green speaks with Dr. Hans Jakob Schindler, Senior Director of the Counter Extremism Project, about the reasons for the rapid fall of Afghanistan to the Taliban. Schindler suggests that they used sleeper cells.
---
Section III - BROUGHT TO OUR ATTENTION BY MEMBERS
Strategic Clarity Can Counter Chinese and Russian Aggression - Jack Devine, former Acting Director, Operations, CIA; and Jonathan D. T. Ward, author, 11 Dec in The National Interest
To prevent the onward geopolitical march of China and Russia and the dystopian outcome of a world in which adversary systems have truly global range, the United States and its allies must cultivate a modern-day containment strategy towards our authoritarian challengers.
Successive U.S. presidential administrations have begun the monumental task of shifting American foreign policy back towards great power competition—namely with China and Russia. President Joe Biden has framed the competition as a larger contest between democracies and autocracies. This week's Summit for Democracy, which over 100 countries will attend, may be the most significant framing of the contest yet to take place on the world stage. However, America still falls short when it comes to the strategic clarity that our two adversaries possess in the contest they began years ago to dismantle the U.S.-led order.
While differences exist between them, China and Russia both have a singular vision of their strategic interests and greater ambitions in the international system. Until relatively recently, the United States has been primarily focused on combating terrorism, giving Russia and China the opportunity to act with enthusiasm against U.S. national interests. The lack of strategic focus is to our detriment. Article continues here
Still Using Windows 7?!!! Outdated Windows Operating Systems Vulnerable to Cleverly Delayed Ransomware Attacks - Krebs on Security, 13 Dec
The accounting firm PricewatersCoopers recently published lessons learned from the disruptive and costly ransomware attack in May 2021 on Ireland's public health system. The unusually candid post-mortem found that nearly two months elapsed between the initial intrusion and the launching of the ransomware. It also found affected hospitals had tens of thousand of outdated Windows 7 systems, and that the health system's IT administrators failed to respond to multiple warning signs that a massive attack was imminent. Article continues here
Diplomatic Courier's Best Books of 2021 - Joshua Huminski, 12 Dec
A best book is one that challenges preconceived notions, exploring an already well-explored topic, but through a new lens. It's a book that makes the reader look at the world from a different perspective. Joshua Huminski reviewed 45 books for Diplomatic Courier in 2021; these are his top 10.
...curating this list of the best books of 2021 was not an easy process, nor was down-selecting it to the ten included here. After reviewing nearly 45 books alone for Diplomatic Courier, I found it difficult to select the best ones this year. Each was a standout in its own right, ticking the boxes of offering enlightening perspectives, insightful commentary, and genuinely making me reflect on what I knew or thought I knew when it came to the subjects discussed. I always take away something from everything I read, but this year was particularly instructive, and to all the authors whose books I've read and reviewed—thank you.
See books selected here
Ryan T. Young Named Executive Assistant Director of the Intelligence Branch, FBI
Director Christopher Wray has named Ryan T. Young as the executive assistant director (EAD) of the Intelligence Branch at FBI Headquarters in Washington, D.C. As EAD, he will be the strategic leader of the FBI's intelligence program and external partnerships, overseeing the Bureau's intelligence strategy, resources, policies, and functions.
Mr. Young most recently served as the assistant director of the Directorate of Intelligence.
He joined the FBI as a special agent in 2001 and worked counterintelligence cases in the Miami Field Office. In 2007, he was promoted to supervise the Cuban Counterintelligence Squad.
In 2012, Mr. Young was named chief of internal policy in the Resources Planning Office at Headquarters. He moved to the Counterterrorism Division in 2014 and established the Syria-Iraq Task Force. He also led a 72-member interagency task force to counter the threat from the Islamic State in Iraq and the Levant. In 2015, Mr. Young was named the assistant special agent in charge of the Intelligence Branch in the Dallas Field Office, where he also led administrative functions. 
Mr. Young was promoted in 2016 to section chief for the Directorate of Intelligence's Strategic Technology Section and was responsible for providing enterprise technology to operational entities addressing the FBI most challenging threats. Announcement continues here
---
Section IV - Books, Research Requests, Jobs, Obituaries
Books — Newly Released, Overlooked, Forthcoming
How Civil Wars Start — and How to Stop Them
by Barbara F. Walter
(Crown, Jan 2022)
Examines the dramatic rise in violent extremism around the globe and sounds the alarm on the increasing likelihood of a second civil war in the United States. Political violence rips apart several towns in southwest Texas. A far-right militia plots to kidnap the governor of Michigan and try her for treason. An armed mob of Trump supporters and conspiracy theorists storms the U.S. Capitol while thousands of BLM supporters loot and burn cities in the summer of 2020. Are these isolated incidents? Or is this the start of something bigger? Walter worries about her own country. Autocracies and healthy democracies are largely immune from civil war; it's the countries in the middle ground that are most vulnerable, she warns. And this is where more and more countries, including the US, are finding themselves today. Over the last two decades, the number of active civil wars around the world has almost doubled. Walter reveals the warning signs—where wars tend to start, who initiates them, what triggers them—and why some countries tip over into conflict while others remain stable. Draws on latest international research and lessons from over twenty countries. Identifies the risk factors... from factionalization and the politics of resentment and rampant tribalism. A civil war today won't look like America in the 1860s, Russia in the 1920s, or Spain in the 1930s. It will begin with sporadic acts of violence and terror, accelerated by social media. It will sneak up on us and leave us wondering how we could have been so blind.
Book may be ordered here
---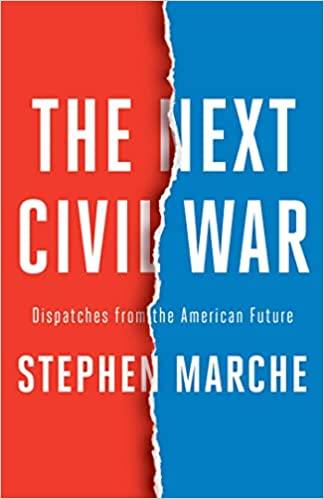 The Next Civil War: Dispatches from the American Future
by Stephen Marche
(Simon & Schuster, Jan 2022)
It's not a matter of if but when: A civil war is on the way, as "the United States is coming to an end." As Toronto-based novelist and culture writer Marche observes, the U.S. is riven by sectarian conflict that cannot help but end, at some point, in violence. — Kirkus
Takes a fiercely divided America and imagines five chilling scenarios that lead to its collapse, based on in-depth interviews with a range of experts. On a small two-lane bridge in a rural county that loathes the federal government, the US Army uses lethal force to end a stand-off with hard-right militias, or anti-government patriots. Inside an ordinary diner, a disaffected young man with a handgun takes aim at the American president stepping in for impromptu photo-op, and a bullet splits the hyper-partisan country into violently opposed mourners and revelers. In New York City, a category 2 hurricane plunges entire neighborhoods underwater and creates millions of refugees overnight—a blow that comes on the heels of a devastating financial crash and years of catastrophic droughts, and tips America over the edge into ruin. These scenarios are just three of five possibilities most likely to spark chaos in the US. Drawing upon predictive models and two hundred interviews with experts—military leaders, law enforcement officials, agricultural specialists, environmentalists, war historians, and political scientists—journalist Marche predicts the terrifying future collapse that so many of us do not want to see unfolding in front of our eyes. Marche has spoken with soldiers and counter-insurgency experts about what it would take to control the population of the US, and the battle plans for the next civil war have already been drawn up. And not by novelists but by colonels. No matter your political leaning, most of us can see America is barreling toward catastrophe—of one kind or another. Relevant and revelatory, Marche breaks down the looming threats to America.
Book may be ordered here.
---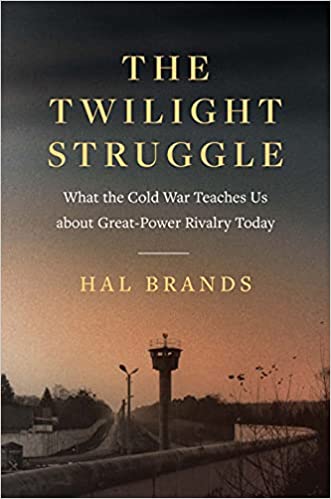 The Twilight Struggle: What the Cold War Teaches Us about Great-Power Rivalry Today
by Hal Brands
(Yale University Press, Jan 2022)
The United States is entering an era of long-term great-power competition with China and Russia. Such global struggles happen at a geopolitical twilight, between the sunshine of peace and the darkness of war. Brands, a leading historian and former Pentagon adviser, argues that America should look to the history of the Cold War for lessons in how to succeed in great-power rivalry today. Although dangerous authoritarian powers are challenging U.S. influence, America's muscle memory for dealing with powerful foes has atrophied in the thirty years since the Cold War ended. In long-term competitions where the diplomatic jockeying is intense and the threat of violence is omnipresent, the US will need all the historical insight it can get and the best leaders possible. Explores how America won a previous twilight struggle as a starting point for determining how America can master the high-stakes and high tech/hypersonic rivalry today.
Book may be ordered here.
Seeking Intelligence Analysis Instructor for Spring Semester, U of Mount Union, Alliance, Ohio
My name is Michael Grossman and I am a professor at the University of Mount Union in Alliance, OH. I am writing to ask for help in locating someone in your organization who would be interested in teaching our course on intelligence analysis. This course is typically taught by an adjunct with intelligence analysis experience (she is a former CIA analyst). Unfortunately, due to a health emergency she is unable to teach the class this Spring semester.
If any of your members would be interested in this opportunity please have them contact our department chair as soon as possible (schortf@mountunion.edu). He will be happy to provide additional information on the course.
Here is the course description, if anyone is interested:
The purpose of this course is to introduce the student to the departments and agencies—collectively known as the Intelligence Community (IC). Students will gain a detailed understanding of the definition of intelligence and the role it plays in national security policy. The course will examine the intelligence process, how the IC analyzes threats, and how intelligence fits into American government more broadly in terms of public policy development, bureaucratic politics, and international relation.
Michael Grossman PhD, Professor of International Affairs and National Security, Department of Social Science, University of Mount Union, Alliance, OH 44601, 330.829.8740, GROSSMMO@mountunion.edu
Author of Bio on Gen Walter Joseph Cawthorn, DG of ASIS (1960-68) - seeking any AFIO members who might have met him or when he visited with Allen Dulles.
I am an Australian writer working on a biography of an Australian spymaster, General Walter Joseph CAWTHORN, who was director General of the Australian Secret Intelligence Service, (ASIS) from 1960 to 1968. I know that Cawthorn met with Allen Dulles when he was DCI and was wondering if any of your members also met him. If you did, I would appreciate hearing from you in the strictest confidence. Alan Fewster can be reached at fewsteralan@gmail.com.
As background: Alan Fewster is a former journalist and diplomat. His previous books are: "The Charles Family's War: A gripping story of twin brothers during World War II"; "Capital Correspondent, the Canberra Letters of Edwin Charles"; "Trusty and Well Beloved, a life of Sir Keith Officer, Australia's first diplomat"; and the "Bracegirdle Incident, How an Australian communist ignited Ceylon's independence struggle." He has also written many articles and opinion pieces.
Seeking U.S. Women Intelligence Officers who served in Germany at some time between 1950 to 1990
I am a journalist for DER SPIEGEL, the biggest politicial news magazine in Germany.
Together with my colleague Maik Baumgärtner, I am currently researching a book project on women who worked for intelligence services and what their work meant for the services.
Therefore we are looking for women who worked for American intelligence agencies in Germany between 1950 and 1990.
We welcome on or off the record talks.
To respond, contact Ann-Katrin Müller at ann-katrin.mueller@spiegel.de
Redakteurin | Hauptstadtbüro
DER SPIEGEL GmbH & Co. KG, Alexanderufer 5, 10117 Berlin, M +49 170 560 8301, Threema-ID: 78XAU7T3
Chenega Enterprises and Solutions (ChESS) LLC is identifying Subject Matter Experts(SME) for potential FBI SME Contract work soon to be awarded.
Counter Intelligence SME Contract work at the Wright Patterson AFB, Dayton Ohio on the China Counterespionage & Technology Transfer section, China Technology Transfer Unit (CTT2/CTTU), Counterespionage SME (REDEYE task force).
Responsibilities Support a full spectrum of counterintelligence, counterproliferation, and technology transfer operations and investigations to include program management administration, training, case investigative coordination, and other related duties as assigned. Conduct reviews and assessments of CTTU focused technology transfer programs and operations. Complete written reports which summarize reviews and assessments in a format specified by the FBI technical supervisor. Address actions by FBIHQ and/or FBI field offices to assess counterintelligence program effectiveness regarding counterproliferation and illicit technology transfer matters. Provide CD management with assessments and guidance in formulating CD policy, resource utilization and outreach to the USIC. Assist CTTU or field personnel in assessing information used in intelligence reporting of counterproliferation or illicit technology transfer matters and make recommendations or corrections as necessary. Identify and report on opportunities and methods to improve case and program management of CTTU investigations, operations, and programs. Assess field personnel training proficiency regarding counterproliferation and illicit technology transfer matters and make recommendations to improve training standards and activities. Participate in counterproliferation and technology transfer conferences and seminars as required by the FBI technical lead. Travel domestically as required. Other duties as assigned. Qualifications Required to adhere to all government agency guidelines as it applies to COVID vaccine Attestation/Restrictions. Required to adhere to all government agency guidelines as it applies to COVID vaccine Attestation/Restrictions. US citizenship. Possess a minimum of 6 years federal law enforcement investigation experience, including extensive involvement in counterintelligence, counterproliferation/technology transfer, criminal, or cyber investigations. Possess contemporary knowledge of the primary threat focus of CTTU, to include foreign intelligence services structures, operations and tradecraft, methodologies, and motivators. Must possess have a current, within four years, CI Polygraph from the FBI, or an approved agency prior to report date. Ability to obtain and maintain a Top Secret (TS) / Sensitive Compartmented Information (SCI).
The FBI is looking for Counterintelligence SME to support the FBI Counterintelligence Foreign Investment Unit (FIU).
The FBI is looking for Counterintelligence Training SME to support the FBI Counterintelligence Training Center (CITC). CITC is tasked with training field agents, supervisors and non-agent personnel in CI investigation.
The FBI is seeking an Counterintelligence SME with extensive knowledge in the East Asia region.
TO APPLY OR EXPLORE any of the above: contact Jessica Lewis, Jessica.Lewis@chenega.com for additional information.
---
Jarrett Crowley II, DIA and NSA Intelligence Officer
Jarrett Hunter Crowley II, Captain, US Navy(Ret), 78, Director of Programs and Policy, NSA, died 5 December 2021 of cancer in Rehoboth Beach, DE.
Capt Crowley was born in Waynesboro, VA. After he graduated West Virginia University in June 1966, he began his 31-year career in the Navy. He served in Vietnam and the Mediterranean, specializing in operational intelligence in Naval Aviation Attack Squadrons, aircraft carriers, and as a staff intelligence officer in operations and planning. He went on to graduate from the Naval War College in Newport, RI (1979), and the Armed Forces Staff College in joint military operations (1983). He was designated as joint staff officer for the Defense Intelligence Agency in intel support systems and as director of programs and policy at the National Security Agency. He retired with the rank of captain in 1997. He continued his intelligence career at the Johns Hopkins University Applied Physics Lab until retirement in 2017.
Mr. Crowley had a deep appreciation for fine food, wine, and good conversation, all of which were part of his life in retirement in Rehoboth Beach, DE. He was a talented chef and an extraordinary host. He was an enthusiast of art, music, and Broadway theatre. His career in the Navy kindled an enduring curiosity for and love of travel, and as he and his friends wandered the globe, he often brought paintings home and in time created an impressive art collection. Over the decades he was devoted to his many Scottish terriers, and they are remembered in paintings in the art collection. In retirement, he drew upon his lifetime of travel adventures and created the Crowley Global Travel Agency as part of the Avoya Network, helping others in their travel adventures.
Mr. Crowley was a loyal and loving husband, son, brother, and uncle. He had a wicked sense of humor. He was an incredibly gifted Mr. Fix It, and had a quiet way of showing up just when his helping hand was needed. He will be deeply missed by all who were lucky enough to know him.
He is survived by his spouse, James Lee Kemp of Rehoboth Beach; a sister, and other family.
A Celebration of Life Ceremony will be held in Rehoboth Beach in early 2022, to be followed at a later date by entombment with full military honors at Arlington National Cemetery.
Visit Mr. Crowley's Life Memorial webpage and sign his virtual guestbook at www.parsellfuneralhomes.com.
Bob Farmer, DIA Chief China Branch, Instructor
Robert Emmett Farmer, Colonel USA(Ret.), 83, DIA Chief of China Branch, died 7 December 2021.
Bob was born in New York City. He graduated from The City College of New York with a BBA and an Army ROTC commission in the infantry. After his early infantry training, Colonel Farmer was selected to attend Counter Insurgency and Psychological Operations courses at Ft. Bragg, NC, followed by a year's study of Mandarin Chinese at the Defense Language Institute at the Presidio in Monterey, CA. Following duty with the 7th Psychological Operations Group in Okinawa and Taiwan, he volunteered for service in Vietnam and after Airborne and Ranger training at Ft. Benning, GA was assigned to the Studies and Observations Group, Military Assistance Command, Vietnam (US MACVSOG). Following his tour with SOG, he returned to the US for the Infantry Advanced Course at Ft. Benning then returned to Vietnam for his second tour with the 25th Infantry Division. Returning to the US he was assigned to the Engineer Center at Ft. Belvoir, VA where he met his future wife, Gail.
After Command of Ft. Belvoir's Personnel Control Facility (PCF), he was selected for Graduate Studies at American University, where he earned an MA in International Studies. He then entered the Army's Foreign Area Officers (FAO) Program as a China Specialist and was assigned to the China Branch, Defense intelligence Agency (DIA). Following his tour with DIA, Colonel Farmer was selected for study at the Armed Forces Staff College in Norfolk, VA with a follow-on assignment to the US Army Command and General Staff College at Ft. Leavenworth, KS as an instructor/author. Next after assignment on the Army Staff and promotion to Colonel, he was assigned to the US Embassy in Accra, Ghana as Defense and Army Attaché (DATT). After two interesting years in Ghana, where he and his wife Gail played an important role in improving US - Ghanaian relations, he was assigned to the Pacific Command in Hawaii and later back to Washington where he was selected to become Chief of China Branch, DIA. He retired from the Army in August 1989. Over his 28+ years of service, Colonel Farmer received numerous awards and decorations including two Defense Superior Service Medals, four Bronze Star Medals (one with "V" device), four Meritorious Service Medals, two Army Commendation Medals, an Air Medal, a Combat Infantryman's Badge, Ranger Tab and Parachute Badge.
After retirement, Bob started his second career with Strayer College as an Admissions Officer, then as Campus Coordinator, and eventually was its first Director of Human Resources. Bob was also appointed Director of Operations, and later served as Vice President in Charge of Administration, Human Resources, and Training. After 15 years with Strayer, Bob retired in January 2005.
Bob was a low key, kind and easy going guy who loved his family and his country. He believed in working hard, doing the right thing and always doing his best. He was extremely proud of being an Army officer.
He is survived by his two sons, two brothers, two sisters, and other family.
Funeral Services will be held at St. Raymond of Penafort Catholic Church on 20 December 2021 at 11 a.m. with interment at Arlington National Cemetery at a later date. The family will receive visitors at the Demaine Funeral Home in Springfield, VA on Sunday, 19 December 2021 at 2 p.m.
Bob Ricker, CIA Officer
Robert Woods Ricker, 92, a CIA Officer, died 5 December 2021 in Vienna, VA.
Born in Paterson, NJ, Bob moved to Washington, DC to attend The Catholic University of America. His education was interrupted by the Korean War, where he served as an officer in the U.S. Army. He returned to CUA and, upon graduation, joined the Central Intelligence Agency where his service to his country continued for several decades. His career with the Agency saw him travel all over the world, including two tours in Vietnam. In 1968, while swimming at the pool of their Tunlaw Rd apartment complex, Bob met a young nurse, Julia Madden. The couple married in 1969 and settled in Vienna, VA.
Bob strongly believed in serving others at a local level, a belief that was formed and reinforced by his Catholic faith. Active in his parish and his community throughout his life, Bob was a committed volunteer at the church and the parish school. He also donated his time to organizations including So Others Might Eat and Reading for the Blind and Dyslexic. He was a founding member and president of his parish's Society of St. Vincent de Paul.
He is survived by his wife of 52 years, Julia, a son, a daughter, and other family.
A funeral Mass will be held 17 December 2021 at 11 a.m. at Our Lady of Good Counsel, 8601 Wolftrap Road, Vienna, VA.
Lyle Theisen, FBI Chinese and Soviet Counterintelligence Agent
Lyle Joseph Theisen, 90, FBI Chinese and Soviet Counterintelligence Agent, died 3 December 2021 in Silver Spring, MD.
Lyle served as a Special Agent of the Federal Bureau of Investigation for 29 years, where he was an expert in Chinese and Soviet counterintelligence. Upon his retirement, and for more than 30 years, he was an active member of the Society of Former Special Agents of the FBI, including serving as an officer of the Society for a period of time. He was a resident of Potomac, MD for over 40 years, where he and Marilyn raised their family.
Lyle was a very involved member of Saint Raphael's Catholic Church in Rockville, where he volunteered in many capacities for nearly fifty years.
He is survived by his wife, Marilyn MacKenzie Theisen, and other family.
---
AFIO EDUCATIONAL EVENTS IN COMING TWO MONTHS....
[None at this time]
---
Other Upcoming Events from Advertisers, Corporate Sponsors, and Others
Saturday, 22 January 2022, 4-7:30 pm ET - Arlington, VA - Operation Soirée: Social Like a Spy and Save the World
Mission: Mix and Mingle Like a Pro
Spyher welcomes Val LeTellier to OPERATION SOIRÉE. Val is a retired CIA operations officer with assignments as Chief of Station (twice), Chief of Base, and Chief of Operations. He had eight field tours in the Middle East, Africa and warzones leading traditional recruitment, covert action and counterterrorism operations. Before that, he was a Special Agent for the US State Department Diplomatic Security Service (DSS). He is a Washington DC native. With coaching from senior former intelligence officers, guests will prepare for a high-stakes mission to help thwart an imminent chemical attack against the McMillan Reservoir in Washington, D.C. Guests will craft a cover story and learn how to discreetly gather information with the elicitation techniques used daily in the world of espionage. With specific requirements in hand, guests ultimately deploy to a cocktail party celebrating the opening of a new art exhibit to find their targets. Armed with new skills, they must tease out details of the attack plan that the Spyher team needs to be successful in stopping the perpetrators.
Location: Ideal lnnovations, inc., 4401 Wilson Blvd Suite 210, Arlington, VA 22203
Dress Code: Cocktail
For More Info or Questions: Spyher - Spy Tours and Events; https://spyher.co/; 703-653-0115; rosanna@spyher.co
Price: $365/pp; Buy Now
1 - 3 May 2022 - Tucson, AZ - Spies Lies & Nukes Conference
Join Valerie Plame and several of her legendary, highly decorated CIA colleagues as they dive into the secretive world of espionage.
Hear intriguing, provocative, and sometimes shocking conversations on cyber attacks, covert actions, nuclear scams, recruiting real spies from those that lived in the "wilderness of mirrors" for years.

Speakers: Valerie Plame, Conference Host and former Covert CIA Ops Officer; James C. Lawler, former Senior CIA Ops Officer; Alma Katsu, former CIA and NSA Analyst; Marc Polymeropoulos, former Senior CIA Ops Officer; Rolf Mowatt-Larssen, former Senior CIA Intelligence Officer; Mary Beth Long, former Asst SecDef for Intl Security Affairs; Glenn Carle, former Senior CIA Ops Officer; Lucy Kirk, former CIA Chief of Station and Ops Officer; Jonna Mendez, former Senior CIA Intelligence Officer; Gary C. Schroen, former Senior CIA Intelligence Officer
Topics: Some of the topics that will be presented by our experts and panelists:
"Afghanistan: Ending the Forever War"; "What is the 'Havana Syndrome'?"; "Russian election hacking / cyberwarfare"; "SoulCatcher: How to recruit a spy"; "Women in the CIA"; "Spy Fiction: What is real and what isn't?"; "The Morality and Politics of Torture"; and "The Nuclear Threat."

Location: Hacienda del Sol Guest Ranch Resort - a beautiful and historic resort 5501 N Hacienda Del Sol Rd, Tucson, AZ 85718
More information or to register visit https://www.spiesliesnukes.com/
---
In addition to the Royal Blue long sleeve shirts and gray long sleeve hoodies, the AFIO Store has the following items ready for quick shipment:
LONG Sleeved Shirts with embroidered AFIO Logo and Mugs with color-glazed permanent logo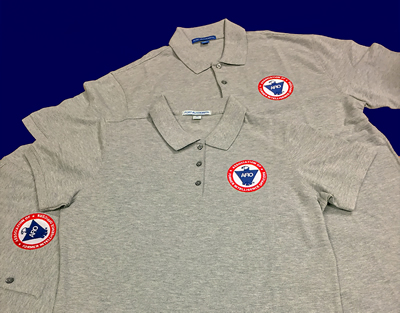 Show your support for AFIO with our long-sleeve Polo Shirts. Dark blue long sleeved shirts are shrink and wrinkle resistant fine cotton with a soft yet substantial feel. They feature a detailed embroidered AFIO seal. Get a shirt for yourself and consider as gifts for colleagues, family, and friends. Only $45 each including shipping.
Sizes of (M) men or (W) women shirts; Small, Medium, Large, XL, XXL, and XXXL. [For short sleeve shirts...they are available on discount of $25 only by email from annettej@afio.com See explanation at top right column of these Weekly Notes.]
You may pay by check or credit card. Complete your order online here or mail an order along with payment to: AFIO, 7600 Leesburg Pike, Ste 470 East, Falls Church, VA 22043-2004. Phone orders at 703-790-0320. Questions? Contact Annette at: annettej@afio.com.
---
AFIO Mug with color glazed logo. Made in America. Sturdy enough to sit on desk to hold pens, cards, paperclips, and candy.
This handsome large, heavy USA-made ceramic mug is dishwasher-safe with a glazed seal. $35 per mug includes shipping. Order this and other store items online here.
---
Guide to the Study of Intelligence and When Intelligence Made a Difference
"AFIO's Guide to the Study of Intelligence" has sold out in hard-copy.
However, it is available in digital form in its entirety on the AFIO website here.

Also available on the website here are the individual articles of AFIO's history project "When Intelligence Made a Difference" that have been published to date in The Intelligencer journal. More articles will be forthcoming in future editions.
---
Disclaimers and Removal Instructions
Weekly Intelligence Notes (WINs) are commentaries on Intelligence and related national security matters, based on open media sources, selected, interpreted, edited and produced for non-profit educational uses by members and WIN subscribers.
REMOVAL INSTRUCTIONS: We do not wish to add clutter to inboxes. To discontinue receiving the WINs:
a) IF YOU ARE A MEMBER - click here: UNSUBSCRIBE and supply your full name and email address where you receive the WINs. Click SEND, you will be removed from list. If this link doesn't open a blank email, create one on your own and send to afio@afio.com with the words: REMOVE FROM WINs as the subject, and provide your full name and email address where you are currently receiving them.
b) IF YOU ARE NOT A MEMBER, and you received this message, someone forwarded this newsletter to you [contrary to AFIO policies]. Forward to afio@afio.com the entire WIN or message you received and we will remove the sender from our membership and distribution lists. The problem will be solved for both of us.
CONTENTS of this WIN [HTML version recipients - Click title to jump to story or section, Click Article Title to return to Contents. This feature does not work for Plaintext Edition or for some AOL recipients]. If you wish to change to HTML format, let us know at afio@afio.com. The HTML feature also does not work for those who access their e-mail using web mail...however NON-HTML recipients may view the latest edition each week in HTML at this link: https://www.afio.com/pages/currentwin.htm
---
WINs are protected by copyright laws and intellectual property laws, and may not be reproduced or re-sent without specific permission from the Producer. Opinions expressed in the WINs are solely those of the editor's or author's listed with each article. AFIO Members Support the AFIO Mission - sponsor new members! CHECK THE AFIO WEBSITE at www.afio.com for back issues of the WINs, information about AFIO, conference agenda and registrations materials, and membership applications and much more!
(c) 1998 thru 2021. AFIO, 7600 Leesburg Pike, Suite 470 East, Falls Church, VA 22043-2004. Voice: (703) 790-0320; Fax: (703) 991-1278; Email: afio@afio.com
---
About AFIO | Membership Renewal | Change of Address | Upcoming Events | Chapter Locations | Corporate/Institutional Memberships | Careers in Intelligence Booklet | Guide to the Study of Intelligence | Intelligencer Journal | Weekly Intelligence Notes | To Make A Donation | AFIO Store | Member-Only Section | Code of Ethics | Home Page
Click here to return to top.
---