---
Section I - INTELLIGENCE HIGHLIGHTS

Former CIA Officer Gets 19 Years in Prison for Selling Secrets to China. A former CIA case officer was sentenced to 19 years in prison this week for conspiring to provide sensitive US information to the Chinese government.

Jerry Chun Shing Lee, 55, worked for the agency for 13 years in several locations, and had intimate knowledge of its classified information and names of covert CIA officers in China.

In May, he pleaded guilty to conspiring to commit espionage on behalf of the Chinese government. At the time, his defense team said he was not a Chinese spy.

But court documents detailed how he communicated with two Chinese intelligence officers who'd send him envelopes with requests for secret information in exchange for cash. The Chinese intelligence officers asked him for 21 different pieces of information, mostly about CIA matters, court records show. [Read more: Karimi/CNN/23November2019]

Defecting Chinese Spy Offers Information Trove to Australian Government. A Chinese spy has risked his life to defect to Australia and is now offering a trove of unprecedented inside intelligence on how China conducts its interference operations abroad.

Wang "William" Liqiang is the first Chinese operative to ever blow his cover. He has revealed the identities of China's senior military intelligence officers in Hong Kong, as well as providing details of how they fund and conduct political interference operations in Hong Kong, Taiwan and Australia.

Mr Wang has taken his material to Australia's counter-espionage agency, ASIO, and is seeking political asylum - potentially opening another front in Australia's challenging bilateral relationship with China.

A sworn statement Mr Wang provided ASIO in October states: "I have personally been involved and participated in a series of espionage activities". He faces certain detention and possible execution if he returns to China. [Read more: TheAge/23November2019]

Kosovo Intelligence Chiefs' Appointment Sparks Criticism. In a surprise move on Monday, outgoing premier Ramush Haradinaj announced that in coordination with President Hashim Thaci, he has appointed Kreshnik Gashi as the new head of Kosovo Intelligence Agency, KIA, and Burim Ramadani as its General Inspector.

"The profiles of the appointees as public figures with integrity and experts on security guarantee the KIA's professionalism and credibility," Haradinaj said when making the appointments public.

The nominations come three weeks after the former head of the KIA, Shpend Maxhuni, stepped down, and at a time when the two parties that won most votes at the recent elections, Vetevendosje (Self-Determination) and the Democratic League of Kosovo, LDK, are negotiating the terms of their ruling alliance. [Read more: Isufi/Birn/26November2019]

In Reversal, Seoul to Keep Japan Military Intelligence Pact. In a major policy reversal, South Korea said Friday it has decided to continue, at least temporarily, a 2016 military intelligence-sharing agreement with Japan that it previously said it would terminate amid ongoing tensions over wartime history and trade.

The announcement, made just six hours before the agreement was to expire, followed a strong U.S. push to save the pact, which has been a major symbol of the countries' three-way security cooperation in the face of North Korea's nuclear threat and China's growing influence.

The office of South Korean President Moon Jae-in said it decided to suspend the effect of the three months' notice it gave in August to terminate the agreement after Tokyo agreed to reopen talks on settling their trade dispute. [Read more: Kim/AP/26November2019]

Serbia's President Accuses Russia of Spying. Serbian intelligence agencies have uncovered a wide-ranging intelligence operation involving Russian spies and members of the Serbian military, President Aleksandar Vucic said on Thursday.

Vucic's remarks came after a meeting of the National Security Council which he convened after a video showing a Russian intelligence officer handing money to a Serbian man in Belgrade was made public on YouTube over the weekend.

The video, which was not made by Serbian agents, showed a man identified as Lt. Col. Georgy Kleban, a former assistant military attache at Russia's embassy in Belgrade, meeting a Serbian retired army officer, whom Vucic identified only as Z.K.

Vucic said the meeting took place last December. He did not say who had made the video. [Read more: Vasovic/Reuters/21November2019]

Plaque Commemorating Polish Enigma Code-Breakers Unveiled in London. On Sunday in St. Andrew Bobola Church in London, a plaque commemorating Polish mathematicians who helped crack the Enigma code has been unveiled in London.

The plaque, made of bronze and financed by the Polish Embassy in London, was unveiled by Polish Ambassador Arkady Rzegocki at the St Andrew Bobola Church in memory of scientists Marian Rejewski, Jerzy Różycki and Henryk Zygalski.

Speaking at the event, the ambassador said: "On the eve of Polish Independence Day, we gathered today to honour the achievements of those whose skills, persistence and sense of mission helped shorten the greatest armed conflict in human history."

He added that this 2019 is not only the 80th anniversary of the outbreak of World War II, but also of the cryptologists sharing their knowledge with the French and British, which took place just before the outbreak of war. [Read more: Niedziński/PAP/15November2019]


---
Section II - CONTEXT & PRECEDENCE

Fourth Spy Unearthed in U.S. Atomic Bomb Project. The world's first atomic bomb was detonated on July 16, 1945, in the New Mexican desert - a result of a highly secretive effort code-named the Manhattan Project, whose nerve center lay nearby in Los Alamos. Just 49 months later, the Soviets detonated a nearly identical device in Central Asia, and Washington's monopoly on nuclear arms abruptly ended.

How Moscow managed to make such quick progress has long fascinated scientists, federal agents and historians. The work of three spies eventually came to light. Now atomic sleuths have found a fourth. Oscar Seborer, like the other spies, worked at wartime Los Alamos, a remote site ringed by tall fences and armed guards. Mr. Seborer nonetheless managed to pass sensitive information about the design of the American weapon to Soviet agents.

The spy fled to the Soviet Union some years later; the F.B.I. eventually learned of his defection and the espionage but kept the information secret. [Read more: Broad/NYTimes/23November2019]

Book Review: Madame Fourcade's Secret War: The Daring Young Woman Who Led France's Largest Spy Network Against Hitler. The most effective leader of the French Underground, who ran the largest and most productive spy ring working against the Nazis, was not a man. It was Marie-Madeleine Fourcade, who at 31 years old, left her life of privilege in Paris to fight against the German invaders in 1941. Her story is told by Lynne Olson in her New York Times bestseller, Madame Fourcade's Secret War, published in 2019. It is an enthralling read, filled with tension, drama, and stories of humanity during the most difficult of times. Ms. Olson is an experienced storyteller who has written and co-written a number of World War II histories, and in her prologue says that she ran across Madame Fourcade's story while writing another book and felt compelled to tell it on its own.

In reading the book, one wonders how Madame Fourcade and her network, called the Alliance, survived. Anyone with a smidgeon of knowledge about intelligence tradecraft will wince when they read of their large group meetings, writing and storage of incriminating documents, and repetitive moves in what we now call "pattern of life" activities. But, despite losses in personnel that sometimes rendered entire sections of France dark to the Alliance, they kept coming back. In large part, that was because of the fierce loyalty and respect in which the resistance agents held Madame Fourcade. Although a woman in what was very much a man's game, and additionally encumbered by her beauty and youth, she had a fierce will and great charisma. She did not hesitate to put her life on the line, particularly in support of those she recruited; on several occasions she skirted capture by the Gestapo in order to warn her agents. She earned the respect of all those in her network, as well as of British Intelligence, who funded them and provided requirements and other support. [Read more: Ledgett/TheCipherBrief/26November2019]

Area 51 Veteran And CIA Electronic Warfare Pioneer Weigh In On Navy UFO Encounters. It's a 70-year old mystery that, until recently, had been largely relegated to society's rebelliously curious. Now, thanks in no small part to three Department of Defense videos showing some kind of unidentified aircraft soaring through restricted airspace, the topic of UFOs has suddenly reemerged as a subject worthy of mainstream attention. First hitting the public almost two years ago after originally being filmed by the targeting pods of Navy F/A-18E/F Super Hornet fighters in 2004 and 2014-2015, interest in these clips has only been bolstered by a recent official statement from the Navy saying, indeed, these blurry objects are "Unidentified Aerial Phenomena" or "UAP." In other words, their type and origin remain unknown, at least officially.

Despite all the attention from the media and the general public, for a man who's worked on some of the most highly-classified aerospace programs in the world, all this new UFO talk isn't all that impressive. In fact, for T.D Barnes, a former Special Projects engineer at Area 51, this entire UFO story sounds very familiar. [Read more: McMillan/TheDrive/25November2019]

JFK Files: CIA Spy in Cuba 'Befriended' Castro, Che; Played Key Role Amid Nuclear-War Fears. The World War II veteran with the top-secret job hid a lot from his 12-year-old daughter. But on this day, he opened up about how suspicious it seemed: The accused assassin of John F. Kennedy getting shot and killed on live TV, during a transfer between jails.

Today, Lilliam remembers her dad "being sort of angry that we weren't going to get any answers... and just really wondering about it: Was it (Lee Harvey) Oswald who shot the president like we all thought? And he conveniently gets shot himself?"

She wouldn't know for four more years that this was not simply idle speculation about danger and deception surrounding the president's 1963 murder. Her dad was a deep-cover CIA operative whose life had been dedicated to danger and deception.

A secret war the White House waged against Cuba provided both in abundance. And the spy was often in the thick of the adventure. Fate would sideline him at a crucial moment, when Fidel Castro took control of the island nation. But that didn't derail his dedication to fighting communism - until a personal demon destroyed his career. [Read more: Brackett/USAToday/22November2019]

Podcast: CounterSpy - James Olson, CIA. The CIA thought it had thoroughly penetrated Cuban intelligence, with scores of agents and informants in Havana, until one day a Cuban officer walked into the U.S. Embassy in Vienna and broke the news - the agents were actually double agents.

James Olson was the CIA station chief in Vienna at the time. He tells the story on this episode of I Spy. Olson would go on to serve as the agency's head of counterintelligence. [Listen: ForeignPolicy/26November2019]

Solve Cases Like a '60s Spy with an Escape Game that Comes to You. Interactive escape room games - which require groups of players to find clues and solve an array of puzzles before the allotted time runs out - have soared in popularity in recent years.

But brick-and-mortar escape rooms are often limited by their size, making it challenging to accommodate large groups. That's why EscapeSF has created a game that can not only travel to offices or off-site retreats, but accommodate up to 200 participants at a time.

The San Francisco-based company offers a number of games for smaller groups, with titles like "Escape from Space Bus," "Escape from Alcatraz" and "Escape from Blind Tiger Bar." But behind the scenes, the company had been at work on a larger "portable" game for big groups, said Marianna Sumina, EscapeSF's general manager.

Its new large-group game, "Sabotage," is a '60s-themed spy quest, where players work for a secret agency whose cases have been intercepted by an "evil corporation." [Read more: Hoodline/26November2019]


---
When Does Terrorism Have a Strategic Effect? One of the worst terrorist attacks in the post-9/11 era killed no one. When Al Qaeda in Iraq bombed the Askari shrine in Samarra in 2006, only the mosque itself was damaged. However, by striking at one of the most important Shiite shrines in the world, it enraged Iraq's Shiite majority, inflaming sectarian tension and exacerbating that country's civil war. Tens of thousands of Iraqis would die in the resulting violence. In contrast, a far bloodier jihadist attack a decade later, and one closer to home for most Americans, had little long-term impact beyond the deaths of innocent people. In 2016, Omar Mateen shot 49 people at the Pulse night club in Orlando in the name of the Islamic State. This attack soon faded from the headlines, and U.S. foreign policy did not change.

Not all terrorism is created equal. Some attacks are merely blips on the terrorism radar screen, grabbing headlines for a few days before life resumes as before. Other attacks, however, shake the world. The strategic effects of such an attack go far beyond whether it helps a terrorist group win, and they can be divided into two areas. First, terrorism can affect conflict and international politics, shaping foreign policy, sparking international and civil wars, and preventing peace negotiations. Second, terrorism can undermine democracy by decreasing faith in public institutions. The strategic success of terrorism often depends as much on the government response as it does the terrorist attack itself: too little or too much counterterrorism can do the terrorists' jobs for them. [Read more: Byman/WarOnTheRocks/26November2019]


---
Andy Anderson, CIA, DIA, OSD, Intelligencer Co-founder & Columnist

Dwayne "Andy" Stephan Anderson, CDR USCG (Reserve), 92, CIA, DIA, OSD, died 19 November 2019 in Falls Church, VA.
Andy wrote the popular "Well-Armed Case Officer" column for Intelligencer journal for many year, and was co-founder (with John Macartney) of that journal.
Born in Ludington, MI, Andy served in the US Coast Guard during WWII and the Korean War, and later retired from the USCG Reserve as O6 (Commander).
He joined CIA as a military intelligence analyst in 1957 and left in 1965 to serve in the Office of the Secretary of Defense as a Foreign Affairs specialist.
He retired from DOD in 1986. From 1992 to 1996 he worked as a contractor with Defense Intelligence Agency.
He received numerous awards, including the Defense Meritorious Service Medal (DSM), Bronze Palm to the DSM, and AFIO's David Atlee Philips Award.
He was a frequent contributor to journals, including having two articles published in CIA's Studies in Intelligence, numerous columns in AFIO's Intelligencer, six articles on railroad history, and columns in The American Weekly and other newspapers.
He co-edited seven books on military history. Did drafting on several international treaties on outer space, chemical and biological weapons, and laws of war.
Andy appeared before Senate Committees several times on the use of CBW including herbicides during the Vietnam conflict.
Membership: AFIO, Arlington American Legion, Sons of Norway, Dunn Loring Civic Association, Vienna/American Legion Philosophic Society
His wife, Betsy, died years earlier. He is survived by three sons: Loren Anderson, Ian Anderson, and Mark Anderson.
Jim Johnston, OSS, FSO

James Richard Johnston, 95, OSS, Foreign Service Officer, and Economist, died 14 November 2019, in Alexandria, VA.
Jim was born in Chillicothe, OH, was a 1941 graduate of Chillicothe High School, attended Miami University in Oxford, OH, before enlisting in the US Army Infantry in 1943. After completing basic training in Paris, TX, he was assigned to the Office of Strategic Services (OSS). Because of his affinity for learning languages, he was assigned to study Chinese at the University of Chicago and then transferred to Chunking, China.
Following WWII, he returned to the University of Chicago where he earned a Masters' degree in International Relations in 1948. Jim served as a foreign affairs analyst in the US Department of State before being assigned to the US Embassy in Taipei, Taiwan (then known as Formosa). Jim served as Consul in posts in Pakistan, Turkey, and Costa Rica. In 1963 he transferred to the US State Department headquarters in Washington DC, and the family moved to Alexandria, VA.
He later transferred to the US Department of Commerce, International Trade Administration, where he served as Director of the Developing Nations Division, Bureau of International Commerce, as well as Director, Office of South Asia, until he retired in 1989.
Jim was proud of his service to his country, and often assisted in diplomatic and economic negotiations, providing research and writing speeches for Presidents and Cabinet members. He believed in the power of diplomacy to ensure peace and prosperity, and was a dedicated civil servant in both Democratic and Republican Administrations. Jim's faith in the American people and his dedication to a proud and capable federal government was unwavering.
He was an avid reader and loved the outdoors, spending summer family vacation camping. He loved to travel, enjoyed road trips to Ohio, Texas, Florida, Vermont, and Canada. He was a dedicated correspondent with family and friends from all over the world. Jim also had a lifelong interest in trains, having grown up the son of a conductor in the Baltimore & Ohio Railroad. He often recited phrases in Chinese, Turkish, and Spanish, as well as poems learned in elementary school.
He is survived by two sons and a daughter, and other family.
A celebration of his life will be held in the spring.
Joseph Markowitz PhD, CIA, IC Principal for Open Source Info (OSINT)

Joseph Markowitz PhD, 81, CIA, the former Director of the Community Open Source Program Office (COSPO) -- the DCI's Program Manager and Intelligence Community Principal for open source information (OSINT) -- died Thursday, 24 October 2019 in Harper's Ferry, WV.
He was raised in Philadelphia, PA, received a BS in Mathematics and an MA in Psychology from Wesleyan University, and went on to receive a PhD in Acoustic Psychology from the University of Pennsylvania.
Joe started his career at Bolt Beranek and Newman as a Group Manager when the original ARPANET was being developed in the late '60s. In 1975, Joe joined the CIA as a research manager in the Office of Research. In this role, Joe helped to modernize the Agency's information infrastructure, leveraging ongoing advancements in technology to assist the Agency. His work as a strong proponent of technology led him to create the first open source network at the CIA, developing the Agency's first "black box" switches, which allowed users to easily work with different computers on different networks.
Joe served as the first Director of the Community Open Source Program Office (COSPO), whose mission is to facilitate more effective use of open sources in the intelligence community.
He was a founding member of the FBI Director's Advisory Board under Director Robert Mueller. In that capacity he made unique and invaluable contributions to modernizing the FBI to reflect evolving technology standards. Joe was also a member of the Defense Science Board for a quarter century and and worked on information technology, networking, intelligence, cyber and weapons of mass destruction. In addition to work in the public and private sector, he also held teaching positions at Northeastern University, and after retirement, taught adult education classes at Shepard University.
As the father of two boys, Joe was active in the Boy Scouts; enjoyed writing, reading and anything related to technology. He was a creative problem-solver who could always recommend a clever solution and was an excellent story-teller who traveled the globe extensively.
He is survived by Nancy Markowitz, his wife of 53 years, two sons, and other family.
Richard O'Donnell, NSA

Richard P. O'Donnell, 87, NSA, died 21 November 2019 in Myrtle Beach, SC.
He was a former senior analyst with the National Security Agency.
Following three years of service in the U.S. Army during the Korean War, he attended George Washington University and then joined the NSA. His agency career spanned three decades during the height of the Cold War and included such assignments as serving two years on the staff of the Director of Central Intelligence, Senior Operations Office in the National Security Operations Center, and Deputy Chief of the Office of International and Economic Affairs.
He retired from the NSA in 1987 after 34 years of federal service.
In the 1960s-70s he was an award-winning playwright whose work was performed in professional regional and community theatre and several public radio and area television productions. He was a member of the Dramatists Guild of America.
In retirement he was a volunteer with the America Cancer Society and the Senior Connection of Montgomery County, MD. He was a member of St. Jane Frances de Chantal Catholic Church where he was a Eucharistic Minister and served in their Pastoral Care Program at Suburban Hospital in Montgomery County, MD.
He is survived by two daughters, a son, and other family.
---
Information Systems Security Officer (ISSO) - Location: Fayetteville, NC
Duties: The ISSO will provide support to the ISSM for maintaining the appropriate security posture of systems accredited under the DCSA Risk Management Framework. The ISSO assists with the management of security aspects of the information system and is assigned performs day-to-day security operations of the system. The ISSO provides support to the customer on matters involving the security of the information system and assists in maintenance to ensure the system accreditation. This includes developing and updating the system security plan, maintaining the company Emass account, as well as managing and controlling changes to the system and assessing the security impact of those changes. The ISSO also provides support to plan, coordinate, and implement IT security programs and policies and provides configuration management for security-relevant information system software, hardware, and firmware. The ISSO will advise and assist the ISSM with the continuous monitoring of accredited systems.
Qualifications: Bachelor's Degree in Computer Science or related field and at least 6 years of applicable experience, or equivalent Active Secret or Top Secret/ SCI clearance DOD 8570 compliance (CISSP, Security +, etc.)
Preferred Additional Skills: Experience with ICD503 and NISPOM Chapter 8 Familiarity with multiple Intel community and DCSA system accreditation procedures Experience producing security artifacts into Emass (SSP, POAMs, etc.) Experience hardening OTS operating systems Experience with vulnerability and compliance scanning tools (WASSP, Nessus, SCAP, etc.) Experience implanting the Risk Management Framework (RMF) Experience managing Windows 10-based systems. Strong investigative drive, intuition, and self motivation Understanding of system vulnerabilities, exploitation and mitigation
Security Clearance: This position requires a current, final security clearance eligibility and the ability to obtain a TS/SCI with polygraph. You must be a U.S. Citizen. In addition, applicants who accept a conditional offer of employment may be subject to government security investigation(s) and must meet eligibility requirements for access to classified information. The candidate may also be subject to a local background check.
To apply or for more information contact: Kelly George at kgeorge@walsinghamgroup.com
Syracuse University's School of Information Assistant Professor - Trustworthy Cyberspace
DePaul University, School of Computing Assistant Professor in Software Engineering
The School of Computer and Cyber Sciences Tenure Track and Tenured Positions at the Assistant, Associate, and Full Professor Levels
Department of Cyber and Computer Sciences at The Citadel Tenure-Track Positions in the Department of Cyber and Computer Sciences
Portland Community College - Computer Information Systems Instructor, CIS / Windows System Administration
Augusta University - Tenure Track and Tenured Positions at the Assistant, Associate, and Full Professor Levels
FireEye Has Many Intelligence Positions Available For You - Worldwide - Contract, Full-time, Part-time, Interns
Explore the many career and contractor intelligence jobs available here. Jobs openings in Cyber Security include - Advisory, Architecture, Digital Forensics & Incident Response, Penetration Testing, Threat Research. They positions are needed here: New York, Chicago, Manila, Reston, Dallas, Atlanta, Suitland, Singapore, Denver, Las Vegas, Phoenix, Doha, Stockholm, London, Milpitas, multiple cities in Australia, Washington, Indianapolis, Tampa, Santiago, Alexandria, Seattle, Carlsbad, Houston, San Francisco, Arlington, Dubai, Amsterdam, Ft Belvoir, Minneapolis, Mexico City, San Diego, Boston, El Segundo, Philadelphia, San Antonio, Chiyoda, Ft Huachuca, Ft Gordon, Ft Meade, Ft Shafter, Kuwait City, Seoul, Sttutgart, Salt Lake City, Austin, Dublin, Bangalore, Cork, Colorado Springs... Explore the many career and contractor intelligence jobs available here.

---
AFIO EDUCATIONAL EVENTS IN COMING TWO MONTHS....
Wednesday 4 December 2019, 5:30 p.m. - New York, NY - AFIO NY Metro Chapter hosts CIA Officer (Ret) Dr. John A. Gentry discussing "IC Political Activism since 2016 -- Origins and Implications."
Partisan political activism by current and former intelligence officers since mid-2016 is the largest and most significant politicization of intelligence by intelligence officers in U.S. history. This presentation will explore the causes and the wholly negative consequences of this new form of politicization for the IC and the country.

Dr. John A. Gentry was for 12 years an intelligence analyst at the CIA, where he worked mainly economic issues associated with the Soviet Union and Warsaw Pact countries; for two of those years he was senior analyst on the staff of the National Intelligence Officer for Warning. He is a retired U.S. Army Reserve officer, with most assignments in special operations and intelligence arenas. On active duty, he was executive officer of a special forces operational detachment. As a reservist, he was mobilized and spent much of 1996 as a civil affairs officer in Bosnia. Dr. Gentry also is an adjunct associate professor with the School of International and Public Affairs, Columbia University. He formerly taught at the College of International Security Affairs, National Defense University, at the National Intelligence University, and at George Mason University. His research interests primarily are in intelligence and security studies. He publishes frequently in Intelligence and National Security and International Journal of Intelligence and CounterIntelligence. Georgetown University Press published his co-authored book, Strategic Warning Intelligence: History, Challenges and Prospects, in early 2019. He is a member of the Editorial Committee of the International Journal of Intelligence and CounterIntelligence. He is adjunct professor at Georgetown University.
Location: Society of Illustrators, 128 E 63rd St (between Park and Lexington), New York, NY 10065.
Timing: Registration starts at 5:30 pm, Speaker presentation starts at 6 pm. Fee: $50/person. Payment at the door only. Cash or check. Full dinner, cash bar.
RSVP: Strongly recommended that you RSVP to ensure space at event. Call or Email Chapter President Jerry Goodwin at afiometro@gmail.com or 646-717-3776.
Thursday, 5 December 2019, 12:30 - 2 pm - Los Angeles, CA - AFIO Los Angeles Chapter meeting features Dr John Gans discussing "White House Warriors: How the NSC Transformed the American Way of War."
Dr. John Gans will be the guest speaker for the Los Angeles Chapter of AFIO and discuss key topics of his newly published book White House Warriors: How the National Security Council Transformed the American Way of War, which covers the people and power of the National Security Council staff.
Gans is Perry World House's Director of Communications and Research. In addition to leading Perry World House's Graduate Associates program, he teaches Penn undergraduate and graduate students. Prior to joining Perry World House, he was the chief speechwriter to Secretary of Defense Ash Carter at the Pentagon. In addition to leading the writing team at the Defense Department, Gans served as senior speechwriter for Defense Secretary Chuck Hagel and Secretary of the Treasury Jack Lew.
In 2019, Gans published White House Warriors: How the National Security Council Transformed the American Way of War, which the Wall Street Journal said was a "bottom-up history," The New Republic called "enlightening," and Lawfare concluded it was "rollicking and compellingly told." Gans earned his Ph.D. from Johns Hopkins University's School of Advanced International Studies.
We look forward to your attendance. Please mark your calendar and your spouse or other guests are welcomed.
Event Location: 5651 W Manchester Ave, Los Angeles, CA 90045. Map or Directions here.
Full refreshments served
RSVP: afio_LA@yahoo.com
Questions to Vincent Autiero, President, AFIO-Los Angeles Chapter, at afio_LA@yahoo.com.
Tuesday, 10 December 2019, 11:30 am - 2 pm - MacDill AFB, FL - Florida Suncoast Chapter Meeting and Luncheon features Mark Aubin on "The Scourge of Human Trafficking"
Mark Aubin, licensed investigator and practicing attorney, speaks on the growing scourge of human trafficking and several cases he's personally pursued.
As of the end of last year, almost 11,000 human trafficking cases in the Untied States were reported to the National Human Trafficking Hotline, which provided resources and referrals to over 9,000 potential victims. Among all US states, Florida ranked third after California and Texas with 767 cases reported. The clear majority of cases involve adult women but about a third of trafficking cases involve minors.Traffickers compel victims to engage in commercial sex and to work in both legal and illicit industries, including in hospitality, traveling sales crews, agriculture, janitorial services, construction, restaurants, care for persons with disabilities, salon services, massage parlors, retail, fairs and carnivals, peddling and begging, drug smuggling and distribution, child care, and domestic work.
Top Gun Investigations in Tampa was established by Mark J. Aubin, a Licensed Investigator, Class "A" Investigative Agency owner and practicing Attorney at Law. Mark has more than 12 years of experience as a licensed Florida private investigator and over 19 years of experience a wide variety of legal disciplines including civil litigation, criminal law, family law, contracts, bankruptcy, probate and all manner of general civil law. Mr. Aubin is also the Volunteer Legal Advisor for FALI, The Florida Association of Licensed Investigators, whichrepresents close to a thousand licensed investigators throughout the State of Florida.
To Attend: RSVP to the Chapter Secretary at michaels@suncoastafio.org, no later than noon Tuesday, 3 December, for yourself and any guests. You will receive a confirmation via email. If you do not get a confirmation, contact the Chapter Secretary.
FEE: $20 check per person payable to "Suncoast Chapter, AFIO" (or cash) at check-in to cover the luncheon. If you make a reservation, don't cancel and get a cancellation confirmation by the response deadline and then don't show up, you will be responsible for the cost of the luncheon.
Anyone with special AFIO Base Access should proceed to the Bayshore Gate. If you need directions, please let us know.
Note: Meal Alternatives Available
When you RSVP, you may indicate an alternate meal preference of a chef's salad, grilled vegetable plate or a fruit plate. You will receive a coupon when you check
in for your meal alternative-please remember to return your coupon when the meeting concludes.
Location: MacDill AFB Surf's Edge Club, 7315 Bayshore Boulevard, MacDill AFB, FL 33621.
Check-in starting at 1130 hours; Opening ceremonies, lunch and business meeting at noon, followed by our speaker.
Monday, 10 February 2020, 5:30 p.m. - New York, NY - AFIO NY Metro Chapter hosts CIA Officer (Ret) and Author/Disguise Expert Jonna Mendez
Jonna Mendez (Spy Dust: Two Masters of Disguise Reveal the Tools and Operations That Helped Win the Cold War), share (with late husband Tony Mendez) their experiences as spies in Moscow during the height of the Cold War in the mid-1980s. The authors begin with the initial list of "the Moscow Rules" and continue to discuss briefly the current state of affairs in Russia under Vladimir Putin, and how they interfered with the 2016 U.S. election. Additional details to follow in coming months.
Location: Society of Illustrators, 128 E 63rd St (between Park and Lexington), New York, NY 10065.
Timing: Registration starts at 5:30 pm, Speaker presentation starts at 6 pm. Fee: $50/person. Payment at the door only. Cash or check. Full dinner, cash bar.
RSVP: Strongly recommended that you RSVP to ensure space at event. Call or Email Chapter President Jerry Goodwin at afiometro@gmail.com or 646-717-3776.
Friday, 28 February 2020, 10:30 am - 2 pm - Tysons, VA - First AFIO luncheon of 2020 features James Olson, author of To Catch a Spy: The Art of Counterintelligence; and political scientist Seth G. Jones, author of A Covert Action: Reagan, the CIA, and the Cold War Struggle in Poland.
James Olson's presentation starts at 1 p.m.: Olson served for over thirty years in the Directorate of Operations of the CIA, mostly overseas in clandestine operations. In addition to several foreign assignments, he was chief of counterintelligence at CIA headquarters in Langley, VA. Currently, he is a Professor of the Practice at the Bush School of Government and Public Service of Texas A& M University.
At this event Professor Olson will be discussing his March 2019 book, To Catch a Spy: The Art of Counterintelligence which suggests that the US is losing the counterintelligence war. Foreign intelligence services, particularly those of China, Russia, and Cuba, are recruiting spies in our midst and stealing our secrets and cutting-edge technologies. He provides a guide for how our country can do a better job of protecting its national security and trade secrets. He will review the principles and methods of counterintelligence, including the running of double-agent operations and surveillance. He also addresses why people spy against their country, the tradecraft of counterintelligence, and where counterintelligence breaks down or succeeds.
The morning speaker, Dr. Seth G. Jones, will begin 11 a.m. Dr. Jones director of the Transnational Threats Project, and is a senior adviser to the International Security Program at the Center for Strategic and International Studies (CSIS). He teaches at Johns Hopkins University's School of Advanced International Studies (SAIS) and the Center for Homeland Defense and Security (CHDS) at the U.S. Naval Postgraduate School. Prior to joining CSIS, Dr. Jones was the director of the International Security and Defense Policy Center at the RAND Corporation and was Adjunct Professor, Security Studies Program, Edmund A. Walsh School of Foreign Service, Georgetown University, where he taught classes on "Counterinsurgency" and "Stability Operations." He also served as representative for the commander, U.S. Special Operations Command, to the assistant secretary of defense for special operations.
He will discuss counterinsurgency and counterterrorism, with a particular focus on Afghanistan, Pakistan, and al Qa'ida.
Registration will open in early 2020.
Venue: DoubleTree by Hilton, 1960 Chain Bridge Rd, Tysons Corner, VA 22182 Phone: (703) 893-2100. Directions at this link.
---
Other Upcoming Events from Advertisers, Corporate Sponsors, and Others
Tuesday, 26 November 2019, 7 - 8:45 pm - McLean, VA - How Terrorist Groups End - Dr Christopher Harmon at the Westminster Institute
Dr. Christopher C. Harmon is the Donald Bren Chair of Great Power Competition at Marine Corps University, where he teaches at schools such as Command and Staff College and the School of Advanced Warfighting.
Some terrorist campaigns are short; some last for decades. Most terrorist campaigns do end....but how? The answers not only reveal much about a given terrorist group, they also aid us in identifying good strategies for countering such political violence. Dr. Harmon's work -- from a 2004 think tank report to lectures at the National Counter-Terrorism Center and Interpol headquarters -- has focused on five results: defeat of the terrorists by force; arrest or killing of the leader(s); terrorism's turn up a pacific political path; defeat via good grand strategy including law enforcement; and terrorist success. His lecture will address a dozen important modern groups of varied ideologies and will include Al Qaeda and ISIS.
Long ago stirred by the question of this evening's topic, Dr. Harmon created a rubric and concept of analysis, articulated in many publications from 2004 through 2010, including a book chapter for Cambridge University Press in early 2006. He is lead author or editor of six books, including A Citizen's Guide to Terrorism & Counterterrorism, Toward A Grand Strategy Against Terrorism, and The Terrorist Argument. The latter book's thesis was presented at a Westminster Institute lecture in December, 2017 (https://www.youtube.com/watch?v=0q8U7T1vJcw).
Harmon's most recent essays are in Combating Terrorism Exchange, the geopolitical journal Orbis, and Oxford Bibliographies.
Dr. Harmon wrote his political science dissertation on terrorism in the early 1980s at the Claremont Graduate School in California, where he had also earned his M.A. He continued that work as Legislative Aide for Foreign Policy to a member of Congress and, much later, director of counterterrorism studies programs in Asia and Europe for the U.S. government. A professor at civilian and military graduate schools, including the Naval War College, Dr. Harmon has also taught courses at The Institute of World Politics on terrorism and on counterterrorism.

No fee. Register Now Reception at 7:00 pm; Dr Harmon at 7:30.
Where: The American Legion, 1355 Balls Hill Rd, McLean, VA
Questions: Contact Robert R. Reilly, Director, The Westminster Institute, 703-288-2885 or at br@westminster-institute.org
Thursday, 5 December 2019, 2–3:30 pm - Washington, DC - Chinese Communist Espionage: An Intelligence Primer Book Launch
CSIS hosts a discussion of Chinese espionage with two authors – Peter Mattis and Matt Brazil – as well as Aruna Viswanatha of The Wall Street Journal, in a discussion moderated by Jude Blanchette, CSIS Freeman Chair in China Studies.
Peter Mattis, Deputy Staff Director, Congressional-Executive Commission on China and Matt Brazil, Non-Resident Fellow, The Jamestown Foundation present their new book Chinese Communist Espionage: An Intelligence Primer, which focuses on the world of Chinese espionage both past and present, enabling a better understanding of how important its influence is, both in China and abroad.
Against the backdrop of recent allegations leveled against Huawei and other Chinese entities, the nature and scope of the Communist Party of China's (CCP) secret operations overseas, including traditional espionage, influence operations, industrial espionage, and intellectual property theft have never been more important, yet this topic remains widely misunderstood and understudied.
Event location: CSIS Headquarters, Center for Strategic & International Studies, 1616 Rhode Island Ave NW, Washington, DC 20036
Register here.
11-12 February 2020 - Charleston, SC - Conference on "Legally Immoral Activity? Testing the Limits of Intelligence Collection" at The Citadel
Are there limits to intelligence collection in support of national security? Where, if at all, does a free and open society provide the limits of surveillance? Civil liberties are a founding tenet of democracy, but at what cost? How does a country balance collective security with individual rights? Recently, a Federal Court ordered Apple to help the FBI unlock the cellphone of a terrorist, but company officials would oppose that order, citing concerns over the privacy rights of all Americans.
This 2-day inter-disciplinary conference will examine the legal, ethical, social, economic, historical and political aspects of the United States government's ability to protect its citizens in an era that warfare has no societal or personal boundaries.
The conference will be held February 11-12, 2020 on the campus of The Citadel in Charleston, South Carolina.
Deadline for proposals and abstracts must be received by October 15, 2019.
Inquires and Submissions should be sent to Dr. Jan Goldman, Department of Intelligence and Security Studies at Email: jgoldma1@citadel.edu.
---
In addition to the new Royal Blue long sleeve shirts, and the gray long sleeve hooded sweatshirts, the AFIO Store also has the following items ready for quick shipment:
NEW: LONG and Short-Sleeved Shirts with embroidered AFIO Logo and New Mugs with color-glazed permanent logo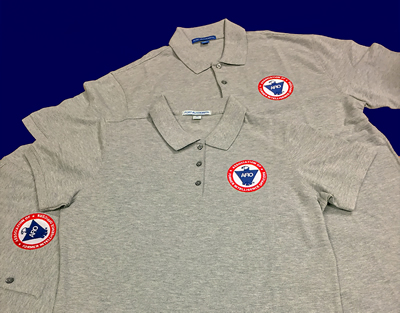 Show your support for AFIO with our new Polo Shirts. Be the first to buy these new, high quality, subtle heathered grey short sleeve shirts, and dark blue long sleeved shirts, of shrink and wrinkle resistant fine cotton with a soft yet substantial feel. They feature a detailed embroidered AFIO seal. Get a shirt for yourself and consider as gifts for colleagues, family, and friends. Only $45 each including shipping.
Sizes of (M) men or (W) women shirts; Small, Medium, Large, XL, XXL, and XXXL. At this time all orders will arrive as Short Sleeve shirts.
You may pay by check or credit card. Complete your order online here or mail an order along with payment to: AFIO, 7600 Leesburg Pike, Ste 470 East, Falls Church, VA 22043-2004. Phone orders at 703-790-0320. If interested in other shirt colors or sleeve lengths, contact Annette at: annettej@afio.com.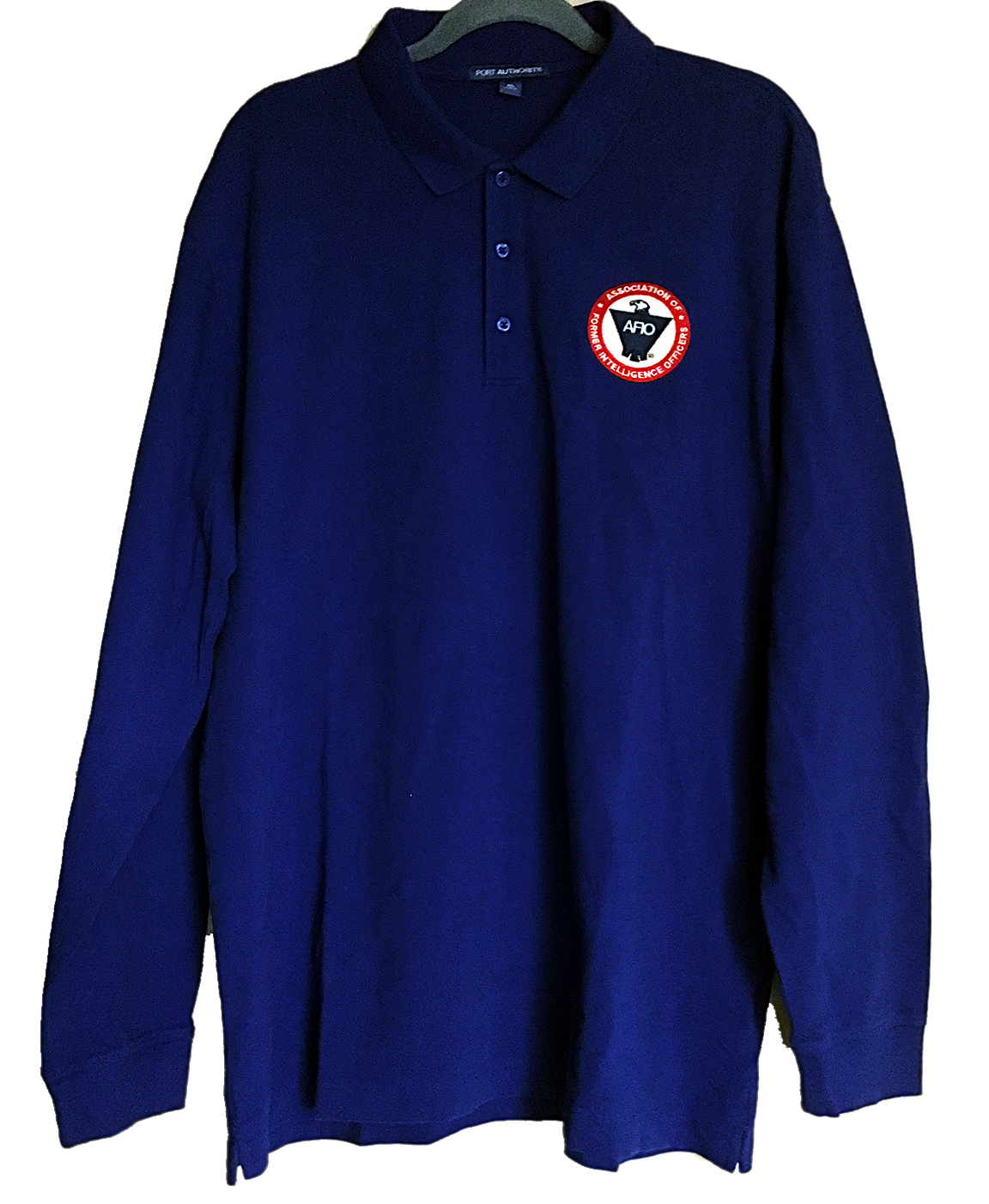 Long-Sleeved Shirts and Hooded Sweatshirts with embroidered AFIO Logo
Show your support for AFIO with our new long-sleeved Polo Shirts and Hooded Sweatshirts.
Both items are high quality and shrink resistant and feature a detailed embroidered AFIO seal. The color of the long-sleeved Polo Shirts is royal blue; the price is $55 and includes shipping.
The Hooded Sweatshirts are dark grey; the price is $70 and includes shipping.
Purchase a shirt and sweatshirt for yourself and consider as gifts for colleagues, family, and friends.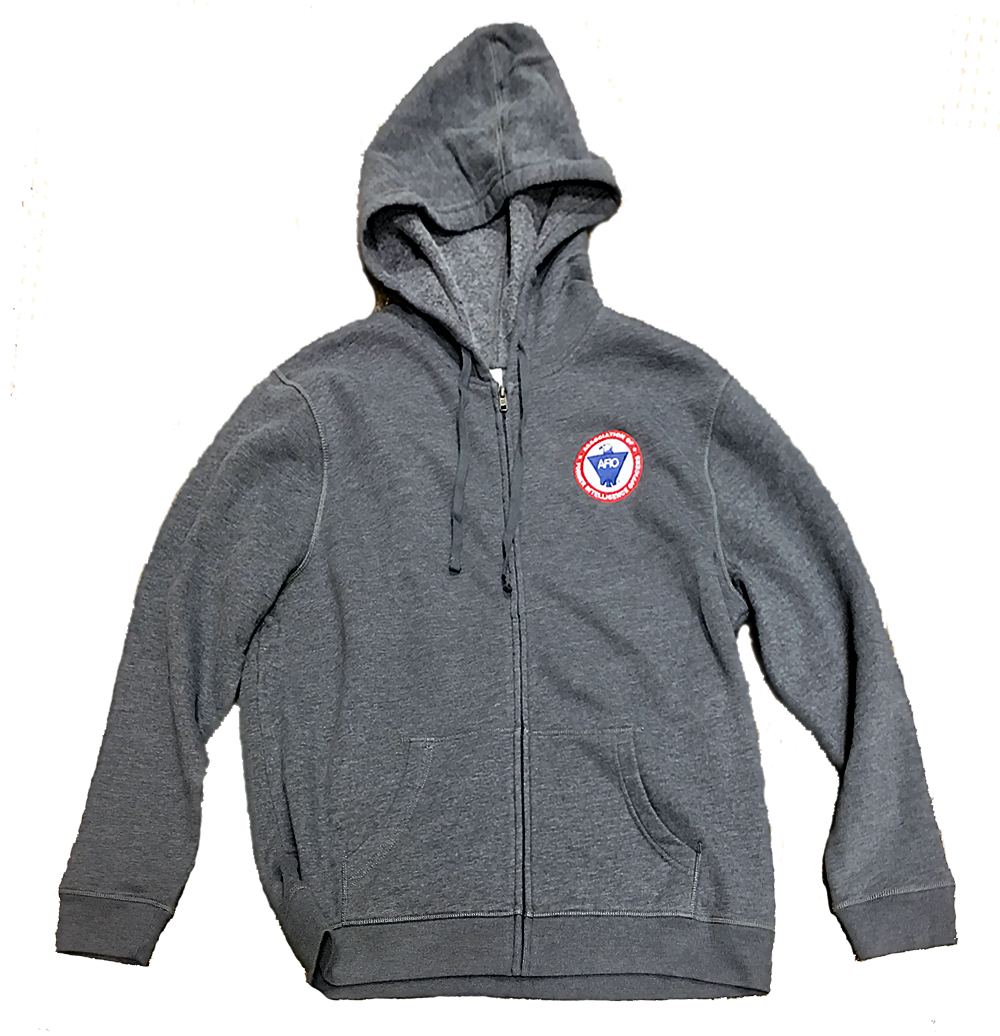 Both items are available in men's sizes: Small, Medium, Large, XL, XXL, and XXXL. The long-sleeved Polo Shirts and Hooded Sweatshirts are not available in ladies' sizes.
---
NEW: Mug with color glazed logo. Made in America. (We left out all that lead-based glaze and hidden toxins in those mugs made in China being sold by other organizations). Also sturdy enough to sit on desk to hold pens, cards, paperclips, and candy.
This handsome large, heavy USA-made ceramic mug is dishwasher-safe with a glazed seal. $35 per mug includes shipping. Order this and other store items online here.
AFIO's Intelligence Community Mousepads are a great looking addition to your desk...or as a gift for others.
Made in USA. Click image for larger view.
These 2017 mousepads have full color seals of all 18 members of the US Intelligence Community on this 8" round, slick surface, nonskid, rubber-backed mouse pad with a darker navy background, brighter, updated seals. Also used, by some, as swanky coasters. Price still only $20.00 for 2 pads [includes shipping to US address. Foreign shipments - we will contact you with quote.] Order MOUSEPADS here.
Disclaimers and Removal Instructions
Weekly Intelligence Notes (WINs) are commentaries on Intelligence and related national security matters, based on open media sources, selected, interpreted, edited and produced for non-profit educational uses by members and WIN subscribers.
REMOVAL INSTRUCTIONS: We do not wish to add clutter to inboxes. To discontinue receiving the WINs:
a) IF YOU ARE A MEMBER - click here: UNSUBSCRIBE and supply your full name and email address where you receive the WINs. Click SEND, you will be removed from list. If this link doesn't open a blank email, create one on your own and send to afio@afio.com with the words: REMOVE FROM WINs as the subject, and provide your full name and email address where you are currently receiving them.
b) IF YOU ARE NOT A MEMBER, and you received this message, someone forwarded this newsletter to you [contrary to AFIO policies]. Forward to afio@afio.com the entire WIN or message you received and we will remove the sender from our membership and distribution lists. The problem will be solved for both of us.
CONTENTS of this WIN [HTML version recipients - Click title to jump to story or section, Click Article Title to return to Contents. This feature does not work for Plaintext Edition or for some AOL recipients]. If you wish to change to HTML format, let us know at afio@afio.com. The HTML feature also does not work for those who access their e-mail using web mail...however NON-HTML recipients may view the latest edition each week in HTML at this link: https://www.afio.com/pages/currentwin.htm
---
WINs are protected by copyright laws and intellectual property laws, and may not be reproduced or re-sent without specific permission from the Producer. Opinions expressed in the WINs are solely those of the editor's or author's listed with each article. AFIO Members Support the AFIO Mission - sponsor new members! CHECK THE AFIO WEBSITE at www.afio.com for back issues of the WINs, information about AFIO, conference agenda and registrations materials, and membership applications and much more!
(c) 2000, 2012, 2013, 2014, 2015, 2016, 2017, 2018, 2019. AFIO, 7600 Leesburg Pike, Suite 470 East, Falls Church, VA 22043-2004. Voice: (703) 790-0320; Fax: (703) 991-1278; Email: afio@afio.com
---
About AFIO | Membership Renewal | Change of Address | Upcoming Events | Chapter Locations | Corporate/Institutional Memberships | Careers in Intelligence Booklet | Guide to the Study of Intelligence | Intelligencer Journal | Weekly Intelligence Notes | To Make A Donation | AFIO Store | Member-Only Section | Code of Ethics | Home Page
---