---
CONTENTS
Section I - INTELLIGENCE HIGHLIGHTS
Section II - CONTEXT & PRECEDENCE
Section IV - Research Requests, Jobs, Obituaries
Other Upcoming Events from Advertisers, Corporate Sponsors, and Others
For Additional AFIO and other Events two+ months or more... Calendar of Events
WIN CREDITS FOR THIS ISSUE: The WIN editors thank the following special contributors: rsy, ec, po, pj, mh, km, gh, mk, rd, fm, kc, jm, mr, jg, th, ed, and fwr. They have contributed one or more stories used in this issue.

The WIN editors attempt to include a wide range of articles and commentary in the Weekly Notes to inform and educate our readers. However, the views expressed in the articles are purely those of the authors, and in no way reflect support or endorsement from the WIN editors or the AFIO officers and staff. We welcome comments from the WIN readers on any and all articles and commentary.

CAVEATS: IMPORTANT: AFIO does not "vet" or endorse research inquiries, career announcements, or job offers. Reasonable-sounding inquiries and career offerings are published as a service to our members, and for researchers, educators, and subscribers. You are urged to exercise your usual caution and good judgment when responding, and should verify the source independently before supplying any resume, career data, or personal information.]
If you are having difficulties with the links or viewing this newsletter when it arrives by email, members may view the latest edition each week at this link.

---

Other items brought to our attention:

CIA creates task force on 'Havana syndrome' amid new scrutiny from Biden team

[Miami Herald by Michael Wilner and Nora Gamez Torres, 26 Feb 2021]
The Central Intelligence Agency has set up a task force bringing together experts to advance the investigation into a series of mysterious attacks on Americans in Havana, a source familiar with the matter told McClatchy. The task force was launched late last year and involves doctors, human resources professionals and counterintelligence officers working jointly in a centralized probe into the events that became a major stumbling block in U.S.-Cuba relations. Diplomats stationed at the U.S. Embassy in Havana first began reporting strange symptoms in 2017, including dizziness, tinnitus, visual problems, vertigo and cognitive difficulties. Doctors at the University of Pennsylvania and the University of Miami found evidence of brain injury and damage to the inner ear's vestibular system in diplomats and their family members. Similar events were reported in China.
Article continues here.

Also see: "CIA launches task force to probe invisible attacks on US diplomats and spies as one victim finds some relief" by Kylie Atwood, CNN, 24 Feb 2021.

---

Death of a Defector: Ion Mihai Pacepa, RIP
A leading Cold War defector who exposed communist disinformation from a unique vantage point. Naturally, liberals preferred to ignore him. [Paul Kengor in The Spectator, 24 Feb 2021]
On February 14, 2021, the world quietly lost one of the most intriguing, enduring figures of the Cold War. He was Lt. Gen. Ion Mihai Pacepa, the highest-ranking Soviet Bloc official ever to defect to the United States. Throughout the 1970s, Pacepa had been arguably the top official in communist Romania, behind only the insane and vicious dictator Nicolae Ceaușescu. He served Ceaușescu in numerous capacities, including as intelligence chief and liaison between the brutal Securitate and the KGB. He knew where bodies were buried. Article continues here.

---

DIA Podcast on Ana Montes

The Defense Intelligence Agency (DIA) just released a podcast focusing on the Anna Montes case and Dr. David Charney was interviewed for it. Montes was a senior DIA employee who for many years spied for Cuba. The podcast was very professionally done and worth a listen. This time Dr. Charney was paired up with Malcolm Gladwell, the well-known author. Here are several ways to listen to this fascinating presentation.

---

AI versus The Mind in identifying Insider Threats

We recently received an email commenting on the use of AI/Machine Learning (AI/ML) to counter the insider threat. We're sharing Dr. David Charney's response as many have been interested in this topic. Read Post here.

---

The Arkin Group's February 25 "In Other News" letter to private clients by former Operations Officer Jack Devine features...
• The U.S. and EU are coordinating new sanctions on Russia for the poisoning and imprisonment of political dissident Alexey Navalny, and the U.S. is also planning sanctions related to the SolarWinds hack and other recent cyber incidents traced back to Moscow.
• Petrobras shares took a tumble following the sacking of the Brazilian oil and gas giant's CEO by President Jair Bolsonaro.
• India and Pakistan have announced their shared intentions to observe conditions of a cease-fire agreement reached in 2003 which, if upheld, would bring an end to regular skirmishes across the two countries' shared border.
• Released TODAY - 2 March: Jack Devine's Spymaster's Prism. AFIO's interview with him about this book appears in this issue at top of right column of this issue of the WINs. You can view the video at this link.

---

The Latest... from Jeff Stein's highly popular "SpyTalk" series

Feb 27: "The Mole and Me" by David Charney MD
The psychiatrist who debriefed Russian super-mole Robert Hanssen discovered new things in a recent documentary on the G-Man's life and treachery
Article here

Feb 26: "JFK Assassination Gets Cra-Cra Spin From Ex-CIA Director Woolsey" by Gus Russo
There were 'code words' in the Warren Report, you see...
Article here

Feb 25: "Unintended Consequences: Inside Story of an Unsung Counterterrorism Strike" by John Dinges and Jonathan Broder
The US hit on ISIS in Libya saved Tunisia but led to an odd standoff with Serbia
Article here

Readers can subscribe for free at the moment here.

---

Inside the SCIF by JJ Green of WTOP:

Inside the SCIF by JJ Green, WTOP - Issue #102, 25 February has details on the Capitol Riot Hearings, on major Russian disinformation operations in the US, Russians and Human Rights Abuses, "ODNI officials politicized intelligence", "Swede charged - suspected of spying on behalf of Russia", and much more.

The latest Target USA Podcast 265 is on: "What if President Joe Biden can't restore America's reputation?" Brett Bruen, former White House Global Engagement Director under President Barack Obama, and now President of the Global Situation Room, says it's something the Biden team needs to think seriously about.
And "The Hunt" explores: Congress is probing the intelligence failure that led to the Capitol riot. JJ Green and former FBI agent and counterterrorism expert Tom O'Connor explain why the intelligence may not have been taken as seriously as it should have.

---

---

From the National Cryptologic Museum Foundation:

THE NCMF's #CyberChats, held virtually via their Nepris online classroom, have resumed.
NCMF Fireside #CyberChat with Barbara McNamara for Women's History Month is Thursday, 11 March 2021 noon to 1 pm EST. Access it virtually here.
Other NCMF upcoming events will be:
NCMF Fireside #CyberChat with Sally Botsai on 25 March 2021. Stay Tuned for link to register.
NCMF 25th Anniversary on 17 April 2021. Stay tuned for details.

---

One of the special benefits of membership in AFIO: access to CIA's inhouse gift shop — the EAA Store.

It requires a quick preapproval process described here to all newly joined and current AFIO members. And then allows you to purchase online their unusual logo'd gift items for self or colleagues. Here is the latest photo EAA released on January 22 featuring some of their newest items:

---

---

Visit, Follow, Subscribe to AFIO's LinkedIn, Twitter, and YouTube pages to receive updates.

Members who use social media or wish to explore, will find new announcements and other material on AFIO's Twitter and LinkedIn pages. New videos on our YouTube page appears below as well.
Access them here: LinkedIn, Twitter, and YouTube. By following or subscribing on those sites, one can be notified as new material appears.


---
---
Just released to members-only...
Russia's New Aggression and Various Covert Operations Against the U.S.

Released 2 March 2021
Interview of Friday, 5 February 2021 of Jack Devine, former CIA Acting Director of Operations, CIA, and Author. Interviewer - Host: James Hughes, AFIO President, a former CIA Operations Officer.
TOPIC: Jack Devine and Jim Hughes discuss Jack's 2021 book, "Spymaster's Prism: The Fight against Russian Aggression." Interview includes discussion of Vladimir Putin, Joe Biden, Donald Trump, Ukraine, Russian election influence operation attempts, Robert Hanssen, Aldrich Ames, moles, traitors, covert operations in Afghanistan, Charlie Wilson's War - the man, the book, the script, and the truth, running operations abroad, and some thoughts on the CIA today and what is needed in the future.
The interview runs 59 minutes and includes many Q&As.
Access Devine video here or click above image.
---
Prior Videos in the "AFIO Now" Series
To view them, visit our YouTube page here
or log into the Member-Only area of our website here.
---
Caryn A. Wagner, former Undersecretary, Office of Intelligence and Analysis, Dept of Homeland Security, on "Experiences serving as Undersecretary, Office of Intelligence and Analysis, at the Department of Homeland Security"
Steve Vogel, author, Washington Post journalist, on his book "Betrayal in Berlin: The True Story of the Cold War's Most Audacious Espionage Operation"
Larry Loftis, attorney, author, professor, on "The Princess Spy" on WWII Spy Aline Griffith, Countess of Romanones
Linda Millis, former Senior Intelligence Officer at NSA, CIA, ODNI on "Women in Intelligence"
Vince Houghton PhD, Director, National Cryptologic Museum on "The Nuclear Spies: America's Atomic Intelligence Operation Against Hitler and Stalin"
Joe Augustyn, former CIA Clandestine Services Officer on "CIA's Defector Resettlement Program"
Joseph W. Augustyn, former CIA Clandestine Services Officer on "CIA's Role in the Creation of the Department of Homeland Security"
Seth Jones PhD, Director, Transnational Threats Project, CSIS on "A Covert Action"
David Priess PhD, Author, former Senior CIA Analyst and PDB Briefer on "The President's Book of Secrets"
Everette Jordan, Dep Asst Sec for IC Integration, Office of Intel and Analysis, Treasury on "Enjoying a Rich, Challenging Intelligence Career Spanning Multiple Agencies."
Bruce Riedel, former CIA Senior Analyst, Served on National Security Council during Iraq War on "Early Gulf War Policy Decisions"
Shelby Pierson, Election Threats Executive, Office of the Director of National Intelligence on "Nationwide Election Security"
Bruce Klingner, Former CIA Deputy Division Chief for Korea; Heritage Foundation Fellow on "U.S. Strategy Towards North Korea"
Series Introduction: Stewart Baker, Chairman, and James Hughes, President
Nicholas Dujmović, Professor, Author, former CIA Historian, PDB Editor on "Guidelines and Experiences Teaching Intelligence at the University Level"
David Robarge, CIA Chief Historian, PDB Editor on "The Complexities of Counterintelligence"
Vince Houghton PhD, Director, National Cryptologic Museum on "Nuking the Moon...and Other Intelligence Themes and Military Plots Left on the Drawing Board"
Martin C. Faga, former Director, National Reconnaissance Office on "NRO Support to the Gulf War"
NEW — PODCASTS: Our new social media expert has been busy! Are you too busy to sit and watch an entire "AFIO Now" episode above on YouTube? Would you rather listen in your car or while accomplishing other tasks? Now you can quickly download or stream episodes on your favorite podcasting platform. AFIO is now available on 8 podcasting platforms. Search for 'AFIO Podcast' for a selection of the interviews above (public released ones) on Podbean; iTunes; Google; Spotify; Amazon Music; Amazon TuneIn + Alexa; iHeartRadio; and Pandora.
---
Netflix's "Spycraft" features AFIO's Vice President John Sano, Board member Michelle Van Cleave, and member/advisor Dr. David Charney. John Sano is Professor at the Institute of World Politics (IWP), and David Charney is an alumnus.
This IWP press release of 1 February 2021 by Amelia Whiteley reads...



IWP Professor John Sano, alumnus Dr. David Charney, and several IWP guest speakers are featured in Netflix's series Spycraft (released January 2021), which documents the most prolific covert technologies and operations of the 20th and 21st centuries.
Professor John Sano appeared in three episodes, in which he commented on aspects of espionage from spy-handler communications to the recruitment of intelligence officers. In the episode "Clandestine Collection," he described the term "spycraft" as anything from "tiny bugs that we would plant to eavesdrop, all the way up to the SR-71 Blackbird, the U-2 satellites." He stressed the importance of looking at counterintelligence operations as existing at every level of scale: that cyber-attacks, surveillance, and technology range from the "miniature up to the massive."
He also discussed the considerations of which spies and their handlers must be aware when meeting face to face in the episode titled "Covert Communication." He revealed that if a handler and his or her spy cannot ensure that they are meeting free of surveillance, it "could potentially jeopardize" the spy's position and the entire operation.
Additionally, Professor Sano shared his knowledge of counterintelligence in the episode "Recruiting the Perfect Spy." The episode discussed the motivations individuals have to become spies, including money, ideology, compromise, and ego. He discussed how counterintelligence agencies have to monitor the spending of their informants because they "don't want them to raise their profile – because if they do, that draws attention to them."
At IWP, Professor Sano teaches courses on Covert Action and National Security (IWP 678),  The Role and Importance of Human Intelligence (IWP 668), North Korea and the Geopolitics of Northeast Asia (IWP 689), as well Writing for National Security Professionals (IWP 689).
In addition to employing Professor Sano's expertise in the episode "Recruiting the Perfect Spy," Netflix sought the additional knowledge of IWP alumnus Dr. David Charney. Dr. Charney is a prominent psychologist and an expert in the field of the insider spy; he is also a U.S. intelligence consultant. In this episode, he revealed that one of the most motivating factors to becoming a spy includes an individual's ego. He explained how ego is "a really powerful driver of what makes men choose to do what they do in life." Dr. Charney also explained that being able to cross the line over to treason "requires that you reframe what you're doing as somehow the right thing to do." He went on to say, however, that despite the monetary gains these spies acquire, they "will wake up one morning with a sense of remorse. And the signature expression is, 'what was I thinking?'"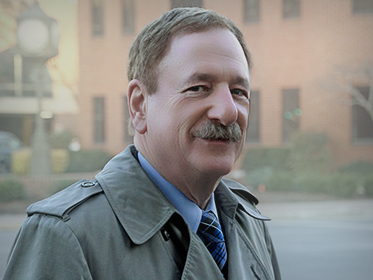 Dr. Charney was also featured in the "Sexpionage" episode, in which he described how male spies who worked for the East German Stasi would steal secrets from West Germany by forming romantic relationships with women who worked for the government there.
Dr. Charney is a psychiatrist and the Founder and Medical Director of Roundhouse Square Counseling Center. He is also the founder of NOIR for USA, a non-profit organization whose mission is to educate and promote the NOIR concepts and ideas which are intended to improve our national security by fixing the problem of insider spies in an innovative way. Although he had worked with an actual spy before studying at IWP, he credits his time at IWP for introducing him "to the whole realm of academic thinking and experience of the IC with all these different spies."
In addition to Prof. Sano and Dr. Charney, several IWP guest lecturers were featured in this series. In the episode on "Clandestine Collection," Michelle Van Cleave, former National Counterintelligence Executive, spoke about Chinese penetration into the U.S. government. Ms. Van Cleave has spoken at IWP on "Foreign Spies and the U.S. Response" and "Cyber Intelligence and Security after the OPM Breach." Most recently, she spoke with IWP students in a private roundtable discussion in fall 2020.
Also in the episode on "Recruiting the Perfect Spy," Sandy Grimes, a twenty-six year veteran of the CIA's Clandestine Service, described her experience in catching Aldrich Ames, a CIA Case Officer who had been spying for the Soviet Union. Ms. Grimes spoke on this topic at IWP in 2018. In the episode on "Covert Communication," Ms. Grimes spoke about her work with Dmitri Polyakov, a Major General in the GRU who revealed Soviet secrets to the U.S.
In the episode on Special Ops and the Saboteur, Chris Costa, former Special Assistant to the President and Senior Director for Counterterrorism on the National Security Council and current Executive Director of the International Spy Museum, spoke about how the American military uses tactics inherited from Robert Rogers, who led Rogers' Rangers in the French and Indian War. At IWP, Mr. Costa discussed "The Global Counterterrorism Fight Since 2017" in January 2020.
Below are some videos of Prof. Sano, Dr. Charney, Ms. Grimes, Ms. Van Cleave, and Mr. Costa elaborating on the themes that they covered in Spycraft:
---
Newly Released, Overlooked, or Forthcoming Books
Spymaster's Prism: The Fight against Russian Aggression
by Jack Devine
(Potomac Books, Mar 2021)
"Devine applies the lessons of the Cold War to today's great power struggles as only an insider, spymaster, practitioner could do. Policymakers should act on Devine's message: The threat is clear, the challenge unrelenting, and the resolve to counter it is paramount." —Jami Miscik, vice chairman of Kissinger Associates
"Just in time, a splendid intelligence perspective on thug Putin's determination to get even with us for the Russian loss of the Cold War. . . . The spy history included here is necessary to illustrate that Russian leadership still employs nasty means, from murder to manipulation, to undermine democracy. Only the naïve and inept will fail to heed this message." —Tom Twetten, former CIA deputy director of operations and chief of the Near East division
"Spymaster's Prism is a must-read, and the title says it all. The Cold War is not over. The actors may have changed, but the goal remains the same. Jack Devine is a real spymaster, beginning his career as a young CIA operations officer who rose to the highest ranks of the CIA. This book belongs on everyone's shelf." —Sandra Grimes, CIA Russian operations specialist and coauthor of Circle of Treason: CIA Traitor Aldrich Ames and the Men He Betrayed

"Jack Devine's comprehensive history of Russian intelligence efforts against the United States and the West could not be more timely. As amply noted in the book, election meddling, disinformation, and assassination attempts are all modern descendants of a long Russian tradition of espionage and subversion that has been renewed with a vengeance today. Devine's highly readable style and insider experience in intelligence make this must-read study a persuasive warning to implement the measures he suggests to thwart this threat to our national security." —Michael Sulick, former director of the U.S. National Clandestine Service, author of several intelligence histories
"Told with the immediacy of an eyewitness, Devine is a keen observer of the events and personalities that have shaped U.S. intelligence—from the treachery of spies such as Aldrich Ames and Robert Hanssen to the CIA's Cold War covert operations in Afghanistan. It is a remarkable volume, told by one of America's great spymasters, that will appeal to both the intelligence professional and the armchair operative alike." —Rollie Burans, president of the Foreign Policy Research Institute and former CIA senior executive official
"Devine's extraordinary career rising to master spy gives the reader multiple glimpses across geographic boundaries into intelligence operations from the optic of a practitioner. From the armchair student of foreign policy to the professional spy wannabe, Devine's narrative of Russia's obsession with the West and the United States should be mandatory reading." —David R. Shedd, thirty-three-year CIA career case officer and former acting director of the Defense Intelligence Agency
Book may be ordered here.
---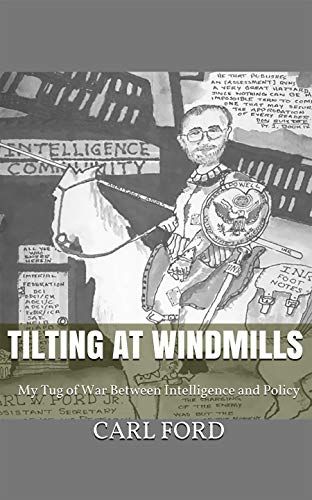 Tilting at Windmills: My Tug of War Between Intelligence and Policy
by Carl W. Ford Jr.
(Kindle - self-published, Nov 2020)
Carl Ford enlisted in the US Army and served two tours in Vietnam. For years he was an all-source intelligence analyst in both the DIA and the CIA. He then spent more than five years as Senator John Glenn's professional staff member on the Foreign Relations Committee. During a Republican administration he was chosen to be the NIO for East Asia by a Republican DCIA. Ford provides a front row seat to intelligence, national security, and foreign policy issues that played out during the Cold War and beyond — Vietnam, the expansion of China's PLA, the Taiwan Relations Act, SALT II, the AWACS debate in the Senate, Russian dissidents, the 1984 Democratic Presidential Primary, NPA Insurgency in the Philippines, POW/MIAs, the East Asia Strategic Initiative (EASI), Persian Gulf War, Provide Comfort, WMD and the Iraq War (Aluminum Tube Story, CURVEBALL, and "Slam Dunk"), and STATE INR'S Cuban Spy.) He also provides insights into many of the main actors: Senators John Glenn, Joe Biden, Claiborne Pell, and Frank Church; Colin Powell, Dick Cheney, Rich Armitage, Paul Wolfowitz, Harry Rowen, William Casey, and George Tenet.
Book may be ordered here. Available free to Kindle Unlimited with Amazon.
---
The following articles from the Winter-Spring 2021 edition of Intelligencer are available as PDFs at these links:
• Terror in Athens — Remembering CIA Station Chief Dick Welch by Samantha Randazzo Childress and Carol "Rollie" Flynn
• When Intelligence Made a Difference - Part V Intro by Peter Oleson
• Soviet Deception and the Cuban Missile Crisis by Robert M. Clark
• Occasionem Cognosce — Francis Cabot Lowell by Joel Wickwire
• The Seizure of Danang City Hall by Jim Schnell PhD
• The Breaking of JN-25 and its Impact in the War Against Japan by Peter C. Oleson
• Developing a Cooperative Strategy in the El Salvador Civil War by John Fishel
Writers, Officers: Please Provide A Brief Article for This Ongoing AFIO History Project
AFIO's educational project "When Intelligence Made a Difference" seeks writers to identify events throughout history involving any nation or organization when the outcome was affected significantly by intelligence.
AFIO has been publishing edited submissions serially in Intelligencer released two to three times a year.
To see what has been published, it is available here. Also look at the Winter-Spring edition of the journal arriving in the mail of all members and subscribers over the next three weeks.
Those readers interested in contributing an article, should email peter.oleson@afio.com.
For instructors, this project makes a great class assignment. Accepted articles give students a publication credit in a recognized journal.
---
Guide to the Study of Intelligence and When Intelligence Made a Difference
"AFIO's Guide to the Study of Intelligence" has sold out in hard-copy.
However, it is available in digital form in its entirety on the AFIO website here.

Also available on the website here are the individual articles of AFIO's history project "When Intelligence Made a Difference" that have been published to date in The Intelligencer journal. More articles will be forthcoming in future editions.
---
---
Section I - INTELLIGENCE HIGHLIGHTS

In letter, King Points to Reduced Intelligence Agency Role in Jordan's Public Life. A letter sent by King Abdullah to influential General Intelligence Directorate (GID) head Gen. Ahmad Husni on Feb. 17 is keeping the kingdom's political class guessing over what the king really wants. In the lengthy letter, the king praised the GID's role over the past years but called on Husni to continue the process of renewal, modernization and development of the department.

The king said that as the kingdom marks its second centennial, the time has come for the department "to allow the country's institutions to immediately step up to their constitutional and legal responsibilities in order to release the GID from the great burden it had to carry over the years."

The king said the GID "must remain a model of efficient intelligence in countering terrorism and security threats to our nation" so that "it may develop its tools and methods to provide the best modern intelligence assessments to decision-makers in the political, economic and security-related fields, away from the regulatory and oversight roles that the circumstances had at times imposed on the department in areas that lie within the specialty of others that had not possessed the tools to practice them properly, but now do and must, therefore, undertake these roles in full, without delay." [Read more: AlSharif/AlMonitor/26February2021]

Israel's Supreme Court Ends Spy Agency Cellphone Tracking Of COVID-19 Infections. Israel's Supreme Court on Monday ordered an end to a controversial surveillance program to track COVID-19 infections through cellular phone location data, citing concerns about the country spying on its own citizens.

"The State of Israel is the only Western democracy that enlisted its clandestine spy agency in the war against the coronavirus pandemic," wrote Justice Isaac Amit in the 73-page ruling.

Nearly one year ago, the Israeli government ordered the Shin Bet domestic intelligence agency, usually charged with monitoring Palestinian and Israeli extremists, to monitor Israelis' movements through their cellphones. Those deemed to have come in contact with confirmed virus carriers received text messages ordering them to quarantine. [Read more: Estrin/NPR/1March2021]

Pentagon Hosts First Meeting of US-China Task Force. Top U.S. military and intelligence officials have started looking at how best to confront what they see as the growing threat from a rising China.

Defense Secretary Lloyd Austin hosted the first meeting of the new China Task Force at the Pentagon on Monday, bringing together key military commanders, civilian leaders and members of the intelligence community.

Pentagon press secretary John Kirby told reporters Austin provided the 20 task force members with some "initial guidance" for what both the White House and Defense Department have described as a "sprint" to make sure Washington is prepared as Beijing continues its efforts to be a dominant power on the world stage. [Read more: Seldin/VOA/1March2021]

Kosovo Indicts Ex-Intelligence Chief Over Deportation of 'Gulenists'. Kosovo's Special Prosecution has confirmed to BIRN that an indictment has been filed against three individuals in connection with the highly controversial deportation of six Turkish nationals to Turkey on March 29, 2018.

BIRN has learned that the three individuals are Driton Gashi, former head of the Kosovo Intelligence Agency, Valon Krasniqi, director of the Department of Citizenship and Migration at the Interior Ministry, and Rrahman Sylejmani, head of the Directorate of Migration and Foreigners in the Kosovo Border Police.

Gashi and Krasniqi are both accused of "abuse of official position or authority", while Sylejmani is accused of both "abuse of official position or authority" and "illegal deprivation of liberty." [Read more: Ahmeti&Sopi/BalkanInsight/25February2021]

As Scientists Rally to His Defense, Lieber Rules Out Plea Deal, Plans To Stand Trial. Former Harvard Chemistry chair Charles M. Lieber is set to go to trial on federal charges after his attorney eliminated the possibility of a plea in a Friday status conference.

"At this time, Your Honor, there is no possibility of a plea and there will be a trial," Marc L. Mukasey, Lieber's counsel, told Magistrate Judge Marianne B. Bowler of the U.S. District Court of Massachusetts.

Last June, a federal grand jury indicted Lieber - who serves as a University Professor, Harvard's highest academic honor - on charges that he lied to federal investigators who were examining funding he had received from the Chinese government. He was also indicted on four tax offenses the following month.

Lieber, who pleaded not guilty on all of the charges, has maintained his innocence throughout the proceedings. [Read more: Nair&Wang/HarvardCrimson/2March2021]



---
Section II - CONTEXT & PRECEDENCE

All Things Considered: Director Of National Intelligence Avril Haines On The Challenges Ahead. [Read or listen: NPR/1March2021]

Nick Warner's Life and Career in the Australian Secret Intelligence Service. In this episode of Intelligence Matters, host Michael Morell interviews one of the world's top intelligence officials from down under, Nick Warner. Warner has held senior positions in Australia's diplomatic service, its defense ministry and intelligence services. He also served as the director of Australia's equivalent to the CIA, the Australian Secret Intelligence Service, known as ASIS. Warner discusses the path he took to becoming a top intelligence official, the importance of the power of the trust, and being stranded in an Iranian desert. [Read or listen: CBSNews/24February2021]

A Glimpse of Bill Burns' CIA. Reflecting on his 33 years in the Foreign Service at last Wednesday's confirmation hearing to be CIA Director, Ambassador William J. Burns told the Senate Select Committee on Intelligence, "I learned that good intelligence, delivered with honesty and integrity, is America's first line of defense. I learned that intelligence professionals have to tell policymakers what they need to hear, even if they don't want to hear it. And I learned that politics must stop where intelligence work begins."

Ever the diplomat, Burns added, "It was their [CIA officers'] skill at collection and analysis that often gave me an edge as a negotiator; their partnership that helped make me an effective ambassador; and their insights that helped me make thoughtful choices on the most difficult policy issues."

But Burns also showed his realistic view of this country in today's world when he told Senators, "The international landscape is changing fast. We are in a period of profound transformation. The United States may no longer be the singular, dominant player we were when I worked for Secretary [of State James] Baker 30 years ago, but I would still argue we have a better hand to play than our major rivals and that's because of our capacity for domestic survival - which I know has been tested in recent years. But it's hugely important...it sets us apart from authoritarian regimes around the world." [Read more: Pincus/TheCipherBrief/2March2021]

Long-Forgotten HQ of Polish WWII Intelligence Service Found in Elite London Boys' School. The secret WWII headquarters of Poland's intelligence and counterintelligence services in London have been uncovered by a Polish history enthusiast working in the UK.

Researcher Tomasz Muskus discovered the spy base had been located inside a prestigious English boys' school in Hammersmith, west London, after his interest was piqued by a documentary about Poland's WWII military spy boss Colonel Stanisław Gano.

As the chief of the Second Department of the Supreme Commander's Staff in London in 1941, Gano is reported to have created the best Allied intelligence network not only in occupied Europe, but also in the United States, South America and North Africa.

His organization of Polish intelligence was deemed so modern that it was later adapted by other intelligence agencies. [Read more: Dowell/TheFirstNews/25February2021]

Read the Intelligence Report Implicating Saudi Arabian Crown Prince Mohammed bin Salman in the Killing of Journalist Jamal Khashoggi. Saudi Arabia's Crown Prince Mohammed bin Salman approved the operation that led to the brutal 2018 murder of Saudi journalist Jamal Khashoggi, according to a long-withheld U.S. intelligence report made public Friday. [Read here: WashingtonPost/26February2021]



---
Human Rights: A New Role For The Intelligence Community. Human rights literally disappeared from former President Trump's National Security Council (NSC) when he dropped the term from the position once known as the special assistant to the President for multilateral affairs and human rights.

President Biden has appointed a new coordinator for democracy and human rights in the NSC. This firmly reestablishes the issue of human rights as a national security concern and communicates that the administration will focus on human rights as a foreign policy issue. Given this renewed focus, the Intelligence Community (IC) can and should take actions to support the NSC and administration on human rights intelligence.

Some may question whether the IC should focus on human rights. Even beyond the moral component of caring about human rights, there are very practical national security reasons to focus on human rights. Human rights abuses are often indications of other threats and can tell analysts and decision makers much about the stability of nations. There are also real soft power stakes to human rights abuses from information operations to support to alliance building to international organization negotiations.

But, can the IC support human rights intelligence? [Read more: Vinci/BreakingDefense/1March2021]

Photo Emerges Of Shadowy Intelligence Gathering "Ghost Plane" In Somalia. For years, there has been very limited information available publicly about U.S. counter-terrorism operations in Somalia and the forces, based there and in neighboring countries, carrying them out. The repositioning of the bulk of American military forces out of this East African nation between December 2020 and January 2021, dubbed Operation Octave Quartz, highlighted those activities in a way that had not been previously seen. This has included the release of a significant number of what would have been previously been very rare pictures and video clips of U.S. personnel operating in and around the country. One picture that was recently released, seen at the top of this story, prominently shows what can be considered a "ghost aircraft."

The twin-engine Beechcraft King Air turboprop aircraft with the U.S. civil registration number N27557 was photographed at Baledogle Military Airfield, which is situated some 55 miles northwest of the capital Mogadishu. [Read more: Trevithick/TheDrive/23February2021]

US Intelligence and the Dilemma of Iran. The rogue regime in Tehran is the primary source of turmoil and instability in the Middle East. The regime thirsts for ever more dominance across the region and beyond and employs a terrorist network to achieve that goal, even as it continues to move aggressively in its pursuit of nuclear weapons. The threat of Iran, combined with the withdrawal of US forces from Iraq and Syria, has prompted the creation of an anti-Iran coalition. It is now up to the Biden administration, which has no desire to become involved in a military conflict with Iran, to determine the best course of action in dealing with a regime that persistently challenges all accepted norms of behavior. [Read more: Fard/BESA/26February2021]


---
Section IV - Research Requests, Jobs, Obituaries
Call for Hard Problems in the Science of Security - NSA's Science of Security Hard Problems for the 2020s
Do you know a hard problem for cybersecurity science? If so, present it to the Science of Security (SoS) community at the 2021 Hot Topics in the Science of Security Virtual Symposium (April 13-15, 2021). The SoS community influencers are revisiting the SoS Hard Problems and their definitions in preparation for a second decade of the National Security Agency (NSA) Science of Security and Privacy Program.
Germane hard problem submissions will be invited to give a five minute presentation at a HotSoS breakout discussion session. The SoS Lablet Principal Investigators and NSA leaders will consider the proposed hard problems in a revisit to the Hard Problems report.
Submit here. Submission deadline: March 17, 2021 AOE
What is the Science of Security?
The Science of Security and Privacy Program is an initiative funded by the National Security Agency to support foundational cybersecurity research. It funds basic research projects at universities in small labs called the SoS Lablets. It organizes an annual paper competition and sponsors an innovative conference, Hot Topics in the Science of Security (HotSoS). More information about the Science of Security program can be found on the SoS Virtual Organization (sos-vo.org)
What are the SoS Hard Problems?
The 5 current SoS Hard Problems were defined by the Principal Investigators of the SoS Lablets in 2012. These hard problems are: Resilient Architectures; Policy-Governed Secure Collaboration; Scalability and Composability; Security-Metrics - Driven Evaluation, Design, Development, and Deployment and Understanding and Accounting for Human Behavior.
The hard problems definitions are used by NSA to shape the research it funds in its Science of Security Program. Funded projects are required to report progress against the hard problems.
More Information and definitions are here.
What Makes a Good SoS Hard Problem?
Hard problems are identified because of their level of technical challenge, their potential operational significance, and their likelihood of benefiting from emphasis on scientific research methods and improved measurement capabilities. The hard problems are to be crisply stated and well-scoped, to assist the community in assessing progress towards solutions. Solutions may have the feature of incrementality, in that discernible steps will lead towards an overall solution. Each step can make an incremental impact even when a fully comprehensive solution may remain elusive.
Seeking Spy-Themed Tourism Experts and New Recruits (with IC backgrounds) for Metro D.C. area opportunity
ISO former Intelligence Officers who might be interested in getting involved in spy-themed tourism in the Washington D.C. metropolitan area.
Also interested in speaking with those who may already be involved in the tourism and travel industry elsewhere.
Please contact Rosanna Minchew at r_minchew@me.com or 571-236-9052.
Daughter Seeks Info on father, Charles Peter Brooks, from CIC Colleagues Vienna/Salzburg 1948-50; CIA Colleagues 1950-60 Berlin or Elsewhere
My father Charles Peter Brooks, died September 10, 1995 leaving me with too many questions and only a few clues of his real life. After 25 years of research, I have figured out just a few and would appreciate AFIO members help to find former colleagues who might still be around and/or family members of those who might have worked with him. In short, he was born in 1922 in Czechoslovakia, fought WWII in the SNP resisting Nazis in the Tatra mountains, managed to escape, became an economist. In 1948 he was working at the Ministry of Agriculture in Bratislava when he was warned of imminent death and escaped to Austria. In his resistance to communism, he worked with British intelligence as I gathered from some Czech archive records. Helped many Czechs escape but not his former girlfriend who was arrested, in an escape from Brno with a British intelligence supported movement. He then worked with CIC from Vienna and Salzburg during 1948-1950, in collaboration with Imrich Kružliak. At that time he was still Koloman (or Kalman, Kolman). After Austria he was Charlie.
I wonder if there are any CIC colleagues who worked in Austria during those years that could remember him, or any former colleagues family members? I am happy to send photos that I have found to recognize him.
He then worked for CIA, trained in DC around 1950-51, posted in Berlin 1952-1960. Any Berlin colleagues or families posted there? He was apparently married there to a lady called Inge (I do not have a last name) and her mother lived with them, as well as a boxer dog. He was very proud of a Prussian tsar desk in his apartment. Wondering if anyone would know who Inge was, or her last name? I would not know if this was a real marriage or part of his work. He was very undercover, spoke 7 languages, and was sent in missions to Czechoslovakia I believe as well. I believe there was a French bar where they used to drink beers and gather in the evenings. Hoping former Berlin colleagues could remember him, and the nature of his work there?
He was then posted in Buenos Aires, Argentina from around 1960 to 1974, when he was going to Vietnam. (although someone mentioned he was in a private lunch with Kennedy in Berlin, that was off agenda, anyone else here that was in that lunch?). In Buenos Aires, he was apparently a secretary at the US Embassy, but working with local SIDE and police, including apparently other missions in Latin America. If you were in the region during the '60s and the '70s please contact me if you might have crossed paths. A great golf player as well.
Finally, the rest of the '70s and '80s coming and going dividing his time between DC, Miami, Argentina. In Miami he lived in Miami Shores. During the '80s he did polygraph training and testing in Miami, and another CIA colleague was taking the training there with him (if you are here in might remember him?).
Please contact me at jenniferbrooks7@hotmail.com. Any information or guidance helps me put his life together. Endlessly grateful to all.
Author Seeks Your Assistance Answering a Few Questions Regarding al Qaeda and US Operations
AFIO Colleagues,
I have benefited in the past with AFIO's assistance and need a few additional answers as I write a four-volume history of anti-American terrorism in the US and overseas from the Eisenhower through Trump administrations. Volumes I and II are published and were featured in prior Weekly Notes. I am now working on Volume III which addresses the Clinton and Bush II administrations. This volume has many pages on the evolution of al Qaeda, the 9/11 attacks and subsequent investigations, and the responses by both administrations to the prevailing threat. First, much of the relevant material has not been declassified. In addition, the memoirs by relevant actors are written from the perspective of highlighting the successes and minimizing or ignoring the failures. Given the developments that took place during these two administrations, many of the key actors have not written their memoirs. There have been many books written on al Qaeda, the 9/11 attacks, and the intelligence "malfunction" which contain many examples of "dueling facts" on events and developments. I am seeking to present the facts in my study, but when I cannot determine a "fact," what can I do? I can present both presentations of the fact, which will take up a lot of space in the volume, or simply pick the fact presentation that I think makes most sense. In that case, it is not a fact but an interpretation. I want facts.
Towards that goal, I ask of you AFIO members and colleagues, to help me with a few of these facts. Below is a brief list of questions. If you can answer any of them, please email me at dpluchinsky@rocketmail.com. These questions deal with the 1990s, the pre-9/11 decade...developments over two decades ago.
1. In what year did the NSA or CIA detect bin Laden's first satellite phone? I do not want sources and methods, just the year.
2. In what year did the NSA or CIA first detect al Qaeda's London communication hub at which Khaled al Fawwaz acted as the caretaker?
3. In mid-1996, bin Laden asked for an updated Inmarsat Compact M satellite phone. This was tasked to Dr. Saad al Fagih, who tasked it to Ziyad Khaleel, a student in Virginia. He reportedly bought the phone from a store in Dix Hills, Long Island in November 1996. This would mean that the FBI was involved in monitoring this purchase. This would also mean that the FBI might have known that the NSA and or CIA were monitoring bin Laden's cell phone. Is it true that the FBI knew about bin Laden's cell phone in 1996?
4. In what year did the NSA and CIA first detect al Qaeda's communications hub in Sana'a, Yemen – BEFORE the August 1998 attacks on the U.S. Embassies or AFTER, when the FBI obtained the phone number from of the Embassy bombers – Mohamed Rashed Daoud al-'Owhali?
5. In what year did the CIA establish its ground based dish to intercept one side of the calls coming into the Sana's hub?
6. If the NSA knew that some phone calls from the U.S. were coming into the Sana'a hub in 2000 / 2001, why were they not able to determine locations in the U.S.? The prevailing open source explanation is that it did not have the technological capability.
7. Lastly, could someone explain to me in layman's terms how the USG would have intercepted in the 1990s a phone call from a landline and a satellite phone?
These questions are historical. It is unlikely sources and methods used in some of these events are still active. I have read James Bamford and Matthew Aid's books on NSA. While the CIA and DOJ declassified their Inspector General reports on pre-9/11 activities of the CIA and FBI, the NSA has not.
Whatever help you can provide me would be greatly appreciated. I do not have to source you. If you wish, I can camo source you – "A former U.S. government employee who wishes to remain anonymous."
I leave you with a thought you should ponder – the sharpest and largest thorn in history is silence.
Thank you. REPLIES TO: Author/Research Dennis Pluchinsky at dpluchinsky@rocketmail.com
Assistant Professor (tenure-stream) of International Affairs/Intelligence sought by University of Pittsburgh
The Graduate School of Public and International Affairs at the University of Pittsburgh is seeking to hire an Assistant Professor of International Affairs with a focus in intelligence matters (broadly understood). We are looking for someone who can teach on intelligence subjects in our Security and Intelligence major and contribute to our International Affairs program more generally. We welcome those trained in political science, history, and other disciplines, and are particularly interested in those with cyber or regional expertise. The deadline is March 31.

The full announcement can be read -- and application submitted -- through Pitt's Talent Center here.
THREE Faculty Openings for 2021 at Hilbert College, Hamburg, NY
Assistant Professor, Criminal Justice; Assistant Professor, Forensic Science/Crime Scene Investigation; and Assistant Professor, Intelligence & Data Analysis.
Interested candidates can view our job postings here.
---
Nancy Forbes, CIA, DARPA, NRO Physicist/Consultant
Nancy Anne Forbes, 68, a CIA/DARPA/NRO physicist, consultant, author, died 16 January 2021 from cardiac arrest as a complication of mesothelioma.
Ms. Forbes was born in Ridgewood, NJ. Nancy leveraged her academic background in physics to establish a long career in government and intelligence.
Nancy's first passion was literature. She earned her first BA mcl in Spanish at the University of Virginia (in the first co-ed class) and an MA in Spanish Literature at New York University. She studied poetry in Spain and worked for the Fiat company in Italy where she married photographer Ivano Piva of Turin in 1978. After their divorce, Nancy returned to New York in 1980 and became a financial journalist for the Wall Street Transcript. She discovered a love of physics while attending a lecture by a renowned physicist. She returned to school at age 28 earning BS and MS degrees in physics from Columbia University by 1987.
After she moved to the Washington, DC, area she began her career providing scientific, technical, and systems engineering support to the government. She produced risk assessments on transportation of spent nuclear fuel for the Department of Transportation, and served as a consultant to the American Institute of Physics. Her support to military and intelligence agencies included the National Reconnaissance Office, DARPA, the US Army Joint Improvised-Threat Defeat Organization (JIDO), and the CIA where she received an Exceptional Performance Award.
She authored two books, Imitation of Life: How Biology Is Inspiring Computing; and Faraday, Maxwell, and The Electromagnetic Field (with Basil Mahon), translated into four languages.
At the time of her death, Ms. Forbes was employed by SAIC as Senior Principal Systems Engineer.
Nancy was committed to the advancement of women in science and was a long-time member of the Association for Women in Science (AWIS) and served in various capacities in its DC Chapter, where she made many friends and mentored women in the earlier stages of their careers. She was recently awarded membership to the Alumni Association Board of Directors at Columbia Graduate School of Arts and Sciences. Nancy was the founder and driving force behind the Cosmo Club's informal National Security Discussion Group where she gathered an eclectic group from military and intelligence agencies and academic, legislative, science, and journalism fields to engage in off-the-record discussions. The group remained a focus of her endeavors until the days before she died as she coordinated events and participated invisibly in Zoom meetings. In keeping with her Scottish background, Nancy helped initiate a Cosmos Club tradition of Burns Night Dinners in honor of poet Robert Burns. At local Scottish games she could always be found with the other members of Clan Forbes.
In recent years, Nancy became re-acquainted with her Italian relatives in Santa Croce del Sannio and hoped to spend more time there after she retired. Nancy was enthusiastic, impulsive, and dedicated. She would say "I'd like to..." and the next thing you know she would have done it. Bored at work, Nancy proclaimed one day that she wanted to write about her idol Michael Faraday -- seven years later, her second book was published, on Faraday.
The base of her life was love for her family, friends, country, and calico cats Bella and Gioia.
She is survived by a sister, cousins, and other family.
Caroline McCleskey, Career CIG/CIA Officer
Caroline Howard McCleskey, 100, a career CIG/CIA officer, died 20 February 2021.
Born in Atlanta, GA, she used to laugh when she'd say she "Went North" to college and was referring to her attendance at Hollins College in Virginia. She graduated from Hollins in 1941 with a degree in Philosophy. In 1942, with the U.S. at war, she joined the newly created WAVES, the U.S. Navy's female component -- a member of the first class of female Midshipmen. Billeted at Smith College in Holyoke, MA, that first class was in training before uniforms were available. Emerging as Ensign, almost the entire class was destined for work in Navy Communications in Washington, DC. Following a brief stint in the Navy Code rooms, Caroline was one of eight Wave Officers assigned to Fleet Admiral E.J. King's Staff as Communication Watch Officers. She continued in this assignment until her return to inactive duty in 1946, with the rank Lieutenant (Junior Grade). In 1945 she received a citation with Commendation Ribbon from Fleet Admiral King.
Returning to Atlanta, Caroline announced her intention never to set foot in Washington again. Yet, 1947 found her back in D.C. to join some newly created organization called The Central Intelligence Group (which later became the Central Intelligence Agency). Serving in both the analytical, and more particularly, the operational directorates afterward, Caroline's career at the CIA covered 28 years. On her retirement in 1975, she was awarded the Agency's Career Intelligence Medal.
To her continuing surprise, Caroline chose to stay in in Washington in her retirement. She continued her Junior League Volunteer activity, and also helped with the Annual Goodwill Booth sale. A reader of mysteries, participant in bridge games, and for many years enjoyed one "good" trip a year. Outdoors it was always golf and fishing (the last a female family tradition). In addition to the Junior League of Washington, she was a member of the Sulgrave Club. Caroline is survived by a niece and four nephews.
Ewa Shadrin, widow of Soviet Naval Captain defector Nicholas Shadrin
Blanka Ewa Gora Shadrin DDS, 83, a dentist and widow of a famous Soviet Naval Captain defector, died 20 February 2021 in McLean, VA of pancreatic cancer.
Ewa Gora Shadrin was born in Gdynia, Poland. She famously defected with her first husband, Nick Shadrin (born Nikolai Fedorovich Artamonov), crossing the Baltic Sea in small boat to Sweden and later arrived at a CIA safe house in Virginia. She established herself as a well-respected dentist but after her husband, Nick disappeared on a mysterious Cold War operation in Vienna, she was fearless in pursuing the agencies for clarification after they botched Nick Shadrin's dangerous clandestine mission in Vienna, Austria which resulted in him being kidnapped by KGB agents. The Agencies stonewalled her for eight years but Dr. Shadrin persevered and the truth was revealed. Nick Shadrin had been killed by the KGB enroute back to the USSR. "The Spy Who Never Came Back" by Henry Hurt chronicled Nick Shadrin's history.
Ewa Shadrin met and married her beloved Capt. Assem Elbendary and divided her time with him between McLean and Monaco. She is survived by her husband of 39-years, and by a brother in Germany.
---
AFIO EDUCATIONAL EVENTS IN COMING TWO MONTHS....
4 March 2021 - Virtual - San Antonio AFIO will discuss "CIA's Defector Resettlement Program" based on CIA Officer Joe Augustyn's AFIO Now Interview
The next San Antonio AFIO Chapter Meeting will include discussion of CIA's Defector Resettlement Program. The topic is part of the National AFIO programing that was recently recorded interview with CIA Operations Officer Joe Augustyn, who managed the defector resettlement program.
A message with the link to the meeting will be sent prior to the meetings.
For more detail, contact John Franklin, President, AFIO San Antonio at satxafio@gmail.com or 210-863-0430
Wednesday, 17 March 2021 - Virtual on Zoom - AFIO Atlanta presents its St. Patrick's Day Event featuring Ruth Dudley Edwards on "How the Appeasement of Terrorism in Northern Ireland by Western Liberalism has led to the Spectre of a Fascist Takeover."
The AFIO Atlanta Chapter hosts Ruth Dudley Edwards, an Irish historian, political commentator, and crime writer who has written extensively on the Troubles. Her most recent book is The Seven: The Lives and Legacies of the Founding Fathers of the Irish Republic (2016), and some of her other works include Aftermath: The Omagh Bombings and the Families' Pursuit of Justice and The Faithful Tribe: An Intimate Portrait of the Loyal Institutions (shortlisted for Channel 4/The House Politico's Book of the Year).
Her bio can be found here.
RSVP or questions to afioatlanta@gmail.com or 404.403.8004, Brian Hooper, President, AFIO Atlanta, 1266 West Paces Ferry Road NW, Atlanta, Georgia, 30327.
All AFIO members and friends are invited!
Wednesday, 17 March 2021, noon PST - Virtual Zoom Event - The "Andre Le Gallo" San Francisco Chapter hosts Phil Gioia on "The History of the OSS."
The AFIO San Francisco Chapter hosts Phil Gioia on "The History of the OSS."
Phil Gioia grew up as an Army Brat on US Army posts in the United States, Japan, and Italy. After graduating from Virginia Military Institute, he was commissioned as a Regular Officer in the US Army. Twice wounded in action in Vietnam, he served as an Infantry platoon leader in the 82nd Airborne Division during the 1968 TET Offensive, and as an Infantry company commander in the First Air Cavalry Division (Airmobile) in 1969-70.
Following his military service, Phil received an MBA from Stanford University. He also holds a Master of Science in Foreign Service from Georgetown University.
Phil has thirty years of experience in business management, has served as investor, CEO or board member of emerging-growth corporations in the technology sector, and is a co-founder of Pathfinder Partners LLC, providing services to the US defense and national security communities.
Registration is required to receive the zoom link. Register here.
Questions to Mariko Kawaguchi, Board Secretary, AFIO San Francisco Chapter at afiosf@aol.com
Thursday, 18 March 2021, 12:30-1:30 pm PST - Virtual Go-to-Meeting Platform - the Los Angeles AFIO Chapter hosts Mark Gorwitz on Iran's Nuclear Activities
This LA Chapter virtual event features guest speaker Mark Gorwitz speaking on open source research of Iran's lithium-6 and tritium activities uncovered last year. Details will be presented on Iranian research going back to the early 1980s and continuing to the present day. Both English and Farsi language thesis, journal articles, conference presentations and documents will be covered.
Mark Gorwitz has over thirty years of experience working in the field of the scientific aspects of dual-use nuclear and missile proliferation. He has written numerous articles during this time mainly focusing on Iran and North Korea. His research activities were profiled in the Bulletin of the Atomic Scientists and he has also been interviewed by major news organizations for many important proliferation sensitive events such as South Korea's past research in the area of uranium laser isotope separation (AVLIS). He spent ten years working for the DOD and served as a consultant to various U.S. government agencies and contractors in the WMD field. He is currently writing a detailed report on Iran's research activities in the lithium-6 and tritium areas.
Meeting Information: Virtual using the Go-To-Meeting Platform.
TO ATTEND: RSVP via email to AFIO_LA@yahoo.com
Questions? contact Vincent Autiero, President, AFIO-Los Angeles Chapter at AFIO_LA@yahoo.com.
Thursday, 25 March 2021, noon - Tampa, FL - The Florida Suncoast AFIO Chapter hears FBI Cyber Agent discuss Cybercrime
The Florida Suncoast AFIO Chapter is holding its first post-pandemic inperson gathering featuring John Cauthen, a cybercrime investigator and retired FBI Cyber Agent who worked on many infamous cases during his FBI career. He will share some stories from his tenure and speak to the critical elements of cybercrime.
Event location: the offices of Bleakley, Bavol, Denman & Grace, 15316 N Florida Avenue, Tampa, FL 33613. The offices are off I-275 just north of the Bearss Avenue exit. The program is scheduled to start at noon.

SAFETY: After careful evaluation of the current situation, we concluded it is reasonable to hold an inperson Chapter meeting employing suitable safeguards such as social distancing, mask use, and hand sanitizer.
We have striven to make our meetings informative but also provide the opportunity to meet with colleagues and maintain the ties that are a foundation of involvement in the intelligence community. Almost certainly, we have all experienced Zoom overload, so this is a great chance to gather in person following all COVID-19 guidelines. We thank our member Brian Battaglia for allowing us to utilize space at his office that will satisfy these safety requirements and allow us to meet again.
REGISTRATION GUIDELINES: The chapter will provide box lunches and adhere to CDC guidelines for social distancing, mask use, temperature checks and availability of hand sanitizer. Obtain details from the Chapter secretary at michaels@suncoastafio.org.
Registrants/Attendees will be required to complete a COVID-19 Health Acknowledgements and Food Order form which must be returned with reservations no later than noon on Wednesday, 17 March. Complete, scan, and return forms with your email RSVP or fax them to (813) 832-1154.
The cost is $10, cash or check made out to "Suncoast Chapter, AFIO."
TO ATTEND: If you will be attending, please send an email to Michael Shapiro at michaels@suncoastafio.org, no later than noon on Wednesday, 17 March, with your name and the names of any guests. Each guest must also complete a box lunch and health acknowledgement form (Michael will send you those forms if you lack them). The logistics of this meeting require us to enforce a strict reply deadline, so please do not respond late nor forget to include your box lunch order form(s) and your health acknowledgement form(s) since we will be unable to accept late or incomplete RSVPs.
If you make a reservation, find that you cannot attend, but do not formally cancel and receive a cancellation confirmation by 17 March, and then fail to show up, you will be responsible for the cost of your registration because the chapter will have to pay for your scheduled, uneaten meal.
1 April 2021 - Virtual - San Antonio AFIO hosts Martin Gurri on "The Revolt of the Public and the Crisis of Authority in the New Millennium."
On 1 April the San Antonio Chapter meeting will feature a live presentation by Martin Gurri a geopolitical analyst and expert in new media and information effects. He served the DNI Open Source Center in various senior positions, including Director of Research and chief of a Latin American bureau. Wikipedia. He will be talking about topics related to his book: The Revolt of the Public and the Crisis of Authority in the New Millennium.
A message with the link to the meeting will be sent prior to the meetings.
For more detail, contact John Franklin, President, AFIO San Antonio at satxafio@gmail.com or 210-863-0430
---
Other Upcoming Events from Advertisers, Corporate Sponsors, and Others
Wednesday, 3 March 2021, noon EST - Virtual - Secret History of History: Three Ordinary Girls - Virtual International Spy Museum Program
Truus Oversteegen, her younger sister Freddie, and their friend Hannie Schaft, came of age during a tumultuous moment in 1930s Europe. In their medieval home city of Haarlem, there were mass protests, communist party meetings, and whispers that the Queen's son-in-law had secret ties to the Nazi party. When the commander of The Dutch Royal Army surrendered to the Nazis in May 1940, the girls felt compelled to resist. Join us for a talk with award-winning author Tim Brady, about his new book Three Ordinary Girls which explores how these young women cleverly wielded the only weapons at their disposal – wits, bravery, audacity, intelligence, and youth – to repeatedly undermine the Nazis and their Dutch collaborators. These Dutch girls started with simple acts of covert illegality: lifting German ID cards to counterfeit them, distributing fliers announcing strikes, and passing out anti-Nazi literature. They then progressed to bigger, deadlier jobs: ferrying Jewish children to safeguard locations, stockpiling weapons, detonating bombs, gathering intel, and ultimately murder. All in support of the Dutch Resistance.
Event is free - registration required. Visit www.spymuseum.org.
Saturday, 6 March 2021, 11am-2pm EST - Virtual - Sisterhood of Spies: A Virtual Girl Scout Event - Virtual International Spy Museum Program
Calling all Girl Scouts! Celebrate Women's History Month with the International Spy Museum and learn about the Sisterhood of Spies. Girl Scouts will test their spy skills and learn tricks of the trade. They will meet Sonia Purnell, author of A Woman of No Importance: The Untold Story of the American Spy Who Helped Win World War II to learn about Virginia Hall; former Chief of Disguise of the CIA Jonna Mendez for a gadget workshop; Liza Mundy, author of Code Girls: The True Story of the American Women Who Secretly Broke Codes in World War II to discuss female code breakers; and Tracy Walder, former CIA and FBI and author of The Unexpected Spy. The speakers will share their knowledge about the shadow world of spying and participants will have the opportunity to ask questions. Designed for Brownies through Senior Girl Scouts.
Event is $12/household. Visit www.spymuseum.org.
Wednesday, 10 March 2021, 2-3:30 pm EST - Zoom Virtual - "Researching Covert Operations in Iran" A Conversation with Mark Gasiorowski sponsored by the National Security Archive (at GWU)
The National Security Archive (at The George Washington University) is pleased to present a talk and panel honoring Prof. Mark Gasiorowski who retired from academia in December 2020 as one of the leading scholars of U.S.-Iran relations.
Mark's books and articles from the 1953 coup to post-revolution covert interactions have stood out for their rigorous use of international archives and groundbreaking interviews with intelligence officers, diplomats, and other historical actors. Mark will discuss his experiences, including numerous research and teaching visits to Iran, as well other Iran-related matters. Topic: Researching Covert Operations in Iran. Panelists: Homa Katouzian (St. Antony's College, Oxford);
Farideh Farhi (Independent Scholar, University of Hawai'i, Manoa); Roham Alvandi (London School of Economics);
Malcolm Byrne (The National Security Archive) (chair).
Register here.
After registering, you will receive a confirmation email containing information about joining the meeting.
Please note: space in the Zoom session is available on a first-come first-served basis and may fill up very quickly.
Thursday, 11 March 2021, noon EST - Virtual - Secret History of History: Color Wars Part II - Virtual International Spy Museum Program
Some of us have the blues these days we'd like to shake, but some blues are the subject of desire, intrigue, and passion. This is the story of indigo. Every year Pantone picks a "Color of the Year"—2021 is a departure—two colors: Ultimate Gray and Illuminating Yellow. But these can't hold a candle to a color that's been desired for centuries — indigo. In October we explored how cochineal red became coveted and was the subject of economic intelligence campaigns. Today, we will submerge ourselves in the elemental and timelessness of indigo blue—its history, cultural role, and the efforts made to steal and recreate it far from the land where it emerged. Catherine E. McKinley, author of Indigo: In Search of the Color that Seduced the World and just published The African Lookbook, will explore her personal search for indigo and the incredible role it has played globally for centuries. Please join this colorful conversation, and then you'll be able to ask questions via the online platform.
Event is free – registration required. Visit www.spymuseum.org.
Wednesday, 17 March 2021, noon EST - Virtual - Curator's Corner: CROSSFIRE HURRICANE with Josh Campbell - Virtual International Spy Museum Program
CROSSFIRE HURRICANE was the codename the FBI gave the investigation into the Trump campaign's possible ties to Russia. And like any hurricane disaster surrounded it. Join Spy Museum's Historian and Curator Andrew Hammond in conversation with Josh Campbell, former Special Assistant to FBI Director James Comey. In that position, Campbell had a front row seat to the FBI's investigation and experienced the growing alarm inside the Bureau about the sustained assault on the FBI and its independence. The former special agent has written CROSSFIRE HURRICANE: Inside Donald Trump's War on the FBI, an illuminating fly-on-the-wall account from the earliest days of the Russia investigation. Campbell—now a CNN analyst on crime, justice, and national security issues—will also discuss the investigation into the question of Hillary Clinton's private emails and his insights into Trump's war on justice from his perspective inside the FBI. Following their discussion, you'll be able to ask questions via the online platform.
Event is free – registration required. Visit www.spymuseum.org.
Thursday, 25 March 2021, noon EST - Virtual - Virtual Spy Chat with Chris Costa and Special Guest Lieutenant General Robert P. Ashley, Jr. - Virtual International Spy Museum Program
Join us for an online discussion of the latest intelligence, national security, and terrorism issues in the news. Spy Museum Executive Director Chris Costa, a former intelligence officer of 34 years, will lead the briefing. He will be joined by Lieutenant General Robert Ashley, Jr., who retired as Director of the Defense Intelligence Agency in October of 2020. Following their discussion of key issues, you'll be able to ask questions via our online platform. Sponsored by Accenture.
Event is free – registration required. Visit www.spymuseum.org.
25 March 2021 - Virtual - The next OSS "Oh So Social" Conversation features former Asst Sec of State for INR Ellen McCarthy
The next "Oh So Social" conversation by The OSS Society will feature the Honorable Ellen McCarthy, former Assistant Secretary of State for the Bureau of Intelligence and Research - the successor to the OSS' Research and Analysis Branch - will interview best-selling author Erika Robuck about her new book "The Invisible Woman" - the OSS' Virginia Hall, the only civilian woman to receive the Distinguished Service Cross in World War II.
More information: The PDF flyer for event is here and includes registration link. To register for this virtual event, do so here
---
In addition to the new Royal Blue long sleeve shirts, and the gray long sleeve hooded sweatshirts, the AFIO Store also has the following items ready for quick shipment:
NEW: LONG and Short-Sleeved Shirts with embroidered AFIO Logo and New Mugs with color-glazed permanent logo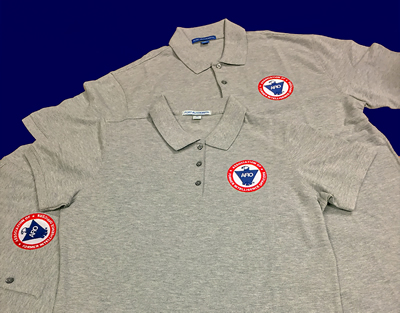 Show your support for AFIO with our new Polo Shirts. Be the first to buy these new, high quality, subtle heathered grey short sleeve shirts, and dark blue long sleeved shirts, of shrink and wrinkle resistant fine cotton with a soft yet substantial feel. They feature a detailed embroidered AFIO seal. Get a shirt for yourself and consider as gifts for colleagues, family, and friends. Only $45 each including shipping.
Sizes of (M) men or (W) women shirts; Small, Medium, Large, XL, XXL, and XXXL. At this time all orders will arrive as Short Sleeve shirts.
You may pay by check or credit card. Complete your order online here or mail an order along with payment to: AFIO, 7700 Leesburg Pike, Ste 324, Falls Church, VA 22043-2618. Phone orders at 703-790-0320. If interested in other shirt colors or sleeve lengths, contact Annette at: annettej@afio.com.
Available as a thank you for donations are the new AFIO logo face masks:
These soft, form-fitting, washable, non-medical grade fabric face masks have wide behind-the-ear elastics to make long periods of wear comfortable. Also easier to quickly put on or take off. Blue on outside, white inside. The masks do not have a nose wire but are sculpted, shaped, and sewn to fit most users. The all-cloth composition allows the masks to be washed or steam-disinfected without concerns over metal wires. The color logo is washable and a permanent part of the mask.
The masks, however, are not for sale. They are being offered strictly as a thank you gift to our donors.
For tax-deductible donations of $50 you will receive a receipt and our thank you gift of two of these newly-arrived face masks.
Donations of $100 receive four masks to be sent to the same address. Other amounts and split-shipments are available.
To donate now to support AFIO's programs and publications, please do so here.
We wish all members and donors continued good health, safe social distancing, and warmly appreciate any support you are able to provide the association.
---
AFIO Mug with color glazed logo. Made in America. Sturdy enough to sit on desk to hold pens, cards, paperclips, and candy.
This handsome large, heavy USA-made ceramic mug is dishwasher-safe with a glazed seal. $35 per mug includes shipping. Order this and other store items online here.
---
Guide to the Study of Intelligence and When Intelligence Made a Difference
"AFIO's Guide to the Study of Intelligence" has sold out in hard-copy.
However, it is available in digital form in its entirety on the AFIO website here.

Also available on the website here are the individual articles of AFIO's history project "When Intelligence Made a Difference" that have been published to date in The Intelligencer journal. More articles will be forthcoming in future editions.
---
Disclaimers and Removal Instructions
Weekly Intelligence Notes (WINs) are commentaries on Intelligence and related national security matters, based on open media sources, selected, interpreted, edited and produced for non-profit educational uses by members and WIN subscribers.
REMOVAL INSTRUCTIONS: We do not wish to add clutter to inboxes. To discontinue receiving the WINs:
a) IF YOU ARE A MEMBER - click here: UNSUBSCRIBE and supply your full name and email address where you receive the WINs. Click SEND, you will be removed from list. If this link doesn't open a blank email, create one on your own and send to afio@afio.com with the words: REMOVE FROM WINs as the subject, and provide your full name and email address where you are currently receiving them.
b) IF YOU ARE NOT A MEMBER, and you received this message, someone forwarded this newsletter to you [contrary to AFIO policies]. Forward to afio@afio.com the entire WIN or message you received and we will remove the sender from our membership and distribution lists. The problem will be solved for both of us.
CONTENTS of this WIN [HTML version recipients - Click title to jump to story or section, Click Article Title to return to Contents. This feature does not work for Plaintext Edition or for some AOL recipients]. If you wish to change to HTML format, let us know at afio@afio.com. The HTML feature also does not work for those who access their e-mail using web mail...however NON-HTML recipients may view the latest edition each week in HTML at this link: https://www.afio.com/pages/currentwin.htm
---
WINs are protected by copyright laws and intellectual property laws, and may not be reproduced or re-sent without specific permission from the Producer. Opinions expressed in the WINs are solely those of the editor's or author's listed with each article. AFIO Members Support the AFIO Mission - sponsor new members! CHECK THE AFIO WEBSITE at www.afio.com for back issues of the WINs, information about AFIO, conference agenda and registrations materials, and membership applications and much more!
(c) 1998 thru 2021. AFIO, 7700 Leesburg Pike Suite 324, Falls Church, Virginia 22043. Voice: (703) 790-0320; Fax: (703) 991-1278; Email: afio@afio.com
---
About AFIO | Membership Renewal | Change of Address | Upcoming Events | Chapter Locations | Corporate/Institutional Memberships | Academic Listings | Careers in Intelligence Booklet | Guide to the Study of Intelligence | Intelligencer Journal | Weekly Intelligence Notes | To Make A Donation | AFIO Store | Member-Only Section | Code of Ethics | Home Page
---