---
Section I - INTELLIGENCE HIGHLIGHTS
Russia Expels No. 2 American Official in Moscow, U.S. Weighs Response - Reuters, 17 Feb 2022
Russia has expelled Bart Gorman, the No. 2 U.S. official in Moscow, the State Department said on Thursday, with Washington warning that it would respond to the "unprovoked" move amid heightened fears of a Russian invasion of Ukraine.
Russia's Foreign Ministry said Gorman was forced to leave Moscow in response to what it called the "unreasonable expulsion" of a senior Russian official by Washington, accusing the United States of unleashing a "visa war."
Gorman, who had served as U.S. deputy chief of mission, left Russia last week, a senior State Department official said. It was unclear why the expulsion was not announced until Thursday."Russia's action against our DCM (deputy chief of mission) was unprovoked and we consider this an escalatory step and are considering our response," a State Department spokesperson said.
The expulsion comes during a months-long standoff over a Russian buildup of more than 150,000 troops near its border with Ukraine. Article here

Burton Gerber - A CIA Cold Warrior on the Intelligence War Over Ukraine - New/Lines Magazine, 22 Feb 2022
Burton Gerber, former chief of the CIA's Soviet section, worries America has publicized too much of what it knows – or thinks it knows – about Russia's war plans
Yesterday, at a prerecorded meeting of Russia's Security Council, President Vladimir Putin sat listless and slumped in his chair, far away from his gallery of boyars, pretending to weigh their counsel before launching a pre-scripted war against Ukraine. He was not impressed when Sergei Naryshkin, the head of Russia's foreign intelligence service, stammered and flubbed his lines, confusing the present and future tenses. "Speak clearly, Sergei!" Putin admonished him.
Then Naryshkin got ahead of himself, and everyone else, by saying he supported incorporating the Russian-occupied territories of Donbas, east Ukraine, into the Russian Federation. "That's not what we're discussing!" Putin snarled. "We're talking about whether to recognize their independence or not."
Naryshkin is meant to be an integral member of Putin's war party, one of the trusted siloviki, or security strongmen, who believe the West is in terminal decline, Russia is once more a great-power-in-the-making, and sanctions are a badge of honor. But here he was, quivering before the tsar on international television. ...Article here

Opinion: Taxpayers Will Pay an Enormous Price for the IRS Not Using Facial Recognition - Stewart Baker, WashPost, 18 Feb 2022
The background is familiar to anyone who pays federal taxes. The IRS and millions of taxpayers have been plagued by identity fraud for years. Impostors have claimed other people's tax refunds before the real returns were even filed. They have collected billions in covid-19 relief benefits using stolen identities. To stem the bleeding, the IRS contracted with ID.me, a private identity verification firm. That firm uses, among other things, face recognition technology to match applicants' video photos to the pictures on their driver's license or passport.
The plan sent Congress into a tizzy. Sen. Ron Wyden (D-Ore.) complained that "many facial recognition technologies are biased in ways that negatively impact vulnerable groups, including people of color, women, and seniors." Fifteen Republican senators objected that the face recognition system threatened to make taxpayers "pay the toll of giving up their most personal information, biometric data."
Cowed by the accusations of bias and privacy, the IRS announced that it will "transition away" from face recognition. But both accusations are false, and the price that you and I will pay for this panicky retreat is enormous. Opinion here
Also see: "IRS Statement — New features put in place for IRS Online Account registration; process strengthened to ensure privacy and security" - IRS
Also see: IRS: "Selfies Now Optional, Biometric Data to Be Deleted" - KrebsOnSecurity, 22 Feb 2022

An Alleged Chinese Interference Plot Stirs Fears — and Smears — Ahead of Australian Elections - WPost, 17 Feb 2022
In a darkened hall inside one of Australia's most secretive buildings, the intelligence chief described a startling plot: A foreign power had recently attempted to interfere in an election.
"This case involved a wealthy individual who maintained direct and deep connections with a foreign government and its intelligence agencies," Mike Burgess, head of the Australian Security Intelligence Organization, warned in a speech last week in Canberra. "This agent of interference has roots in Australia but did the bidding of offshore masters, knowingly and covertly seeking to advance the interests of the foreign power and, in the process, undermine Australia's sovereignty."
The agent, or "puppeteer," had hired someone in Australia and equipped them with hundreds of thousands of dollars from an offshore bank account with the aim of "shaping the jurisdiction's political scene to benefit the foreign power," Burgess continued. "It was like a foreign interference start-up."
The head of the ASIO — akin to the FBI in the United States — was careful not to mention the foreign power, the political party targeted or the location in Australia. But like a spy novel blurb, his deliberately vague account of the foiled plot only sparked further interest. And coming just a few months ahead of what promises to be a close federal election, the speech instantly became fodder for fierce government attacks on the opposition. Article here

Little-known Russian Spy Unit is Behind Alleged Ukraine 'Kill/Capture' List - IntelNews, 22 Feb 2022
A little-known spy unit unit, which experts have described as a mysterious "third espionage agency" inside the Russian intelligence apparatus, is said to be behind a "kill/capture list" that Moscow allegedly plans to put to use in Ukraine. United States government officials insisted on Monday that such a list exists, despite strong denials from Russia. American officials claimed that the purpose of the list is to minimize popular resistance by Ukrainians to an invading Russian army, and to destabilize the government in Kiev, so that a pro-Russian government can eventually replace it. Article here

The latest in the Kremlin Crisis - O Lautman, From Russia with Spies, 23 Feb 2022
Russia reports a terrorist attack in illegally annexed Donetsk
This alarming headline is making rounds through all Russian major news outlets, including RIA Novosti, reporting a terrorist attack in Donets and may be used by Russia to justify their escalating military aggression against Ukraine. "The DPR reported a terrorist attack in Donetsk" referring to an explosive device that went off on the territory of a television center in Donetsk. This comes hours after Russia's Federation Council quickly gave consent to Putin on the use of the Russian Armed Forces and aircraft abroad.
Over the past week, Russia has strategically conducted several false flag operations to blame the Ukrainian military. Article here

TIMELINES - Significant Cyber Incidents - CSIS,
This timeline records significant cyber incidents since 2006. We focus on cyber attacks on government agencies, defense and high tech companies, or economic crimes with losses of more than a million dollars.
Download the Full Incidents List here as PDF
A few examples: January 2022. A Belarusian hacktivist group accessed the networks of state-owned Belarusian Railway. The group encrypted the majority of the Railway's servers and destroyed data held on a backup server, possibly to complicate Russian troop movements throughout the country.
January 2022. A Chinese hacking group breached several German pharma and tech firms. According to the German government, the hack into the networks of service providers and companies was primarily an attempt to steal intellectual property.
LIsting continues here
Also see: "Russian State-Sponsored Actors Target Cleared Defense Contractor Networks" - CISA, 16 Feb 2022

The Cyber Social Contract - How to Rebuild Trust in a Digital World - Chris Inglis/Harry Krejsa, Foreign Affairs, 21 Feb 2022
In the spring of 2021, a Russia-based cybercrime group launched a ransomware attack against the largest fuel pipeline in the United States. According to the cybersecurity firm Mandiant, the subsequent shutdown and gas shortage across the East Coast likely originated from a single compromised password. That an individual misstep might disrupt critical services for millions illustrates just how vulnerable the United States' digital ecosystem is in the twenty-first century.
Although most participants in the cyber-ecosystem are aware of these growing risks, the responsibility for mitigating systemic hazards is poorly distributed. Cyber-professionals and policymakers are too often motivated more by a fear of risk than by an aspiration to realize cyberspace's full potential. Exacerbating this dynamic is a decades-old tendency among the large and sophisticated actors who design, construct, and operate digital systems to devolve the cost and difficulty of risk mitigation onto users who often lack the resources and expertise to address them. Article here
Also see: "A New Cybersecurity 'Social Contract'" - Schneier on Security, 22 Feb 2022 - and read the comments which follow that article.

IntelBrief: The Real Security Threat of So-Called "Fake News" - SoufanCenter, 18 Feb 2022
On February 7, 2022, the U.S. Department of Homeland Security (DHS) released its latest National Terrorism Advisory System Bulletin, indicating "a heightened threat environment fueled by several factors, including an online environment filled with false or misleading narratives and conspiracy theories, and other forms of mis- dis- and mal-information (MDM) introduced and/or amplified by foreign and domestic threat actors." This continues a trend over several years in which U.S. national stability and security is directly affected by mis- and dis- information campaigns of exaggerations and lies that energize a segment of the U.S. population and influence perceptions around the world. Far from fringe movements, these extremist sentiments, rhetoric, and actions—with the January 6, 2001 insurrection at the U.S. Capitol as the most high-profile action to date—are being encouraged and echoed by notable media and elected officials. Anti-government rhetoric and imagery is now being espoused even by those who hold elected office or are campaigning for office from the federal level down through state and local offices and races, emboldening extremist views and even inspiring violence among (often heavily armed) supporters.
The constant demonization of opposing viewpoints is a recipe for violence and a disaster for pluralistic democracy. Furthermore, "fact-checking" has proven wholly inadequate in terms of countering evident lies about issues from COVID-19 to election results. The U.S. has had one of the highest death tolls from the ongoing pandemic—reaching over 920,000 reported COVID-19-related deaths recently—in large part because a significant percentage of the U.S. believes the pandemic, vaccines, and the associated deaths are so-called "fake news." Article here

---
Section II - IC PODCASTS, COMMENTARY, BLOG UPDATES
Panelists Discuss Russia-Ukraine Crisis — interviews by Former Acting D/CIA Mike Morell
Intelligence Matters: A CBS News original national security podcast hosted by former CIA acting director and CBS News national security contributor Michael Morell. Morell is crisp, precise, cautious, fair, avoids political slant, and provides remarkable insights. Not to miss.


The most recent "Intelligence Matters" podcasts/interviews by or with Mike Morell:
Feb 16 | The Russia-Ukraine Crisis: A Panel of Experts Discuss
Morell moderates a conversation among a panel of experts including former Deputy Secretary General of NATO Rose Gottemoeller, former Deputy National Intelligence Officer for Russia and Eurasia Andrea Kendall-Taylor, and former senior CIA operations officer John Sipher about the state of the Russia-Ukraine crisis and whether diplomatic options remain viable. The panel evaluates Russian President Vladimir Putin's immediate and long-term objectives and discusses how deterrent measures might be enhanced. They also discuss possible post-conflict scenarios in the European security landscape.

Other recent "Intelligence Matters" podcasts to stream or download:
Feb 9 | "The Future of the Kim Regime: North Korea Expert Sue Mi Terry"
Feb 2 | "Stanford Professor and Author Amy Zegart"
Jan 26 | "CIA's Former Deputy Director for Science and Technology Dawn Meyerriecks"
Jan 19 | "State Department Counselor Derek Chollet on Top Foreign Policy Challenges"
Jan 12 | "Applying Cold War Lessons to Great Power Competition: Historian Hal Brands"
Jan 05 | "The Top Global Threats in 2022"
More about Intelligence Matters by Michael Morell here. Podcasts also available here.
---
Cyberwar for Real This Time?... - Stewart Baker, Others at Steptoe Cyberblog
Cyberblog by Steptoe & Johnson LLP — By Stewart Baker [Chairman, AFIO]
Episode 395: Cyberwar for Real This Time? released 22 February 2022
Troops and sanctions and accusations are coming thick and fast in Ukraine as we record the podcast. Michael Ellis draws on his past experience at the NSC to guess how things are going at the White House, and we both speculate on whether the conflict will turn into a cyberwar that draws the U.S. ... Nick Weaver reports, the Justice Department is gearing up for a fight with cryptocurrency criminals. ... Michael and I (Stewart Baker) do a roundup of news (all bad) about face recognition. ... ...the first amendment is bound to get a heavy workout in the next big face recognition lawsuit – the Texas Attorney General's effort to extract hundreds of billions of dollars from Facebook for similarly collecting the face of their users. My bet? This one will make it to the Supreme Court. ... We review the IRS's travails in trying to use face recognition to verify taxpayers who want access to their returns. I urge everyone to read my latest op-ed in the Washington Post criticizing the Congressional critics of the effort. ... Nick and I dig into the pending collision between European law enforcement agencies and privacy zealots in Brussels who want to ban EU use of NSO's Pegasus surveillance tech. ... continue reading
Some Prior Conversations:
Episode 394: Cringe-Casting Since 2016
Episode 393: The Ad-Based Internet: Is the Roof Caving In, or Just a Few Rafters?
Episode 392: Regulatory Swagger Comes to Washington
Episode 391: How Much of the Quantum Tech Boom Is Just Welfare for Physicists?
Episode 390: Have Facebook and Google Cornered the Market on Antitrust Troubles?
Episode 389: The FTC Jumps Into Llog4j Cleanup with One Foot
Episode 388: China Dive
---
Ukraine's Ambassador on Russian Invasion; Information Warfare Scripts; Growth in U.S. Extremism — more from Inside the SCIF

Inside the SCIF by JJ Green, WTOP - Issue #151, 17 February has details on... Breaking news on Ukraine; 11-page Security Demands; Impact on NATO countries; Understanding Russia's Movements; Russians do not care a whit for "reputation" - A Applebaum; Russian Intel Operations in Kyiv - planning assassination, scheming to destablize region; Navy Nuclear Engineer pled guilty to selling secrets to ????; Implanted Medical Devices a Risk to IC Secure Spaces.
SPECIAL REPORT: Crisis in Ukraine Part 1 — A conversation with Oksana Markarova, Ukraine's Ambassador to the US. She discusses Russia's aggression and Ukraine's resolve to fight it.

Target USA Podcast 319 is on: The US flips the information warfare script on Russia's Ukraine invasion plans
Jeff Prescott, Deputy to Linda Thomas-Greenfield, US Ambassador to the UN, explains how the US is using diplomacy and other tactics to try to stop Russia from invading Ukraine.
And "The Hunt" explores: Growth of Extremism in US and its Connection to Disinformation
JJ Green speaks with Dr. Elizabeth Yates, senior researcher at The National Consortium for the Study of Terrorism and Responses to Terrorism at the University of Maryland (START), whose research shows a "qualitative and quantitative transformation in domestic extremism."
---
Figuring Out Putin and Identifying his Enablers - The Latest... from Jeff Stein's provocative "SpyTalk" series...

Feb 22: "Meet Putin's Top Enabler, FSB Boss Alexander Bortnikov" by Filip Kovacevic
The longtime internal security chief has a major hand in Ukraine intrigue and the liquidation of internal critics alike
Feb 18: "Putin's Brain" by Jeff Stein
Former NIO Russia expert Angela Stent says the Kremlin strongman is hard to figure
Feb 17: "A Spy's Cure" by Jeff Stein
Meet Ron Capps, a war-scarred intelligence veteran 'writing his way home'
Feb 13: "In Shadow of War, Moscow Pushing for 'Spy' Swap" - by Olga Lautman
Kremlin media revives push for US release of arms dealer Viktor Bout, the infamous "merchant of death."
Feb 11: "Meet Russian Spy Boss Sergey Naryshkin" by Filip Kovacevic
The SVR chief pegs his rise to a chance meeting with Putin in the bowels of the KGB's Leningrad Office
Feb 7: "Two Different Worlds: The False Linkage of Ukraine and Taiwan" by Jonathan Broder
China has its own longterm timetable for its 'renegade province'
Feb 7: "Spy Wars Over Ukraine" podcast co-hosted by Jeff Stein with John Sipher, Brian Murphy, and co-host Jeanne Meserve
Tracking Russia's moves there and here is a big challenge for US intelligence
Feb 3: "Russian 'False Flag' Ukraine Plot Wouldn't Be Its First" by Jeff Stein
Putin's been there, done that before, to justify Chechnya war
Feb 1: "SpyTalk Gets the Figliuzzi Treatment" podcast - Jeff Stein is interviewed by Frank Figliuzzi
The top former FBI official gets me to tell spy stories and more
---
Putin's Brinkmanship... His Allies in Latin America; Squelching Protests - Canada Uses Protester Funding Tools Against Them - Latest Insights from Jack Devine of Arkin Group
The Arkin Group's Feb 18 "In Other News" letter to private clients by former CIA Deputy Director, Operations... Officer Jack Devine features...
As the Ukraine crisis continues, Putin's brinkmanship is further called into question.
Tensions remain high on the Russia-Ukraine crisis, but it's not distracting Putin from cultivating allies in Latin America.
France and European security partners announce troop withdrawal from Mali after nearly a decade of fighting.
Canadian Freedom Convoy demonstrates how the same tools that group organizers rely upon can quickly be used against them, raises questions of future interference.
Follow link here to read analyses and predictions given to their private clients on the topics from last week. There is sometimes a delay of seven days before the above topics will appear at this link.
---
Section III - BROUGHT TO OUR ATTENTION BY MEMBERS
Videos Provide Glimpse of the Life and Inspiring Career of Peter Earnest, Former AFIO President/Chairman
Peter Earnest died last week at the age of 88. His obituary appeared in last Tuesday's Weekly Notes. And also here in the Washington Post.
The International Spy Museum released the following video...starting them with the following:
"We are heartbroken to announce the passing of our long-serving founding executive director and dear friend Peter Earnest. Peter was a defining voice in the development of the Spy Museum more than 20 years ago. His incomparable leadership and enthusiastic determination guided us to create a new kind of institution.
Peter's career as a public servant spanned 36 years with the Central Intelligence Agency (CIA), including over 20 years in the Clandestine Service. In his final posting with the Agency, he served as principal spokesman, developing and implementing a strategy of greater openness with the media and the public to promote better understanding of the CIA's vital role in protecting national security.
After his retirement from government, it was a natural transition to lead the Spy Museum where he continued to shed light on the shadow world of intelligence increasing public understanding of its crucial impact on world events. During his 16-year tenure, the Museum launched an acclaimed temporary exhibition and a groundbreaking immersive experience, transitioned to a non-profit institution, and broke ground on a purpose-built structure in DC's L'Enfant Plaza.
Upon his retirement in 2017, Peter transitioned to the Board of Directors continuing to support the Museum and its educational mission. His steadfast devotion to the Museum and its staff was an inspiration to all. He was kind, highly intelligent, curious minded, and had a captivating charisma about him. Peter was a cornerstone of our organization, and he will live on in everything that we do. His family, including his incredible wife Karen, will forever be a part of our Spy Museum family, too." — International Spy Museum YouTube video description
Here are two variations of that video: "Sunday Today"
And "Peter Earnest, CIA veteran who helped launch International Spy Museum, dies at 88"

Spies, Lies, and Algorithms - If you missed The Hayden Center presentation with Amy Zegart and David Priess
"Today we face a critical juncture for American spy agencies, as big as 9/11--only most people don't know it," says Amy B. Zegart, a leading expert on intelligence and professor at Stanford University.
Professor Zegart captures the past and future of American intelligence in her compelling new book "Spies, Lies, and Algorithms," one General Michael V. Hayden, former CIA and NSA Director, says is already becoming compulsory reading for any student or practitioner of intelligence.
General Hayden welcomes Professor Zegart to the Michael V. Hayden Center for Intelligence, Policy, and International Security for a chat on her book with our senior fellow David Priess. Priess is a former CIA analyst and author himself of "The President's Book of Secrets," an examination of the history of the President's daily intelligence briefing. Video (1 hour) is here

How G. Gordon Liddy Bungled Watergate With an Office-Supply Request - Politico, 11 Feb 2022
The story of Operation Gemstone, his totally bonkers, Nazi-themed dirty tricks wish list.
If you had to choose one moment when the whole Watergate scandal was set into motion — that first, singular fatal crack in the foundation — you might as well pick G. Gordon Liddy's hunt for an easel.
Even now, 50 years later, it's hard to identify the moment when the burglary and arrests at the Democratic National Committee offices at the Watergate on June 17, 1972, tipped from an odd sideshow to the main event. As inevitable and foregone as President Richard Nixon's fall might seem in hindsight, what's remarkable looking back at the events of 1972 to 1974 is how close he came to getting away with the whole thing — how well the cover-up held for so long and how narrowly he came to barreling right past the embarrassment of what his press secretary called a "third-rate burglary." Months later, after all, he was reelected by the largest presidential landslide in American history. Article here

Lessons from Aldrich Ames: Top 5 Takeaways from His Espionage for Russia - ClearanceJobs, 21 Feb 2022
To Aldrich Ames, his espionage was simply business and when, 28 years ago today, February 21, 1994, the FBI arrested Aldrich Ames as he drove from his Arlington, Virginia residence to CIA headquarters for an urgent meeting, he accepted it as a day which he knew may come. His arrest closed out his nine years of espionage, where his actions resulted in numerous CIA and FBI sources being compromised, some imprisoned, most executed.
He had a commodity which the Russians were more than happy to pay handsomely to obtain, the identities of those who were working with the U.S. or allied intelligence organizations; those who were being targeted by U.S. intelligence; and ancillary tidbits of classified information to which he had access.
In the November 1994 review, "An assessment of the Aldrich H. Ames espionage case and its implications for U.S. intelligence" released by the Senate Select Committee on Intelligence (SSCI), the nature of Ame's depth of his collaboration is amply described with this observation, "Ames wrapped up five to seven pounds of message traffic in plastic bags and hand-carried them out of the CIA Headquarters building for delivery to the KGB, knowing that the CIA no longer examined packages carried out of the building by Agency employees."
It was safe to say, and he did, if it crossed his desk, he compromised the information to the KGB/SVR.
Top 5 Takeaways from Aldrich Ames... List is here

All The Presidents' Spies: The Secret (Agent) History of Our Presidents - ClearanceJobs, 21 Feb 2022
The White House has long had a connection to the intelligence community (IC), and in fact, it dates back even before there was a White House. The first true American spy was believed to be Nathan Hale, who during the Battle of Long Island, volunteered to go behind enemy lines in disguise to report back on British troop movements. It didn't end well, as Hale was captured and executed as a spy in September 1776 – less than three months after the Declaration of Independence was signed.
Famously uttering the words, "I only regret that I have but one life to give for my country," Hale became something of a folk legend. More importantly, he wasn't the last American spy to operate during the American Revolution. Article here

Before We Start Another War Let's Figure Out Why We Lost The Last One - AND Magazine, 15 Feb 2022
Iraq Will Fall Next
After twenty years of conflict, the United States recently ignominiously withdrew from Afghanistan. That nation has now been transformed into a terrorist super state from which attacks will be launched on nations not only in Central and South Asia but around the world. Joe Biden and his gang of incompetent Chinese pawns may choose for political reasons to attempt to convince America that this is not a defeat. Their lies and smoke screens do not make it so.
We just lost a war. Before we start bumbling our way into another one, we ought to figure out why.
What did we do wrong? Article here

---
Section IV - Books, Research Requests, Jobs, Obituaries
Books — Newly Released, Overlooked, Forthcoming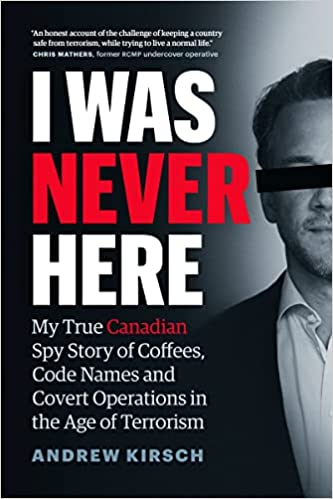 I Was Never Here: My True Canadian Spy Story of Coffees, Code Names, and Covert Operations in the Age of Terrorism
by Andrew Kirsch
(Page Two, Mar 2022)
Kirsch didn't grow up watching spy movies, or dreaming about being a real-life James Bond. He was hardly aware that Canada even had its own intelligence service―let alone knew what its officers did. But when a terrorist attack occurred near the office of his financial services job, all of a sudden fighting terrorism meant a lot more to him than the markets. Within 18 months he had landed a job with the Canadian Security Intelligence Service (CSIS)―where he spent the next decade of his life. He shares the secrets of what life as a CSIS intelligence officer is really like, and dispels a few myths along the way. With humor, honesty, and candor, Kirsch shares his on-the-ground experience of becoming a member of CSIS: from his vetting and training, to his initial desk job as a policy analyst, to his rise up the ranks to leading covert special operations missions. If you've ever wondered whether Canadian intelligence officers can have real dating lives, how they handle family responsibilities, or how they come up with cover stories or aliases, he tells you. From the time he tried to get the code names "Burgundy" and "Anchorman" assigned to human sources (with no luck), to the night a covert operation was almost thwarted by a flyer delivery man, Kirsch provides a serious as well as whimsical view of Canada's premier spy agency, and the intricate intelligence-sharing apparatus that works day and night to keep them safe.
Book may be ordered here
---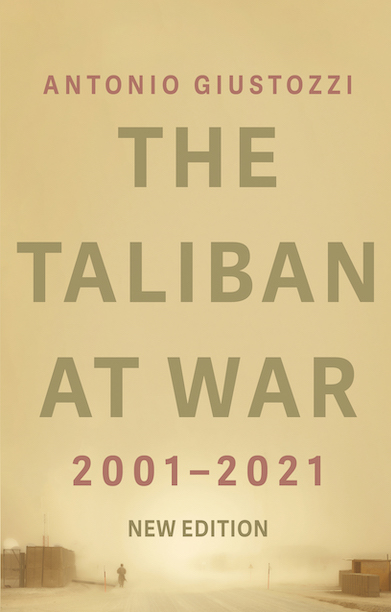 The Taliban at War: 2001 - 2021
by Antonio Giustozzi
C Hurst Press, Feb 2022)
How does the Taliban wage war? How has its war changed over time? Firstly, the movement's extraordinary military operation relies on financial backing. This volume analyses such funding. The Taliban's external sources of support include foreign governments and non-state groups, both of which have affected the Taliban's military campaigns and internal politics. Secondly, this is the first full-length study of the Taliban to acknowledge and discuss in detail the movement's polycentric character. Here not only the Quetta Shura, but also the Haqqani Network and the Taliban's other centres of power, are afforded the attention they deserve. The Taliban at War is based on extensive field research, including hundreds of interviews with Taliban members at all levels of the organisation, community elders in Taliban-controlled areas, and other sources. It covers the Taliban insurgency from its first manifestations in 2002 up to the end of 2015. The five-month Battle of Kunduz epitomised the ongoing transition of the Taliban from an insurgent group to a more conventional military force, intent on fighting a protracted civil war. In this latest book, renowned Afghanistan expert Antonio Giustozzi rounds off his twenty years of studying the Taliban with an authoritative sitrep detailing the evolution of its formidable military machine.
Book may be ordered here.
---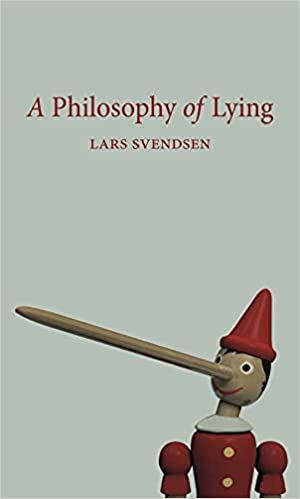 A Philosophy of Lying
by Lars Svendsen; Matt Bagguley- Translator
(Reaktion Books, Apr 2022)
From lying to friends to lies in politics, a wide-ranging examination of the forms and ethics of falsehood. From popular philosopher Lars Svendsen, this book is a comprehensive investigation of lying in everyday life. What exactly is a lie, Svendsen asks, and how does lying differ from related phenomena, such as "bullshit" or being truthful? Svendsen also investigates the ethics of lying—why is lying almost always morally wrong, and why is lying to one's friends especially bad? The book concludes by looking at lying in politics, from Plato's theory of the "noble lie" to the Big Lie (?) of Donald Trump. As phrases like "fake news" and "alternative facts" permeate our feeds, Svendsen's conclusion is perhaps a surprising one: that, even though we all occasionally lie, we are for the most part trustworthy. Trusting others makes one vulnerable, and we will all be duped from time to time. But all things considered, Svendsen contends, truthfulness and vulnerability are preferable to living in a constant state of distrust.
Book may be ordered here.
Novelist Seeking Your Experiences Serving 1950s Berlin and London
I am currently writing a spy novel that takes place in 1952 in Berlin, Germany and London, England. For research purposes, I am looking to interview intelligence officers who worked in either of these locations during the 1950s.
Replies to Ellen Butler, International Bestselling Author, ellen@ellenbutler.net, or visit https://www.ellenbutler.net
Call for Papers: "Imagining a New U.S. National Security Act for the 21st century" - Harvard's Kennedy School, Belfer Center, 16 Dec 2021 - Cash Prizes from $5,000 to $1,000
Imagine if you woke up tomorrow to news of: A massive cyber-attack that irreparably damaged financial markets and shut down critical infrastructure, or A significant conventional defeat due to strategic surprise like happened at Pearl Harbor, or The release of a manufactured pathogen that marks the beginning of a new global pandemic. Each of the scenarios above, and others, could be caused in part by a catastrophic intelligence failure. Drawing on the lessons of World War II and in the context of the impending Cold War, the United States Congress passed the National Security Act of 1947 to address institutional challenges and to set favorable conditions for U.S. intelligence and national security. Now, nearly a quarter of the way through the 21st century, the National Security Act of 1947 remains the bedrock of the U.S. national security enterprise, but in a world in which the threats and challenges have dramatically changed. We pose an overarching question: If you were starting from scratch, what might a National Security Act for the next 75 years contain to address current shortcomings and to improve intelligence capabilities, structures, and organizations to meet requirements in the years ahead? The Intelligence and Applied History Projects at Harvard's Belfer Center invite submissions for an essay contest on imagining a new U.S. National Security Act for the 21st century. Essays should consider the rise of China, technological advances, globalization, changes in U.S. relative power, redefinition of national security to include economic and cyber issues, espionage at scale, compression of decision time, and climate change—among other trends you deem important—and how these factors might drive a paradigm shift for U.S. intelligence and national security in general. As you examine this question and possible approaches to a reformed national intelligence enterprise, we invite you to provide a framework for new legislation along with ideas for what the United States should prioritize. The best papers should address the national interests at stake and the most pressing challenges your construct is designed to address. What institutions, mechanisms, legal requirements, or other factors would you choose to create, merge, alter, or abolish and why? What efficiencies, benefits, and synergies are part of the big picture objective? Finally, what are the foreseeable impediments to your proposed changes and what is driving them?
This call for papers is open to members of the public. Papers will be evaluated by a panel of current and former US intelligence practitioners and knowledgeable academics. The top three papers will receive cash prizes of $5,000, $2,500, and $1,000. The top three authors will also be invited to participate in a panel discussion convened at Harvard (virtually or in person) in the Spring of 2022, in which they brief senior US intelligence officials on their papers, to commemorate the 75th anniversary of the National Security Act of 1947. With permission, the winning paper will be published in whole or in part in a Belfer Center product. Papers should be no more than 2500 words Times New Roman 12pt font in Word or PDF format, and must be received no later than March 18. Please email papers to: pbriscoe@hks.harvard.edu and maria_robson@hks.harvard.edu and include your name, contact email, and phone number.
More details here
Full-Time Assistant Professor of Criminal Justice (Intelligence Studies) - University of North Georgia, Dahlonega, GA
Job Summary: Type: Full-Time; Posted: 02/02/2022; Category: Criminal Justice; Job ID: 238891
The Department of Criminal Justice at The University of North Georgia invites applications for a full-time, tenure-track appointment at the rank of Assistant Professor of Criminal Justice at the Dahlonega campus. This position will focus primarily on Intelligence Studies. Special attention will be given to applicants who have four or more years of practitioner experience and the ability to manage applied analytic projects. The workload may require travel across campuses, teaching at off-campus teaching sites, and online teaching.
Responsibilities: Teach four undergraduate courses per semester to include Introduction to Criminal Justice; Maintain an active research agenda in an effort to produce scholarly publications; Assist in the advising of students enrolled in Bachelor of Science Degree Criminal Justice with an Intelligence Studies Concentration; Serve on University, College, and Departmental Committees; Teaching schedule may include assignments on other campuses, evening or on-line classes.
Required Qualifications: Ph.D. in Criminal Justice is required. Intelligence Studies, Homeland Security or a closely related field is preferred; Experience teaching Intelligence Studies at the university or college level; Successful candidates should be able to teach one or more of the following courses: Introduction to Intelligence, Fundamentals of Intelligence Analysis, or Methods of Intelligence; Ability to work collaboratively with all campus constituencies.
To explore this job or to apply, do so here
Recruiter Sought by Orbis Operations - McLean, VA
Recruiting Support:
Meets/speaks with hiring managers on a regular basis to discuss upcoming needs to vet, process and post all job requisitions on career website, job boards, university sites, and other resources as necessary
Coordinates with hiring manager(s) to develop job descriptions, and determine best recruiting strategies for position(s) in order to achieve continuous improvement
Actively sources and reviews all incoming applicant resumes from career site and various job boards/networking sites to determine qualified candidates for current and upcoming needs (pipeline)
Performs initial outreach to all potential candidates via telephone, email, and/or chat/message in order to complete first screening/interview stage
Completes detailed write-ups summarizing screening discussion to include in candidate profiles in ATS, and forwards to hiring managers for review if applicable
Schedules/manages all phone and in-person interviews between potential candidates and hiring managers
Maintains contact with passive, pipeline, and current candidates as necessary to ensure consistent communication and transparency throughout the full recruiting lifecycle, including: interview information, post-interview follow-ups, next steps, verbal offers, 6 month check-ins, potential referrals, etc.
Drafts letters of intent, contingent and firm offers to send to candidates, along with necessary security/clearance verification forms
Uploads active candidates to client/customer job portal, and assists in monitoring advancement through the process to keep candidate and team updated on forward movement or disqualifications
Conducts regular follow-up meetings with hiring managers to determine the effectiveness of recruiting plans and implementation
Researches and recommends new potential sources to engage with both active and passive candidates

Qualifications:

Bachelor's degree in human resources, business administration or similar relevant field
5 years of experience in talent acquisition, preferably within the government sector
In-depth knowledge of full-lifecycle recruiting and employer branding techniques
Familiarity with a variety of different screening/interview methods
Hands on experience with posting jobs on social media, job boards, as well as circulating job openings to networking outlets
Experience with HRIS, ATS, sourcing and recruitment Marketing tools, preferably Paycor
Ability to motivate employees for potential referrals
A sense of ownership and pride in your performance and its impact on the company's success
Critical thinker with problem-solving skills
Good time-management skills
Great interpersonal and communication skills, and the ability to collaborate with other members of the HR team, as well as hiring managers
Strong knowledge of Human Resources law

APPLY HERE Search through listings for "Recruiter"

Liberty University in Lynchburg, VA is seeking a full time, residential, Assistant Professor to teach Intelligence and National Security courses in the School of Government.
Courses support a curriculum which features a major or minor field of study in Strategic Intelligence Studies and include Introduction to Intelligence, Intelligence Analysis, Ethics in Intelligence, History of Intelligence, Intelligence and Military Operations, Strategic Intelligence, Counter Intelligence, Terrorism, Counter-terrorism and Psychological Operations. A minimum of a Master's Degree and extensive experience in the Intelligence profession is required. Liberty University is located in Lynchburg, VA, 3 hours south of Washington, D.C. It is a private, Christian, liberal arts, accredited institution with 15 colleges and schools. The modern campus at Liberty Mountain supports 15,000 residential students, Division I sports and over 115,000 online students. Liberty has a large and thriving Army and Air Force ROTC presence. Details on the job are here. Questions? Contact tcothron1@liberty.edu.
Tenure-Track Assistant Professor in Intelligence, Embry-Riddle Aeronautical University, Daytona Beach, FL
Job Description: The Department of Security Studies and International Affairs (SSIA) at Embry-Riddle Aeronautical University, Daytona Beach, FL., invites candidates to apply for a tenure-track Assistant Professor position in Intelligence (GEOINT). The successful candidate should have experience in one or more of the domains related to intelligence and security with skillsets in technologies such as Geospatial Intelligence, Remote Sensing using Unmanned Aircraft Systems (UAS), satellite imagery, as well as spatial analyses using Geographic Information Systems (GIS).
The successful candidate will contribute to SSIA's interdisciplinary Homeland Security and Intelligence program. In addition, the candidate will support the department and college to help integrate technology into the existing Homeland Security & Intelligence and Global Conflict Studies undergraduate degree programs as well as other programs external to the department. Primary tasks include undergraduate teaching and research, student advising, and relationship building with external organizations and agencies. The position requires teaching flexibility to cover a variety of courses in geospatial intelligence, geographic information systems, and their applications across a broad range of intelligence and security issues. Additional duties include scholarship, professional development, committee participation, and other activities to support the Department. This is a nine-month position with the possibility of summer teaching assignments. Position available August 2022.
Qualifications: An earned doctorate in intelligence-related discipline such as Geospatial Intelligence, Security Studies, Political Science, Remote Sensing, or related field is preferred. Special attention will be given to candidates with Intelligence Community experience and demonstrated success in securing and managing applied analytic projects. Knowledge of technical as well as policy and procedural aspects of geospatial intelligence and its applications is a plus. An exceptional candidate who is ABD (with an expected completion date within six months of the hire date) will be considered.
More info or to apply
Also being sought at Embry-Riddle [ERAU] in Daytona Beach, FL
Tenure-Track Assistant Professor in Cybersecurity
Job Description: The Department of Security Studies and International Affairs (SSIA) at Embry-Riddle Aeronautical University, Daytona Beach, FL., invites candidates to apply for a tenure-track Assistant Professor position in cybersecurity. We are seeking applicants whose research focuses on various aspects of the intersection between cyber technologies and human security. The successful candidate should have experience in one or more of the domains related to computer and network technologies, cybersecurity tools and incident response, digital forensics, cybercrime, social impacts of cyberspace, and cyber law and policy. Applicants with research interests/specializations in cybersecurity for GIS/geospatial analysis, unmanned aircraft systems, remote sensing, spatial analysis, and/or avionics are considered a plus.
The successful candidate will contribute to SSIA's interdisciplinary Homeland Security program. In addition, the person will support the department and college to help the department to integrate technology into the existing Homeland Security & Intelligence and Global Conflict Studies undergraduate degree programs as well as other programs external to the department. Primary tasks include undergraduate teaching and research, student advising, and relationship building with external organizations and agencies. The position requires teaching flexibility to cover a variety of courses in cybersecurity, digital forensics, and cybercrime. Additional duties include scholarship, professional development, committee participation, and other activities designed to support the Security Studies & International Affairs Department. This is a nine-month position with the possibility of summer teaching assignments. Position available as early as January 2022.
Qualifications: An earned doctorate in a cybersecurity-related discipline such as Computer Science, Information Technology, or Cybersecurity Engineering or related field; record of academic publishing; and grant proposal development. Must have knowledge of technical as well as policy and procedural aspects of cybersecurity. An exceptional candidate who is ABD (with an expected completion date within six months of the hire date) will be considered.
More info or to apply
Adjunct Faculty, Security Studies and International Affairs
Seeking to create a pool of local adjunct (part-time) faculty talent to join the Security Studies and International Affairs Department in the College of Arts & Sciences.
The Security Studies and International Affairs Department is the home to two degree programs: Bachelor of Science in Homeland Security; and Bachelor of Science in Global Conflict Studies.
Qualifications: Applicants must possess a master's degree or higher with 18 graduate hours in the discipline they intend to teach.
More info or to apply
---
Richard Bonsignore, CIA Political Analyst; Foreign Service officer; lawyer
Richard Bonsignore, 73, a CIA Analyst, a Foreign Service officer and lawyer, died of posterior cortical atrophy, a form of dementia, on 5 September 2021 in Bethesda, MD.
Mr. Bonsignore was born in Brooklyn. Early in his career, he worked in the legal departments of Metropolitan Life and Merrill Lynch in New York City. From 1986 to 1993 he worked as a State Department FSO officer with assignments in Mexico City and Seoul. He later worked for the law firms Akin Gump from 1994 to 2005 and then Mayer Brown until 2009. He also did volunteer work for the Catholic Charities Legal Network. He became a CIA political analyst from 2009 to 2014.
He received awards for his pro bono legal work as well as the State Department's Meritorious Honor Award. At St. Bartholomew's Catholic Church in Bethesda, he was council president, catechist and Eucharistic minister. He was a board member of the International Human Rights Law Group and the American University of Rome.

Jane D'Espinosa, CIA Publications Editor
Jane D'Espinosa, 89, CIA Publications Editor, died 11 February 2022 in Fort Belvoir, VA.
Jane was born in Harrisburg, PA. After graduating from Bates College in Maine, she moved to the Washington DC area where she began work for the Central Intelligence Agency. She held a number of staff positions and remained at the Agency for the entirety of her 60+ year career. Most notably, she helped publish the annual CIA World Fact Book, which keeps up-to-date summaries of essential information for each of the world's countries.
She made her home in suburban Virginia and never married. Jane was a seasoned traveler and enjoyed exploring the world on frequent trips with friends. Among all her ports of call, her most beloved was her cottage in Cape Cod, where she returned every summer since the 1950s. She was well-known in her North Eastham community and made many friends there. She enjoyed birdwatching, dining out, and time spent with friends and family. She was also an avid reader with a particular interest in historical and adventure tales.
She is survived by her brother-in-law Gilbert Maurer; by nephews and nieces, and other family. Condolences may be sent to the family at dmaurer463@aol.com

Milton Mathis, Col US Army(Ret), CIA Recruiter for Diversity
Milton H. Mathis, Colonel, US Army (Ret), 87, CIA Diversity Recruiter, died in Camp Springs, MD on 24 January 2022 from heart failure.
Milton's distinguished military career spanned 31 years, including 2d (Warrior) Brigade Commander and two combat tours in Vietnam, earning numerous awards and accolades, including the Bronze Star and Air Medal. After military retirement, he had a second career at the CIA for 21 years, where he was Program Director of recruitment with a focus on Diversified Cover Programs and Special Operations.
He is survived by a daugher, son, brother, and other family.
Visitation will be held on Saturday, 26 February 2022 from 10 to 11 a.m. at Marshall-March Funeral Home, 4308 Suitland Rd, Suitland, MD 20746. A memorial service will immediately follow at 11 a.m. Interment with full military honors will be at Arlington National Cemetery at a date to be determined.

Jerry Prehn, Executive Officer in the Directorate of Operations, CIA
Gerald George Prehn, 90, a CIA Senior Operations Officer, and Executive Officer in the Directorate of Operations, died 7 February 2022 in Leesburg, VA.
Jerry was a native of Michigan and graduated with honors from the University of Michigan in 1958. During the Korean War, his college education was interrupted by his enlistment in 1951 in the United States Air Force. While still in the Air Force, he attended the University of Syracuse and was certified in the USAFIT intensive Russian language program which served him well in his subsequent roles and assignments with the CIA. He was discharged from the USAF in 1954 with the rank of Staff Sergeant, receiving a superior performance rating.
Jerry joined the CIA in 1958 and served in a number of senior positions in Washington, DC and abroad in Moscow, Vienna, Munich, London, and Ottawa, including as Chief of Station in two postings and subsequently as Chief of the Agency Congressional Liaison Division, and Chief of the National Defector Operations Center. His Moscow assignment (1963-1966) occurred in the aftermath of the Cuban Missile Crisis, during the overthrow of Premier Khrushchev, the assassination of President Kennedy and of the signing of the first US - USSR Atomic Energy Agreement in which he participated. He later served with the CIA Office of the Inspector General. His varied assignments entailed traveling to all of the continents.
During his thirty-five year career, Jerry received numerous awards for meritorious service and upon retirement was awarded the CIA Distinguished Intelligence Medal.
Following his formal retirement, Jerry worked for ten years as an independent contractor for the agency's Operations Directorate.
In retirement, Jerry served on a volunteer basis as a docent for the George C. Marshall International Center at Dodona Manor in Leesburg, VA. He was also a member of the Diplomatic and Consular Officers, Retired (DACOR, Inc.) of Washington, DC.
Jerry is survived by his wife of 62 years, Shan Savage Prehn, of Leesburg, VA; by two sons and a daughter, by two sisters, and other family.

Peter Earnest - obituary was featured last week in the WINs. Here is an UPDATE of composite video Obit/Remembrance for Peter Earnest, Former Executive Director and board member of the International Spy Museum.

---
AFIO EDUCATIONAL EVENTS IN COMING TWO MONTHS....
Virtual =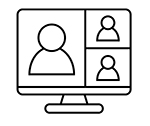 ; In-Person =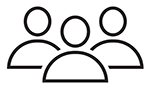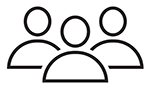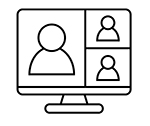 Thursday, 24 February 2022, 11:30am - 2pm - Tampa, FL and Zoom Webinar - The Florida Suncoast AFIO Chapter hears from Dr. Oakley on "The DoD/CIA Postwar Relationship"
The Florida Suncoast AFIO Chapter meets in-person to hear speaker: Dr. David P. Oakley, a national security practitioner-scholar with over twenty-two years in the U.S. Army and Intelligence Community, will be speaking on the relationship between the CIA and DoD, which developed from actions taken in the late eighties and early nineties that set the foundation for their current relationship. A virtual, Zoom webinar option will also be available.
We also will be presenting an honorable mention award in the Chapter Scholarship Program. Please support this important Chapter initiative by attending—a good turnout makes a difference!
Timing: The in-person and simultaneous Zoom program is scheduled to start at noon.
Location: The offices of Bleakley, Bavol, Denman & Grace, 15316 N Florida Ave, Tampa, FL 33613. The offices are off I-275 just north of the Bearss Avenue exit.
To Participate: We require a COVID acknowledgement and a food order form to complete an in-person reservation. Luncheon fee is $15 cash or check made out to "Florida Suncoast AFIO Chapter," payable at the door.
We are also providing online access to the meeting free of charge via Zoom with prior registration and acceptance here.
Deadline: The deadline for in-person or online attendance is Thursday, 17 February.
Questions: Please contact the Chapter Secretary at michaels@suncoastafio.org to obtain copies of the required forms for in-person attendance or with any questions.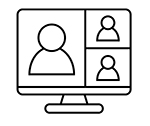 Thursday, 24 February 2022, 12:30 - 1:30 pm PST - GoToMeeting - AFIO-Los Angeles Chapter holds Elections and General Business Meeting
We will be scheduling our Annual Chapter General Business Meeting. Due to the concerns with the current health challenges, the meeting will be held virtually using GoToMeeting platform. Membership participation is extremely important during this annual meeting, which includes elections. So we look forward to your attendance and participation.
Agenda: 1. Election of Officers; 2. Treasurer's Report; 3. 2022 Objectives; 4. Open Discussion-Members Input.
RSVP President Vincent Autiero at afio_la@yahoo.com for GoToMeeting access link to attend this meeting.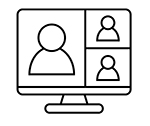 Thursday, 3 March 2022, 7 pm CST - Zoom Webinar - John Lenczowski PhD, former NSC Staffer/Expert discussing "Chinese Influence Operations in the U.S. at this AFIO San Antonio Chapter Virtual Event
The AFIO Now program interview will be conducted by James Hughes, AFIO President, a former CIA Operations Officer.
Dr. John Lenczowski discusses the psychological disarmament of the decision-making elites in the U.S. and in the rest of the West which has led to the greatest theft of intellectual property the U.S. has ever experienced. The Chinese use the media, academic institutions, think tanks, business community, politicians, Hollywood as a tool for their massive propaganda operations, Dr. Lenczowski explains. The interview runs 44 minutes. A must see AFIO Now. John Lenczowski currently serves on the AFIO National Board.
The 30 minute online social time has been dropped and this meeting begins promptly at 7 p.m. for civilians and 1900 hrs for former military. Virtual links will be forwarded closer to the date of the program.
Questions or to participate, contact John Franklin, President, AFIO San Antonio Chapter, at satxafio@gmail.com or 210 863-0430.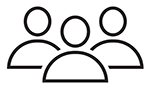 Wednesday, 9 March 2022, 11:30am - San Francisco, CA - The AFIO Andre LeGallo Chapter hosts Thomas Fingar discussing "Lessons from Intelligence Reform."
Dr. Thomas Fingar will discuss his book "From Mandate to Blueprint: Lessons from Intelligence Reform," addressing how he defined and prioritized challenges, why he created a new organization inside another new organization and how he maintained best in the world intelligence support to U.S. officials while implementing needed reforms.
Location: Basque Cultural Center, 599 Railroad Ave, South San Francisco, CA 94080. Google maps link to location.
Timing: 11:30am no host cocktail; meeting and luncheon at noon.
To attend: Eventbrite registration is here. Reservation and pre-payment is required before 1 March 2022. The venue cannot accommodate walk-ins.
Questions?: Please contact Mariko Kawaguchi, Board Secretary at afiosf@aol.com or Mariko Kawaguchi, c/o AFIO, PO Box 117578, Burlingame, CA 94011.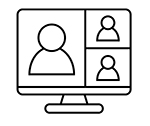 Thursday, 17 March 2022, 12:30 - 1:30 pm PST - GoToMeeting - AFIO LA Chapter hosts TD Barnes on "The Genesis and Evolution of CIA's Area 51"
Our next L.A. AFIO meeting will feature guest speaker Thornton D. "TD" Barnes on "The Genesis and Evolution of the CIA's Area 51." The presentation will cover Area 51 and the U-2 and A-12 projects, the MiG exploitation project, and our pioneering stealth.
Two National Geographic Channel documentaries feature Barnes: Area 51 Declassified and CIA—Secrets of Area 51. Numerous documentaries on the History Channel, the Discovery Channel, the Travel Channel, C-Span, and others also feature him, most recent, the Fox Nation aired August 2021. Barnes is the author of several books, including The CIA Area 51 Chronicles, a three-book series about the CIA at Area 51 and a new release, CIA Station D - Area 51. Barnes lives in Henderson, NV.
To RSVP to virtually attend, do so at AFIO_LA@yahoo.com
Questions to Chapter President Vince Autiero at afio_la@yahoo.com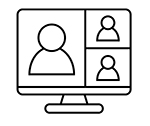 Thursday, 7 April 2022, 7 pm CST - Zoom Webinar - Major General Gary W. O'Shaughnessy will speak about careers in intelligence at this AFIO San Antonio Chapter Virtual Event
MG Gary O'Shaughnessy began his military service in 1960, when he was commissioned through the ROTC program. In 1962 he became a Communications Intelligence Officer and served several tours in Asia. He progressed in the military with assignment in the Security Service, Electronic Security Command, National Security Agency, and US Europe Command as the Director of Intelligence. General O'Shaughnessy currently serves on the AFIO National Board.
The 30 minute online social time has been dropped and this meeting begins promptly at 7 p.m. for civilians and 1900 hrs for former military. Virtual links will be forwarded closer to the date of the program.
Questions or to participate, contact John Franklin, President, AFIO San Antonio Chapter, at satxafio@gmail.comor 210 863-0430.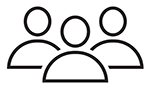 Friday, 8 April 2022 - McLean, VA - Registration has opened for this First of 2022 In-Person AFIO National Luncheon featuring David Ignatius and Toby Harnden
AFIO's first in-person event of 2022. We hope you will attend.
Speakers will be: David Ignatius, Associate Editor, Columnist, The Washington Post, and author, will be morning speaker; Toby Harnden, author of "The First Casualty: The Untold Story of the CIA Mission To Avenge 9/11" will speak following lunch.
Event will be held at DoubleTree-Hilton, 1960 Chain Bridge Rd, McLean, VA. Questions to annettej@afio.com
Registration has opened here.
---
Other Upcoming Events from Advertisers, Corporate Sponsors, and Others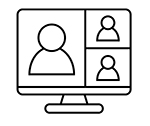 Sunday, 27 February 2021, 2-3:30 PM EST - Zoom Webinar - The Glomar Explorer in Court: The CIA in a Court Case on Project Azorian - by The Cold War Museum
In 1975, a well-known marine engineer and scientist, Willard Bascom, and his company, Ocean Science and Engineering, sued the Federal Government in the US Court of Claims, alleging that the Central Intelligence Agency had infringed his patents and used his proprietary concepts in its effort to recover a Soviet Golf Class missile submarine, the K-129, from the ocean floor. Over the next three years, the CIA defended and won the case – all in secret with almost no press coverage.
Tom Scott, who represented the Government in the case, will tell the story of the CIA's groundbreaking technological effort to develop a lift vehicle to raise the sunken Soviet submarine and its ultimate deployment on a specially-designed ship, the Hughes Glomar Explorer, which was disguised as a mining vessel.
He will explain the CIA's successes and failure in its effort – all in the context of defending a complex litigation that demonstrates the ongoing conflict between the need for openness in the court systems of a genuine democracy and the need for the protection of sources and methods in national security cases.
Cost: $20, 100% of which is a contribution to the Cold War Museum.
Location: ONLINE ONLY. Eventbrite ticket buyers will receive a link to the virtual room on the Zoom platform where this event will take place. We are recording the whole event, including the Q&A, for the Museum's archives.
Details or ticketing here.
Questions? Ask CWM Executive Director Jason Hall at jason@coldwar.org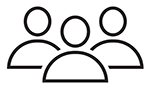 Thursday, 10 March 2022, 11:30am - 2pm - Vienna, VA - CIRA National Luncheon & 2021 Salvetti Award Presentation
CIRA will be hosting their first national luncheon of 2022. And will be using the occasion to present the 2021 Salvetti Award to Robert (Bob) Wallace. A keynote speaker (TBA) will discuss the 75th Anniversary Program.
For details on the program, precise location, meal, fee, or to make your reservations, visit CIRA's website here.
You must be a current member of CIRA to access this site.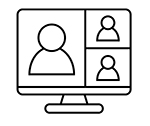 Thursday, 10 March 2022, 7pm - Washington, DC - Cold War Tech: Spies, Cameras, and Incredible Images – Virtual International Spy Museum Program
Cameras hidden in neckties and overcoat buttons, the stuff of spy movies? Yes, but also real life. The International Spy Museum (SPY) and the Pritzker Military Museum & Library (PMML) are joining forces to share some of the most fascinating tales of spies and the technology they used to capture imagery during the golden age of espionage. Join PMML Chief Military Historian Dr. Matt Muehlbauer, SPY Historian & Curator Dr. Andrew Hammond, and former CIA Chief of Disguise and SPY Advisory Board Member Jonna Mendez for an insider's look at the tools spies used to keep the Cold War from heating up. Visit www.spymuseum.org.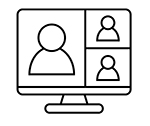 Wednesday, 16 March 2022, Noon – Washington, DC – The Real Harriet Tubman with Dr. Kate Clifford Larson – Virtual International Spy Museum Program
To mark the 200th anniversary year of Harriet Tubman's birth, we've asked Dr. Kate Clifford Larson to let us know what we don't know about the famous Underground Railroad conductor and abolitionist. Tubman is revered for leading her family members and many other enslaved people North to freedom at great personal risk during the American Civil War, but her work as a Union spy and military commander is less well known. Larson will give us deep background on Tubman's life and clear up some of the myths that surround her—the reality is even more daring and exciting. Larson is a New York Times and Wall Street Journal bestselling author of Bound for the Promised Land: Harriet Tubman and Portrait of an American Hero and she has consulted on Focus Features' feature film Harriet starring Cynthia Erivo. Visit www.spymuseum.org.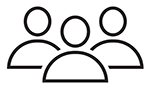 24 Mar 2022 - Hanover, MD - 1st Annual National Cryptologic Foundation (NCF) Education Awards Breakfast
In-Person NCM Event. 1st Annual Education Awards Breakfast Program being held at The Hotel at Arundel Preserve, 7795 Arundel Mills Boulevard Hanover, MD 21076. A limited number of rooms are available at The Hotel at a discounted rate. Preliminary information about the program is: Education Award Honorees: Excellence in Support of the NCF Education Program – Corporate Awardee: Northrop Grumman Excellence in Support of the NCF Education Program – Individual Awardee: Mr. Greg Von Lehmen. Keynote Speaker: Mr. David Sanger (Invited), New York Times White House & national security correspondent, and a senior writer.
Agenda: 7:30 am - Registration & Coffee; 8:30 am - Breakfast served; 8:45 am - 10:00 am Program - will include Keynote Presentation, as well as Award Presentations, and remarks from NCF leadership.
Individual Ticket Registration - $149 pp. Tickets purchased after March 15th will be $199 pp. Registration will close several days prior to the event to allow for food ordering. If the program is postponed due to pandemic-related concerns, your ticket will be held for you for the rescheduled date. If you are unable to attend the rescheduled date, refund requests will be honored. Click here to register or explore more about the program.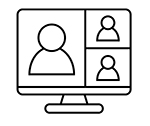 Monday, 28 March 2022, Noon – Washington, DC – Virtual Spy Chat with Chris Costa and Special Guest Dr. Fiona Hill – Virtual International Spy Museum Program
Join an online discussion of the latest intelligence, national security, and terrorism issues in the news. Spy Museum Executive Director Chris Costa, a former intelligence officer of 34 years, will be joined by Dr. Fiona Hill, senior fellow at the Center on the United States and Europe in the Foreign Policy program at the Brookings Institution. During two leaves from Brookings, she served as Deputy Assistant to the President and Senior Director for European and Russian affairs on the National Security Council from 2017 to 2019; and from 2006 to 2009, she served as National Intelligence Officer for Russia and Eurasia at The National Intelligence Council. Hill has researched and published extensively on issues related to Russia, the Caucasus, Central Asia, regional conflicts, energy, and strategic issues. Hill's most recent book, There Is Nothing for You Here: Finding Opportunity in the 21st Century is a memoir which includes her experiences serving in the Trump administration and her recommendations for the future drawn from her life and work. Visit www.spymuseum.org.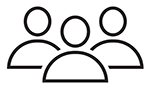 Thursday, 7 April 2022 at 6:30 - 7:30pm EST - Washington, DC - Dr Harlan Ullman discusses "How Massive Attacks of Disruption are an Existential Danger to the U.S. and World" - at this in-person event at The City Tavern Preservation Foundation
The City Tavern Preservation Foundation, an organization established for the preservation of the oldest and last remaining Federal era tavern in Washington, DC, invites AFIO members, at no cost, to attend a discussion and book signing with Harlan Ullman for his latest book: The Fifth Horseman and the New MAD: How Massive Attacks of Disruption Became the Looming Existential Danger to a Divided Nation and the World at Large.
Dr. Harlan Ullman is a globally recognized thought leader and strategic thinker. Among his better known innovative concepts are: "shock and awe" "A Brains Based Approach to Strategic Thinking"; and "Massive Attacks of Disruption. "
A former naval person and Swift Boat skipper in Vietnam who carried out over 150 combat missions, and later, commanded a destroyer in the Persian Gulf, he has advised heads of government and industry. He has also chaired several companies.
He lays out the issues and makes major recommendations to repair a broken government, infrastructure, and in many ways a flawed national security policy and organization. He is UPI's Arnaud de Borchgrave distinguished columnist and a Contributor to The Hill
No Charge to attend but reservations required and can be made at this Eventbrite link.
Event location: City Tavern, 3206 M St NW, Washington, DC 20007. Location on Google Maps.
To order a book, do so here at Amazon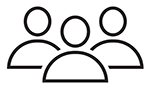 1 - 3 May 2022 - Tucson, AZ - Spies Lies & Nukes Conference
Join Valerie Plame and several of her legendary, highly decorated CIA colleagues as they dive into the secretive world of espionage. Hear intriguing, provocative, and sometimes shocking conversations on cyber attacks, covert actions, nuclear scams, recruiting real spies from those that lived in the "wilderness of mirrors" for years.

Speakers: Valerie Plame, Conference Host and former Covert CIA Ops Officer; James C. Lawler, former Senior CIA Ops Officer; Alma Katsu, former CIA and NSA Analyst; Marc Polymeropoulos, former Senior CIA Ops Officer; Rolf Mowatt-Larssen, former Senior CIA Intelligence Officer; Mary Beth Long, former Asst SecDef for Intl Security Affairs; Glenn Carle, former Senior CIA Ops Officer; Lucy Kirk, former CIA Chief of Station and Ops Officer; Jonna Mendez, former Senior CIA Intelligence Officer; Gary C. Schroen, former Senior CIA Intelligence Officer

Topics: Some of the topics that will be presented by our experts and panelists:
"Afghanistan: Ending the Forever War"; "What is the 'Havana Syndrome'?"; "Russian election hacking / cyberwarfare"; "SoulCatcher: How to recruit a spy"; "Women in the CIA"; "Spy Fiction: What is real and what isn't?"; "The Morality and Politics of Torture"; and "The Nuclear Threat."

Location: Hacienda del Sol Guest Ranch Resort - a beautiful and historic resort at 5501 N Hacienda Del Sol Rd, Tucson, AZ 85718.
More information or to register visit https://www.spiesliesnukes.com/
10 May 2022 - National Cryptologic Foundation General Membership Meeting (GMM) & Annual Symposium
HOLD THE DATE. The NCF General Membership Meeting & Annual Symposium took place in October for many years, but starting in 2022 the program will take place in May. In addition to updates about the Foundation's activities and initiatives, the program typically includes guest speakers, a timely keynote address, and often an expert panel discussion. At times the meeting includes an In Memoriam tribute to Foundation members we have lost in the past year.
For updated information on this forthcoming May event, visit this page.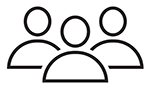 19-22 June 2022 - Treviso (near Venice), Italy - 2022 IAFIE and IAFIE-EC Conference and CFP
Theme: "Working Wicked Intelligence Challenges: Intelligence Research, Education-Training and Practice"
The 2022 CALL FOR PAPERS addresses engaging themes that combine the different Intelligence domains and disciplines with a look into the future challenges.
Read the Call for Papers to know the main Conference themes, requirements, deadline and the new IAFIE Study Group Initiative.
Those who had planned to attend and present papers at the postponed 2020 or 2021 Italy conference can resubmit their papers--or propose to present new papers--at the June 2022 Treviso-Venice Conference.
Presenters are encouraged to submit papers for publication in the Journal of Security, Intelligence, and Resilience Education (JSIRE). IAFIE announces the requirements for a peer-reviewed paper to be accepted for publication in the Call for Papers.
The Call for Papers includes details about Registration, Fees, Travel, and Accommodations along with additional tour options and partners/spouses' tour.
Conference includes a tour to Venice (free of charge) at the end of the Conference.
Event will be hosted by École Universitaire Internationale - Italy.
The Conference will take place in the territories that have witnessed the rise of the first structured Intelligence service in the world, and have always been the bridge between west and east, forefront observer of their evolution through time;
Be with us to live what freedom and Democracy are. Be with us to be a sign, a design for what freedom and democracy will be in the future.
We will meet in Treviso, near Venice, crossroad city that unites cultures, east-west, north-south for a vision of the global universe.
For more information, to respond to the CFP, or to register, do so here.
---
In addition to the Royal Blue long sleeve shirts and gray long sleeve hoodies, the AFIO Store has the following items ready for quick shipment:
LONG Sleeved Shirts with embroidered AFIO Logo (male-sizes only) and Mugs with color-glazed permanent logo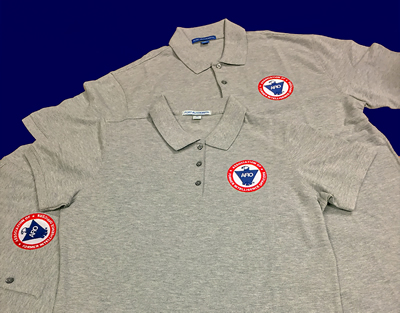 Both clothing items are high quality and shrink resistant and feature a detailed embroidered AFIO seal.
The color of the long-sleeved Polo Shirts is royal blue; the price is $55 and includes shipping. LS shirts are available in men-sizes only. The Hooded Sweatshirts are dark grey; price is $70 and includes shipping.
Purchase a shirt and sweatshirt for yourself and consider as gifts for colleagues, family, and friends.

Both items are available in men's sizes only: Small, Medium, Large, XL, XXL, and XXXL. Shirts and other items may be viewed here.
You may pay by check or credit card. Complete your order online here or mail an order along with payment to: AFIO, 7600 Leesburg Pike, Ste 470 East, Falls Church, VA 22043-2004. Phone orders at 703-790-0320 or contact Annette at annettej@afio.com.
---
AFIO Mug with color glazed logo. Made in America. Sturdy enough to sit on desk to hold pens, cards, paperclips, and candy.
This handsome large, heavy USA-made ceramic mug is dishwasher-safe with a glazed seal. $35 per mug includes shipping. Order this and other store items online here.
---
Guide to the Study of Intelligence and When Intelligence Made a Difference
"AFIO's Guide to the Study of Intelligence" has sold out in hard-copy.
However, it is available in digital form in its entirety on the AFIO website here.

Also available on the website here are the individual articles of AFIO's history project "When Intelligence Made a Difference" that have been published to date in The Intelligencer journal. More articles will be forthcoming in future editions.
---
Disclaimers and Removal Instructions
Weekly Intelligence Notes (WINs) are commentaries on Intelligence and related national security matters, based on open media sources, selected, interpreted, edited and produced for non-profit educational uses by members and WIN subscribers.
REMOVAL INSTRUCTIONS: We do not wish to add clutter to inboxes. To discontinue receiving the WINs:
a) IF YOU ARE A MEMBER - click here: UNSUBSCRIBE and supply your full name and email address where you receive the WINs. Click SEND, you will be removed from list. If this link doesn't open a blank email, create one on your own and send to afio@afio.com with the words: REMOVE FROM WINs as the subject, and provide your full name and email address where you are currently receiving them.
b) IF YOU ARE NOT A MEMBER, and you received this message, someone forwarded this newsletter to you [contrary to AFIO policies]. Forward to afio@afio.com the entire WIN or message you received and we will remove the sender from our membership and distribution lists. The problem will be solved for both of us.
CONTENTS of this WIN [HTML version recipients - Click title to jump to story or section, Click Article Title to return to Contents. This feature does not work for Plaintext Edition or for some AOL recipients]. If you wish to change to HTML format, let us know at afio@afio.com. The HTML feature also does not work for those who access their e-mail using web mail...however NON-HTML recipients may view the latest edition each week in HTML at this link: https://www.afio.com/pages/currentwin.htm
---
WINs are protected by copyright laws and intellectual property laws, and may not be reproduced or re-sent without specific permission from the Producer. Opinions expressed in the WINs are solely those of the editor's or author's listed with each article. Notices in the WINs about non-AFIO events do not constitute endorsement or recommendation by AFIO. AFIO Members Support the AFIO Mission - sponsor new members! CHECK THE AFIO WEBSITE at www.afio.com for back issues of the WINs, information about AFIO, conference agenda and registrations materials, and membership applications and much more!
(c) 1998 thru 2022. AFIO, 7600 Leesburg Pike, Suite 470 East, Falls Church, VA 22043-2004. Voice: (703) 790-0320; Fax: (703) 991-1278; Email: afio@afio.com
---
About AFIO | Membership Renewal | Change of Address | Upcoming Events | Chapter Locations | Corporate/Institutional Memberships | Careers in Intelligence Booklet | Guide to the Study of Intelligence | Intelligencer Journal | Weekly Intelligence Notes | To Make A Donation | AFIO Store | Member-Only Section | Code of Ethics | Home Page
Click here to return to top.
---