AFIO National Syposium and Conference for 2006
Looking at the Department of Homeland Security
3 - 5 November 2006 - Reston, VA
The Symposium is focused on Intelligence and law enforcement duties and issues - particularly port and border security. This important event will be held Friday 3 November to noon on Sunday, 5 November at the Hyatt Regency Hotel - Reston, 1800 Presidents St, Reston, VA 20190. Further information has been sent to all AFIO members-of-record on 10 October. If you have not received your information packet by 15 October, let us know at afio@afio.com.
Flight Reservations
If making flight reservations now, plan to arrive on Thursday, 2 November, and depart late in the afternoon on Sunday, 5 November. The closest airport to Reston, VA is Dulles. The hotel provides free airport shuttle service to/from Dulles. The Event is located in a prime walking area filled with shops and superb restaurants. Easy parking.
Hotel Reservations Online
To make your reservation NOW online at the special AFIO Symposium rate of $129/nite [single or double occup.] - availability ends Oct 17th space permitting. This hotel has been voted the BEST hotel in Fairfax County.
To register at this special rate, call 703-709-1234.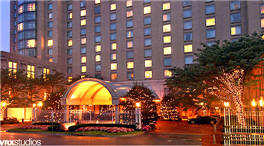 The Hyatt, 1800 Presidents St, Reston, Virginia, 20190 has 517 rooms; AAA-4 diamond rated accommodations and fine restaurants. Enjoy the Full Service Health Club, the Indoor Heated Pool, the Sauna & "Roman Spa" and the Sundeck
Transportation
AIRPORT - REAGAN/NATIONAL [code: DCA]: There is no METRO service to Reston. If you are arriving at Washington National Airport/Reagan - consider calling BlueShuttle Reservations
AIRPORT - DULLES [code: IAD]: The hotel provides free airport shuttle service to/from Dulles. Look for their van or phone the hotel to ascertain pick-up points.
CAR: There is generous hotel parking.
---
Bringing Intelligence Back Home—Protecting America's Infrastructure in the War on Terror. [All speakers are confirmed]

A Look at the Intelligence Division of the Department of Homeland Security - Headquarters— Charles E. Allen, Chief Intelligence Officer, DHS, Washington, DC.
Secretary Michael Chertoff announced a consolidation of intelligence activities at DHS under a Chief Intelligence Officer, who would "ensure that intelligence is coordinated, fused and analyzed within the Department so that we have a common operational picture of what's going on."
Once CIA veteran Charlie Allen was chosen for the job, all reports have stated that the he has done a remarkable job building up DHS's complicated intelligence shop and aligning disparate intelligence activities in the Coast Guard, CBP, ICE, TSA, etc.
Several news accounts report Allen is the standout performer among the 2SR [Second Stage Review] recommendations.
At this AFIO Symposium we will hear from Charlie Allen and hand picked speakers from other components of DHS—last minute schedules permitting.
Thursday, 2 November 2006
The Hyatt Regency Hotel - Reston
(1) Registration from 1600 to 2100 hours
(2) Hospitality Suite - informal get-together in Main Lobby. Heavy appetizers.
Friday, 3 November 2006
The Department of Homeland Security Intelligence Division
comes to the Hyatt Regency Reston Main Auditorium
[Unless indicated otherwise, DHS speakers below are "invited"]
0815 - 0900 - Security/Registration -
Hyatt Regency Main Ballroom, Reston, VA
0900 - 0915 - Welcome - AFIO President Eugene Poteat, AFIO Symposium co-Chairmen Martin C. Faga and John L. Martin
0915 - 1010 - DHS Chief of Intelligence, Charles E. Allen [confirmed], presents Department of Homeland Security's policies, operations, structure and agenda to address the threats—both present and future—that face the nation. This includes DHS's gathering all appropriate information from the Intelligence Community, analysis and dissemination to federal, state, local and private sector partners.
Break
1030 - 1115 - Michael Nostrand, Assistant Director of the Office of Intelligence, U.S. Immigration and Customs Enforcement [ICE] the largest investigative branch of DHS, on "People, Money, and Materials—The New ICE Systems to Detect and Counter National Security Threats and Terrorist Activities in the U.S." [confirmed]
1115 - 1155: Dr. Maureen I. McCarthy, Senior Advisor for Weapons of Mass Destruction (WMD) Intelligence Programs, Intelligence and Analysis Directorate [Confirmed]
1200 - 1315: LUNCHEON - with Colleagues

1315 - 1405: Vice Adm (Ret) Roger T. Rufe, Jr., Director of DHS Operations Directorate, on "The Duties of the National Operations Center (NOC) and Information Sharing." [Confirmed]
1405 - 1500: L. Thomas Bortmes, Director of Intelligence for U.S. Customs and Border Protection, [CBP], on "The Customs & Border Protection Intelligence Enterprise...including the Top Five 2007 Intelligence Priorities." [Confirmed]
Break
1515 - 1600: Vayl Oxford, Director of the Domestic Nuclear Detection Office (DNDO) of DHS, on "Detecting Attempts to Import, Possess, Store, Develop, or Transport Nuclear or Radiological Material by Terrorists." The Office of Transformational Research and Development (OTRD) with the Domestic Nuclear Detection Office (DNDO) is considering some special Academic Research Initiatives. Learn more about them at this event. [Confirmed]
1605 - 1650: Captain Patrick J. Nemeth, Commanding Officer, U.S. Coast Guard intelligence
Coordination Center, on "Protecting our Maritime Borders." [Confirmed]
The CIA Store will open a large satellite shop at the Hotel for this event, so there will be plenty of time to visit them throughout the day on both Friday and Saturday beginning at 11 a.m. They will be in the Lake Fairfax Room. The small transportation charge on earlier registration forms to get to their Herndon store has been eliminated.
Saturday, 4 November 2006
Conference Hall, Hyatt Regency Reston Hotel
0630 - 0830 - Chapter Workshop/Buffet Breakfast – restricted to current and prospective Chapter representatives, conducted by AFIO VP for Chapters, Emerson Cooper. $12 pp, includes breakfast. Must Register. Come prepared to work, share experiences, learn, while enjoying full breakfast menu. [Confirmed]
0845-0930 - Registration at Conference Hall - Main Lobby
0930-1015 - Steven Emerson, Executive Director, The Investigative Project on Terrorism, on "Jihad, Inc. - The Terrorists Living Among Us." [Confirmed]
Break
1035-1140 - Bradford Berenson, former associate counsel to President George W. Bush from 2001 to 2003, speaking on "War, Crime, and Counterterrorism: Shaping The Legal Battlefield" [Confirmed]
SPEAKER LUNCHEON - "Capturing Jonathan Pollard" — Ronald J. Olive, former Naval Criminal Investigative Service Officer. [confirmed]
1320 -1400 - Peter Bergen, CNN Global Terrorism Analyst and New York Times Best-Selling Author, Holy War, Inc. and The Osama bin Laden I Know on "Al Qaeda 2.0: An Insider's Look at the Changing Global Terror Threat." [Confirmed]
Break
1405 - 1450 - Dr. Jan Goldman, Professor, Joint Military Intelligence College, "Intelligence, Secrecy, Contracts and Ethics - Doing Right When You Think Your Government Is Wrong." Goldman is author: Ethics of Spying: A Reader for the Intelligence Professional [2006] [Confirmed]
1455 - 1540 - "Intelligence & Terrorism in Modern Fiction: Examples, Techniques" - Brad Meltzer [The Book of Fate], Colin MacKinnon [Morning Spy, Evening Spy], and Haggai Carmon [The Red Syndrome and Triple Identity], [Confirmed]
Reception and Awards Banquet
1900 - 2000 - Chairman's Reception -
2000 - 2200 - AFIO Annual Spies in Black Ties™
Awards Banquet [Black Tie or dark business attire acceptable]
Keynote Speaker:
The Honorable Fred Thompson [Confirmed]
former Republican Senator from Tennessee, former counsel, Senate Intelligence Committe, lawyer, film and television actor.
General Richard Stilwell Chairman's Award
David Atlee Phillips
Founder's Award
Lifetime Achievement Award
Sunday, 5 November 2006
Conference Center, Hyatt Regency Hotel
0830 - 1000 General Membership Meeting - President, Sr. VP & Executive Director
END OF SYMPOSIUM and CONVENTION